Towards the end of 2013, Shahid Ahmad – then Director of Strategic Content at PlayStation – received an email from Hello Games founder, Sean Murray. Contained within it was the first ever trailer for No Man's Sky, and Ahmad was the first non-studio employee to see it. As he watched what would soon be revealed to the world, "The hairs on the back of my neck rose. As soon as I'd taken a breath, I wrote back to [Murray] and told him that we had to have No Man's Sky on PS4. The rest is the proverbial."
Almost three years later and against all odds, No Man's Sky is out this week. It is arguably the PS4's biggest game of 2016, and perhaps one of the most anticipated games ever made. The team at Hello Games – a comparatively tiny assortment of hard-working game-makers situated in the heart of Guildford, Surrey – have put years of their lives into creating something that has become far, far bigger than any of them could've ever imagined.
The game's developmental journey – a seesaw of superlative highs, lows, and occasional lower-lows – has been scrutinised by both the games press and its thousands if not millions of fans. Making games is truly hard work, but few studios are subjected to the spotlight and attention that Hello Games has been for the past few years.
To explore its path from concept to final game, you have to go back a decade; to 2006, when aforementioned Hello Games founder, Sean Murray, quit his job as a successful game developer at industry giant, Electronic Arts, to start his own personal project. Having become quietly frustrated with the incomprehensibly large, impersonal nature of AAA game development, his desire was to scale creation back to small, focused teams. A noble, risky goal in a world as brutally work-intensive as games – one made even riskier since his funds were raised from the sale of his home. "The way I looked at it was like, I'd bought that house because I'd worked at EA." says Murray in an interview with Engadget, "It was like blood money, like a blood diamond. You gotta sell that; that's bad karma."
Hello Games' other key personnel are Grant Duncan, Ryan Doyle and David Ream, and this group of four have shaped the studio since its creation in February 2008. During the early days, this is all the studio was – a handful of like-minded devs who wanted to create something over which they had full control. Ahmad remembers meeting them for the first time while he was still working in Sony's Developer Relations department. "I immediately sensed the team's quality and in particular, Sean's seriousness as a highly intelligent and credible developer."
That intelligent attitude towards creative control is still key to Hello Games' identity. Even now, as it's delievered one of the most high-profile games of the decade, the team is comprised of only fifteen staff. That is, of course, a benefit; Hello Games has been able to invest time and thought into interesting, creative innovations, but this is often countered by the harsh reality that manpower is low and resources are incredibly precious.
This shallow resource pool didn't stop Hello from delivering Joe Danger – a goofy side-scrolling stunt platformer about the eponymous daredevil – to both great commercial and critical reception. Initially released on the PlayStation 3 in 2010, Joe Danger was eventually ported to Xbox 360 and subsequently to mobile where it enjoyed even more success. Speaking to The New Yorker, Murray recounts how the difficult development of Joe Danger had forced him to sell off his PS3 and that the studio was down to its bare essentials. Joe Danger released in the June of 2010. Within hours of its release, Sean and partners had made back their money.
In the same year, the studio enjoyed even more highlights; they won two Develop awards, including for Best New Studio, and were also listed in The Guardian's Tech Media Invest List of the most innovative and creative companies. The studio's relationship with Sony was further cemented when Ahmad commissioned Joe Danger for the PS Vita, a platform that Ahmad had been tasked with, in his own words, "well, not to put too fine a point on it... saving."
Hello Games proved itself in two short years, and the sale of Murray's blood-money-stained house had been vindicated.
Fast forward another year or so and – despite the success of both Joe Danger games – Murray had again become frustrated and impatient; this time by his self-perceived lack of direction. After all, Joe Danger's appeal was clearly huge, a fact confirmed by the success of its sequel, but it's not exactly a game to inspire millions of gamers with scope of near-universal proportions. Murray likened it to a midlife creative crisis, asking "what the point" of Joe Danger was, and pondering how "impactful" Hello Games' titles were.
Therefore, frustrated to breaking point and supported by the studio's now more substantial cash-flow, he focused his creativity on the sci-fi roots close to his heart, and which he had been channelling into a side-project in his spare time. To do this, and to escape the conventional thinking that the studio had become so used to during its time making Joe Danger, the Hello Games team splintered into two parts, freeing up a second Murray-led group to work on 'Project Skyscraper' – the game that would become No Man's Sky – in total secrecy.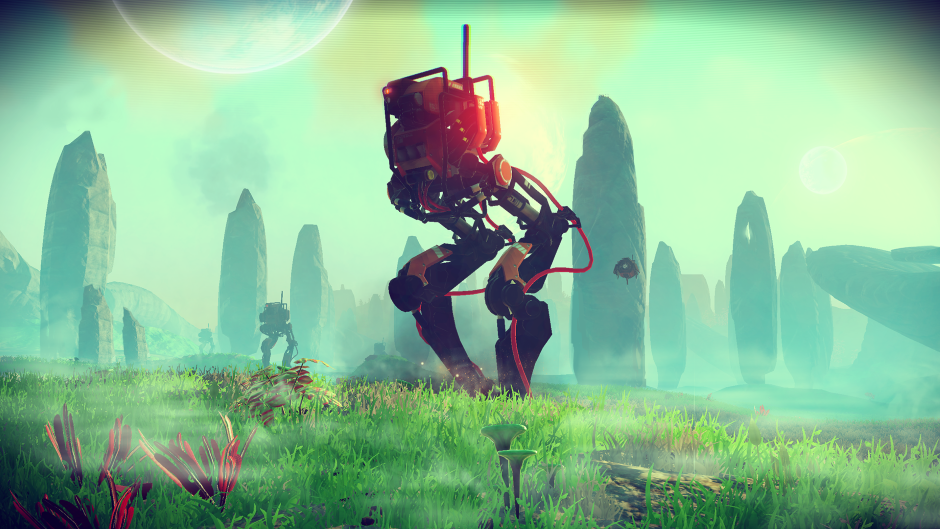 The team consisted of Duncan, Ream and Hello Games programmer, Innes McKendrick. This segregation created understandable tensions in the studio's tightly packed environment, but Murray persisted with his creative direction, lining the walls of a small backroom with the ripped-out covers of old science fiction books; authors like Isaac Asimov and Arthur C. Clarke, who would provide the colourful and luxuriant inspirations for the game.
Still shrouded in mystery, Skyscraper was worked on for a number of months – even up to a year. Ahmad reached out to Murray earlier in 2013, asking him if he would like to deliver something for the PS4 sometime in 2014. "He came back to me and said that he was working on something 'super ambitious' and even then, he was clear that this project would blur the boundaries between digital and retail." he explains. "I told him that whenever he was ready, my team was ready to support him in whatever way he needed."
No Man's Sky is heavily inspired by Murray's youth, when he dreamed of becoming an astronaut and the first person to set foot onto an alien planet. In order to create a game that matched the scope of these childhood wonders, the team utilised complex mathematical algorithms to procedurally generate enormous amounts of content within a spectacularly large space. The game's universe, itself comprised of multiple full-size galaxies, is so large that it's difficult to comprehend: over 18-quintillion – or 18,000,000,000,000,000,000 – procedurally generated worlds that inhabit a complete cosmos. If you were to spend just a second on each, with no travel time between them, it would still take a player over 500-billion years to see them all.
Procedural generation isn't a new tool for games, by any means. 1984's Elite – a game Murray cites as a key personal inspiration – is perhaps most famous for popularising it, but more modern games like Borderlands have used the idea to create continually interesting loot systems, while survival games like Minecraft use it to create full biomes. Most recently, Frontier's Elite: Dangerous – a spiritual sequel to the original – used procedural generation to create a playable version of our own galaxy, containing over 400-billion stars.
No Man's Sky arguably goes some way further, visualising entire planets, their atmospheres, oceans and mountains, chemical compounds from an entire periodic table of real and fictional elements, a huge variation of beautiful and bizarre wildlife and fauna; and it does this all at once. Even the game's music is, in some way, procedurally generated – Hello Games' audio director, Paul Weir, uses a generative system called Pulse to create the ambient music in the game, allowing it to adapt to fit the mood of whatever the player is doing, reacting to different biomes or terrain, and amping up the tension as you engage in combat or venture into deeper caves.
More interestingly, Hello Games' planets remain permanent in the game's spectacularly vast world – you might leave a planet behind, but return to that same portion of space and it will be rendered again as the computer generated it initially. This allows multiple players to visit the same space and find the same things – perfect for a time when games thrive on the sharing of clips and photos.
Toward the end of 2013 as the game took shape, Murray contacted one of his favourite bands – the instrumental post-rockgroup 65daysofstatic – to request permission to use their track Debutante for the game's first trailer. "The more we learnt the more we wanted to be involved," recounts founding member Joe Shrewsbury to the Independent. "We made it abundantly clear that if they didn't have someone lined up to do the soundtrack, we'd be interested". Soon after the initial conversation, 65daysofstatic were commissioned to write the game's official score, and the unconventional puzzle of No Man's Sky had begun to piece together.
On December 7th, 2013, after years of hard work, No Man's Sky was unveiled to the world. Encouraged by well-known journalist and presenter, Geoff Keighley, to show the game off at the VGX Awards, Hello Games shared the stage alongside triple-A behemoths like Bungie's Destiny, Crystal Dynamic's Tomb Raider and Respawn's Titanfall. "Geoff mailed me, about three or four weeks before the VGX Awards." Murray tells Vice. "He sent me this mail that had just one line in it, saying something like: 'Are you ready to join the big time?' Or something like that; something that nobody in Europe would ever send anyone."
Murray had pieced together a short homemade trailer depicting verdant forests, oceans teeming with life, frozen worlds and enormous starports suspended in the rich redness of open space. It was a wonderful, unexpected surprise that dominated the evening's conversation. The rest of the Hello Games team back in the UK saw the trailer just days before VGX.
Overnight, Murray and team became one of the most talked-about studios on the planet, and No Man's Sky went from a secret project that had been slaved over in a studio backroom, to a worldwide phenomenon that people wanted to know more about. Sean Murray had made his impact on the industry, but as the hype increased exponentially, so did questions about what kind of game No Man's Sky could actually be.
In many ways, that's a problem that Murray and his team have never truly overcome. 'Wow that game looks so amazing,' I've heard people say, 'but what actually is it?'. It's a question that's become synonymous with almost any No Man's Sky conversation, but for every question about what No Man's Sky is, there's another more pertinent question about how this indie darling has become the most anticipated title of a decade. Murray himself has said in interviews that, in the run up to the VGX announcement, other games developers urged him not to show the game in its then-current state; that the trailer was too unconventional and would - as it did - raise more questions than it answered. But for Ahmad, the game's resonance with players lies as much in its approach to science-fiction as a genre as in the specifics of its content.
"Games with a sci-fi setting have been terribly bleak for so long." he says. "Finally, this was a vision of hope, of optimism, of the science fiction of an era where space wasn't so uniformly depressing. The sheer audacity of the game has taken many by surprise. Naturally, the idea that a small developer can compete on the big stage with the heaviest of heavy hitters has resonated, as all plucky upstart stories tend to do. It's the profound idea that none of [the game] is like a Western film set – all smoke and mirrors. It's all there, it's all real, and all conjured up from the soul of a machine. There's the feeling that wherever you go, you are likely to be the first human to have seen what you're seeing, that it was conjured from nothing but maths for you and only you; all of this moves people."
The game's development was abruptly interrupted just a couple of weeks after the initial VGX reveal, when on Christmas Eve a nearby river burst its banks and the Hello Games studio flooded.
On Christmas Day, the team tweeted "A river broke its bank nearby yesterday, and A LOT of water flooded in really quickly. A biblical amount. It was coming in the windows!". The damage was catastrophic, destroying thousands of pounds worth of equipment and months of work in the process. Worse yet, insurance covered nothing thanks to the studio's location on a flood plain. The entire gaming community felt their pain, and Murray himself has said since that the incident even led to him contemplating the cancellation of the game.
"There was no offer of financial help during the flood, people often misunderstand this," says Ahmad, referring to the rumours that Murray had turned to the publisher for money. Instead, Murray pushed for and succeeded in getting Hello Games a headline spot front and center of Sony's E3 conference in 2014. This was essentially unheard of for an indie game, but Sony's confidence in the product was clear. Adam Boyes, Vice-President at Playstation at the time, described the game to The New Yorker as "potentially one of the biggest games in the history of our industry."
The team started 2014 with an understandable optimism – a reinvigorated spirit to drive the game towards completion and to not allow the flood to hamper its development in any way. There was now also a new pressure to deliver; to impress Sony, to fulfil their faith in the studio, and to ensure that the millions of gamers who now wanted No Man's Sky were not met with disappointment upon release.
Six months later, Murray stood on an E3 stage.
"I'm Sean, I'm from Hello Games," he said nervously, "We're a tiny little studio; a group of friends making No Man's Sky." The following demo was an extension of what the studio showed half a year previously – the seemingly infinite possibilities of a sci-fi universe that had a colourful optimism at its heart. "It was a really difficult thing to bring together a build to show on stage," Murray told GameInformer sometime after the presentation, "and I remember Sony being a bit worried that we have this crazy ambitious game but it's quite hard to boil down into a quick soundbite of a trailer."
Ever since that E3 presentation over two years ago, Hello Games has been hard at work to get the game finished and ready for final release. Naturally, it has since encountered more problems; multiple delays pushed the release back to August 2016, and this sparked outrage from some of the game's most passionate fans. Passion, unfortunately, turned to anger, and Hello Games reported – in surprisingly good humour – that they had received hundreds of messages of abuse, including death threats from some of the community's most outspoken members.
I have received loads of death threats this week, but don't worry, Hello Games now looks like the house from Home Alone #pillowfortMay 28, 2016
As recently as last week, the game was still hitting headlines. Alleged patent infringements were resolved only as recently as June; the studio was under fire from Sky TV for the use of the word 'Sky', a problem even Microsoft fell victim to when it was dramatically ordered to change the name of its cloud storage system from 'Skydrive' to 'Onedrive'.
Furthermore, discussions about Hello Games' potential use of a mathematical concept called the Superformula are still ongoing. The Superformula was coined by plant geneticist Johan Gielis almost 15 years ago, and it allows one to calculate and generate the complex shapes found in nature; crystal formations; mountain ranges; blades of grass; a bird's wings. Depending on the outcome of these talks, Hello Games may be liable to pay fees to Gielis but the release of the game has been otherwise unaffected.
On 7th July, 2016, a tweet from Sean Murray's personal account revealed that against all mathematical odds, death threats and Murdochian legal disputes, the game had officially gone gold – the term used to signify that core development had come to an end. Murray's Castaway-style facial hair is indication enough of the long, long days and late, late nights that went into hitting the game's release date.
It's happened. No Man's Sky just went gold. I'm so incredibly proud of this tiny team. 4 years of emotions pic.twitter.com/YJoI6JVgxqJuly 7, 2016
"It's been spectacularly difficult," impresses Ahmad. "Hello Games have been trying to create the impossible, with a truly tiny team. From a PlayStation view, the toughest challenge was keeping the game on the boil with a high internal profile when there was significant skepticism and resistance. That both Hello Games and PlayStation got past their respective challenges at the same time is as close to a modern miracle as you can get."
Miracles aside, Hello Games' problems weren't quite over yet. Just last week, many retailers broke street date, choosing to sell the game early. This is a colossal disappointment for any development team, as gamers are essentially able to play and comment on the game before it's officially finished. In today's climate of near-instant updates and patches, the No Man's Sky these gamers are experiencing is technically incomplete, containing problems intended to be resolved before the public got their hands on it.
This ignited further debate on Reddit when a user, who paid a reported $1250 to buy the game early, posted that he had reached the center of the game's universe in just 30 hours. In pre-release interviews, Murray had speculated perhaps off-the-cuff that it would take the average dedicated player between "40 and 100 hours" to do this, so people began to feel that they had perhaps been lied to. The Hello Games team has disputed this, arguing that day one patches will address more balancing issues with the game, and Hello Games programmer Innes McKendrick tweeted his understandable frustrations and upset on the matter as recently as this weekend.
The questions about what No Man's Sky "is" will likely continue beyond its release – for now, the fact that No Man's Sky "is" something at all is a remarkable achievement. Hello Games has, with a fraction of the resources of some AAA studios, created this year's most anticipated game; a game driven by a childhood love of sci-fi and a yearning to set itself apart. It has commanded the confidence of Sony, and has done so with a quiet grace against the barrage of problems it has encountered along the way.
More lastingly, the game has been considered "critical" to the PS4's success as a console. "When I signed No Man's Sky, you have to realise that the gap between PS4 and Xbox One wasn't so large," concludes Ahmad. "As far back as 2013 I was talking publicly about the necessity of games by independent developers that would blur the boundaries between traditional indie and traditional AAA. No Man's Sky did that, and more will follow. Creative risk is what moves a medium forward. No Man's Sky was a risky project to back. My ambition was always to see a game by an independent developer get the platform of a AAA. [It] looks like that happened."
Back in 2010, Sean Murray doubted the impact his studio was having, and questioned the point of the games that Hello Games was making. Six years later, I think he has his answer.