Onward, people. There's no more time to lay around mourning 2017 (it was pretty crap anyway) when we're nearly into the third month of this very year. Look forward. Look forward to the future. Look forward to films. Because there are a lot of good ones coming up in 2018. And plenty of promising ones. And probably a few that sound great, but which will probably disappoint, but we'll hastily sweep those under the carpet when the time comes, and swiftly move on. Just like we did with The Cloverfield Paradox.
We've got Avengers: Infinity War and X-Men: Dark Phoenix. We've got Tomb Raider, Wreck-It Ralph 2, and Incredibles 2. And of course, there's more Star Wars in the form of Solo. And beyond the obvious big-hitters, there's a raft of smaller, more off-kilter, entirely intriguing propositions coming in 2018, from anime adaptations, to classic horror sequels, to very promising sci-fi reboots and plenty of fresh, brand new ideas. So read on to check out the entire year's essentials, in release order, all right here on one page.
And if you're feeling nostalgic (or are just stuck for something to watch on Netflix), you can also look back at the best movies of 2017 with our round-up of last year's top films.
Annihilation
Release date: February 23, 2018
Based on the first of the Southern Reach trilogy of books by Jeff VanderMeer, Annihilation stars Natalie Portman and has the potential to be a lavishly artistic and thought provoking sci-fi tale. At the center of the story is a strange presence that's sealed off a small coastal area of the US behind an energy barrier, and a government agency's expeditions to discover what it is. The novels focus on granular character studies of the people involved, and how they deal with a presumed alien threat too otherworldly to fully comprehend. From the announcement trailer, however, it looks like Ex Machina director/writer Alex Garland has brought the extraterrestrial threat more to the fore. Given how well his previous film dealt with the questions of artificial life, it'll be interesting to see how he does the same when the metaphysical dilemmas are more extraterrestrial. Leon Hurley
Red Sparrow
Release date: March 2, 2018
Once its first trailer debuted online, it didn't take long for the internet to ridicule Red Sparrow as the unofficial Black Widow movie we've all been asking for. Yes, it focuses on a female Russian spy who eventually falls for a CIA agent (Hawkeye? Is that you?), but a closer inspection quickly reveals that this is anything but a MCU rip-off. In fact, Red Sparrow looks to be a terse, suspenseful modern spy thriller, couched in a bleak geopolitical landscape and grounded by the kind of dark themes that you'd never see a Marvel movie grappling with. Jennifer Lawrence throws herself into every role she's cast in, but don't go in expecting too much in the way of Atomic Blonde-esque action: Red Sparrow wants to send shivers down your spine as much it leaves your adrenaline pumping. Alex Avard
Tomb Raider
Release date: March 16, 2018
Just as the rebooted game Lara shows us a younger, more vulnerable side to the kickass archaeologist, Oscar winner Alicia Vikander's casting shows Tomb Raider's plan to do the same. This origins story will focus on Lara's father but also, hopefully, punching leopards and solving overly complicated cog puzzles. Sure, we'll all miss the feline power that Angelina Jolie gave Lara, but the idea of seeing Ms Croft on her first expedition, and joined by the legitimately iconic Kristin Scott Thomas (she's going to turn out to be a villain, right?) is almost as exciting as the first time you saw that T-Rex. Rachel Weber
Pacific Rim Uprising
Release date: March 23, 2018
The sequel to 2013's criminally underrated Pacific Rim was trapped in development hell for a long time, receiving multiple delays and change-ups to the cast. Charlie Hunnam has been replaced by Star Wars' John Boyega as the lead star, and Idris Elba has been dropped entirely, but this is still very much a continuation of the first movie's story. Years after the events of the first Pacific Rim, the Kaiju threat re-emerges and a new team led by General Stacker Pentecost's son (piloting upgraded Jaeger mechs, of course) must put a stop to it. There's also been teases of a potential rogue Jaeger as well, with glimpses of some awe-inspiring mech-on-mech fighting. Pacific Rim Uprising probably isn't going to challenge your brain or make you reflect with deep thoughts, but it looks damn cool. Sam Prell
Ready Player One
Release date: March 29, 2018 (US)/March 30, 2018 (UK)
Steven Spielberg is looking to add another sci-fi blockbuster to his resume (because apparently he doesn't have enough) with the adaption of Ernest Cline's Ready Player One. The novel tells the story of Wade Watts, a teenager growing up in a dystopian future with only one escape - the OASIS, a VR world where you can be anyone you want to be. People work in it, play in it, do everything in it, but when its creator dies he leaves ownership of it to whoever can solve a series of Easter eggs he's hidden in the OASIS. Unsurprisingly, the evil corporations want it for themselves so they can charge the public for using it, which leads Wade and his friends to try and solve the Easter eggs before them so they can keep it free for everyone. We've already had a couple of trailers and it looks like it's going to chock full of as many cool pop culture references as the book! Lauren O'Callaghan
Rampage
Release date: April 20, 2018
The elevator pitch for Rampage really is as simple as 'Dwayne Johnson versus giant monkey', but can you really tell me you're not immediately tempted by those five little words? Loosely based on an arcade game of the same name ("loosely" being the operative word), Rampage is a disaster movie where the disaster just so happens to be a silverback ape the size of a small island. But wait! There's more to it than that! You have giant wolves, giant crocodiles… oh, and did I mention a regular sized Dwayne 'The Rock' Johnson? You're going to have to leave your brain firmly at the snack stand when this one hits theatres. Alex Avard
Avengers: Infinity War
Release date: April 27, 2018 (UK)/May 4, 2018 (US)
As blockbusters go, it doesn't get much bigger than Avengers: Infinity War. This movie is the culmination of the MCU so far, with a cast list longer than both my arms, and some serious consequences promised for every Marvel movie that comes after it. Forget every other movie on this list, this is the most anticipated movie of 2018. The Avengers, the Guardians of the Galaxy, and a whole host of other superheros are teaming up to take down Thanos in the first part of Marvel Studios' massive movie crossover and if the first trailer is anything to go by, it's not one to be missed. Better start rewatching all the MCU now then… Lauren O'Callaghan
Deadpool 2
Release date: May 18, 2018
For many sequels, losing key creative talent might seem a blow. For Deadpool 2, it was an opportunity, and the movie grabbed it with both, blood-drenched hands. When original director Tim Miller left the project, in came John Wick co-director David Leitch, promising a slicky amped-up, even more stylish level of brutal action. With Josh Brolin making his debut as Deadpool's grumpy future cyborg bestie Cable - in a role that reportedly beat the crap out of the actor - Deadpool 2 is looking leaner, sharper, and altogether more hardcore, while still retaining the intimate scale and ludicrous character focus that made the first one sing just so loudly. David Houghton
Solo: A Star Wars Story
Release date: May 25, 2018
"Never tell me the odds." That's surely what everybody's favorite roguish Star Wars smuggler would say in response to all the production hiccups that have encumbered the making of this Han Solo origin story. Switching directors and scheduling copious reshoots is always a bit disconcerting, but with any luck, getting to see a younger Han (played by Alden Ehrenreich) palling around with Lando (Donald Glover, in an ingenious casting move) will make us forget all about any pre-release troubles. Rogue One set the stage for what A Star Wars Story can be, but Solo could elevate the concept by fleshing out one of the universe's most beloved characters while contextualizing his timeless appeal for a new generation. Plus, we might finally witness the Millennium Falcon make the famed Kessel Run in less than 12 parsecs. Lucas Sullivan
Jurassic World: Fallen Kingdom
Release date: June 7, 2018 (UK)/June 22, 2018 (US)
Watch the first trailer for Jurassic World 2 or, to give it its full name, Jurassic World: Fallen Kingdom and you'll get two sensations. One is of sheer joy as your Jurassic Park loving soul gets to watch another dino-packed movie that's clearly spared no expense, and the other is feeling that it might be the most ridiculous thing you've ever seen. This is all understandable but let's embrace the trash. It's a wonderfully silly premise. Raptors! Chris Pratt! A volcano threatening to destroy ALL of the dinosaurs and somehow people actually going back to the island to save the toothy wonders! And hey, if all that can't convince you, Jeff Goldblum definitely will. Life finds a way indeed. Louise Blain
Ocean's 8
Release date: June 8, 2018 (US)/June 22, 2018 (UK)
Hollywood's ongoing efforts to produce all-female reboots of beloved films didn't get off to a great start with the well-intentioned, but slightly disappointing Ghostbusters movie, and that puts a lot of pressure on Ocean's 8 this year. Billed as a modern spin-off to the George Clooney led Ocean's Eleven series of heist flicks, the cast list alone is enough to leave you reeling with anticipation, with Sandra Bullock, Cate Blanchett, Anne Hathaway, Mindy Kaling, Sarah Paulson, Rihanna, and Helena Bonham Carter all involved as part of the ensemble effort. Here's hoping the story and script can do justice to the importance of a film like this one; in the climate of today's entertainment industry, a smart, show-stopping female-led blockbuster could be more valuable than ever. Alex Avard
Incredibles 2
Release date: June 15, 2018
The superhero family are finally back, 15 years after their cinematic debut. Incredibles 2 picks up straight after the end of the first movie and it looks like it'll focus more on Helen Parr (otherwise known as Elastigirl) going to work while Bob, her husband and fellow superhero Mr Incredible, stays at home looking after their three kids. There's sure to be conflict between the Parr's home life and Helen becoming part of the work force once again. Everything suggests that it'll be just as on-point with its satire as the first movie considering Brad Bird is writing and directing this sequel. Oh, and the family still don't know about Jack-Jack's bewildering range of powers. They'd better get their fire extinguishers ready… Zoe Delahunty-Light
Ant-Man and the Wasp
Release date: July 2, 2018 (UK)/July 6, 2018 (US)
The original Ant-Man turned out to be a surprise delight for Marvel's roster. Ant-Man and the Wasp is doubling down on Paul Rudd and Evangeline Lilly chemistry by teaming Rudd's tiny superhero with Lilly's role as the Wasp, a winged, equally shrinking, partner. We've seen Lilly's amazing physique for the part, and we know the film focuses on her, while Michael Douglas is back as Hank Pym, with Michelle Pfeiffer joining as Janet Van Dyne, the original Wasp, and Lilly's on-screen mother. Her casting suggests we might see some past action, especially with Laurence Fishburne as Goliath, a giant-sized running mate of the original Ant-Man and Wasp team. While the plot's still secret, a heist is definitely involved, and a new villain called The Ghost, played by Hannah John-Kamen, an invisible thief who can pass through walls. Leon Hurley
The First Purge
Release date: July 4, 2018 (US)
The Purge films, with their tales of an annual evening of legalised, cathartic crime, have always blended their rampaging bat-to-face horror action with varying political undercurrents. But The First Purge – not-at-all shockingly a prequel to the whole series – sounds to be dialling that up to new levels. Intended to explain how the series' America came to accept something as horrendous as the Purge Night holiday in the first place, it tells the tale of the first test event, which plays out on a locked-down Staten Island. As we all know, dangerous experiments in isolated locations always stay that way in horror movies, and with The First Purge apparently exploring the clash between the marginalised and their political oppressors, you can bet that it's going to get messy. Yes, it's debatable whether we really need a fourth Purge movie, but if this one spends more time exploring the social climate before the skull cracking, it could well stand out as a worthwhile addition. That red cap in the poster certainly hints at some relevant intent. David Houghton
Mission: Impossible - Fallout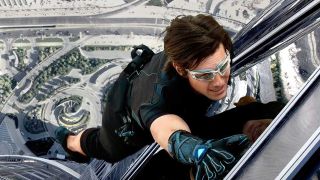 Release date: July 26, 2018 (UK), July 27, 2018 (US)
With most of the cast returning from the excellent Rogue Nation, which very much stopped the rot of this great spy franchise, expectations are high for Mission: Impossible - Fallout. Nothing is known of the actual plot right now, but we can expect the usual globe-hopping adventure, with filming locations taking in Norway, New Zealand, India, Paris, and London. We would probably have gotten M:I6 earlier, if star Tom Cruise (who plays Ethan Hunt) hadn't entered into a salary dispute in the middle of 2017. Because of this filming delay, one of the few high-profile losses from Rogue Nation is Jeremy Renner, who couldn't commit to M:I6 and Avengers: Infinity War. Cast members new to the franchise include Henry Cavill, Henry Cavill's moustache, and Angela Basset, while Ving Rhames (Luther), and Simon Pegg (Benji) return, along with Rebecca Ferguson who played Isla Faust in Rogue Nation. Based on that last movie alone, and the returning cast… consider us hyped! Andy Hartup
Slender Man
Release date: August 24, 2018
Everyone's talking about the Slender Man movie right now... but perhaps not for the right reasons. Not only is it about ten years too late to the party to feel anything close to relevant, but its trailer has already led many to criticise the movie as a distasteful trivialisation of a real life tragedy. The trailer in question does indeed leave me to believe that Slender Man won't be all too diplomatic in treading the line between fact and fiction, but we'll have to withhold judgement until the movie releases later this year. At the very least, it'll be interesting to see how the Slender Man himself is portrayed by Javier Botet, who's tasked with the lofty challenge of playing a faceless, wordless boogie man. Alex Avard
The Predator
Release date: September 14, 2018
After Lethal Weapon, Iron Man, and Robocop, it only makes sense that one of Hollywood's sharpest writers turns his head towards the Predator. In fact, one of Shane Black's first gigs in the industry was playing the role of Hawkins in the original Predator movie, so his upcoming sequel (now behind the camera instead of in front of it) almost seems like a cinematic journey come full circle. No, Arnie won't be back, but reports of returning to the intimate scale and mysterious atmosphere of the original is good news all around for fans and franchise newcomers alike. Who knows? After the disappointment of Alien: Covenant, this movie could mark the predator reclaiming its throne as the movie monster to be reckoned with. Alex Avard
Venom
Release date: October 5, 2018
Venom is an outlier in the world of comic book movies. It isn't attached to other universes – as much as Sony want it to be – and it's got to tempt audiences with the idea of a solo film starring a character who is predominantly known as a villain. So, how do you get that done? Cast Tom Hardy as Eddie Brock, that's how. A lot of the film is currently under wraps, but, if successful, it could kickstart a Sony-led cinematic universe with the *counts on fingers* three characters not owned by Disney. If nothing else, it's packing a killer cast: Hardy is joined by Rogue One's Riz Ahmed, the Han Solo movie's Woody Harrelson, and Oscar nominee Michelle Williams. With the movie calendar awash with MCU releases from now until the end of time, this could be a nice palette cleanser for those who like their Marvel flicks a little darker, and filled with symbiotes. Bradley Russell
Halloween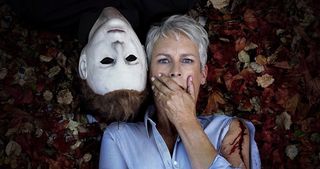 Release date: October 19, 2018
I know, I know. If Texas Chainsaw Massacre, Final Destination, Saw, and Friday the 13th are anything to go by, reboots and modern sequels to classic horror franchises never end with good results. But the 2018 Halloween movie could be different. Jamie Lee Curtis is returning as franchise icon Laurie Strode, Danny McBride is helping pen the script (suggesting that the movie will have a healthy sense of self-aware humour), and John Carpenter himself is on board to produce and score. Heck, even the original man behind the mask, Nick Castle, is back to reprise his role as knife enthusiast turned serial killer Michael Myers. All things considered, we may have a revived slasher horror masterpiece on our hands this October. Alex Avard
X-Men: Dark Phoenix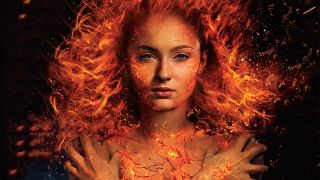 Release date: November 2, 2018
Being completely honest here: X-Men: Apocalypse was… not great. Thankfully Dark Phoenix is a return to one of X-Men's best storylines. Set in the '90s after the X-Men have sprung to global fame, Professor X's vanity has got the better of him and is beginning to affect the group. Little do they know that something altogether more threatening than a failed TIME cover shoot is about to hit them - and it's going to be triggered by their rescue mission into space. Yes, space. I won't say how, but rest assured once the malicious Phoenix Force is awoken its thirst for destruction is all-consuming, giving Sophie Turner the chance to show us the same acting mettle that we've already seen in Game of Thrones. Zoe Delahunty-Light
Fantastic Beasts: The Crimes of Grindelwald
Release date: November 16, 2018
The second of an intimidating five movie series revolving around Fantastic Beasts author Newt Scamander (Eddie Redmayne), The Crimes of Grindelwald takes us further into familiar Harry Potter territory. While Gellert Grindelwald (Johnny Depp), surfaced at the end of the first movie, Dumbledore's friend turned nemesis is taking the limelight this time around as the action moves from New York to Paris. Scamander returns with the motley crew from Fantastic Beasts and this time will be joined by Jude Law as a young Professor Dumbledore. Presumably he'll be hunting down Grindelwald for the big showdown that Rowling fans are already nodding smugly about. A magical Christmas lies ahead. Louise Blain
Ralph Breaks the Internet: Wreck-It Ralph 2
Release date: November 21, 2018
Like your Grandma Ethel, Wreck-It Ralph is finally getting hooked up to the internet. The sequel to 2012's love letter to arcade games focuses on what happens when the arcade that Ralph (John C. Reilly) calls home gets plugged into the world wide web. He and Penelope (Sarah Silverman) venture into the electric interwebs to try and find a part to fix Penelope's game, Sugar Rush. The teaser trailer didn't tell us much, but we know that things get real meta, with Penelope visiting a Disney fansite called Oh My Disney (which exists IRL) and meeting all the Disney Princesses. There'll also be cameos from Star Wars favorites, Marvel's Iron Man, and Gamora, and - we'd bet our cheezeburger loving cat on it - meme references aplenty. Let's just hope Ralph and Penelope don't take a wrong turn down a broadband pipe and end up on 4chan. No one wants to see that. Rachel Weber
Creed 2
Release date: November 21, 2018
Director Ryan Coogler may be too busy with Black Panther to return to the Rocky franchise for Creed 2, but there's still plenty of reasons to be excited for this sequel to the Michael B. Jordan-led sports drama. 2015's Creed excelled in its ability to intertwine the origin story of boxing newcomer Adonis Johnson with the legacy of a cinematic icon, so of course it's exciting to see what this next chapter holds for both Donnie and Rocky now that the former has cemented himself as a future star. Sly Stallone himself was originally on board to direct, but has since voluntarily dropped out to hand the reins over to rising talent Steven Caple Jr. Given that this whole spin-off series is about the passing of the torch, I reckon that's probably for the best. Alex Avard
Alita: Battle Angel
Release date: December 21, 2018 (US), December 26, 2018 (UK)
In development thanks to James Cameron for around 20 years, Alita: Battle Angel - an adaptation of Yukito Kishiro's 1990-1995 manga, Gunnm - is one of the most exciting films of 2018 just by nature of the fact that it actually exists now. Finally ready for release, thanks to Robert Rodriguez stepping into script-edit and directing duties based on Cameron's original notes, little is known of the exact plot of the adaptation. We do know that it concerns a scrapped female cyborg found in a post-apocalyptic junk yard, brought back to amnesiac life by a well-meaning scientist before going on a skull-cracking journey of discovery. Given Gunnm's nine-book run and pre-existing anime adaptation, there's a lot of material to draw from, and it does look great. The junky, despairing world-building evokes the original work brilliantly, and Alita herself has come to life with an affectingly unreal sense of reality. David Houghton
Bumblebee: The Movie
Release date: December 21, 2018 (US)/ December 26, 2018 (UK)
No one's denying that the last few Transformers movies have been, well, awful. Like, really, really bad. But allow me this moment to play devil's (or should that be Michael's?) advocate for a second, as I try and make you hopeful for Bumblebee: The Movie - the upcoming Transformers spin-off focusing on the titular Autobot from Paramount's blockbuster franchise. Firstly, it's not directed by Michael Bay (phew), but Travis Knight, who's best known for his work at Laika, on animated movies such as Paranorman, Boxtrolls, and last year's Kubo and the Two Strings (his directorial debut). Then there's the cast. No more Mark Wahlberg playing Mark Wahlberg with glasses. Now we have the likes of Hailee Steinfeld and John Cena leading what is essentially a prequel to Bay's original Transformers movie of 2007. Yes, chances are that it's going to be just as bloated and jingoistic as the other dozen films in the franchise, but fingers crossed that Bumblebee might actually able to surprise us this year. Alex Avard
Aquaman
Release date: December 21, 2018
Back in the Super Friends days, Aquaman seemed pretty low on the heroics totem pole, perhaps just a step above the Wonder Twins. But the modern-day Aquaman of DC's Extended Universe is a far cry from the orange tights of old, and what we saw of the Atlantean in Justice League has us (relatively) excited for more. Jason Momoa is perfect as Arthur Curry - not just because he's ridiculously ripped, but also thanks to the brazen machismo he brings to the character, like a toned-down version of the water-breathing, fish-commanding royal's depiction in Batman: The Brave and the Bold. Aquaman's solo movie should give us plenty of action, more screen time for Aquaman's people (like Amber Heard as Queen Mera), and hopefully at least one surfing scene. Lucas Sullivan
Bohemian Rhapsody
Release date: December 25, 2018 (US)/December 28, 2018 (UK)
Much like the song it's named after, Bohemian Rhapsody's ongoing journey to the big screen has already been marked by a frenzy of ups and downs. First Sacha Baron Cohen quit after working on pre-production for six years on the Queen biopic, before director Bryan Singer then departed the project only last December, reportedly due to an unprofessional demeanour that didn't sit well with Rami Malek, who's set to play Freddie Mercury himself. We still don't even have a trailer for the movie yet, but the single image that has been released, of Malek giving it his all as Mercury on stage, is admittedly tantalising enough to keep us hopeful about the prospects for this one. Alex Avard
Mary Poppins Returns
Release date: December 25, 2018
You could practically hear the collective head shaking and hushed tutting when Disney first announced it was making a sequel to Mary Poppins; its crowning achievement from the early days of family cinema. But take the news with a spoonful of sugar, and you'll soon see that there's hope for this unexpected follow-up yet. The always wonderful Emily Blunt replaces Julie Andrews as the magical English supernanny for this musical sequel, starring alongside the likes of Lin-Manuel Miranda, Meryl Streep, Colin Firth, and even Dick Van Dyke, returning for an undisclosed cameo role. Considering Disney's strong recent history with modern reboots from its back catalogue, from The Jungle Book to Beauty and the Beast, this could well turn out to be the Mary Poppins sequel we never knew we needed. Alex Avard