If you can believe it, we're already almost half way through the year and so far we've had some cracking cinematic releases. The best movies of 2018 already include Marvel Studios offerings in the form of Black Panther and Avengers: Infinity War, indie horrors such as A Quiet Place and The Ritual, and even an out there, sort of Netflix Original but not really, no-idea-what's-going-on movie called Annihilation. And there's still so much more to come!
Below you'll find every upcoming movie of 2018 - in order of release - we think/hope will be worth watching, from the very nearly here Deadpool 2, to the fingers crossed it'll be good Solo: A Star Wars Story. There's also some movies you might not have considered, like HBO's Fahrenheit 451 and Sicario sequel Soldado, not to mention the far away releases you've definitely forgotten about, AKA December's Mary Poppins Returns and Aquaman. Read and on and check out the most exciting movies coming in 2018 and if you're looking for the top films of last year, here's our best movies of 2017 list as well.
Deadpool 2
Release date: May 15, 2018 (UK)/May 18, 2018 (US)
For many sequels, losing key creative talent might seem a blow. For Deadpool 2, it was an opportunity, and the movie grabbed it with both, blood-drenched hands. When original director Tim Miller left the project, in came to John Wick co-director David Leitch, promising a slick amped-up, even more stylish level of brutal action. With Josh Brolin making his debut as Deadpool's grumpy future cyborg bestie Cable - in a role that reportedly beat the crap out of the actor - Deadpool 2 is looking leaner, sharper, and altogether more hardcore, while still retaining the intimate scale and ludicrous character focus that made the first one sing just so loudly. David Houghton
Read more: Deadpool creator Rob Liefeld on X-Force sequels, superheroes, and what's next for the Merc with a Mouth
Fahrenheit 451
Release date: May 23
Yeah, we're allowing a made-for-TV movie on this list. We're allowing it because it's being made by HBO (and so has production values through the ceiling), stars a heavyweight Hollywood topline cast of Michael B. Jordan and Michael Shannon, and is an adaptation of one of the most legendary - and continually important - sci-fi novels in the genre canon. Retelling Ray Bradbury's novel of the same name, Fahrenheit 451 is the story of a near future in which firemen are employed to start blazes, not put them out. Specifically, it's their job to burn books, as the world continues a bid to wipe out both fact and fiction in order to live in supposedly blissful ignorance, free of the "chaos" of recorded knowledge and ideas. In an age in which much of humanity seems to be wilfully submitting to misinformation and ignorance, Fahrenheit is more relevant than it's ever been, meaning that this could be a very valuable adaptation indeed. David Houghton
Read more: 5 HBO shows (and 4 movies) to get excited about this year
Solo: A Star Wars Story
Release date: May 24, 2018 (UK)/May 25, 2018 (US)
"Never tell me the odds." That's surely what everybody's favorite roguish Star Wars smuggler would say in response to all the production hiccups that have encumbered the making of this Han Solo origin story. Switching directors and scheduling copious reshoots is always a bit disconcerting, but with any luck, getting to see a younger Han (played by Alden Ehrenreich) palling around with Lando (Donald Glover, in an ingenious casting move) will make us forget all about any pre-release troubles. Rogue One set the stage for what A Star Wars Story can be, but Solo could elevate the concept by fleshing out one of the universe's most beloved characters while contextualizing his timeless appeal for a new generation. Plus, we might finally witness the Millennium Falcon make the famed Kessel Run in less than 12 parsecs. Lucas Sullivan
Read more: The 30 best Han Solo moments ever
Jurassic World: Fallen Kingdom
Release date: June 6, 2018 (UK)/June 22, 2018 (US)
Watch the first trailer for Jurassic World 2 or, to give it its full name, Jurassic World: Fallen Kingdom and you'll get two sensations. One is of sheer joy as your Jurassic Park loving soul gets to watch another dino-packed movie that's clearly spared no expense, and the other is feeling that it might be the most ridiculous thing you've ever seen. This is all understandable, but let's embrace the trash. It's a wonderfully silly premise. Raptors! Chris Pratt! A volcano threatening to destroy ALL of the dinosaurs and somehow people actually going back to the island to save the toothy wonders! And hey, if all that can't convince you, Jeff Goldblum definitely will. Life finds a way indeed. Louise Blain
Read more: Jeff Goldblum sings his own Jurassic Park theme song and does a dolphin impression in our Thor: Ragnarok interview
Ocean's 8
Release date: June 8, 2018 (US)/June 22, 2018 (UK)
Billed as a modern spin-off to the George Clooney led Ocean's Eleven series of heist flicks, the cast list alone is enough to leave you reeling with anticipation, with Sandra Bullock, Cate Blanchett, Anne Hathaway, Mindy Kaling, Sarah Paulson, Rihanna, and Helena Bonham Carter all involved as part of the ensemble effort. Here's hoping the story and script can do justice to the importance of a film like this one; in the climate of today's entertainment industry, a smart, show-stopping female-led blockbuster could be more valuable than ever. Alex Avard
Read more: The 25 best movies that pass the Bechdel Test with flying colors
Incredibles 2
Release date: June 15, 2018 (US)/July 13 (UK)
The superhero family are finally back, 15 years after their cinematic debut. Incredibles 2 picks up straight after the end of the first movie and will focus more on Helen Parr (otherwise known as Elastigirl) going to work while Bob, her husband and fellow superhero Mr Incredible, stays at home looking after their three kids. There's sure to be conflict between the Parr's home life and Helen becoming part of the work force once again. Everything suggests that it'll be just as on-point with its satire as the first movie considering Brad Bird is writing and directing this sequel. Oh, and the family still don't know about Jack-Jack's bewildering range of powers. They'd better get their fire extinguishers ready… Zoe Delahunty-Light
Read more: The 9 best Pixar short films, that do more in 5 minutes than some movies do in two hours
Sicario 2: Soldado
Release date: June 29, 2018
Not so much a direct sequel to Denis 'Blade Runner 2049' Villeneuve's brilliant 2015 crime thriller, more a tangential spin-off story exploring a new angle on the US/Mexican drug war, Soldado, as its title suggests, is taking a somewhat more militarised direction. Following Benicio del Toro and Josh Brolin's characters from the first film, Soldado deals with the revelation that drug cartels are smuggling jihadi terrorists across the border, and an extreme plan to disrupt the operation by inciting gang warfare. Villeneuve isn't returning, but new director Stefano Sollima has more than enough experience in gritty, political crime drama to deliver a taught, hard-nosed thriller worthy of the original. David Houghton
Read more: Denis Villeneuve's Arrival proves that Blade Runner 2049 is in safe hands
The First Purge
Release date: July 4, 2018 (US)/July 6, 2018 (UK)
The Purge films, with their tales of an annual evening of legalised, cathartic crime, have always blended their rampaging bat-to-face horror action with varying political undercurrents. But The First Purge – not-at-all shockingly a prequel to the whole series – sounds to be dialling that up to new levels. Intended to explain how the series' America came to accept something as horrendous as the Purge Night holiday in the first place, it tells the tale of the first test event, which plays out on a locked-down Staten Island. As we all know, dangerous experiments in isolated locations always stay that way in horror movies, and with The First Purge apparently exploring the clash between the marginalised and their political oppressors, you can bet that it's going to get messy. Yes, it's debatable whether we really need a fourth Purge movie, but if this one spends more time exploring the social climate before the skull cracking, it could well stand out as a worthwhile addition. David Houghton
Read more: The best upcoming horror movies of 2018
Ant-Man and the Wasp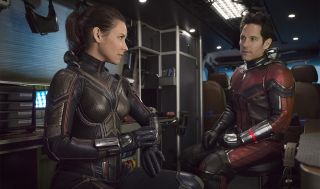 Release date: July 6, 2018 (US)/August 3, 2018 (UK)
The original Ant-Man turned out to be a surprise delight for Marvel's roster. Ant-Man and the Wasp is doubling down on Paul Rudd and Evangeline Lilly chemistry by teaming Rudd's tiny superhero with Lilly's role as the Wasp, a winged, equally shrinking, partner. We've seen Lilly's amazing physique for the part, and we know the film focuses on her, while Michael Douglas is back as Hank Pym, with Michelle Pfeiffer joining as Janet Van Dyne, the original Wasp, and Lilly's on-screen mother. Her casting suggests we might see some past action, especially with Laurence Fishburne as Goliath, a giant-sized running mate of the original Ant-Man and Wasp team. While the plot's still secret, a heist is definitely involved, and a new villain called The Ghost, played by Hannah John-Kamen, an invisible thief who can pass through walls. Leon Hurley
Read more: Why is Ant-Man and the Wasp being released a month later in the UK?
Mission: Impossible - Fallout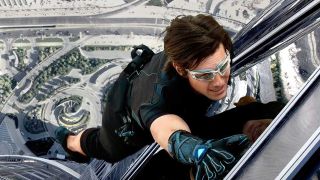 Release date: July 26, 2018 (UK), July 27, 2018 (US)
With most of the cast returning from the excellent Rogue Nation, which very much stopped the rot of this great spy franchise, expectations are high for Mission: Impossible - Fallout. Nothing is known of the actual plot right now, but we can expect the usual globe-hopping adventure, with filming locations taking in Norway, New Zealand, India, Paris, and London. We would probably have gotten M:I6 earlier, if star Tom Cruise (who plays Ethan Hunt) hadn't entered into a salary dispute in the middle of 2017. Because of this filming delay, one of the few high-profile losses from Rogue Nation is Jeremy Renner, who couldn't commit to M:I6 and Avengers: Infinity War. Cast members new to the franchise include Henry Cavill, Henry Cavill's moustache, and Angela Basset, while Ving Rhames (Luther), and Simon Pegg (Benji) return, along with Rebecca Ferguson who played Isla Faust in Rogue Nation. Based on that last movie alone, and the returning cast… consider us hyped! Andy Hartup
Read more: 25 unbelievable movie stunts so good you'll think it's CGI
Continue to Page 2 for more new movies of 2018