In his Marvel's Spider-Man review back in 2018, GamesRadar+'s Senior Guides Coordinator Leon Hurley said the ARPG is "about as good as superhero gaming gets". As a huge fan of Insomniac's slant on the adventures of Peter Parker's alter ego, I couldn't agree more – even now, almost five years on. And while Spidey in this guise borrows pretty heavily from Rocksteady Studios' Batman Arkham series, the game's realization of a scaled-down Manhattan, one terrorized by some of Marvel's deadliest supervillains, is a joy to behold.
The word "about" in my colleague's appraisal, however, is an important one – especially with an eye on Marvel's Spider-Man 2, due to launch as a PS5 exclusive at some point in "Fall 2023". Because while Spider-Man was, and still is, great, its sequel will undoubtedly strive to reach higher than its forerunner. With a formative tale that included everyone from Kingpin to Mister Negative, Scorpion, Shocker, Rhino, Vulture, Electro, Tombstone and Taskmaster, that clearly isn't going to be easy – even with number 2 featuring the likes of Venom, as we've already seen in teaser trailers. Going bigger than one of the biggest games of last generation is a tall order. But if anyone's up for it, I reckon it's Insomniac.
With great power
THE MORE YOU KNOW
Marvel's Spider-Man 2 – Everything we know so far about the PS5 exclusive
Otherwise known for Spyro the Dragon, Ratchet and Clank, and the Resistance series, Spider-Man marked a new opportunity for Insomniac Games that the studio grabbed with both hands. As noted above, the combat-heavy, open-world action RPG borrows plenty from the Batman Arkham series – not least its breakneck fisticuffs, where pinballing between enemies is the quickest route to success – but it does so with so much finesse that it really doesn't matter. Spider-Man's Miles Morales DLC – a PS5 launch entry in late 2020 – raised the visual bar on latest generation hardware, simultaneously offering us a glimpse at what could be later this year in Marvel's Spider-Man 2.
As covered in our Spider-Man 2 guide, Insomniac says that it wants to "deliver a compelling human story, one full of heart and humor that dives deep into the people behind the mask." And while that sounds great in narrative terms, story is often secondary in these types of games to action and spectacle. I'm most keen to see how this Spidey sequel handles its big beefy boss battles, and blockbuster set-pieces. Rykers Island was my favorite part of Spider-Man – can Spider-Man 2 match its spectacle? Time will tell, but while the first Spider-Man is hardly boring before that particularly juncture, the ways in which it introduces its final act via its Rykers Island scene, in my eyes, elevates the game from brilliant to outstanding – so much so, I now reckon Insomniac has a mammoth task in bettering it in Spider-Man 2.
I'd even argue that from a conceptual standpoint, the drama of the prison breakout rivals anything we've seen from Spider-Man's Hollywood adaptations – from Sam Reimi to Jon Watts – and, for me, even echoes the explosive transitions of the late Tony Scott's Man On Fire and Enemy of the State. From a design perspective, Rykers Island is otherwise inaccessible within a game rooted in near-unrestricted exploration, therefore risk versus reward while battling waves of enemies on unfamiliar ground is ramped up to 11. And, from a deferential point of view regarding its source material, there's something ultra-cool about seeing this game's take on the Sinister Six laying the boot into a grounded Spidey, all the while knowing we're only a few hours of game time away from getting our own back in typical superhero fashion.
And while I'm unsure how Insomniac will top it all in Spider-Man 2 at this stage, I'm certain it has all the tools and source material at its fingertips to do so. Because if you consider the webslinger's wider history with Miles Morales, with Venom, with other members of the interchangeable Sinister Six – not least the Green Goblin, whose tech we've already seen in Insomniac's universe – there is so much scope for similarly dramatic showdowns in the next upcoming outing. Which is to say: Insomniac has set its bar ever so high, so good was Spider-Man and its Miles Morales-focused DLC off-shoot. It'll take some doing for Marvel's Spider-Man 2 to go bigger than Insomniac's 2018 outing later this year. But, again, if anyone can do it, it's Insomniac.
---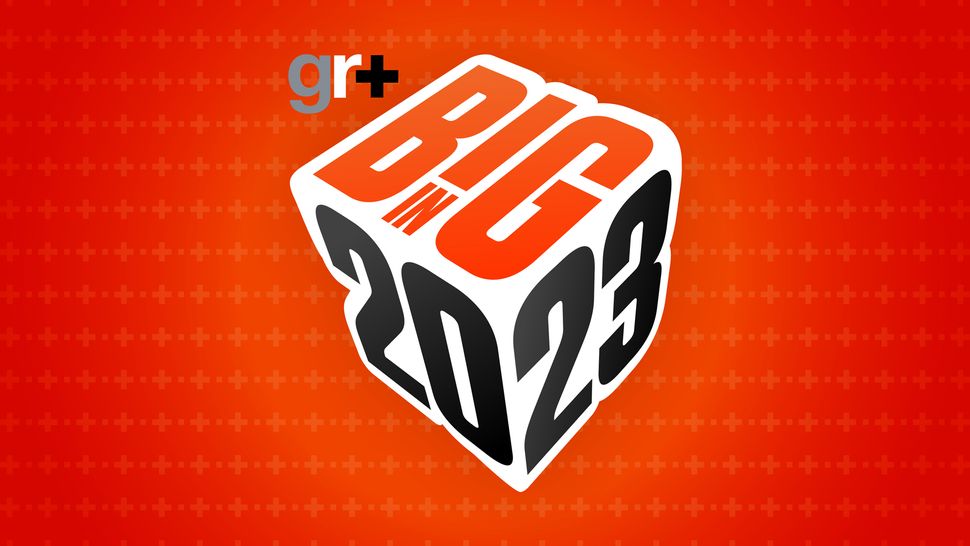 All throughout January, GamesRadar+ is exploring the biggest games of the new year with exclusive interviews, hands-on impressions, and in-depth editorials. For more, be sure to follow along with Big in 2023.