Ten years after the release of Devil May Cry 4 and five years on from the Ninja Theory developed reboot, Capcom announced Devil May Cry 5 at the Xbox E3 2018 press conference. A direct sequel to the original series featuring Dante and Nero, it seems to sidestep Ninja Theory's DmC canonically, which nevertheless taking a few promising cues from its vibe and execution. That is to say, it looks very much like a best of both worlds. Here's everything we know about the hardcore action game so far.
Devil May Cry 5 release date is spring 2019
Built in the RE Engine developed for Resident Evil 7, Devil May Cry 5 is scheduled to launch on Xbox One (with an enhanced version on Xbox One X), PS4, and PC in spring 2019.
Devil May Cry 5 trailer is a heady, high-energy mix of sassy story, acrobatic demon slaying, and pulsing beats
As sharp, intensive bursts of Devil May Cry go, the E3 Devil May Cry 5 trailer nails it. Fitting enough pure, undiluted DMC into two and a half minutes to give you a minor case of sensory overload, it's like a zesty, kinetic, monster-splatting pop video. Mashing up story, action, and very cool new gameplay additions in equal measure, it also seems to scale back the gothic fantasy slightly, to deliver something somewhat more in line with Ninja Theory's grittier (but still jubilantly goofy) contemporary vibe. Watch it, and you will be giddy. I guarantee this.
Devil May Cry 5 gameplay shows Nero making the most of his new arm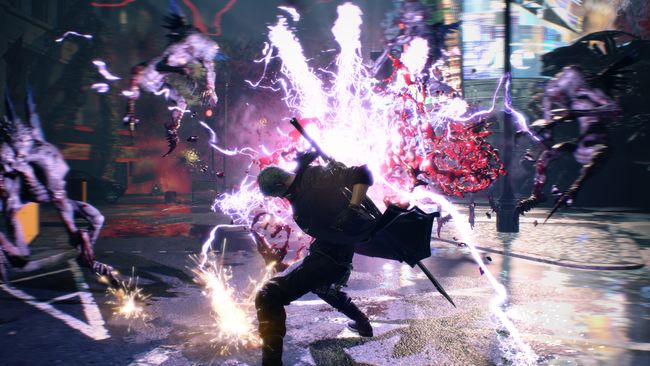 We've only seen Devil May Cry 5 gameplay footage featuring Nero so far, but already the idea that he's just one of three playable characters makes Devil May Cry 5 feel like a ludicrous bounty. The reveal trailer showcases a host of exciting new abilities for his mechanical arm, from generating waves of electricity and grappling distant foes to haul them into melee range, to blasting off as a retractable, multi-directional projectile (that airborne, downward vertical strike is particularly cool), and even freezing opponents in a time bubble.
In terms of combat flow, Devil May Cry 5 looks to be going for a greater clarity, with sharp, clear movements and bold, well-defined character design making for easy-to-read action even when the game hits its most frenetic. And it does get frenetic. Devil May 5 looks fast, apparently aiming for exactly that 'just ahead of the game' spontaneity that makes the best brawlers such a damn joy.
Devil May Cry 5 story continues the original series, with some fresh new additions
The new game, under the stewardship of returning game director Hideaki Itsuno, tells the story of a new demonic threat invading our world when a demon tree takes root in Red Grave City, unleashing hellish legions on an unsuspecting population lulled into complacency after years of relative peace. It features three playable characters - Nero, Dante, and an as-yet-unrevealed third - with "radically different stylish combat play styles."
Joining the playable characters is Nero's mechanic, Nico, who has built a modular robotic replacement for Nero's signature demonic arm, and seems to be an ever-present companion. Expect her to be your go-to for mechanical upgrades as the story progresses.
Taking a page from the Final Fantasy 15 playbook, Nico is a bare-midriffed, outspoken gearhead, though a throwaway line in the trailer makes it clear that she doesn't work for free. Upbeat and carefree she may seem, but she clearly takes her work seriously. As for Dante? He turns up at the end of the trailer, hurtling in on a motorcycle. No word on his part in the story yet, but expect some kind of split narrative, jumping between Devil May Cry 5's various heroes sequentially. No-one knows who the third protagonist is yet, but they're almost certainly the dark-haired character in the black coat, seen on the right-hand side of the art up top.
Check out all the other E3 2018 games that debuted during the show!