We finally have some Devil May Cry 5 V gameplay showing the new magic using fighter in action. Rather than physically fight V summons a range of demons to do all the heavy lifting for him. It's an interesting spin on the usual weapon waving combo chasing the series is usually known for.
While V adds a few new ideas, the rest of the game is a return to the old style Devil May Cry as Dante and Nero combo sword blows and juggle gunfire and mince up a generous stream of demons.
While this new entry sidesteps Ninja Theory's excellent DmC reboot it add some old fashioned Devil My Cry twists like Nero's Devil Bringer being replaced by a range of ability filled robotic arms, or a new weapon for Dante that also doubles up as a motorbike. Because why not? If you want more info on all that, and plenty of extra new details then read up on every thing we currently have ahead of the Devil May Cry 5 release date in March 2019.
Devil May Cry 5 release date is March 2019
Right now, the Devil May Cry 5 release date is March 8, 2018. That's far enough off right now that a delay isn't impossible, but let's all think positive and hope the RE Engine based game doesn't suffer any setbacks. It's currently set for release on PS4, PC and Xbox One.
There is a Devil May Cry 5 demo you can play now
There's currently a Devil May Cry 5 demo on the Xbox store if you want to try a short part of the game. If you've seen any game play footage at this point then you've probably seen it - it's the section where Nero fights through some monster filled streets and faces down a boss called Goliath.
The game's coming out on PS4 and PC as well so expect to see a demo on those later down the line after Microsoft's paid for exclusivity runs out.
Devil May Cry 5 characters continue from the original series, with some fresh new additions
The new game, under the stewardship of returning game director Hideaki Itsuno, tells the story of a new demonic threat invading our world when a demon tree takes root in Red Grave City, unleashing hellish legions on an unsuspecting population lulled into complacency after years of relative peace. It features three playable characters - Nero, Dante, and V a new character with a "radically different stylish combat play styles". More on that in a moment.
Dante is obviously back and reportedly the main character, despite Nero's presence in most of the demos so far. Dante's bringing back his Rebellion sword and devil Triggers to defeat the demon threat but this time he's also got Cavaliere - a motorbike that splits into two buzzsaw like weapons - and Balrog - armoured gauntlets and boots.
Then there's V, the mysterious new character. He's apparently the instigator of the story after hiring Dante and Nero to deal with the demon threat. He can't actually fight in the true sense of the work but rather summons demons to fight for him. There's Shadow, a beast that changes into blades and spikes to attack close up. Griffon is a bird that uses electric ranged attacks and Nightmare is a giant demon focused on slow, high power attacks.
As the trailer shows, V summons his demons and stands on the sidelines as they fight. However, he does have to land the final blow - no of the creatures he controls seem able to actually kill anything outright. That trailer also suggests he's got an interesting relationship with Dante, what with the apparent attempt to kill him and all that.
Joining these three playable characters is Nero's mechanic, Nico, who has built a modular robotic replacement for Nero's signature demonic arm, and seems to be an ever-present companion. She regularly appear throughout the game with her van, ready to swap out Nero's arms when you fancy a change of tactics.
Trish and Lady, from previous games are also back to what extent is currently unknown.
Devil May Cry 5 trailer is a heady, high-energy mix of sassy story, acrobatic demon slaying, and pulsing beats
As sharp, intensive bursts of Devil May Cry go, the E3 Devil May Cry 5 trailer nails it. Fitting enough pure, undiluted DMC into two and a half minutes to give you a minor case of sensory overload, it's like a zesty, kinetic, monster-splatting pop video. Mashing up story, action, and very cool new gameplay additions in equal measure, it also seems to scale back the gothic fantasy slightly, to deliver something somewhat more in line with Ninja Theory's grittier (but still jubilantly goofy) contemporary vibe. Watch it, and you will be giddy. I guarantee this.
Devil May Cry 5 gameplay shows Nero making the most of his new arm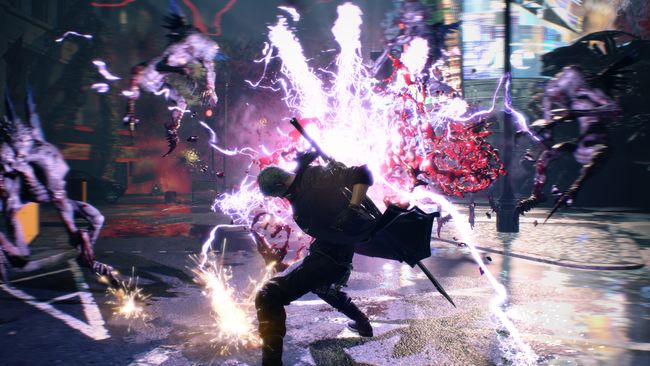 We've only seen Devil May Cry 5 gameplay footage featuring Nero so far, but already the idea that he's just one of three playable characters makes Devil May Cry 5 feel like a ludicrous bounty. The reveal trailer showcases a host of exciting new abilities for his mechanical arm, from generating waves of electricity and grappling distant foes to haul them into melee range, to blasting off as a retractable, multi-directional projectile (that airborne, downward vertical strike is particularly cool), and even freezing opponents in a time bubble.
In terms of combat flow, Devil May Cry 5 looks to be going for a greater clarity, with sharp, clear movements and bold, well-defined character design making for easy-to-read action even when the game hits its most frenetic. And it does get frenetic. Devil May 5 looks fast, apparently aiming for exactly that 'just ahead of the game' spontaneity that makes the best brawlers such a damn joy.
Check out all the other E3 2018 games that debuted during the show!