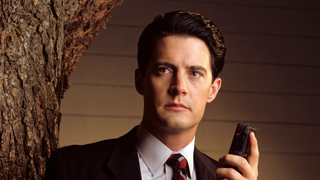 They're damn fine!
The third season of David Lynch and Mark Frost's cult supernatural soap opera has just finished, leaving us hungry for more. There might never be a season 4, but it did leave us with some unforgettable moments. In a show filled with memorable, hilarious, tragic, and terrifying scenes, choosing our favourite was no easy task. But after a lot of coffee, donuts, and deliberation—and a few scenes it pained us to leave out—here are our favourite Twin Peaks moments from all three seasons of the TV series and the movie Fire Walk With Me. There will, of course, be spoilers. Let's rock.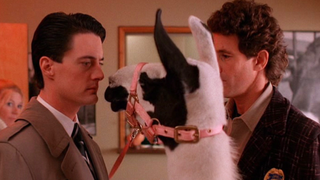 19. Cooper and the llama
The episode: season 1, episode 5 - The One-Armed Man
The moment: Agent Cooper and Sheriff Truman visit the Lydecker Veterinary Clinic to chase a lead. As they discuss the case in the waiting room, a woman squeezes between them with a llama in tow. The animal stops and stares at Cooper, who pauses mid-conversation to stare back. It snorts indignantly then continues on its way, and Cooper acts like nothing happened.
Why it's damn fine: One of the funniest moments in the show, and apparently completely unscripted. Kyle MacLachlan (Cooper) brilliantly rolls with the llama's rude interruption as Michael Ontkean (Truman) tries to keep a straight face, turning what could have been a fairly uneventful scene into a memorable one. Some of the best Twin Peaks moments, particularly in episodes directed by David Lynch, were the result of happy accidents like this.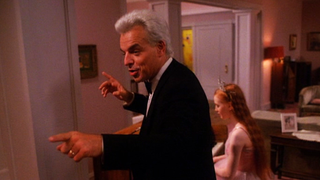 18. Leland sings Get Happy
The episode: season 2, episode 1 - May the Giant Be With You
The moment: At a dinner party hosted by the Haywards, Leland Palmer entertains the guests with an enthusiastic rendition of Get Happy accompanied by Gersten Hayward on piano. It starts well, and everyone is amused by his performance. But then his singing suddenly speeds up and becomes worryingly manic until he collapses on the floor.
Why it's damn fine: Leland's grief is manifested in a number of darkly amusing ways throughout the show, usually involving singing and dancing. Apart from his hair suddenly turning bright white, you almost believe he's over Laura's death at the beginning of season 2. But then the anguish hits him like a tidal wave at the dinner party and you realise that, deep down, he's still a broken man. The scene is as hilarious as it is sinister, which is a perfect description of Twin Peaks itself. No other show mixes the two so well.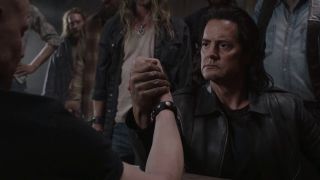 17. Arm wrestling
The episode: season 3, part 13
The moment: Evil Cooper arrives in Montana, at a place known in the criminal underworld as The Farm. He's there to squeeze some coordinates out of former associate Ray Monroe—who is actually a paid FBI informant—but finds himself confronted by a gang of extremely unsavoury characters. But, this being the weird world of Twin Peaks, the gang's leader challenges Coop to an arm wrestling match. And if he he wins—the very idea of which makes the gang snort with laughter—he'll become their leader. But little does the leader know, the doppelgänger has incredible strength thanks to his Black Lodge origins. He toys with his opponent before gruesomely breaking his arm.
Why it's damn fine: Kyle MacLachlan is incredible as Evil Cooper, to the point where you often forget it's the same dude playing the bumbling Dougie Jones. And this scene is one of the black-eyed doppelgänger's finest moments, showing just how utterly cruel he can be. Most of the time this character is driven and single-minded, but here he takes some time to play with his opponent, effortlessly swinging his arm back and forth as he struggles to fight back. And the scene ends on a violent note with Cooper snapping the guy's arm then killing him with a single, powerful punch. Why is this gang so into arm wrestling anyway? You'll have to ask David Lynch.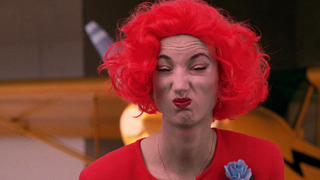 16. Lil the dancer
The movie: Fire Walk With Me
The moment: FBI agents Chet Desmond and Sam Stanley arrive in Oregon to investigate the murder of Teresa Banks, another of BOB's victims. Their boss Gordon Cole (played by David Lynch himself) introduces them to Lil, a woman he describes as "his mother's sister's girl." She has red hair, wears a red dress with a blue rose pinned to it, and acts in a bizarre manner. Stanley is confused, but Desmond watches her carefully, knowing that it's an elaborate form of code used by Cole to brief his agents on especially sensitive cases.
Why it's damn fine: Lil's peculiar performance reveals the details of the case, which Desmond explains to Stanley. The sour look on her face means they'll run into problems with the local sheriff. She walks in place, meaning there'll be a lot of legwork involved. And as for the blue rose, Desmond won't say. But it's suggested that it represents a case with a mysterious or supernatural element. This scene is classic David Lynch. Surreal, visually striking, and strangely unsettling. It also deepens the mystery, suggesting Cole may have knowledge of the Black Lodge's involvement in Banks' murder.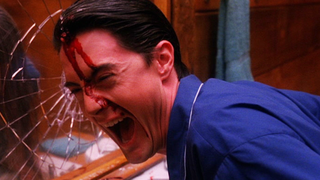 15. How's Annie?
The episode: season 2, episode 22 - Beyond Life and Death
The moment: After his ordeal in the Black Lodge (more on that later), Cooper wakes up in his room at the Great Northern. Truman and Will Hayward have been watching over him, and he asks them how Annie is. Truman reassures him that she's in the hospital and will be fine. Cooper gets out of bed and announces that he has to brush his teeth, disappearing into the bathroom. He squeezes an entire tube of toothpaste into the sink then violently smashes his head against the mirror, revealing the grinning reflection of BOB. "How's Annie?" he repeats in a deranged voice, and the credits roll.
Why it's damn fine: Until this point, Cooper has been untouchable. A stalwart force for good in Twin Peaks. But this moment proves, in one of TV's cruellest cliffhangers, that nobody is immune to BOB's demonic influence. In an earlier episode Hawk tells Cooper that if someone passes through the Black Lodge with 'imperfect courage', it will annihilate their soul. And that seems to be what led to Cooper being possessed. His concern for Annie, and fear of what Windom Earle would do to her, were his downfall. A genuinely terrifying scene that's been haunting fans of the series, and of Cooper, for years.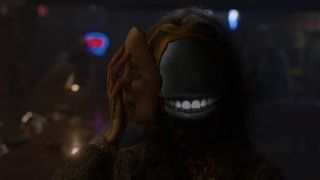 14. Sarah Palmer bites back
The episode: season 3, part 14
The moment: Sarah Palmer is in a dark place in The Return. And we see the extent of that darkness when she encounters a pushy guy in a bar. Sarah just wants to drink in peace, but the trucker won't stop harassing her, forcing her to reveal her true self. She pulls her face away revealing a dark, foggy void, in which we see a scary grinning face. Then she bites a huge, bloody chunk out of the trucker's neck, killing him. The barman runs over to investigate, but Sarah feigns ignorance. Is Sarah possessed by something? Perhaps Judy? It was never explained, and we'll probably never get a definitive answer.
Why it's damn fine: Since the original series it's been hinted at that Sarah has some connection to the dark forces of Twin Peaks, and this confirms it in the most horrible way. It's a brilliantly gruesome scene, and the trucker is so repulsive that you find yourself cheering Sarah on as she devours his neck. Until this scene we just assume Sarah is struggling to cope with the death of Laura and Leland, but this shows us that there's something a lot more disturbing going on in the old Palmer house.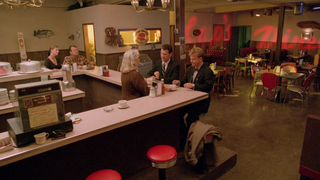 13. Welcome to Deer Meadow
The movie: Fire Walk With Me
The moment: Chet Desmond and Sam Stanley arrive in Deer Meadow, the Oregon town where drifter Teresa Banks lived before she was killed. They meet the belligerent local sheriff, who seems reluctant to help their investigation. They view her body at the local 'morgue', which is little more than a shed. Then they stop at a dingy eatery called Hap's Diner for dinner and are served by a rude waitress called Irene. "You want to hear about our specials?" she asks sarcastically. "We don't have any." It's a bleak town with an uneasy atmosphere, and the residents have nothing but contempt for the FBI.
Why it's damn fine: Deer Meadow is David Lynch at his mischievous best. Fans went into Fire Walk With Me expecting to revisit Twin Peaks, then found themselves in a grim mirror image of it. Deer Meadow is everything Twin Peaks isn't. The diner is cold and unwelcoming. Sheriff Cable and Desmond's bitter relationship is the polar opposite of Cooper and Truman's warm friendship. And no one cares that Teresa Banks was killed, in stark contrast to the mass outpouring of grief over Laura's murder. It's a distorted reflection of Twin Peaks through a dirty, broken mirror, and singer/songwriter Chris Isaak is fantastic as the tough, straight-talking Agent Desmond.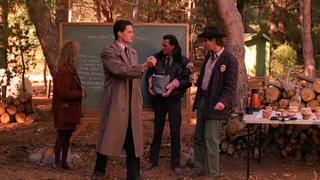 12. The Tibetan method
The episode: season 1, episode 3 - Zen, or the Skill to Catch a Killer
The moment: In the woods, Cooper uses a strange deductive technique—which apparently came to him in a dream about the plight of the people of Tibet—to try and identify Laura's killer. Her diary mentions "meeting J tonight", and Cooper asks Lucy to read out a list of everyone in town with the letter J in their name one by one. As each name is read out he throws a rock at a glass bottle balanced on a log. He misses them all, but when Lucy says the name Leo Johnson he hits the bottle perfectly, smashing it to pieces.
Why it's damn fine: Cooper's enthusiasm, eccentricity, and curious spirituality are just a few of the traits that make him such a beloved character, and this scene has it all. He's a gifted detective, and finds plenty of clues the old-fashioned way, but this exercise shows that he's willing to try less orthodox methods. The bewildered faces of Truman, Andy, Hawk, and Lucy only add to the comical brilliance of the scene. When Cooper hits the bottle Lucy leaps excitedly into the air and squeals, which was unscripted. MacLachlan really did smash it, and Kimmy Robertson's reaction is genuine.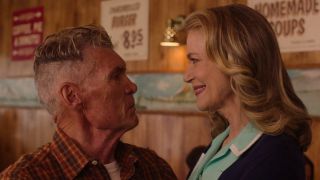 11. Big Ed and Norma's happy ending
The episode: season 3, part 15
The moment: The rocky on-and-off romance between high school sweethearts Ed Hurley and Norma Jennings has been a running plot thread in Twin Peaks since the very first episode. Which makes the moment in season 3 where, to the delight of fans, they finally decide to get married a special one. As the appropriately titled 'I've Been Loving You Too Long' by Otis Redding plays in the Double R, Big Ed proposes and Norma gladly accepts, having just dumped her uptight corporate stooge of a boyfriend.
Why it's damn fine: The third season of Twin Peaks is overwhelmingly bleak, with very little in the way of closure or happy endings. But this scene is the exception, giving us a little taste of the warmth that was felt more strongly in the original series. But most of all, it's just nice to see Big Ed and Norma finally get together after all the hurdles that have been thrown at them.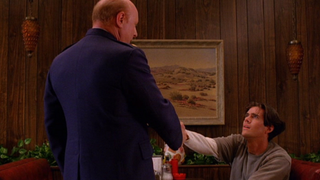 10. Major Briggs' vision
The episode: season 2, episode 1 - May the Giant Be With You
The moment: Bobby Briggs' relationship with his father, Garland Briggs, is a difficult one. The Major rarely opens up to his son and seems emotionally distant, until an encounter in the Double R. He describes a vision he had in his sleep where he's standing on the veranda of a vast, gleaming palazzo. He hears a knock at the door and sees Bobby standing there, who's living a life of "deep harmony and joy". They embrace, and the Major wakes up with an overwhelming feeling of optimism about his future. It's a beautiful, poetic monologue, and the scene ends with a stunned Bobby trying to process the sudden outburst of emotion and trying not to cry.
Why it's damn fine: Until now, Major Briggs seemed like a typical uptight military man. But Twin Peaks is a show that constantly plays with your expectations, and here we learn that beneath that perfectly-pressed uniform lies an emotional soul. The late Don S. Davis delivers the monologue perfectly, retaining enough of Briggs' careful, disciplined demeanour to make it not feel massively out of character. We also see the vulnerable side of the usually brash and confident Bobby here, who drops the tough guy act as his father unexpectedly opens up to him. A memorable, heartfelt scene that instantly gives two characters a depth we didn't know they had.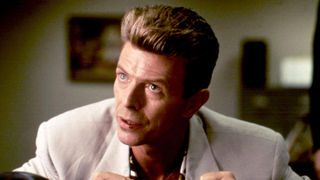 9. Philip Jeffries returns
The movie: Fire Walk With Me
The moment: Agent Philip Jeffries (played by music legend David Bowie) staggers into the Philadelphia FBI field office. He looks distressed, ranting about someone named Judy, and describes a meeting of Black Lodge spirits including BOB and the Man From Another Place. Gordon Cole calls him 'the long lost Philip Jeffries' and asks where the hell he's been. It's implied that the agent has been lost in the Black Lodge, similar to how Cooper was at the end of season 2, and has somehow managed to escape. He also seems to know the fate that will befall Cooper, pointing angrily at him and asking "Who do you think this is there?" Then he vanishes without a trace.
Why it's damn fine: This is one of the creepiest moments in all of Twin Peaks. Images of the Lodge spirits' meeting drifts in and out of the scene as Jeffries cryptically rants, giving it the woozy, surreal feel of a nightmare. There are clues in the show and film suggesting time in the Black Lodge is nonlinear, and there's something wonderfully eerie about Jeffries knowing about Cooper being possessed by BOB long before it happens. The disturbing imagery and dreamlike atmosphere make this one of Fire Walk With Me's best scenes, and Bowie's bad American accent only adds to its weirdness.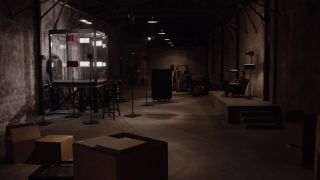 08. The experiment
The episode: season 3, part 1
The moment: The first episode of The Return set the mystery in motion with a series of bizarre, unexplained events, including the glass box experiment. In New York City a man is being paid to stare at a glass box, replacing the SD cards in a series of cameras pointed at it when they fill up. A mind-numbing job, given to him by some mysterious billionaire who we later learn is Evil Coop. And a job that ends in tragedy. A woman visits the man and they have sex, and as they do we see the shadowy figure of Judy emerge in the box, who smashes the glass and proceeds to tear their heads off. It's a horrific scene, and our first glimpse of Judy, long before we knew that was 'her' name.
Why it's damn fine: No one was expecting an entire series of cherry pie references and cute callbacks to the original series in The Return, but this scene was our first clue that Lynch and Frost were taking the third season in a wild new direction. The glass box itself is wonderfully creepy, thanks to the long, quiet, lingering shots of it, and the blank expression of the man staring at it. This is one of the best examples of Lynch using drawn-out shots, holding the camera just a little too long, to create a powerful feeling of dread. And the brief look we get at the entity Judy is wonderfully unsettling.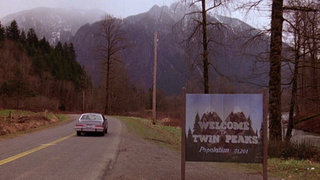 7. Cooper arrives in Twin Peaks
The episode: season 1, episode 1 - Northwest Passage
The moment: Special Agent Dale Cooper drives to the town of Twin Peaks to investigate the murder of Laura Palmer, speaking to someone named Diane on his dictaphone. We never see this character, and theories range from her being a secretary at the Philadelphia field office, to being a figment of his imagination. He describes his surroundings ("I've never seen so many trees in my life!"), talks about his lunch ("Tuna sandwich on whole wheat, slice of cherry pie, and a cup of coffee."), then outlines his desire for a clean, reasonably priced hotel. The scene ends with him driving past the iconic town sign as the titular twin peaks loom in the distance, shrouded in fog.
Why it's damn fine: This is our introduction to Cooper, and the moment we instantly fell in love with his eccentric charm. FBI agents in fiction are usually sullen, professional types who'd rather be somewhere else, but Cooper is enamoured by the Pacific Northwest and full of enthusiasm. He has an endearing eagerness, and the dictaphone is a clever way of giving you an insight into how he thinks. Rewatching the show, knowing what's going to happen to him in the final episode, makes this scene bittersweet. It's a shame we didn't get to see more of the old Cooper in season 3.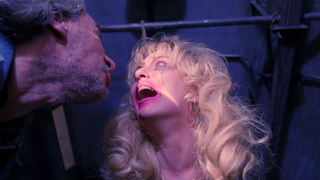 6. Laura's murder
The movie: Fire Walk With Me
The moment: Leland Palmer, possessed by BOB, kidnaps his daughter Laura and her friend Ronette Pulaski, taking them to an old train carriage deep in the woods. Ronette manages to escape with a little help from the one-armed man, but Laura isn't so lucky. She realises BOB and her father are the same person as he kills her, setting in motion the events of Twin Peaks.
Why it's damn fine: Not an easy scene to watch, but an incredibly powerful one. Laura's murder is something we hear discussed constantly for two seasons, but never see. Which makes the moment at the end of Fire Walk With Me where we finally experience it all the more haunting. Rather than use a piece of music by composer Angelo Badalamenti as usual, Luigi Cherubini's Requiem in C Minor provides the soundtrack for the scene. The dramatic music and the shocking imagery combine to create a scene that's deeply disturbing, but hard to look away from. No one directs horror quite like David Lynch.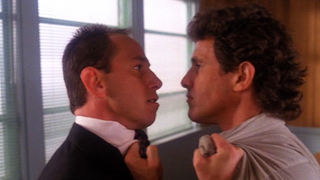 5. Albert's path
The episode: season 2, episode 3 - The Man Behind the Glass
The moment: Sarcastic FBI agent Albert Rosenfield, who is unimpressed by the rural charm of Twin Peaks, frequently butts heads with Sheriff Truman. After suggesting Harry "practice walking without dragging his knuckles", the Sheriff snaps and grabs Albert by the collar, threatening him. But in a moment no one saw coming, he suddenly decides to describe the philosophy he lives his life by: rejecting violence and following in the footsteps of Gandhi and Martin Luther King. "The foundation of such a method is love," he says. "I love you Sheriff Truman." He puts his sunglasses on and exits the room, leaving Harry stunned. "Albert's path is a strange and difficult one." says Cooper.
Why it's damn fine: We could have chosen any number of Albert Rosenfield scenes. Miguel Ferrer was perfectly cast as the mean-spirited, ill-mannered forensics expert. But we went for this one, because it's another example of Twin Peaks mischievously playing with your expectations. Rosenfield goes from being almost comically cruel, to being a character with intriguing hidden depths. You suddenly become aware that his aggressive demeanour is a product of some internal struggle, and the unlikely friendship he develops with Truman after his heartfelt confession is wonderfully unexpected.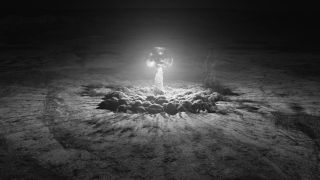 04. The birth of BOB
The episode: season 3, part 8
The moment: In the deserts of New Mexico on July 16, 1945, the first atomic bomb is detonated by the United States. A moment that changed the world, and if Twin Peaks is to be believed, gave birth to the entity we know as BOB. Part 8 of The Return is full of striking, surreal imagery, the best of which is when the camera moves slowly towards the mushroom cloud of the blast, then deep into it, revealing a terrifying, abstract landscape of colliding atoms and nuclear fire. Then we see the strange, eyeless creature named Judy—described by Gordon Cole as an extreme negative force—regurgitating a fleshy orb bearing the demented, staring face of our favourite demon BOB.
Why it's damn fine: This entire episode is like being dragged into one of David Lynch's dark, abstract paintings, and this scene is a masterpiece. The use of Krzysztof Penderecki's stark, haunting 'Threnody to the Victims of Hiroshima' on the soundtrack only adds to its emotional heft, and the psychedelic landscape we see when we're pulled through the atomic blast is absolutely mesmerising. But as well as being a feast for the senses, this scene also fills in some important Twin Peaks backstory, revealing that the creation of the atomic bomb was responsible for either giving birth to BOB, or creating enough negative energy to invite him into our world.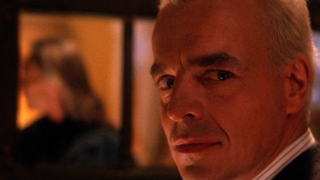 3. The killer is revealed
The episode: season 2, episode 7 - Lonely Souls
The moment: The Giant appears on stage at the Roadhouse and warns Cooper that "it is happening again." In the Palmer household Leland is smiling at himself in the mirror and we cut to his reflection and see BOB staring back. Maddy comes downstairs complaining about a burning smell—an odour associated with spirits of the Black Lodge—and Leland grabs her. As they struggle he intermittently appears as BOB, confirming that they're one and the same. He brutally murders her, and although we don't know for certain he killed his daughter yet, it's obvious he's the culprit.
Why it's damn fine: Some argue that this revelation resulted in declining interest in the show and its eventual cancellation. Whether that's true or not, it's still an incredible moment, and the series' most shocking reveal. There was always something off about Leland, but most never suspected him as the killer. His odd behaviour and bouts of public weeping (and dancing) were, we thought, caused by grief. And while that is partly true—the old Leland still existed in his mind, tortured by what BOB made him do—the truth is much darker than anyone could have anticipated. David Lynch directed this scene brilliantly, even if he later regretted revealing the identity of the killer.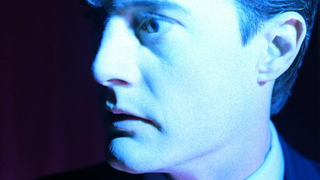 2. Into the Black Lodge
The episode: season 2, episode 22 - Beyond Life and Death
The moment: Windom Earle takes Annie into the Black Lodge, and Cooper gives chase. Entering through the portal in Glastonbury Grove, he finds himself in the red room from his dream in episode 3. What follows is a series of bizarre events designed to break his spirit. His beloved coffee turns to black sludge. He's terrorised by frightening doppelgängers of Laura, Leland, and the Man From Another Place. And he sees apparitions of Annie and Caroline, two women he loved, and who Windom Earle either murdered or tried to murder. The scene ends with Cooper fleeing hopelessly in terror from his own doppelgänger and BOB's smiling face. The Lodge has beaten Cooper, leading to his possession and that maddening season 2 cliffhanger.
Why it's damn fine: We see glimpses of the Black Lodge in dreams, but this is the first time Cooper actually visits. And it's as scary as Hawk warned it would be. It's the show's heart of darkness, home to BOB and the other spirits, and its influence is so strong that even the brave, fearless Cooper is no match for it. The long scene in the Lodge, directed by David Lynch, is visually stunning and incredibly unsettling. And the eerie performance of the song 'Sycamore Trees', sung by jazz singer Jimmy Scott, adds to the creepy ambience.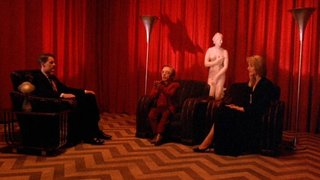 1. Cooper's dream
The episode: season 1, episode 3 - Zen, or the Skill to Catch a Killer
The moment: Cooper falls asleep in his room at the Great Northern and starts to dream. A one-armed man reads a sinister poem which includes the line "fire walk with me". BOB appears and says he will kill again. And Cooper talks to a dwarf in a red suit, who says a doppelgänger of Laura Palmer is his cousin. 'Laura' leans over and whispers something inaudible in Cooper's ear, then the dwarf begins to dance strangely to dreamy jazz. Cooper suddenly wakes up, calls Harry and says he knows who killed Laura Palmer, then clicks his fingers in time with the music as the end credits roll.
Why it's damn fine: This must have blown the minds of people who watched Twin Peaks when it originally aired. Up until this point the show is a murder mystery with no supernatural leanings. Then, suddenly, we're watching a dancing dwarf talking backwards. Lynch said he had a vision of the red room while leaning on the hood of a hot car. But it wasn't until season 2 that Mark Frost wrote the mythology of the Black Lodge around the sequence to give it context. This is easily the most famous scene in the whole of Twin Peaks, establishing that it's more than just a melodramatic soap opera. Cooper immediately forgets what Laura's double told him the next day, but the clues in his dream ultimately lead him to cracking the case.