There's a ton of free games out there, but the quality varies wildly. If you want the best then here's a list that should help thin out the chaff. From free mobile games to free PS4 and Xbox One games - there's plenty here and all of it costs NOTHING.
25. Pinball FX 2 / Zen Pinball 2
is one of these virtual pinball hubs (identical in all but name, depending on which platform you're playing them on) which are much more than just digitized versions of the classic arcade tables. All of the normal pinball-on-bumper physics apply, so anyone accustomed to the real thing will feel right at home. However, the layouts have complexities and surprises that wouldn't be possible in an actual machine. You can also download a plethora of themed tables from a variety of video game and pop culture franchises, including Star Wars, Plants vs. Zombies, and South Park. Those will cost you a small fee, but you can get started with the excellent Sorcerer's Lair table just for downloading the game, and there are free demos for each additional table.
24. Powerstar Golf
is now free-to-play on Xbox One, giving you a chance to test your driving and chip-in skills on some picturesque 18-hole courses. This cartoony game of links has all of the features and gameplay elements you'd expect from a golf title, including Match and Stoke game modes and a variety of fictitious golfers to choose from. Each character has a special power they can use to improve their game like power shots and the ability to split one ball into five. You earn experience as you progress which can be used to purchase new gear, but if you want to play on additional courses or try out new characters, you'll have to drop some money.
23. myClub
Unsurprisingly, myClub is PES' answer to FIFA's Ultimate Team. Like its rival it's part manager sim and part card collector, as you pick a club, gather players and then play against the computer and real people to level them all up and progress. It's sort of snuck out without a lot of people really noticing which is a shame as it's got a lot to offer, using the PES match engine to create some great matches. There's plenty to take serious and an Exhibition more for quick kick abouts. It's definitely more wallet friendly for casual players and still has PES' weird licensing but definitely worth a go if you want a free footy experience.
22. Trove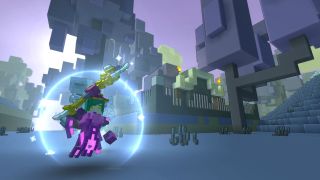 Think of Trove as a free MMO echo of Minecraft, with the addition of dungeon-delving and insanely customisable gear. On PS4 and PC and currently in beta, Trove has a bunch of classes to choose from which are just as wonderfully weird as they sound: Chloromancer (plant-controlling mage who doesn't actually raise plants from the dead), Lunar Lancer (a fox with a spear), Neon Ninja (pretty self explanatory, that one), to name a few. You can build your own house and mine for minerals, but the bulk of the game is based on venturing into blocky dungeons and killing bosses such as Sundae Cenobites, Wight Kings, and Saloonbot Mayors. Give it a go and you'll find yourself feeling at home in its distinctly cube-ish world.
21. AirMech Arena
AirMech Arena blends real-time strategy elements with the competitive MOBA framework. You take control of your Transformers-esque, aircraft-to-mech hero unit with the goal of constructing a base, building an army with a multitude of tanks and foot soldiers, then sending them off to destroy your enemy's fortifications. Whether you're taking on AI opponents or online players, winning a match becomes a balancing act between building up your units and reinforcements or just wading into the battle yourself with your almighty AirMech.
20. Super Mario Run
Okay, more an extended demo than a free game but you still get plenty to try out with Super Mario Run. It's a clever take on the free runner idea that manages to mix in a fair bit of skill as you navigate levels and attack monsters with one finger. You will likely want to spend some cash eventually to unlock the full game but maxing out the scores and perfecting runs will take its time - some of those special coins are so hard to reach. Definitely plenty of free fun here.
19. Blacklight: Retribution
Take the highly popular Call of Duty multiplayer model, chop it out, turn it into its own game, and you have Blacklight: Retribution in a nutshell. All of the main game modes are here, including Deathmatch, Capture the Flag, Domination, and more. That's not to say that this game does nothing original; the HRV mechanic that shows a player everything from weak points in a wall to the location of the enemy is interesting. But you can't shoot while it's in use, making it very dangerous. Also, in-game weapon depots allow for mid-match upgrading, so a bad loadout choice won't always be a death sentence. Best of all, it costs nothing to jump in, so shooter fans on PC or PS4 should give it a whirl.
18. War Thunder
World of Warplanes isn't the only game to feature some serious dogfighting. War Thunder also controls the skies with its massive open-air battles and dozens of selectable planes. Along with the multiplayer options, War Thunder offers a few things for the individual player to enjoy, like solo missions and dynamic campaigns. Best of all, future updates boast that War Thunder will allow us to fight by land and sea in addition to the air we already know. Wargaming took two games (and a third on the way) to give us these options; War Thunder hopes to do it in one stop. The World of Tanks and Warplanes have some real competition here.