Sony has announced the PS4 Pro, a faster, upgraded PS4 arriving in November. It's not an entirely new console but rather an enhanced version of the current PS4, with an improved GPS (the bit that does the graphics) intended boost the visual output. So longer draw distances, better textures, more effects, 4K support and more. The new hardware essentially plays the same games, uses the same Store, PSN and so on - it just makes everything look prettier.
If you want more information then here's everything you need to know about the new PS4.
When is the PS4 Pro released?
The PS4 Pro will be out on November the 10th 2016.
Can I buy a PS4 Pro bundle?
At the moment there's only a basic console option to buy: PS4 Pro, controller and wires. However, expect to see plenty of retail bundles closer to release, as well as potentially some official bundles including games that are enhanced on the PlayStation Pro.
What's in the PS4 Pro box
The PS4 Pro box contains all the essentials. There's an HDMI cable, a USB cable, and in-ear mono headset, a AC power cord and the new DualShock controller with the light bar on the touchpad.
PS4 Pro unboxing
PS4 Pro size comparison. How does it compare to a PS4, PS4 Slim, Xbox One and Xbox One S?
Is the PS4 Pro a new PlayStation?
Technically, yes this is a new PlayStation but it's only really an enhanced version of the one you already have. Think of it as a PS4.5 - it's got a little more power under the hood for better framerates, graphics and other effects but it essentially plays exactly the same games and uses the same Store, OS etc.
What are the PS4 Pro specs?
You can see the full specs below but the main thing is that it's more powerful than the current PS4. Both share the same CPU but it's the GPU where the extra grunt comes from.
The original PS4/PS4 Slim currently rocks 1.84 TFLOPS (a measure of computing power) while the Pro has 4.20 TFLOPS. Here's a full breakdown of all the important numbers:
Product name PlayStation 4 Pro
Product code CUH-7000 series
CPU: x86-64 AMD "Jaguar", 8 cores
GPU: 4.20 TFLOPS, AMD Radeon based graphics engine
Memory GDDR5 8GB
Storage size 1TB
External dimensions Approx. 295×55×327 mm (width × height × length (excludes largest projection)
Mass Approx. 3.3 kg
BD/ DVD drive (read only) BD × 6 CAV DVD × 8 CAV
Input/ Output Super-Speed USB (USB 3.1 Gen.1) port × 3, AUX port × 1
Networking Ethernet (10BASE-T, 100BASE-TX, 1000BASE-T)×1 IEEE 802.11 a/b/g/n/ac Bluetooth 4.0 (LE)
Power AC 100V, 50/60Hz
Power consumption Max. 310W
Operating temperature 5ºC – 35ºC
AV output HDMI out port (supports 4K/HDR)
DIGITAL OUT (OPTICAL) port
Do I need a new PSN account for a PS4 pro? What happens to the stuff I already own?
Nope. This is just a PS4, albeit one with better graphics and more power. Apart from that it'll just run all the same things, use the same Store and when you log in, all your saves, games, films and so on will be exactly where you left them (once you redownload it).
What controller does the PS4 Pro use?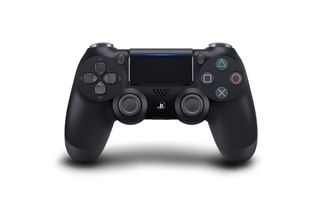 The PS4 Pro uses a normal DualShock so there's no changes there. You'll be able to use any controllers you currently have. It's the same for Move and the PlayStation camera.
What games does the PS4 Pro play? Will my old ones still work?
The PS4 Pro will play the same games as the current PS4 or the PlayStation 4 Slim. However developers will be able to use the Pro's extra power to improve framerates, draw distance, textures, resolutions and add extra effects, as well as HDR (see below). Currently not every new game will use it, although the promise that after launch "virtually all" new releases will. A few things already out will have support patched in.
Here's the list of PS4 Pro enhanced games to date.
Currently released games patched for PS4 Pro support
Battlefield 1
Battlezone
Bound
Call Of Duty: Black Ops 3
Call of Duty: Infinite Warfare
Call of Duty: Modern Warfare Remastered
Deus Ex: Mankind Divided
Dishonored 2
Driveclub VR
EA Sports FIFA 17
Firewatch
Helldivers
Hitman
Hustle Kings
inFAMOUS First Light
inFAMOUS Second Son
Knack
Mafia III
Mantis Burn Racing
Middle-earth: Shadow of Mordor
NBA 2K17
Neon Chrome
Paragon
PlayStation VR Worlds
Ratchet & Clank
Rez Infinite
Ride 2
RIGS Mechanized Combat League
Rise Of The Tomb Raider
Robinson: The Journey
Smite
Super Stardust Ultra
The Elders Scrolls Online: Tamriel Unlimited
The Elders Scrolls: Skyrim Special Edition
The Last Of Us Remastered
The Last Of Us: Left Behind
The Playroom VR
Thumper
Titanfall 2
Uncharted 4: A Thief's End
Until Dawn: Rush of Blood
Viking Squad
Wheels of Aurelia
World Of Tanks
XCOM 2

Upcoming games
Sony are promising another 45 Pro-ready games by the end of the year, including games like these:
Days Gone
Dishonored 2
Farpoint
Final Fantasy 15
For Honor
Horizon: Zero Dawn
Killing Floor 2
Mass Effect: Andromeda
Resident Evil 7 Biohazard
Rise of the Tomb Raider
Spider-Man
Titanfall 2
Watch Dogs 2
Are there PS4 Pro exclusive games?
Nope. Sony are really insistent about that. Here's what its official word is on the matter:
"There will not be any PS4 Pro-exclusive games. Because PS4 Pro and the standard PS4 are members of the same family, both systems will be fully compatible with all past, present, and future PS4 titles, including PlayStation VR. All PS4 games are PS4 Pro games, and vice-versa."
How are PS4 Pro games improved and what's HDR?
Sony are promising the PS4 Pro will "render higher or more consistent framerates, increased environmental and character model detail, improved overall visual quality, and other related visual enhancements". So, a bit prettier then.
HDR or high dynamic range refers to an increased ability to render colours and contrast making games look sharper and more vibrant. That's actually been patched into current PS4 as well although you'll need a TV that can display HDR. It should be easy to spot in the difference in these two GIFs below. The top one is a normal PS4, the bottom a PS4 Pro with HDR.
Normal PS4, no HDR
PS4 Pro with HDR
Does the PS4 output true 4K?
Ummm... Not really. For games at least. Sony has repeatedly referred to '4K gaming' but avoided key terms like 'native 4K'. When pressed about it PlayStation boss Andrew House said that "the majority [of games] will be upscaled based on the game portfolio I have seen to date".
The Blu-ray player also won't support Ultra 4K Blu-ray because Sony are banking on most people streaming 4K shows and films instead. (Which will actually be true 4K.)
PS4 Pro can stream YouTube as 4K
Since PS4 Pro was announced the native PlayStation YouTube app has been updated to "support for playback of 4K videos on 'PlayStation 4 Pro" according to the patch notes. Sony's hunch about most people streaming 4K instead of watching it on disk might be right.
So do I need a 4K TV and a Premium HDMI cable for PS4 Pro?
No. You'll get the best out of a PS4 Pro via a 4K TV with HDR but you can use the console on any TV with an HDMI.
However, you will need a premium HDMI input port on the TV and premium HDMI cable if you want to see the PS4 Pro at its best. A premium HDMI cable can display a 4K signal at up to 60 frames per second as apposed to older cables that can do 4K but only at 30 frames per second. The PS4 Pro does come with a premium cable but you might have to fork out if you want a longer one.
Check out this handy table to see what the PS4 Pro can do. Note this is for 4K content, not games.
Can I change the PS4 Pro hard drive?
Just like the base PS4 you'll be able to swap in your own hard drive to replace the 1TB model included, should that not be enough for you. It looks like Sony has recently confirmed support for the newer SATA 3.0 interface as well, meaning faster transfer rates.