First up, let's make it clear that it's highly unlikely that Kojima is staging a globally announced medical procedure to transplant a human head as a viral publicity stunt. That said, OH MY GOD it's been fun watching NeoGAF lose their collective shit as people keep finding things that suggest otherwise. If this proves anything it's that if you stare at enough toast you will eventually see Jesus.
The really funny part has been seeing people trying their hardest to ignore it. To pretend it isn't just a bunch of freaky coincidences, only to run into even more freaky coincidences. It all started with a casual post, about how the character people think might be Dr Kio Marv in MGS 5, looked a little like Dr Sergio Canavero, the doctor proposing the worlds first human head transplant. Now, he is a real neurosurgeon, and Kojima has clearly stated in the past that the doctor character in the trailers has been based on a Japanese-based actor called Ian Moore. So it's just a bit of dumb luck that two old bald guys with round glasses look alike.
However, smear enough crazy on the wall and pictures will appear.
Like the fact that Dr Sergio Canavero's transplant procedure is called HEAVEN (short for head anastomosis venture), or that the Facebook picture of the man volunteering for the op features him shaking hands with someone who has a Snake like robot arm:
That's Valery Spiridonov, a terminally ill Russian suffering from something called Werdnig-Hoffman disease (a kind of spinal muscular atrophy). This is a real thing . Patient and doctor have apparently yet to meet but he's the front runner for the op, pending Dr Canavero's assessment of his medical records.
So, yes, robot hand. By the way, did I mention Dr Canavero has written a few articles on actual phantom pain, related to missing limbs? He's also published a book with chapters like 'HEAVEN', 'Clone!' and 'The FRONTIERS files'. You know, which sounds a bit like 'militaire sans frontieres'. Or something.
And then there's this Kojima Tweet: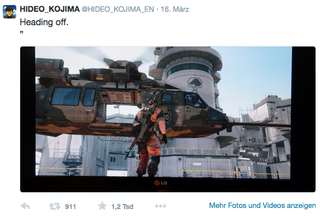 Heading off. Heading off. Do you see?
Many were questioning the possibly that Snake's head had been put on a different body in the game. Although sticking his head on a body with a missing arm seems... a little rubbish. One other crackpot theory that's actually been mentioned before is the idea that Chico is Quiet in The Phantom Pain - the child soldier becoming a transgender woman as an adult. There's a whole other pile of crazy to explain that, involving sausages and some 'taboo' that Kojima keeps mentioning. This madness has fuelled the idea that the Chico/Quiet switch could be the result of a head transplant rather than gender reassignment.
It just doesn't stop. There's a picture of Dr Canavero with a man that looks like a Metal Gear character reflected in the glass behind him. Part of Snake's scar supposedly matches the logo for a TED talk Canavero is presenting. At one point someone manages to link MGS 5 with the 1998 game Sanitarium, while Kojima even tweeted, while people were arguing, about buying the Galaxy Express 999 anime. That's all about a boy who wants his conscious transferred into a robot body. As a result of all that it's also probably the greatest collection of 'wtf is this shit' GIFs in the known universe, and the thread's worth checking out just for that.
(GIFcourtesyofElTorro)
The only thing stopping it being all a bit of harmless madness finding shapes in clouds, has been the few actually trying to phone up Dr Canavero or get in touch with some of the people involved. That actually happened before the thread population clocked that 'forum crazy' is one thing, but real world crazy is a lot less fun. Fortunately, most people realised a line had been crossed pretty quickly so now the crackpot scheming has been confined to the thread, and the general consensus that it can't possibly be true, but what if... nah.