From the European trucking industry to spineless goats with elasticated tongues, the simulator genre is a weird and wonderful place chock full of underrated curios and timeless hobbies. The sheer variety of sim games available is a direct result of the genre's inherently loose definition but, for the sake of keeping things simple, this list sticks to a stricter interpretation of the term.
That means you won't find any immersive sims (sorry, Bioshock) or 'joke' titles (you too, Goat Simulator) featured below. Instead, the following selections are those rare games which manage to act as both an authentic simulation of their chosen experience and a generous slice of accessible entertainment all at once, making them perfect for those looking to dip their toes into this particularly uncanny pool of video games.
10. The Sims 4
The brainchild of Will Wright was bound to show up on here at some point, and as the most updated iteration in the decades old franchise, it's The Sims 4 that currently remains the game to beat when it comes to suburban simulation.
Dressed up with rich colour and brilliant animation, The Sims 4 provides an exceptional wealth of options for self-expression, customization and, yes, simulation, and the extent of this variety only continues to grow with the regular rollout of bespoke expansion packs. The Sims 4 turns the American dream into a virtual reality, and proves that the franchise's niche USP still has legs in an increasingly crowded market.
Play it on: PC and Mac. Coming to Xbox One and PS4 in November, 2017.
9. Farming Simulator 17
The promise of "over 250 farming vehicles and equipment from over 75 manufacturers" might not be the most exciting tagline for many of us, but it at least speaks to the extent that Giants Software are willing to go to provide the most authentic farming simulator out there.
The latest edition in the series is easily the best, with the updated visuals and controls effectively capturing the serene tranquillity and satisfying fulfilment of real-life farming without any of the physical toil. That's not to say that there isn't any mechanical depth to the proceedings, those crops aren't going to grow themselves after all, but Farming Simulator 2017 - if nothing else - works as a therapeutic break from the stress and intensity of its genre contemporaries.
Play it on: PC, Xbox One, and PS4
8. Project Cars
Perhaps more of a 'simulation-lite' than full-blown racing sim, Project Cars is nevertheless a fantastic entry point into the world of simulator games. With a focus on user-friendliness above all else, Slightly Mad Studios' original IP keeps things relatively simple by letting players race around the world's most famous tracks in a variety of real life supercars.
That said, Project Cars' depth derives from its flexibility, as almost every aspect of the experience can be tweaked to suit the needs and desires of the player. Needless to say, it's also a stunner of a game, confidently one-upping the majority of sim games when it comes to graphical horsepower and visual flair.
Play it on: PC, Xbox One, and PS4
7. Cities: Skylines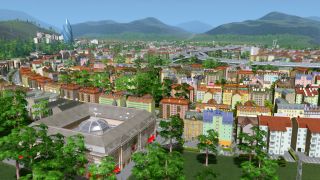 After the much fêted but flawed SimCity reboot, Cities: Skylines thankfully came along in 2015 to restore the city-sim genre to its former glory. By offering contemporary reworkings of Maxis' original formula, Skylines feels like a modern city-sim in every sense of the word, and watching your metropolis expand and thrive in real time has never looked so good.
It's one of the few simulator games that's also available on console, too, and Cities: Skyline's sleek user interface turns the comfort of a controller into a totally viable and enjoyable option for those less inclined to the mouse and keyboard.
Play it on: PC, Xbox One, and PS4
6. Silent Hunter 3
It's still a relatively unknown piece of trivia that one of the best submarine simulator games out there comes from a Ubisoft studio, but don't worry, there isn't a watchtower to be found in the open seas of Silent Hunter 3. Instead, the third game in the WWII-set series was praised for its attention to detail and action-oriented battles.
Even if the ins and outs of historical watercraft isn't your thing (understandably), Silent Hunter 3's meaty campaign is worth playing for its enrapturing atmosphere and open-ended pace. There's a sombre beauty to the destruction too, with the lavish detail designed to draw you in and keep you there, even when the intensity of the warfare becomes almost overwhelming.
Play it on: PC
5. Euro Truck Simulator 2
Who knew a game about driving a truck could be so addictive? SCS Software did, clearly, as their trucking sim sequel is currently one of the highest rated games on Steam, sat above the likes of Dishonored, Civilization V, and Half-Life 2. The reality is that Euro Truck Simulator 2 offers that devastating blend of being both immensely relaxing and fiercely captivating, with the pleasant journeys along your designated trade routes segmented by junctures of deep strategy, as you consider factors such as fuel, finance, and furbishing your ride with new upgrades. Euro Truck Simulator 2's greatest achievement is that it isn't just a game made for transport enthusiasts, but the appeal extends to anyone with even the slightest appreciation for the simple pleasures of the open road.
Play it on: PC
4. Rising Storm
The spin-off expansion to Red Orchestra 2 went on to become a major standalone success in and of itself, and for good reason. Rising Storm operates as an unofficial hybrid between popular first-person shooters like Call of Duty and the more hardcore mil-sims such as ARMA, which explains its wide popularity as an online experience.
There is a tactility and heft to Rising Storm's gunplay that still manages to impress even four years on from release, with the historical authenticity and palpable ambience evoking a realism that so many other shooters unsuccessfully strive for. Tripwire Interactive recently released a sequel, Rising Storm 2: Vietnam, but even that hasn't been able to quite match the untarnished purity of its predecessor.
Play it on: PC
3. ARMA 3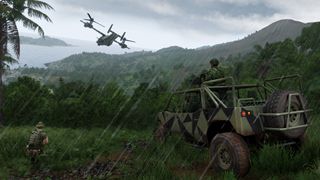 Most people will recognize the ARMA brand for its wildly popular zombie mod based off of ARMA 2, DayZ, but it is ARMA 3 which deserves some of the spotlight for what it brought to the military-sim table. Bohemia Interactive executes the essential elements of sandbox strategy with aplomb, and ARMA 3 serves as an open-ended arena for organic, dynamic war stories that can be played out with friends and foes.
The depth of simulation is comprehensive, but only to a point, so as to sustain the immediacy of every interaction. Indeed, ARMA 3 can be extremely stressful and even terrifying at times, but that truth nothing less than a testament to its immersive power as an undiluted evocation of modern warfare.
Play it on: PC
2. Kerbal Space Program
If you're planning to play Kerbal Space Program, try not to get too attached to those eponymous little guys with the green skin. You're going to be killing a lot of them, after all. Kerbal Space Program operates on an understanding of success as the sum of persistence through failure; in short, it's going to take quite some time before your uniquely crafted ship is considered space-worthy.
Every minute spent tinkering and toiling away in Kerbal Space Program is worth it, though, as developer Squad has imbued every mechanic and system with such a forensic attention to detail that the hard work of their players is always rewarded. An endlessly gratifying and entirely unique simulator which celebrates creativity and intuition in a way that no other game could, Kerbal Space Program is something of a mini masterpiece.
Play it on: PC, Xbox One, and PS4
1. Flight Sim World
For hardcore flight simulator fans, Flight Sim World represents the new reigning champ. Built upon the digital foundations of Microsoft Flight Simulator X (the former king of the genre), every aspect and dimension to real world piloting has been accounted for in Flight Sim World, and duly incorporated into its tightly designed systems, all of which work together in harmony to craft an epitomic simulation.
Dovetail Games don't cater exclusively to would-be pilots or committed flight sim veterans either, but provide an easy introduction to its exhaustive breadth of content with contextual missions and patient tutorials. Even so, taken together, Flight Sim World could easily become a long-lasting semi-occupation if so desired, crafted with such pinpoint precision and expert authority that it has already cemented itself as a definitive go-to for newcomers and enthusiasts alike.
Play it on: PC