The latest - and final - trailer for The Legend of Zelda: Tears of the Kingdom is here, and for fans awaiting an epic preview on par with Breath of the Wild's last teaser, this one did not disappoint. With nearly four minutes of footage, this trailer gave us a lot of things to speculate about, from the potential of a playable Zelda to an uncomfortably sexy Ganondorf.
That's the big stuff, but there are plenty of smaller details to pore over, and I keep finding new ones every time I rewatch the trailer. There are new Fusions and Ultrahand builds, new story elements, and abilities that we haven't seen before. Without the context of the final game, there's no way to fully unpack all the implications of what we've seen today, but I still want to highlight some of the most notable things that might've slipped under your radar.
Link's moon jump
At two separate points while exploring the sky islands in the trailer, Link takes a flying leap that sends him further and higher than he's normally able to jump. There are no items or in-world objects aiding his leap, either. It was already a departure from series tradition when Breath of the Wild added a jump button, and it seems Link's ups are gaining some power in Tears of the Kingdom. It could be a temporary power specific to certain sky islands, but I'm hopeful for some permanent increases to jumping ability.
Wild new shield fusions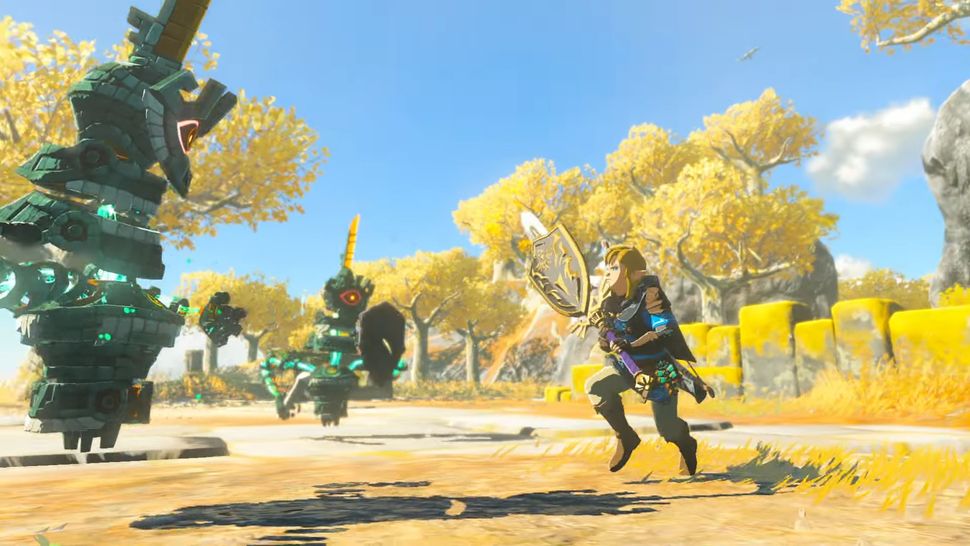 There are certain to be about a billion uses for the Fuse ability left to be discovered in Tears of the Kingdom, and today's trailer showed off two particularly wild ones. In one shot, we see Link wielding a sword that has a shield fused to it, which he uses to parry an attack in one of the weirdest combos of offense and defense I've ever seen. Later on, Link even straps a rocket to his shield and uses it to shoot himself into the air, similar to the Revali's Gale ability in Breath of the Wild. Clearly these weapon fusions have more uses outside of combat.
The wingsuit
This one might be less of a surprise if you were paying attention to those artbook leaks, but we've now seen Link's wingsuit in action. Here, he dives through a laser grid protecting an impossibly deep vertical cavern. His movements look pretty similar to those for normal skydiving, but presumably the suit will give us much greater control over how fast Link's falling.
Link's got friends
In perhaps the biggest focus of the trailer, we see numerous shots of Link exploring and battling alongside NPC allies, including returning characters like Zidon and Tulin - and the narration makes a point of telling us that Link is "not alone." Battles with familiar allies largely seem to take place in constrained areas, hinting that these sequences will be part of major story sequences - perhaps dungeons or something similar to the previous game's Divine Beasts.
More interesting are the shots where Link is teaming up with what appears to be normal Hyruleans of numerous races. There's a big shot near the end of Link standing with a group of Hylians, Gorons, and Gerudo seemingly ready for battle, and in a different sequence we see a big battle featuring a bunch of NPCs taking on a horde of monsters, bringing Tears of the Kingdom to what would've once seemed like an unlikely parallel to Hyrule Warriors. Yet another sequence shows Link leading a group of NPCs around Hyrule on a cart built with Ultrahand, hinting that we're going to have some pretty extensive interactions with these allies.
That Ultrahand tower mech
Besides the aforementioned cart, we also see Link riding into battle atop a wheeled tower with an arm-like weapon stuck to its sides, getting ready to fight a group of monsters perched atop their own wandering golem. I've been desperate to find out if we could make mechs ever since the Ultrahand ability was revealed, and I'm calling this close enough. I'm still trying to figure out exactly what that arm weapon is - it's tough to tell if you'd have direct control over how it fires - but we're already starting to see categories of Ultrahand creations that go well beyond what we've seen so far, and that's exciting.
The bird glider
All of the vehicle options we've seen so far have been clearly cobbled together with the Ultrahand ability, but this eagle-shaped glider is a notable exception. It's possible this could simply fit in the category of all the Ultrahand vehicles, but without any visible goop or control apparatuses it seems like this might be something else entirely.
Water
One brief shot shows Link leaping into a water-filled bubble. Now, this is clearly just a platforming challenge, but it does add fuel to the fire of some long-standing speculation. See, the swimming motion that accompanies the Ascend ability has led fans to speculate that Tears of the Kingdom will feature some extensive underwater areas to explore. Now we've seen that there are mechanics for controlling Link when he's submerged, unlike in Breath of the Wild.
The underground
Previous trailers have offered hints that Tears of the Kingdom will have some massive underground areas to explore, and the trailer really shows them off. That massive temple-like structure with the dripping magma looks like it could rival the grandeur of just about anything on the surface. The question now is whether these are simply open areas or massive dungeons in the traditional Zelda style - something I'm sure we're going to continue debating until the game's launch.
Bosses
While there's still room for uncertainty about dungeons, there's no room for doubt that some epic and diverse boss fights are on the way. We see Link and Tulin encountering a massive crystalized insectoid dragon… thing, plus a whole posse rushing to battle the old-school Zelda baddie Gleeok. That's just two creatures, but it already brings us far beyond the handful of Ganon forms that served as the big encounters for Breath of the Wild.
Don't miss any of the biggest upcoming Switch games.