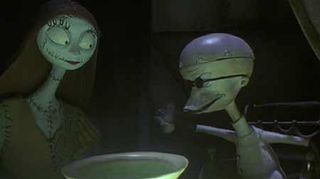 Doctor Finkelstein - The Nightmare Before Christmas (1996)
The Character: Resident mad scientist of Halloween Town and mysteriously wheelchair bound Doctor Finkelstein's talents include being able to create enchanted ragdolls like Sally.
However, he's very protective of his creations and prefers to keep them under tight lock and key.
Tim Burton Touch: In addition to his pale complexion, toothily snout and odd proportions (his overly large head) Doctor Finkelstein is also an obvious nod to the horror films the director grew up on.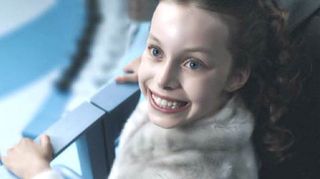 Veruca Salt - Charlie And The Chocolate Factory (2005)
The Character: Veruca Salt is one of the 'lucky' golden ticket winners who wins a tour of Willy Wonka's Chocolate Factory.
Burton's interpretation of Veruca maintains much of her repugnant personality from the Roald Dahl novel but it takes on a more manipulative and snobby manner rather than aggressive and boisterous approach.
Tim Burton Touch: There's something even more sinister about Burton's often cool and collected Veruca.
Her large manic smile echos that of a more experienced Burton villain like The Joker.
Or certainly Conrad Veidt's The Man Who Laughs .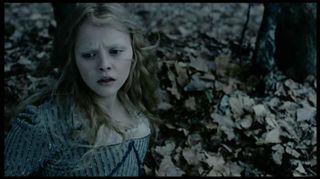 Katrina - Sleepy Hollow (1999)
The Character: Burton's interpretation of Katrina Van Tussel from The Legend Of Sleepy Hollow stayed fairly faithful to the original depiction in terms of physical appearance, but that's almost where the similarities end.
The director developed a new family set up for the character and gave her confidence and much more of a voice.
Tim Burton Touch: As he does with many of his heroines, Burton places Katrina very far away from the damsel-in-distress box.
This is a woman who can hold her own and look gothically beautiful while doing so.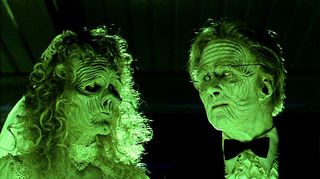 Barbara & Adam - Beetlejuice (1988)
The Character: Barbra and Adam Maitland have their vacation at home cut short (or extended indefinitely, depending on which way you look at it) when they reach their untimely deaths in a car accident. They are left to roam and try to haunt their precious home.
Tim Burton Touch: Barbara and Adam look their most Burton during their distressing exorcism: their ghoulish faces are filled with deep lines like a Burton illustration and they are lit up with the director's favoured green gel.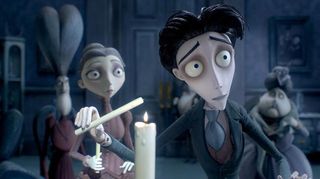 Victor - Corpse Bride (2005)
The Character: Son of a fish merchant, nervous, socially awkward Victor Van Dort is engaged to poor aristocrat Victoria in a set up marriage of convenience.
However his clumsiness and shy manner gets the better of him at the rehearsal causing everyone to cast doubt over the union.
Tim Burton Touch: Victor has a suspiciously similar name to and looks a lot like an older version of Vincent, the lead character in Burton's six minute short of the same name.
It could be suggested the two are closely linked manifestations of Burton's own stop motion alter ego.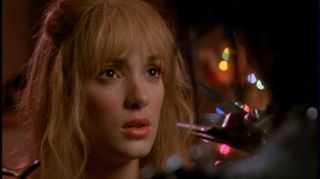 Kim - Edward Scissorhands (1990)
The Character: Teenage Kim leads a fairly charmed life as a popular, good looking high school cheerleader with a cool boyfriend and loving family.
This quickly changes however when her mother brings home an unconventional lodger who ruins her waterbed.
Tim Burton Touch: Kim doesn't have the usual feel of a Tim Burton character; she's not dark, isolated or even slightly morbid. In her most ionic scene she wears white not black.
However it's her grace, her gentleness and her love for Edward that gives her a Burton-esque fairytale quality.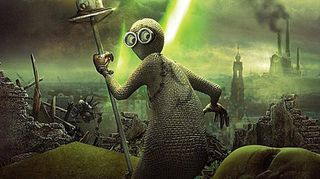 9 - 9 (2009)
The Character: 9 is the last Stitchpunk, a ragdoll-come-robot carrying a piece of human soul, to have ever been created.
Since he holds the purest part of his creator's soul he is goodnatured and possesses strong courage and morals.
Tim Burton Touch: Burton feels very apparent in 9's design: the burlap sack and stitching echos earlier Burton characters from The Nightmare Before Christmas , while his large bug like eyes are another feature that crops up throughout his filmography.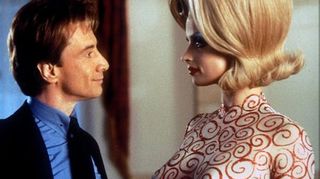 The Martian Girl - Mars Attacks! (1996)
The Character: The Martian Girl is an alien spy sent by the martian army invading Earth to assassinate the President of the United States.
Quiet and deadly, she disguises herself as beautiful woman with big blonde hair to sneak into the White House.
Tim Burton Touch: When undercover, the Martian Girl wears a fishtailed dress adored with glittering swirls - a prominent motif in Burton's work.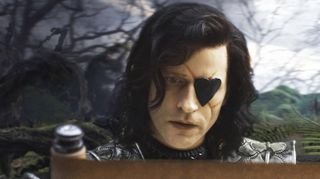 Knave Of Hearts - Alice In Wonderland (2010)
The Character: The Knave of Hearts features more prominately in Burton's Alice In Wonderland than he does in the original Lewis Carroll books.
In Burton's film he is depicted as the Red Queen's untrustworthy assassin rather than just a mere suspect tart stealer.
Tim Burton Touch: Burton's Knave of Hearts has a very dark, gothic look typical of the director.
But what gives him extra Burton magic is his heart shaped eye patch covering the scarred left side of his face.
Sinister yet oddly endearing.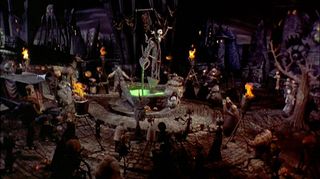 Halloween Town Residents - The Nightmare Before Christmas (1996)
The Character: The collective various residents of Halloween Town are so interesting and loveable, they could easily fill a top 50 Burton character list by themselves.
From the clown with the tear away face to that werewolf roaming around in too small lumberjack shirts - there's something for everyone.
Tim Burton Touch: The level of playful imagination on display is astonishing.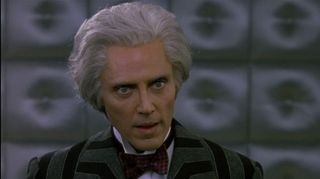 Max Schreck - Batman Returns (1992)
The Character: The powerful and ruthless Max Schreck, one of Gotham's biggest businessmen and dangerous sociopaths was created especially for Batman Returns .
He is the murderous boss of Selina Kyle and becomes a close ally of The Penguin when his deadly power plant plans are at risk of exposure.
Tim Burton Touch: Just look at that wild Walken hairdo (which incidentally makes a comeback in Sleepy Hollow) .
Also Max Schreck shares his name the German actor most famous for playing the lead in expressionist horror film Nosferatu .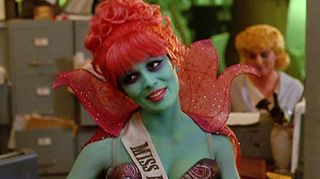 Miss Argentina - Beetlejuice (1988)
The Character: Miss Argentina is a receptionist in the Neitherworld and also an assistant to overworked caseworker for the deceased Juno.
She watches over the Neitherworld waiting room scorning those recently deceased who haven't read their manuals.
Tim Burton Touch: Miss Argentina's curly undo and curvy spiked cape are now trademarks in his character designs.
She also has a pretty good sense of humour when referring to her own death.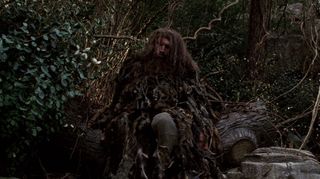 Karl - Big Fish (2003)
The Character: Karl the Giant is one of the first weird and wonderful characters that Ed Bloom encounters in Big Fish .
Misunderstood and isolated Karl hides out on the outskirts of Ashton, occasionally venturing into town to eat the farmers the stock and annoy the locals.
Tim Burton Touch: Karl is a big man from a small town - a classic Burton outsider, made evil by his surroundings.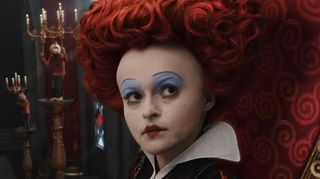 Red Queen - Alice In Wonderland (2010)
The Character: In his version of Alice In Wonderland , Burton merged the characters of the Red Queen and The Queen Of Hearts, creating one highly temperamental, animal-hating monster ruler.
Tim Burton Touch: By digitally enlarging her head to three times it's natural size, Burton gifted the Red Queen a distinguished look more familiar with his own illustrations than the original depictions of the characters in the drawings of John Tenniel.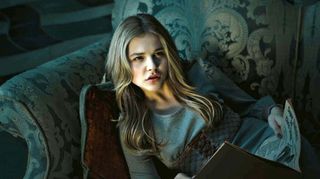 Carolyn Collins - Dark Shadows (2012)
The Character: Carolyn Collins in Burton's Dark Shadows bears almost no relation to her counterpart in the original 1960s series.
Burton opted to make Carolyn younger and more rebellious with a witty dark side.
Carolyn is into music and what New York city might possibly have to offer.
She acts fairly unimpressed when her distant ancestor returns as a vampire and moves into the family home.
Tim Burton Touch: Carolyn's sullen wisecracks are reminiscent of Burton's earlier attempt of capturing female adolescence with Beetlejuice 's Lydia.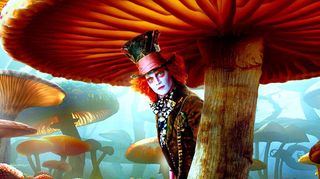 The Hatter - Alice In Wonderland (2010)
The Character: Judging on visuals alone, Burton's interpretation of The Hatter from Lewis Carroll's Alice in Wonderland series is the most wild and bonkers version yet.
However, Burton strove to bring out a human side to the character via his relationship with Alice, developing him to be more than just a one-note madman.
Tim Burton Touch: An unusual use of colour in The Hatter's design, which represents the character's changing feelings like a mood ring.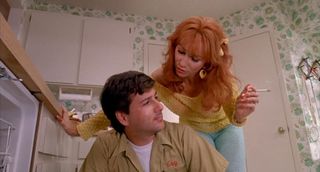 Joyce - Edward Scissorhands (1990)
The Character: Joyce is the resident bored, lonely housewife in Edward Scissorhands's neighbourhood.
Her hobbies include inviting workman around to fix non existent problems and also leading the social movements of the local women with her alpha female status.
Tim Burton Touch: With her bright, colour-clashing wardrobe, her brazen attitude and fierce methods of seduction, Tim the eternal outsider creates an image of conventional suburbia much scarier than than a boy with scissors for hands.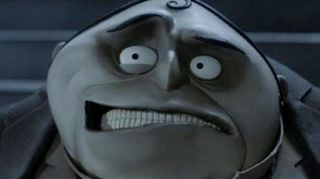 Lord Finis Everglot - Corpse Bride (2005)
The Character: Short yet very wide, Lord Finis Everglot is united with his wife (his exact physical opposite) over their mutual misery, loathing of one another and mourning over marrying their daughter off to a fish merchant's son. His instant reaction when upset is to call for his musket.
Tim Burton Touch: Everglot is a creation so sullen that it pains him to smile. When he does adjust his mouth tupwards it creaks and trembles with the struggle.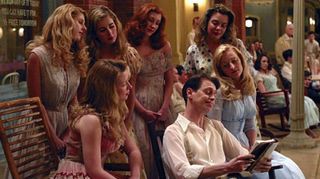 Norther Winslow - Big Fish (2003)
The Character: Norther Winslow, a small town poet from Ashton is thought to have travelled to France to pursue his career but instead he never made it past the idyllic town of Spectre.
Tim Burton Touch: When we get a glimpse of Norther's bad poetry ("The grass so green. Skies so blue. Spectre is really great!") it is scrawled on a note pad in spindly handwriting not unlike Burton's own.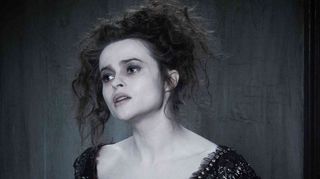 Mrs Lovett - Sweeney Todd: The Demon Barber Of Fleet Street (2007)
The Character: Burton's Mrs Lovett, the business partner and accomplice of serial killer Sweeney Todd is softer than her stage interpretations, with as much focus on her affection for Todd and adopted Tobias as well as her evil ways.
Tim Burton Touch: Burton fully explores Mrs Lovett's fantasies of being married to Sweeney Todd with a bright humorous montage of the two in pleasant situations yet still in their dark, gloomy attire.
Even their bathing suits are adored with gothic Burton stripes.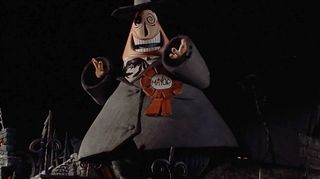 Mayor Of Halloween Town - The Nightmare Before Christmas (1993)
The Character: Resembling a giant candy corn in a large top hat, The Mayor of Halloween Town enjoys celebrating the successes of the town's Halloween exploits and traveling about the place in his hearse-like Mayor-mobile.
He is less a fan of making decisions by himself.
Tim Burton Touch: As the Mayor's main characteristic is his two interchangeable faces: one happy, one anxious, he can be viewed as a complete manifestation of Burton's ongoing exploration of the theme of duality.
And also a cheeky nod to the phrase 'two-faced politician'.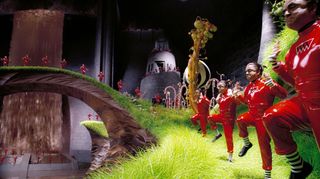 Oompa-Loompas - Charlie And The Chocolate Factory (2005)
The Character: The dark haired Oompa-Loompas in Burton's Charlie And The Chocolate Factory sport shiny red suits with black and white stripy socks and wristbands.
They also wear matching headphones - quite a departure from the original green hair/orange skin description in Roald Dahl's story.
Tim Burton Touch: Only Tim could give the iconic green-haired creations a black dye-job. Once a goth, always a goth.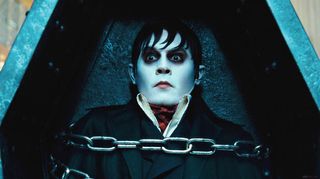 Barnabas Collins - Dark Shadows (2012)
The Character: In Burton's recent film take of the 1960s daytime serial he developed Barnabas Collins into a more slick and humorous character, particularly focusing on the fish out of water element of a 200 year-old vampire waking up in 1972.
Tim Burton Touch: Of course, being a Vampire, Barnabas has the standard Burton gothic look about him. But his witty one liners ("How, pray, does one throw a 'happening'?") also have an injection of the director's recognisable humour.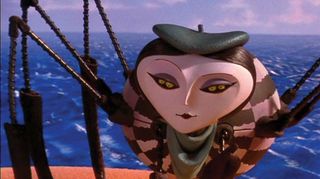 Miss Spider - James And The Giant Peach (1996)
The Character: Miss Spider is one of the many oversized insects who join James in his giant peach bound for New York City in the Selick/Burton adaptation of the Roald Dahl novel.
She is a much colder and feistier character than the original Miss Spider in the book.
She also sports a beret and a French accent.
Tim Burton Touch: With her black and white striped body, knee-high boots and almost sexy gothic make-up, Miss Spider would probably be played by Helena Bonham Carter in the live-action version.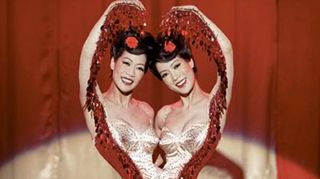 Ping and Jing - Big Fish (2003)
The Character: Ping and Jing are Korean Siamese twin sisters who specialise in performing a cabaret act singing "Twice The Love."
The sisters are also romantics, agreeing to help out an American soldier during World War II after hearing his story about the love of his life.
Tim Burton Touch: Ping and Jing's striking look is down to Burton's long-standing partnership with collaborator and costume designer Colleen Artwood.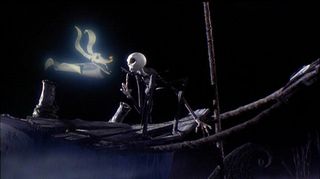 Zero - The Nightmare Before Christmas (1993)
The Character: Zero is the loyal ghost dog companion of Jack Skellington whose glowing rudolphesque nose helps guide his master through the fog.
Tim Burton Touch: Burton is quite a fan of man's best friend with several dogs (alive and deceased) scattered throughout his filmography.
Zero gets extra Burton points for having a glowing pumpkin nose though.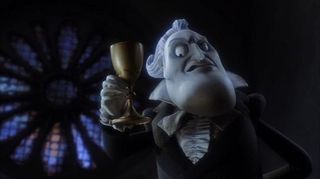 Lord Barkiss Bittern - Corpse Bride (2005)
The Character: Probably the most underrated of all Burton's villains is Lord Barkiss Bittern.
The slimy, large chinned conman pops up at Victor and Victoria's wedding rehearsal despite no one knowing who is. He takes his position waiting in the wings, ready to make his move...
Tim Burton Touch: Barkiss's design and heightened physical traits are typical of Burton's stop motion style however, what is particularly special is his hair: well kept in two big upward curls like devil horns.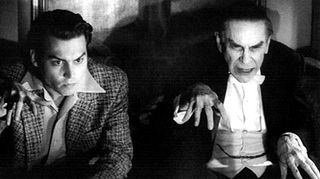 Bela Lugosi - Ed Wood (1994)
The Character: Hungarian actor Bela Lugosi most famous for playing Dracula, frequently worked with B-Movie director Ed Wood towards the end of his life.
To complete Burton's representation of the horror actor, Martin Landau wore heavy, unnaturally white makeup to get as close as a resemblance as possible.
Tim Burton Touch: It's no secret that the director drew heavily upon his own experience of working with his horror idol Vincent Prince when he attempted to depict the friendship of Ed Wood and Wood's horror movie hero on screen.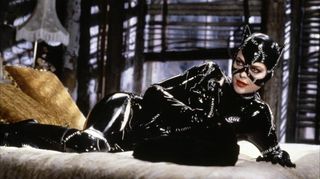 Selina Kyle - Batman Returns (1992)
The Character: Burton's version of Selina Kyle/Catwoman was more crazy cat lady than sophisticated cat burglar.
Although she oozed confidence and sex appeal post-transformation as her alter ego Catwoman, the director adjusted her origins to make Selina initially a lonely, helpless and slightly pathetic lowly secretary.
Tim Burton Touch: Aside from her stitched up, deranged looking cat outfit, when undergoing her transformation this version of Selina Kyle tears up all her fluffy animals and paints everything black.
It feels like a Burton thing to do.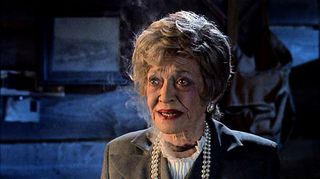 Juno - Beetlejuice (1998)
The Character: Husky voiced, pearl wearing, no-nonsense Juno is an extremely busy caseworker for the recently deceased.
Based in the Neitherworld, she spends most of her time urging her clients to read their death handbooks and to stay away from her former assistant Betelgeuse.
Tim Burton Touch: Chain smoking Juno gives her cause of death away when smoke emerges from the large slit in her throat - which feels very typical of the director's dark humour.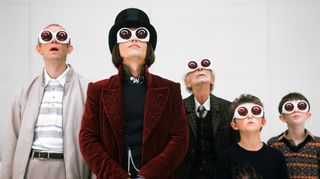 Willy Wonka - Charlie And The Chocolate Factory (2005)
The Character: In his interpretation of the much loved Roald Dahl novel, Burton moulded major character Willy Wonka into an eccentric crackpot conjurer (much like other Burton protagonists such as Betelgeuse) and did not shy away from highlighting the chocolate factory owner's actual dislike for children.
Tim Burton Touch: Elegant and graceful, with his crazy Beatles wig and bug eyed glasses, Burton's Willy Wonka is a complete departure from the earlier cinematic depiction of the character and much more in line with the director's imagination.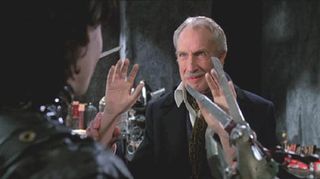 The Inventor - Edward Scissorhands (1990)
The Character: Vincent Price plays the gifted inventor whose home is adored with elaborate and interesting contraptions.
His final and most complex project: putting together a humanlike boy is tragically left unfinished when he dies, leaving his creation with scissors in place of hands.
Tim Burton Touch: Burton wrote the role of the Inventor specifically for his horror film hero and friend Vincent Price.
In addition, the Inventor's look and wardrobe echos that of the style of Vincent Price's horror films which originally inspired the director.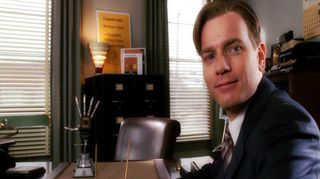 Ed Bloom - Big Fish (2003)
The Character: On paper, the protagonist of Daniel Wallace's novel Big Fish: A Novel Of Mythic Proportions Ed Bloom, doesn't feel very much like a Tim Burton kind of person at all: he's charming, optimistic and very comfortable in his own skin.
However, he's also in possession of an intensely wild imagination which the director jumps on and utilises to tell his story.
Tim Burton Touch: It's the small details that make Bloom a Burton character, like his choice in an item to sell from door to door.
The skeletal Handi-Matic contraption would look very much at home in most Burton films.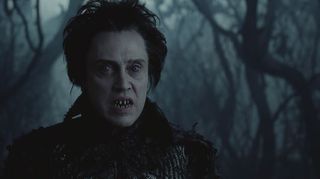 Headless Horseman - Sleepy Hollow (1999)
The Character: Christopher Walken portrayed Burton's terrifying version of the Headless Hessian Horseman of Sleepy Hollow, who haunts the village galloping around decapitating residents late at night. With his creepy looks alone, he manages to induce fear despite having no proper dialogue in the film.
Tim Burton Touch: As with most things the director adapts, Burton gave Sleepy Hollow an even darker and more gothic feel.
When it came to the Horseman, Burton opted to give him sharpened yellow teeth and wild eyes to intensify the scares.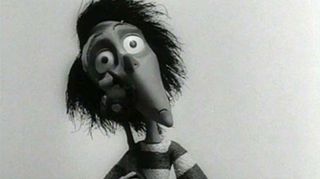 Vincent - Vincent (1982)
The Character: In one of Burton's earliest shorts, scraggily-haired and quite disturbed Vincent Malloy, a young boy obsessed with Edgar Allan Poe fantasises that he is actually Vincent Price and a tortured artist.

Tim Burton Touch: Vincent is an amalgamation of so many of Burton's cinematic influences; from 1920s German Expressionist films to horror film star Vincent Price.
The latter lent his voice to the film as the narrator.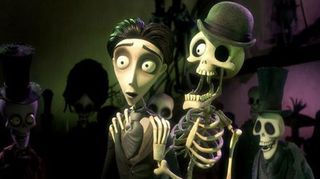 Bonejangles - Corpse Bride (2005)
The Character: Bonejangles is the ridiculously fun, one-eyed, singing skeleton with an exaggerated Sammy Davis Jr. underbite who leads the exposition filled musical numbers in the land of the dead.
Tim Burton Touch: Not only does Bonejangles lead a skeleton band and dance troupe who use each other's bones as instruments (skeletons already being a favoured motif) but he is also lovingly voiced by long time collaborator and fellow magic maker Danny Elfman.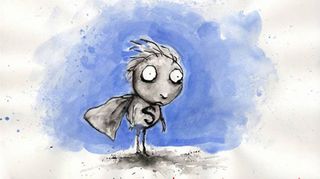 Stainboy - Stainboy (2000)
The Character: Making his first appearance in Burton's book The Melancholy Death of Oyster Boy & Other Stories , Stainboy is strange sort of superhero whose special power is the ability to literally stain things instantly.
In 2000, Stainboy graduated into a series of flash animation shorts depicting his adventures working for the Burbank police investigating social outcasts.
Tim Burton Touch: Stainboy is a freakish and grim character, yet a tragic humour shines through him. Sound familiar?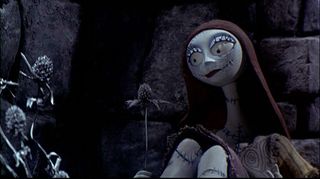 Sally - The Nightmare Before Christmas (1993)
The Character: Shy ragdoll Sally is possibly the least monstrous creature in the whole of Halloween Town.
She enjoys examining nature, holding a candle for Jack Skellington and avoiding the clutches of her possessive creator Doctor Finkelstein.
Tim Burton Touch: Sweet-natured Sally is particularly charming when she is stitching her limbs back on - stitching and the sense of pulling oneself together being a motif which also cropped up with the director's interpretation of Catwoman in Batman Returns .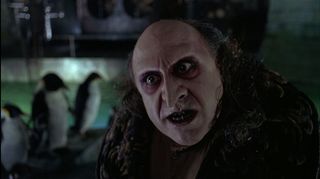 The Penguin - Batman Returns (1992)
The Character: Burton's interpretation Batman villain The Penguin was much darker and grimier than the character's initial origins. Scrapped was the image of an eloquent gentleman of crime and in his place was a gross, mutated, sleazy lunatic.

Tim Burton Touch: Although Burton maintained The Penguin's passion for trick umbrellas and his trademark large top hat, he instigated several stark physical differences to reflect the darker sides of the villain.
This included the character's new choice of wardrobe (a very Burton Victorianesque tuxedo), his more menacing deformed flipper hands and his dripping black bile covered teeth.
The end result looked like something out of The Cabinet Of Doctor Caligari - a key influence on the director.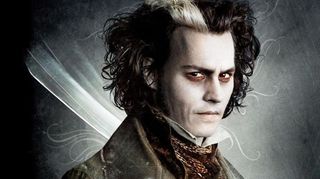 Sweeney Todd - Sweeney Todd: The Demon Barber Of Fleet Street (2007)
The Character: When Burton adapted the 1979 musical depicting the English barber turned serial killer Sweeney Todd, he placed his own mark on the tale by not holding back on the bloodshed and macabre.
His antihero also under went a makeover: instead of a rough man who has aged without much grace, Burton cast a middle aged yet still aesthetically pleasing Johnny Depp - giving the character the eerie feel of a man who died in his youth.
Tim Burton Touch: Sweeney Todd is yet other character sporting wild, shaggy dark Burton hair.
What makes his do so special though is his lighting-white streak - a nod to the Burton-influencing Bride Of Frankenstein .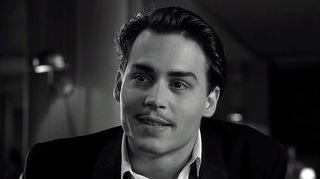 Ed Wood - Ed Wood (1994)
The Character: Burton's depiction of real life B-movie director Ed Wood highlights the characteristics the two directors appear to share. Wood is shown to be a misfit, as well as misunderstood and misperceived in his field, as Burton has also been at several points in his career.
Tim Burton Touch: Due to his fondness towards his subject, Burton admitted he could not help but present Wood in an exaggeratedly sympathetic way.
Harnessing an eccentric performance from regular collaborator Johnny Depp, he pushes to bring across the characteristic that divides him from Wood: the late director's optimistic spirit and enthusiasm in the face of failure.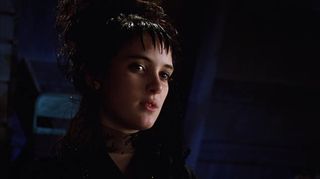 Lydia Deetz - Beetlejuice (1988)
The Character: Lydia Deetz is a moody, dramatic, angst-ridden teenage goth who feels even more isolated than usual when her father and step-mother move her into a country home out in the sticks. Admittedly this blow is lessened when she finds out what's hiding in the attic...
Tim Burton Touch: With her wild jet black hair and pale make up, Lydia's look has influenced goth kids ever since.
Mix this with her morbid fascination with the supernatural and her liking for everyday funeral wear and you have a prime Burton weirdo on your hands.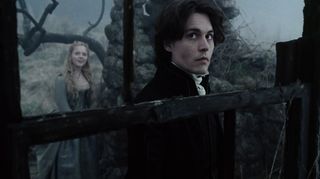 Ichabod Crane - Sleepy Hollow (1999)
The Character: When adapting The Legend Of Sleepy Hollow , Burton steered clear of portraying Ichabod Crane as a typical, brave, hands on hero. Instead the director focused on the character's keen feminine side and delicate, fragile nature, thus emphasising his frightening environment in the spooked village.
Tim Burton Touch: In addition to hamming up Crane's timid disposition, Burton also changed the character from a school teacher to a police constable with an interest in ahead-of-his-time post-mortem examinations.
Cue lots of scenes with creepy dead bodies. How very Timothy.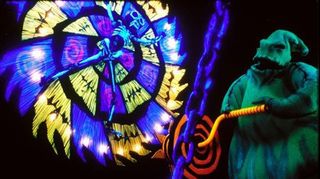 Oogie Boogie - The Nightmare Before Christmas (1993)
The Character: Large animated burlap sack Oogie Boogie is the most evil and sadistic resident of Halloween Town. He lives in exile from the rest of the inhabitants in an underground casino themed lair filled with torture devices and groovy glow-in-the-dark skeletons.
Tim Burton Touch: The concept of Oogie Boogie; an evil maggot invested sack with a casual torture dudgeon is terrifying and disturbing.
Yet as with so many of his antagonists, Burton makes him very likeable with his musical talents.
It's hard not to wish all villains were this fun and jazz loving.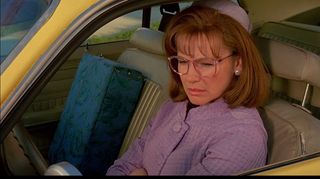 Pegg Boggs - Edward Scissorhands (1990)
The Character: Bespectacled Avon lady Pegg Boggs drives around her neighbourhood adored in a purple suit and matching hat, restlessly trying to sell lipsticks and nail polish to the women of suburbia.
When this mission takes her to the dark castle upon the hill she meets Edward Scissorhands.
Tim Burton Touch: Extremely kind and good-natured, Pegg represents the complete opposite of the society she lives in.
Underneath her garish outfits and sunny disposition is someone who feels just as alienated from her community as her adopted scissorhanded boy.
A true Burton outcast.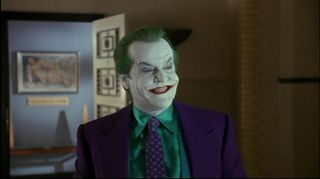 Joker - Batman (1989)
The Character: Like many characters in the director's comic book adaptations, Burton's interpretation of Batman's most famous nemesis The Joker, under went a slight origin overhaul.
Starting out as a key gangster called Jack Napier, The Joker comes into being when he is disfigured in a confrontation with Batman in a chemical factory.

Tim Burton Touch: Burton's version of The Joker is strongly characterised by the way he views himself and his crimes as a performance.
The very moment The Joker is revealed he is accompanied with unsettling carnival music and he sets about engaging in an energetic, celebratory killing dance.
This is also a prime example of Tim Burton's ongoing association of villains and fun music.
Note also the art gallery attack - which firmly establishes the Bat-villain as a performance artist gone wrong, whilst Prince plays from a boom box.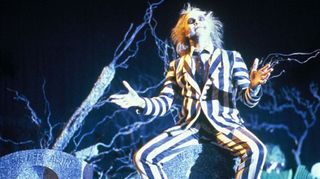 Betelgeuse - Beetlejuice (1988)
The Character: Miscreant, prank-loving Betelgeuse is a self proclaimed "ghost with the most."
Extremely lecherous and sleazy, he stumbles around the afterlife conducting "bio-exorcisms" and touching up women alive or dead.
Tim Burton Touch: In addition to being a manic ghoul with a gothic look, Betelgeuse also possess a guiltily enjoyable perverse sense of humour which Burton appears to relish coaxing out of many of his characters.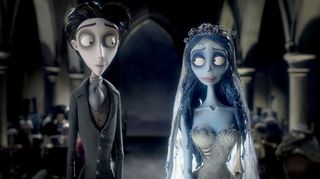 Emily - Corpse Bride (2005)
The Character: Corpse Bride Emily spends her time roaming the underworld in her tattered wedding gown and stale headdress after her elopement plans turn fowl.
Her luck seemingly begins to change when a clumsily, socially awkward man stumbles upon her grave.
Tim Burton Touch: With her dead blue skin and large wide eyes, it's easy to view Emily as just a shinier, skinnier version of T he Nightmare Before Christmas ' Sally.
However, it's her brazen ways and quirky charisma (breathed into her by Burton's own bride of sorts Helena Bonham Carter) that makes her a special Burton creation in her own right.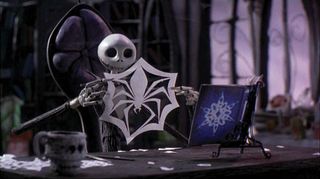 Jack Skellington - The Nightmare Before Christmas
The Character: Jack Skellington, also known as the 'Pumpkin King' is the popular leader of Halloween Town and its most frightening resident.
However, after a grand finale of Halloween celebrations leaves him feeling deflated and then he accidentally stumbles on Christmas Town, the graceful skeleton becomes infatuated with a different holiday.

Tim Burton Touch: With his elongated limbs, pin stripe suit, monochrome colour palette and large bat bow tie, Jack just oozes the distinctive Tim Burton design.
Being scary yet graceful, dead but warm natured he could only be creation of Burton.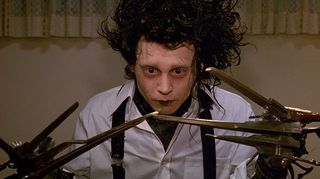 Edward Scissorhands - Edward Scissorhands (1990)
The Character: Edward Scissorhands is the eponymous hero of Burton's 1990 gothic fairy tale. The creation of an eccentric inventor, Edward is slightly set back when his father figure dies before Edward is given hands. Instead innocent Edward has to make his way through the world and fickle society with long scissor fingers.
Tim Burton Touch: Being the lead in what is still arguably Burton's most personal film, Edward Scissorhands is as Burton as a character can get; his alienation from suburbia, his dark shaggy hair, pale complexion, the fact that he is portrayed by Johnny Depp...
However, it's his trusting nature and sweetness that gives Edward that special Burton magic.
He wears his heart on his sleeve just as the director tends to in his films.