15 Doctor Who Villains Who Should Be Movies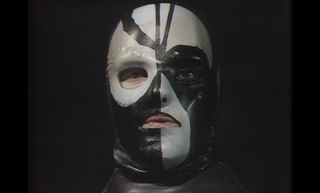 Sharaz Jek
The Villain: Despite the fact he faces off against Peter Davidson's Who in the most violent episodes of the fifth Doctor's era, Jek is one of the more sympathetic sadists our hero has encountered.
Hideously disfigured by a business partner's thriftiness, Jek lurks in the titular Caves of Androzani, gathering an army of androids and plotting his revenge. But, awww, despite his constant psychopathic malevolence, all Jek wants is a friend, bonding with the Doctor's companion Peri after she's injured in battle.
Basically, picture Pinhead crossed with The Phantom Of The Opera , and you've got Jek.
Dream Director: Clive Barker. Forget the kids' market, the original episodes contained drug-dealing, gun-running and some of the nastiest deaths ever glimpsed from behind a sofa. Let's honour that by making the movie version a hard-18.
Key Scene: Peri's lying injured in Jek's cave. He enters holding a sonic screwdriver customised with razor blades. "I have such sights to show you," he says.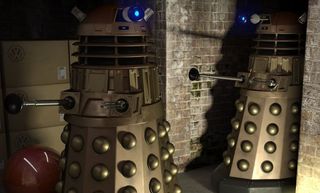 The Daleks
The Villain: Sociopathic pepperpots whose raison d'être is to destroy all non-Dalek life in the universe. Led by witch-faced power-maniac Davros, these stair-phobic Nazi metaphors trundle through the universe, relentlessly bellowing their catchphrase like an army of demented John Inmans.
Dream Director: James Cameron. He's got form with cyborgs who enjoy spouting one-liners. We've heard he knows how to direct an action sequence too, but we've never seen any evidence of that.
Also, imagine the Daleks flying towards your face in glorious 3D.
Key Scene: In a nod for the fanboys, one Dalek has his voicebox partially broken, so that all he can say is: "Terminate, Terminate, Terminate..."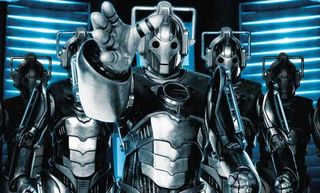 Cybermen
The Villain: Dead-headed robo-drones who were once a race of humanoids. They lost their humanity when they decided to extend their lifespan by implanting technology into their bodies, technology which took the (sci-fi) logical progression of deleting their emotions.
Cold, calculating metal-bastards that make the T-1000 look like C3P0.
Dream Director: David Fincher. We'd like to see a Se7en style hunt for a killer that inserts different household electrical appliances into his victims. Turns out it's a mist-firing Cyberman, who's forgotten how to assimilate.
Key Scene: Our Cyber-villain is hunched over a corpse, desperately trying to insert a toaster into its gob, whilst he mentally transmits a message to Brad Pitt's mobile phone: "I've gone and deleted again."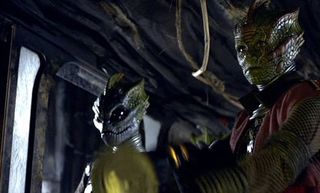 Silurians
The Villain: Forget the dinosaurs and their complex eco-system - back in the day, the Earth really belonged to these scaly-bottomed nasties. The precise era of their initial existence is shady, though they are widely thought to have existed during the Triassic period, some 250 million years hence.
Their hibernation – self-induced after the reptilians got scared when the Moon spun perilously close to Earth – was interrupted in near-present day by the throbs of nuclear energy emanating from a nearby plant (no, not the one owned by Mr Burns). The Silurians quickly set about attempting to conquer humankind by releasing a deadly virus into the population...
The Director: Ridley Scott. He likes a bit of historical drama, and a bit of sci-fi. So why not mix the two in a cocktail of visual brilliance?
Key Scene: A Silurian, cornered on a rooftop by our Doc, releases a dove into the air and delivers a heartbreaking soliloquy. "I've seen things you people wouldn't believe... All those moments will be lost in time..."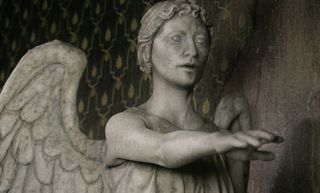 Weeping Angels
The Villain: Medusa's got nothing on these stony menaces. Their movements are completely imperceptible to the human eye – fitting, as when a human looks at them, they are rendered still as, well, statues. When nobody's looking, however, they exist in 'quantum wave form', travelling with incredible speed. So don't blink around them – in that split second of blinking they can kill you.
The four Weeping Angels are also shrouded in mystery, their origins unknown, their age a match for the age of the universe.
The Director: John Carpenter, because he's managed to infuse stony, expressionless villains with all the passion and rage of a whirlwind caught in a tea cup (ahem, Michael Myers).
Key Scene: A victim is caught in an alleyway by the Weeping Angels. She sneaks a glimpse of their eyes uncovered, and whispers in horror "They've got the devil's eyes"...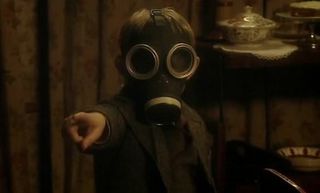 Gas-Masked Zombies
The Villain: The first, original Gas-Masked Zombie is also known as the Empty Child. In wartime Britain, a young boy becomes infected with Chula nanogenes. As a consequence, his gas mask fuses onto his face, while the nanogenes afford him superhuman abilities, such as heightened strength, telepathy and the ability to transform others into Gas-Mask Zombies by infecting them with the nanogenes.
This zombie is especially dangerous because it is driven by one thing – its quest for its lost mother, and it will destroy anything that stands in its way.
The Director: Steven Spielberg. Underneath the Empty Child's anger and destructive behaviour lies despair and parental yearning. Perfect for the Beard.
Key Scene: The Empty Child, confronted with endless ranks of other Gas-Mask Zombies, laments that he just wants to "go home"...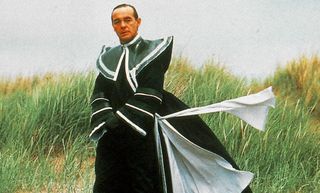 The Valeyard
The Villain: Supposedly meaning 'learned court prosecutor', the Valeyard is a shadowy creature who was created between the Doctor's twelfth and final regeneration. A mysterious entity, he is considered a ruthless force, and maybe a composite of the Doctor's dark side.
During the Six Doctor's time, the Valeyard is appointed by the Time Lords as the Doctor's prosecutor, who is on trial for misconduct. His severe temperament means that the Lords hope he will condemn the Doctor to execution, and effectively brush under the rug the Time Lords' little misdemeanour - in which they almost destroyed some planet called Earth.
The Director: Duncan Jones. Let's really get under the skin of this person they call the Valeyard – Who is he? What are his hopes? His dreams? His fears? – all in a pretty space setting.
Key Scene: The Valeyard wakes up after a fall and discovers that there's another Valeyard in his home who looks just like him...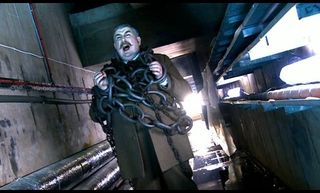 The Family of Blood
The Villain: A gaseous riff on 2.4 children, these green, globular entities consist of a father, mother, son and daughter, all who refer to each other as Father of Mine, Mother of Mine etc. They have the ability to possess human bodies, and can communicate telepathically.
Oh, and they have an army of scarecrow-like, near-indestructable protectors created by Son of Mine.
The Director: David Cronenberg would take the body horror of globular entities possessing human form to their horrific extreme.
Key Scene: The family have weird dreams in which their bodies develop large green pustules before beginning to disintegrate. Then, a DVD drive appears in the middle of their torsos...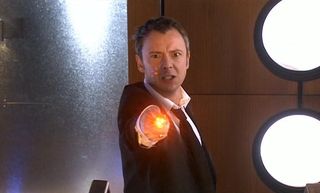 The Master
The Villain: A turncoat Time Lord who possesses many aliases, including Koschei. At his craziest, he has threatened to destroy the universe, though really he wants to control it and attain the title Master Of All Matter. His madness is attributed to the fact that he has the perpetual sound of drumming in his head. Tinnitus is no laughing matter, kiddies.
The Master and the Doctor were childhood friends. But when the Doctor fled their homeworld of Gallifrey, The Master was sent to apprehend him. The two are considered intellectual equals, but polar opposites in character. The Master's arrogance and vanity are his downfall.
The Director: Quentin Tarantino. Because damn those Time Lords like to talk . And if anybody can make all that chatter interesting, it's Tarantino.
Key Scene: The Master is confronted by the Time Lords in a deserted warehouse. They think he's a "rat", but he professes his innocence. Inevitably, it ends in one Lord having his ear cut off amid the ensuing bloodbath...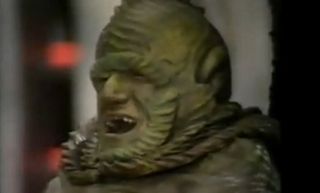 Sil
The Villain: Quite literally a snivelling worm, Sil is an intergalactic businessman – which means he's both slimy on the inside and the out. Manipulative and backstabbing, Sil will always go that extra bloody mile to close a deal, no matter whose blood it is that ends up on his smothering little hands.
Even his business associates aren't free from Sil's dirty schemes, as the vacuous creepy-crawly forces his associate into a corner through his illusory machinations. But while his schemes are grandiose, Sil is reaching for the stars with little hope of ever grasping them – tall orders indeed. Now where did we leave that Zeiton-7?
The Director: George Lucas, obviously, with Sil's corrupt behaviour second only to that of Jabba the Hutt's.
Key Scene: Sil gets sick of negotiating with a poor space farmer, and drops him into an underground coliseum, where the fella has to battle it out against a giant man-eating alien.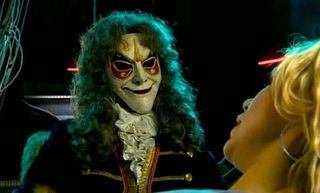 The Clockwork Men
The Villain: Talk about using your initiative – the Clockwork Men and their clever fix-ups put both Blue Peter and Jimmy Savile to shame.
A conclave of repair droids, this lot use anything and everything at their disposal to get the job done. And we mean anything. While working on the SS Madame De Pompadour, they snatch the body parts of the crew to fix the ship, in lieu of actual mechanical parts. They can also smash holes through the space-time continuum, making them slippery little buggers.
The Director: Guillermo Del Toro likes his mechanics, so he'd have a field day creating the Clockwork Men (with their fiddly cog-and-wheel brains) and the tasks their robotic minds are put to. Del Toro? You're welcome.
Key Scene: The Clockwork Men work on a spaceship that has mysteriously broken down in Jupiter's orbit. But when they discover everybody onboard is dead, they come across a strange little scarab-shaped thingmebob. Attacked by the wotsit, one of the Men turns into a bloodthirsty droid-cum-vampire...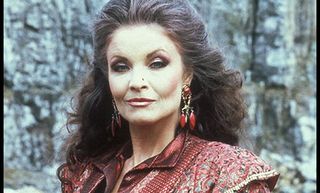 The Rani
The Villain: Clever girl, this one, bringing a dash of Joan Collins-style fashion and fatale to sci-fi.
With looks that could kill and a mind as sharp as an ice pick, The Rani is from the same planet as the Doctor (have they ever done the naughty? Quite possibly), and is wicked evil. Think of her as Dr Frankenstein's long-lost cousin from another planet. See, The Rani likes her experiments – more specifically, she likes to mess around with genetics and biochemistry.
In her time, she's transformed mice into giants, and starved people of their sleep. All, most cleverly, during historic periods of great strife so that her dabblings go unnoticed by the general population. Clever girl indeed.
The Director: Joss Whedon knows a thing or two about powerful women with crazy cool agendas. We want him to make her say "I've had enough of this drivel!" again. Preferably while wielding some kind of futuristic weapon.
Key Scene: The Rani decides to perform experiments on a collection of demons, so she establishes a top secret department of the government known only as the Initiative. But can she control the subjects of her abominable work?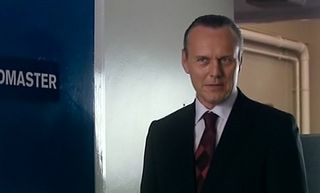 Mr Finch
The Villain: Demon headmaster, indeed. Mr Finch is a Krillitane who has shrugged on a human skin suit to infiltrate a comprehensive school. There, he quickly replaces staff members with his brethren and introduces massive reforms – including compulsory school dinners. Not that evil, right?
Well, the dinners are baked with intelligence-enhancing chemicals, a ploy by the Krillitanes to make the pupils smart enough to decode a paradigm through which they can control reality. Ah, eeeeevil! See, they want to remake the universe in their own diabolical image.
The Director: Robert Rodriguez had fun with alien teachers in The Faculty , why not set him loose with Mr Finch? No American teens for the pupils, though.
Key Scene: The school's old nurse, recently replaced by a Krillitane, bursts into the boy's changing rooms and begs a student for help... It all ends up a bit wet and gross.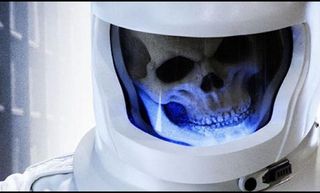 The Vashta Nerada
The Villain: The name means 'shadows that melt the flesh'. Fitting, considering this swarm of microscopic beings moves through the universe stripping creatures of their flesh and bones in a matter of seconds. Naturally, the Doctor calls them the "piranhas of the air".
Their mass is such that they are able to obliterate light, causing literal shadows even in the brightest of places. They are attributed with the dubious honour of creating fear of the dark in primitive cultures who first encountered them.
The Director: Hideo Nakata would take these creatures into interesting territory, playing on myths and legends while building creeping, creepy suspense out of the deep shadows of the night time hours.
Key Scene: A teenage babysitter talks to her friend on the phone, and is told the myth of the shadow melters. She is discovered later that night as nothing more than a skeleton...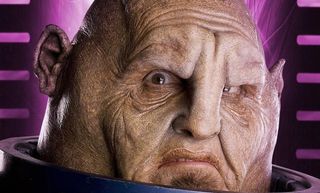 The Sontarans
The Villain: Think of these ugly lugheads as the universe's unwanted army. Recognisable thanks to their bulging heads and their thickset build, the Sontarans are humanoids with just three digits on each hand. They have green blood, and capitalised on the process of cloning, meaning that each Sontaran is a near carbon copy of the other.
The Sontarans are the military of space, their prime objective being to conquer and bring their own order to new planets. They are also embroiled in a war against the Rutans that has been waging for centuries.
The Director: Paul Verhoeven hasn't done sci-fi since 2000's abysmal Hollow Man , but this is the man who brought us the intensely entertaining Starship Troopers just three years before that. Get him an order of Rheon Carbines pronto.
Key Scene: The Sontarans and the Rutans go head-to-head on an alien terrain. But their battling awakens a colossal alien beast from the bowels of the earth.
The leader of the Sontarans declares war: "We must meet this threat with our courage, our valour, indeed with our very lives to ensure that Sontaran civilization, not insect, dominates this galaxy now and always !"