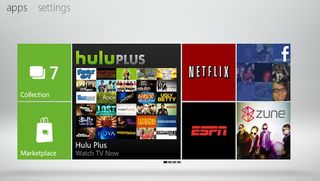 So you bought an Xbox 360. Congratulations, you've just contributed to Microsoft's slow, yet inevitable campaign toward world domination. You've also secured yourself a state-of-the art gaming rig capable of innumerable hours of solo and multiplayer fun. Not a bad trade-off.
What now? Well, you could crack into the exclusive Halos, Gears of Wars, and Fables of Xbox 360 fame, or you could go one step further and cobble together the ultimate, online entertainment machine with some of the consoles must have apps. Need help getting started? Here are some suggestions...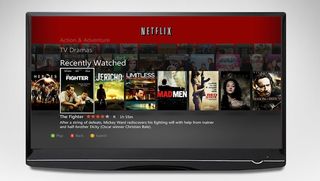 Netflix
Netflix is the hotly contested king of online movie and television streaming. Offering access to a ton of instantly watchable content for roughly $8 a month, the service has replaced cable for many of its subscribers. Unfortunately, Netflix's selection varies greatly from region to region. This isn't an issue in the US, where Netflix has had years to hammer out licensing deals with major studios to amass a wealth of new and old content. In Canada and the UK, however, Netflix is lagging by comparison. Still, considering the low monthly fee and the sheer amount of available titles, there's still plenty to watch.
Top film streaming alternatives: Amazon Instant (US), EPIX (US), Vudu Movies (US), CinemaNow (US), Crackle (Worldwide), Paramount Movie (US), Blinkbox (UK)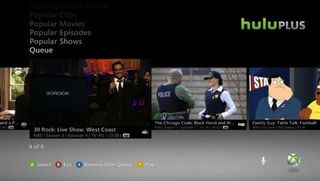 Hulu Plus
Hulu Plus is to television as Netflix is to movies. True, Netflix has an archive of TV series, but for the true boob tube fanatic, it's Hulu Plus all the way. For a paltry $8 fee, Xbox Live Gold members can keep up with their favorite programs, as well as rewatch older shows from Hulu's massive back catalog. And like Netflix, Hulu Plus accounts are accessible via computers and smartphones. But also similar to Netflix, there are a few dents in Hulu Plus's armor. For one, it's a US-only application. In addition, Hulu Plus programs are also embedded with ads despite the monthly fee. Nevertheless, if you're already paying a local cable company ten times as much for the exact same content, Hulu Plus is worth looking into.
TV streaming top alternatives: Epix (US), Sky Go (UK), Foxtel (Australia), Verizon FiOS TV (US), Rogers On Demand (Canada), RTVE (Spain), Comcast Xfinity (US)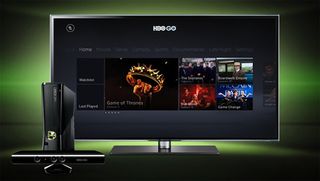 HBO GO
Game of Thrones, Curb Your Enthusiasm, The Wire, and (to a lesser extent) True Blood are all shows worthy of your time, but without an HBO subscription, you're only other (legal) option is to wait until the repeats hit basic cable ten years down the road. If you do have a few extra bucks, a subscription to HBO with your TV provider will net you a free version of HBO GO on Xbox 360, which includes online access to everything the channel has to offer. Being a network app, the selection is obviously more limited than Netlflix and Hulu Plus (which also carry older HBO shows), but what makes HBO Go an essential app is its wealth of superb television entertainment. If you already have HBO, this is a no-brainer. If you don't, the investment is still worth considering for the mere fact you'll be able to keep up with all the water cooler talk.
TV network top alternatives: SBS On Demand (US), Nickelodeon (US),, Syfy (US), BBC iPlayer (UK)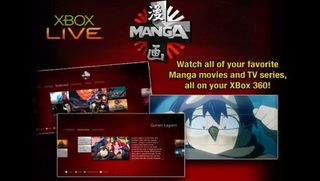 Manga Entertainment
Anime enthusiasts and lovers of free content will want to rope off about 70MB of space for Manga Entertainment's Xbox App. The US-exclusive download connects Gold members to Manga Entertainment's online library, which includes full length movies and anime series like Ghost in the Shell 2.0, The Castle of Cagliostro, Macross, Robotech, and Star Blazers. The selection won't blow you away, and it's mostly content you can stream at Manga.com, but at $0.00 dollars, the Manga Entertainment app pays for itself on the opening screen.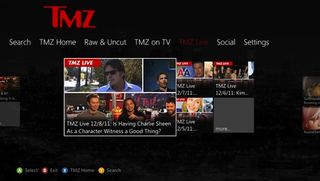 TMZ
TMZ's dashboard app provides a quick and easy way to stay current with the latest celebrity news and gossip. It's the perfect digital companion for gamers who want to know which aged TV star was found nude at some seedy LA Nightclub, and prefers their pop culture news delivered with TMZ's trademark snark. Available in the US and Canada, the app taps into TMZ's collection of videos and news clips, making it a source of escapism from the everyday rigors of non-celebrity life. Not everyone loves to keep up with the Kardashians, but for those who like to be in the know in-between games, TMZ's app delivers.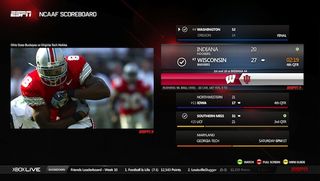 ESPN / WatchESPN
ESPN's Xbox 360 app is a sportsfan's best friend. With a simple hookup through a participating cable dealer, US Gold Members can cheer along to thousands of live events from all over the globe in glorious, sweaty, and overpaid 720p HD. The inclusion of WatchESPN, as well as recent service enhancements, gives armchair athletes a chance to see popular ESPN shows like SportsCenter, SportsNation, and NFL Live, while also catching up on past games through a portal to ESPN.com's treasure trove of on-demand highlights, games, and clips. The ESPN app is also crammed with interactive features like split-screen, Kinect gesture commands, live updates, and customizable search functions. Truly, No true sports lover should leave home without ESPN's app. Er, stay home. You know what we mean.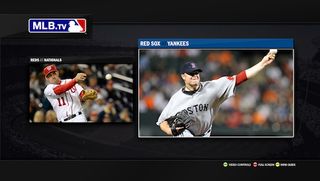 MLB.tv
If you eat, sleep, and breathe baseball, odds are you're going to want to skip ESPN and go straight for MLB.tv. With both paid basic ($39.99/year) and premium ($49.99) services available to Xbox Gold members, MLB.tv supplies fans with a continuous stream of live games, as well as league recaps and archived matches. Like ESPN, MLB.tv endorses fan interactivity, with features like split screen viewing, mini guides, fantasy player tracking, and the ability to pick and follow individual teams. Benefits of the premium package include access to niche, out-of-market games and pre-season matches; as well as a free subscription to the MLB At Bat 12 mobile app.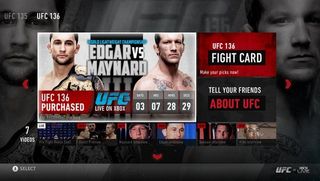 UFC
UFC's launch on the Xbox 360 was marred by technical errors but we saw something special in the fight-centric download when we first previewed it. Despite the early hiccups, we still see great potential. Serving as a portal to UFC pay-per-view matches, the Xbox 360 app does more than just stream two guys man-hugging themselves into submission. Fans can congregate before the match-up to make their winning picks, scan fighter bios, watch background videos, and generally soak in as much info as they want before the big event. Even after the show is over, fans can see how their predictions compared to others, and find out how their match picks ranked on the leaderboard. Enjoying the actual card still comes at a price, but the free UFC content is what makes this app an essential download for hardcore fans.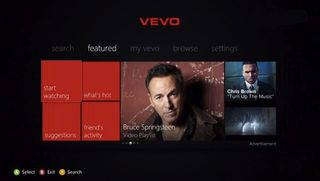 VEVO / MUZU TV
Music videos are a rarity on television these days, but thankfully there are streaming services like VEVO amd MUZU TV to pick up the slack. Both apps are in good standing with many of the major record labels, making for a good selection of music videos, both new and old. Both apps also employ tabbed navigation systems, making it easy to breeze through the current top hits or search for something more obscure. If you year for the days of uninterrupted music videos, and don't have the patience to wade through YouTube's database, these music-centric apps are handy, clean, and entertaining.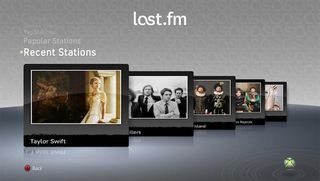 Last.fm
Music aficionados have a ton of options when it comes to grooving out on Microsoft's console, but for sheer variety and personalization, Last.fm is an audiophile's best choice. Membership is free (provided you are a Gold member), and Last.fm listeners can play a slew of songs from artists across all genres, while also accessing bios, pictures, and behind the scenes info on the titles that pop up. Don't know what you want to hear? Search by genre and let Last.fm suggest your next favorite band. Last.fm analyzes your listening habits and suggests new artists or albums based on what you've enjoyed previously, either through Last.fm or your own personal music selection. Think of it as a self-aware AI DJ software who's always listening and never goes to sleep.
Radio app top alternatives:: iHeart Music (US), Slacker Radio (US, Canada), Absolute Radio (UK)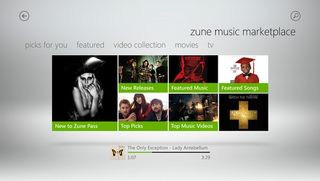 Zune
Zune (soon to called Xbox Video and Xbox Music) is Microsoft's version of Apple's iTunes, offering a la carte music, HD TV, HD movies, and other content for playback on Microsoft brand gadgets. Like it's Apple competition, the Zune Marketplace is a mecca of downloadable entertainment, all of which can be saved onto the Xbox 360 and played at one's whim. With a Zune Music pass, that content can also be shared with Microsoft PCs and Windows Phone. Kinect integration also means you can ditch the controller all together and assemble your dream music and video database with a few flicks of the hand.
Music top alternatives: Rhapsody (US), Napster (Germany, UK)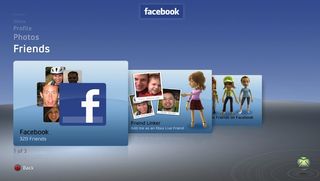 Facebook
We've all been there: One minute you're saving the galaxy from annihilation, and the next you're desperately wondering how many likes your Sad Keanu Reeves meme received or what your co-worker Gary ate for dinner. With Xbox Live's Facebook app, you don't have to worry about leaving your Xbox 360 to maintain your social network dominance. Even better, the Xbox Live Facebook app empowers users with the ability to automatically share Xbox 360 achievements and other game-related notices, saving precious moments of typing that can then be reinvested into pwning that next newb or racking up a kill streak on Call of the Army: Brotherhood of Fortune III. Alas, if only Mark Zuckerberg were alive to see his invention put to such wondrous use. Hold up, we're getting a memo...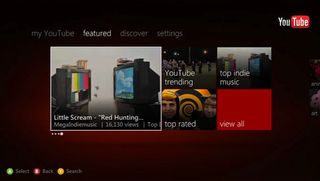 YouTube
Like Facebook, YouTube is available on virtually every single smartphone, laptop, computer, tablet, 3DS, PSP, PS Vita, and wi-fi enabled toaster. Also like Facebook, YouTube is a titan of the social network arena, and one of the best apps you can have on your dashboard. Pretending for a moment you can't already access YouTube from anything within a 2-foot radius, the Xbox 360 YouTube app is a handy source for video walkthroughs, tips, news items, trailers, and anything else game related. Having trouble on a specific boss? Watch someone else beat him. Looking for that last gold collectible? Let YouTube be your guide. Just in the mood to watch kittens claw their way out of a paper bag? It does that too. YouTube is a an app that suits many tastes, and for gamers it can be a digital lifeline.
Video aggregate top alternative: Dailymotion (all regions)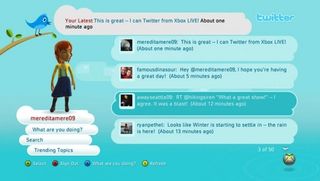 Twitter
Rounding out the Xbox 360's social media trifecta is Twitter, the app that lets you tell the world what you're playing, how you're playing it, and whatever random thought you have in 140 characters or less. The app functions on the Xbox 360 the same way it does from any other device, but adopts a more streamlined interface for easier navigation. Assuming you're already on the Twitter hype train, this makes a versatile addition to your dashboard.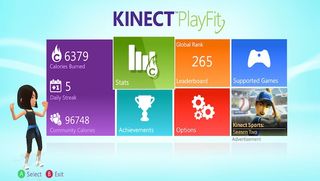 Kinect PlayFit
Launched this summer, the Kinect PlayFit app doesn't offer any new Kinect activities per se, but it does track your fitness progress as you jump, dance, slice, and fight your way through associated Kinect titles. With it, health-minded users can track how many calories they've burned off, earn exercise-related achievements, and post their progress for all the world to see (don't worry, you can turn this feature off). It isn't the most exciting app in Xbox 360's stable, but for players who already have a Kinect set up, it's one of those why not? downloads.
Games currently trackable on Kinect PlayFit: Big League Sports, Dance Central 2, Deepak Chopra's Leela, Kinect: Disneyland Adventures, Kinect Sports: Seasons Two, Kinect Star Wars, Let's Cheer, Nike+ Kinect Training, and Your Shape Fitness Evolved 2012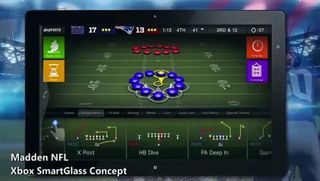 That's a wrapp