PlayStation VR is here and while there are an abundance of PS VR games already playable, there's still a stack on the way. Wiki currently lists 107 games as in development and Sony says there are hundreds of developers hard at work on virtual reality games. Obviously that's a lot. Way too much to cover in their entirety. So let's cut through all the chaff and go straight for the big stuff.
Resident Evil 7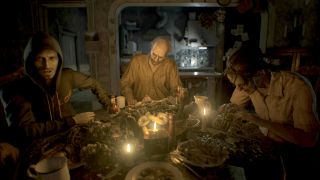 Release date: January 24, 2017
Why is it exciting?
Capcom's more or less rebooting its iconic zombie game with a first person horror overhaul that can be played entirely in PS VR. Set in and around a derelict Louisiana mansion it sees you hugging its rotting walls as you try to avoid the murderous and possibly no longer human Baker family. Trust me VR scares are the most terrifying scares.
Star Trek: Bridge Crew
Release dates: March 14
Why is it exciting?
This is the Star Trek game you've always wanted. Four players online, all taking key roles on the bridge of a starship. Players take command, tactical, engineering and helm roles and between them captain, shoot/ scan, transport and manage power, and fly. Obviously you can't do it all though and this is an amazingly interesting co-op experience as you look around and see your virtual crew waving at you.
Dino Frontier VR
Release date: 2017
Why is it exciting?
Who doesn't want to run a Wild West settlement of cowboys and dinosaurs? Far more than just another 'experience', Dino Frontier puts you in charge of a frontier settlement where Jurassic Park meets the Magnificent Seven. As the Big Mayor you, quite literally, have to get hands on with your town and keep the dinosaurs from eating the tourists..., wait, no, I mean cowboys. Starring T-Rex's, velociraptors and triceratops, Dino Frontier looks like ridiculous fun.
Gran Turismo Sport 2017
Release date: 2017
Why is it exciting?
Sony's eternally delayed racing flagship will be adding full VR support when it finally arrives later next year… yeah, we'll stick with next year. That's really all we've got so far so expect it the entire game to be playable normally and in VR much like Resi. Series creator Kazunori Yamauchi does describe it as "very good and very natural".
Tekken 7
Release date: 2017
Why is it exciting?
Don't worry, you won't actually be hitting people in first person. Bandai Namco are pretty clear on that. So what does that leave? By the sounds of things a VR character viewer. Talking to Wired, senior game designer Michael Murray said "you want to see the cool characters, the cute female characters like Lucky Chloe, and we have all kinds of customisation for them". The only character we want to see up close is Mokujin.
Farpoint
Release date: TBA
Why is it exciting?
So far Farpoint is the only game to use the new VR gun Aim controller, which is a shame because it's a brilliant peripheral. Using it you can explore a dusty Mars-like planet while shooting bug aliens that pop out from the rocks. It's a pretty basic shooter experience but the combination of being there in VR and the excellent use of the Aim controller make this a something to really look forward to.