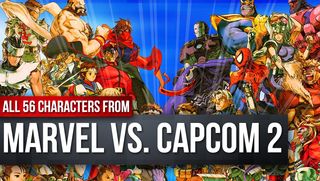 Nearly a decade after its celebrated release, Marvel vs Capcom 2 is coming back in downloadable glory. The title has stayed popular in the intervening years, fetching stupidly high prices on eBay, and remains the sole reason many have their old Dreamcasts at the ready. But even the biggest Fighter Fans or Marvel Zombies could be confused about the origins of some, if not most, of the characters involved.
As a public service from your pal GamesRadar, here's a brief bio on all 56 characters (well 55 + one alternate costume) so you'll know what's what for the summer rerelease. You're welcome.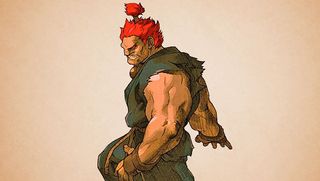 Akuma
Known as Gouki in Japan, Akuma is the brother of Ken and Ryu's sensei, and was rumored to have killed Gouken, though he is very much alive in SFIV. Even if not guilty of fratricide, he definitely killed his master after discovering the dark powers that fuel him, and wears his late master's prayer beads around his neck. Akuma is one of the top bad guys in the SF universe, and was big in the Alpha sub-series. He's normally cast as Ryu's main enemy, pushing him on a darker path. Perennial loser Dan also sees Akuma as a rival, while Akuma just ignores him.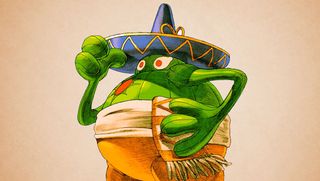 Amingo
One of the few original characters in MvC2, Amingo is a bit of a mystery. A sort of living plant, his standard look is that of a fat cactus wearing a sombrero and gaucho pants. This Hispanic homage is only temporary though, as he shifts into many different plant-like forms during a fight. His goals involve saving his plant brothers, but since MvC2 is one of the few Capcom fighters not to have character specific endings, we don't really know anymore.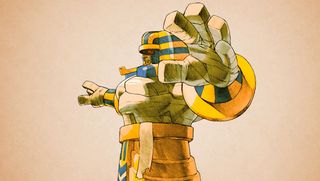 Anakaris
Anarkis was a Pharaoh who foretold his own death and subsequent resurrection 5000 years later, so he had a pyramid prepared. Once brought back by the powers of Darkstalkers baddie Pyron, he begins fighting to save his kingdom. Once he does, he basically bounces around from the present to five millennia previous to defend his land, which he eventually saved by taking it to a new dimension.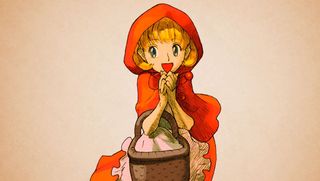 B. B. Hood
Don't be fooled by her adorable looks - Baby Bonnie is one of the most dangerous people alive. In her world where monsters are real, hunting them for bounty or treasure is a dangerous but rewarding job that she is the best at. Hiding an armory of weapons in her picnic basket, she's a very proactive monster hunter. Even when visiting Grandma she is never without her beloved Uzi and her equally beloved dog Harry.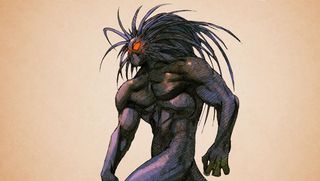 Blackheart
Part of Marvel's crown demon family, Blackheart is the son of Mephisto, the universe's equivalent to Lucifer. Created to help destroy the virtuous, Blackheart rebelled and even overthrew his dad occasionally, but Mephisto always comes back. He's been in charge of his own portion of Hell and has gone after Ghost Rider from time to time. He's also one of the most powerful beings in the Marvel U, with virtually limitless power and invulnerability (except to Hadoukens).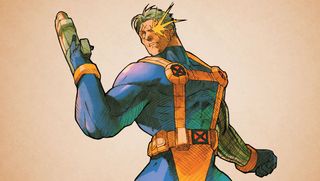 Cable
Cables backstory is nearly indecipherable to casual fans, and it all starts with him being Cyclop's son from a possible future that comes back to the present to prevent the future hes from. Though he possesses telekinetic and telepathic powers, they are almost always committed to containing the techno-organic virus that has turned an eye, arm and leg into robotic accessories. He makes up for that with his love of guns and explosives, including his extremely cheap air grenade. Most famous as leader of the X-Force, and was instrumental in ending Apocalypse's plans for controlling the world. These days Cable is often seen with the mutant mercenary, Deadpool.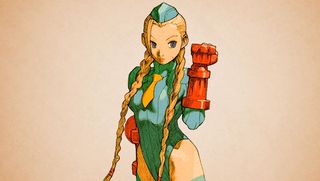 Cammy
Cammy has a complicated past. Created as a clone and having the DNA of evil Mastermind M. Bison, she was a brainwashed assassin for Bison's crime organization Shadaloo. Eventually she broke free of it, losing her memory and joining Britain's MI-6 intelligence group, which appreciated her killer abilities. No longer ashamed of her past, she's recommitted her group of agents to taking down evil worldwide. And she does it all from a confusingly revealing leotard, which is apparently standard MI-6 attire.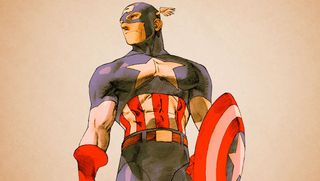 Captain America
A patriotic but sickly kid, Steve Rogers wanted to serve his country in WWII. He was given an experimental serum that made him a super soldier, a man at the peak of physical perfection. Pretty soon he and his indestructible shield were punching Hitler regularly. At the war's end he was frozen and awoken in modern times consistently leading Marvel's premier team, the Avengers. Currently he's dead, struck down by his nemesis the Red Skull, but we'll see how long that lasts.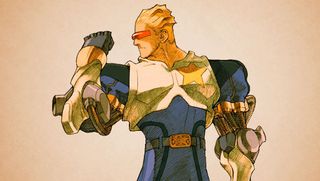 Captain Commando
One of Capcom's first mascots, Commando showed up on the manuals and boxes of early Capcom games, with his name made up of his company's - Cap. Commando. Eventually he got his own brawler, taking place in the now not so distant future of 2026. With the help of his Commandoes he cleans up Metro City of the future. With his fancy armor and special attacks it gives him, Commando made the world of the tomorrow a safer place, but in the present he's no longer Capcom's mascot, but does appear from time to time.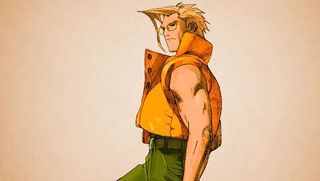 Charlie
The most famous corpse in Street fighter, Charlie was first introduced as Guile's reason for vengeance against Shadaloo, as Chaz was killed by M. Bison. Charlie's basically the proto-Guile, sharing many of his moves, including the famous Sonic Boom. But death always haunts him, as every ending of his the Alpha games involves him dying.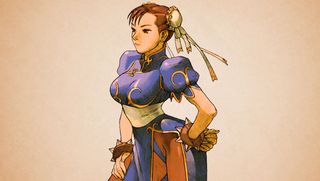 Chun-Li
Probably the most well known and popular woman in fighting games, Chun-Li and her insanely huge legs have been fighting Shadaloo through Interpol for years. Her hatred for Bison is from him killing her dad, which was apparently on a Tuesday. After Bison's defeat, her purpose receded, but she's always brought back into the world of street fighting, putting her lightning kicks to good use.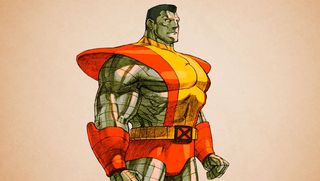 Colossus
Hailing from Mother Russia, Piotr is one of the most famous X-men around. With the ability to make his skin become bullet-proof metal and at the same time becoming incredibly strong, he's long been the muscle for the mutant super team. At one point he died saving the world's mutants from a killer virus, but has since returned to the living like any popular comic character. Fun fact: when in his organic metal form Colossus needs no rest, food, or even oxygen.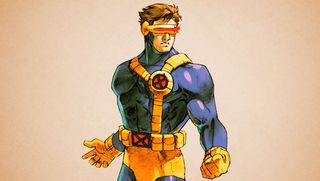 Cyclops
Seen as the first X-Man, Cyclops has often led the team into their greatest battles, while simultaneously being teacher's pet to Prof. Xavier. His mutant abilities manifest in powerful optics blasts that are purely concussive, not heat based. They are incredibly powerful, being known to easily turn rock into powder. On top of that he's a born leader and very well trained in martial arts. He's uniquely adept at fighting blind, as he must keep his eyes closed if he can't control his ocular beams.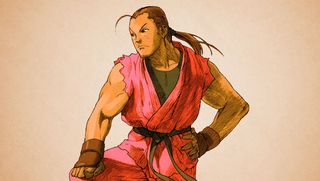 Dan
Dan went from total joke to a fool you want to root for. Created as a parody of a rival company's character, the laughably weak Dan is disproportionately confident of his style. Blaming Sagat for killing his father, he's been hoping to one day best Sagat, if only he could win a match first. Also, he was Sakura's sensei for a time, before she realized he had nothing to teach her. For the ultimate source of Dan knowledge, check our lengthy retrospective.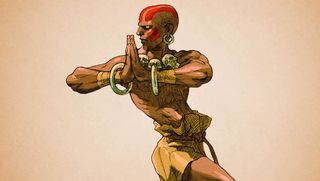 Dhalsim
Dhalsim and his strange mysticism have become a part a fighting history. A peaceful soul only who only got into fighting to earn money for his village, when not in combat he is living at home with his wife, son and elephant. As far as other accomplishments, the stretchy fire breather helped free Cammy from her brainwashing.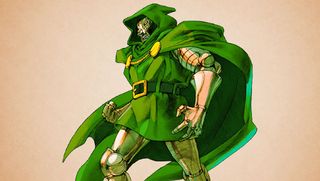 Doctor Doom
Born a Gypsy, Doom's brilliant intellect brought him to the greatest schools in America, until a freak accident (which he blames on Reed "Mr. Fantastic" Richards) scarred his face. He left academia, made a metal suit, took over a small European country and dreamed only of revenge on the infernal Richards. On top of his powerful suit, he's also the second best sorcerer on Earth, and can invent nearly anything. Though normally the foe of the Fantastic Four, sometimes his plans for power bring him in conflict with all of Earth's heroes.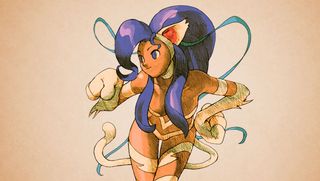 Felicia
Raised by a nun, Felecia only dreams of stardom and a singing career. She has the grace, agility and claws that fit her species, and even her body language comes off more cat than human. Also, she's the only fighter in MVC2 who goes nude, as everything she's "wearing" just seems to be hair.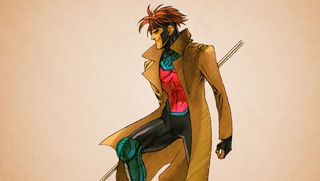 Gambit
Native to New Orleans, Gambit joined the X-Men and left behind a murky past of crime. He usually does the right thing while also making time with teammate Rogue. Aside from being skilled with a collapsible staff and hand-to-hand combat, he has the mutant ability to take living and non-living things and charge them with concussive energy. The items then explode on impact, with his trademark throwing cards having the force of a grenade.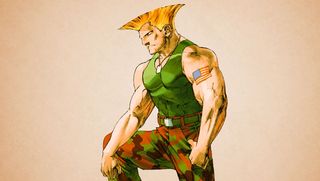 Guile
A Major in the Air Force, Guile began fighting to avenge the death of his best friend, Charlie. So he fought his way to the top to take down the guilty party, M. Bison, but decided to be the better man and just beat him but spare his life. Occasionally he has a glimmer of hope that Charlie lives, but when not pursuing that he lives with his family. In fact, this ripped master of the sonic boom is related to Ken by marriage, as each is married to one of a pair of sisters.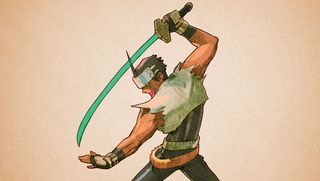 Hayato
Known as the main character of Capcom's first 3D fighter, Hayato Kanzaki and the lightsaber rip-off he wields have been largely forgotten. Taking place in 2348, Hayato is out to save the orphanage he grew up in - and the planet that it's on - from the evil, Nobel prize winner/cyborg Dr. Bilstein. Making the transition from 3D to 2D worked pretty well for Hayato, as MVC2 keeps him in the public eye way more than his dead series does.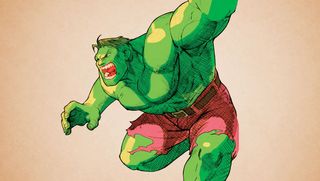 Hulk
Needing little introduction, Hulk is the raging beast below the surface of innocent nerd, Bruce Banner's psyche. Created from a freak gamma bomb accident, whenever he loses control of himself, the Hulk comes out, with his limited intelligence and unlimited power. Basically Hulk is as strong as he needs to be, because if he isn't strong enough, he gets angry then gets stronger. On top of that he has an amazing healing factor and is virtually unkillable when Hulked out.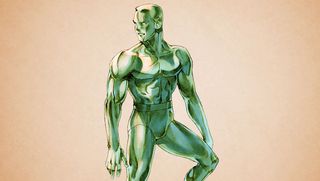 Iceman
One of the original five X-Men, Bobby Drake has the ability to create ice out of thin air by dramatically reducing the heat in the immediate area. Normally used to throw ice projectiles or make slides out of ice that he and friends travel on, his powers seem good but limited. However, it's been recently pointed out that he is one of the most powerful mutants, with powers that could inflict global climate shifts. Though his life has had ups and downs, the X-Men can always count on his loyalty.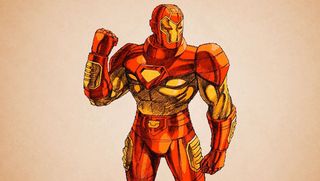 Iron Man
Featured in a recent film you may have heard of, Iron Man is one of Marvel's top heroes. When an injury led lazy playboy and industrialist Tony Stark to make a life-saving suit of armor, Tony decided to keep on using it to help the world. Unlike most heroes, Iron Man's costume is in a constant state of flux, as improvements and alterations are continually being made, Though flight, strength and energy blasts are a given, who knows what else the cybernetics genius will add to his robo-clothes next.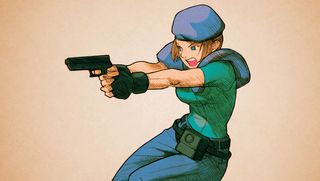 Jill
One of the two main characters in the original Resident Evil, Jill Valentine is known the world over as the "master of unlocking." She's equally good with a pistol as she is with a lock-pick, taking down hundreds of Zombies as a member of S.T.A.R.S. She's sorta in the recent RE5, but we'd rather not spoil things. But despite being the enemy of the undead, one of her moves summons them to aid her in MVC2. Has the world gone topsy-turvy?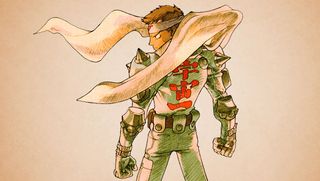 Jin
Living in a world where piloted mechs fight each other like street fighters, only bigger, Jin isn't too far from his robot, the BX-02 Blodia. In fact, you'll see its hand delivering him to his matches in MVC2. Out to avenge the death of his father like any good fighting game protagonist, Jin will get the truth one mangled mech at a time. Aside from MVC2, Jin and his mech are hidden characters in the Dreamcast classic and untapped franchise Tech Romancer.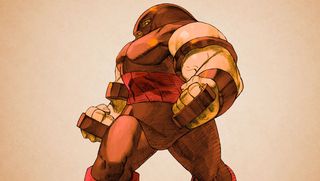 Juggernaut
The jealous and hateful stepbrother to Charles Xavier, he's turned sibling rivalry into a deadly need to destroy Chuck's X-Men. And he can do it too, thanks to the Crimson Gem of Cyttorak, which gives him the power to be unstoppable. Literally nothing can stop him so long as can build up a slight momentum. On top of that he's incredibly strong and indestructible, incapable of even feeling pain. Because of this, the X-Men never really beat him so much as cheat him or trick him until they have to deal with him again.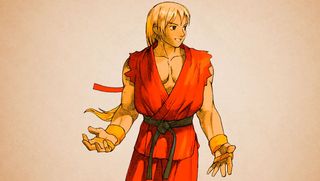 Ken
One half of the main duo in Street Fighter, Ken has been around from the beginning. The American fighter trained with Ryu under Gouken and has a similar, but subtly different fighting style. The best example is that while Ryu is the master of the Hadouken, Ken is the best at the fiery uppercut Shoryuken. A well-known fighter internationally, Ken is always seen as Ryu's equal, but has much more of a social life. He eventually has a child named Mel with his wife, Guile's sister-in-law, and goes on to train a new fighter named Sean, one of Ryu's rivals in SFIII.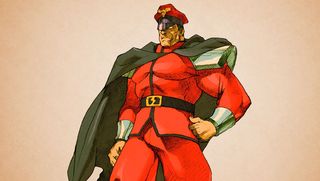 M. Bison
Arguably the top villain in Street Fighter, M. Bison and his terrorist organization Shadaloo have been effing stuff up for a while, until he had the silly idea of inviting the world's best fighter to face him, which they eventually used as a way to take down his empire. You wouldn't think that would happen, as Bison is crazy dangerous thanks to his Psycho Power, mainly built around electricity and flying at people. After having his body destroyed, he returns in SFIV, inhabiting a new and more powerful body, proving you can't keep a good man down.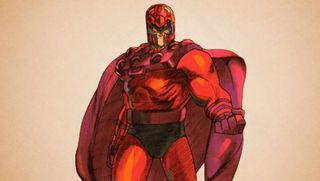 Magneto
With the power of magnetism over any metal, Magneto is one of the most powerful and dangerous mutants on earth. A flawed villain, he is fueled by the desire to save his mutant brothers from humanity. If that means killing and subjugating humanity with mutants in charge, then so be it. Aside from being able to move skyscrapers with a wave of his hands, Magneto can also create electro-magnetic force fields around himself and can fly. He won't be happy until mutants are safe, even if he has to kill some mutants, namely the X-Men, to do it.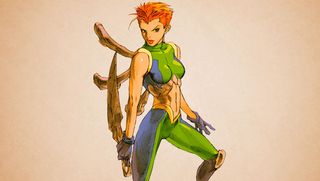 Marrow
From the school of character design called "lets make a new Wolverine," Marrow was one of the more popular grumpy badasses with sharp fighting utensils to join the X-Men. With an enhanced healing ability, Marrow's main power is to quickly grow extra bone mass, be they swords from her back, armor or spikes thrown at enemies. Though only on the X-men a short time, it was revealed she has two hearts and that her other identity dated Peter Parker. Not bad for a freak.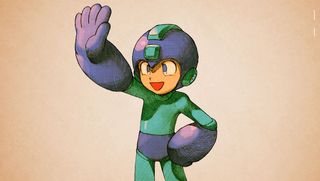 Mega Man
Featured in more games than just about anyone not named Mario, Mega Man is Capcom's biggest star and is currently enjoying a comeback. Built around the simple but ingenious idea of copying his enemies attacks, the robot built to be a boy but forced by circumstances to battle Dr. Wily and his Robot Masters is one of the greatest heroes of our time. No matter what he's facing he always keeps a cheery demeanor, but has his Mega Buster ready just in case.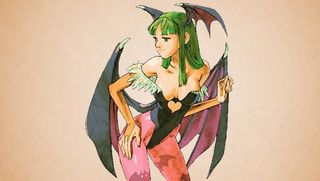 Morrigan
Morrigan is probably the most well-known character of the Darkstalkers franchise. A bit of royalty, she was born incredibly powerful, so her father locked away part of her power, which she would only receive upon his death. Even after his death and with the throne hers, she would much rather dabble in the world of humans. Not only magically powerful, Morrigan also has the power to transform her bat wings into any number of things, both offensive and defensive.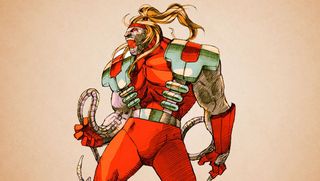 Omega Red
Created as the USSR's answer to Captain America, Omega was too psycho for the Reds to control, so he was put in suspended animation until Communism fell. Despite being made as a Cap wannabe, his chief enemy is Wolverine and consequently the X-Men. Aside from super strength, speed and agility, Red is equipped with two tentacles made of carbonadium, a more malleable variant of adamantium. The tentacles can drain the life out of people, healing Omega Red. And to top that all off he secretes a pheromone that induces death on most people that come near him.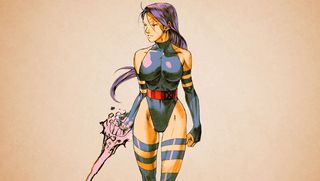 Psylocke
Psylocke's life is a winding road: born in the UK, she's Captain Britain's twin sister. Manifesting mutant psychic powers and gaining a pair of cybernetic eyes, she comes to the US and joins the X-Men. She got kidnapped by ninjas, was brainwashed and altered to look like an asian crime boss, and when freed got her former mind back and kept all her fighting techniques. On top of those skills, she uses her psychic powers to create blades of energy which don't cut so much as totally screw with your head.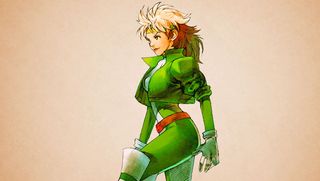 Rogue
Not always one of the good guys, a confused teen Rogue joined the Brotherhood of Evil Mutants but soon left after meeting the X-Men. But that was after she attacked Ms. Marvel and used her mutant powers of life draining and power stealing on her. Unfortunately she held on too long, permanently stealing her powers flight, super strength and invulnerability, along with Marvel's psyche too, which still haunts her. Those powers make her one of the top X-Men, though she keeps all her skin below the neck covered to prevent her accidentally harming others.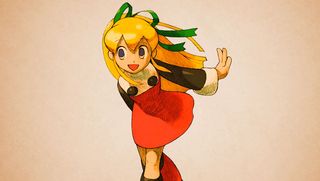 Roll
Mega Man's sister, also built by Dr. Light, Roll normally takes the back seat and supports her Mega-bro from the comfort of the Doc's lab. But when she does enter combat, she shows her homemaker side, fighting with brooms and whatever else is on hand. In MVC2, she's basically comic relief, having variations of Mega Man's attacks that are weaker or sillier. Fun fact: her name is based on the fact that Mega Man is Rockman in Japan, making them Rock 'n Roll.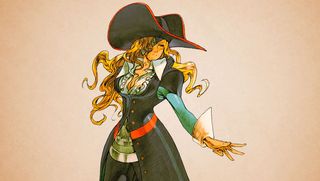 Ruby Heart
Another of the handful of new characters in MVC2, Ruby has a similarly sparse background. Considered the main character of the story, she's a French air pirate who just missed the big pirate popularity explosion by a few years. In the only ending in the game, her ship flies the others into battle with Abyss, the unplayable boss of the game. She wanted the crystal Abyss has, but upon getting it, decides to let it go, dropping it into the sea. Her top attack is the old pirate stand-by of stabbing a barrel.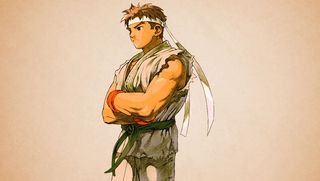 Ryu
The heart and soul of the Street Fighter series, Ryu is probably the most well known fighting game character in the world. Master of the Hadouken (fireball), he is more out to perfect his craft and hone his skills than win fights. An orphan trained alongside Ken, Ryu has a personality you could call stoic or boring. Either way, he is often seen as the greatest pure fighter in the world, always out for the next challenge to his abilities, with very little else in his way, save for vengeance against Akuma, the man he thought killed his very alive master.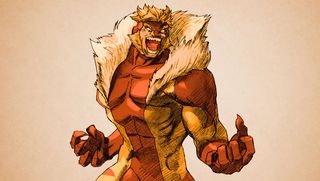 Sabretooth
Wolverine's long time nemesis, Sabretooth is a dark reflection of Wolverine. While Wolvie fights his animal instincts, Sabretooth embraces the animal within, usually in incredibly violent fashion. On top of having enhanced senses, strength, speed and stamina, he also has a powerful healing factor and a set of claws - more like long fingernails - that can cut through most things. An adept warrior, he also doesn't have guilt or conscience holding him back, making him a tough opponent.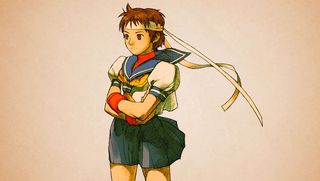 Sakura
Don't mistake her for a ditzy Ryu fangirl - Sakura has tons of potential. In high school she becomes enthralled with the mythic warrior Ryu and wants to seek him out. This leads to her adopting a similar fighting technique and touring the world in hopes to find him, running into many other fighters along the way, including Dan, her brief sensei. Whenever she has found Ryu their encounters are brief, with him politely declining to train her. Her style is informal and a little wild, but she makes up for it in passion.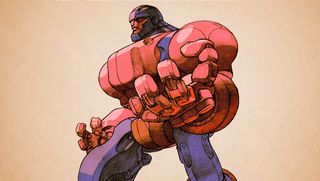 Sentinel
Created by Dr. Bolivar Trask, the Sentinels are a series of mutant hunting super-robots out to save humanity from the assumed evil homo superior. Though they have taken many forms and have had many masters, the standard Sentinel is about three stories tall, has AI that quickly learns from its opponent and is pretty tough, though by no means indestructible. MVC2's Sentinel is a little smaller, but he also possesses much of the strength, energy blasts, and limited flight capabilities of his brothers.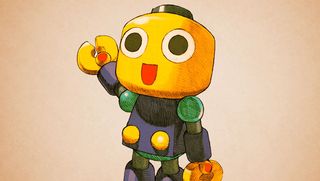 Servebot
Not merely one bot, but a big brotherhood of adorable rascals, the Servebots work for criminal Tron Bonne, helping her rob and steal. Despite this wrong doing, the Servebots don't really understand what they're doing, aside from innocently helping their boss. And they would do anything for her, no matter how badly she treats them. In MVC2 he's a comedic character, though also the smallest and hardest to hit, so don't laugh too hard.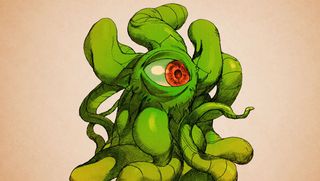 Shuma-Gorath
A bit of a Cthulu homage, Shuma-Gorath is a lord of chaos and one of the most powerful magical beings around. A planet threatening force, he has been pushed back just barely by the magical characters of Marvel, Doctor Strange mostly being involved. He has unlimited power, can change his body in any way, can teleport between dimensions and has an intelligence that borders on omniscient. So of course he decides to enter a fighting tournament.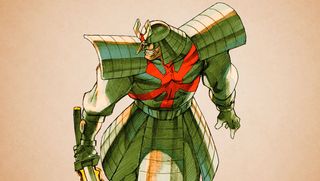 Silver Samurai
This villain/occasional hero is from Japan and takes on the garb of their warriors, but in a much shinier way. The brother of one of Wolverine's many dead girlfriends, he's fought Wolverine as many times as he's helped him. A mutant, Silver Samurai can create a tachyon field, which he normally places around his sword and allows him to cut through anything, except adamantium. In addition to his prowess with the sword, he also has a ring the enables him to teleport great distances.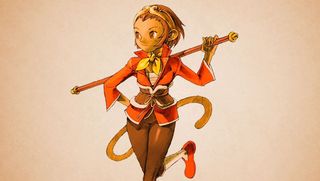 SonSon
Technically a new character, SonSon is the granddaughter of another SonSon who starred in the very early Capcom arcade game, SonSon. She fights to find a cure for an illness that struck her village, but that doesn't bring the cheery little monkey girl down. Her character is heavily inspired by the classic Chinese novel Journey to the West, which also inspired Goku in Dragonball, so don't think she's ripping him off. Such homages include the size changing staff, duplicating herself with hairs, and the use of a yellow cloud.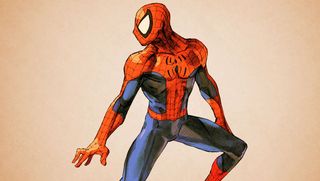 Spider-Man
Spider-Man is just your average guy with tons of problems, but routinely perseveres over incredible odds to save the day. Possessing the proportionate strength, speed, agility, and the ability to stick to surfaces of a spider, Peter Parker also has a spider-sense that warns him of danger. Plus he has web shooters of his own design that shoot webbing from his wrists. Though not formally trained, he has grown into a skilled opponent, learning as he's gone along. And Spidey will always be there to save the day, because with great power, comes great responsibility.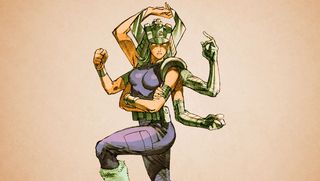 Spiral
Kidnapped to the alternate dimension of Murderworld in the Mojoverse, she was trained to be a bodyguard and modified to have six arms, two of which are robotic. On top of being skilled with melee attacks, she is a strong mystic. She has cast spells on many heroes that have tried to stop her, even subduing the Avengers on one occasion. Additionally she's been known to help others with their cybernetic enhancements.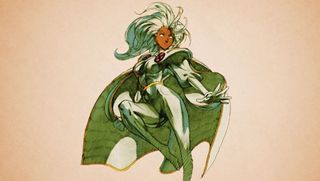 Storm
Storm grew up an orphan on the streets of Cairo, until a chance encounter with Charles Xavier, who recognizes her potential. After being worshipped as a rain goddess in Kenya, she joins the newly reformed X-Men and quickly becomes one of their top members, even leading the team on occasion. Recently she became a Queen, marrying fellow African Hero Black Panther. With her power to control the weather, she can create the sublest wind or bury her enemies in a record breaking blizzard.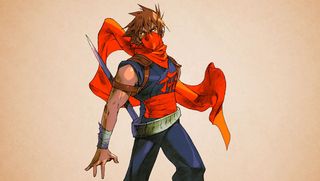 Strider Hiryu
A space Ninja from 2048, Strider is out to save the world Grandmaster Meio and his army of henchmen. His main weapon is the Falchion, a sword he holds underhanded and uses to slash enemies with a cool sound effects. He also has a grappling hook he climbs walls with and a series of animal sidekicks to help him out. His popularity peaked when he was the star of one of the best early Genesis games, a port of sorts to the arcade original.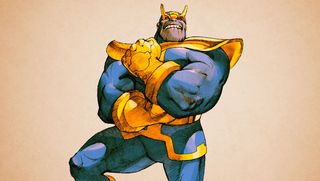 Thanos
No doubt about it, Thanos is the most dangerous being in the Marvel Universe. His base power level might not be that great, but he's the best tactician and wiliest mind around. Multiple times he's had ultimate power in the palm of his hands, and it's only through his own mistakes, not the power of his enemies, that he's been defeated. What normally drives Thanos is his love for Death, the Grim Reaper of the Marvel U. He will try anything to get her attention, including becoming God and killing half the Universe.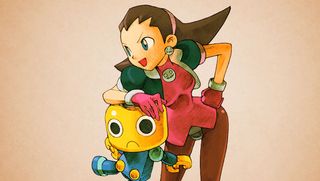 T. Bonne
Tron Bonne is one of the many Mega Man characters whose name is a musical pun - trombone if you don't get it. The brains of the air pirate family and controller of the Servebots, she builds many items that the Bonnes' use to bedevil Mega Man, but she's more of a nuisance than a threat. On top of stealing treasure, she has a not-so-secret crush on Mega Man, so perhaps her schemes are done partially to get his attention.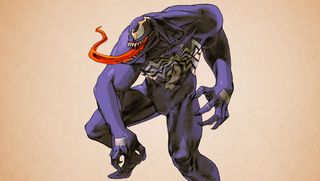 Venom
Blaming Spider-Man for all his problems, Eddie Brock wants revenge in the worst way and bonds with an alien symbiote that wants the same. Coming close to killing Spidey a few times, he routinely comes up short and has even been his teammate from time to time. While his powers are similar to Spider-Man's, he's much stronger and has a killer instinct the wall-crawler lacks. Though he's not some maniac, as Venom has a skewed sense of justice, and only wants to kill those he judges as guilty.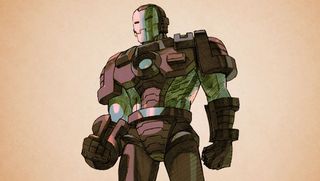 War Machine
One of Tony Stark's best friends, he came to take over the Iron Man armor when Tony fell into alcoholism. When Tony returned, Jim Rhodes still wanted to be a hero and was given his own suit of armor and the name War Machine. Though similar to the Iron Man suit, War Machine has a more militaristic style. It's armed with many extra weapons on top of the standard hand-stationed repulsor rays, and it includes the requisite strength and flight.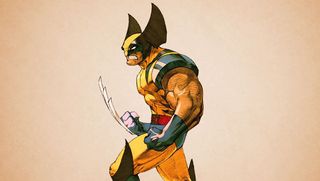 Wolverine (Adamantium Claws)
Perhaps the ultimate weapon, Wolverine is Marvel's #1 badass. Born a mutant and improved by the Weapon X program, he has a quick healing factor, an unbreakable skeleton with retractable claws, enhanced strength and sense of smell, and he's a one-man-army that plays by his own rules. Though an X-Man, he also frequents the Avengers and goes on his own adventures constantly. Though a bit of a grumpy Gus, Wolvie is normally a team player and has a heart of gold under the tough exterior.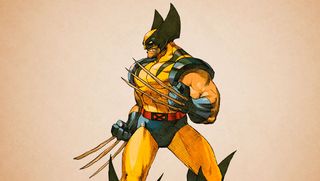 Wolverine (Bone Claws)
There had long been a debate whether Wolverine naturally had claws or if they were part of his Weapon X improvements. Well Magneto answered that question by ripping the metal out of his body. Turns out he still has bone claws, that are entirely breakable, but can get the decapitating job done. Though eventually reunited with the metal, the adamantium-free Wolverine was part of the X-Men for a good while and that was his current incarnation at the time of Marvel vs Capcom 2.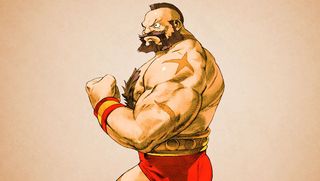 Zangief
Emerging from the forests of Russia having beaten up his fill of bears, Zangief was a popular wrestler in his home country. At the request of his government he joined the tournament to bring glory to Russia. This mountain of a man has some complicated but devastating moves, including the pile driver. Though not the smartest, Zangief is a tough competitor and when mastered by a skilled player, is really hard to beat.