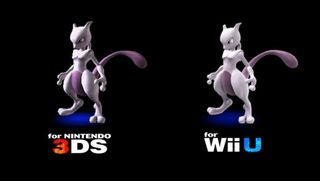 Mewtwo is coming next year, eight player battles at Wii U launch
Did you happen to watch the October 23 Nintendo Direct? If not, the short story is that Super Smash Bros. for Wii U will have a whole lot more content than Super Smash Bros. for 3DS. New modes, way more stages, a ton of new music--but the biggest news? Mewtwo will return as DLC, and multiplayer matches can include up to eight players! Crazy, huh?
Mewtwo is still a ways off, as the developers are prepping him for both the Wii U and 3DS version, with plans to release the psychic Pokemon in spring 2015. But he'll only be available to people that own both versions of the game, so he sounds like a rather expensive bit of downloadable content. As for the eight-player battles, they're offline-only and made to take advantage of the extra space that HD TVs provide the Smash series. If you want to know the dozens of other, smaller additions to the Wii U version, click on the above link to the Direct, or get the game for yourself November 21 in North America and December 5 in Europe. In the meantime, why not familiarize yourself with the ever-expanding roster?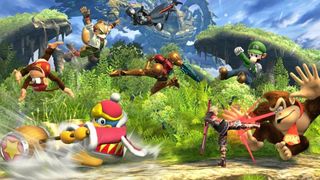 Confirmed fighters
After two years of waiting, Nintendo revealed Super Smash Bros. for Wii and 3DS at E3 2013, and the trailer didn't disappoint. Two dozen fighters have already been confirmed for both versions of the game, including five brand new characters. Obviously we'll keep updating this the moment a new fighter is confirmed for the game, so don't you worry about that! Let's start with the newest character to be added...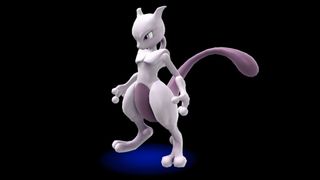 Mewtwo
First appeared: Pokemon Red/Blue (1998)
Smash Bros. fans have been missing this legendary Pokemon ever since it was left out of Brawl. Mewtwo is the very powerful psychic Pokemon that endeared himself to the Pokemon community when he starred in the first ever Pokemon film before winding up in Melee. Though similar to Lucario, Mewtwo is unique enough that numerous smashing bros had hoped to see him again, and they'll finally get their wish in spring 2015.
And it's well past time for him to make a comeback. According to folks that pulled apart the Smash Bros. source code, Mewtwo was planned to appear in Brawl, and it looked like he had been overlooked again due to time constraints. The developers are taking their time to get this cybernetically enhanced fighter into the game, but I'll take waiting six months if it means I can play as the legendary Pokemon in HD.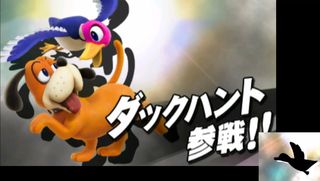 Duck Hunt's Dog
Dogs are incredibly lovable, but this has to be the most hated canine in all of gaming history. And that's because pretty much anyone with an NES encountered this smug dog in the free copy of Duck Hunt that came with the system. The fun, simple light gun game is a cute distraction in-between endless sessions of Super Mario Bros., but shooting at ducks gets serious whenever you miss one, as your pooch companion will rise out of the grass and laugh at your mistake. The anger-inducing mutt hasn't made many other appearances in the last three decades, but he and his mallard friends are making a returnin Smash Bros. 3DS/Wii U. And this time they'll be working as a team. With this badass comeback, could a Duck Hunt reboot be far behind?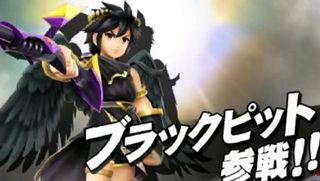 Dark Pit
First appeared: Kid Icarus: Uprising (2012)
Dark Pit may have got his start as a favored alt costume for Pit in Brawl, but he ascended to full character status in Uprising, the previous game directed by Masahiro Sakurai. Dark Pit (or Pittoo as he's called by Palutena) is the magically cloned darker half of the wholesome Pit, out to cause chaos and trouble for the whole Kid Icarus clan. Now that Pittoo is a separate character from Pit on the roster, just how different will he play?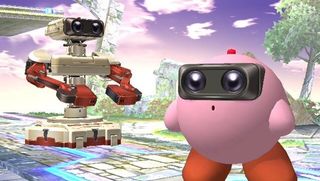 R.O.B.
First appeared: Stack-Up (1985)
In 1985, the games market in the US was virtually barren, and Nintendo's plan to introduce the NES to America meant masquerading a console as a toy by bundling it with R.O.B. The friendly, super-'80s machine responded in the real world to inputs in games like Stack-Up and Gyromite, making for a cute gimmick that would soon be eclipsed by the massive popularity of Super Mario Bros. R.O.B. fell to the wayside after that, but has appeared over the last decade as a fun tribute character popping up in multiple Nintendo titles, including Smash Bros. with Brawl. Though some doubted his appearance, the dangerous droid is back once again in this next iteration, bringing his gyro attacks to 3DS and Wii U.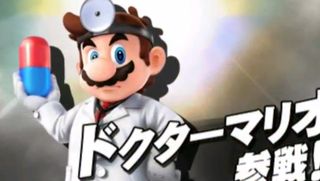 Dr. Mario
First appeared: Dr. Mario (1990)
Just what the doctor ordered! After appearing in Melee and then getting snubbed in Brawl, Dr. Mario is back to beat the viruses right off his opponents. Mario received his medical doctorate to star in the puzzle spin-off of the same name, tossing endless supply of pills at a cold, which any doctor will tell you is how to cure the flu. With lab coat and stethoscope at the ready, the doc is back to administer some tough love to his patients, but how different will play be from Mario given Sakurai's dislike for clones? Did Sakurai make an exception for this fan favorite?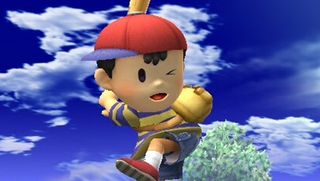 Ness
First appeared: Mother 2 (1994) / Earthbound (1995)
Gamers in the West may never see Mother 3 get localized, but the franchise's biggest name is still a part of the Smash Bros. series. The baseball bat-wielding American boy is back to knock you off screen with his unique mix of magic and home run swings. Smash fans have loved him since they met him in the N64 original, so they can rest easy knowing he's back. Though how do the diehards feel that Mother 3's Lucas seems to be missing this time around?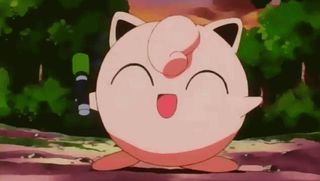 Jigglypuff
First appeared: Pokemon Red/Blue (1998)
The puffy Fairy-type Pokemon was a real shock to players of the original N64 Smash Bros., but today the seemingly joke character is a series standby. His absence would definitely be noticable. Good thing fans won't have to miss the sleep inducing, graffiti enthusiast on Wii U/3DS, as he'll be around, bashing characters all across every stage while singing the melodic "Jigglypuff" song. Just don't get too close when he starts crooning, because then you'll be unconscious as Jigglypuff sends you flying right off the screen.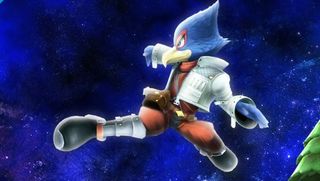 Falco Lombardi
First appeared: Star Fox (1993)
Firmly of the opinion that he's much better than Fox McCloud, Falco is the hotshot member of the Star Fox flight squad. And Falco is just as cocky when he's out of the Arwing, as he's proven in previous Smash Bros. appearances. Given Sakurai's talk of no more clone characters, some may have been concerned Falco would skip Wii U/3DS, but he's here in all his pompous glory. I guess I should be thankful. But will he be a top tier character this time just as he is in Melee?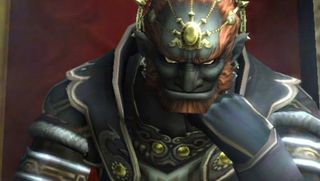 Ganondorf
First appeared:The Legend of Zelda: Ocarina of Time (1998) (As Ganon: The Legend of Zelda (1986))
What good is having the Hero of Time around if he doesn't have an ultimate evil to spar with? That's why Ganondorf will always be around. First introduced as the boarish monster Ganon in the original Legend of Zelda, the more human (but still evil) Ganondorf first appeared as a conniving sorcerer that plots to control all of Hyrule in Ocarina of Time. Ganondorf has returned time after time since that game, always ready to cause havoc and get his hands on the Triforce whenever he possibly can. He'll be continuing his quest for power in Smash, cackling maniacally throughout.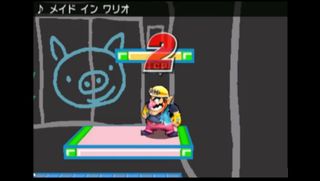 Wario
First appeared: Super Mario Land 2 (1992)
After adding him in Brawl, how could Nintendo make another Smash game without the gaseous, onion-loving antihero? First introduced as Mario's twisted opposite, Wario quickly proved popular enough to star in his own series of ridiculous games, making him an unexpected gaming icon. Wario returns with his standard helmet and overall appearance popularized by WarioWare, but you can probably count on his classic look being included as an alternate costume.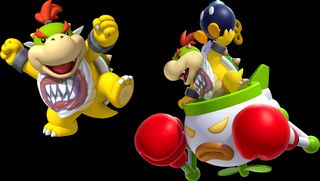 Bowser Jr.
Bowser Jr. is designed to be an annoying brat, and he does a very good job at getting on your nerves. The miniature version of King Koopa pops up in virtually every modern Mario game, usually as a whiny mid-boss that must be felled before the plumber can battle Bowser. The redheaded tyke is usually seen floating around in his flying clown mobile, which looks to be accompanying him into Smash Bros. Here's hoping the little jerk has fittingly annoying attacks; he should be as frustrating to fight in Smash Bros. as he is in every other game. Also, if you prefer the Koopalings, then you'll be pleased to know they function as his alternate costumes.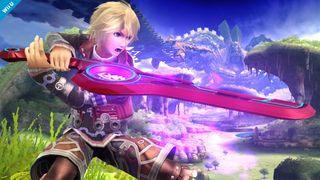 Shulk
First appeared: Xenoblade (2010)
Rumored no more! Sulk is the next great sword master to join the series, and he's got more than a few skills to differentiate him from the likes of Marth and Link. Shulks unique edge comes from his trademark sword, the powerful Monado thats imbued with multiple magic spells and techniques learned throughout Xenoblade Chronicles. A strong fighter with an interesting background, Shulk makes a great addition because his stage has the potential to be very unique and have some of the best music in the game. Plus, given Nintendo's new commitment to the Xeno series, it's no surprise one of the franchise's stars would appear in the game.
As seen in his first footage, Shulk transforms the Monado to pull off different attacks and grant skills, including stronger smashes and enhanced speed. His Final Smash summons a couple of his friends from Xenoblade Chronicles as well, and his reveal trailer implies that one of the bosses from his game will make an appearance too. But how will his precognitive powers be taken into account?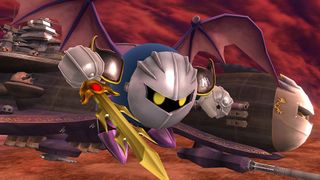 Meta Knight
What good is a hero if there isn't a worthy rival to test said hero? That's the case with Meta Knight, Kirby's longtime frenemy, who sometimes battles Kirby, but just as often fighting alongside the pink puffball. Meta shares Kirby's round shape, but is far more fearsome thanks to his metal mask, bat-like wings, and his golden sword dubbed Galaxia. Meta Knight also has an army all his own, and the impressive mother ship called the Halberd, a flying machine that's been home to a fair amount of combat both with and against Kirby.
Meta Knight first joined Smash Bros. with Brawl on Wii, a move that makes sense given Masahiro Sakurai created both Meta Knight and Smash. The character is regarded as quite strong in the Smash Bros. community, perhaps even overpowered to an extent. Will Meta Knight remain as dominant on Wii U/3DS, or will he be rebalanced?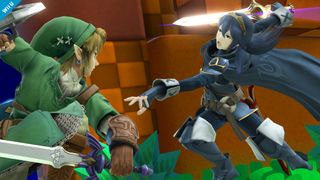 Lucina
She was first introduced as the masked, mysterious hero named Marth (as tribute to the original Marth), but the cat is out of the bag now with Lucina's true identity. She appears from a mysterious portal early in Awakening, wielding the same legendary Falchion blade as Chrom. That seems impossible until it's revealed that Lucina is Chrom's daughter from some doomed future, ready to battle by her father's side, and that includes facing Captain Falcon in a Smash Bros. brawl.
Her move set seems to mirror her combat style from Fire Emblem: Awakening--quick, but powerful. She has a number of dodges and strong sword-based attacks, but what will make her truly stand out in a roster that is now packed with blade-wielding characters. Also, we really hope that one of her alternate costumes for Smash has her wearing her mask from early in the game.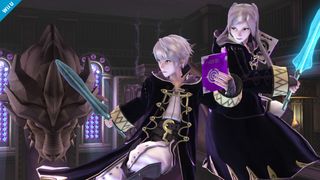 Robin
Well, this fighter was certainly unexpected, huh? Smash players have come to expect blade wielders from Fire Emblem like Marth and Ike, but not sarcastic mages like Robin. Introduced as the nameless player character in Awakening, Robin is the new title given to the protagonist of the game, and their combat style reflects the openness of the character. He/she can wield both swords and magic with ease, though magic attacks seem to be a consumable, limited use attack, because Robin tosses the book after a certain number of uses. (That's how magic works in Fire Emblem as well.)
Robin's history is hard to define, partially because multiple player choices can alter the course of the game, and also because we'd rather not spoil Awakening's awesome plot. The short version is that Robin--who's male or female based on player choice--is an amnesiac warrior that joins up with Chrom and his band of knights to defend the realm from evil. Robin is adept at both melee and magic, using both to protect his/her friends. Given the open nature of the character's gender in Awakening, it's great to see that you can choose it Smash battles too.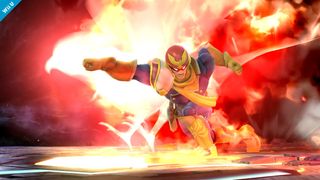 Captain Falcon
You didn't really expect a Smash Bros. game to come out without Captain Falcon in it, right? Of course not. Falcon is one of the original roster stars of the series, and any new entry would be severely lacking in Falcon Punch without the racer turned brawler. In fact, it's easy to say that Smash Bros. has made Captain Falcon a bigger star than F-Zero ever did.
Until the original Smash Bros. on N64, Captain Falcon was merely the unseen driver of the Blue Falcon in F-Zero (and he spends his time off the track as a bounty hunter). But since then he has become the hard fighting standby of many Smash Bros. fans. He's known for shouting Falcon Kick and Falcon Punch before delivering said moves, which has no doubt endeared him to players worldwide. But now that we know Falcon is in the game, will his clone character, Ganondorf, return as well? Director Sakurai has seemed very anti-clone of late.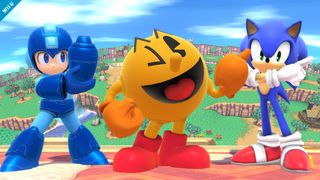 Pac-Man
We start with the most obvious one, Namco's happy, yellow, circular mascot Pac-Man. One of the most well-known characters in the world, Pac is synonymous with gaming to an entire generation. Though known for his arcade classic, he's also starred in dozens of other games for Namco, including the Pac-Man World platformers, kart racers and party games. He earned his spot on the roster a long time ago, and that's FINALLY becoming a reality.
It's enough of a treat to see Pac-Man, Sonic, and Mega Man all appear together in the same game, but Pac-Man also looks pretty fun to play too. His design is based on his older look (no kiddie redesign here), and he has multiple moves that change him into his more round look. Additionally, Pac-Man has multiple attacks that reference Namco classics like DigDug and Galaga. Honestly, the roster feels much more complete now that this little devil is back.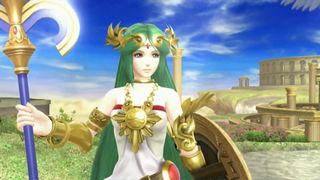 Palutena
First appeared: Kid Icarus (1986)
After months of rumors, we now have confirmation: Kid Icarus mainstay Palutena is in the game. She looks and sounds very much like ker Kid Icarus: Uprising character, even making a number of references to the 3DS game multiple times. She is the same supportive Palutena we know from Uprising, only she somehow twists that into helping Pit by smashing him in the face.
This move totally makes sense, as Palutena topped several most wanted character polls in Japan, and director Sakurai is clearly a fan of the pseudo-Greek goddess after he directed Kid Icarus: Uprising. Will you be playing as the goddess when you get it?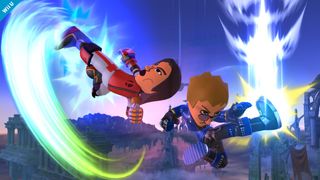 Mii Brawler
You asked for Reggie Fils-Aime or Satoru Iwata to get added to Smash Bros., and youve got all that and more now. During E3 2014, Smash director Masahiro Sakurai announced that Miis were coming to the game, but not just one of them. A trio of different Miis were added to the game, each playing differently. For instance, the Brawler has open hand, martial arts attacks, like powerful uppercuts and flurry of kicks. So if youre looking to add Ken or Ryu Miis to the game, this looks to be the style to do it with.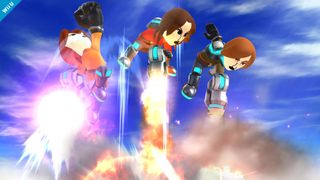 Mii Gunner
Wish that you had Mega Mans buster cannon or Samus powerful shots? Well, the Mii Gunner, a ranged attacker with multiple explosive attacks. You no doubt have a Mii that will work great as a gunner, though I think the explosive attacks will work best with Pres. Lincoln, dont you think?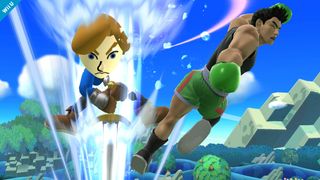 Mii Swordfighter
If you never had an interest in firearms or kung fu, then the Swordfighter is the one for you. This style focuses on heavy, up close and personal with strong sword-based attacks. If you always dreamed of fencing with Link or Marth, Smash Bros. can finally make that a reality.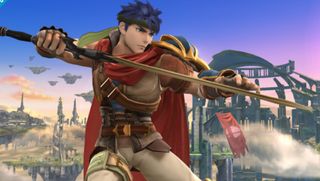 Ike
Don't let the combination of blue hair and a red cape fool you; Ike is actually a bit different from Fire Emblem stablemate Marth. Instead of a royal lineage, Ike grew up as a rough and tumble soldier, eventually leading the Greil Mercenaries group in defense of his friends and family. He's a brave and humble warrior that leads by action, usually by quickly dispatching enemies with his divine sword, the Ragnell.
Ike joined Smash Bros. in Brawl, replacing Roy as the roster's second Fire Emblem character. Ike once again wields the Ragnell in the upcoming Smash Bros., and will likely also carry over the same heavy, strong, and gradual move set that he had before. Does his inclusion mean that all the Roy diehards should lose hope in a comeback?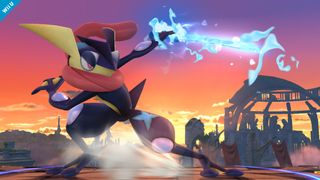 Greninja
Pokemon and Super Smash Bros. both hit it big with Nintendo fans in the late 1990s, so it isnt surprising to see so many Pocket Monsters as playable characters in the series. And given that two new generations of Pokemon have appeared in between Smash Bros. releases, so youd think at least one would be added, and were very pleased that, out of all the possibilities, Sakurai chose Greninja.
The amphibious Pokemon starts out all cute and friendly as Froakie, but soon he matures into Greninja, the badass shinobi of the Pokemon world. This guy has watery shurikens, agile moves, quick kicks, and more deadly moves. But will he be the only new playable mon in the game?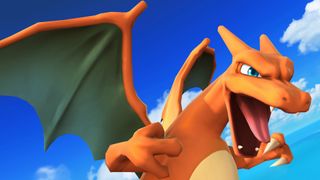 Charizard
Pikachu, Jigglypuff, and more first generation Pokemon have been a part of the series for years, and that includes Charizard. He had been a powerful Pokeball item until he became a member of the Pokemon Trainers group in Brawl. Now Charizard has been set loose to smash all on his own in the 3DS and Wii U Smash titles.
Director Sakurai has really altered the series with his new rule of separating multiple characters like Charizard. That will hopefully make him a fuller fighter with even more diverse moves--we know he has a Mega Evolution--but does this mean the end of Pokemon Trainer? And what about his former friends Ivysaur and Squirtle?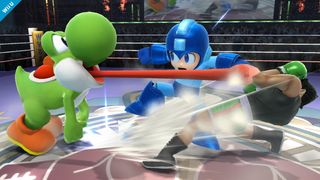 Yoshi
Yoshi has been around for years and has become one of Nintendo's most popular characters. People know him all over the globe, both for his solo game, and for supporting Mario as one of his closest chums. The green dinosaur is known for his long tongue, spotted eggs, fluttery jump, and happy disposition, all of which appear in the Smash Bros. series, including the 3DS and Wii U editions.
What's different this time around? Yoshi certainly looks different, moving less like a reptile and more like the friendly guy we know from recent games. Sakurai also notes that Yoshi well be buffed up compared to his past self, making him more competitive than ever.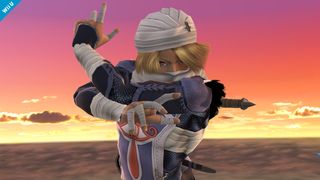 Sheik
Princess Zelda had played the victim to many time already when the Ocarina of Time was blowing the minds of gamers in 1998. That landmark game saw the princess take on the mysterious Sheik personality, a fast, magical ninja type character that has been a Smash favorite since she first appeared tethered to Princess Zelda. No longer...
This time around, Sheik is a separate character from Zelda. Its a risky move, and one that, at the very least changes up Sheiks down B, and were betting some more subtle changes are in the works. This strengthens both characters, so matter who you played with, You should be happy.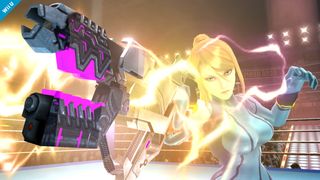 Zero Suit Samus
Samus was introduced to the world in a hulking robotic suit that had the world fooled into thinking that the 8-bit hero was a man--at least until the shocking ending to the NES original. But we doubt Samus ever gets misgendered in the form fitting Zero Suit that first appeared as a new outfit in the GBA adventure, Zero Mission. And now this daring look is its own character in Smash Bros. 3DS/Wii U.
Another in Sakurais new effort to separate alternate characters, Zero Suit is no longer Samus look after she uses her Final Smash. There are subtle changes to her look, including a new pair of jet boots that make her more mobile. What other fresh moves is the blonde bounty hunter blessed with?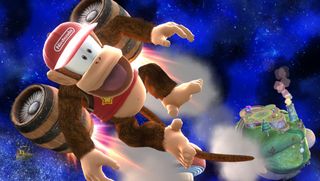 Diddy Kong
A wise man once said, "He's back again and about time too, and this time he's in the mood! He can fly real high with his jetpack on. With his pistols out, he's one tough Kong! He'll make you smile when he plays his tune, but Kremlings beware 'cause he's after you!"
In other words: Yes, Diddy Kong is back in Smash Bros. Wii U/3DS. As the song says, he'll bring with him a jetpack and pistols, blasting apart enemies in his signature Nintendo hat. The screenshots show a very familiar Kong, but we're anticipating at least one or two changes to the character.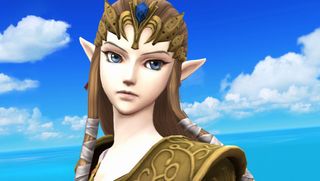 Princess Zelda
Another of Smash's fighting princesses has been confirmed to return, not that any of us are surprised. We could hardly accept the game without Zelda when she's proven to be one of the strongest fighters in the mix. Her mix of powerful magic, grace, and speed makes you wonder why she ever needs to be saved by Link.
Certainly the biggest change to Zelda is the removal of the Sheik transformation. As was evident in the first screens, Sheik and Zelda are now separate characters to choose from. This choice now opens up the royal fighter's Down B to put her in command of a Phantom Knight from the DS Zelda games. That's nice, but will some pro Smasher miss her former fluidity?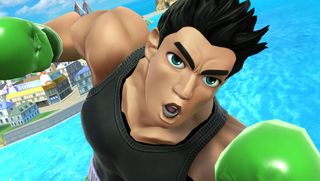 Little Mac
Smash Bros. is Nintendo's top fighting franchise, so it's about time for it to include Nintendo's top pugilist, Little Mac. The small fighter with big punches has long been requested for the game, and now he's added in his classic green gloved look from both the original and Wii reboot of the series.
Little Mac might be smaller than all his opponents, but he's got enough heart that he can take down behemoths like King Hippo, Bald Bull, and Tyson himself. He's got quick steps, speedy combos, and the support of Doc, his dedicated, chocolate-loving trainer. Is it too much to hope that we'll see Glass Joe in Mac's stage?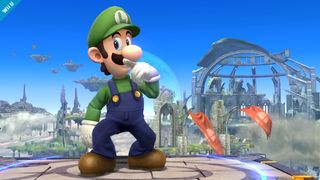 Luigi
First appeared: Mario Bros. (1983)
2013 was the official Year of Luigi to celebrate the green man's 30th birthday, and everyone knew he'd be a part of Smash anyhow, so Sakurai celebrated by introducing him earlier than expected. The Year of Luigi may have ended, but we still love Luigi and can't wait to use him in the next Smash.
Weegee got his Smash Bros. start as an unlockable character in the very first game, and many players took to his comedic variations on Mario's move set. His moveset has since become a bit more unique, especially with the Luigi Missile move that could send him hurtling across the screen. Luigi has always been a fan favorite of the series, and we couldn't imagine the 3DS and Wii U games without him. Now we don't have to.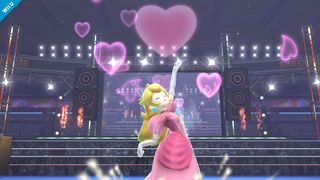 Princess Peach
First appeared: Super Mario Bros. (1985)
First introduced to the Smash series in Melee, Princess Peach took a break from being constantly kidnapped so she could kick Nintendo butt on the GameCube. Back again on Wii U and 3DS, she's once again ready to shed the "damsel in distress" motif and take on that dastardly Bowser herself.
Her first screens show that many of her famous moves have returned, including her hilarious use of Toad as a shield. We hope that she gets a new Final Smash though; dropping health items and putting everyone to sleep doesn't compare to other possibilities like Psych Bomb from Super Mario RPG. Peach is arguably Nintendo's most famous female character, so we're glad to see that her highness is getting back into the action.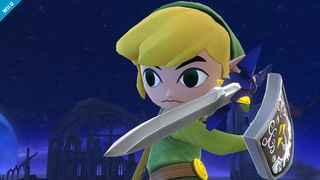 Toon Link
First appeared: The Legend of Zelda: The Wind Waker (2003)
Some balked at the idea of replacing Young Link with this design early on, but "Toon Link" has become one of Nintendo's most popular incarnations of its legendary hero. First seen in Wind Waker, the GameCube gem that recently got an HD upgrade for Wii U, the wide-eyed hero swings the Sword of Time with the best of them.
As before, he'll offer a pint-sized version of the standard Link move set, this time looking better than ever with his newly HD polish. We hope that like Luigi, Toon Link's arsenal becomes a bit more unique to him instead of just a Link re-hash...we wonder if he incorporate the King of Red Lions somehow That'd be insane.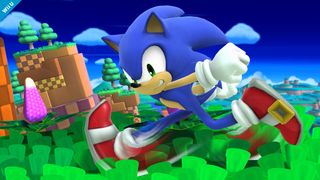 Sonic The Hedgehog
First appeared: Sonic The Hedgehog (1991)
Created as the anti-Mario, Sega's mascot Sonic the Hedgehog is one of the most beloved icons in gaming, despite what Sega is currently doing with him (a scarf? A SCARF?!). Seeing Sonic in Smash Bros was a dream of many fans that finally came true in Brawl and is now continuing on the Wii U and 3DS sequel.
The Blue Blur's trademark spiny attacks all look to return in the initial footage, and he looks like he's faster than ever as he flies around the arena. Some of those combos are pretty flashy too, perhaps his moves have been tweaked a bit this time around. We just hope Super Sonic returns as his Final Smash; that move was beyond awesome every time we pulled it off.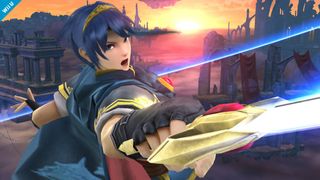 Marth
Marth may be the original Fire Emblem hero, but for most fans outside Japan, his relevance starts with Smash Bros. For years Nintendo chose to not import Fire Emblem, but when Marth joined Melee he became one of the most popular characters on the roster, and Nintendo soon started localizing Fire Emblem games in the US. The series has since launched into ultra popularity, most recently with Awakening on the 3DS.
An adept swordsman, March swings his trusty Falchion with grace, cutting down every foe he sees with precision and strength. The tip of his blade has deducted many stocked lives from players all over the world, making Marth one of the top choices in every Smash he's in. We expect no different this time around.
Rosalina & Luma
Rosalina first appeared as a regal space princess helping Mario navigate the depths of the universe in Super Mario Galaxy, but lately she's joining in all the spin-off fun. Now she's taking her wand, summoning her trusty Luma helpers and joining the Smash roster, looking to kick some astral ass.
Rosalina appears to mainly use her magic wand and floating abilities for combat, but her main perk looks to be those Luma sidekicks. The chubby little star people apparently support Rosalina from all over the screen, mimicking her moves like a puppet for its master. Don't be surprised if that puppet stuff shoots her into the top tiers of competitive Smash, because it's that kind of unique trait that the pros are so good at perfecting.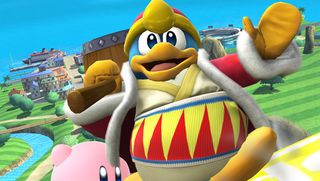 King Dedede
Kibry's arch nemesis is set to return to Smash Bros, and he doesn't go anywhere without that massive mallet of his. The big, evil penguin has received a nice visual upgrade, meaning his signature coat has the fluffiest white cuffs we've ever seen. Seriously, look at those things--that's a photorealistic penguin coat if we've ever seen one.
Dedede's moves don't look all that different from when he appeared in Brawl (save the wacky facial animations), so expect a lot of power at the cost of speed. Dedede has a bit of pep in his step, but not enough to consider it in his strategy. Dedede's game is more about pulverizing opponents with that giant hammer, and with a weapon like that, why would we focus on anything else?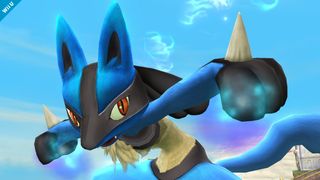 Lucario
Like Pokemon? How about mystical ones the have spikes on their wrists and can manipulate auras for powerful attacks? Then Lucario is the pocket monster for you! Introduced as one of the key monsters in Diamond and Pearl, Lucario joined Smash Bros. in Brawl while he was fairly new to gamers. He's not so fresh anymore, but he's still plenty popular, so the Aura Pokemon is making a return.
Lucario's moves look like they're the same as they were in Brawl, but Sakurai has stated that his Aura buffs at high damage percentage are even higher now, making him the ultimate risk/reward character. Did you see the Aura Sphere in the Pic of the Day? It was HUGE! All of this is great, but here's what we're really wondering: because he replaced Mewtwo in Brawl, is it safe to assume the original psychic legendary is going to be left out of this entry as well?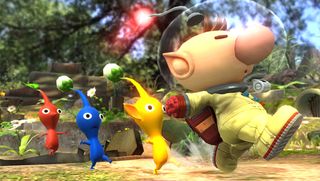 Captain Olimar
First appeared: Pikmin (2001)
The intrepid (albeit miniature) hero of the Pikmin series is back in action, following his success in Smash Bros. Brawl. He will once again use his Pikmin army to his advantage, with his blue, yellow, red, purple, and white buddies all doing different damaging effects. No sign yet of the rock Pikmin we spotted in Pikmin 3, but here's to hoping.
As much as we love commanding Olimar's Pikmin around the Smash battlefield, we're hoping that he can be a more efficient fighter on his own. We know Pikmin have always been his saving grace, but gee whiz give the guy a chance if he should tragically lose them all in a tight spot! Ok, maybe it happens to us more than others, but still help a captain out!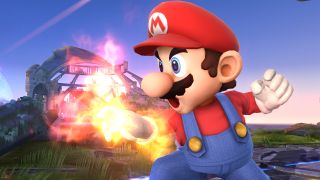 Mario
Oh hey look Mario is in the Smash Brothers game, also breaking news the sky is blue and water is wet. Seriously though, there's no Nintendo without Mario, so there's no Smash Bros without the plucky plumber either.
As they've done with all their previous Smash Bros reveals, the first trailer started the appropriate way: with Mario as the first characer shown. Mr. Mustache seems to have all the same abilities from the previous games, which will once again make him the average all-around character beginners use to learn the game. Let's face it: most folks playing Smash for the first time are going to choose Mario anyway, so he should be the perfect character for learning the game.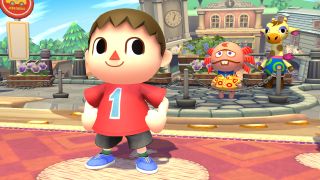 Villager
The Animal Crossing series isn't known for its violence, so previous Smash appearances had been relegated to stages and trophies. No more! Now Villager is joining the fray, and if the internet is to be believed he's a raging, murderous psychopath bent on wanton destruction. Yeah.
Villager comes to Smash packing a vast arsenal of collection and town upkeep tools. Shovels, axes, plant buckets, slingshots, and even his pockets will serve him against the rest of Nintendo's best. We wonder though; will the Animal Crossing part of the roster be limited to him, or is it too much to hope the nefarious, capitalist tyrant Tom Nook will appear as well?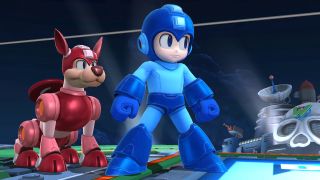 Mega Man
When that helmet appeared and those mega eyes lit up in Mega Man's reveal trailer, the reaction across the Internet can be summarized in one word: AAAAAAAAHHHHHHH!!!!! Mega Man is FINALLY going to brawl against Mario, Link, and the rest of the gang! Happy days!
To be honest we were a little dumbstruck that ol Mega hadn't appeared in Brawl as one of the first ever third party fighters, but we don't need to worry about that anymore. The Blue Bomber is bringing plenty of his most famous moves with him. The Mega Buster, his slide, and a slew of abilities he copied from robot masters he's defeated in his various games, including the iconic Metal Man saw blades. It may have taken one game longer than we thought, but Mega Man is finally here. We can not wait to play as him!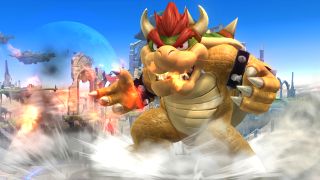 Bowser
It seems Mario's biggest has learned to stand a little taller since his last appearance in Brawl, as his new stance takes him away from the ground and makes him MUCH more intimidating. We don't expect his moveset to change much (and it doesn't look it has, either), but perhaps with a new stance comes some new abilities.
Poor Bowser didn't even get a formal reveal in the first trailer, but rest assured that Bowser is totally playable. The red-haired tyrant will once again try to teach Mario a lesson with fire, sharp claws, and hopefully a Giga Bowser transformation. We'd love to see that giant in full HD.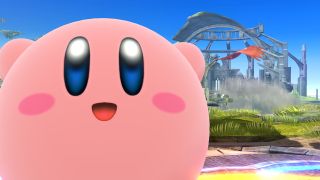 Kirby
From day one Kirby was a shoo-in for Smash Bros, as he is a creation of Masahiro Sakurai himself. When the idea for Smash Bros came to Mr. Sakurai, he HAD to have been thinking about Mario vs Kirby, so he made sure the pink puffball got in. It's a good thing too, because leaving Kirby out would just be criminal.
We've haven't seen much in the way of moves for Kirby, but we can't imagine his moveset will be drastically different from every other game in the series. Although in the first trailer he turns into a Thwomp, we assume as part of his Down+B Stone attack, so maybe he'll transform into other famous rocks as well. Hopefully be brings some new Copy abilities too; we'd love seeing the Mike attack in a Smash battle.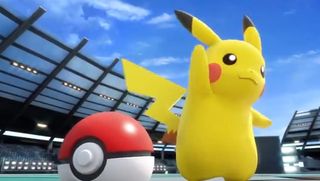 Pikachu
First appeared: Pokemon Red/Green (1996)
If you thought the international icon of one of Nintendo's most popular franchises would be left out of Smash Bros, you're crazy. Pikachu has been around since the N64, so there's no way he's going anywhere now.
We assume Pikachu will bring the same lightning-quick moveset from the previous games into battle here, including that insane Quick Attack he uses to get across the screen in a hurry. How are we supposed to keep uo with ol' #25 if he keeps zipping around like that? Then he gets a Smash Ball and powers up Volt Tackle, and things just get way worse. Pikachu, you yellow devil, it's good to have you Smashing again, even if you are Pika-cheap.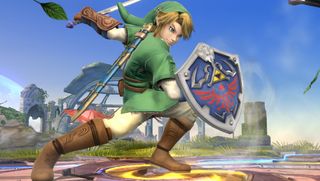 Link
First appeared: The Legend of Zelda (1987)
In a game of Nintendo icons, nothing outside of a red hat with an M on it is more iconic that the Master Sword, wielded by Link the Hylian. "Hero of Time" almost isn't a powerful enough title for someone as prolific as Link, as he's saved princesses, his world, other dimensions, and the very nature of time. It's no wonder he's back for more Smashing.
Link and his iconic set of weapons are a constant in Smash Bros., though the look has changed throughout the years. This time, Link looks to be taking on his Skyward Sword persona, which explains the more cartoonish look. Maybe he'll bring a Loftwing with him and zip around the battlefield bringing pain from above. We doubt it, but we'd sure like to see it!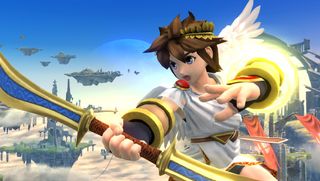 Pit
First appeared: Kid Icarus (1986)
In the time between Melee and Brawl, one of the most requested character in Nintendo's stable was Pit, the angelic warrior of the goddess Palutena. Brawl fixed that omission from the jump, and now Pit returns for more action.
We know Pit's moveset has been altered, as he now incorporates the Upper Dash Arm from Kid Icarus: Uprising in his moveset. Sakurai worked on Uprising just before starting his work on this new Smash game, so we won't be surprised if more Uprising abilities make their way into Pit's arsenal. Also, will Dark Pit make an appearance after showing up in Uprising? Will another character represent the series at all?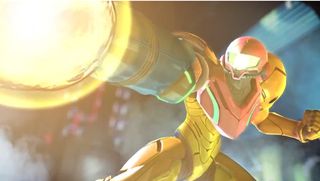 Samus
First appeared: Metroid (1986)
Samus is one of the biggest badasses in gaming, and was the top space marine years before Master Chief or Marcus Fenix were even created. Her Varia is strong enough on its own, but it's almost unstoppable when fully powered up with bombs and electric whips. She's been blasting fools off screen since the first Smash outing, and will continue to do so on Wii U and 3DS.
Samus's appearance has been given an overhaul, exchanging the bulky-yet-serviceable Power Suit from Super Metroid for the sleeker, more maneuverable Other M version. We can only hope that the Samus under the hood is still the same Super Metroid badass and not the Other M teenager. We're not sure we want to hear that voice again.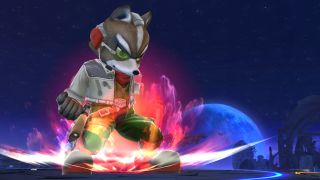 Fox McCloud
First appeared: Star Fox (1993)
There will never be a Smash Bros game without FOx McCloud. Sure, he's been around since the N64, but since he's become a total powerhouse used by many of the top competitive Smash players in the world. He's agile, powerful, and the sight of him coming against you should strike fear in your heart. What does the fox say? This one says total domination.
Fox is bringing back his lasers, reflector shield, and general speed that will likely keep him as a favorite among fans and pros alike. What he hasn't brought back yet, though, are his compatriots Falco and Wolf. Will we be seeing more Star Fox characters in the future, or will Fox go it alone from here?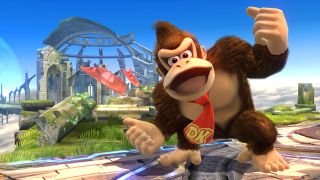 Donkey Kong
First appeared: Donkey Kong (1981)
He's the leader of the bunch, you know him well. He's finally back to kick some tail. This giant ape was Nintendo's first famous name in gaming, and his arcade hit launched Mario's career, and his appearance in Smash was expected the minute the game was announced.
We've seen that Donkey Kong will have his helicopter attack and a few other familiar moves, but we've yet to see how extensive his abilities will be. We hope his Final Smash is changed from the Jungle Beat bongos to something from Donkey Kong Country Returns...though we're not sure what that could be. That Final Smash really disappointed us; we thought this big ape deserved better than that.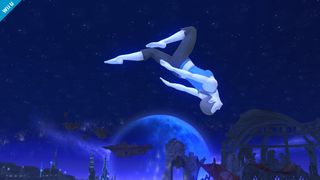 Wii Fit Trainer
Nintendo has made it a point to try and help their consumers' overall quality of life, which has made this white-skinned warrior a household name for those with a Balance Board laying around. While the most hardcore of Nintendo fans might have skipped the game, the Wii Fit Trainer is absolutely deserving of a spot on the roster.
As we've seen so far, Wii Fit Trainer's moveset will incorporate many of the exercises and yoga poses we've be awkwardly trying to perform in the privacy of our homes. Tree, Warrior, we've seen a lot, especially in her screen-filling Wii Fit Final Smash. She certainly wasn't expected to be a part of Smash, but now that she is she totally fits in.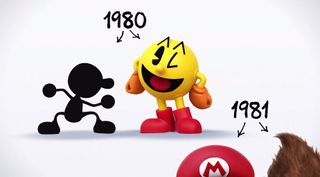 Mr. Game & Watch*
First appeared: Ball (1980)
Before Samus, before Link, even before Mario, there was Game & Watch, one of Nintendo's earliest forays into the video game market. The very simple games were the phone apps of their day, only they ran on repurposed LCD tech taken from calculators. These early handhelds often featured a little stick figure that could be seen juggling, or killing rats, or cooking sausage. This man would become Mr. Game & Watch, the mascot of this lost era of Nintendo, a man who joined the Smash Bros. cast with Melee.
Mr. Game & Watch is a fan favorite, with many loving his goofy moves and flat dimensions. He was confirmed for the newest Smash Bros. in typically weird form, by dropping in at the end of the Pac-Man reveal trailer to stand next to his fellow 1980 creation. No matter how it was revealed, fans can breathe easy knowing G&W will soon be in HD.*Game & Watch was shown in a trailer, but not technically 100% confirmed, but we believe he'll be included based on this.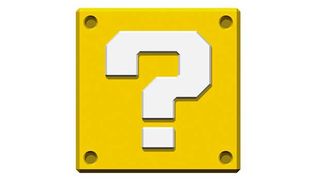 Who else deserves to be in the game?
So that's every character that we currently know is in the game, but why stop there? We have dozens of characters we want to see added to the next Smash Bros, and we're sure you do too. What follows are a mix of our picks and reader choices for additions to the 3DS/Wii U smashers. If you have any more suggestions, let us know!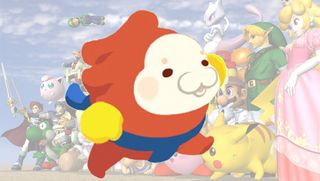 Mallo
First appeared: Pushmo (2011)
Our potential Smash Bros. roster is in danger of having too many normal looking characters and could use more of the cartoony protagonists Nintendo loves. The squat Mallo looks a bit like a sumo wrestler, and he uses his low center of gravity to push blocks around to solve puzzles. His jumping abilities would translate well into Smash, though Mallo doesnt exhibit many offensive moves in Pushmo or Crashmo. Wed be fine with the devs simply ripping off the all the moves of E. Honda from Street Fighter.
Chance hell be in SSBWU: Nintendo has been extra focused lately on creating downloadable franchises, and Mallo is the star of one of the earliest hits on the 3DS eShop. If Nintendo wants to prove that its eShop franchises are on the level of its retail releases, putting Mallo in the Smash would go a long way. Pushmo has already had one sequel, so appearing in the next Smash would elevate both Mallo and the entire concept of eShop originals.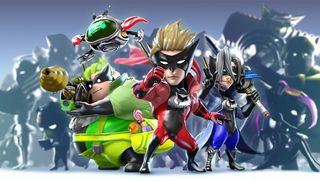 The Wonderful 101
First appeared: The Wonderful 101 (2013)
Platinum Games is one of the top independent developers in Japan, and the teams next franchise launches in September with Wii U exclusive The Wonderful 101. The game features an army of costumed heroes fending off an alien invasion, and the group consists of colorful, Power Ranger-style fighters as well as weird members made of sushi and washing machines. Together they can transform into various massive weapons like a sword or a fist, and if they were included in Smash, the Wonderful 101 would use those abilities to work similarly to the Pikmin in Brawl, but with 20-plus team members instead of four.
Chance hell be in SSBWU: Wonderful 101 was one of the earliest exclusive announced for the Wii U, and Nintendo has gotten pretty close with Platinum lately, agreeing to also exclusively publish Bayonetta 2. Nintendo would no doubt like to keep that friendship going by adding the the stars of 101 to Smash, and it would help establish the game as the start of a franchise, not just another one-off from Platinum.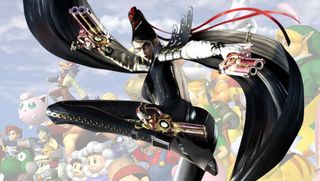 Bayonetta
First appeared: Bayonetta (2010)
Created by many of the developers behind the first Devil May Cry games, Bayonetta is a sassy witch that kills demons and angels with equal panache. She doesnt care what side of Heaven or Hell shes fighting, so long as shes paid. Bayonettas weapons of choice include her four favorite guns--two of which are attached to her heels--as well as her enchanted hair. Her flowing locks can transform into giant fists or gnashing fangs to destroy her enemies, and the rest of the time her mane takes the form of the clothes on her body. Like we said, sassy.
Chance shell be in SSBWU: Up until a few months ago Bayonetta seemed firmly established as a Sega franchise, but then came the shocking announcement that Bayonetta 2 is a Wii U exclusive. Now that Nintendo seems so firmly behind our favorite witch, the odds of her showing up in Smash Bros. have increased substantially. Yes, shed have to leave some of her more risqu moves at the door, but with the kind of arsenal shes packing, shed be a great addition.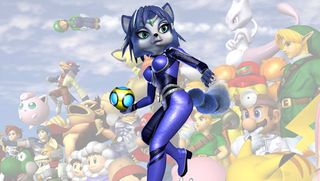 Krystal
First appeared: Star Fox Adventures (2002)
Fox and Falco are already part of Smash Bros., but there are other members of the Star Fox crew wed like to see in SSB, with Krystal at the top of the list. Krystal has proven herself to be more than capable, thanks in large part to her magical staff. Shes first introduced as the protector of a dinosaur planet Fox McCloud crashes on, and shes also blessed with telepathic abilities. Krystal joined the Star Fox team when she and Fox became an item, though in a later game Krystal left to be a part of the rival Star Wolf Team.
Chance shell be in SSBWU: Krystal may have been introduced in a game that was barely a Star Fox title, but at this point Nintendo has proven to be pretty committed to the character. In fact, given her melee skills, shes arguably the most fitting member of the Star Fox crew for a fighting game, and SSB could always use more ladies on the roster. Unless Nintendo has totally turned its back on the newer Star Fox characters, we think the odds are in her favor.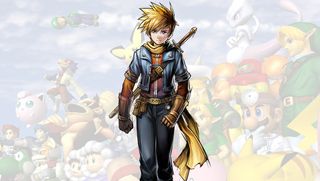 Matthew
Son of the stars of the original Golden Sun for GBA, Matthew takes after his father Isaac a lot. Wielder of the famous Sol Blade, Matthew is a master of earth magic like his papa, often calling upon the ground in his mystical battles. Like most RPG protagonists, he teamed up with his childhood friends to save the world. Including him would not only add a newer character to the mix, but also finally give Golden Sun some real recognition in the SSB series.
How they should play: Given his potent mix of sword and sorcery, we see Isaac playing like a combination of characters. Obviously hed have sword-heavy attacks similar to Link and Marth, but based on the number of spells he knows, we could see him using area-effecting magic attacks ala Zelda or Gannon.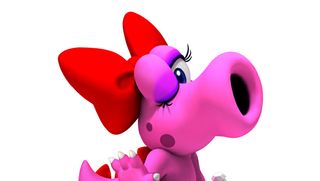 Birdo
Since her first appearance as an egg spitting mid boss, Birdo has stuck in the minds of players everywhere. Though somewhat ignored directly after Mario 2, over the last decade or so, Birdo started popping up in Mario spin-offs until eventually she became a regular in most Mario sports and party games. Often used as the feminine counterpart to Yoshi, Birdos got a big enough fan base that she deserves to be playable in SSB instead of restricted to the cameo roles shes had to put up with. If nothing else, shed be a welcome female addition to a rather male-oriented roster.
How they should play: Since Birdo has been symbolically intertwined with Yoshi for years, why not use the green dino as a starting place for controls? She should have the flutter jump or a variation on it, though her egg attacks would obviously be a straight shot instead of Yoshis arc. Initially we thought you should be able to stand on her eggs if you time the jump right, but that seems like it might break the whole throw your opponent off the stage concept to the battles.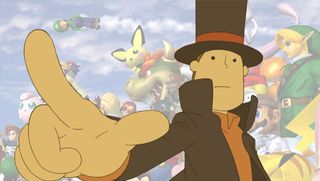 Professor Layton
First appeared: Professor Layton and the Curious Village (2007)>
Professor Hershel Layton is one of the most well-known characters introduced in the last five years, having starred in multiple hit puzzle games. Layton is famous for using his ample intelligence and good manners to solve ancient mysteries all over the world, often finding the logical explanation for some supernatural occurrence. And while Layton strives to be a gentleman at all times, if hes forced to defend himself, hes more than skilled at that too.
Chance hell be in SSBWU: Layton seems like a shoe-in given the brands closeness to Nintendo systems, SSBs Japanese development, and the fact that the next SSB will be on 3DS and needs guest characters famous on handhelds. Additionally, Layton just appeared in his first crossover game, Professor Layton vs. Ace Attorney, a good sign developer Level-5 might share the character again in the future. The biggest strike against Hershel appearing is that his next game for 3DS is rumored to be his last, so if Level-5 is set on retiring him, its possible the publisher wont want Layton appearing in SSB so soon afterwards.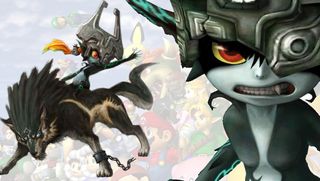 Midna and Wolf Link
If youre looking for a new form to give Link in the fourth Smash Bros, look no further than 2006s Twilight Princess. Every time Link entered the Twilight Realm, he was transformed into a wolf, controlling very differently than he did in human form with more ferocious attacks. His constant companion, whether he liked it or not, was Midna, an imp that wields powerful magic and holds a dark secret.
How they should play: Despite being two separate characters, this duo would be better off playing more like a single character and less like the Ice Climbers. The combination of the wolfs practical attacks (mostly involving biting jugulars) would mix with Midnas mysterious powers that could be used for ranged and defense. Obviously Midnas transformative abilities could come in handy too, especially with regards to a Final Smash.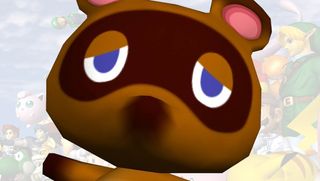 Tom Nook
Super Smash Bros has always been light on your options to play as a bad guy, and few in the Nintendo pantheon are more evil than Tom Nook. Dont let his furriness fool you; this raccoon controls your life in Animal Crossing with an iron fist. Youre constantly pushing yourself to escape the grip of your many debts to Nook, and even when you finally do, he has a monopoly over your town's businesses, so you still have to give him your money. Truly one of Nintendos most evil characters.
How they should play: Probably working similar to Mr Game & Watch, Nooks moves would be based around his random uses of items from AC. A shovel here, an apple tree there, and his best power would be burying his enemies in crushing debt. Hed be a wonderful fighter in the joke character tradition of SSB.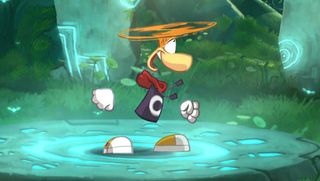 Rayman
The armless French creation is enjoying a renewed relevance these days. Following years of being upstaged by Rabbids, Rayman and his lovably goofy friends returned in the gorgeously 2D platformer Rayman Origins. Based on Raymans history with the Wii and 3DS, plus Ubisofts dedication to the Wii U, if any guest character would appear in the next Smash Bros, itd be Rayman.
How they should play: The Origins update to Rayman works almost perfectly for Smash. Hes got tons of different melee attacks, transformative powers, and can hover with his propeller head. As for his design, wed hope for a mash-up between his colorful 2D self in Origins and his 3D looks from Rayman 2 and 3.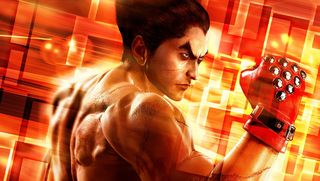 Kazuya Mishima
Since way back when Soul Calibur II came out with the earth-shattering appearance of Link, Namco has been needing to return the favor by lending one of its characters to a Nintendo fighter, but at first it was tough to decide who. You might think Pac-Man, but traditionally he doesnt really have any arms or legs, and wed rather Nintendo ignore the middling Pac-Man Worlds of a few years ago. No, Namco should instead go with its premier fighting game, one that thats already appearing in another crossover, and was one of the few franchises to appear in the Wii U reveal trailer. Were obviously referring to Tekken, and Namcos got to go with the series anti-hero Kazuya.
How they should play: Obviously his move set will be simplified a little from the Tekken games, but all of his marquee attacks should be there. Perhaps the platforming aspects of the combat might seem odd at first, but wed get used to it. Plus he could have a Zelda/Sheik-type transformation into his Devil form. Perhaps his style would be a little too rough for the good-natured thrashing of Smash Bros, but itd certainly make him standout from the crowd.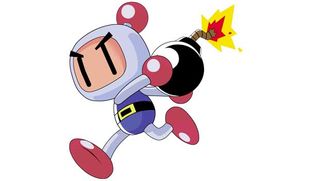 Bomberman
Mascot of the now defunct Hudson, Bombermans a strange mix of cuteness with explosive death, which is why many love him. His adorable, modest design is fitting with his NES background, and the simple multiplayer joy of blowing people up in Bomberman games could translate to fun in Smash Bros. Wouldnt it be fitting if he appeared alongside his 8-bit mascot brothers?
How they should play: Like Banjo, Bomberman has been dormant the last couple years. Perhaps you can blame that on Konami purchasing Hudson and so far having little need for the cute powder keg, so he could use the kind of boost a Smash Bros cameo would provide. If Konami isnt into the character right now, who would it harm to lend him to Nintendo, especially given Nintendos history with Bomberman crossovers? (See Wario Blast)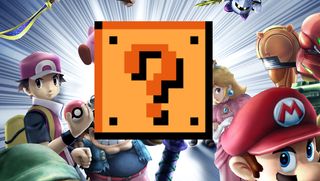 Warning! New Challenger Approaching!
Of course, this is just the beginning. There will likely be characters we never would have suspected in the roster, as well as a few favorites (though we're not going to hold our breath for some of them). Is there anyone else you'd want to see added to Smash's roster?
And if you're looking for more Nintendo talk, check out our long list of Nintendo trivia and everything else we know about Super Smash Bros. Wii U/3DS.