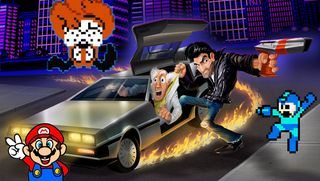 Back in the day
We love nostalgia as much as the next aging nerd, and youd be hard-pressed to find a game more steeped in nostalgia than the recent indie game Retro City Rampage. Though we had mixed feelings about the game as a whole (see our Retro City Rampage review), we loved the constant stream of clever references to 1980s pop culture and gaming. Weve collected some of our favorites from throughout the game, and as an added bonus, well explain them for those in our audience who were born after 1986.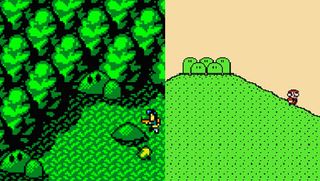 The hills have eyes
References: Super Mario Bros
Mario lives in a cartoon world where almost everything has a happy smile on its face, including the landscape. When the hills of Super Mario games are remade in the world of RCR, theyre cute at first, but ultimately they end up feeling creepy and weird. That was probably the intended result.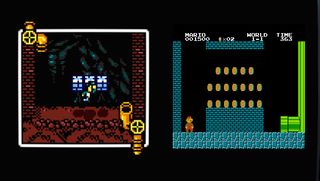 Warp pipes to nowhere
References: Super Mario Bros
Warp pipes and other secret exits in gaming have become fairly ubiquitous since Super Mario Bros started using them, so we arent surprised to see RCR use them for fast travel on the map. Of course, RCRs warp pipes are very specifically based on Mario, including the tiny rooms in-between filled with bonus coins.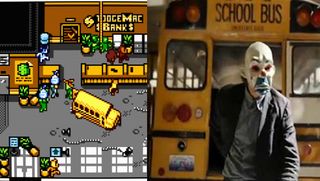 The Joker gets away
References: The Dark Knight
If you play RCR for a couple hours, youll notice that the creators have almost as much love for Batman as they do for the NES. Allusions and parodies of The Caped Crusader are all over the place, starting with a daylight bank robbery that ends with escaping in a school bus. Seeing as this references one of the biggest films of the last decade, were betting most people caught this one.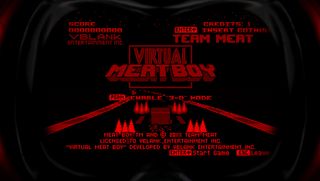 Virtual Meat Boy hurts our eyes
References: Virtual Boy games
One thing we love about indie gaming is the sense of camaraderie among the developers. Youll often see cameos from other indie hits in games like RCR, though this Super Meat Boy appearance does double duty as a reference to the doomed Virtual Boy system. Using the very red Meat Boy for a fake game on the 3D, headache-inducing system emulates pretty well why the system was a huge failure.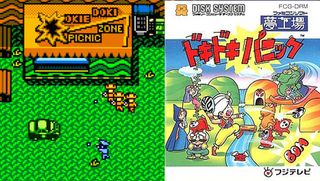 Okie Doki Picnic
References: Doki Doki Panic
A famous bit of Mario trivia is that the game known in the US as Super Mario Bros 2 was a reskinned version of the Japan-only game Doki Doki Panic. RCR gives tribute to the source of one of Marios strangest adventures in the clever park service sign above. Though it doesnt really match the Japanese characters, the explosive background of the logo is clear on the sign.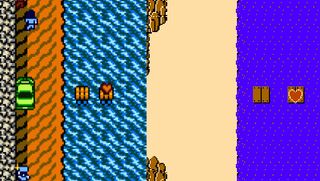 The Legend of Zelda docks
References: The Legend of Zelda
Anyone thats ever explored Hyrule in the NES original will know the familiar feeling of spotting a tantalizing Heart Container trapped on a currently unreachable dock. RCR recreates that on its city map, but fortunately you dont stepladder to get this one.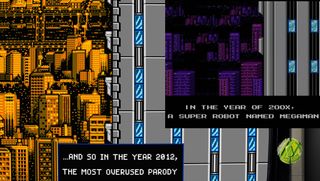 Welcome to 20XX
References: Mega Man 2
When RCRs opening began to emulate the start to Mega Man 2, we started to roll our eyes at such an obvious reference. Fortunately for the games reputation, RCR earned back some of that cred almost immediately by outright admitting how overused the sequence was. We appreciated the honesty.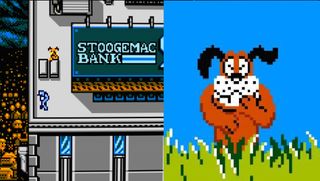 Stupid dog!
References: Duck Hunt
Almost immediately following the Mega Man 2 intro, we find a jumpy guard on a rooftop thats startled by a random duck. He shoots at the bird and misses, which brings on the laughter of one of the most annoying creatures in gaming history. All NES owners know the pain and humiliation of the laughing Duck Hunt dog, and RCR carefully recaptures that shameful incident.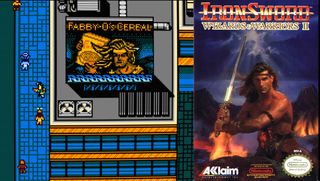 Oh, Fabio
References: Ironsword: Wizards & Warriors II
Fabio is mostly forgotten these days, but at one time he was Sex Personified, or at least he was for people that bought cheap romance paperbacks. Normally, Fabio kept his shirtless visage on book covers, but he famously appeared on the box for NES adventure game Ironsword. RCR does its best to recreate that sex appeal, but the 8-bit graphics can only express of sliver of his machismo.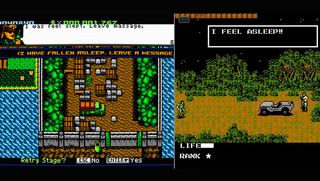 I FEEL ASLEEP!
References: Metal Gear
The Metal Gear series is currently famous for its dense scripts, but in its first US release it was famous for all the wrong reasons. It suffered from particularly poor translation, including the incredibly nonsensical, I FEEL ASLEEP! We expected RCRs early Metal Gear mission to reference it in some way, and it didnt disappoint.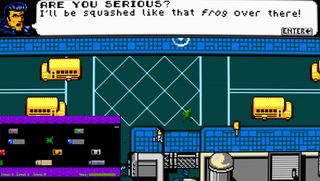 Flat frogs
References: Frogger
This one needs basically no explanation, since the in-game dialogue makes it particularly obvious. Instead, well use this entry to ask an important question: Why does falling into water kill a frog?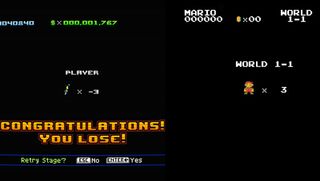 Get a life
References: Super Mario Bros
Unless youre a total neophyte to gaming, you dont need us to tell you the game over screen in RCR looks a lot like the start screen in Super Mario Bros. Except in RCR, it works in reverse. You have unlimited lives, so the counter keeps track of how many times youve died, which is a little mean when you think about it.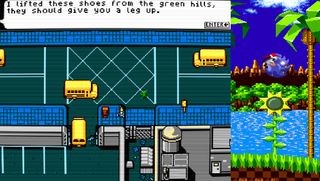 Supersonic crosswalk
References: Sonic The Hedgehog
For the most part RCR limits its love to the 1980s and 8-bit, but occasionally some early 90s reference and even some 16-bit games find a way in. Thats the case with your first power-up, a pair of super-fast shoes that your boss stole from the green hills. We dont think we need to explain the rest for you, right?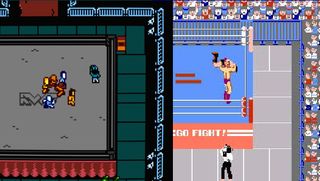 A winner is you!
References: Pro Wrestling
We hate having to do a tutorial twice, but at least RCR made the second lesson in gun use a warm reminder of the heyday of digital wrestling. The ring in the level could be a reference to just wrestling in general, but the layout of the arena seems to close the NES gem Pro Wrestling to not be intentional.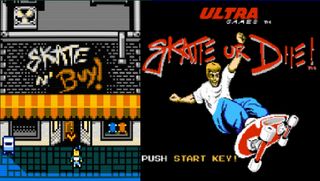 Dont forget your helmet
References: Skate or Die
You could just steal any old car to get around, but wouldnt you rather be totally tubular and get ride on a gnarly board, dude? Its easy if you find the skate shop known as Skate n Buy, a cute pun on one of the earliest extreme sports titles in gaming history.
Great Scott!
References: Back to the Future
Time travel figures prominently to the main storyline, with protagonist PLAYER constantly collecting items to help a scientist rebuild a time machine. The peculiar old man that built the time machine looks and talks just like Christopher Lloyds Doc Brown from Back to the Future, so wed catch this reference even if he didnt own a DeLorean.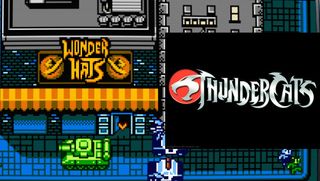 Wonder, wonder hats
References: Thundercats
Its the Thundercats logo on a hat store. Thats the joke.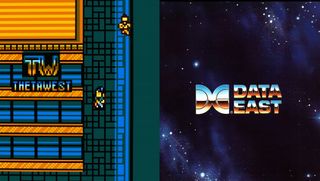 East vs West
References: Every Data East game
Now a distant memory, once upon a time Data East was one of the biggest third party publishers around. They made dozens of games in the 80s, including Bad Dudes, Burger Time, and Bump n Jump. Instead of picking one game, RCR instead chose to reference its distinct logo on one of its buildings.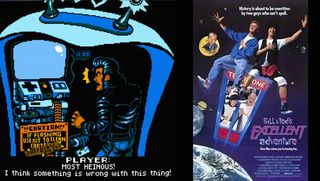 Bogus!
References: Bil & Teds Excellent Adventure
Before the protagonist switches over to a time travelling Delorean, he stumbles upon a most excellent phone booth. At first our geek senses told us it was a Doctor Who reference, but the real reference was quickly made clear when the star threw two bodacious dudes out of the time machine. Bonus retro point for having the inside of the time machine a modified NES.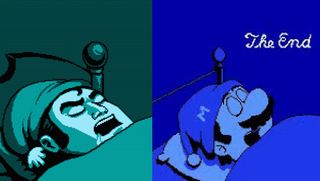 Nighty-night
References: Super Mario Bros 2
Another in the long line of Mario reference, when RCRs hero takes a nap and inexplicably puts on a nightcap, its an homage to one of the earliest and most famous twists in gaming. After beating SMB2, players found out the entire game was merely a dream of Marios. After waking for a moment, the sleepy plumber goes straight back to dream land for another adventure.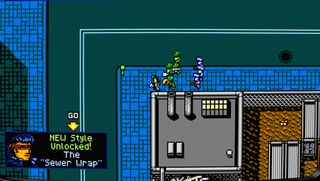 Cowabunga!
References: Teenage Mutant Ninja Turtles
No tribute to the lost childhoods of the 1980s would be complete without the Teenage Mutant Ninja Turtles showing up at some point. Early in the game youre chased by the cops, and the lawmen are quickly joined by three green guys with weapons. If that wasnt obvious enough, meeting them unlocks a special mask in the character creator.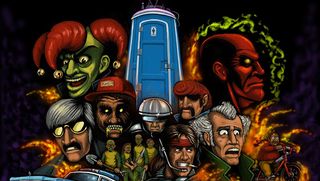 Playing with power!
With a game as rich in nostalgia as Retro City Rampage, we're sure we skipped over dozens of other clever winks and asides in the game. Do you have a favorite we should know about? Tell us in the comments!
And if you're looking for more retro fun, check out our list of best NES games and the ultimate Mega Man retrospective.