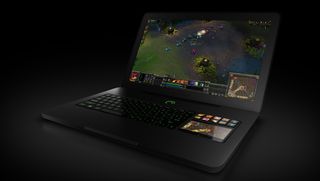 PC gaming on the go
A few years back, ever other analyst was predicting an end to PC gaming. In 2013, that couldn't be any further from the truth. While consoles scramble towards the next-generation, PCs are already there, with amazing visuals and bountiful exclusives, from SimCity to StarCraft II to any number of stellar free-to-play games. Unfortunately, dedicating a space for a desktop gaming rig can be difficult. Thats where gaming laptops come into play.
We took Razers unique, ultra-expensive, high-powered gaming laptop for a spin. At $2,500, should you buy it? Over a lengthy period of testing, we came up with eight reasons you should and six reasons you shouldnt.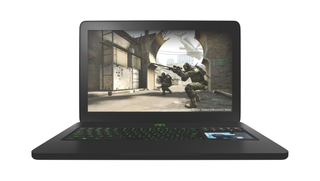 Good: Powerful Components
Behind the thin, sleek frame sits an Intel 2.2Ghz Core i7-3632QM quad-core CPU, which is one powerful beast of a mobile CPU. It didnt have any trouble keeping up with whatever we threw at it and even held up during the most CPU-intensive processes we could manage, including Borderlands 2 on high while capturing lossless video at the same time. This is due in part to the CPUs Turbo Boost, which clocks it up to 3.2Ghz.
The NVIDIA GeForce GTX 660M 2GB GDDR5 GPU fared just as well, holding up well on the highest settings without any noticeable tearing or slowdown, which is rather remarkable for a discrete mobile graphics chip on a laptop.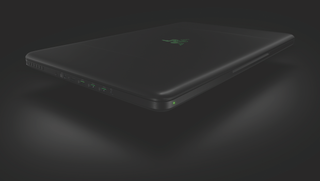 Good: Sleek and Sexy Look
While it might be hard to believe for a laptop with a 17 display, the Razer Blade manages to look sleek throughout with its matte black finish. It doesnt focus on having the most eye-catching design or having speakers that replace your 5.1 surround system, but rather it opts for a design that can fly under the radar a bit while still having all the features that gamers want.
It has a simple, illuminated Razer logo on the top of the Blade, similar to the Apple logo on its MacBook line, but thats about as flashy as it gets.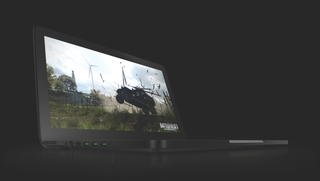 Bad: Short battery life
While its hard to expect much battery performance out of a gaming laptop, especially when modern laptops dont get more than five or six hours anyway, the Blade seems to tap out right around 2 hours and 45 minutes when watching a movie--even less when playing games.
Its tough to really knock it for this though, as most laptops this size arent really meant as laptops; theyre desktop replacements. You arent going to be doing extreme gaming for long periods of time in a place where you wont have at least one power outlet. Besides, running Crysis 3 for a few hours on the train is better than reading, so well take what we can get.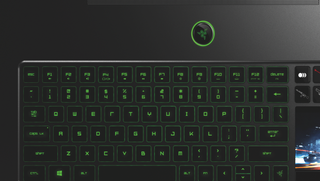 Good: Illuminated Top Keys
While it might seem like a small thing, the new Razer Blade has illuminated keys on the top row, something that was oddly absent from the first iteration, making it difficult to find the keys responsible for music controls or adjusting brightness while in a dark space.
Instead of opting for a LED backlit keyboard that allowed the customizable colors, the Blade features solid black keys with green lettering that are lit from behind by a muted, solid color, which keeps it from becoming too glaring and bright for night use. For a $2800 laptop, the lack of illuminated top keys was a weird omission; one that turned into a welcome fix this time around.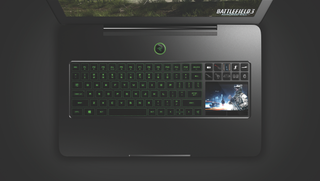 Bad: Keyboard is unresponsive
For a computer that seems so elegantly designed, the keyboard is a bit of an anomaly. Its small, clunky, and unresponsive. The Blade boasts an Anti-Ghosting Keyboard, which is meant to alleviate unintentional button presses, but in reality, it misses intentional more often than not.
This was only amplified with the arrow keys, which, for some reason, were the worst of them all, often requiring slow, deliberate presses to even register. It seems a bit out of place compared to the high-quality of everything else. The lack of a num-pad on a 17" notebook is also somewhat odd, but that has more to do with the Switchblade UI than anything else. What is Switchblade? Well...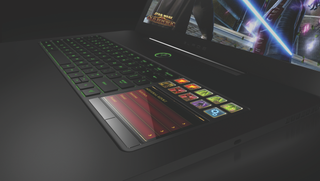 Good: Switchblade UI
The Switchblade UI is undoubtedly the most unique and noticeable aspect of the Razer Blade. Its housed within 10 programmable LCD buttons and a 4-inch, 800x480 monitor seated behind the trackpad that allow you to customize the UI for different purposes on the fly.
Playing games? You can assign macros that correlate to in-game actions to the keys above the trackpad for quick access and if youre running a supported game, like Team Fortress 2, custom graphics will appear on each of the keys, making it easier to see what youre pressing at a glance. You can even use the screen as a second monitor for browsing Facebook or watching YouTube videos. Its extremely cool and one of the best features of the blade overall.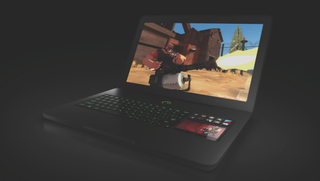 Bad: It gets really hot
Heat is an issue for most laptops. Theyre so focused and compact that we havent really put an emphasis on leaving enough space for the parts inside to vent properly. This is only amplified when these are high-end gaming components running on full blast.
This is somewhat negated by additional rubber feet on the bottom of the device that prop it up from whatever surface its on, but that doesnt work as well when placed on a lap. The assumption is that itd be placed on a table, but even then, the heat output is noticeable, as is the sound of the fan working, which is almost loud enough to be picked up in a team chat microphone.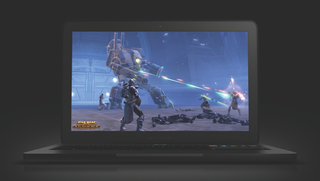 Good: Beautiful Screen
As with past iterations, the Razer Blade rocks a 17.3 1920x1080 LED-backlit LCD. Its huge, but, despite its slightly low resolution compared to other Apples Retina displays and other displays in this price range, it still manages to look exceptional, even when viewed up-close. Unfortunately, this cannot be said when looking at it from the side, as it falls victim to the age-old viewing-angle shimmer, which is a disappointment because it isnt present on many screens in this price bracket.
The screen holds it beauty at lower-brightnesses and doesnt lose its stellar color balance, which is normally a challenge and is something that distinguishes it from lower-quality screens.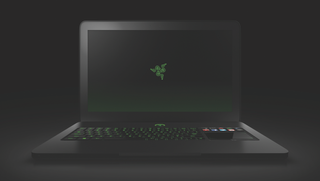 Bad: Poorly executed trackpad
The idea of having the Switchblade UI seated behind the trackpad, giving the appearance of an LED screen trackpad, is an interesting concept. You can put whatever you want there and check your Facebook or Twitter without having to leave a game. Unfortunately, it doesnt hold up well for basic trackpad use. Its slow and subdued, almost to the point of frustration. It just doesnt hold up as well as other basic trackpads. You cant just slide a finger across; it has to be the flat print of your finger, otherwise it doesnt work.
The placement of the trackpad is somewhat odd as well, considering the standardization of the trackpad below the keyboard on a laptop. It isnt something that you see very often and can be extremely difficult to get used to if youve used any other modern notebook recently.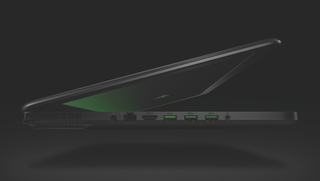 Good: All the right ports
The original Blade lacked the ports and output necessary to make it a true gaming desktop-replacement. It didnt have USB 3.0 and the speakers werent up to par with others in its class. Thats all been fixed this time around, as the Blades 3 USB 2.0 ports were upgraded to USB 3.0 and the speakers are now serviceable.
While they wont replace a surround sound setup, they can achieve similar audio quality via the HDMI 1.4 port that allows for Integrated Digital 7.1 Surround Audio Support via Dolby Home Theater Audio. Unsurprisingly, it sounds great. The same HDMI port can also be used to output the screen to a larger display, making it a great portable alternative to lugging your desktop PC out to your living room or LAN party.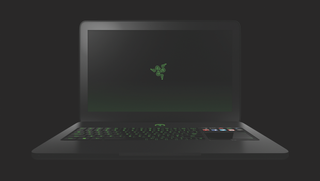 Bad: Small Storage Options
The Blade comes equipped with two storage partitions, a 500GB 7200RPM HDD and a 64GB SATA III SSD. The HDD is the primary storage solution, while the SSD is used as a data cache for the HDD. The system works really well, as both are extremely fast, but its also not ideal, as the drive sizes are somewhat small, making for constant data shifting. Thats not something you want to be doing if its going to be replacing your desktop.
Only 500GB as a primary storage device? Thats notably small, especially compared to the 1TB and 2TB drives in comparable gaming laptops. The option to upgrade to a higher capacity storage drive would be greatly appreciated.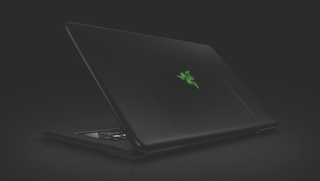 Good: Minimal aesthetics
It isnt often that a Windows PC is lauded as minimal. Usually they come pre-installed with loads of bloatware that slow down the OS and keep it from running at its full potential. Luckily, that isnt the case with the Blade, as it really only comes with one piece of software installed.
It also isnt covered in stickers letting you know whats inside. Razer probably figures that if youre willing to drop $2500 on a gaming laptop, you know that it runs Windows on a Core i7 processor, so it doesnt need to remind you with stickers covering the inside.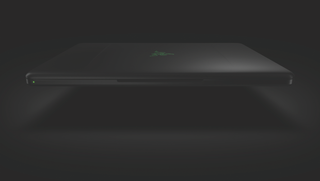 Good: Thin all around
Make no mistake, the Razer Blade is thin. Its one of the thinnest gaming laptops on the market, standing only 0.88 inches. Its staggering that they were able to fit as much technology as they did into a chassis as small as this.
This thin profile extends to the power brick as well, which puts its brethren to shame. Its slim, light, and unobtrusive, making it an easy choice when deciding whether its worth the extra weight of packing it with the Blade on a trek. It does tear away into two parts still, which is always risky as it is easy to forget or misplace on part and be stuck without a way to charge the Blade.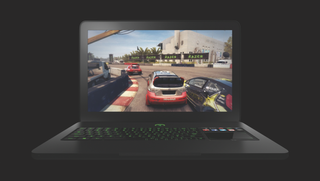 Bad: DAT PRICE
While the Razer Blade might seem a bit overpriced at $2,500, its also significantly cheaper than the previous iterations, which clocked in at $2,800, despite having weaker components. Its also competently priced compared to the other options in the same range, which makes sense when you look at the parts that went into making the Blade one of the premier top-of-the-line gaming laptops.
Its all a value judgement, but the sticker shock of seeing that $2,500 price tag might scare away some potential customers before they even see what the Blade has to offer.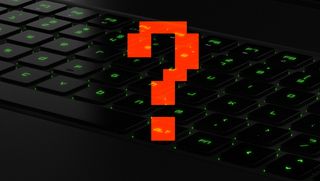 Turn up all the settings
The Razer Blade isnt for everyone. Its large and expensive, but its also extremely powerful and thin for its class. Theres a delicate balance; one that may throw you off but also might sell you on it.
At the end of the day, it all depends on how youll use it. It makes for a great desktop replacement, but it might not work as well as a truly portable gaming substitute. Its loud, hot, and looks like a stealth bomber. That doesnt exactly scream covert gamer. It may have some issues, but its also a great piece of hardware. You could do a lot worse than to choose the Razer Blade as your sole gaming device.
And if you're looking for more, check out the Best Gaming Headset and Best Gaming Mouse, because youll need one.