Fight for the future
Overwatch, Blizzard Entertainment's first foray into the realm of FPS, is finally upon us. If you're unfamiliar, this team-based shooter combines the specialized roles of Team Fortress 2 with the unique heroes and abilities seen in games like League of Legends. The character you choose will directly determine how you contribute to your team, so it's just a matter of figuring out which one best suits your playstyle.
I've put in many joyous hours of play into the Overwatch beta tests, extensively testing each hero to figure out what makes them tick. I won't be going over their surprisingly rich backstories, or explaining every ability in detail; Blizzard's already done a fine job of that on the official Overwatch website. Rather, this is an alphabetical breakdown of each hero's overall strengths and weaknesses, so you can determine which one aligns with your FPS preferences and teamplay specialties.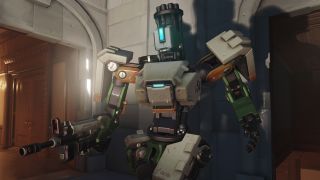 Bastion
Role: Defense
Played correctly, Bastion can keep the entire enemy team at bay for minutes at a time all by his lonesome. It doesn't make sense to pick him when your team is on the attack, as you'll rarely find a good chokepoint to dig into before everyone else starts pushing up. But on defense, Bastion's capacity to mow down rows of enemies - then repair himself during the downtime - can make your opponents feeling like they're throwing themselves at an impenetrable stone wall. You'll want to set up your Sentry position in whatever corner gives you a good view of the current objective, lest you expose your vulnerable backside to sneak attacks that will pretty much kill you in seconds.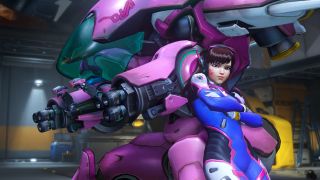 D. Va
Role: Tank
D. Va is one of the most unique Tanks in gaming, oscillating between extreme durability and short bursts of being fragile as glass. It's all based on whether you're in your bright pink mech, which can soak up oodles of damage before short-circuiting and forcing you to run around on foot. D. Va's usual approach is to use your Boosters to wade onto the frontlines, activate your projectile-nullifying Defense Matrix to protect yourself and anyone behind you, then lay waste to your enemies with your twin, infinite ammo Fusion Cannons. Keep in mind that you can't actually fight back when using your Defense Matrix, and if you plan to use your Self-Destruct ultimate for offensive purposes, you need to break line of sight from your mech immediately upon hitting the ground or risk the embarrassment of being killed by your own explosion.
Genji
Role: Offense
Genji has an incredibly high skill ceiling, requiring you to figure out the optimal range for combating the other heroes. If you're squaring off against a long-range defender, you need to know when to Deflect their abilities so you can get in close and shred them up with a Swift Strike. But if a tank comes your way, Genji's such a glass cannon that you'll want to get out of there ASAP with an evasive Swift Strike and pepper them with Shurikens from afar. Fortunately, Genji's high mobility from his double-jump and wall-running lends itself to this nimble playstyle nicely.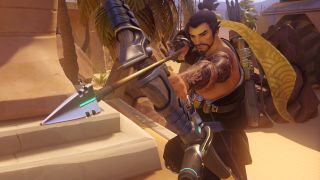 Hanzo
Role: Defense
In contrast to Widowmaker's defense-oriented sniping, Hanzo is just as adept at pushing forward as he is at holding down the fort. His firing mechanics are the key to his power: instead of reloading a clip, Hanzo takes a split second to nock another arrow between shots from his Storm Bow. And because you never run out of ammo in Overwatch, this essentially means that you can fire off arrows nonstop for the entirety of the match, which is incredibly powerful on both offense and defense. Also, because his arrows have a slightly delayed impact, you're practically incentivized to fire without looking just to keep up your steady pace of shots. As long as you aim in the general direction of where the enemy will be, there's a good chance you'll hit your mark without even looking (and appear to be some kind of precognitive sniping prodigy in the process). Hanzo's ultimate is also perfect for dismantling a stationary Bastion or Torbjorn turret.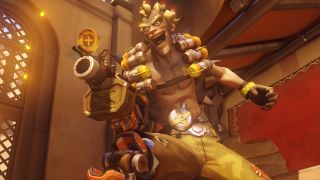 Junkrat
Role: Defense
When played to his full potential, Junkrat can wreak havoc on your opponents' best-laid plans. But getting a bead on his erratic movement capabilities is a lot trickier than it looks, because you need to know when to use his Concussion Mine as a damaging explosive for others or a mobility-enhancing jump pad for yourself. If you're partial to TF2's Demoman, Junkrat's Frag Launcher works in much the same way - the key difference being that you'll never run out of ammo, so you can launch long-range grenade volleys all day if you stay at a safe distance. Once you've figured out your angle of attack, the Steel Trap can act as a great alarm: even if enemies don't trigger it directly, they usually can't resist destroying it on sight, letting you know that it's time to turn around and fight or hightail it out of there.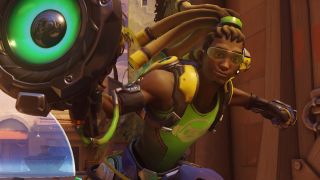 Lucio
Role: Support
Good god, is Lucio fun to play. He's one of the most active healers around, able to dash towards danger then replenish everyone's health bars when he gets there. His ability rotation is pretty straightforward: the moment you spawn in, switch your Crossfade to the movement buff (green), then use Amp It Up to increase its effectiveness and zip you and your allies towards the fight. Once there, Crossfade again to the healing aura (yellow), then Amp It Up again, as the cooldown will have likely elapsed. All the while, you can dole out damage as if you were an Offense hero, making sure to use your Sound Barrier ultimate whenever it's up, and knocking back attackers with the secondary fire of your Sonic Amplifier.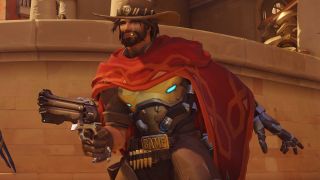 McCree
Role: Offense
The secret to McCree is mastering the instant-reload properties of his Combat Roll ability. That's the lynchpin of his go-to combo: stun your target with a quick Flashbang, unload your Peacekeeper ammo with the secondary fire, Combat Roll towards them with a melee hit, then fire off your new clip to finish 'em off. This should be more than enough to kill any enemy one-on-one, with the possible exception of Tank heroes - but when a Tank and their healer roll up on you, you can simply Combat Roll to safety. And even at long range, the Peacekeeper is incredibly accurate (and damaging to boot). Also, don't get discouraged if your Deadeye ultimate is constantly being shut down - it takes a little while to figure out the timing on when you want to unleash your shots.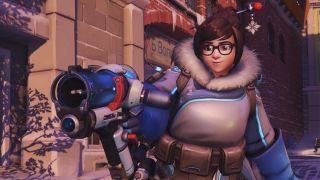 Mei
Role: Defense
Mei does it all. She's currently one of the strongest heroes in the game, due to her amazing utility: she can push forward and tank for her team just as well as lock down a defensive position and make it almost impossible for the enemy team to progress. If you connect enough hits with her easy-to-aim Endothermic Blaster, you'll freeze the enemy solid and deny their movement and ability use. This means that Mei is all but guaranteed to win one-on-one fights, and if the odds aren't in her favor, she can simply Cryo-Freeze then Ice Wall while she waits for backup. When used in conjunction with your teammates' AOE abilities, Mei's Blizzard ultimate is just absurd, able to wipe out the entire enemy team without breaking a sweat.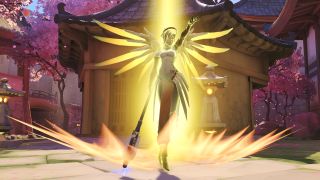 Mercy
Role: Support
Mercy offers the same steady stream of healing as TF2's Medic, but she lacks the swingy power of his Ubercharge, and is far more reliant on her teammates' performance to be effective. Unlike the Medic, Mercy has basically no way to defend herself; her Caduceus Blaster will only kill the most weakened of enemies. Instead, you'll have to shadow someone else at all times, alternating your Caduceus Staff between boosting their damage and healing their wounds (the former being especially powerful on a Bastion, if you're on defense). Luckily, you can glide over to teammates almost instantly with your Guardian Angel ability. Mercy's Resurrect ultimate (which brings dead allies back to life) is best used in response to enemy ultimates; they wipe your teammates, and you bring 'em right back into the fight. Just try not to use it until two or more heroes have fallen.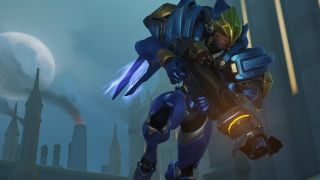 Pharah
Role: Offense
If you're fond of old-school arena shooters like Quake and Unreal Tournament, Pharah's your girl. Her futuristic Rocket Launcher functions just like the classics, able to fire off a volley of six highly accurate, medium-speed rockets to help blast defensive positions to bits or score kills through a mix of splash damage and direct hits. Her Jump Jet ability lets you vault around the map without the self-harm of the traditional rocket jump, which can also put you in a prime position for an aerial Barrage ultimate. But be aware that sometimes it's actually better to unleash a Barrage of rockets from the ground, since snipers and other Offense heroes can easily pick you out of the sky mid-ultimate.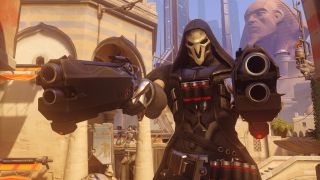 Reaper
Role: Offense
Reaper is all about the sneak attack. If you can get the jump on your enemies, you're pretty much assured a killing spree - but if you saunter up to a pack of opponents and they're even looking in your direction, you need to turn tail and run. Luckily, fleeing fatal situations is a cinch with Reaper's Wraith Form ability, and setting up for quick shotgun blasts to your enemies' exposed backs is easy if you Shadow Step to out-of-the-way perches on the map. Be warned: you're not invincible during your high-damage Death Blossom ultimate, so you should reserve it for when your targets are unaware that you've flanked them.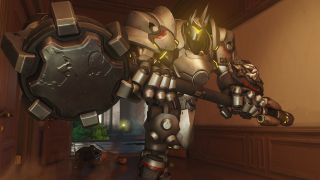 Reinhardt
Role: Tank
With his ridiculously resilient shield and strong mobility, Reinhardt is probably the strongest 'pure' Tank in the game. Because it's so difficult to actually disable your shield with damage, opponents usually won't even bother trying, giving you free reign to trudge around the map protecting your allies and pushing up towards capture points. Your Charge ability is typically a one-hit kill on most heroes, and when nobody's around, you can use it to zip across the map. Reinhardt's Earthshatter ultimate can easily put the kibosh on an opposing push, and the Rocket Hammer's devastating damage more than makes up for your lack of ranged options besides the somewhat weak Fire Strike.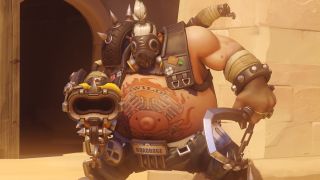 Roadhog
Role: Tank
If your aim is true, Roadhog can dismantle an enemy offensive piece by piece with his powerful Chain Hook. This get-over-here ability has substantial range, and if it connects, the victim will usually be too surprised or disoriented to recover before you blast them in the face with your shotgun-esque Scrap Gun. Between his massive health pool and the sustainability of his quick-healing Take A Breather ability, Roadhog can sustain a ridiculous amount of punishment before he needs to think about running for the nearest health pack. If any part of Roadhog's kit feels a little underwhelming, it's his Whole Hog ultimate. It might sound like a souped-up version of the TF2's Heavy and his prized minigun, but it's far more effective at pushing opponents away from where they want to be than actually killing them.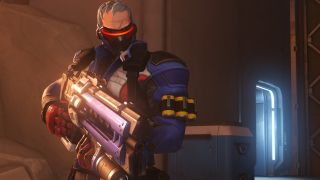 Soldier: 76
Role: Offense
Soldier: 76 is perfect for the Call of Duty crowd, given that he's currently the only hero with the ability to sprint in and out of battle. His Pulse Rifle is also very reminiscent of CoD's assault rifles, given its accuracy at long range and impressive stopping power. But Soldier: 76 has an edge over the forces of modern warfare thanks to the AOE healing of his Biotic Field, which is a godsend when your team's grouped up on a capture point. You can even attach it to the titular vehicle in the Payload mode, creating a temporary mobile healing station that encourages everyone to push ahead. And when his Tactical Visor ultimate is active, Soldier: 76 can effectively act as a sniper, provided he's got line-of-sight on distant targets.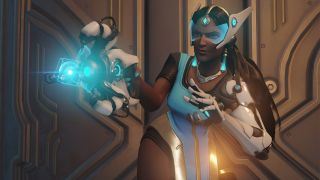 Symmetra
Role: Support
Symmetra feels like she's in a weird spot right now. Besides her Photon Shield ability, which adds a bit of protection to allies until death, Symmetra doesn't have many ways to directly support the team at large. The primary fire of her Photon Projector is pretty weak in most situations, so you're better off trying to line up targets with its alternate firing mode that can pass through multiple enemies. And while your many Sentry Turrets can kill enemies rather quickly, they typically only work once. They rely on taking opponents by surprise; once they've been spotted, your defensive structures will crumple like tissue paper to nearly every weapon in the game. Symmetra's Teleporter ultimate is easily her best asset, deploying instantaneously (unlike the built-up nodules of TF2's Engineer) but only sustaining a fixed number of teleports. Just make sure not to accidentally drop it in your home base, or your teammates might very well hate you.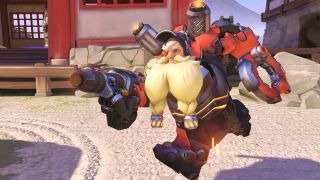 Torbjorn
Role: Defense
With his deployable turrets and multipurpose Forge Hammer, you'd think that this magnificently bearded dwarf would be a 1:1 version of TF2's Engineer. But rather than plunking down a 'sentry nest' and staying put to repair it, Torbjorn is much more active and aggressive. His Rivet Gun can act as a mortar or a short-range shotgun, and you'll need to charge into battle to pick up scrap for your turrets. You should also try to ration your scrap accordingly; Armor Packs are great for upping teammates' survivability (or shielding yourself in a pinch), but they deplete 50 scrap from your max-100 stock. In other words, don't deploy Armor Packs willy-nilly when what your team really needs at the moment is a defensive turret. Also, your Molten Core ultimate can effectively make you a tank for a brief period of time, should the situation call for it.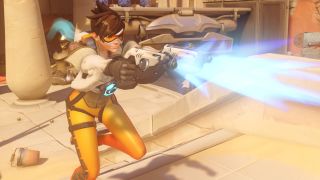 Tracer
Role: Offense
As with the TF2's agile Scout class, Tracer specializes in hit-and-run tactics that are mainly meant to annoy the opposing team, if not kill them outright. The clips on her twin Pulse Pistols empty in a flash, so you basically get one attempt at a kill before you need to zip away to reload and plan your next quick strike. The Recall ability is essential to this strategy, letting you instantly reload your clip and reset your position for a quick one-two punch in small skirmishes, while also acting as a get-out-of-jail-free card if you get caught out of position near the enemy team. Don't expect to decimate targets with Tracer's Pulse Bomb ultimate; it's best used to deny space when your opponents are pushing up rather than trying to score kills.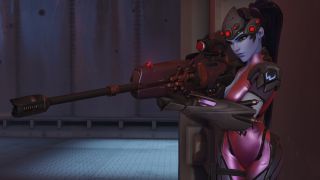 Widowmaker
Role: Defense
Widowmaker is the sniper's sniper, with a kit specifically designed for climbing up to a high vantage point, covering your six with a Venom Mine, and getting your long-term camp on. Her Widow's Kiss sniper rifle operates similar to the Sniper in TF2, where staying scoped boosts its power - but compared to that headshot-happy Australian, Widowmaker's weapon achieves full power much, much faster. You're free to attempt killshots with a greater frequency, or try to clip part or someone's body rather than waiting until you can get a bead on their fragile dome. You should also abuse the see-through-walls power of her Infra-Sight ultimate to line up your shots while in cover, pop out for line-of-sight to score a speedy kill, then dip back to safety and recharge for the next one-shot execution.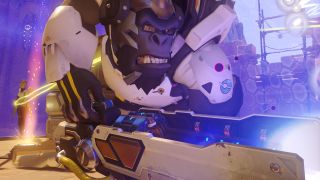 Winston
Role: Tank
Winston's a bit more fragile than you might expect from a giant, armored gorilla. The Tesla Cannon takes forever to kill opponents, and its effective range is tough to discern, so you should get used to meleeing enemies to death with your fists. On the plus side, you can pounce onto unsuspecting targets with the Jump Pack ability, which is also amazing for bounding across the map and towards critical objectives. Don't expect the Shield Projector to save your life mid-fight, but always make sure to deploy it when teammates are near a capture point. And when you switch to the melee-only mode of his Primal Rage ultimate, you'll be glad you practiced with all those close-up kills.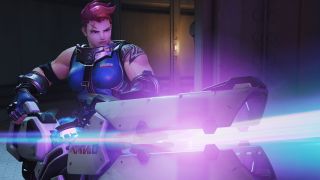 Zarya
Role: Tank
It's incredibly difficult to play Zarya effectively. Though she's classified as a Tank, she lacks the durability and damage output of the other tanks, and like Winston, her primary Particle Cannon isn't all that effective at scoring kills. Zarya's better played as a Support, due to her Project Barrier that shields teammates, and the fact that her Graviton Surge feels specifically designed to set up alley-oops for your allies' AOE abilities. Never use her ultimate without substantial backup nearby, because there's nothing more depressing than pulling a group of enemies into a mini black hole, only to have them kill you immediately afterwards.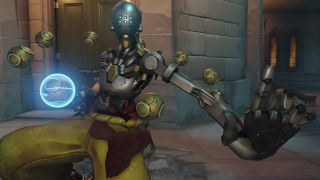 Zenyatta
Role: Support
Like Lucio, Zenyatta is surprisingly effective at acting as part of the team's offense even while he's supporting. His healing ability, Orb of Harmony, is effectively 'fire and forget'; simply plop it onto the tankiest ally before going off to do your own thing. That might very well include a killing spree: when combined with the debuff from his Orb of Discord (which automatically hits whoever you've targeted), Zenyatta's default Orb of Destruction arsenal can whittle away an opponent's health in seconds, especially when charged up with the secondary fire. His powerful kit is rounded out with the impossible-to-screw-up power of the Transcendence ultimate, which will easily turn the tide of any skirmish in your team's favor.