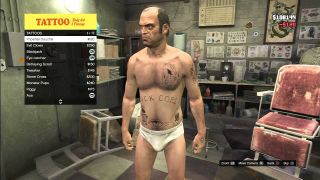 Draw your heart on your sleeve
Ever since games graduated from rendering pixelated plumbers to creating more and more impressive art, tattoos have made their mark on gaming history. From visual histories, to symbols bearing magical power, to ridiculous drawings that have no reason to exist, video games are rife with some of the most interesting ink you're likely to see anywhere.
With so many awesome tats programmed into just as many games, I decided to seek out the best of the bunch. While there were a ton on display and some hard choices to make, the final selection is worth immortalizing. Here we have the 19 sickest tattoos in gaming, starting with...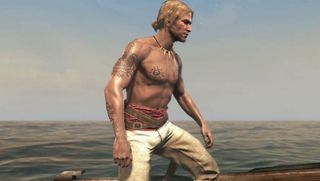 Edward Kenway's self-expression
Getting serious ink always demands commitment, because it is one painful procedure that is even more painful to undo. Now, imagine that level of confidence, plus knowing that your artist will be an untrained sailor operating under horribly unsanitary conditions, and then getting it done anyway. Also, there's no way of getting that tattoo of 'Mary Read 4 Eva' removed in 18th century Kingston. That's how committed Edward Kenway is to his body art, and he may be slightly insane.
Though Edward's tattoos usually aren't within full view, take on a diving or whaling mission and you can get a good look at just how inked up this guy is. You dont get an explanation for what each means, but it's easy to wager some guesses: the ship and the skull-wheel scream loyalty to the pirate life, and the crown on his shoulder could be a mark of self-rule. Also, if you look closely, the tattoo on his left shoulder appears to be an image of his wife. Aww, what a sweetie.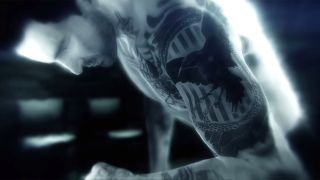 Ronan O'Connor's life story
If ever there was a living (or, well, dead) canvas, this man is it. The story of Ronan O'Connor's life is told in his tattoos, literally--Murdered opens with a flashback of the major events from his life, with tattoos appearing on his body to represent each one. From an ugly, flaming dollar sign etched on in his youth, to a chest-piece inspired by his late wife, to a gigantic sleeve expressing not-so-nice thoughts about his line of work, looking at Ronan's ink says a lot more about his life than talking to him ever does.
While his tattoos don't play a huge role in the game's main storyline, they effectively establish his character, and come up a lot in the diary entries from his wife scattered around Boston. Learning what each means gets her thinking about what kind of person he is and if it's worth it to be with him. If the game had been executed a bit better, might have got us thinking about the same.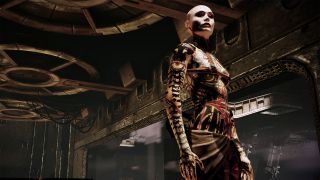 Jack's body suit
If anyone on this list is likely to go full Rick Genest, it's Jack, since she's about 9/10 of the way there anyway. So tattooed that some people actually think she's wearing a shirt, Jack apparently did most, if not ALL of her art herself, making her that much more badass. If asked the right questions, she'll tell Shepard her ink symbolizes a wide swathe of things, from prisons she's escaped, to people she's killed, to times she just felt like getting a tattoo and you can fuck off. Anything more specific than that, though, is left up to speculation.
As flippant as Jack can be, body art is one of the few things she takes seriously. If Shepard pursues a relationship with her that lasts through Mass Effect 3, in place of a sex scene she'll tattoo him, making sure he can be identified if he's injured or killed in battle. That's remarkably sweet, for her.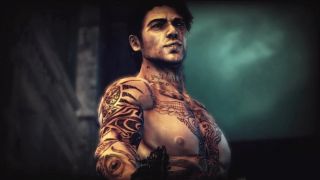 Garcia Hotspur's promise
If the skull-faced machine gun he's toting doesn't say badass, Garcia "Fucking" Hotspur's tattoos will, intimidating and masterful things that they are. Well suited to a man who kills demons with a smile and a raised middle finger, his ink gets shown off even before his face does in the game's opening sequence. Not surprisingly, most of his tattoos seem to reflect his battle against the forces of hell, with several All-Seeing Eyes, skulls and demon horns peppered into the mix.
The one with the most plot significance, though, is the calligraphy on his neck which reads, "I would kill the world before it did you harm." This clearly refers to his girlfriend Paula, and since he spends the entirety of his journey doing just that, it's safe to say that bit of art was a good investment.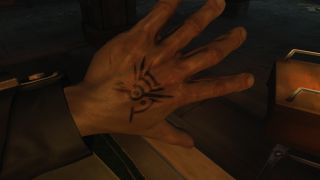 Corvo Attanos Outsider mark
Though it may not be as elaborate or obvious as some of the other designs here, the Outsider's mark on the back of Corvo Attano's hand packs a big, magical punch. Like a college girl after a night of crazy binge drinking, he wakes up with this bit of art and a vague memory of how he got it. However, unlike that college girl, Corvo's gifted with an arsenal of magical powers as a result of getting inked, including possessing a fish, stopping time, and summoning legions of hungry rats. Score!
While the design of the symbol doesn't bear any obvious significance, it takes on such importance in Corvo's world that you wouldn't know the difference. It becomes synonymous with badassery, since all of the Outsider's favorite folks get one and use it to change the world to their liking. It's even inspired some real life imitators to boot. Sadly, magic isn't included.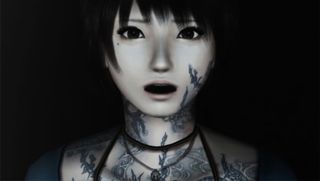 Rei Kurosawas demon tattoo
When it comes to sick tats, you can't forget Rei Kurosawa, cursed by a vengeful spirit and being slowly killed by parasitic body art. Haha, get it? Sick tattoo?? okay.
In constant mourning for her fianc Yuu, Rei is a shut-in who suffers immense survivor's guilt and has broken off contact with the rest of the world. Sinking deeper and deeper into self-blame, she starts having dreams about an old mansion and wakes up with a tattoo which resembles a snake and holly vines. Leafing through old books found throughout the game world shows there's some specific symbolism here, as holly is meant to represent spiritual pain and snakes eat the hearts of those in deep mourning. Funny enough, it comes to light that Rei's tattoo used to belong to a dead priestess who haunts regretful survivors. Plus, the deeper Rei goes into the mansion the more it consumes her soul. But hey, on the bright side, it looks cool as hell.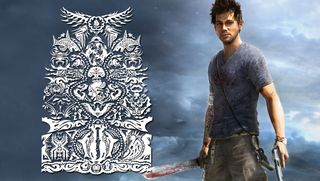 Jason Brodys tatau
In an unprecedented move for Caucasian dude bros, Jason Brody gets himself a super sweet tribal tat on his vacation to the Rook Islands. What makes it even sicker is that he can use it to unlock his innate warrior-ness, getting smarter, tougher and faster as his "tatau" grows by some ink-based witchcraft. Ooooh, yolo swag, brah!
Receiving his first bitty armband from Dennis after being rescued from Vaas, Jason can make the tattoo grow by unlocking upgrades and collecting relics throughout the game. The design is centered on three animal figures--the shark, heron, and spider--who are all associated with different kinds of abilities Jason can learn. Expanding the tatau into an intricate sleeve turns Jason into a mighty warrior who can destroy anything that gets in his way. Citra also promises that doing as she commands with grant him the "final tatau", but he kind of has to break the bro code to get there. Decisions decisions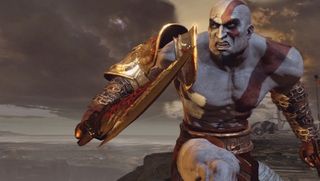 Kartos' war paint
Kratos' crimson swath is as much a part of Spartan's image as his Blades of Chaos and that manly kilt. It's the ideal tattoo for a murderous deity; a simple yet striking piece of body art that conveys a sense of blood-red rage that can only be tempered in the heart of battle or a mini-game orgy.
As any God of War historians can tell you, Kratos' tattoo represent more than his talent for brutality. In God of War: Ghost of Sparta, Kratos applied the trademark ink as a tribute to his late brother, Deimos, who bore a similar birthmark that wound up getting him snuffed out by the higher-ups out of fear he would burn Olympus to the ground. Kratos later repaid the favor by ripping the gods to shreds over the course of six games. Advantage: Kratos.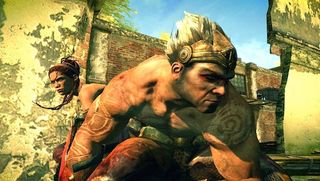 Monkey's scars
Reason #278 why you should drop what you're doing (unless it's caring for an infant) and play Ninja Theory's overlooked Enslaved: Odyssey to the West? Monkey's tattoos. Much like Monkey himself, these homemade etchings are understated at first glance, but take on a deeper complexity with each passing scene. Ninja Theory explained that the seemingly random tattoos are self-inflicted trophies representing Monkey's victories over his robotic foes. Think of them like PSN trophies, except a tad more permanent*.
Ninja Theory and Namco Bandai offered a heavily tattooed Monkey with special melee bonuses as a pre-order perk. The Classic Monkey look brought the character closer his Chinese fable roots, but we still prefer Monkey's natural style all the same.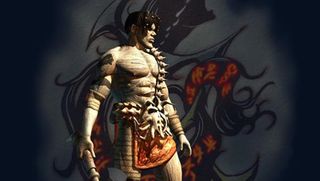 The Nameless One's living record
Like Enslaved's Monkey, Planescape: Torment's The Nameless One also used his body as a mobile diary. Unlike Monkey, however, Black Isle's immortal brute relied on said tattoos to keep track of his past lives and protect himself against a long list of enemies. As a result, The Nameless One (TNO for short) became one of the more unique characters in RPG lore.
As the old-school crowd will fondly recall, tattoos in Planescape: Torment doubled as inkable armor, granting players numerous perks, defensive traits, and stat enhancements. By the time his journey was over, TNO's body became something of a living sketchbook for runes, stories, spells, and battle scars. It doesn't get much sicker (or more uncomfortable) than that.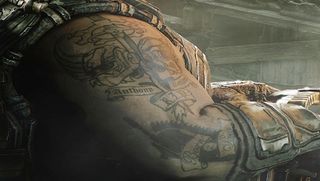 Clayton Carmine's family tribute
The Gears of War games are riddled with bro-worthy tattoos, but in the end it's Clayton Carmine's right arm tribute to his fallen brothers that gets our vote. Call us sentimental, but there's something about an inked homage to dead siblings accompanied with the image of Mk 2 Lancer Assault Rifle and the words Born to 2 Saw that brings a bro-tear to our bro-eyes. Clayton's arm tattoo makes us want to simultaneously hug this bacon-loving member of the Gears squad and choke out the nearest Lambent Berserker.
Honorable mentions go to Tai Kaliso's face paint, and Dominic's angelic tribute to his late wife. Sorry bros, maybe next year?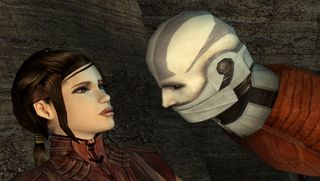 Darth Malak's head paint
A perk of becoming Dark Lord of the Sith is that you have the freedom set your own fashion statement and strike down any and all who oppose it. Not that Darth Malak, the chief baddie in Star Wars: Knight of the Old Republic, ever needed to defend his blue-grey head paint because, come on, those are just plain cool. Technically, Darth Malak (born Alek) applied the head tattoo well before he assumed his dark side duties, but the tattoos are best remembered for their Sith Lord affiliation. Well, that and Malak's prosthetic jaw, but that wasn't so much a fashion choice as it was a necessity for chewing solids.
Star Wars aficionados will argue Darth Maul is a more appropriate choice to represent the franchise's affinity for face tattoos. This is true, but we wanted to highlight a Sith who was made specifically for video games, and one who did more than dance around for 15 minutes before falling down an exhaust pipe.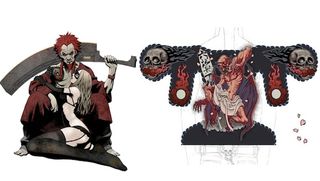 Death Metal's body art
Not all assassins are content with skulking about into the background. Take No More Heroes's Count Townsend (aka Death Metal) for example. Here's a man/monster who prefers to wear his proficiency for death and dismemberment on his sleeve, shoulders, back, face, and pretty much every inch of available skin. Not one for subtlety, Death Metal is painted head to toe in demonic imagery, the sum of which speaks of an assassin who prefers to make a scene, rather than deal in shadows. Sure, it's not the most effective method, but who are we to critique?
Death Metal's tattoo scored its own place in No More Heroes's trading card meta-game. This was a boon for fans who wanted to recreate the tattoo in real life, but not-so-great for the same fans who also wanted gainful employment and/or a stable relationship.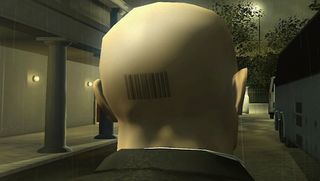 Agent 47's barcode
The perfect ink for the perfect assassin, Agent 47's barcode is proof a tattoo doesn't have to be flashy to be sick. As anyone who's been on an assignment with IO Interactive's stoic killer can attest, the symbol stamped at the back of 47's skull is a lot more than a random grouping of lines and bars. Translated up close, the barcode identifies baldy as one of The Agency's genetically engineered super-assassins, and includes the number 47 as inspiration for his codename in the final two digits.
Fun fact: The barcode displayed at the tail end of the 2011 trailer for Hitman: Absolution was initially attached to a bag of dildos. I guess we know how Agent 47 spends his downtime?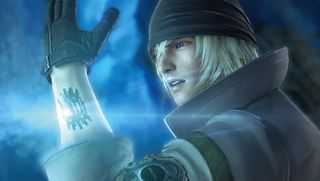 Final Fantasy XIII's L'Cie brand
If you can overlook the fact that being marked with a L'Cie brand in Final Fantasy XIII meant becoming a meat-puppet for a race of demi-gods, those futuristic tattoos were pretty rad. After all, Cocoon chicks dig tattoos that say, I'm playing an important role in the future of all mankind, while also suggesting that you might transform into a homicidal monster or be enslaved in crystal prison at any time.
From what we gather, L'Cie brands come in two flavors. Those bestowed by Pulse L'Cie resemble overlapping black arrows guarding a central eye that opens as the wearer grows nearer to his Cie'th fate. Those bearing the brand of the Cocoon fal'Cie wear an emblem of the god Lindzei, which also grows over time. Both can be burned out a number ways, thus saving the wearer from their fate. But what's the fun in that?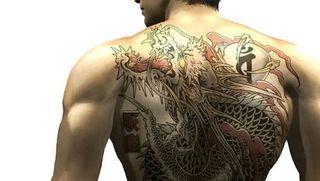 Kazuma Kiryu's dragon
Kazuma Kiryu's back tattoo is as legendary as the fictional Yakuza bigwig himself; and for good reason. The intricate dragon illustration is the inspiration for Kiryu's Dragon of Dojima nickname and highly symbolic of his alpha male nature.
Tattoos have long been a significant part of Yakuza tradition. They're meant to capture the soul of their wearer and express one's dedication to the Yakuza lifestyle. And then, if you're Sega, Yakuza tattoos can also be used as a cool promotional giveaway. In March 2011, the developer awarded one Fari Salievski with a $9,000 version of Kiryu's back tattoo. Thankfully, Salievski also happens to be a 7th degree martial arts master, so if the real Yakuza come knocking, at least has a fighting chance.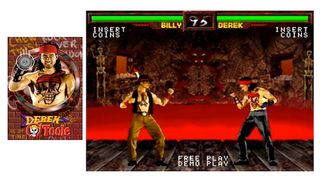 Derek O'Toole's assassin tattoo
Is it any surprise that the raddest member of the Tattoo Assassins made this list? It shouldn't be. Derek O'Toole's chest tattoo is easily one of the sickest tats in gaming, because a) check out that detail and b) seriously, have you ever seen anything more awesome? As the Shakespearean tale goes, O'Toole was a former rock star who took shelter in the underground club scene after being accused of having terrorist connections. In retaliation for this most heinous allegation, O'Toole signed up as a Tattoo Assassin and wreaked brutal vengeance with his magically enhanced skull tattoo.
We know how this looks. You think we only included a character from Tattoo Assassins because it was the first game to pop up in our Google search for video games and tattoos." You couldn't be more wrong. Tattoo Assassins represents a pivotal turning point in game design, and a unparalleled achievement in tattoo desi-... ah screw it, you caught us.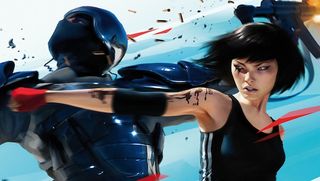 Faith's Runner tats
We don't actually know anyone who makes a living delivering information in a repressed futuristic society, but we're pretty sure the last thing anyone in that job wants to do is stand out. Nevertheless, Faith's tattoos fly in the face of Mirror's Edge's totalitarian regime, and that's what makes them special. In a world where Runners live and die by their ability to avoid identification, Faith's angular eye and circuitry tats stand out as a bold middle finger to oppressive powers-that-be.
The symbols also flesh out the history of EA DICE's free-running rebel. In Wildstorm Productions's limited run of Mirror's Edge comics, fans learned that the sharp tattoo around her right eye was applied to celebrate Faith's first successful run, and her digitally-inspired arm sleeve was drawn up after her assault on Silvine Security Systems.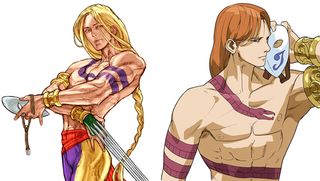 Vega's snake
It takes a certain physique and cocky attitude to pull off the upper-body snake tattoo, and Street Fighter's Vega certainly fits the bill. The shirtless sadist has worn his purple tattoo with pride ever since debuting in Capcom's fighting series, even incorporating it into his winning taunt in Capcom vs. SNK 2. Snaking across Vega's torso and wrapping around his right arm, the tattoo is a defining mark of this nobleman turned psychopath. It also happens to be a logistical nightmare for Street Fighter cosplayers.
Designers outfitted Vega with the snake tattoo as a means of identifying him as a villain to Japanese players, who associated body tattoos with those worn by members of the organized crime group, Yakuza. And speaking of Yakuza...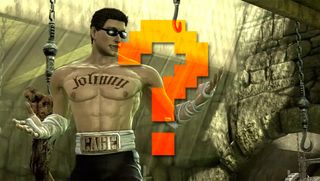 He asked for a 13, but they drew a 31...
These are our picks for the sickest tattoos gaming has to offer, and the hardcore folks who bear them. Which of these is your favorite? What amazing bodily etchings did we miss? Were you so enamored by one of these masterworks that you decided to get one yourself? Tell us in the comments below, and leave your mark.
Want more body-modding awesomeness? Check out The 100 best video game tattoos, or The most overused art styles in all of video games if you can handle the pain.