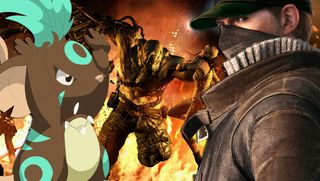 Bringing out your evil side
Do you find delight in watching someone else suffer, seeing them wholly denied of any enjoyment that life could potentially offer? Guess what: you're either a psychopathic serial killer in the making, or you're what gamers have come to know as a "griefer" (or hey, maybe even both). Griefing has been around ever since humans interacted with one another in games. There are many variations of griefing, but all of them boil down to deriving fun by making other players miserable.
You'd think that griefing would be a surefire way to ruin a game for everyone involved, save the griefers themselves. Yet some games boldly dare to actually encourage griefing, hinging their multiplayer experience on the kind of utter chaos that happens when players can annoy, torment, and harass one another totally unchecked. Can you take a little rascally griefing just as well as you dish it out? These multiplayer experiences are your ultimate playground.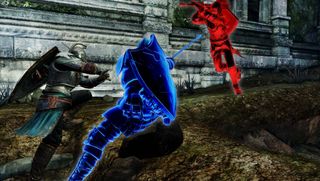 Join a Brotherhood of griefers in Dark Souls 2
By now, everyone knows that Dark Souls 2 is a punishing game that's totally worth the pain, pushing you to your limits of tenacity in a gothic fantasy world. But if you've never delved into the Souls series in earnest, you might not know about covenants: designated factions you can align with to unlock certain benefits and effects. And of those covenants, DS2's Brotherhood of Blood was made for griefers. Swearing an oath to this society lets you invade other players' games at will, giving you free reign to slaughter the unsuspecting or backstab them when they're occupied with other enemies.
Since the Brotherhood of Blood actively encourages in-game griefing with lore, developer FromSoftware smartly implemented a countermeasure to balance the forces of good and grief. Pacifist players who are only interested in online co-op can join the Way of Blue covenant as insurance. This means that, when others are inevitably invaded by a grief-happy Brotherhood of Blood disciple, they can summon yet another player from the Blue Sentinels covenant, whose sole purpose is to protect the victims of invasion. The Blue Sentinels are essentially anti-griefing mercenaries. That's freaking awesome.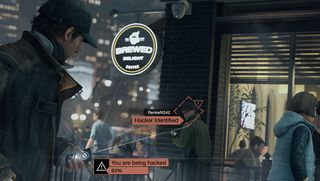 Turn other players into marks with Watch Dogs
Taking a page from Dark Souls' book, Watch Dogs seamlessly integrates glorious player-killing into the regular ol' open-world gameplay. Rather than covenants--such a Dark Ages term--Watch Dogs features Online Hacking, in which your Aiden Pearce invades another player's game for the sole purpose of disrupting their experience. One moment your target is siphoning funds from ATMs; the next, they're being forced into a standoff with an unwelcome stranger.
Rather than leave it at that, Watch Dogs doubles down on gamified griefing with its companion app, ctOS Mobile. This makes the "second-screen experience" competitive rather than cooperative: whoever's participating on their iOS or Android device is actively manipulating Chicago's hackable objects to frustrate and impede Aiden on the big screen. Essentially, this free app gives you godlike power over the environment, with the sole purpose of making life difficult--i.e. griefing--your pals. It's a veritable griefer's delight.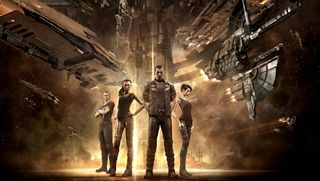 Bring financial ruin to your competitors in EVE Online
CCP's magnum opus has all the corporate greed, cutthroat attitude, and merciless takeovers of a movie like Wall Street, only set in deep space. This sci-fi MMO offers a universe of total freedom--and when players are given total freedom, griefing is bound to be involved sooner or later. Much of EVE's end goals revolve around building up resources, slowly making a name for yourself and building up the ISK currency in the bank. Or, you could really make your mark on the galaxy by extorting, scamming, or straight-up stealing money from your fellow players.
Turns out, greed and griefing often go hand in hand; thievery is that much more devilishly satisfying when you're actively depriving others of their hard-earned capital. EVE's history is full of Ponzi schemes and corporate takeovers, where a few key players screwed space-chumps out of trillions of in-game credits. In most MMOs, these activities would probably be grounds for a ban--but in the largely lawless reaches of EVE's space, anything goes. Including legendary acts of griefing that the victims will never forget.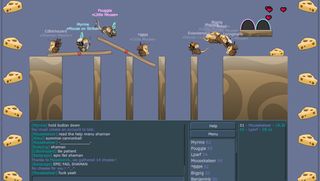 Use your godlike powers for evil in Transformice
Here's one you might've missed--understandable, since it's a Flash game that got 15 minutes of fame way back in 2010. Transformice is a multiplayer-only 2D platformer that seems to be incredibly straightforward: as a single mouse in an online gang of rodents, you must simply collect a piece of cheese and bring it back to your mousehole. Ah, but there's a twist: some players will randomly spawn as Shaman mice, giving them the divine power to create objects in the level at will.
A wise, kindly Shaman will use their gifts for the greater good, creating platforms that will ferry the other mice safely to the cheese and back. A griefing Shaman--which is the case 99.9 percent of the time--will immediately go mad with power, dooming mice to death with flimsy platforms, balls of physical force, and unstoppable anvils. With the mob mentality that Transformice evokes, the resulting acts of griefery always result in hilarious failure, with mice cursing the gods as they plunge into the abyss. It must be seen to be believed.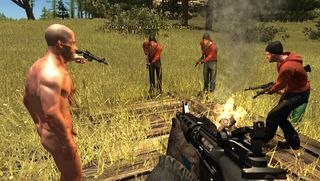 Make people strip at gunpoint in Rust
Simply put, Rust is man's inhumanity to man turned into a video game. Playing reverts you back to all your primitive instincts, as you're plopped into the wilderness, naked and alone, and told to simply survive. At first, there's a satisfying peacefulness to the simple act of foraging for food, gathering rocks to hit against other rocks, and building a shelter out of whatever you can find. But then you remember this is a multiplayer game--and that moment of realization is probably going to be the exact moment that you are unceremoniously killed, stripped, and relieved of all your virtual possessions.
Like Day Z, Rust is a griefers' paradise, where the more sadistic among us can scrounge up a bit of in-game power, then torment, humiliate, and murder perfect strangers without a single consequence. Unlike Day Z, Rust doesn't even feel the need to factor in a zombie apocalypse or hordes of deadly NPCs to justify all this barbaric madness. Nope--it seems humans are just this horrible to one another by their very nature.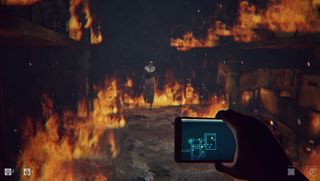 Prey upon someone else's fears in Daylight
Sure, this first-person horror game might've not lived up to its full potential, dragging down the interesting premise of randomly generated scares with predictable gimmicks and a confusing, clichd plot. But it does put forth a delightfully clever way for players to grief one another--despite the fact that Daylight isn't a multiplayer game. The trick is to exploit the relationship between Twitch streamers and their viewers, particularly the glee the audience derives from watching whoever's broadcasting shiz their pants live on the air.
By typing in certain commands into the chat--scream, static, feet, and so on--players can actually cause changes in gameplay for Daylight livestreamers. What could give a griefer more sadistic amusement than triggering just the right scare, at just the right unexpected moment, to make the broadcaster freak out? Or better yet, spam the chat with commands to drive the player insane? Daylight might've crashed and burned, meaning nobody streams it anymore, but the idea pioneered new territory in the art of griefing.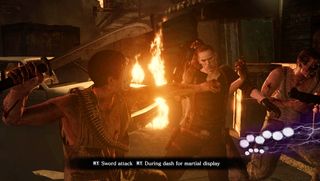 Repeatedly gang up on suckers in Resident Evil 6
If you've played Resident Evil 6 on a system with an Internet connection, you might've noticed something odd. Typically, the zombie hordes are pretty predictable, lurching at you in preset patterns. But at some points in the campaign, the difficulty suddenly ramps way, way up, with undead creatures and mutants gaining hyper-awareness and seemingly coordinating their attacks. Turns out, those weren't AI enemies--those were actual players jumping into your single-player campaign, by way of RE6's Agent Hunt mode.
When starting up a play session, you're given the option to set your network options to "Open." It's not immediately obvious, but this choice is essentially sending an invitation to grief-happy players who have already beaten the game to invade your campaign and end your life. If two conniving players join your game, they can even use voice chat to organize the best method of killing you, again and again and again until you no longer feel like playing. Sounds like griefing to me!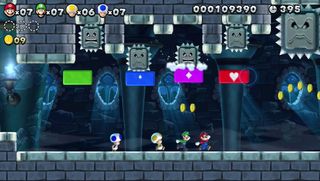 Make your friends seriously consider murdering you with New Super Mario Bros. U
There's a reason that everybody hates New Super Mario's multiplayer: it makes a griefer out of all of us. No matter how hard you try, you will end up inadvertently killing your allies dozens of times. When you factor in all the player collision into the already-tricky stage designs, it's practically guaranteed that three players will sacrifice themselves--often unwillingly--so that a single survivor can reach the end-level flag. It's technically co-op, but there's nothing cooperative about it.
With NSMB on Wii U, Nintendo truly outdid itself with the capacity to grief your so-called "friends." Whoever holds the GamePad wields the power to inflict total misery upon any and all, courtesy of the touch screen's ability to create and destroy new platforms in the level at will. This could theoretically be used to help the other four players cross perilous gaps, or prevent enemies from getting in the way. But the only practical purpose it serves is to aggravate everyone around you to the point of physical violence, as your platforms trap them in fatal situations over and over. It's like Nintendo engineered a game that can ruin friendships.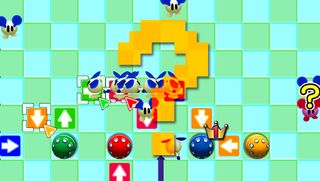 Griefers, trollers, and campers--oh my