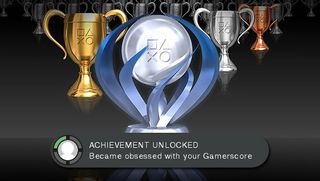 The 25 Funniest Achievements and Trophies
We gamers will stop at nothing to hear that satisfying twinkling noise when we've unlocked an Achievement or Trophy. Even though they basically mean nothing other than virtual manhood size, that doesn't make them any more enticing.

Sometimes, though, an achievement or trophy will also reward us with a hearty laugh, a chuckle, or even a snicker. These 25 Achievements and Trophies top the list of the funniest of their kind.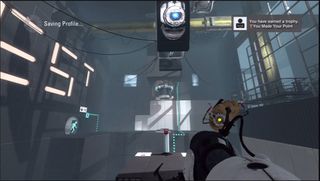 Portal 2 - You Made Your Point (10G / Bronze Trophy)
Refuse to solve the first test in Chapter 8

The first puzzle of Chapter 8 is a perfect place for Portal 2 players to grab a sandwich or use the can. Theres a free Achievement in standing still before solving it.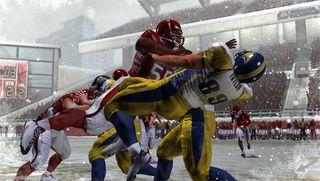 Blitz: The League II - Testikill (20G / Silver Trophy)
Rupture 10 scrotums in any mode of play.

The humor here is strictly in the world Testikill, because the idea of a ruptured scrotum is AWFUL.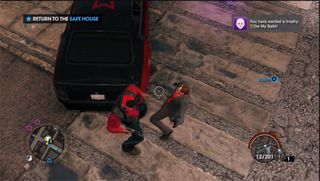 Saints Row: The Third - Ow My Balls! (10G / Bronze Trophy)
Do your first nutshot AND testicle assault.

Yet another reward for penile pulverization, though this one takes the what should be said while being struck in the nether region approach.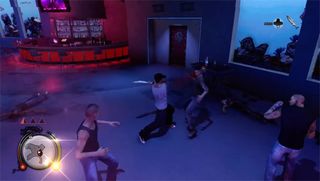 Sleeping Dogs - A Slap In The Face (10G / Bronze Trophy)
Kill someone with a fish.

Because there is no more embarrassing death imaginable than being beaten to death by a fish, A FISH. Not even like, a shark. A FISH.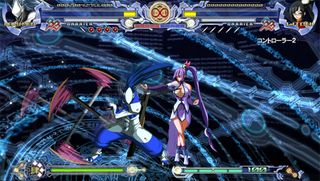 BlazBlue: Calamity Trigger - Be GentleIts My First Time (10G / Bronze Trophy)
Experience a Ranked Match.

Unfortunately to anyone that plays fighting games online, the first ranked match is rarely gentle. Its more like being humbled old country way.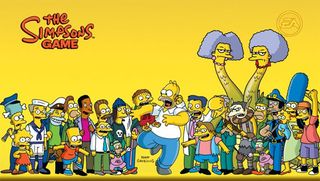 The Simpsons Game - Press Start to Play (5G)
Easiest achievement...ever

Just as the description says: Easiest. Achievement. Ever. Good thing its only worth 5G, right?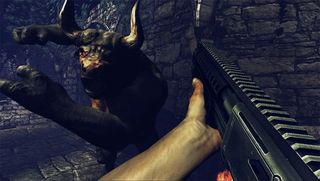 Legendary - DouBull TrouBull and I Owe You An Apology (1G and 14G)
Survive the double Minotaur attack in Episode 8 and The Lead Designer apologizes for writing the terrible pun "DouBull TrouBull" - have some points

Bad puns dont normally make us laugh, but acknowledging a pun was bad right after saying it? Were on board. Not that anyone got this Achievement...since no one played the game...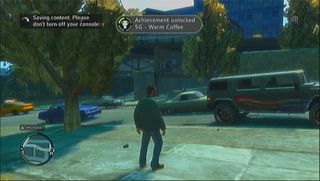 Grand Theft Auto IV - Warm Coffee (5G / Bronze Trophy)
You were invited into your girlfriend's house.

Apparently hot coffee is only hot when we get to see what kind of coffee is brewing. Otherwise, when we voyeurs are left only with our imaginations, its merely warm.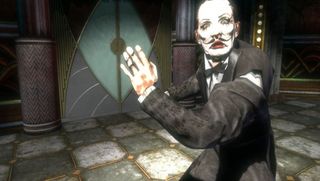 BioShock - Irony (10G / Bronze Trophy)
The player has taken a picture of Sander Cohen's corpse

After everything this maniacal bastard makes Jack do, taking a picture of his corpse is sweet justice...and the purest form of irony.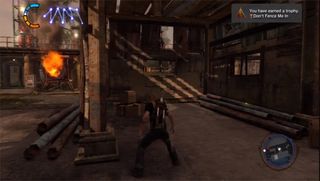 inFAMOUS 2 - Dont Fence Me In (Bronze Trophy)
Climb a chain link fence and rejoice.

Since Cole wasnt able to climb chain-link fences AT ALL in the first game, inFAMOUS fans can get a good chuckle out of this.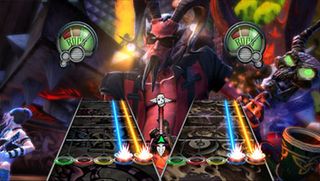 Guitar Hero III - Tail Between Your Legs (0G)
Refuse a boss battle

Its perfectly fine to hold off on one of Guitar Hero IIIs challenging boss battles until a later time; just dont think the game wont rub it in. It might as well call us chicken.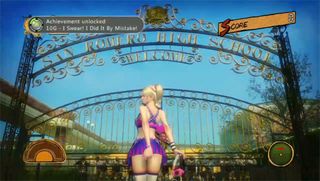 Lollipop Chainsaw - I Swear! I Did It By Mistake! (10G / Bronze Trophy)
Peeped under Juliet's skirt once.

As soon as we saw Juliet, we knew plenty of pervs would try and check out her underside. Kudos to Suda 51 for calling us all out on it.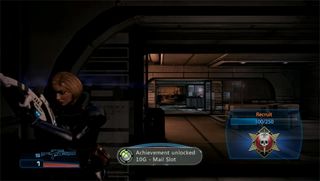 Mass Effect 3 - Mail Slot (10G / Bronze Trophy)
Kill 10 guardians with headshots from the front while their shields are raised.

That slot in the Guardians shield was just BEGGING for some hot lead right through them, werent they? Nice of BioWare to reward our dead eye shooting.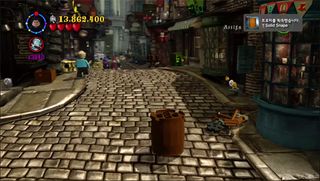 Lego Harry Potter Years 1-4 - Solid Snape (15G / Bronze Trophy)
Hide in a barrel as Snape

We cant help but wonder how Metal Gear would be different with Snape as the protagonist. Better yet, with Alan Rickman as the protagonist. Can this happen? Soon?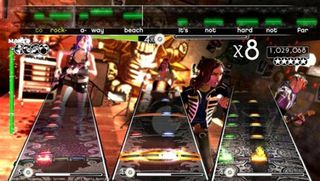 Rock Band 2 - The San Dimas 4th Annual Award (15G / Bronze Trophy)
Compete in a Battle of the Bands event

WILD STALLYNS! Any Bill and Ted reference is OK by us, especially the Battle of the Bands at the end of Bogus Journey. Any time we can remember William Sadlers brilliant performance as Death wins major points.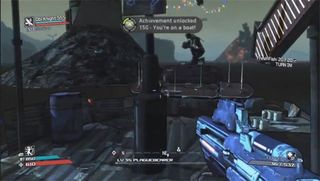 Borderlands - Youre On A Boat! (15G / Bronze Trophy)
I bet you never thought youd be here.

No, we never thought wed be on a boat...in Borderlands. Seriously, the first area of the game is the Arid Badlands. Nothing about that says naval travel.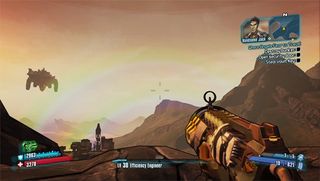 Borderlands 2 - What Does It Mean? (15G / Bronze Trophy)
I cant even capture it on my camera

OH HO HO HO!!! OH HO HO!!! PERFECT DOUBLE RAINBOW ALL THE WAYYY!! WHAT DOES THIS MEAN?! OH HO HO HO!!! Excellent homage to one of the best viral videos out there.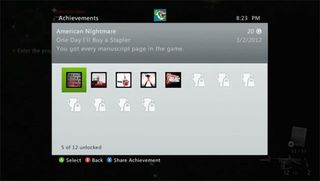 Alan Wakes American Nightmare - One Day Ill Buy A Stapler (20G)
Find all of the manuscript pages.

This achievement brings up an interesting fact: the entire Alan Wake series would be moot with the existence of a single stapler. What, does the Dark Place not have any need of staplers? Milton would be PISSED.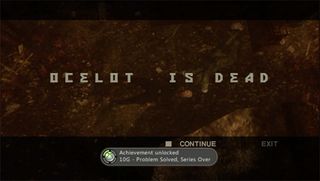 Metal Gear Solid 3 HD - Problem Solved, Series Over (10G / Bronze Trophy)
Create the Ocelot Time Paradox.

Look, we know Ocelot is annoying in MGS3, with his grating voice and stupid hand gesture. Just resist the urge to kill him until the time comes, alright?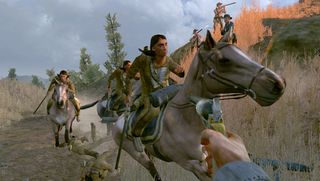 Darkest of Days - Horse Puncher (100G)
Punch a horse in the face, killing it.

Nothing says tough like being able to punch a horse square in the teeth and putting it out of its misery. Hah, take THAT Mr. Ed!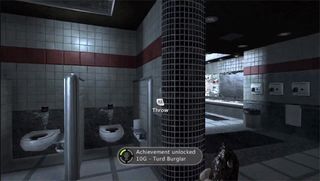 Duke Nukem Forever - Turd Burglar (10G / Bronze Trophy)
Find and steal a piece of poo

The perfect achievement for Duke Nukem Forever: pulling a turd out of the toilet. No, not because of its potty humor, because it's the same feeling the player had when they picked the game off the shelf.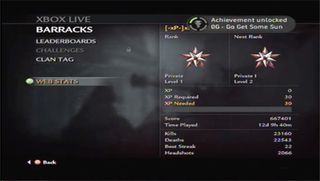 Call of Duty: World At War - Go Get Some Sun (0G)
You achieved the highest level in the game. Time to go outside and find some things to do...

An achievement for 10th prestige in Call of Duty should be expected. An insulting Achievement worth 0G for 10th Prestige in Call of Duty is damn funny.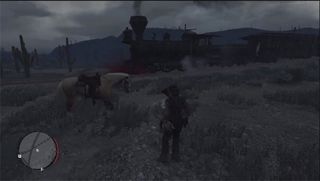 Red Dead Redemption - Dastardly (5G / Bronze Trophy)
Place a hogtied woman on the train tracks, and witness her death by train.

The only thing earning this achievement needed was an old ragtime piano track and slides that said things like HELP! HELP! and You wont get away now! Mwahahaha! *curls mustache*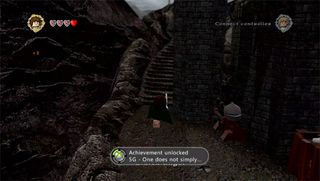 Lego Lord Of The Rings - One Does Not Simply... (5G / Bronze Trophy)
Walk Into Mordor.

We can only imagine how many Lego Lord of the Rings players said the phrase before walking into Mordor, only to get an achievement that echoed it. We laughed out loud when we saw this.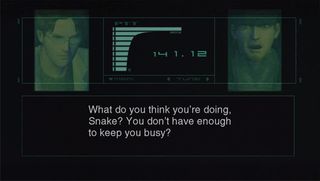 Metal Gear Solid 2 HD - Snake Beater (10G / Bronze Trophy)
Have Otacon catch Snake in a private moment.

One of the funniest exchanges in Metal Gear history becomes the funniest achievement weve ever seen. Snake Beater. Brilliant.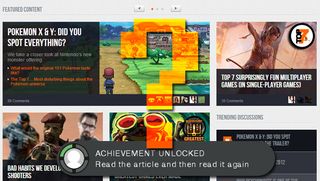 What other trophies or cheevies made you laugh?
There are plenty more funny achievements and trophies out there, so if we forgot one of your favorites, leave it in the comments below.