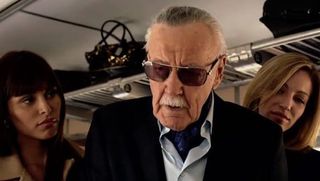 Stan the man
Costumed superheroes eager to battle for what's right. Fight sequences that level entire cities. Pithy one-liners. You could say they're the three defining characteristics of a Marvel Cinematic Universe movie or TV show. Those hallmarks are important, sure, but there's something else that fans seek out. Aside from the obligatory , that is. I'm talking about the cameo appearance of a certain figure in the Marvel community, writer Stan Lee.
With his massive sunglasses and cheeky grin, the 94-year-old is responsible for crafting dozens of well-known superheroes including Spider-Man, Iron Man, and The Hulk. So it's no wonder Stan's appearances are so celebrated. The mere mention of an upcoming cameo sparks excitement amidst the true believers, as he might call them, who love nothing more than hunting down the best easter egg of the lot. Lucky for you, I've got them all right here.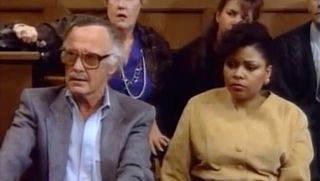 The Trial of the Incredible Hulk (1989)
The cameo: Stan briefly appears as a jury member during the Hulk's trial.
Is Stan the man? Banner is wrongfully on trial for sexual assault after trying to stop Wilson Fisk's men from attacking a young woman on a train and transforming into the Hulk. Matt Murdock, aka Daredevil, takes on his case and Stan appears in a courtroom scene. Hulk tears the room apart and the jury members subsequently flee in terror. This is the first time Stan appeared in a live-action Marvel-related film or television project. The TV film was a spin-off of the '70s Incredible Hulk series, starring Bill Bixby.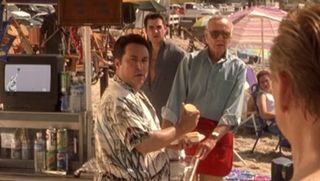 X-Men (2000)
The cameo: With Senator Kelly emerging from the sea as a mutant, Stan plays a hot dog vendor on the beach.
Is Stan the man? Although this cameo was small, it began the tradition of Stan Lee cameos that's continued for a decade and a half. 20th Century Fox acquired the rights to the X-Men characters in 1994, and Bryan Singer's movie proved that Superman and Batman weren't the only comic book stars who could pull in big profits for movie studios, helping kickstart the superhero boom.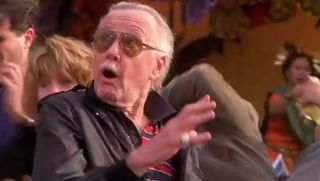 Spider-Man (2002)
The cameo: As Spidey and Green Goblin face-off for the first time in the film, Stan is part of the crowd being caught up in the furore.
Is Stan the man? As debris falls during the battle, Stan pulls a young girl to safety. In the DVD extras he also appears in a deleted scene as a street vendor selling Peter Parker a pair of sunglasses and even has a spoken line: "Hey kid, would you like a pair of these glasses?"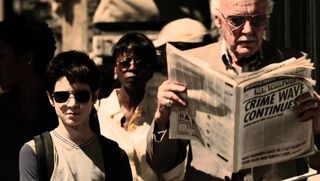 Daredevil (2003)
The cameo: We see Matt Murdock in a flashback to his childhood, stopping Stan crossing the road and getting hit by a bus.
Is Stan the man? This is a reference to an incident in the comics, which was later omitted from the film. Stan's reading his newspaper as little Matt Murdock stops him from making the fatal error; Stan looks stunned as Matt walks away. Daredevil picked up mixed reviews, and Stan said later that they just wrote the whole thing wrong. Thankfully we got to see the character get the proper treatment in the excellent Netflix TV series.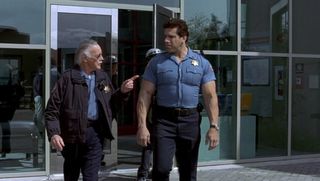 Hulk (2003)
The cameo: Stan appears as a security guard. His colleague? Original TV Hulk Lou Ferrigno.
Is Stan the man? Finally Stan speaks! This was Stan's first speaking role in a live action Marvel based film to make it into the final edit, and a real treat for fans to see him alongside Ferrigno. Director Ang Lee was keen to remain faithful to the legendary character and the comic so it seemed apt that the duo were seen together in the same scene. The movie is only a partial success, and the director would later admit that he should have had more fun with it, instead of all the psychodrama.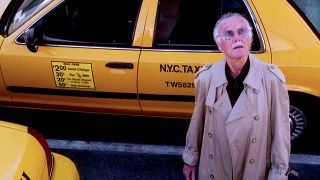 Spider-Man 2 (2004)
The cameo: Stan saves a woman from falling debris as Spider-man and Doctor Octopus slug it out above.
Is Stan the man? What is it about Stan Lee saving innocent folk from falling debris? He's a natural! More dialogue this time as Stan gets to speak again, saying look out while saving an innocent civilian. In a deleted scene which appears as a DVD extra, Stan has an extra cameo where he shouts, "Look, Spider-Man stole that kid's sneakers!"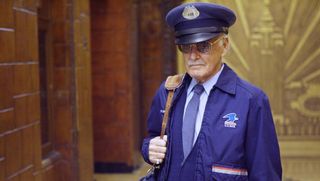 Fantastic Four (2005)
The cameo: Stan delivers some post to Reed Richards in the lobby of the Baxter Building.
Is Stan the man? Stan doesn't play just any unassuming postal worker; he plays an actual character from the Fantastic Four comics. Willie Lumpkin first appeared in the 60s, and this cameo marked the first time Stan played a character he helped create. Willie's abilities include being able to wiggle his ears and nose. Unfortunately neither talent features in the cameo.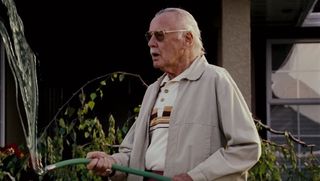 X-Men: The Last Stand (2006)
The cameo: As Professor X and Magneto visit a young Jean Grey, she displays her powerful abilities affecting her neighbours, including Stan Lee's hose as he waters his garden.
Is Stan the man? Stan's not the only legendary Marvel writer in this scene. Chris Claremont, the writer of the Days Of Future Past arc, also appears as one of Jean's neighbours.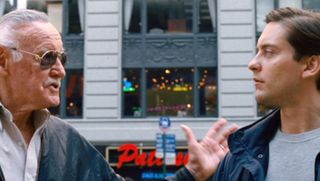 Spider-Man 3 (2007)
The cameo: As Peter Parker walks through Times Square, he stops by a signs that reads Spider-man To Receive Key To The City. Stan stops next to him to say a few choice words.
Is Stan the man? "You know, I guess one person can make a difference," Stan remarks as they both stop in front of the sign, before leaving Peter with the Nuff said catchphrase he often used in his Stan's Soapbox editorial pages.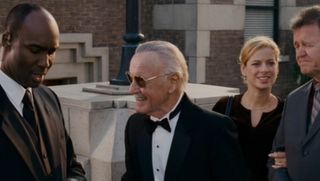 Fantastic Four: Rise of the Silver Surfer (2007)
The cameo: Stan is a rejected wedding guest at Reed Richards and Sue Storm's wedding.
Is Stan the man? As guests arrive, Stan is stopped at the entrance, having being asked for his invitation. "I should be on that list," says Stan giving his name. He's rejected and quickly bundled away letting other guests by. This is a lovely little nod to 1965s Fantastic Four Annual #3. Stan is playing himself in the film; in the annual, Lee and Fantastic Four co-creator Jack Kirby are similarly turned away.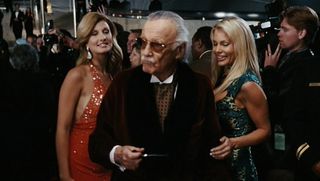 Iron Man (2008)
The cameo: Stan is mistaken for Hugh Hefner as he walks up a red carpet surrounded by beautiful women.
Is Stan the man? As Tony Stark walks into a star-studded party, Stan is one of the people on the red carpet being snapped by the paparazzi. As Stark walks by he pats Stan on the back. After Stan's more extensive cameos in previous years, his MCU debut is a little briefer though you've got to love that smoking jacket.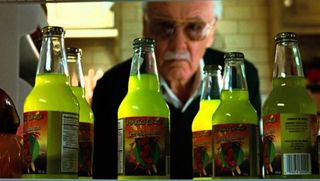 The Incredible Hulk (2008)
The cameo: Stan drinks some soda mixed with Bruce Banners blood.
Is Stan the man? Stan is actually playing an integral cog to the storyline here. After Stan is poisoned by the green soda, the authorities are able to track down Banner to a bottling plant in Brazil, where he looks like Edward Norton.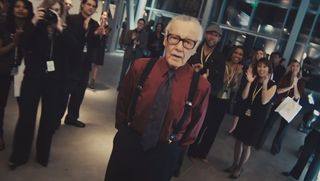 Iron Man 2 (2010)
The cameo: Stan Lee is mistakenly greeted as Larry King during the Stark Expo.
Is Stan the man? Tony clearly needs to get his contact lenses fixed - that's twice he's mistaken Stan for someone else. As Tony makes his way amongst a busy crowd, he eventually reaches Lee and greets him as Larry King. It's a blink and you'll miss it cameo, but good to see Marvel having fun playing around with Stan's iconic persona.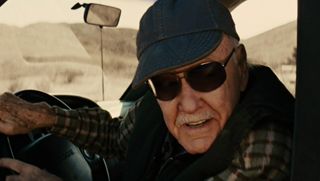 Thor (2011)
The cameo: Stan plays a pick-up driver in a scene where people are gathered trying to move Thor's legendary hammer Mjolnir from the ground.
Is Stan the man? Technically, he really is the man in 2011's Thor with Stan being credited as Stan The Man, his Silver Age Marvel comics nickname. As Stan ruins his pickup truck in the process of trying to drag Mjolnir from of the ground with a chain attached to the vehicle, he asks, "Did it work?" Of course, he fails and the men around him laugh. Stan's not the only cameo in this scene. Marvel writer and film and TV producer J. Michael Straczynski also appears as a pickup driver.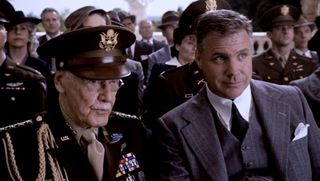 Captain America: The First Avenger (2011)
The cameo: Stan plays a general in an audience of people waiting to honor Captain America.
Is Stan the man? Stan mistakes someone else for Cap remarking, "I thought he'd be taller." Non-Marvel comics fans may be surprised to know that Stan also had nothing to do with the creation of the character. It was Joe Simon and Jack Kirby who created the legendary all-American hero and this is the first time Stan appeared in a film for a character he didn't actually create himself. However, it was Stan who wrote in the idea of Captain America using his shield as a weapon and revived the character during comics' Silver Age, writing many of his solo stories around that time.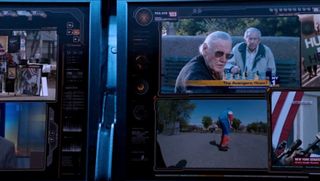 The Avengers (2012)
The cameo: Stan appears in a news report after the devastation of New York.
Is Stan the man? During the news report, Stan exclaims, "Superheroes in New York? Give me a break." However, there is also a deleted scene with a waitress talking to Steve Rogers. As she chats, serves him and walks away, Stan turns around from another table and says, "Ask for her number, you moron!"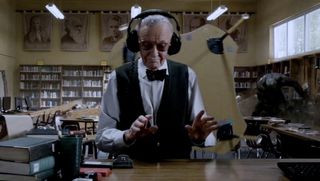 The Amazing Spider-Man (2012)
The cameo: Spider-man and the Lizard duke it out in the library of Peter Parker's school while Stan remains completely unaware.
Is Stan the man? This is one of the most action-packed cameos yet with Stan being chucked right into the excitement. As he listens to classical music on his headphones with the fight going on behind him, he saunters off like nothing's happening, oblivious to everything Spidey even manages to save him from a table being hurled in his direction by the Lizard.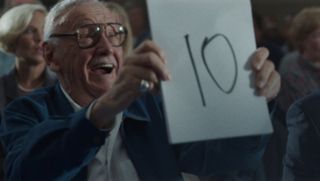 Iron Man 3 (2013)
The cameo: Stan is an enthusiastic beauty pageant judge.
Is Stan the man? As a beauty pageant takes place in the background, Tony Stark sneaks around and we can see Stan on a television set giving a contestant 10 points. This is the first Iron Man outing where Stark and Lee aren't technically in the same scene together.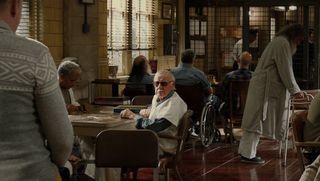 Thor: The Dark World (2013)
The cameo: Stan plays a patient in a mental ward.
Is Stan the man? Erik Selvig has just given a demonstration about The Convergence to his fellow mental ward patients with the aid of a couple of shoes. After Selvig is finished, he asks if anyone has any questions in which Lee replies, "Can I have my shoe back?"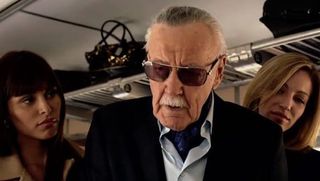 Marvel's Agents of S.H.I.E.L.D. (2014)
The cameo: Stan appears as a stranger on a train in the first season of the ABC series, Marvel's Agents of S.H.I.E.L.D.
Is Stan the man? Kinda yeah! The 13th episode of the show, TRACKS, finds Agent Coulson and co. taking their typical mission aboard a train, where they happen across Lee's well-dressed gent (but of course). Unlike some of his other turns, he delivers a few lines to the agents. "I'm terribly sorry about your loss, dear," he says kindly to Simmons, after she lets rip an emotional tirade toward her partner. "As for you," Lee says, turning to Coulson, "now's your chance to do better. Why don't you see that you take it!" You tell him, Stan.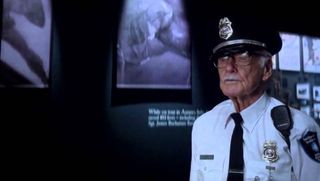 Captain America: The Winter Soldier (2014)
The cameo: Stan appears as a security guard again, this time at the Smithsonian Institute.
Is Stan the man? Captain America steals his suit from an exhibition at the Smithsonian right under Stan's nose. As he walks past the exhibit where the suit should be he looks up and remarks, "Oh man, I am so fired." Stan has said that Captain America is a real sentimental favourite of his being one of the first characters he wrote when he joined Marvel.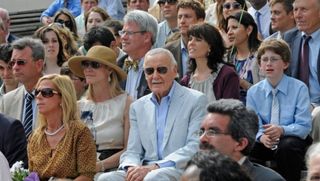 The Amazing Spider-Man 2 (2014)
The cameo: Stan is amongst the crowd at Peter Parker and Gwen Stacy's graduation.
Is Stan the man? As Peter Parker slings his way in as Spider-man, he almost forgets to take his mask off. We cut to Stan who's caught him mid-change, pointing out, "I think I know that guy." Stan has said he's not easy to please but that Andrew Garfield did a great job with the character.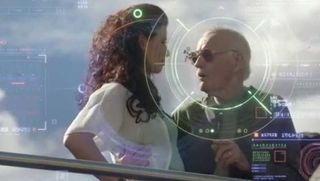 Guardians of the Galaxy (2014)
The cameo: Rocket views Stan through his scanning device as Stan is having a conversation with a younger woman.
Is Stan the man? Stan Lee is quite the Xandarian ladies man, as he looks quite comfortable chatting up a young woman in this scene. Rocket spies on him for a while and remarks, "What a class-A pervert!" However, there are quite a few other cameos in Guardians you may not have spotted. Director James Gunn plays a Sakaaran, Rob Zombie is the voice of the Ravager Navigator and Seth Green is the voice of Howard The Duck. Stan was originally penned to appear in one of the Collector's cells, giving Groot a rude gesture, but unfortunately the scene was never filmed.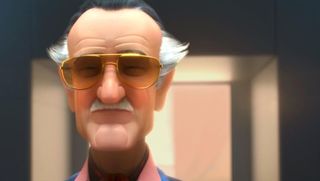 Big Hero 6 (2014)
The cameo: Stan plays Fred's Father.
Is Stan the man? Big Hero 6 is a Disney superhero film inspired by a Marvel superhero team of the same name, so it made sense to have Stan cameo in the film. In an interview Stan said that while growing up Disney was his world, and he was chuffed to be involved in a Disney film inspired by what they did at Marvel comics. Stan appears in a family portrait in the movie, and there's also a post-credits scene where he appears to Fred: We have a lot to talk about.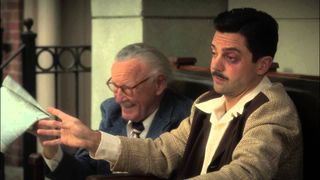 Marvel's Agent Carter (2015)
The cameo: In the fourth episode of season 1, The Blitzkrieg Button, Howard Stark settles in for a read of the paper while he gets his shoes shined. Who's sat beside him? You guessed it.
Is Stan the man? As Stark hangs his head, hoping for a moment's peace (he's a bit beat up, see) while his loafers get polished, Stan takes a seat, masking his face with a newspaper. "Could I borrow the sports section?" he asks, lowering the paper. Who wouldn't give that happy chap the sports?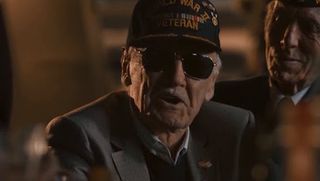 Avengers: Age of Ultron (2015)
The cameo: Stan plays an old time war veteran having a few drinks with the Avengers at their victory party.
Is Stan the man? As Thor explains that Asgardian liquor is not made for mortal men, Stan goads Thor (or blondie if you prefer) into letting him have a taste since he fought at Omaha Beach. Thor agrees and we cut to a scene with Lee being escorted from the party, drunkenly muttering Excelsior!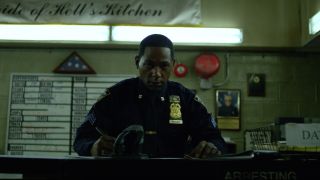 Daredevil (2015)
The cameo: A cunning one, this: Stan's photograph appears on the back wall of the NYPD 15th precinct in season 1, episode 13.
Is Stan the man? Even the seemingly low-key cameos from Stan will be spotted by eagle-eyed viewers, this one proving that he doesn't need to be live-action, animated or even have a line! As Matt's work takes him to the police department you can see Stan's framed image hanging on the back wall. A memorial plaque, by the looks of it. This is one of Lee's more subtle cameos that started something of a trend...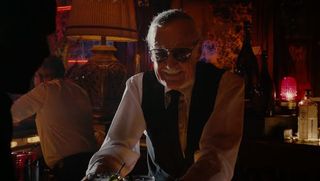 Ant-Man (2015)
The cameo: Dressed to the nines, Stan pops up briefly as a bartender during a flashback.
Is Stan the man? Just when you were thinking he wouldn't have an appearance in the coolest heist flick this side of Ocean's Eleven, there he was! Possibly the funniest cameo of his, on account of the overdubbing, he pops up during Luis' lengthy cutaway as he's discussing his friend Pablo meeting a girl at a bar: "And he goes up to the bartender and goes, 'Look at the girl I'm with, you know what I'm saying? She's crazy super fine, right?'" says Luis, "And the bartender is all like, 'Yeah. Crazy stupid fine."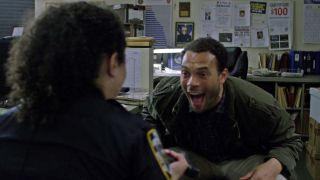 Jessica Jones (2015)
The cameo: The very same framed image of Stan from Daredevil appears once more.
Is Stan the man? One of the series' most tense moments, when Kilgrave takes control of an entire police precinct, is where Stan's pic appears. It's actually the same snap we see in Daredevil, except this time it's been moved to a different location in the precinct. As if we needed more evidence that Jessica Jones takes place in the same world as Daredevil!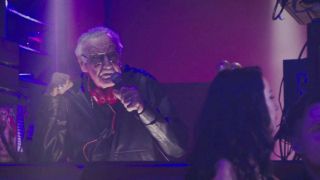 Deadpool (2016)
The cameo: Reportedly his favourite Marvel cameo to date, Stan appears as an MC in the nightclub where Vanessa works.
Is Stan the man? After Wade escapes the hideous Weapon X program, he decides to locate his ex, Vanessa. Eventually tracking her to a new place of employment - a strip club - Deadpool scours the venue, where he discovers a hip and happening old timer in the DJ booth. Fitting in completely with the Deadpool-world, Stan's stint here is absolutely spot-on.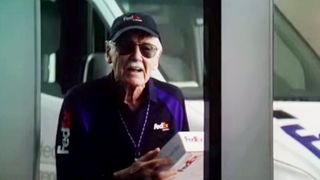 Captain America: Civil War (2016)
The cameo: Stan Lee appears at Tony Stark's door as a FedEx delivery man.
Is Stan the man? It's the end of the movie and Tony Stark is helping Rhodey with his physio after his tragic accident during Civil War's big fight. There's a knock at the door and the pair turn around to see a FedEx delivery man who asks: "Are you Tony Stank?" Rhodey smiles and says, "Yes, this is Tony Stank, you're in the right place. Thank you for that!" He adds to Tony, "Never dropping that by the way. Table for one Mr Stank please by the bathroom."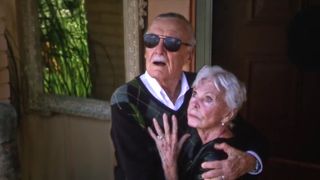 X-Men: Apocalypse (2016)
The cameo: Apocalypse brings down his reign of destruction upon the Earth! Millions are affected - as shown in a montage of citizens across the globe looking up in terror. Stan is one of those people.
Is Stan the man? There's a sweet element to this cameo. No, no, not the whole "end of the world" thing. While that's definitely a bit of a mood-dampener, this is the first time Stan's wife appears alongside him! Yep, that's Joan Lee who has contributed to the Marvel universe before - she did voices for Marvel cartoons Spider-Man and Fantastic Four.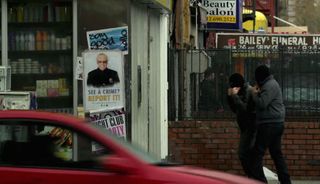 Marvel's Luke Cage (2016)
The cameo: Slapped across the side of a store is a crime prevention poster featuring none other than Stan. "See a crime? Report it!" the caption reads.
Is Stan the man? Another Netflix series cameo, another photograph. This time, Stan appears during a pivotal moment in Luke's story, as Cage enters a convenience store in time to halt a robbery that's taking place. Stan's appearance is a nice nod to the events unfolding on the show.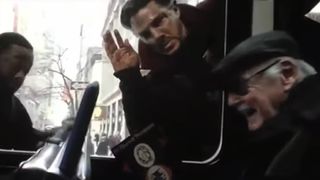 Doctor Strange (2016)
The cameo: Stan happily rides a London city bus while Doctor Strange and Baron Mordo battle Kaecilius.
Is Stan the man? Talk about being in the thick of it. This cameo crops up right in the middle of an epic foot chase scene, as Kaecilius and his minions are in hot pursuit of Strange and Mordo. The fabric of reality is bent, twisted and contorted, throwing Strange and Mordo right up against the bus Stan is on. But Stan doesn't even blink. He's too busy having a good old chuckle while reading Aldous Huxley's The Doors of Perception. "Now that's hilarious!" he cries.