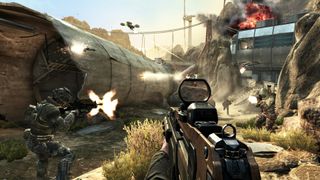 Call of Duty: Black Ops II has made some significant changes to the series extremely popular multiplayer. The loadout system has been revised, killstreaks have undergone a major overhaul, and there are even more options in terms of customization and game modes. In fact, so much has changed that it can be tough to keep track of what developer, Treyarch, has been up to.
Thats why weve gathered up the most important details on Black Ops IIs multiplayer and put it all in one place.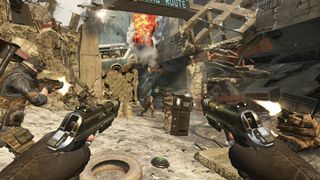 The Pick 10 loadout system brings more individuality to customization
Now that the loadout system relies on points instead of filling equipment slots, the feature opens up a whole new world of personal customization. Dont like carrying a secondary weapon? Well, dont. Toss it out and use that point for an extra lethal grenade, or attachment. Heck, you arent even required to carry a primary weapon anymore. Instead you can load up on Wild Cards and perks, grab the first dropped rifle you find in-game, and own the opposition as a souped up soldier.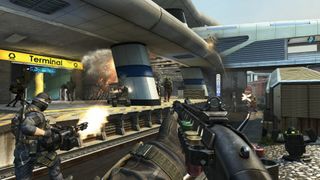 The game modes give more options for every skill level
The game modes break up into four sections, each catering to different preferences. Core contains the standard match types like: team deathmatch, demolition, search and destroy, capture-the-flag, and the new Hardpoint mode. Party Games holds the old wager match game types from the first Black Ops, like One in the Chamber, Gun Game, Sharpshooter, and Sticks and Stones. Combat Training lets beginners ease into multiplayer by mixing other newbies with bots and have them compete in the standard matches. Then there are custom matches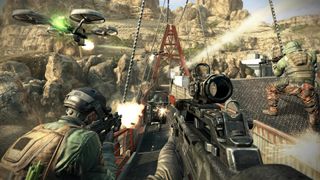 Custom games are more customizable
The custom games options are more robust in Black Ops 2. Players will be able to edit a variety of options in every game type and change the rules of the matches. You can build your own default custom classes that everyone in the game are required to use. You can restrict which items are allowed to be selected for loadouts. Bots can be dropped into a game, and you can even modify the Pick 10 loadout system by inflating the number of loadout points available to a maximum of seventeen or dropping it down to three total points.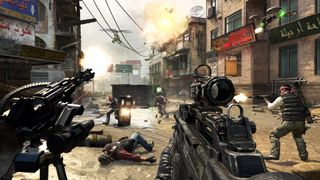 Hardpoint matches bring king-of-the-hill to multiplayer
Black Ops 2s new multiplayer mode, Hardpoint, is similar to the previous titles Headquarters mode. All players on two teams converge on one small location of the map. Small rooms, or portions of the map will be highlighted, to which players standing within the limits of the hardpoint will score points for the team. Take a look at the new mode for yourself in the gameplay clip below.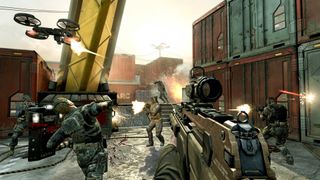 Challenges reward those who branch out
Challenges are back to help encourage players to stray away from their typical routine and try something a little bit different. This time, in Black Ops II, when you complete a challenge (or set of challenges) you could earn not only some bonus experience toward your next multiplayer level, but a new visual customization option for your character.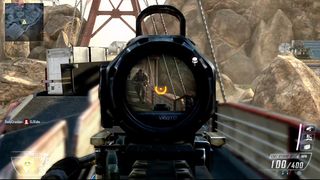 Aesthetic character customization is more robust
Once you complete a few challenges, you can unlock visual options that can distinguish yourself from the rest of the Black Ops 2 online community. Playercards will be editable, complete with a 32 layer emblem editor and more than 150 unlockable backgrounds.
Weapons can also get new looks, including various reticle designs and camouflages. Some of them even stretch beyond military designs. For instance, gold colored camos will be making a return, and one reticle is nicknamed The Steve, and is in the shape of a handlebar mustache.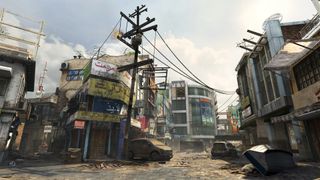 Everything can be recorded and shared
For those who want to go all out and make detailed multiplayer videos have more editing options in Black Ops 2s Theater mode. Some of the new features include: the ability to bookmark significant moments in-game, a dolly camera that can be attached to objects like Score Streak vehicles and rockets, recent victories are easier to find, and community functionality--like up/down voting--has been added.
Also, those who dont want to spend their time editing video can use the Highlight Reel feature. Just switch it on, and it will automatically create an edited film with your best accomplishments from a match.
and you can make your own commentary
Any saved match can be viewed and commented on using Blops 2s shoutcasting feature, Codcasting. This allows a spectator to view the match through a unique interface with access to picture-in-picture mode, scoreboards, player perspectives, and map overviews.
Another way to use the Codcasting feature is to go back and analyze more experienced players strategies, or see what mistakes you made and how to improve from your recent matches.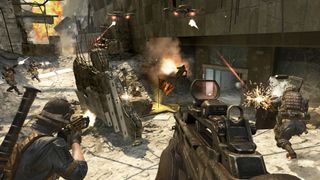 Prestige doesnt mean youre starting over anymore
Prestige is being handled a bit differently in Blops 2. Setting back your multiplayer level will no longer completely reset everything youve accomplishedweapon experience and challenge progress will not disappear. Also, each time you Prestige, you will receive a reward in the form of a permanent unlock, which is spent with a Prestige token, and a choice between unlocking an extra create-a-class slot, the ability to completely reset your stats, and refunding your unlock tokens (essentially respeccing, for you RPG buffs).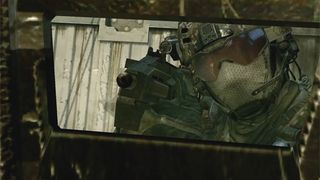 The classic weapons have futuristic modifications
With the futuristic setting comes a new spin on some of the weapon-types from previous games. Some weapons have gotten new features that make them more versatile on the battlefield. For instance, Black Ops 2s Assault Shield is a step up from the previous games riot shield, and has the ability to be planted on the ground and used as stationary cover. Theres a pistol that shoots shotgun shells, and AK-47-like AN-94 fires its first two shots at a higher rate during a full-auto burst--a feature that will likely be exploited by high tier players.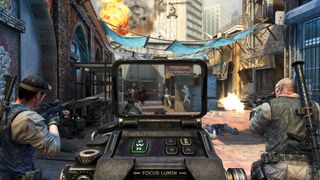 Attachments and perks discourage undesired play-styles
Much of Black Ops 2s balancing comes in the this-beats-that functions in the Perks and Attachments. Undesired strategies, like camping, are easily countered with the Millimeter Wave Scanner attachment, which detects stationary targets through walls. Even the Perks have been adjusted to discourage sitting still. The Ghost perk renders players invisible to the radar, only as long as the player is moving.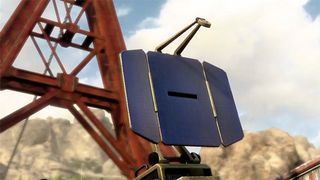 New, futuristic Score Streaks change the game
While some of the Score Streak bonuses play the same role as their counterparts in previous games, there are some game changers that may alter players strategies for certain game modes. The heat wave emitting Guardian turret is one of these. Its excellent for corralling enemies into a bottleneck of deadly fire, or for standing guard at a capture point. There are also a bunch of remote controlled and unmanned drones that let you take out opponents from new perspectives, like the flying dragonfire quadrotor drone and the ground based A.G.R. It will be interesting to see how the COD community will use these new items and equipment when the game launches.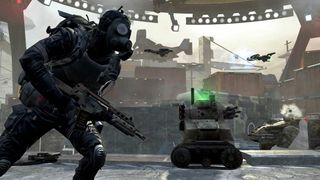 Multi-team matches intensify the action
Black Ops 2 allows up to six smaller teams to compete against one another in the team deathmatch, Kill Confirmed, and Hardpoint game-types. Rather than having a two-sided engagement (where the direction of enemy attacks is relatively predictable) there are multiple teams, which means enemies attack from every direction. Communication and teamwork becomes much more important than it already was in Blops.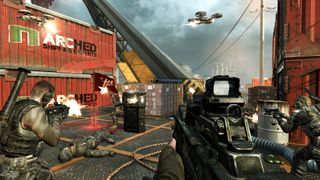 The Wii Us GamePad allows for an extra screen in local play
Say goodbye to screen looking and crowded screen space when you want to get in a few games of couch co-op and local multiplayer. The Wii U version of Black Ops 2 will allow players to use the GamePad controller screen as an additional screen. So, one player can look at the TV, and the other can play off the GamePad. Pretty neat, right?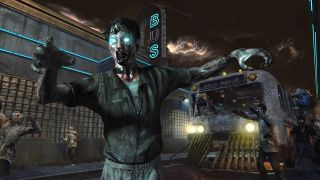 Zombies is returning in a full blown open-world co-op mode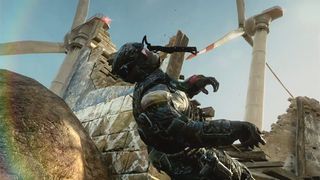 What do you think?