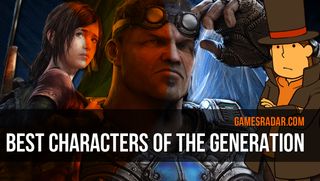 And what a generation it's been
A few months back we discussed our favorite characters of all time, honoring both the best heroes and best villains of all time. And as we sat around, discussing the gunslingers and captains, the philanthropists and monsters, the saints and the bastards, we realized that a lot of them came into existence fairly recently. There's a reason for that--the last generation, the one birthed with the Xbox 360 in November of 2005, the one that ushered in the HD era, is a damn important one when it comes to characters.
Voice acting, expression, believability--it's all much simpler when you have the improved fidelity that this most recent generation introduced. Suddenly you have A-list Hollywood talent putting on black suits covered in ping pong balls, acting their hearts out to bring life to your favorite characters. Because of this you have characters that are relatively young by industry standards, but still stand out amongst characters with over 20 years of history. Even as we enjoy the new, higher-def, particle-filled generation we're in, we still want to look back at the digital souls that made this last decade so memorable.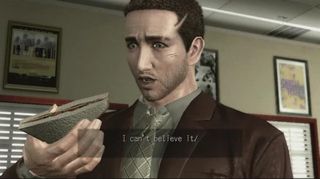 50. Francis York Morgan (Deadly Premonition)
You don't become one of the FBI's top men without a few screws going loose. Francis York Morgan is the definition of a character--a calm, collected man with a love of cinema, constantly chatting with his quite-possibly-imaginary companion and gazing into his morning coffee for predictions of the future. His dialogue is laughable, his line delivery is stilted, and his animations are rudimentary at best. And yet, all this makes him the perfect hero in a game as wonderfully bizarre as Deadly Premonition. Plus, we can't think of any other protagonist who would have the courage to try the "sinners" sandwich. Isn't that right, Zach?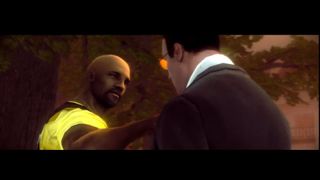 49. Agent Washington (House of the Dead: Overkill)
Washington introduces himself to his new partner G by punching him in the face (to the floor), before greeting him with Whats up, motherf**ker? And with that, he was indelibly stamped on our collective hearts. Washington is a proper brother (his word), who shoots to maim, swears in every scene we can remember, and manicures so nicely that he refuses to spoil the work by putting his hand inside a dead witch. We still quote him, years later. Dont make me go calling yo stupid-ass name.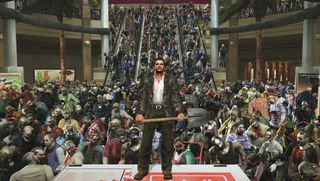 48. Frank West (Dead Rising)
Frank Wests greatest qualities are his adaptability and his willingness to learn. After covering wars (yknow?), the photojournalist snuck into a zombie-ravaged town looking for a story. In the end, he became an undead-slaying hero. West was continually searching for answers in the gruesome mall, but he also kept learning new skills, like wrestling moves and how to use a sniper rifle. Hed even dress like Mega Man if he felt it would help him find survivors. Hes just that type of guy.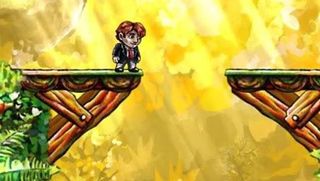 47. Tim (Braid)
Tim subverts our expectations of heroic motivation by using Braids continuity-fiddling mechanics to tell a love story in reverse. Through his diary entries and paintings, we get a glimpse into his fractured world, watching his inability to maintain a grip on relationships or the ebb and flow or time itself. And he's one of the only characters who we can project our own feelings onto; like the unwritten entries in his pedestal-placed journals, Tim is something of an open book.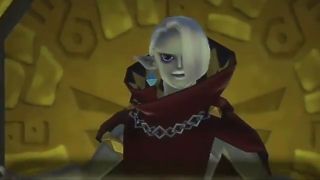 46. Ghirahim (The Legend of Zelda: Skyward Sword)
Our first impression of the Demon Lord's pale face and emo haircut didn't exactly strike fear into our hearts. But as he began to menace Link with evisceration and painful death threats, he quickly became incredibly unsettling and intimidating. Maybe it was his Miley Cyrus tongue lashing, his ability to catch Link's sword strikes with two fingers, or the fact that he could probably slit Link's throat in an instant. Within seconds of Ghirahim opening his mouth, we knew he was one bad guy we didn't want to mess with.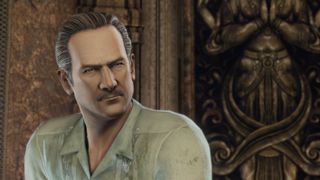 45. Victor "Sully" Sullivan (Uncharted series)
Essentially, Sully is just Nathan Drake with about 30 years-worth of miles on him. He shares many of Drake's most endearing features: roguish disposition, boyish sense of adventure, weakness for women. But unlike Drake, Sully's a real salty dog. He's crass and world-weary, coming up on the end of his days and providing a foil to Drake's inherent optimism. But he's also an excellent wingman, ready to bail Nate out at a moment's notice--delivering a crowd-pleasing raunchy one-liner to boot.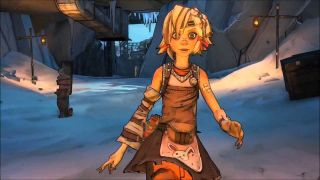 44. Tiny Tina (Borderlands 2)
Borderlands 2s 13-year-old explosives expert is absolutely bloody mental. Proper bonkers. When you first meet her, shes still got the mind of a child, yet has clearly had to adapt to the very adult Hyperion way of living. But in the DLC add-ons, she actually appears to be genuinely unstable. She does get a bit less nutty later on, but to be honest, her craziness is her charm. And well never forget her tea party. "I'm a little teapot, bloody and cut. Here is my handle and here is my butt."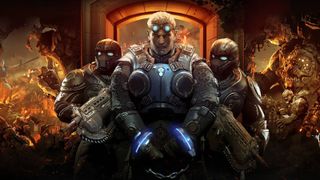 43. Baird (Gears of War series)
You might think of him as "what's the name of the fourth guy from Gears of War? No, not Dizzy," but we reckon that Lieutenant Damon Baird is the most interesting character in the entire Gears franchise. Sure, he's a dick, but he backs it up with more smarts than the rest of the COG army put together. Anything that Dom, Marcus, and Cole can't do with a chainsaw bayonet, Baird can do with an invisible robot and his giant-ass brain.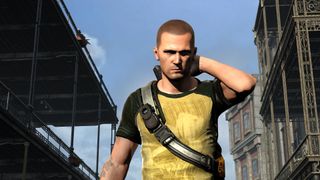 42. Cole McGrath (inFamous 2)
The original Cole, the one from the first inFamous, was a forgettable dolt. Imagine our surprise when the character arrived in the sequel a new man. Suddenly, he had an electric personality to match his electrical superpowers, and more charm than we ever thought possible. We had all but given up on McGrath, but he turned out to be one of the most sympathetic super hero-types gaming had ever seen.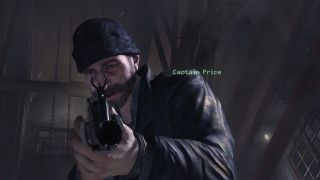 41. Captain John Price (Call of Duty series)
Arguably no other character in the history of games goes harder than Captain John Price. Let's just talk about three scenes here. First, Modern Warfare's ending, Zakhaev is ascendent, walking over your way to put a bullet in your brain... until Price, ostensibly bleeding out, slides a pistol your way to finish the job. Scene two: Price, years earlier, having just penetrated Pripyat in a goddamn ghillie suit, blows the arm off Zakhaev as he, ironically, is engaged in an illicit arms deal. Lastly: Price, avenging the death of his friend Yuri, brutally beats preeminent villain Makarov before tying a steel noose about his neck and tossing him through a glass roof. Truly, the man is a badass.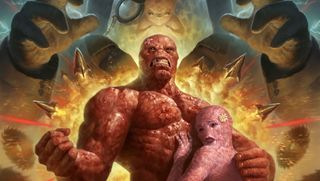 40. Meat Boy (Super Meat Boy)
He never utters a word and his body is little more than ground beef, yet Meat Boy's undoubtedly a hero for the ages. He can run and jump with the best of them, overcoming innumerable pitfalls and countless fatalities to rescue his beau, Bandage Girl. Plus, he's secure enough in his masculinity to try out a little role reversal, giving his girlfriend the spotlight in what is arguably the hardest world in the game: Cotton Alley. Know why Dr. Fetus is so hateful? He's just jealous of Meat Boy's death-defying agility and effortless cool.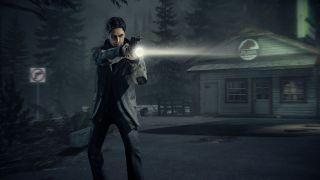 39. Alan Wake (Alan Wake)
The team at Remedy made a bold statement when they eschewed the traditional shaven-headed-hunk-of-meat hero in favour of a slightly confused novelist who wears jackets with elbow patches. OK, so Wake is handy in a fight, knows how to handle a gun, and can spot a concealed thermos flask at 50 paces, but hes not your average protagonist. Hes far from the best character of this generation, and he doesnt half ham it up in both speech and writing, but A. Wake (get it?) harks back to the sinister bastards of previous generations, like Silent Hill 2s James Sunderland, who werent just designed to appeal to core demographics. Whatever the hell that means.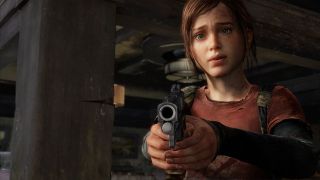 38. Ellie (The Last of Us)
Not to be confused with Ellen Page, Ellie from The Last of Us is the sort of brave yet naive teenager you can't help but want to protect. In a normal life, most kids her age would be hanging out with friends and learning what it means to be a teenager. Ellie, on the other hand, must learn what it means to survive; to maintain her sanity even when those she loves are torn apart by the ravenous jaws of the infected. Her sense of courage far exceeds that of even the most macho of men, and though she sometimes makes questionable decisions--what teen doesn't?--she makes the most of the hand she's been dealt.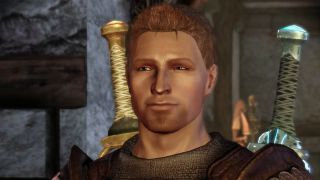 37. Alistair (Dragon Age: Origins)
Dragon Age: Origins had plenty of memorable characters, but chief among them was the would-be bastard king Alistair. He's often the target of your other companions' jokes, but only because he hands out wisecracks like they're candy. And although he's a jokester, he's also a proficient warrior with one of the most fascinating personal backstories out of all of the companions. His former affiliation to the mage-subjugating templars and relation to the royal family put him in some awkward (and entertaining) situations. But those relationships also make him one of the most important characters in the series.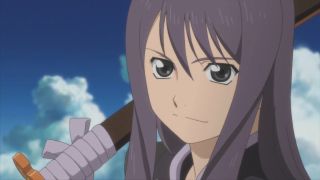 36. Yuri Lowell (Tales of Vesperia)
In a world of super-duper-ultra peppy JRPG protagonists, Yuri Lowell stands out. Hes everything they are not: he doesnt believe in the power of friendship, he will kill when necessary and have no issue with it, and he honestly doesnt have too much growth throughout the game. He's a well-written character that was meant to say,Hey, have you ever thought how impossible it is to go through all of this as a kid and emerge unscathed? If youre sick of saccharine super heroes, Yuris the man for you.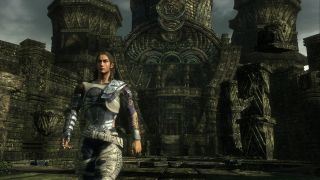 35. Kaim Argonar (Lost Odyssey)
Kaim is living proof that being immortal probably isn't all it's cracked up to be. Having been around for a thousand years, the dude has seen a lot of pretty terrible things--including the loss of, oh, ten generations' worth of friends--so he tries not to get too close to those around him. But it's hard not to admire a man who manages to still empathize with others, despite being desensitized by some absolutely crushing scenarios of human struggle. His existence has a sort of poetic sadness about it, yet he remains vigilant in his quest to protect mankind.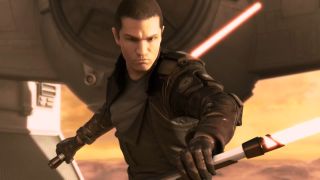 34. Starkiller/Galen Marek (Star Wars: The Force Unleashed)
Starkiller is a supercharged dark Jedi with the ability to catch TIE Fighters mid-flight, hunt down the most powerful Jedi, and rip Star Destroyers out of the sky with the Force. But the young Force user is far from a mindless killing machine--it's just that being raised by an evil Sith Lord can mess with your head. Starkiller constantly struggles with the contention bred from what he feels is right, and what his master commands. With engrossing elements like Starkiller's conflict between the light and dark sides of the Force, the charming love story, and the character's transformation as the story progresses, the tale of Darth Vader's secret apprentice is definitely one we'll remember when this console generation comes to a close.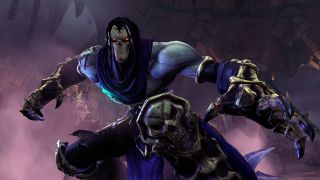 33. Death (Darksiders 2)
For being one of the Four Horsemen of the Apocalypse, Death isn't the emotionless, cold-hearted embodiment of...well, death that his name implies. He has unwavering determination in his mission, but subtle spots of humor peek out from behind his mask, revealing that there's more to this dual scythe-wielding badass than you might expect. Death is the oldest of the Horsemen, and sets out to free his (big) little brother War from imprisonment by the all-powerful Charred Council. Along the way, you uncover the deep regrets of a past that gnaws away at the unstoppable warrior, bestowing upon him a surprising sense of humanity. You'll never see his face and he's a man of few words, but when you meet Death, you won't soon forget him.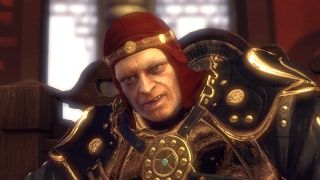 32. King Bohan (Heavenly Sword)
Undoubtedly the finest element of Sony's 2007 PS3 exclusive Heavenly Sword--aside from Nariko, of course--is the dastardly King Bohan. This villain had presence. In his eyes were pure madness, at one moment amused like a child, in the next lashing out like a deranged psychopath. Only one man could pull off such a performance--acclaimed Hollywood mo-cap actor Andy Serkis--and Sony nabbed him. Serkis, who is best known for his work as Gollum in The Lord of the Rings and Caesar in Planet of the Apes, breathed life into Bohan. Just forgive him for that final boss fight, OK?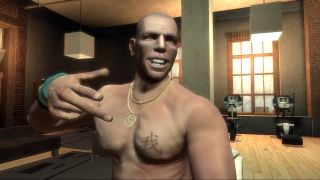 31. Brucie (Grand Theft Auto 4)
Ah, good old Brucie. In a stand-out game like GTA 4, youd think there'd be a raft of standout characters. But after moody lead Niko and his cousin Roman, theres only one other oddball that really springs to mind: Brucie Kibbutz. A fitness fanatic who claims he loves the ladies, Brucie is chock full of artificially high levels of testosterone, confused by obvious yet suppressed homosexuality. A borderline psycho besides all that, Brucie is an unexpectedly likeable character who lightens up every scene he appears in, and makes GTA 4 all the better for his inclusion.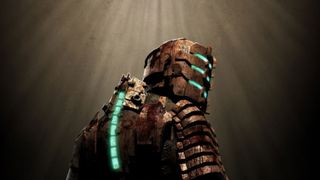 30. Isaac Clarke (Dead Space series)
For most of us, catching a glimpse of a horrific Necromorph would result not in an honorable urge to save mankind, but a loud "NOPE." No human alive is brave enough to face one down, let alone attempt a mission to destroy their kind for good--except for Isaac Clarke, that is. Isaac's just a normal space engineer caught up in extraordinary circumstances. But the fact that he puts everything at risk in order to destroy the Necromorph threat limb by limb instead of running away, curling up in the fetal position, and waiting out the apocalypse, makes him braver than 99.9 percent of the human population.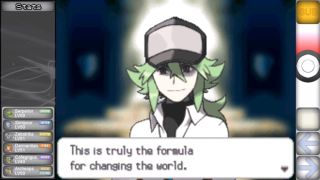 29. N (Pokemon Black and White)
For years, Pokemon games had blissfully ignored the moral implications of its world, particularly the idea of capturing animals and making them battle for entertainment. Pokemon Black and White changed that by introducing the mysterious N, an orphan raised among Pokemon. His deep connection to the creatures caused him to question the very nature of collecting Pokemon, a cause co-opted by a cult that many rallied behind. N was ultimately swayed by the heros true love for his Pokemon, but we appreciate that this bad guy had some logic.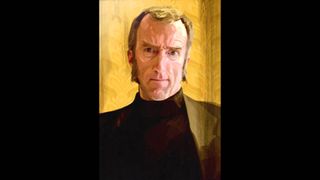 28. Cave Johnson (Portal 2)
The founder and CEO of Aperture Science, Cave Johnson is the reason why the characters of Portal and Portal 2 are in our lives. But the exposition for the game isnt the only reason for Mr. Johnson being on this list: hes a certifiably insane character in his own right. Having declared bankruptcy in in the creation of a secret new prototype, Cave funneled everything into recruiting unfortunate participants for wild and unethical experiments. He only exists in letters, recordings and raving sketches on the walls, able to make a lasting impression despite the fact that we never even meet him. And thanks to Cave, we'll never see lemons the same way again.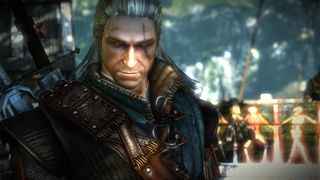 27. Geralt (The Witcher series)
While some protagonists in medieval tales play the part of the flawless hero, Geralt of Rivia shows more than his share of blemishes. When he's not being pulled into polarizing political dealings, the Witcher's main concerns are making some coin, rolling through the sheets with the ladies, and chopping off monster heads (for money, of course). As you progress through The Witcher's story, you'll discover the details of his forgotten past, the loss of his former love to a cavalcade of spirits called the Wild Hunt, and his ties to king-killing assassins. Geralt's story weaves an intricate plot of mystery that makes him one of the most fascinating characters of this generation.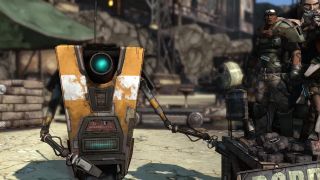 26. Claptrap (Borderlands 2)
On a world as barren and hostile as Pandora, the CL4P-TP steward robot--or Claptrap, for short--was like a beaming ray of optimism and earnestness. Even when these talkative droids rebelled and threatened our lives, we still couldn't help but love them. And without the presence of the original Fyrestone Claptrap in Borderlands 2 to guide us, we'd still be frozen solid in a glacial wasteland. Other characters insist that Claptrap is a bothersome, friendless loser. They couldn't be more wrong, because we'll happily be his minion any day. Whenever Claptrap hosts a party, count us in--we just can't get enough of the little guy's upbeat attitude and beatboxing skills.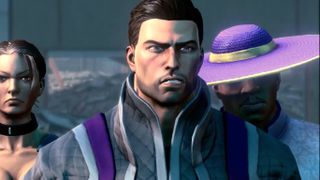 25. Boss (Saints Row series)
Most create-your-own protagonists in sandbox games are entirely devoid of personality. Sure, you can set their cheekbones to your exact liking, and select the voice with which they'll shout generic one-liners. But the 3rd Street Saints' Boss is an interesting character all on his (or her) own. Boss rolls with the punches. S/he may spew pure snark, but when it comes to putting the hurt on the Saints' competition, s/he gets shit done, regardless if that involves beating down the Luchadores with a purple dildo bat, or curing cancer as the President of the United States.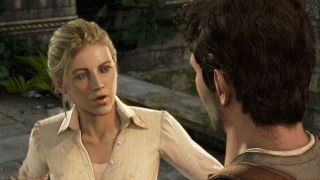 24. Elena Fisher (Uncharted series)
Weve been rooting for Elena ever since Drake unceremoniously ditched her in the first Uncharted. Elena isnt like most female game characters. Shes not overly top-heavy, is headstrong instead of helpless, and yet equates shooting a gun to taking pictures with her camera. She may be a stereotypical twenty-something journalist at face value, but shes so convincingly written (and acted by Emily Rose) that shes one of the most believable and likeable characters in all of gaming.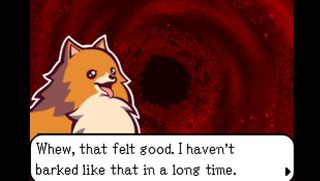 23. Missile (Ghost Trick)
Missile is quite possibly the best dog in gaming. Pomeranians are typically mischievous, kind of snooty, and much too small to do anything useful. But like all dogs, Missile is fiercely loyal, and does what he can to protect his owners Kamila and Lynne. He may be a yappy little pup--and it's clear that his neighbors hate him--but he does it out of love. You won't find another dog that's as selfless and devoted as Missile.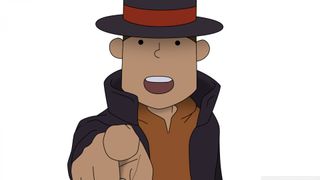 22. Professor Layton (Professor Layton series)
Skim this list and you'll notice something: video game characters, heroes and villains alike, are a bunch of filthy murderers. They're monsters, slaughtering everyone between them and the artificial checkpoint made to move them forward. Layton, on the other hand, has no blood on his hands. Instead of focusing on violent mayhem, he strives to achieve balance through puzzles. He's a gentleman, through and through, who has no problem taking a break from solving a mystery to help some sheep cross a river in a boat so that they don't get eaten by wolves.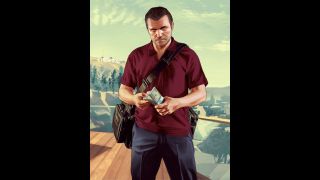 21. Michael De Santa (Grand Theft Auto 5)
Michael De Santa's always been an overachiever. Hell, his debut, GTA 5, was one of the latest releases on current-gen consoles, and we're already counting him as one of the best characters of the last seven years. How'd that happen? Well, for one, Rockstar North knows how to write a compelling character. Michael's the successful crook, having looted and killed his way to wealth beyond reason. But anyone who comes by money in such a way is bound to forever chase happiness and satisfaction. The joy in Michael's character is seeing the career criminal no longer needing to resort to his craft, but doing it anyway because he can live no other way.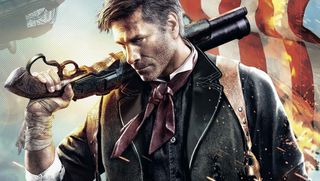 20. Booker DeWitt (BioShock Infinite)
In many ways, this ex-Pinkerton agent is gaming's everyman. He marvels in disbelief at the fantastical world around him, yet he's able to keep a cool head under pressure. Booker's moral compass points towards the realm of good, but he's willing to kill to get the job done. And a troubled past won't stop him from striving for a better future, doing everything in his power to deliver Elizabeth from captivity. Columbia feels real because of Booker and his believable response to it all--and when he's not facing off against terrifying strangeness, he sure rides a mean sky-hook.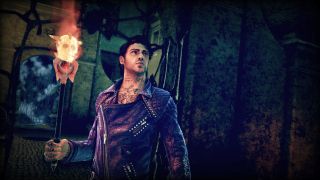 19. Garcia "Fucking" Hotspur (Shadows of the Damned)
You'd expect a demon hunter to kill thousands of hell beasts, but Garcia Hotspur does it with a punk rock charm most others lack. Hotspur is Sid Vicious, Ash from Evil Dead 2, and El Mariachi all in one badass leather jacket, meaning hes always the coolest mother-effer in the room. While his obsession with jokingly referencing his genitals might come off as immature, his relationship with his love, Paula, is surprisingly grown-upthat is, until she's kidnapped by the leader of the City of the Damned.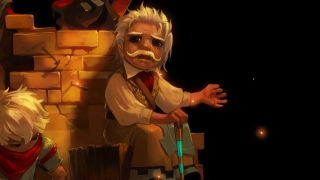 18. Rucks (Bastion)
That man. That voice of silk and honey, flowing from the game through your ears and into your soul. Even though Rucks may not be the protagonist of Bastion, his voice is how its story is communicated, and you cant help but be drawn into the narrative thanks to the way his baritone words draw you along. Also, is he the bad guy? Did he have a hand in creating the Calamity Cannon? Was The Bastion his guilt project? One can only wonder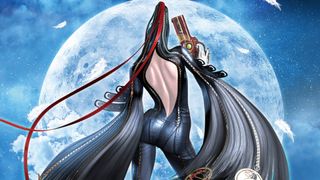 17. Bayonetta (Bayonetta)
The strongest female lead in gaming? Well, while Lara Croft gazes at her pretty hair in the mirror, Bayonettas hair is taking down a monster the size of a skyscraper. Bayonetta is physically and wilfully strong, not to mention sexy. Its hard not to be when youve got the body of a goddess and your clothes keep disappearing because theyre actually your hair, which is busy fighting things for a bit. Shes got a great line in put-downs, has more moves than Jagger, and thinks nothing of throwing a church at someone to settle an argument. Thats a winner right there.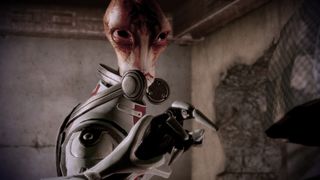 16. Mordin Solus (Mass Effect series)
This affable scientist Salarian was a huge asset in the fight against the Reapers--but he was also one of the most distinct, personable crew members to ever set foot on the Normandy. With his rapid speech, impartial attitude, and analytical assessments of any situation, Mordin interpreted things in ways no one else could. Granted, his work on the Genophage was devastating on an intergalactic scale. But his integrity and compassion shone through his detached demeanor, and Mordin was always selfless when it mattered the most. Plus, his genetics expertise is outclassed only by his knack for singing Gilbert and Sullivan.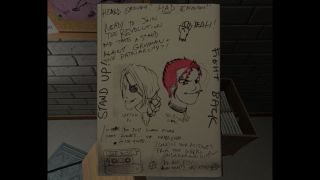 15. Sam Greenbriar (Gone Home)
Many games are rated Mature, but Gone Home achieves some rare emotional maturity by demanding players deconstruct the motives of a family in crisis, with Sam at the center. As Kate, Sams older sister, you search your familys empty house for clues to Sams disappearance, and in the process you get to know Sam better than you know most of your real-life friends. By analyzing Sams fractured teenage life from the position of an understanding sister, you build real empathy for Sam that makes her hard to forget, especially in the male-dominated world of gaming.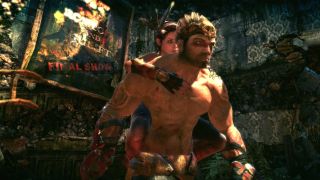 14. Monkey (Enslaved: Odyssey to the West)
For a long time, Monkey was a total loner. He did what he needed to in order to survive in a post-apocalyptic world--one full of robots intent on capturing and/or maiming human survivors. But his initially forced relationship with Trip eventually transformed the lone wolf into an empathetic protector, one that was as relatable as he was believable. We'll never forget the scene in which Trip finally deactivates the headband with which she'd been forcing his assistance, only for him to look her dead in the eyes and softly whisper, "Turn it back on." Chills, man.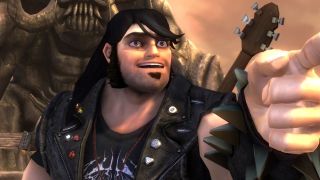 13. Eddie Riggs (Brutal Legend)
Good ol' Eddie Riggs never asked for a starring role--after all, a good roadie stays out of the spotlight. But when problems need fixing, you can bet he'll do what it takes to make things right. All in the name of metal, of course. What makes Eddie such a memorable character is his loyalty to the people and ideals he holds dear. He's not one to shy away when folks need help, often providing words of encouragement (or face-melting-yet-inspirational guitar arpeggios) whenever his pals start to lose confidence in themselves. And, no matter how the world around him changes, his devotion to pure, unadulterated metal is unwavering. Few things are more noble than a man who would rather die than give up the things he believes in.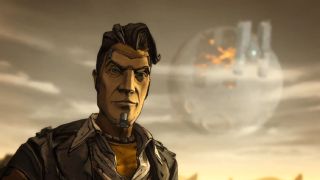 12. Handsome Jack (Borderlands 2)
Unless you have thick skin, Handsome Jack is sure to wear you down with (admittedly hilarious) rude quips. In addition to frequently insulting your intelligence and physical appearance, he'll say hurtful things like: "...So people are dying left and right and all of sudden this guy decides to run at me with a spoon. A SPOON, HAHAHA! So I scoop his stupid little eyeballs out with it and his kids are there all crying like, 'WAAHHHH!' And he's runnin' into stuff and... hahaha! Oh man... I guess you had to be there. Anyway... the moral of the story is, you're a total bitch." Sad face.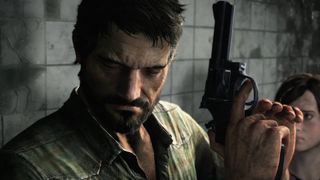 11. Joel (The Last of Us)
Ah Joel, the man who made us do so many unfortunate things. Save the world? Eh. Shoot someone you know dearly? May as well. Drowned in sorrow for his daughter, Joel barrels through everyone and everything in the game with little to no abandon. A masterstroke from the writers, you dont even realize how unraveled Joel is until its too late, and by then all you can do is be his vehicle for self destruction. The reversal of roles, between the player and the character, is the reason good ol Joel takes is spot at number 11 on this list.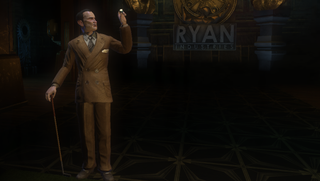 10. Andrew Ryan (BioShock)
"A man chooses," says Ryan, judging you more than you've ever been judged while simultaneously ordering you to beat him to death with a golf club. "A slave obeys." Andrew Ryan is one of the most dedicated, intelligent, stubborn sociopaths to ever saunter into gaming. He's the master of his future, he's responsible for himself, and he's willing to build a city under the ocean to prove it. And it's not even a city that looks like it should be on the bottom of the sea, either! It's a regular city, with tall, rectangular buildings giving architecture and physics the middle finger.
The reason Ryan is so impressive, and the reason he's one of the best villains of all time, is because his stubbornness is actually respectable. His downward spiral is often blamed on hubris, but it's more the fact that he refuses to be a hypocrite. He's a man who did a thing and doesn't want to admit that the world is crumbling around him. Come on, that's pretty damn deep considering half of this industry is "GUYS WITH GUNS."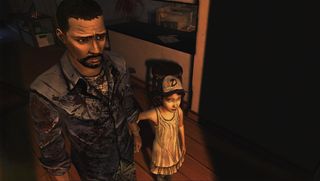 9. Lee Everett (The Walking Dead)
Lee Everett's personality is dependent on the choices you make in The Walking Dead, but the Lee we got to know was kind, considerate, and extremely skilled at taking down zombies and sawing off limbs. As a professor convicted for murdering a guy who was having an affair with his wife, it was hard not to root for him. Plus, we never knew what the exact circumstances were. Maybe it was an accident?
But it wasn't until he met darling little Clementine when we knew he was a keeper. Throughout the episodic season, all we ever wanted was for him and Clem to be okay in the end. Every step of the way, Lee proved to the group that he was an inspiring leader, friend, and father figure.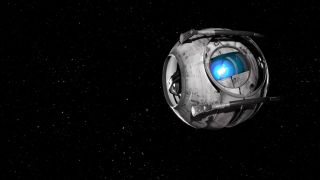 8. Wheatley (Portal 2)
Portal might have one of the smallest casts around, but its also the strongest. In any other game, Wheatley would be the breakout character, but here the dangerous moron is part of the menagerie. After your run-ins with GLaDOS, you might've initially found Wheatley to be little more than a lovable goof. But as story unfolds he shows his dark side, while still managing to be entertainingly stupid.
Wheatley was created by Aperture as a purely idiotic personality meant to limit GLaDOS, but instead the bumbling robot spends his time in the remains of Aperture until a small taste of power corrupts him absolutely. And while hes incredibly well-written, we wouldnt love Wheatley nearly as much if he wasnt played with geeky, English menace by Stephen Merchant. Together, the actor and writing squeeze so much personality out of what amounts to a single mechanical eye.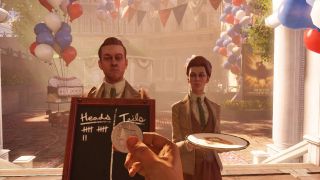 7. Lutece Twins (BioShock Infinite)
...good question! We have no idea. That's the problem in following up games like BioShock--it comes with the added baggage of people expecting the unexpected. They think they're in for a surprise, or a shock, or a bait and switch, and because of that, they're harder to confuse. But mere moments into BioShock Infinite, the game finds its way past this issue with the introduction of the whimsically intriguing Lutece twins and one, basic phrase: No, he doesnt row. What the fuck does that mean? He doesn't row? Wait, and now they're back, asking Booker to flip a coin?
They keep vanishing and appearing, working their way around the world in ways that don't make sense. "The bird, or the cage?" they ask. What does it matter? How does this work? The more you think about the Lutece twins, the more important their role in BioShock Infinite becomes, and the more interesting they end up being. Which begs the question, how will the developer follow up an experience like BioShock Infinite? Well, that's a...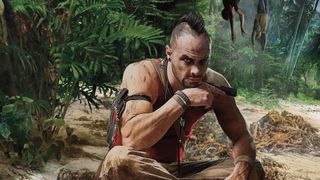 6. Vaas (Far Cry 3)
Forget Jason Brody--Vaas is the star of Far Cry 3. Hes the most wonderfully unhinged character of this generation, and a contender for best motion-captured video game performance of all time, thanks to the energetic work done by Michael Mando, his real-life voice and body actor. Simply, he steals the show with his meandering speeches that lurch between wisdom and smart political comment to utter, chilling madness in the blink of an eye.
Vaas was even turning heads during Far Cry 3s pre-release campaign. The E3 trailer where he talks about the definition of insanity is one of the most memorable game videos of this generation. Vaas intense brand of insanity is tough to maintain, and its a testament to both script writing and performance that not only does he dominate every scene he appears in, but we were left wanting much more Vaas long before Far Cry 3s credits even rolled.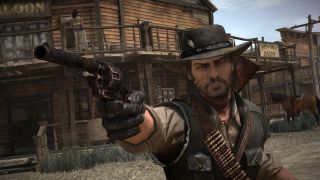 5. John Marston (Red Dead Redemption)
The cowboy is a icon of American culture, a rugged individualist that lives by his own code. John Marston is wrapped up in that ideal, but has little love for his old life riding the range. And yet hes forced back into it by a government that hates John almost as much as the crooks hes tasked with killing. Players spend hours with John as he explores a Wild West thats dying all around him. Its a brutal place, but also one that might be preferable to the modernity that the 1900s are bringing. Marston is the man out of time at the center of it all.
And players dont just connect with Marston when hes blasting people with revolvers or hunting wild bears. They get to see him live out the mundane family life he's always wanted; the boring slice of heaven with the wife and son he never planned on having. It gives John a vulnerability that we didnt anticipate from a Rockstar character, and those moments make it all the more brutal when that life keeps getting ripped away from Marston.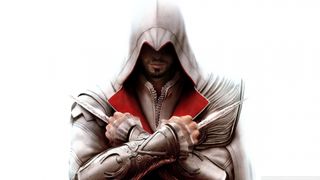 4. Ezio Auditore (Assassin's Creed 2)
Few games let you follow a characters life from newborn to impetuous teenager to wizened old man, but thats exactly what happens over the course of Assassins Creed 2, Brotherhood and Revelations. And Ubisoft couldnt have chosen a better man. Ezio is a classic loveable rogue; the Han Solo of Renaissance-era Italy. The first few minutes spent with Ezio see him fleeing the father of a girl hes been sleeping with, fist-fighting rivals on Florences Ponte Vecchio, and racing his brother to the roof of a church so they can admire the view.
As Ezios character develops throughout AC2, we share the emotional loss of his family, his transition from young scrapper to lethal assassin, and the hollow victory of his final confrontation with the ones who came before. Along the way Ezio befriends some of historys greatest artists and thinkers, builds the Assassins Guild from scratch, test-pilots a flying machine, and invents the cappuccino. What a guy.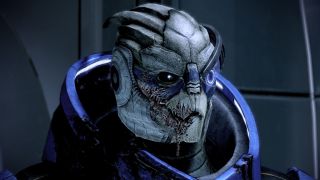 3. Garrus Vakarian (Mass Effect series)
Space secret agent? Hero of his species? Intergalactic sex symbol? Garrus Vakarian is all these things wrapped in an avian shell, causing more collective swoons (from men and women alike) than all of the other characters on this list combined. It's no wonder he's found himself ranked as number one on our list of the top 7 game characters we fell in love with. Oh, and the top 7 most badass game characters of the generation. What? Listen, we like putting Garrus on lists. Back off.
But for as much as we appreciate his general swagger (gurl), it's really his loyalty that keeps us. While all of the other characters in Mass Effect judge and question Shepard--which makes sense, because he can be a goddamn idiot--Garrus remains on your side throughout. He's a good friend at all times, always showing up when he's needed, always doing whatever need be done.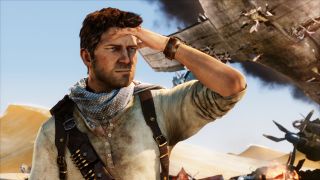 2. Nathan Drake (Uncharted series)
Nathan Drake is the man every teenage boy wants to be. A puckish ne'er-do-well with a heart of gold, Drake roams the land in Sony's mega blockbuster Uncharted series, bagging treasures and bedding women as he goes. He's Indiana Jones if Indie were an underwear model. His milkshake brings all the boys to the yard.
So yes, there is this component of Drake also being a sociopathic murderer, killing, as he does, hundreds of men in each and every game. But his charm! Look at that ingratiating smile, the iconic half-tucked shirt, the I-don't-EVEN-care hair. Listen to those one-liners: so apt, so clever. With all that going for him, his penchant for wanton murder is reduced to not much more than an excusable foible. Damn you, Drake--you're just so awesome.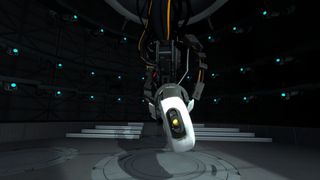 1. GLaDOS (Portal series)
She's mean, isn't she? GLaDOS? She's really mean. She's mean about your performance, and she's mean about science, and she's mean about just about anything else she can be mean about. But she's also funny! Meanness and funniness make for a memorable character, as we've learned, but her meanness and her funniness aren't the reasons GLaDOS is the best character of this generation.
When the scientists at Aperture Science (the same ones she killed with deadly neurotoxins) designed her, they added in a painful addiction to science. She's not being mean and funny because she wants to, it's because she's going through withdrawal. Completing experiments is her heroine in a very literal sense, you're her needle in a slightly less literal sense, and she has no choice but to keep forcing you to do what she says because that's how she was born. GLaDOS is a hilarious, mean crack baby, and that's why we love her.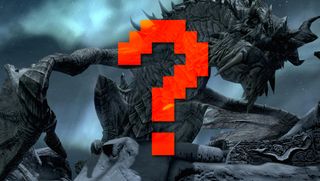 Here's to the next generation of characters
There you have it: the best protagonists, party members, love interests, and antagonists born from a single generation of consoles. Our hat goes off to them. We hope to reunite with some of these memorable characters in the next generation, while welcoming a new class of video game personalities. Think we missed your favorite character of the generation? Tell us all about it in the comments section below.
And if you're looking for more, check out The 100 best games of all time and The 100 best video game quotes of all time.