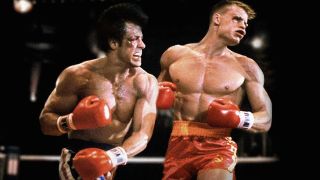 Let's fighting love
To quote what is possibly the least 'tough' lyric ever committed to song: "When the going gets tough, the tough get going, when the going gets rough, the tough get rough." Got that? Good, because this entire list is dedicated to that very type of scenario: a scenario in which all efforts at negotiation have failed - or in the case of most Arnold Schwarzannegger flicks - before they've even begun. Sometimes, that damned despicable bad guy just has to die, and what better way to make it happen than with a gloriously choreographed fight scene?
Some are contested with kung-fu kicks, while others are fought with fully-automatic machine guns. Whatever the case, these are the top 100 scenes that keep Hollywood's fake body bag manufacturers in business. Ready? Fight!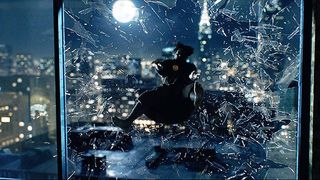 100. Watchmen (2009)
The Fight: Setting up the plot (and tone), this opening scene sees a bath-robed Comedian get attacked in his apartment by a shadowy assailant. It's a thumping tussle with absolutely no regard given to the Comedian's furniture.
Killer Move: The finishing touch - the battered Comedian is hurled through his window to the tune of slow motion shattered glass and falls to his death, smiley face badge an' all.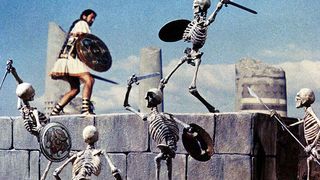 99. Jason And The Argonauts (1963)
The Fight: Arguably FX whiz Ray Harryhausens finest moment, Jason and his crew are forced to fight against a skeletal army risen from the Hydras teeth in what is still the pinnacle of stop motion action sequences.
Killer Move: While his men dont fare quite as well, Jason tackles on skeleton, managing to fend off his spear attack and decapitate him, leaving him briefly wandering while skull-less.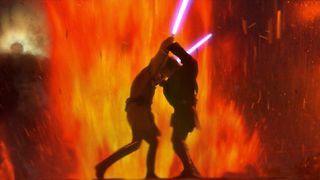 98. Star Wars: Episode III - Revenge Of The Sith (2005)
The Fight: Anakin, having turned to the dark side and now filled with jealousy and rage at Obi-Wan, begins the epic duel with his former master against the fiery backdrop of the volcanic planet of Mustafar.
Killer Move: Obi-Wan wins by default at having gained the higher ground but, in his arrogance, Anakin tries to leap over him anyway and gets his limbs lopped off for his efforts. He is then consumed by the lava surroundings that set him on the path to become the greatest movie villain of all time. God only knows what would have happened if they just fought on Naboo instead.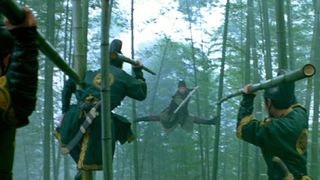 97. House Of Flying Daggers (2004)
The Fight: The blind Mei is ambushed in the middle of the bamboo forest and, while she valiantly defends herself against her attacker, she clearly needs help. Luckily, lone warrior Wind is at hand to save her
Killer Move: With one wodden spear thrown towards Mei from afar, Wind sees it just in time and throws his sword toward her too. With a split-second reaction played out in slow-mo, we see Mei step back just as the sword split the spear in two, with both ends flying safely away.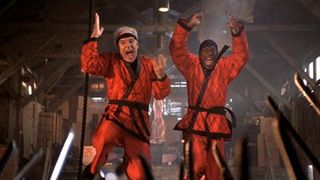 96. Bowfinger (1999)
The Fight: In an epilogue scene to the film, we catch a glipse at Jiff Ramseys hilarious ineptness during a fight sequence in made-up movie Fake Purse Ninjas, all played with a brilliant comic performance by Eddie Murphy.
Killer Move: Following a squeamish war-cry, Murphy proceeds to beat up attacking ninjas while obviously not really touching them. The finest moment comes when he kicks an opponent and he does several wire-assisted somersaults backwards as a result.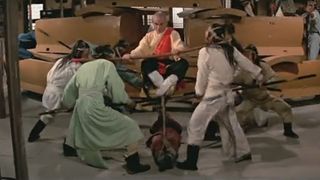 95. Eight Diagram Pole Fighter (1983)
The Fight: A Buddhist monk trained in martial arts must break his vows when his sister is kidnapped by the evil Khitan army. Thanks to his monastery not allowing blades, however, the monk is most skilled in fighting with a pole. Hence the slightly confusing title.
Killer Move: Its a chaotic rampage as the monk ambushes a group of men and fends them off with his impressive skills. The best moment comes when the monk is trapped by a stack of coffins, unable to move his arms but still manages to fend off several attackers and break free to continue the fight with ease.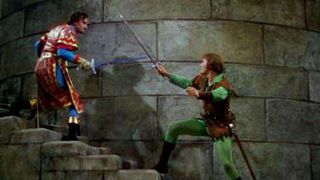 94. The Adventures Of Robin Hood (1938)
The Fight: An epic duel and still to this day one of of cinemas finest swordfights, Errol Flynns Robin Hood jabs and parries with Basil Rathbones Sir Guy Of Gisbourne.
Killer Move: After much to-ing and fro-ing with their swords, Guy has Robin backed against a wall and sneakily tries to kill him with a hidden dagger. Robin narrowly avoids the blade however, fights Guy away and swiftly delivers a final, deadly thrust with his sword.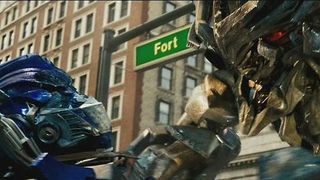 93. Transformers (2007)
The Fight: Its the showdown all anybody wants to see in a Transformers movie: Optimus Prime clashing metal fists with Megatron.
Killer Move: After demolishing half a city with their brutal skirmish, Optimus eventually overcomes Megatron when Sam Witwicky releases the AllSpark into the bad robots chest. Were not going to pretend that we understand how it all works, but it looked pretty cool.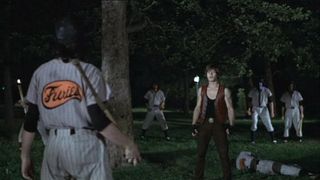 92. The Warriors (1979)
The Fight: So many to choose from in this film, but were opting for the showdown between the Warriors and the Baseball Furies. When the sports-themed thugs chase down our anti-heroes, they are come to blows in Riverside Park, with the Warriors Ajax and Swan more than making up for the shortfall in numbers.
Killer Move: Having managed to win themselves a couple of their opponents bats, the two gangs engage in down and dirty thumps around the head and gut punches.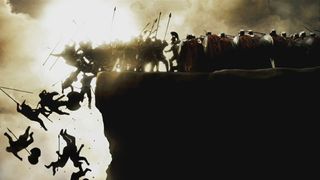 91. 300 (2006)
The Fight: Less a fight and more a small-scale war, as King Leonidas warriors take on Xerxes soldiers in a full bloody battle.
Killer Move: The 300 steel themselves with their shields and push the remaining Persians off the edge of the cliff.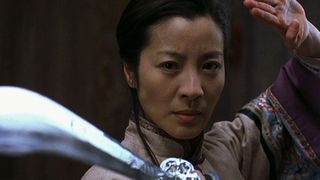 90. Crouching Tiger, Hidden Dragon (2000)
The Fight: An incredible display of acrobatic ballet-fighting, as the heroic Yu Shu Lien (Michelle Yeoh) clashes with Jen Yu (Zhang Ziyi), all while Lien continues to trade up her weapons, using a huge variety of blades at her disposal, to battle against Yus Green Destiny sword.
Killer Move: The two martial artists pause to talk a little smack before Yu offers Lien a chance to choose any weapon from the display around her. It only takes a second, but Lien returns with a huge broadsword and the two launch into another bout of whirling blades and swinging limbs.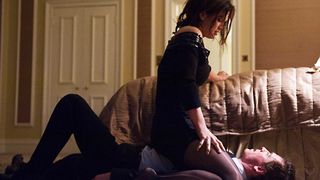 89. Haywire (2011)
The Fight: After her undercover mission with British agent Paul (Michael Fassbender) goes awry, Mallory returns with him to their hotel room where they proceed to beat seven shades of spy out of each other.
Killer Move: Soderbergh put the emphasis on realism with this film's fight scenes and that is never more apparent than when Mallory throws Paul over her shoulder and on to the hotel table. Rather than collapsing, the solid wood table holds strong, showing that it was always in less danger of breaking than Fassbender's back.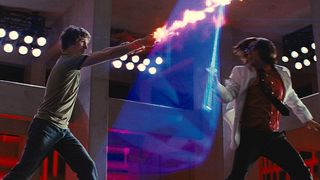 88. Scott Pilgrim vs. The World (2010)
The Fight: Having vanquished all of Ramonas previous exes, theres only evil kingpin Gideon Graves left for Scott to defeat. Cue an epic sword fight filled with awesome special effects and nifty lens flare.
Killer Move: To start the fight, Scott declare his love for Ramona, earning himself a love power-up and allowing him to pull a flaming sword from his chest to fight with. How is it possible that this film got even cooler?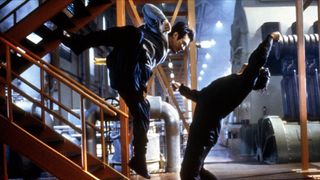 87. The One (2001)
The Fight: What could be better than seeing Jet Li fight Jason Statham? Well how about Jet Li fighting HIMSELF? And not in a Fight Club way, either. In a Highlander-like bid to become the One a Jet Li from an alternate universe tracks down other Jet Lis to kill them and absorb their strength. But he hasnt accounted for OUR Jet Li
Killer Move: As the pair of Lis fight in an abandoned construction warehouse, lots of wirework and stylish slow-motion moments are thrown in for good measure. Our favourite is when Good Jet Li jumps from one level don to the next, only for Bad Jet Li to jump up and meet him in mid air only to be quickly kicked and beaten down again.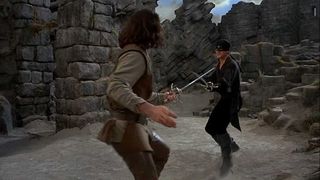 86. The Princess Bride (1987)
The Fight: Consummate gentlemen and fiendish swordsmiths Inigo Montoya and Dread Pirate Roberts face off for a duel with as many boastful twists as respectful compliments.
Killer Move: After announcing that he is not left-handed and changing the dynamic of the swordfight to put Dread Pirate Roberts on the backfoot, his masked opponent has a surprise for him: hes not left-handed either.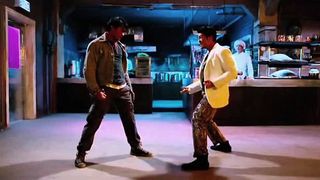 85. The Protector (2005)
The Fight: In a bid to retrieve a stolen baby elephant, Tony Jaa's Kham goes up against the international Thai mafia and, in one expertly choreographed scene, ascends a long, winding staircase while fighting dozens of henchmen.
Killer Move: One poor, defeated mook gets hoisted onto Jaa's back and thrown over the banister, smashing into the centrepiece of the floor below.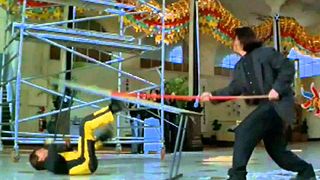 84. Jackie Chan's First Strike (1996)
The Fight: Jackie Chan once again shows off his inventiveness with a ridiculously fun fight he engages in with several henchmen while surrounded by scaffolding and equipment.
Killer Move: Picking up a step-ladder, Chan swings it, spins it, pokes it, flips it and folds it, all in quick succession as he fends off several men.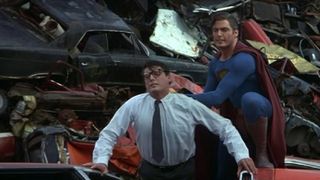 83. Superman III (1983)
The Fight: After being exposed to red kryptonite, Superman develops hateful symptoms of lust, anger and self-loathing, until eventually he splits into two personas - a dark Superman and a moral, just Clark Kent - and they fight. Its like the filmmakers decided to play out a fanboy question that no one was asking.
Killer Move: Escaping the junk compactor, Clark emerges with a new fighting spirit and chokes Superman until he vanishes, allowing Clark to reveal the shiny S under his shirt. Yay good has prevailed!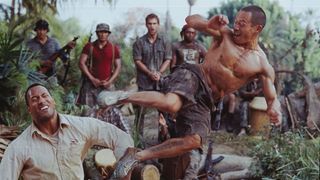 82. The Rundown (2003)
The Fight: In trying to retrieve Seann William Scott from the Amazon Jungle, Dwayne Jonsons Beck encounters a group or rebels who insist on fighting him with crazed martial arts.
Killer Move: A three-part move which sees one guy kick the Rock up in the air. Another to give him some more height and then a third come swinging in on a rope to kick him again. This must be what it feels like to be a football.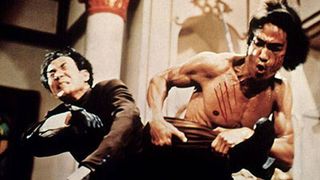 81. Enter The Dragon (1973)
The Fight: Bruce Lee faces his last great opponent, Han, in a showdown finale featuring trick mirrors and deadly traps. Because, when Bruce was at the top of his game, the best way his opponent could hope to defeat him was through cunning.
Killer Move: After much skulking around mirrored corridors, Lee finally catches Han out and delivers a final blow, high kicking him into his own spear.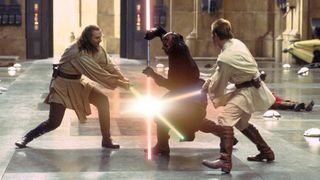 80. Star Wars: Episode I - The Phantom Menace (1999)
The Fight: Darth Maul takes on both Obi-Wan Kenobi and Qui-Gon Jinn at once with a double-ended lightsaber. It's the single most redeeming set-piece of what became the single most underwhelming film ever to be released.
Killer Move: With the two Jedi separated, Darth Maul catches Qui-Gon off guard and buries one end of his lightsaber into his chest, leading to the first "Nooooo!" of the saga.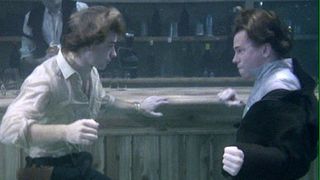 79. Top Secret (1984)
The Fight: After being thrown from a moving van into a river, Val Kilmers Nick Rivers continues his fight underwater, throwing punches and wait, is that bar stool? Yup, theres an entire bar underwater apparently, as the fight scene descends into a good old fashioned - albeit very wet - bar brawl.
Killer Move: As if this scene couldnt get silly enough, Kilmer delivers a devilish double nipple-twister to his underwater opponent, before knocking him out cold.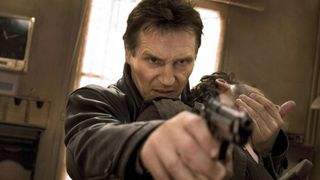 78. Taken (2008)
The Fight: If there is one scene in Taken that approves Liam Neeson's improbable application for Action Star Status, it's the moment where he confronts the Albanians whom he knows took his daughter. After identifying chief kidnapper Marko, Neeson lays waste to the rest of the room and everyone in it.
Killer Move: With terrifying precision, Neeson uses one opponent as a human shield while shooting another and then drops to the ground with the dead body still on top of him to shoot another guy coming in. It's a moment that makes you think "Yikes... Schindler?"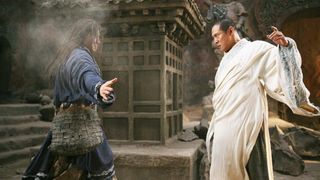 77. The Forbidden Kingdom (2008)
The Fight: Jackie Chan and Jet Li fighting each other! Chan is drunken scholar named Lu Yan and Li is the Silent Monk but who cares: ITS JACKIE CHAN AND JET LI FIGHTING EACH OTHER.
Killer Move: Proving the two are evenly matched, the pair exchange synchronised punches and kicks either side of the magical staff they are fighting over. Because really, who could call a winner here?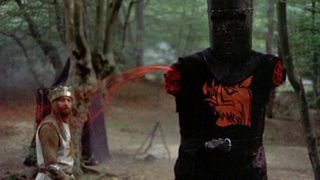 76. Monty Python And The Holy Grail (1975)
The Fight: In his quest to find knights to join him at Camelot, King Arthur happens upon the Black Knight in a forest clearing. When he refuses to allow Arthur to use the 'bridge' (a plank across a small stream) the two engage in a limb-lopping duel.
Killer Move: Having chopped off the Black Knight's arms, Arthur kneels in prayer at winning the duel... only to be kicked in the head by the aggressive no-armed knight accusing him of cowardice.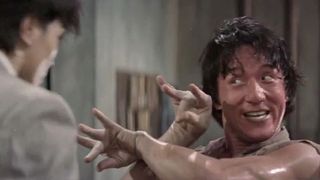 75. The Legend Of Drunken Master (1995)
The Fight: In Jackie Chan's typical 'slapstick fu' style, his Wong Fei Hung downs some industrial-strength alcohol in order to unleash his full 'drunken boxing' abilities on nemesis John.
Killer Move: So much quick-witted choreography to choose from but we're particularly fond of his spinning horizontal headbutt.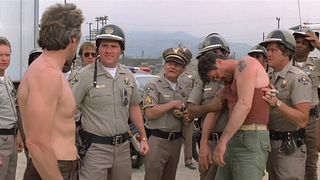 74. Any Which Way You Can (1980)
The Fight: Clint Eastwoods Philo is back after his stint in Every Which Way But Loose and this time he is involved in an underground bareknuckle boxing ring. The biggest fight comes when he takes on vicious brawler Jack Wilson--not for money but just to see which one of them would win. Professional curiosity, we suppose.
Killer Move: After slugging it out between them, pausing occasionally to swap compliments, Wilson manages to break Philos arm. It doesnt stop him from continuing the fight though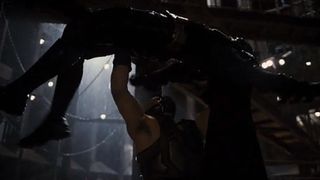 73. The Dark Knight Rises (2012)
The Fight: Tricked by Catwoman, Batman comes face to face with what becomes his greatest physical foe. It's a powerful slugging match with the emphasis on strength rather than speed, and all the while Bane taunts our Bats, unafraid.
Killer Move: Finally, after 15 years of disservice from the 1997 Batman And Robin movie, Bane fulfils his destiny and executes a literal back breaker on the Dark Knight.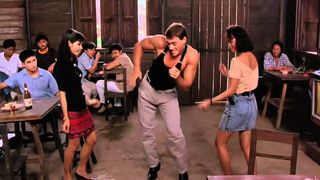 72. Kickboxer (1989)
The Fight: Certainly one of the most rhythmic fights on this list, Jean-Claude Van Damme goes from questionably sexy dancing to beating up the customers that take offence at his hip-swinging, butt-wriggling moves.
Killer Move: When he is first attacked, Van Damme ducks a punch by doing the splits and then punching the guy in the face. Really, this could just be him performing another saucy dance manoeuvre.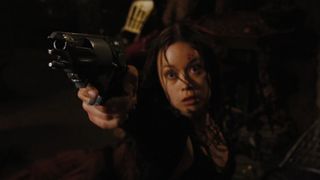 71. Serenity (2005)
The Fight: Leaping straight into answering questions left unresolved from cancelled TV series Firefly, a cartoon commercial in a bar triggers a dormant fighting spirit within the unbalanced River Tam, who proceeds to punch and kick everyone in sight like an expert ninja assassin.
Killer Move: Fellow crew mate and tough guy Jayne moves in to restrain the young girl, only for her to attack his crotch and eventually beat him down to the ground.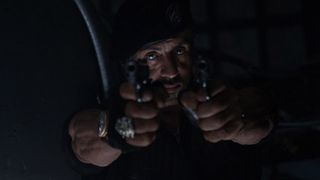 70. The Expendables (2010)
The Fight: Inside General Garzas compound, Sly Stallone gets into a down and dirty heaving and grunting fight with Stone Cold Steve Austin.
Killer Move: While this heavyweight match is interspersed with Jet Li and Jason Stathams more flexible combat skills against the rest of the militia, Sly wins the the scene though by pulling off a perfect somersaulting wrestling manoeuvre to pin the WWF star in a firm lock.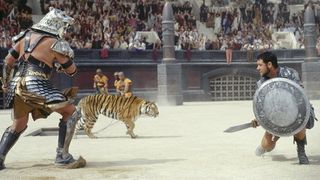 69. Gladiator (2000)
The Fight: Having already gained the audiences approval, Maximus is pitted against Tigris of Gaul in the arena, all while surrounded by chained tigers held back by handlers who have been given specific instructions by evil Commodus to target our Max.
Killer Move: The real killer move is, of course, Maximus defying the emperor to spare Tigris life and earning respect from the crowd and his fellow fighters. But well still opt for the moment when a tiger leaps onto Maximus back for sheer heart-stopping terror.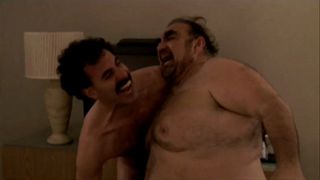 68. Borat (2006)
The Fight: In one of the least flattering fights ever committed to film, Borat flies into a rage when he steps out of the shower and sees his companion Azamat masturbating over a picture of his beloved Pamela Anderson. The two then become embroiled in an ugly, naked wrestle that spills out of their hotel room, into a crowded elevator and then into a busy convention.
Killer Move: In a messy display of homoeroticism, a naked Borat wrestles with a naked Azatam on the bed um from behind. And thats all were going to say.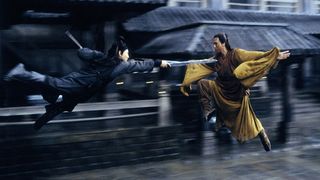 67. Hero (2002)
The Fight: Jet Li and Donnie Yen engage in a beautifully choreographed pseudo duel, which sees them imagine their combat with each other, all to the accompaniment of a blind man playing his stringed instrument.
Killer Move: As the strings on the instrument snap, the assassins snap their eyes open and launch into the fight for real. Only this time, Jet Lis Nameless warrior cuts straight through his opponents spear and stabs him right away.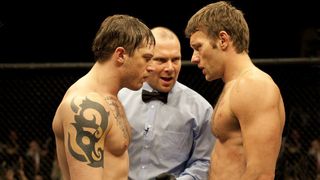 66. Warrior (2011)
The Fight: Estranged brothers Tommy and Brendan end up fighting against each other in the final of a MMA fighting tournament. It's a brutally tense bout that stirs up swallowed emotions with every punch.
Killer Move: Brendan manages to trap Tommy's left arm under his knee and, as he struggles to break free, he overextends to the sound of a sickening CRACK.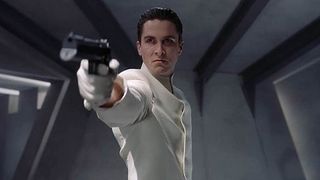 65. Equilibrium (2002)
The Fight: Christian Bales Preston succumbs to emotion for the first time and plans to help the resistance rise up against the controlling society leader Father. In the films climactic scenes, Preston goes on a rampage, killing Fathers bodyguards and henchmen, until it is just the two of them left to fight a gun kata battle.
Killer Move: After much gun-tussling and slapping away pistol barrels, Preston rips his opponents gun from his hand and stares at him down the barrel unopposed. Gun kata may not be a legitimate fighting technique, but it shows off some impressive moves all the same.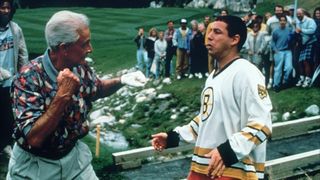 64. Happy Gilmore (1996)
The Fight: At a golfing tournament, Happy is partnered with TV show host Bob Barker, but when Bob starts complaining about Happys performance, they launch into a full-scale punch-up right there on the golfing green.
Killer Move: After taking several punches to the face, Happy launches himself at Bob, wrestles on the ground and delivers a crunching headbutt, followed by a smug The price is wrong, bitch!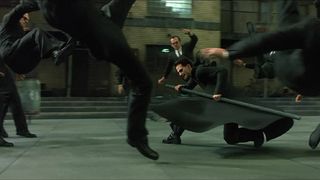 63. Matrix Reloaded (2003)
The Fight: Ok, so the switch from real-life actors to CGI 'virtual' actors is definitely more noticeable than was originally promised, but Neo's burly brawl with a ton of Agent Smiths is still a brilliantly original, wonderfully choreographed set-piece. And it's fun trying to spot the guys that didn't get the complete Hugo Weaving makeover in post-production.
Killer Move: In need of a bit more help, Neo breaks off a steel pole from the ground and uses it to bat away every Agent Smith that comes near him, right up until he is completely surrounded, when he pivots it on the floor and runs a couple of horizontal laps instead. Fantastic nonsense but dizzyingly fun all the same.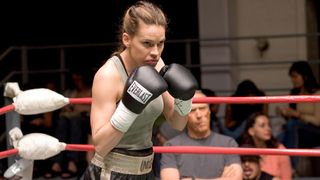 62. Million Dollar Baby (2004)
The Fight: Maggie finally gets the big fight she always wanted: a $1 million match against WBA womens welterweight champion, Billie The Blue Bear, an ex-prostitute and renowned dirty fighter.
Killer Move: In the single moment that changes this sporting underdog tale into a harrowing tragedy, The Blue Bear sucker punches Maggie after the round ends and she lands on her corner stool, breaking her neck and leaving her paralysed.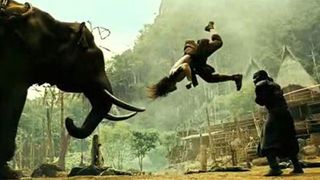 61. Ong Bak 2 (2008)
The Fight: Tien (Tony Jaa) takes the entire final third of the film to go on a fighting rampage in a bid to take revenge on the man that killed his parents.
Killer Move: Jaa is king of using his surroundings to his advantage and it doesnt get any better than jumping on the trunk of a live elephant to backwards somersault a flying kick at his opponents head.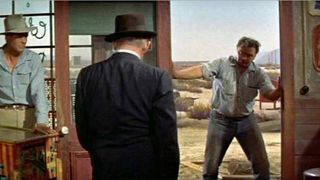 60. Bad Day At Black Rock (1955)
The Fight: Spencer Tracys Macreedy arrives in Black Rock in search for a man named Komoko but its clear the locals dont take too kindly too him. As Ernest Borgnines Trimble picks a fight with him in a bar, Macreedy easily dispatched him with simple judo and karate chops, all without the use of his paralysed left arm.
Killer Move: Macreedys first blow is a swift chop to Trimbles throat which leaves him gasping for breath and realising that he has seriously underestimated his foe.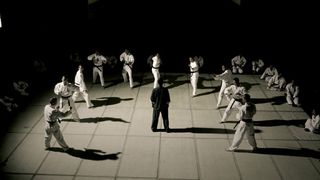 59. Ip Man (2008)
The Fight: In his revenge-fuelled mission, wing chun master Ip Man takes on 10 karate masters all at once, and with great ease.
Killer Move: One unlucky opponent goes in for a high kick, only for Ip Man to catch his foot, drop him to the floor and then bend his leg sharply upwards, breaking it at the hip joint. (*gags*)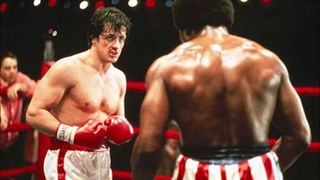 58. Rocky (1976)
The Fight: THE sporting underdog story: the little-known Italian Stallion's climactic bout with arrogant heavyweight champion Apollo Creed.
Killer Move: Rocky's sheer stamina. Having already taken a severe beating, Creed knocks him to the floor and throws his hands up in celebration. But his incredulous look is priceless as Rocky struggles back up to his feet...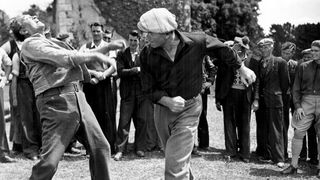 57. The Quiet Man (1952)
The Fight: When John Waynes ex-boxer Sean travels to Ireland and marries Mary Kate, her brother Will refuses to grant her dowry, a symbol of her independence. Eventually Sean and Will slug it out in the streets in what becomes a light-hearted fight where the two men grow to respect each other.
Killer Move: Sean throws Will in the river, but to show theres no hard feelings, helps him out again so that they can continue their fight.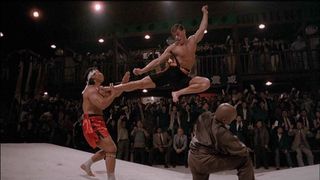 56. Bloodsport (1988)
The Fight: After competing in a Kumite tournament and getting through to the final round, the Mussels From Brussels faces the 80s sports film equivalent of an end-of-level boss: vicious defending champion Chong Li.
Killer Move: After being blinded with an illegal handful of quicklime, it looks like Van Dammes Frank Dux doesnt stand a chance, but then he taps into his Ninjutsu training and uses his other senses and lots of slow-motion jumps and kicks to win the bout.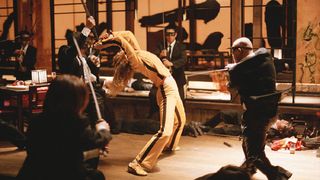 55. Kill Bill Vol. 1 (2003)
The Fight: What else? After killing the chain-hammer-twirling Gogo Yubari, the Bride is then confronted by a roar of motorbikes as the Crazy 88 gang pour in to the room to fight her. Cue lots of limb-chopping.
Killer Move: Having finished off the entire gang single-handedly, only one Crazy 88 member is left standing. The Bride sends him away with a spanking.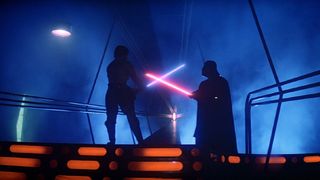 54. Star Wars: Episode V - The Empire Strikes Back (1980)
The Fight: Having waited three years to see a headstrong Luke square off against Darth Vader and avenge Obi-Wan's death, original Star Wars audiences got a lot more than they bargained for. With ominous lighting and powerful lightsaber-wielding, this was a showdown that marked Empire Strikes Back as a distinctly darker and deeper instalment of the saga.
Killer Move: Take your pick between the moment when Vader finally gets the better of the younger, inexperienced Jedi, liberating his hand from his wrist, or following it up with that revelation.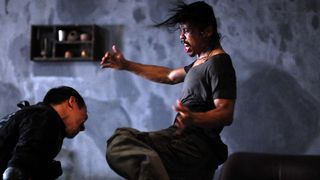 53. The Raid: Redemption (2011)
The Fight: After reuniting with his estranged brother, Rama must finally face henchman Mad Dog, a vicious brute who puts all of Ramas previous good fighting efforts to shame.
Killer Move: Ramas brother manages to stab Mad Dog in the neck with a broken fluorescent tube but he still continues fighting.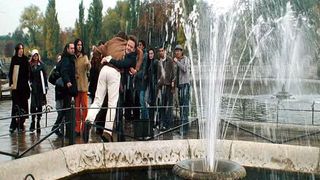 52. Bridget Jones: The Edge Of Reason (2004)
The Fight: Round two of the physically awkward fighting between cad Daniel Cleaver and everyones perfect man Mark Darcy, consisting mainly of cautious kick-lashing and uncommitted fist-throwing.
Killer Move: Having both fallen into a fountain, they break up their own fight as Cleaver asks snidely What are you gonna do now? Drown me in six inches of water. Theres a moments pause before Darcy replies Yes, certainly, and the unflattering wrestling continues.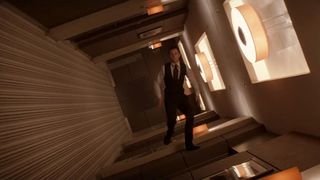 51. Inception (2010)
The Fight: Joseph Gordon-Levitt faces off against a projection of Cillian Murphy's subconscious in a hotel corridor, which is thrown into a state of zero gravity thanks to them occupying a van one dream level up that goes into free fall. We're assuming you've seen it, otherwise that sentence makes no sense.
Killer Move: Gordon-Levitts Arthur makes an early move to surprise his opponent by charging at him, starting off on the wall and then scrambling to the floor, just to get the first punch in.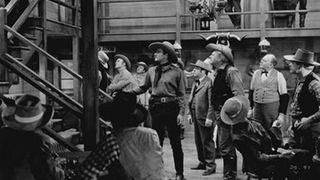 50. Dodge City (1939)
The Fight: Errol Flynn takes on allcomers in this seminal Western brawl, a sequence so famous it became used as stock footage for many other Westerns. Let the bottle-throwing commence!
Killer Move: The old chair across the back would become a staple of many bar fights to come...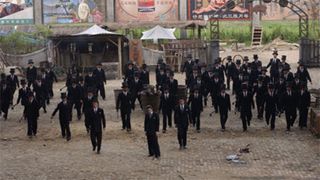 49. Kung Fu Hustle (2004)
The Fight: Steven Chow takes on around 50 members of the Axe Gang in this orgy of high-kicking carnage. Thats going to be murder on his joints in a few years
Killer Move: The particularly well-aimed kick that sends one gang member crashing through a tailors window. Nothing like a bit of broken glass to liven things up!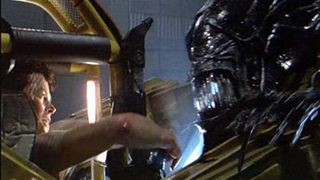 48. Aliens (1986)
The Fight: Ripley takes on the Xenomorph Queen in this unconventional catfight, with a souped-up forklift truck finally triumphing over the snapping jaws and razor-sharp tail.
Killer Move: Ripley manages to lure the Xenomorph into a cargo lock, allowing her to blast the beastie back into space where she belongs.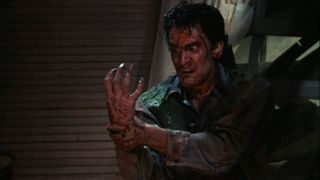 47. Evil Dead 2 (1987)
The Fight: Never mind the deadites, the biggest fight Ash faces in Evil Dead 2 is one with his own hand. The treacherous little brute has got a fair few moves in its locker
Killer Move: Ash realises what must be done, grabbing a chainsaw and severing his hand at the wrist. Whos laughing now, eh?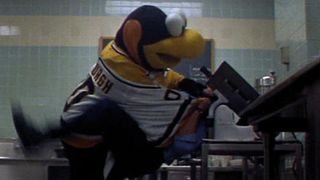 46. Sudden Death (1995)
The Fight: Scoring big in the comedy stakes, JCVD lays down the pain on a henchwoman in a Penguin costume. Not the kind of sentence you read every day
Killer Move: Pingus hand ends up in the deep-fat frier. Ah, the perils of fighting in a commercial kitchen.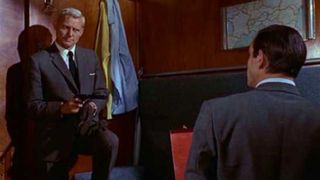 45. From Russia With Love (1963)
The Fight: Sean Connerys 007 tangles with SPECTRE agent Red Grant in a cramped train carriage in one of the more bone-jarring fight scenes in the James Bond series. Two men, one compartment no rules.
Killer Move: Bond turns the tide by retrieving a tiny knife from a concealed compartment in his briefcase. Cheers, Q!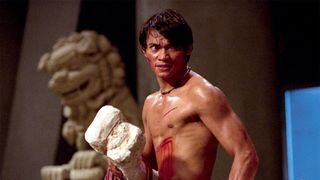 44. Warrior King (2005)
The Fight: Tony Jaa unleashes a world of hurt upon Madam Roses henchman, staking his claim to the title of most bones snapped in a single fight scene. He never met a limb he didnt want to break
Killer Move: Jaa places a henchmans arm between his thighs and breaks it with a little shimmy and shake.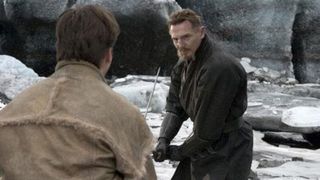 43. Batman Begins (2005)
The Fight: Throughout Batman Begins, Bruce repeatedly fails to remember Ras advice to mind your surroundings. Until the final battle on the train that is
Killer Move: The evasive manoeuvres that allow Bruce to escape and condemn Ras to his death. At least we think hes dead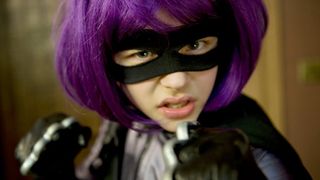 42. Kick-Ass (2010)
The Fight: Hit-Girl gets her first opportunity to show off her skills, breaking into a room full of crims and leaving them a bloody mess. Looks like those cunts couldnt do much after all
Killer Move: The leg-severing swish of her sword that leaves one henchman floor-bound.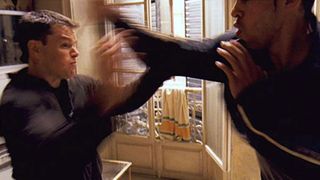 41. The Bourne Ultimatum (2007)
The Fight: Youd always back Jason Bourne in a fight at close quarters, even if hes just puffed himself out with a remarkable display of free-running. Sadly for Desh, this brief but brutal confrontation goes with the form book.
Killer Move: Bourne grabs a nearby book and uses it to dole out a bit of a beating. The pen is mightier than the sword etc.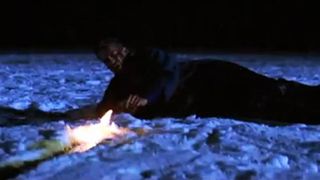 40. Die Hard 2 (1990)
The Fight: John McClane takes on two villains on the wing of a moving plane, sending one hurtling into the engine before making a death-defying leap back to terra firma.
Killer Move: Having previously breached the planes fuel tank, McClane reaches for his lighter and sends the whole thing up in flames. Yippie-kay-ay motherfucker.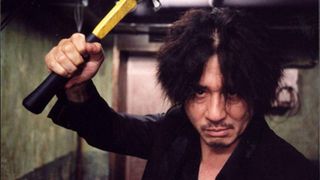 39. Oldboy (2003)
The Fight: Oh-Dae Su, a corridor full of henchmen and a claw hammer. Its a recipe for a bloodbath. Filmed in one-take, its a gore-spattered masterpiece.
Killer Move: Theres nothing very fancy here, just a lot of hammer-swinging. Simple, but effective.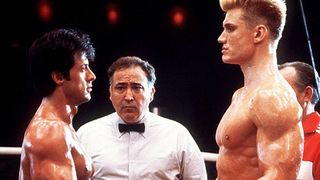 38. Rocky IV (1985)
The Fight: Having seen the hulking Drago kill off his good friend Apollo Creed (Creed was asking for it if you ask us), this one is most definitely personal for Rocky. However, hes giving away height, reach and weight to the Teutonic Russian
Killer Move: The haymaker that sends Drago pirouetting to the canvas. That ones from Uncle Sam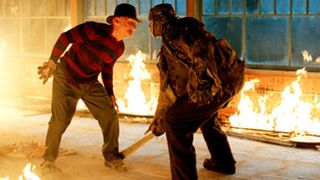 37. Freddy vs Jason (2003)
The Fight: The two horror icons do battle in this overblown crossover movie, with Freddie in particular showing off some hitherto unsuspected acrobatics as Jason lunges around through the flaming scenery
Killer Move: Jason scoops Freddy into his arms like a child, before ramming his head through a window and dragging it through a load of broken glass.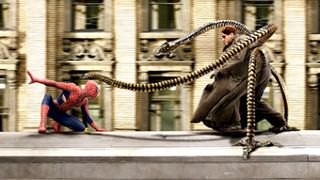 36. Spider-Man 2 (2004)
The Fight: Doc Ock pushed Spider-Man to his physical limits on board a moving subway train, giving the web-slinger a thorough pasting before Spidey finally comes out on top. Hes earned that round of applause by the end
Killer Move: Spidey shows off the full range of acrobatics in his repertoire, contorting his body to avoid a collision with a footbridge, before landing a blow on the unsuspecting Doc.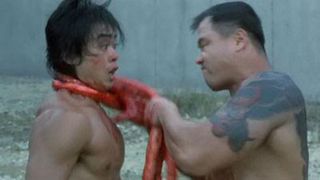 35. Ricky Oh: The Story of Ricky (1991)
The Fight: Surely the most ludicrously OTT fight on the list, as Ricky engages cell-leader Oscar in a fight to the death. When slapping a mans eye out of his head into a flock of hungry birds isnt the most out-there moment, you know youre watching something special.
Killer Move: Oscar attempts to choke out Ricky with his exposed intestines. Yep, that happens.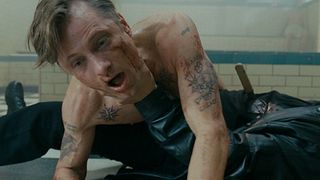 34. Eastern Promises (2007)
The Fight: A naked fight in a steamy bathhouse might sound a touch homoerotic, but trust us, theres nothing remotely sensual about this one. The desperation etched on Viggo Mortensens face is matched only by the ferocity of his survival instinct
Killer Move: Face, meet tiles. Tiles, face.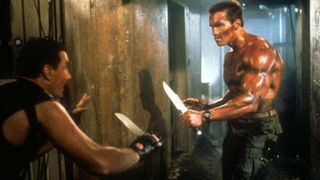 33. Commando (1985)
The Fight: Bennett makes the mistake of waving a knife at Arnold Schwarzenegger, who reacts in customary fashion, before delivering one of his greatest ever payoff lines
Killer Move: Arnie impales Bennett with a pipe, before quipping, Let off some steam, Bennett. Woohoo!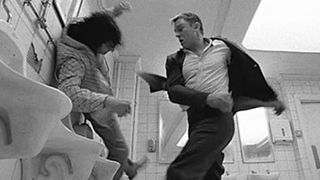 32. Casino Royale (2006)
The Fight: Daniel Craig shows off his new, gritty take on 007 in this down and dirty bathroom brawl. This Bond breaks faces first, thinks up witty quips later
Killer Move: The sink-based near-drowning. Roger Moore would never have got his hands so dirty!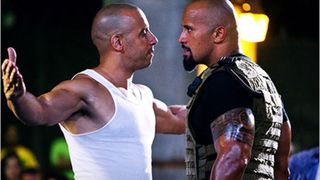 31. Fast Five (2011)
The Fight: What happens when two hulking slabs of muscle collide? They beat the living shit out of each other, ploughing through walls, windows and anything else that gets in their way. Vin Diesel vs The Rock was the undisputed highlight of a surprisingly good sequel.
Killer Move: Diesel ducks one of Rockys punches before spearing him through the nearest wall. Woof!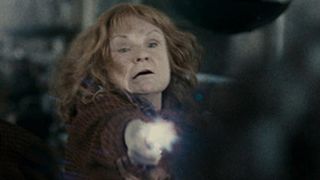 30. Harry Potter and the Deathly Hallows pt. 2 (2011)
The Fight: As the Battle of Hogwarts rages around them, Molly Weasley spies Bellatrix duelling her daughter, Ginny. Having already lost one child that evening, Molly aint about to bid farewell to another
Killer Move: A well aimed killing curse stops Bellatrix in her tracks. Not her daughter, bitch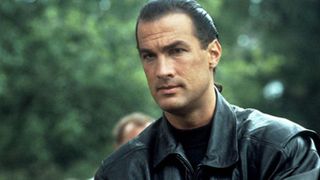 29. Hard to Kill (1990)
The Fight: Mason Storm (newly out of a coma, lest we forget) strolls into the house of the man who did for his family, taking out his assorted henchman whilst barely breaking a sweat. How? Hes Steven Seagal, thats how.
Killer Move: Storm takes down Axel by jamming a pool cue through this throat. Ouch.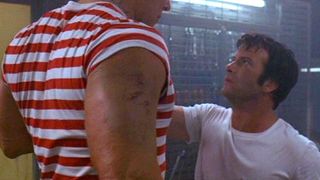 28. The Punisher (2004)
The Fight: Thomas Jane might be giving away both inches and pounds to the hulking Kevin Nash, but hes playing The Punisher, so things soon even up. That said, it does take the smaller man a while to work out how to win. Stabbing, for one, has little to no effect
Killer Move: It takes a massive fall to finally bring the big man down. Easy when you know how.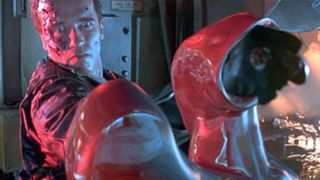 27. Terminator 2 (1991)
The Fight: The Terminator goes toe to toe with the T-1000 in this all-robot slobberknocker. It doesnt end well for either of them, but at least the original learned how to love. Awwww.
Killer Move: The final back-from-the-dead sucker punch. You never write off a Terminator until youre 100% certain that theyre dead.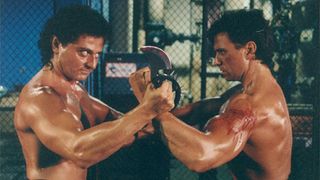 26. Undefeatable (1993)
The Fight: Its the Youtube sensation that is the handicap match between the team of Cynthia Rothrock and John Miller and Don Niams one man band. Let the shirt-ripping silliness commence!
Killer Move: The knife-licking opening sets the tone for whats about to follow perfectly!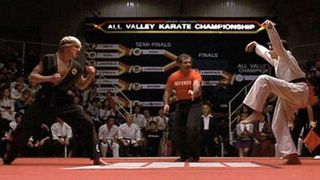 25. The Karate Kid (1984)
The Fight: The climactic battle for the All Valley Karate crown between Daniel and the villainous Johnny. The latter fights dirty, the former follows his heart. Who do you think comes out on top?
Killer Move: The Crane Kick that finally brings the contest to a close. Wax on, wax off, bitch.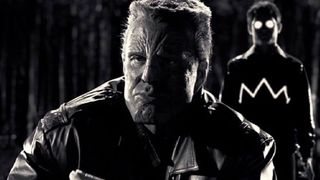 24. Sin City (2005)
The Fight: Having been comprehensively outmanoeuvred by the psychotic Kevin, Marv returns for the pint-sized sadist with a few tricks of his own. Proof that brute strength isnt always enough
Killer Move: Having overpowered Kevin and hacked off his limbs, Marv leaves his fallen enemy to be finished off by his dog. Nice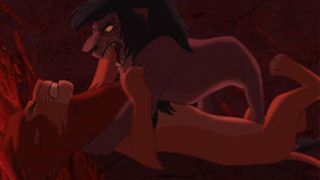 23. The Lion King (1994)
The Fight: The family feud between Scar and Simba finally erupts into the kind of fight to the death not usually found in animated family films! Still, Scar has definitely had this coming
Killer Move: Simba sends his treacherous uncle careering over a clifftop, where a pack of hyenas are waiting to finish him off.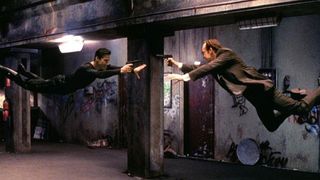 22. The Matrix (1999)
The Fight: Forget the overblown brawls of the later sequels, the original Neo v Smith is a vastly superior contest. Martial arts mayhem meets bullet-time flashiness in this showstopping beatdown.
Killer Move: Smiths eventual realisation that body-blows wont cut it leads to the two of them rolling around on a train track. Happily for Neo, he reacts the quicker, jumping to safety as the train rolls in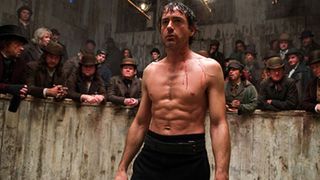 21. Sherlock Holmes (2009)
The Fight: Sherlock takes part in a bout of bare-knuckle boxing, keeping the audience updated on his labyrinthine thought process as he single-mindedly picks apart his opponents weak spots.
Killer Move: The jaw-fracturing punch is the one that really turns the tide in Sherlocks favour.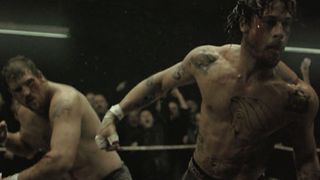 20. Snatch (2000)
The Fight: One Punch Mickey takes on Horace Goodnight Anderson in a fight hes supposed to throw for Brick Top. Does he go through with the deal? Does he hell
Killer Blow: From nowhere, Mickey delivers an uppercut that puts poor Horace on Dream Street. As Turkish helpfully points out, a pikey reaction is quite a fucking thing.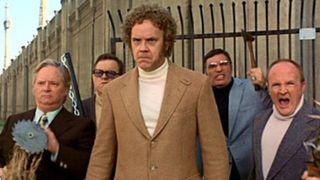 19. Anchorman (2004)
The Fight: A quartet of rival new teams descend upon each other for a hellacious showdown, bringing all manner of weird and wonderful weapons to the party. Watch out for that trident!
Killer Move: Champ Kind throws an onrushing aggressor through a car windshield. Smackdown!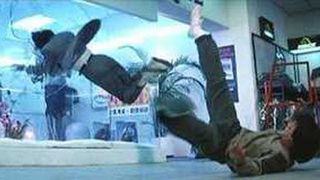 18. Police Story (1985)
The Fight: Worthy of inclusion for the most panes of glass broken in a single fight, Jackie Chans department store showdown with a bunch of Triads is one of the most hair-raising martial arts scraps in recent memory.
Killer Move: Jackie sends one goon face-first through a jewellery cabinet with a well-aimed kick. Wed wager thats going to leave a mark.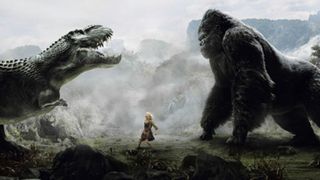 17. King Kong (2005)
The Fight: Kong is forced to lay claim to Naomi Watts when a trio of pesky Tyrannosaurs come sniffing around. I saw her first says Kong, with his fists.
Killer Move: Kong snaps one of the dinosaurs jaws in an awesome show of strength. Watts looks suitably impressed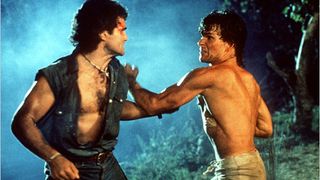 16. Road House (1989)
The Fight: Patrick Swayze rules the roost in his most badass role, as Dalton, the doorman with an unhealthy appetite for violence. The climactic fight with Jimmy is the icing on the cake
Killer Move: Dalton brings out his finishing move, ripping out Jimmys throat, Mortal Kombat style. FINISH HIM!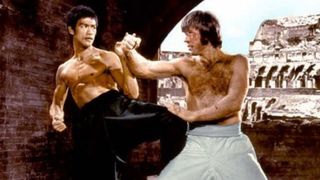 15. Way of the Dragon (1972)
The Fight: Bruce Lee and Chuck Norris put each other through their paces in this legendary battle from Way of the Dragon. Watch out for Chucks shoulder hair its worryingly prominent.
Killer Move: The series of kicks that puts Norris on his backside. For a minute there, he almost looks worried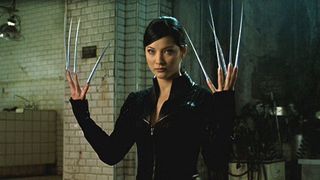 14. X2 (2003)
The Fight: Wolverine and Lady Deathstrike sink their claws into each other in spectacularly stabby dust-up at Alkali Lake. Thank goodness for those mutant powers of healing, eh?
Killer Move: Wolverine gives his opposite number an adamantium injection, filling her with metal and sending her to her doom with a resounding clunk.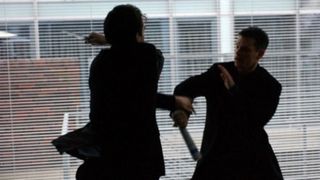 13. The Bourne Supremacy (2004)
The Fight: A thrilling hand-to-hand masterclass between Bourne and Jarda, in which the two grapple their way around an apartment, making use of the various domestic objects left lying around
Killer Move: Bourne rolls up a magazine and uses it as a makeshift cosh, swatting at Jarda as though he was no more than a bluebottle.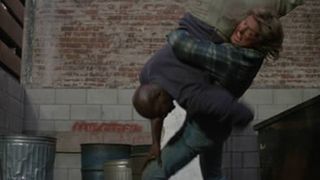 12. They Live (1988)
The Fight: An epically long-winded scrap between Roddy Piper and Keith David that runs the full gamut of eye-gouging, possum-playing dirtiness. You wouldnt turn your back on either of these two for a second
Killer Move: David makes to stamp on his shades before kicking Piper square in the jaw. What a sucker-punch!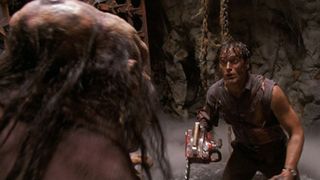 11. Army of Darkness (1992)
The Fight: The long-suffering Ash gets cast into a foul-looking pit, only to find himself confronted by an ancient Deadite and a set of spiked walls that seem to be getting closer by the second.
Killer Move: Ash recovers his trusty chainsaw in the nick of time, hacking the old crones head off as she goes in for the kill.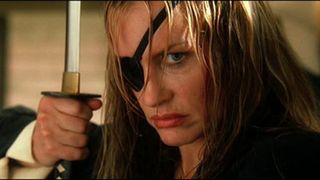 10. Kill Bill vol. 2 (2004)
The Fight: The claws are out for this catfight in Budds old trailer between the Bride and Elle Driver. The confined space only adds to the mayhem as the two assassins scrabble and claw for an advantage.
Killer Move: We like the old-school head down the toilet routine, but it really has to be the Brides eye-pluck manoeuvre. Savage.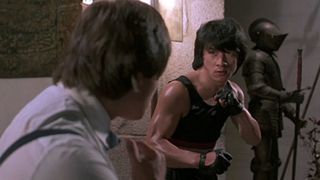 9. Wheels on Meals (1984)
The Fight: Jackie Chans first ever fight with Benny The Jet Urquidez is a chop-socky treat, with both men wriggling and slithering out of seemingly impossible situations. Trying to keep one of them down is like nailing jelly to a wall
Killer Move: Urquidez snuffs out a candle with a spinning kick. Not painful, but really bloody cool.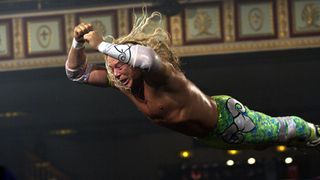 8. The Wrestler (2008)
The Fight: The Ram pushes his body to breaking point in a brutal hardcore match with real-life masochist Necro Butcher. Thumb tacks, barbed wire, blunt instruments you name it, its in there. As good old JR would say, for the love of God, somebody needs to stop this thing!
Killer Move: The Ram breaks a glass window over his opponents head. Game-changer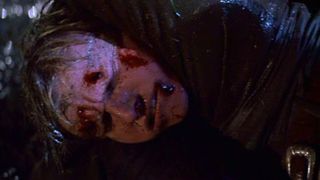 7. Lethal Weapon (1987)
The Fight: A dust-up between fully paid-up loons Gary Busey and Mel Gibson was always going to be tasty and the garden based rumble between Riggs and Mr. Joshua doesnt disappoint. Were not sure this is police protocol, but its damned entertaining!
Killer Move: Mr. Joshua gets choked out by the sheer power of Riggs legs. A lesson, if one were needed, to never get your head between Mel Gibsons thighs.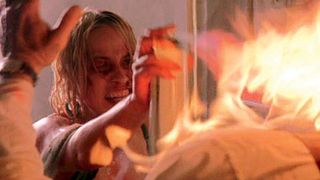 6. True Romance (1993)
The Fight: A no-holds-barred, anything goes brawl in which Patricia Arquette attempts to take down James Gandolfinis hitman with anything she can get her hands on. It aint pretty
Killer Move: Its a tough call, but the corkscrew through Big Jims foot probably wins out in the wincing stakes.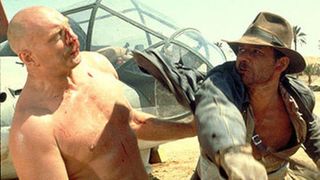 5. Raiders of the Lost Ark (1981)
The Fight: Indy enters an all-out slugfest with a moustachioed mountain of a man. He might be giving away more than a few pounds in weight, but Indys talents lie in his awareness of his surroundings
Killer Move: Indy keeps his man just where he wants him, allowing the propeller of a nearby aeroplane to do the rest.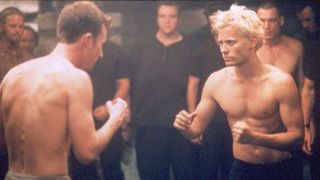 4. Fight Club (1999)
The Fight: Ed Nortons nameless narrator takes on Jared Letos Angel Face, remarking that, I felt like destroying something beautiful. Needless to say, he doesnt disappoint
Killer Move: Nothing fancy here, just meaty punch after meaty punch. Norton takes it a bit far, mind. The fight shouldve been stopped well before the end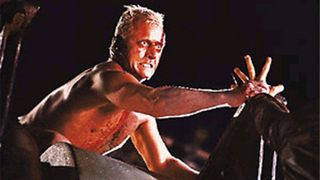 3. Blade Runner (1982)
The Fight: Deckard and Batty go at it hammer and tongs in this rain-drenched rooftop brawl. Dont worry though folks, theyre not human!
Killer Move: Batty steals the scene with his show-stopping death speech. Actions usually speak louder than words, but these words are badass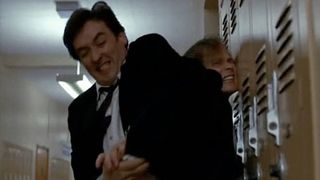 2. Grosse Pointe Blank (1997)
The Fight: Martin Blank takes on Felix LaPubelle at his high-school reunion in an unexpectedly nasty locker-side brawl. Whatever happened to the traditional schoolyard practice of the Chinese burn?
Killer Move: Blank brings proceedings to an abrupt halt by jamming a biro through his opponents neck.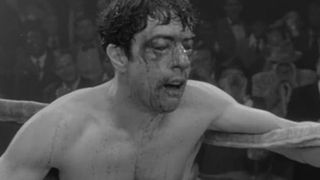 1. Raging Bull (1980)
The Fight: Jake LaMotta and Sugar Ray Robinson are the participants in this balletic and visceral punch-up. Robinson beats seven bells out of LaMotta, but crucially fails to knock him out
Killer Move: The storm of punches delivered by Robinson that leaves LaMottas face a bloody mess. Still, ya never got me down Ray. Ya never got me down.