Today on Amazon, you can score a solid $200 off the 14" Razer Blade, a stealth bomber of a gaming laptop that hides VR Ready graphics and the power of a NVIDIA GeForce GTX 1060 under its hood. It also has the looks of a supermodel on a really good day.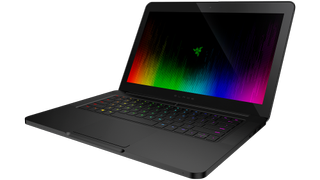 The Razer Blade 14" for $1699.99, $200 off the usual price. This deal will score you the 1080p, 256 GB model and make sure that your PC games look amazing, and you look pretty cool while you're playing them too.
Price drops on these machines are rare outside of Black Friday mania, so this is a great time to grab one of the best gaming laptops. Here's what our reviewer previously had to say about the Razer Blade:
Read more: Razer Hyperflux review: "A mat charged mouse that's light, precise...and expensive"
"It's hard to say a negative word about Razer's ultra gorgeous Blade. Somehow managing to fit an Nvidia 1060 into that slick form factor, and boasting an impressive battery life, this 14" aluminium offering is an incredible powerhouse. Cold to the touch in sleek aluminium, the Blade is instant on, thanks to its 256GB SSD (it can go all the way up to 1TB) and has a super crisp IPS screen.
Somehow it weighs only 1.86kg and can happily crank Witcher 3 up to high settings. The GTX 1060 also helpfully means that this is one of the most stylish VR ready laptops you can buy. Add in the incredible twinkling individually backlit Chroma keyboard - complete with the Synapse software of all of Razer's peripherals - and this is one of the best gaming laptops on the market today. Invest in this and you won't regret it."
Once you've placed your order, check out our 30 best PC games to play right now.