I don't think the team at Ubisoft Bordeaux imagined that they would be lead on a project like Assassin's Creed Mirage this soon. As myself and a cluster of global press walk through their office, a space adorned with Rabbids, Ghost Recon maps, Assassin's merch, and books on Irish and Persian history, the team members that greet us are almost giddy with excitement at the prospect of us going hands-on with Basim's adventure for the first time.
On the Radar
This celebration of Ubisoft Bordeaux is part of our week of Assassin's Creed Mirage: On the Radar coverage
"We're so very, very, very happy to welcome you today," explains Julien Mayeux, managing director at Ubisoft Bordeaux. "We've been waiting for this moment for the last six years."
Ubisoft Bordeaux has only been a studio since 2017, and it's the first French studio Ubisoft has opened in some 25 years. To me, that sounds pretty unusual for a studio with its headquarters in Paris; yet, this is Bordeaux's reality.
"We used the wine and the ocean to convince some veterans of the industry to join us here," laughs Mayeux, who explains that the team has now grown so large that they're spread across two buildings. Soon they're moving to a new space just a stone's throw away, one that'll hold all of its 450-odd headcount in a single place.
"It was quite a long journey to Mirage," adds Mayeux. "That first year we were mainly working as a support studio for Paris," with the team working on games like Ghost Recon Wildlands, Ghost Recon Breakpoint, and Rainbow Six Extraction, but it was the opportunity to work on DLC for Splinter Cell: Blacklist that felt like a great step for the team. Mayeux puts that down to the team's experience with stealth and open-world games, but it also paved the way for the team to take on the first Assassin's Creed Valhalla DLC - Wrath of the Druids.
Manifesting Mirage
Both myself and GamesRadar's own Heather Wald thought Wrath of the Druids was actually Valhalla's best DLC, namely because of the strength of its story within its smaller Irish location. Looking back at it now, it certainly showcased Bordeaux's abilities and laid a great foundation for Assassin's Creed Mirage.
"Onboarding onto the Assassin's Creed brand was a bit chaotic because of COVID, but the Wrath of the Druid was very good DLC in the end, and it gave us the trust and the momentum to propose our very own game," adds Mayeux.
The team says that the pitch was initially for another DLC for Valhalla focused on Basim, but as part of that pitch, they suggested that they also had ideas for making it into a standalone game. More specifically, the team saw the potential for it to be a return to the series' roots. "Going back to the roots of the first Assassin's Creed games was a personal drive for us," adds lead producer, Fabian Salomon. "It's a game made by fans for fans."

"We decided to define what were the many emotional journeys those original games let us live, and then think about how we can transcribe those feelings, that nostalgia, into a fully-fledged Assassin's Creed game," says Stéphane Boudon, creative director. "[We wanted to create] a brand new action-adventure game, based on assassination and stealth gameplay."
"The idea resonated with all the right people," laughs Boudon, before adding that support for switching tack to take on a standalone game came as "a bit of a surprise" for the team. "It was really quick! We didn't realize what it was at first because we were a smaller team and maybe we didn't really get what it would mean to be lead on an Assassin's Creed game. We were pretty lucky in fact. It's kind of crazy and in fact, I'm not sure we realize yet. I think it will be when the game is released. We will ask ourselves what it was to do all of this."
There's a delightful, nervous energy around everyone I speak to at Ubisoft Bordeaux and a passion that belies that this is a team that is really proud of what they're creating with Assassin's Creed Mirage. "It's thrilling, but it's a big responsibility working on a huge franchise like Assassin's Creed," explains Beaulieu. "You don't want to disappoint people, and it's impossible to create something that is going to please everybody, but that's what you're trying to do. We are very aware of the community's needs, and we hear them. We've read a lot of tweets, and we know we shouldn't, but it's a pressure and a responsibility. But, we're also very proud of what we've made."
Salomon nails it when he says Mirage is "a game made by veteran Assassin's Creed enthusiasts", with art director Jean-Luc Sala adding that from the moment he joined the studio, "we all clearly play Assassin's Creed - we all already knew the lore." Boudon even admits that working on the Assassin's Creed franchise has been his dream since he joined Ubisoft back in 2005. "Being the lead on an Assassin's Creed game is quite unexpected," he says. "My only option before was moving to Montreal at some point, but the franchise came to me."
Celebration of the Creed
"Everyone was asking for an Assassin's Creed 1 remake, but we didn't want to do that," says Sala. "They were defensive when we said we didn't want to do that, but rather it was going to be different. The same, but different. Now when you play, I think everyone understands that it's good that it's similar but modernized, with more visual comfort and easier to play. It's a new take on what we've done before."
The Ubisoft Bordeaux team knew that part of that feeling of nostalgia also involved the game being smaller and more compact than the sprawling RPGs the series has delivered over the past few years. But they also hope that players appreciate that the size is also reflective of the team. "We wanted to still keep this intimate somehow," says Boudon, because he was aware the Bordeaux studio doesn't have the sheer size of something like Montreal, despite getting support from other Ubisoft studios including Singapore.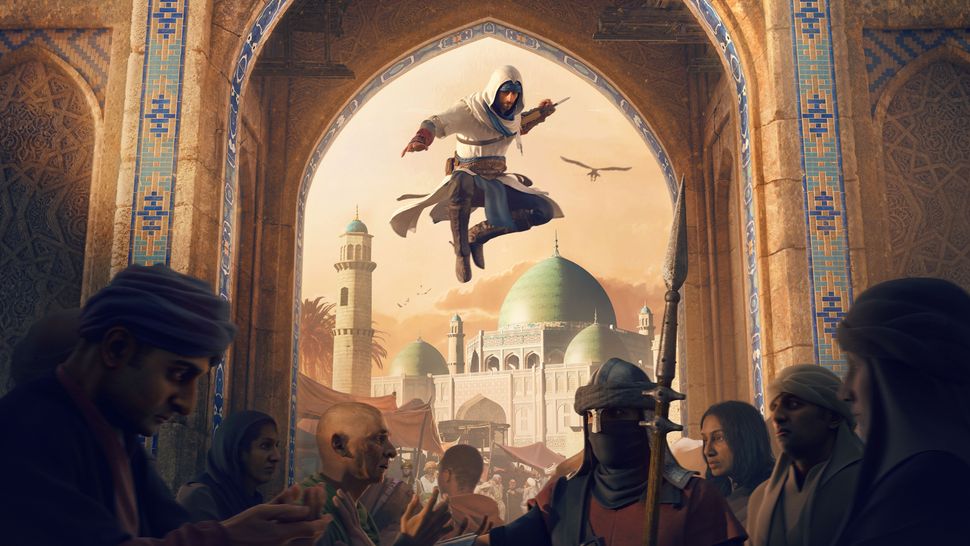 Thankfully, it all seems to have paid off as from the moment the game was announced back in September last year, the community has been heavily invested. "The first announcement was really, really great because we got a lot of love," says Boudon. "It was exciting and it also gave us a lot of confidence to do what we were planning. After that, we monitored what the community wanted. So we sat together to talk about the specific ingredients or gameplay elements to see what we could bring back and modernize."
Talking to the developers at Ubisoft Bordeaux about the series is infectious, and I come away more excited for Mirage than ever before. From the way they've recreated Baghdad, the drive to celebrate the Middle East and the Arabic language through elements like the logo, and even the way they've approached characters like hero Basim and his mentor Roshan, the passion for the series is clear from every conversation. But so is the fact that they also love working together, with so many of the team coming together to hear the others talk about each element of the project.
"The [rags to riches] story of Basim is a bit like the story of Bordeaux," laughs Boudon, reflecting on the studio's growth over the last few years. "We started small, and we've built our expertise and our team. This game has given us the opportunity to build this great team."
"Almost everybody on the team put something very personal in this game," adds Beaulieu. "It's why I think everybody is so happy, and so worried, and also so excited. I'm going to hide on October 5th. I don't know where yet." Maybe a hay bale?