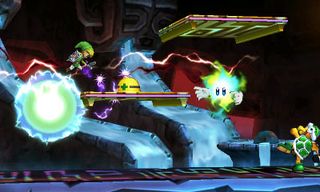 Lower res, sooner release
We really didn't expect to hear that the Wii U version of Super Smash Bros. would be releasing months after the 3DS one. But in the time since the Nintendo Direct broadcast, we've come to terms with the news. Sure, we'll be playing an inferior version first, and it kind of means we need to buy two copies of Smash Bros. in 2014, but... hey! We didn't think we'd be playing this thing until Winter 2014 already, so getting the handheld version early? That's just a bonus.
More importantly, the 3DS version looks really nice on its own. The visuals are clean, and it apparently will run just as fast and smooth as its next-gen counterpart. Nintendo released over 100 screens after the Nintendo Direct ended, and we've looked through them a few times now--we figured you might want to do the same. We also put together a video explaining all of the differences, from the new modes to the online play, and you can check that out below.