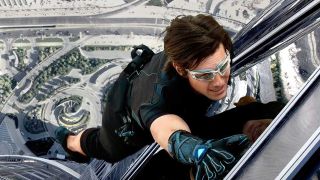 You won't believe your eyes
A gun-totin' baddie on her tail, our hero makes a death-defying leap across a rooftop, crash lands, dusts herself off and carries on like it ain't no thing. Who doesn't love seeing that type of badassery? It's hard to believe that practical stunts of that calibre have been around for nearly a century. They're a part of films that continue to impress audiences. I mean let's face it, stuntwork brings a level of realism to movies that makes us really believe that Vin Diesel can fly a car out of a plane... in reverse. Here's 25 of the best stunts that are so jaw-droppingly bonkers, you won't believe they're not CGI.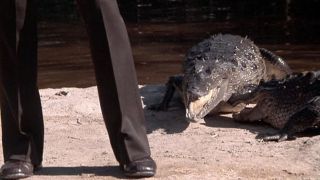 25. Live and Let Die (1973)
The movie: His first stint as Bond and Roger Moore's Martini-chuggin' Mi6 agent is tasked with bringing justice to three murdered agents. Stirring suspicions, he winds up on a drug lord's hitlist and... well, that's never good, is it?
The stunt: Surrounded by a horde of hungry reptiles on an island, things are looking bleak for Bond. There's only path to freedom - he has to walk on a low-hanging bridge... that consists of crocodiles. That figure you see is actually crocodile farm owner Ross Kananga who walked over his beloved beasties. It took up to six takes to get it right after his foot slipped into a hungry croc's mouth.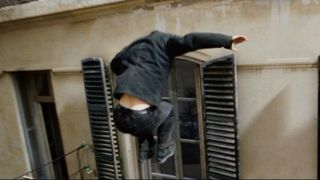 24. The Bourne Ultimatum (2007)
The movie: Ultimatum wraps up the original trilogy with a globetrotting jaunt that finds the amnesiac assassin dodging shady officials as he tries to uncover his true identity.
The stunt: Matt Damon's secret agent is in hot pursuit of a gun-wielding baddie intent on taking out his pal Nicky. The chase takes the pair across rooftops, arriving at a point where the only option for Bourne requires him to leap into a window. No big deal, right?
It probably was for the TWO stuntmen who director Paul Greengrass had make the jump from building to building. One is Damon's stunt double, the other is a stuntman wire-rigged behind clutching a handheld camera. There's zero CGI here as we see Bourne jump from a roof and crash through a window. It did take two weeks to film, however.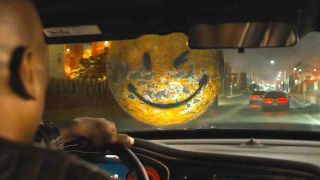 23. The Fate of the Furious (2017)
The movie: The eighth Furious movie makes the seventh outing look positively wimpy in comparison. Dom is forced to betray his family by siding with Charlize Theron's gloriously evil villain, whose ambitions include world domination and surfing over ice with submarines.
The stunt: Hobbs, Toretto and the rest of the crew tear into Berlin to steal an EMP, which naturally, doesn't go down well with the local cops. As the police arrive, the Furious family let rip with a wrecking ball to take 'em out. The film's stunt co-ordinator Andy Gill claims the stunt is 70% real. How so? They made a customised ball that weighed 14 tons (!) and towed a load of driverless cars straight toward the swinging sphere at 40mph, where they were totally decimated. The stuntmen driving the good guys' cars simply veered out of the way to avoid the same fate.... of the furious (Sorry).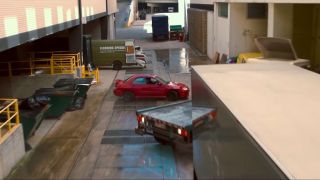 22. Baby Driver (2017)
The movie: Ansel Elgort's music nerd channels his audiophile tendencies to become an absolutely killer getaway driver. Eager to abandon his life of crime when he meets the woman of his dreams, he's forced to do one last job before taking the off-ramp for good.
The stunt: A movie about a getaway driver is bound to have a slew of breath-taking stunts, and Baby Driver has 'em in spades. One of the most impressive is the 180 in, 180 out sequence during the opening scene. While Elgort put in many hours behind the wheel, this feat was performed by stunt driver Jeremy Fry, who took six takes to drive down a busy alleyway, pull a forward 180, swerve around a truck, and do a reverse 180. None of it was greenscreened.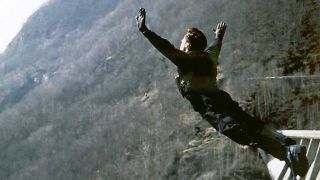 21. Goldeneye (1995)
The movie: Pierce Brosnan's stint as the Mi6 agent kicks off with the iconic spy squaring off against a former colleague-turned-enemy who's got his hands on a piece of gear that can blow up the planet from space.
The stunt: Another Bond flick with a piece of stuntwork that makes you wonder if Bond is actually part Terminator. I'm talking about Bond's spot of bungee jumping during the opening sequence. This challenging 750-ft fall was executed by stuntman Wayne Michaels who leapt off an extended platform to avoid smashing into the Swiss dam, careens down its face, and manages to pull Bond's weapon before boinging out of the shot.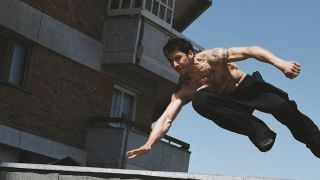 20. District B13 (2004)
The movie: Not many have heard of this bonkers French movie that splices a touch of sci-fi together with life-endangering stuntwork and a story about a dystopian Parisian ghetto. Boil it down and its a parkour martial arts flick that enlists the creator of the sport for what's essentially a very impressive showreel.
The stunt: The guy who invented parkour, David Belle, takes on all of his own stunts in the movie and this one particular chase sequence finds him flying across rooftops, leaping into windows, rappelling down walls... all of it is accomplished without taking safety into account. He does it with no harnesses or wires.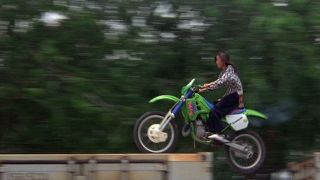 19. Police Story 3 (1992)
The movie: AKA Supercop in the US, the third outing for Jackie Chan's police inspector finds him deep undercover behind bars in a Chinese prison to break up a drug-smuggling ring.
The stunt: Going up against legendary stunt master Chan clearly had an effect on his equally daredevilish co-star Michelle Yeoh. One scene required her character to ride a motorcycle off a ramp, land on a moving train roof and then quickly roll from the train onto the hood of a passing car. Along with training from a stunt co-ordinator Yeoh performed the entire act herself, as you can see in the closing credits of the movie. Rumour has it she had never ridden a motorbike until two weeks before filming the stunt.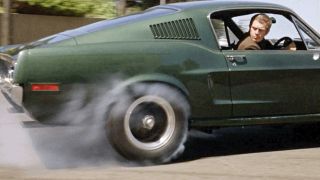 18. Bullitt (1968)
The movie: The San Francisco cop movie that's most commonly known for its superb car chases features Steve McQueen as a police lieutenant trying to bring down the mob.
The stunt: Car chases might be all the rage now, but Steve McQueen's race around the city by the bay remains the gold standard. Clocking in at eleven minutes you might think the whole thing was carefully staged... yeah, no, that didn't happen. McQueen tore through the streets of San Francisco behind the wheel of his 1968 Ford Mustang GT, and by the end of the scene, a camera and a car were left totally destroyed.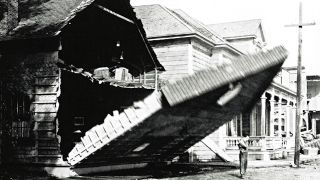 17. Steamboat Bill, Jr. (1928)
The movie: An old school Buster Keaton comedy that casts the iconic star as a college kid who returns home to his boat captain father. It's packed with a slew of terrific sight gags and spectacular stunts.
The stunt: The silent era actor happily put himself in harm's way for one of cinema's most-talked about stunts. Dangerous and impressive, Keaton thankfully makes his mark when a full-weight wall falls down around him. Rumour has it Keaton was so distraught after hearing the studio threaten to shut down production, he didn't care if it crushed him or not. Yikes.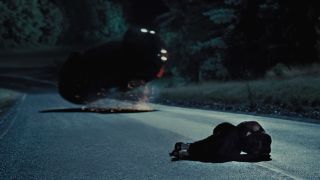 16. Casino Royale (2006)
The movie: The first in a new era of Bond puts Daniel Craig in the role of suave agent 007 tasked with locating Le Chiffre, the guy who signs terrorists' paychecks, and beating him at poker.
The stunt: This stunt happens towards the end of the movie, when Bond and his car go for a roll on the tarmac - and a brand new Aston Martin gets utterly destroyed in the process. As the car in question had a low centre of gravity, a ramp was fitted on the road, and stunt driver Adam Kirley activated an air cannon behind his seat to ensure the car would roll at the desired moment. The car hit 70mph and rolled over seven times. It was awarded a Guinness world record for the most cannon rolls in a car.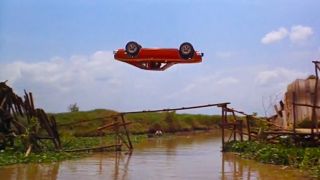 15. The Man with the Golden Gun (1974)
The movie: While not the best Bond film ever made, The Man With the Golden Gun nevertheless isn't without its charms. We get Roger Moore hamming it up as Bond, Christopher Lee doing the same as baddie Francisco Scaramanga and a MacGuffin involving a device that turns the sun into a weapon.
The stunt: There really is nothing quite like monetary incentive, and that's why the stuntman behind this feat was paid £30,000 to nail the act in question. During 007's frantic car chase with Scaramanga, he soon realises he's on the wrong side of a river, and doesn't really fancy backtracking so he does what anyone would: he soars across the water at such a speed that his car spins in the air.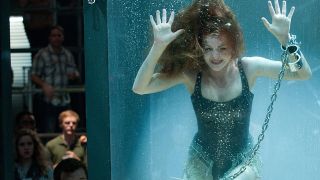 14. Now You See Me (2013)
The movie: Magicians unite to bring down evil corporations! Led by Jesse Eisenberg, a group of illusionists who call themselves the Four Horsemen perform impressive acts that include stealing money from the rich and corrupt and giving it away. This type of behaviour stirs the attention of the FBI who do everything they can to stop the Horsemen.
The stunt: Isla Fisher's character gets dunked into a water tank, in handcuffs and has to escape or she faces death by a swarm of piranhas. Her chains get wedged and she thumps her fists on the glass to try and get people's attention. She wasn't acting: Fisher chose to do this stunt herself and very nearly died because she did indeed get stuck. Her genuine pleas for help looked like a convincing performance.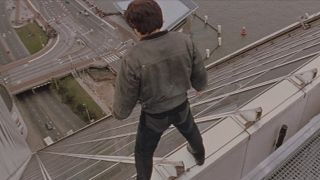 13. Who Am I? (1998)
The movie: Another Jackie Chan action comedy from the '90s, Who Am I involves dastardly CIA agents, a helicopter crash and a heavy dose of amnesia inflicted upon Chan's character who will do nothing to bring his double-crossing colleague to justice.
The stunt: When you think about it, Chan's whole career appears to be one gigantic attempt to outdo himself. With each new movie comes another opportunity to make his producers sweat and insurance companies soil themselves, as is this case with this scene where Chan leaps from a building to make a fast exit and lands on a sloped roof. Without any harnesses or wires he slides down 21 storeys of windows.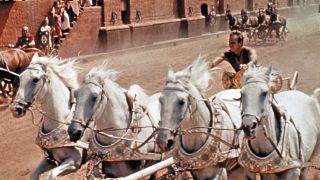 12. Ben Hur (1959)
The movie: The original swords n' sandals epic that follows Charlton Heston's Jewish Prince sent to battle the Roman Empire. Don't bother with the recent remake, this classic has aged well.
The stunt: Of course, it can only be the chariot race. This monumental scene required thousands of extras as spectators, along with hundreds of trained stuntmen to ride the actual chariots. To make things more exciting, telephone poles were planted underground to make the ride bumpy, which led to one rider being flung from his horse and very nearly getting trampled. The most impressive part of this stunt? The car in front of the procession that filmed the whole thing kept getting overtaken by the horses, and producers had to shell out for a faster car. They don't call it horsepower for nothing.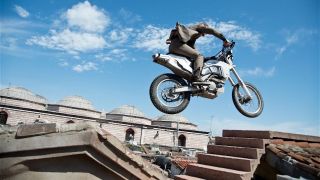 11. Skyfall (2012)
The movie: The best Bond film since err, Quantum of Solace, raked in over $1 billion worldwide and finds the Many-Faced agent doing more globe-trotting after Mi6 is compromised. Not knowing who to trust, M sends Bond on a mission to locate Silva, a nefarious character from her past.
The stunt: Why opt for the simple, less impressive route of using greenscreen when you can drag a dozen motorbikes through tiny streets and hoist them up onto rooftops? That's the decision director Sam Mendes grappled with before choosing the latter. Skyfall's impressive motorbike rooftop sequence was shot with actual bikes on an actual rooftop in Turkey.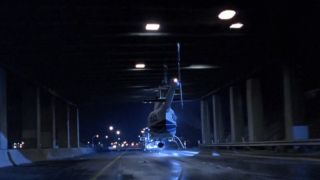 10. Terminator 2: Judgment Day (1991)
The movie: Still hellbent on taking out the future of the Resistance, Skynet sends back yet another Terminator, the T-1000 to wipe out John Connor. Lucky for him, the Resistance reprograms an Arnie-style cyborg to protect him.
The stunt: During the final chase sequence, the T-1000 hijacks a helicopter and pursues the T-800 who is doing his best to outrun the 'copter in a SWAT van. The determination of the T-1000 is shown when it flies through an underpass - something that James Cameron was determined to film. He got stuntman Chuck Tamburro to pilot the 'copter and perform this risky feat despite the fact there was only about 5ft above and below the vehicle once he flew in the underpass. The stunt was so dangerous, none of the crew would film it, so Cameron did it himself.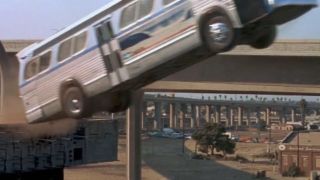 9. Speed (1994)
The movie: AKA The one where the bus can't go below 50mph otherwise it'll explode. Speed launched the career of Sandra Bullock, established Keanu Reeves as a bona fide action hero, and re-established Dennis Hopper as being utterly bonkers.
The stunt: The bus heads down an elevated freeway with a 50ft section that's not been built yet, so Bullock's plucky driver puts her foot down and clears the gap no problem. In reality, director Jan De Bont and his stunt coordinator stripped down a bus to its minimum, put stunt driver Joffrey Brown harnessed behind the wheel and let him rip on an LA freeway ramp. Bringing the bus up to approximately 61mph, he flew 109ft in the air and hit the ground moments later, destroying the bus.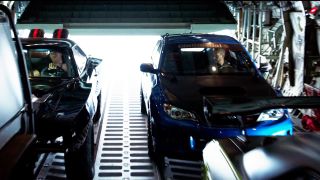 8. Furious 7 (2015)
The movie: Toretto's gang faces off against Owen Shaw's brother Deckard, while making a deal with Agent Hobbs to rescue a kidnapped hacker. There's cars too.
The stunt: When Dom and the gang just *have* to make an entrance, only parachuting from a height of 12,000ft out the back of a plane will do. While there were no actors in the cars that fell from the transport plane - they were added later - those fine automobiles were attached to parachutes and dropped, along with three skydivers who acquired footage for the movie while avoiding falling debris.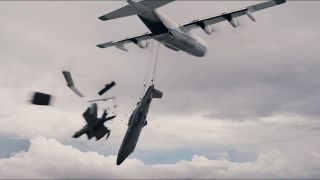 7. The Dark Knight Rises (2012)
The movie: Christopher Nolan's Batman trilogy wraps up with this somewhat underrated outing that finds Batman squaring off against several villains, including Tom Hardy's thug Bane and an old pit.
The stunt: The film opens as Bane and his team hijack a government plane, kill everyone, escape then blow it up to look like an accident. If that wasn't exciting enough, it turns out Nolan decided instead of using miniatures or CGI, he'd go the whole hog and actually decimate a plane. That's a squad of incredibly courageous stuntmen you see rappel from Bane's plane down onto the government plane. And even though they got it in one, Nolan shot another take just to make sure, destroying TWO planes.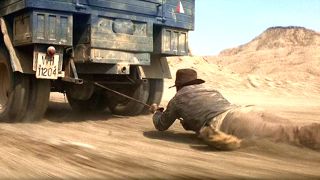 6. Raiders of the Lost Ark (1980)
The movie: In the first Indiana Jones flick, the intrepid archaeologist-turned-adventurer goes after Nazis eager to get their dabs on the Ark of the Covenant.
The stunt: Indy's attempts to thwart the Nazis find him on the front of their truck. In a direct homage to the classic Stagecoach, he falls off the roof, crawls beneath, and gets dragged behind it like tin cans on a wedding car. Even though we see Harrison Ford's face throughout the sequence, his close-ups were added later, after stuntman Terry Leonard performed the thing in its entirety. Well, on one condition - that one of his trusted friends drive the truck.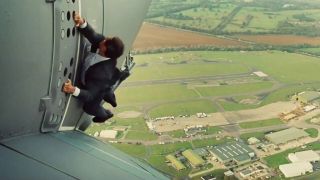 5. Mission: Impossible - Rogue Nation (2015)
The movie: The IMF is disbanded. That's not going to stop Ethan Hunt from engaging in some seriously dangerous activities, especially when a sketchy group of rogue operatives called the Syndicate start causing international mayhem.
The stunt: Why save the big, showy stuff for later? This moment of hair-raising action kicks off Rogue Nation. In hot pursuit of the baddies, Ethan Hunt charges down the runaway next to an Airbus, leaps onto its side and stays there while the plane taxies and takes off. Cruise performed the stunt himself, wearing a full body harness along with a series of wires holding him to the plane. The Airbus rose to 1000ft did an entire loop over the RAF base where filming took place, and then landed... 8 minutes later.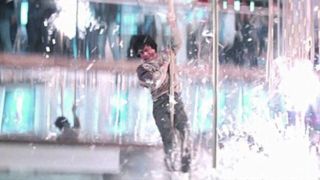 4. Police Story (1985)
The movie: Written by, directed by and starring Jackie Chan, Police Story follows Chan's Hong Kong detective as he tries to bring down drug lords. To be honest, the story doesn't matter, this is all about the stunts.
The stunt: Not one to do things by halves, Jackie Chan leaps from a mall balcony onto a 100ft pole decorated with lightbulbs - it's Christmas, you see. Chan slides all the way down, tearing his hands as lightbulbs shatter, until he finally crashes through a glass ceiling. Due to the intense heat from the bulbs, he also scored a number of second-degree burns as well as dislocating his pelvis during the landing. Yowza.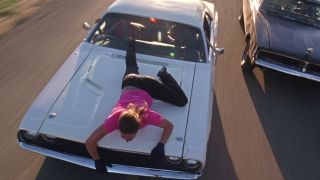 3. Death Proof (2007)
The movie: Tarantino's half of the Grindhouse double-bill is a taut, creepy chiller that chronicles two groups of women who encounter Kurt Russell's Stuntman Mike, a sociopathic stunt driver with a taste for vehicular homicide.
The stunt: The girls take a Dodge Challenger for a spin, and their seemingly innocent ride turns into an incredibly dangerous game called Ship's Mast. This involves Zoe - stuntwoman Zoe Bell playing herself! - lying across the bonnet of the car, holding onto two seatbelts while the Dodge is being driven at 85 mph. She did the whole stunt herself.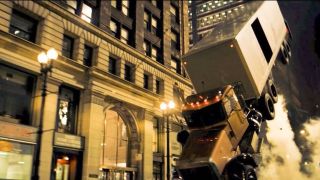 2. The Dark Knight (2008)
The movie: Arguably the greatest Batman movie ever made. Nolan's middle chapter breaks all the rules of superhero cinema, packing in a complex moral story for Bruce Wayne, a lifetime-best performance from Heath Ledger and an array of showy action pieces.
The stunt: The Joker's fiendish plan involves many theatrical elements including a moment where an eighteen-wheeler semi truck is flipped in the middle of Gotham. This actually took place. Well, not in Gotham, but Chicago where stuntmen rigged up the behemoth truck with a huge piston beneath it timed to go off and force the vehicle to completely flip. Sure, it could have been achieved with miniatures, but where's the fun in that?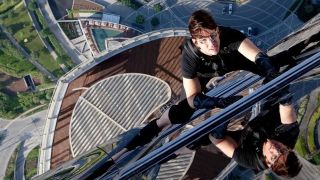 1. Mission: Impossible - Ghost Protocol (2011)
The movie: The best MI flick in recent years finds Ethan Hunt and the whole of the IMF blamed for an event they had nothing to do with. The team are forced to operate alone, outside of the government's control, to clear IMF's name.
The stunt: With no way into a server room, it's up to Ethan to figure out an alternate route... and that happens to involve scaling the world's tallest building. Tom Cruise, being the daredevil that he is, chose to be dangled 123 storeys up in the air by a cable the thickness of a piano wire. That was attached to a harness, mind, but it's still a little terrifying to think about being 1700ft in the air when it could have easily been accomplished with CGI. That's Cruise for you.
"One night, after one of the earliest shooting days, I bolted up in bed realizing that we had our star dangling about a mile up in the air on a thin wire and my brain was screaming, 'What the hell are we doing,'" director Brad Bird said. "The whole thing was one, extended, hair-raising moment but we planned well."