The best iPhone games can be anything from 30 second puzzlers through to clever adventures, and full on 'real' games. It's a platform that plays number matching things like Threes one minute, and Fortnite or GTA the next. What you play is up to you but it means if you pick the best iPhone games you have a console in your pocket at all times, and plenty to play.
So take a look at what's on offer here because chances are your new favourite game is a tap away.
25. Minecreaft
Genre: Builder
Price: $10.99 / £6.99
It's been a few years since Minecraft was released on iOS but in that time it's shored up its initially unsteady debut into something quite impressive. What launched as the 'Pocket Edition' is now just Minecraft - the full game, on your phone. As well as the full crafting and creative experience, you also get access to the full marketplace for new maps, skins, texture packs, mash up packs and more. Few games give you the full console/PC experience on your phone so hat tip here for such a satisfying experience.
Download Minecraft here (US)
Download Minecraft here (UK)
24. Data Wing
Genre: Racing
Price: Free
Data Wing is a very clever little 2D-physics enabled racing game wrapped up with funny, occasionally philosophical dialogue and a fantastic vaporwave soundtrack. The best part is that you've got nothing to lose by trying it: Data Wing is one-hundred percent free. There aren't even any of those optional 'support the developer' purchases that get rid of advertisements or whatever, it's just free. Easily worth a download for the music alone.
Download Data Wing here (US)
Download Data Wing here (UK)
23. Donut County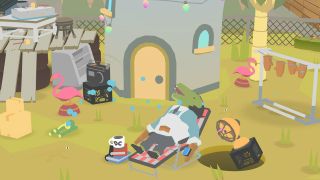 Genre: Puzzle / Adventure
Price: $4.99 / £4.99
There's more than a whiff of Katamari Damacy here, except instead of rolling things up you're dropping them down a hole. You're able to move the hole around levels, swallowing up small things at first but growing with each thing you devour until you're able to engulf buildings and more. There's also a few surprises along the way as you workout how to get big enough to eat all the things. You can also fling stuff out of the hole to trigger events or reach out of the way things. There's even a story involving a raccoon, a girl and... well, too much would be spoilers.
Download Donut County here (US)
Download Donut County here (UK)
22. Vignettes
Genre: Puzzle
Price: $2.99 / £2.99
It's all about perspective and discovery in this technicolor game. Vignettes presents you with an object. As you twist and turn it, that first object can morph into other items. That might sound simple, but uncovering each new surprise in Vignettes feels magical. It's a bit of a head trip, but one well worth taking.

Download Vignettes here (US)
Download Vignettes here (UK)
21. Alto's Odyssey
Genre: Endless runner
Price: $4.99 / £4.99
Sometimes you don't need a full sequel, you just want to continue the experience. That's something Alto's Odyssey does perfectly, developing its soothing endless runner snowboarding challenge into something that widens and open up, rather than adds loads of new features. There's a desert location this time for more colour and a new wall riding ability to change how you move through the procedurally generated world.
Download Alto's Odyssey here (US)
Download Alto's Odyssey here (UK)
20. Old Man's Journey
Genre: Puzzle
Price: $4.99 / £4.99
If you need reminding that the older generation aren't just concerned with Werthers Originals, take your fingers for a stroll through this picturesque tale of memories and regrets. The art will make you sentimental for your childhood picture books and the simple puzzles - adjusting various parts of the landscape so the titular old bloke can cross the screen - warms up your brain, like someone has just sloshed a nice milky tea down your earhole. Comforting like one of Grandpa's cardigans.
Download Old Man's Journey here (US)
Download Old Man's Journey here (UK)
19. Florence
Genre: Narrative
Price: $2.99 / £2.99
A game about love might sounds like an odd prospect but then this isn't so much about love, as life and the things that can happen along the way. It's a gentle and beautifully crafted mix of hand drawn art and clever gameplay that leads you through Florence's experiences. It's as much about her finding her way through the world as it is the relationship she forms with a cello player named Krish. But throughout there's a touching story executed with range of clever ideas.
Download Florence here (US)
Download Florence here (UK)
18. Love You to Bits
Genre: Puzzle
Price: $3.99 / £3.99
Don't you just love it when a game takes its name totally literally? Love You to Bits sees you play as a young astronaut whose robot girlfriend gets blown to pieces before his eyes in a crash. Her various parts - from head to feet and everything in between - get scattered across the galaxy in precarious positions, and you've got to go retrieve them in order to put her back together again. It's a futuristic Humpty Dumpty love story all wrapped up in a brilliantly whimsical puzzle game full of strange critters, kooky planets and even the odd robot disco.
Download Love You to Bits here (US)
Download Love You to Bits here (UK)
17. Hearthstone
Genre: Card
Price: Free (with in-app purchases)
Online card games don't get much better than Hearthstone. Blizzard's immensely popular CCG is equal parts competitive and fun, balancing deep strategy and deck-building possibilities with a light-hearted atmosphere and fantastic presentation. You can amass a respectable collection of cards without ever spending a cent, and though Hearthstone's online multiplayer is its main draw for most, those who prefer to play against AI will love the single-player adventures. No matter your preferred class or deck playstyle, everyone can find something to love in Hearthstone.
Download Hearthstone here (US)
Download Hearthstone here (UK)