10. Call of Duty Mobile
Genre: Shooter
Price: Free with in-game purchases
Call of Duty has dominated the console sales charts annually for the better part of two decades straight, and now mobile game studios have to contend with it taking over their platform too. COD Mobile burst onto the scene and quickly became a hit thanks to excellent mechanics and unlockables as deep as the ocean. With constant content updates, it's the sort of live-service game console and PC players are used to, translated perfectly to their iPhones.
9. Among Us
Genre: Social deduction
Price: Free with in-game purchases
This Little Game That Could was built by just three people in 2018 (the team now numbers four) but during the pandemic, its fun blend of deception and deduction caught on with millions of players around the world. If you've ever played Werewolf, think of Among Us like that but in space with silly little spacepeople avatars. It's wicked when played right and can be as casual or strategic as your group makes it out to be.
8. GTA: Vice City
Genre: Open-world action-adventure
Price: $6.99 | £6.99
The classics never really fade away, and San Andreas, GTA's biggest of its PS2-era games, is still a classic well-deserving of playtime today. With a story that starts serious about a street gang torn apart before getting into wild missions like stealing secret jetpacks from Area 51 analogs, GTA San Andreas is the biggest and often considered best of the yesteryear GTA collection. Then again, if you're more of a Vice City fan, that's available on iPhone too.
7. Rent Please! Landlord Simulator
Genre: Simulation
Price: Free with in-game purchases
Simulation games are always great but have you ever played as a landlord? Well, now you can. In Rent Please! Landlord Simulator, you can build your community and be a good landlord, something we don't see too often. You can unlock different types of apartments and houses for all kinds of people and families and come across characters with diverse backgrounds and stories. It's a good way to spend some spare time.
6. MHA: The Strongest Hero
Genre: RPG
Price: Free with in-app purchases
Anime games can be hit or miss, but MHA's Strongest Hero is a hit. If you've seen the anime, you'll know that our main protagonists are heroes in training, and this open-world RPG puts our beloved teens right into the fight as you battle against villains. Patrol the streets of Honei, team up with your favourite characters and create a squad in this multiplier action RPG. You can even play some real-time PVP battles to test your skills.
5. Pokemon Unite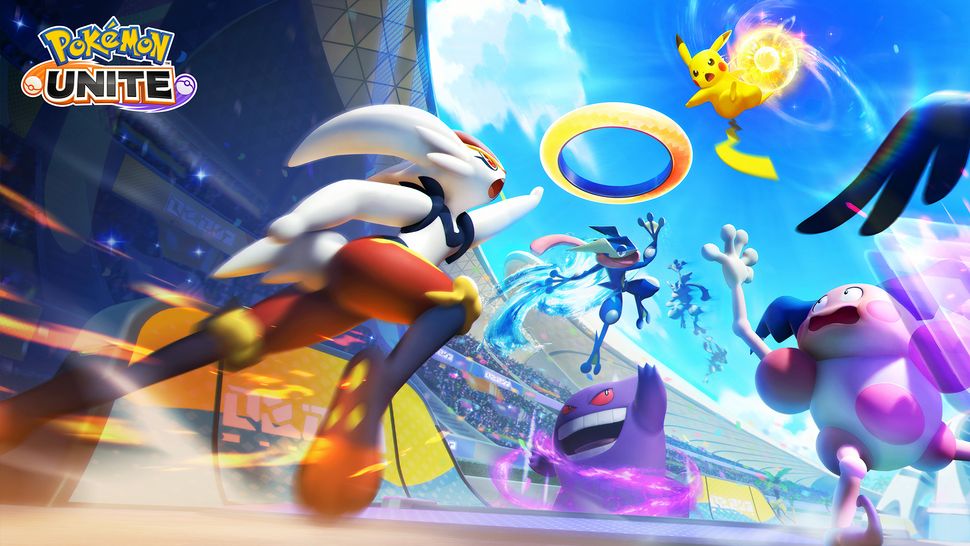 Genre: MOBA
Price: Free with in-game purchases
Everyone loves Pokemon. It's quite literally one of the biggest franchises in this world. And now, with a new free play game exclusively for mobile, who wouldn't want to play Pokemon Unite. Team up in a 5v5 MOBA for a strategic team battle. The aim is to score as much EOS energy as you can. You can collect this by fighting wild Pokemon or pushing your opponents back to their base. Choose from a selection of 29 Pokemon, with more being added gradually.
4. Mario Kart Tour
Genre: Racer
Price: Free with in-game purchases
Who doesn't love Mario Kart? Seriously. I don't know anyone who would sayso, do you? While this isn't a 1:1 translation of Mario Kart 8, it's a great mobile spinoff that still contains the charm and deceptive skill ceiling of Nintendo's best-seller. It's also one of the best-supported games on this list, with regular updates adding new courses and events to keep you drifting around the next turn forever.
3. Minecraft
Genre: Simulation
Price: $6.99 | £6.99
The indomitable Minecraft of course deserves a spot high on our list, especially when it's not compromised by the platform at all. With crossplay and the full range of features on offer, this is the pure Minecraft experience players would want. Bring to life unique worlds full of contraptions, landmarks, and plenty of mobs to fight - or go into creative mode and just build, build, build. If you can think it, you can create it.
2. Geoguesser
Genre: Trivia
Price: Free
There is something so absorbing about GeoGuessr's odd gameplay loop. It's truly unlike anything else on this list. You're shown an image from Google Maps data somewhere in the world. Then you guess where it's from. The closer you are, the more points you score. It's simple, yet irresistible. Sure, it's probably just a program to train AI location services or something, but I don't mind giving our robot overlords a hand in exchange for the thrill of nailing a bullseye.
1. Florence
Genre: Adventure
Price: $2.99 | £2.99
Most games on this list are built to be played forever. Florence is built to be played once, and depending on how long your commute is, perhaps even in just one sitting. At about 40 minutes long, this relationship drama rethinks gameplay by giving players WarioWare-like tasks to simulate daily life, like brushing teeth, going to school, and sadly breaking up with your partner. It's a human story full of rich art and music and despite its brevity, may stay with you for a long time.