We may have a long time to wait for Avengers 4, but the good news is that when it finally arrives - on May 3, 2019 to be exact - it'll at least keep us busy for a while. Director Joe Russo recently revealed that the Avengers 4 runtime is currently clocking in at an epic three hours, and although there's still plenty of edits to be made, it's safe to say it'll probably still be one of the longest Marvel movies ever.
Add to this news, the fact that the official Marvel website now has an Avengers 4 countdown clock slap bang in the middle of it and it looks like the Avengers 4 promo train is kicking into gear. Could the Avengers 4 trailer drop this month as rumours suggest? Fingers crossed.
If it does, make sure you check back here first as this is where you'll find everything we know about Avengers 4 so far, from the release date and cast list, to the trailer (when it drops) and official title. In the meantime, read on and catch up on all the Avengers 4 news you might have missed and start praying to the Marvel gods that we get a teaser before the year is out...
Fast Facts:
Avengers 4 release date: May 3, 2019
Avengers 4 director(s): Anthony Russo, Joe Russo
Avengers 4 cast: Robert Downey Jr., Chris Hemsworth, Mark Ruffalo, Chris Evans, Scarlett Johansson, Don Cheadle, Paul Rudd, Jeremy Renner, Josh Brolin (All TBC)
Avengers 4 writer(s): Christopher Markus, Stephen McFeely
When is the Avengers 4 release date?
The Avengers 4 release date is actually one of the few things we've known about the movie for ages, even back when it was originally called Avengers: Infinity War - Part 2 (remember that?). May 2019 was the original placeholder date, which has now zeroed in on the more specific release date of May 3, 2019, and with the directors, the Russo brothers, confirming that Avengers 4 has officially wrapped, we're one step closer to seeing the new Marvel movie.
Interestingly, there's a rumour going around that this date could be brought forward to April based on a recent quarterly earnings report from IMAX, which includes the company's 2019 release schedule. Amongst the upcoming movies we already know about, Avengers 4 sits with a April 2019 release date... hmmmm. Has IMAX let something slip or is it a mistake? We won't know for sure unless we hear from Marvel, so for now, let's stick with the official May 3 date.
Read more
The best upcoming movies of 2018 and beyond
Either way, before Avengers 4 hits, we've got to get over Avengers: Infinity War, analyse every moment of Ant-Man and the Wasp, and watch Captain Marvel, which isn't out until March next year. Both the Ant-Man sequel and Marvel's first female-led superhero movie will bridge the gap between Infinity War and Avengers 4 in terms of schedule and storyline. If you've already seen it, you know that the Ant-Man and the Wasp post-credits scene reveals what Scott and co were up to when the snap happened, and the Avengers: Infinity War post-credits scene has already hinted as to the importance of Captain Marvel.
Finally, we can also expect Disney to confirm US and UK specific Avengers 4 release dates closer to release, although hopefully there won't be a huge gap between them. Infinity War dropped in the UK a day earlier than the US, so expect something similar for Avengers 4 to avoid any sort of spoiler snafus. It's gonna be a biggun – and Marvel will do everything in its power to stop sneaky leakers and blabbermouths, in much the same way Thanos demanded our silence this time around.
The Avengers 4 title is STILL unknown
Originally called Avengers: Infinity War - Part 2, Avengers 4 officially reverted back to 'untitled Avengers movie' because, according to Marvel Studios boss Kevin Feige, it was a spoiler for Avengers: Infinity War. But Infinity War has been out for a while now and Marvel still isn't telling us what the Avengers 4 title is! WHY MARVEL, WHY?!
Luckily, we might find out sooner rather than later as Feige said in an interview with Collider that we wouldn't find out what the Avengers 4 title was until after we got the first Captain Marvel teaser, and well... we've had that first trailer now.
Read more
What's the Avengers 4 title? Here's our best guesses based on rumors, speculation, and more
Having said that, we might already have it because the most recent 'leak' regarding the Avengers 4 name appears to be somewhat legitimate after a cinematographer who works with the Russo brothers stated on his website that he's working on… Avengers: End Game. This has since been changed to Avengers 4, which seems to imply that there's something to cover up. If this turns out to be the correct title, things aren't looking good for Cap and the rest of the remaining Avengers...
At this point, I'm just glad that Marvel at least seem to know what the Avengers 4 title is! "We do have a name for it, we're just not announcing it," director Anthony Russo revealed in an interview with Bustle. "And I think we came to that name fairly early in the development process. It speaks to the heart of the story."
But it seems like the decision to hold back the Avengers 4 title has come at quite a cost to the brains behind the movie. "It's gotten entirely out of hand," Feige told IGN. "And now will have no chance to living up to any expectations of what it's gonna be. And it sort of backfired, if I'm honest with you, because the notion was to not talk about it so the focus was to be on [Infinity War]."
Is an Avengers 4 trailer coming this year?
Despite all the secrecy surrounding the movie, it's possible that we might get the first Avengers 4 trailer this year. While Marvel Studios gave San Diego Comic Con 2018 a miss, dropping an Avengers 4 trailer this year is still on the cards. Infinity War released its first trailer in November 2017, and a similar timeframe for Avengers 4 is looking likely judging by their release dates being almost exactly a year apart. That said, with the close proximity of two Avengers movies - and Captain Marvel in-between - Marvel could decide to make us wait until the last minute (so to speak) for a look at the Avengers 4 trailer.
In the meantime, a leaked Avengers 4 trailer description has turned up on Reddit (of course) and while it should definitely be taken with a pinch of salt, it sounds pretty amazing and has even been used to create a fan-made animated Avengers 4 trailer (above). If you don't want to read the full description - it's looooooong - below are the main talking points, including a possible title:
The trailer opens with a shot of the burned-out Infinity Gauntlet on the farm planet from the end of Avengers: Infinity War
Steve Rogers and Tony Stark reconcile in Wakanda
We get several shots of the Battle of New York, including one with Loki looking 'shocked' at the top of Stark Tower
Black Widow is looking for Hawkeye, who shows up first in the trailer as a hooded, mysterious figure, then again in Japan with the Avengers
Thor and Valkyrie (yay!) are on the hunt for Captain Marvel
Loki and Thor team up during the Battle of New York
Tony and Scott Lang prepare the time travel bracelets
The final shot of the trailer shows an Infinity Stone disappearing from the Gauntlet, with Thanos then getting up and putting on his armour
Title card: Avengers Annihilation
The Avengers 4 cast is... honestly? A bit of a mess
Working out the Avengers 4 cast list is tricky because while it will almost certainly include everyone who survived the events of Infinity War, it will also probably feature some of those who 'died', some wider MCU characters who didn't have a role in Infinity War but will in Avengers 4, and some completely new faces too!
Basically, the Avengers 4 cast is going to be BIG, and although we can make some good guesses as to who will be a part of it, none of them have been official confirmed by Marvel Studios yet.
Let's start with those who know survived Infinity War and will almost certainly be back for Avengers 4:
Chris Evans as Steve Rodgers/Captain America
Robert Downey, Jr. as Ton Stark/Iron Man
Chris Hemsworth as Thor
Scarlett Johansson as Natasha Romanoff/Black Widow
Mark Ruffalo as Bruce Banner/the Hulk
Don Cheadle as Colonel James 'Rhodey' Rhodes/War Machine
Bradley Cooper as Rocket
Karen Gillan as Nebula
Danai Gurira as Okoye
Josh Brolin as Thanos
While the Avengers 4 writers would like us to think that the Infinity War 'deaths' are permanent, that's pretty unlikely and not just because some of them have upcoming solo sequels planned. Some of the actors can't even pretend they're really dead!
"I'm going to be in [Avengers] 4, I'm also going to be in Guardians 3," Dave Bautista, AKA Drax, told Collider. "I don't know how they bringing me back, but somehow I'm going to make it because as far as I know I am going to be in Guardians 3, so I have to be back."
While his appearance in Guardians 3 is a bit more of an uncertainty since James Gunn's firing, Bautista's comments still stand. And the same goes for the rest of the Guardians, Spider-Man (thanks to the upcoming Spider-Man: Far From Home), Doctor Strange (Feige recently confirmed a sequel would happen), and Black Panther (there's no way we're not getting another Black Panther movie).
On top of that, the following actors have confirmed that their supposedly dead characters will be back for Avengers 4:
Stan also appears to have revealed via The Independent that Samuel L. Jackson, Michael Douglas, and Michelle Pfeiffer will appear as Nick Fury, Hank Pym, and Janet van Dyne in a scene "where everybody was there". Thanks Stan!
Then there's those MCU characters who either didn't appear, or we didn't see survive/die, in Infinity War, but have since been confirmed for Avengers 4:
Brie Larson will appear as Carol Danvers/Captain Marvel after her Avengers: Infinity War role was cut
Paul Rudd has been spotted on the Avengers 4 set as Scott Lang/Ant-Man (below)
Evangeline Lilly has confirmed her character Hope van Dyne/The Wasp will appear
We know Jeremy Renner will star as Clint Barton/Hawkeye thanks to the writers revealing they have an interesting storyline planned for him
Gwyneth Paltrow has confirmed Pepper Potts is back and she might be donning a superhero suit of her own
And Benedict Wong has done the same for his character Wong
Tilda Swinton will also apparently be back as the Ancient One (not sure how that will work)
As will Frank Grillo who plays Brock Rumlow/Crossbones, but maybe in a flashback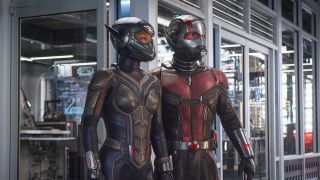 Now onto the characters who have been confirmed to have survived the Snap, so could appear in Avengers 4:
Now onto the really juicy bit. Here's what we know about the brand-new Avengers 4 cast members... we have one. So far.
13 Reasons Why's Katherine Langford has filmed scenes for Avengers 4, according to THR, but there's no word yet on who she will play. We do know that Marvel was looking for a slightly older Cassie Lang (AKA Ant-Man's daughter) suggesting that Abby Ryder Fortson, who plays Cassie in both Ant-Man movies, won't be reprising her role in Avengers 4. But other rumours also suggest Langford could play Tony Stark and Pepper Pott's child instead.
If you're very confused about how any of the Avengers could have such a grown up child in Avengers 4, it ties into some Avengers 4 theories about time jumps and time travel, which I discuss in the Avengers 4 plot section below.
Continue to Page 2 for everything we know about the Avengers 4 plot, set photos, and more