Now that Avengers 4 fans have finally calmed down following the arrival of the first Avengers 4 trailer, we can breakdown everything we know about the Avengers: Infinity War sequel in anticipation of its theatrical release next year. For one thing, there's all the implications made by that moniker of the official Avengers 4 title, Endgame. Whatever it means, it can't be good for Thanos, or indeed anyone caught up in his population halving war with Earth and its mightiest heroes.
When we're not too busy caught up in all the Avengers 4 theories out there, we've collated all the official info, media, and news about the movie in this handy Avengers 4 hub. Think of it as your own, personal Stark Tower of the internet; something to keep coming back to and checking in with for all the freshest details about Avengers 4, including the latest on its story, cast, and production. It's just over four months till the movie hits the big screen, after all, so we're bound to hear more from Marvel very soon, and we'll have you covered right here as soon as it's announced.
Fast Facts:
Avengers 4 release date: April 26, 2019
Avengers 4 director(s): Anthony Russo, Joe Russo
Avengers 4 cast: Robert Downey Jr., Chris Hemsworth, Mark Ruffalo, Chris Evans, Scarlett Johansson, Don Cheadle, Paul Rudd, Jeremy Renner, Josh Brolin (All TBC)
Avengers 4 writer(s): Christopher Markus, Stephen McFeely
When is the Avengers 4 release date?
We thought the Avengers 4 release date was actually one of the few things we could count on, but then Marvel Studios pulled the rug from under us and used the first trailer to announce it had moved the Avengers 4 release date forward. Just when you thought you could count on at least one bit of information... oh well, the new Avengers 4 release date is now April 26, 2019.
Just to remind you, May 2019 was the original placeholder date, which was then changed to the more specific release date of May 3, 2019, before rumours started circulating that it could be brought forward to April based on a quarterly earnings report from IMAX, which listed Avengers 4 with an April 2019 release date. We now know that the rumour was true and we're getting Avengers 4 even sooner than expected. In fact, the Avengers 4 release date is... *counts on fingers* less than five months away! Better start that MCU recap now.
Read more
The best upcoming movies of 2018 and beyond
To put that within the context of the other new Marvel movies, we've got Captain Marvel first, which lands on March 8, and is no doubt an important part of the puzzle given what we know about the Avengers: Infinity War post-credits scene, before Phase 3 ends with Avengers 4 in April. Then Spider-Man: Far From Home simultaneously rounds out Marvel's 2019 releases and kicks off Phase 4 on July 5.
Finally, we can also expect Disney to confirm US and UK specific Avengers 4 release dates closer to release, although hopefully there won't be a huge gap between them. Infinity War dropped in the UK a day earlier than the US, so expect something similar for Avengers 4 to avoid any sort of spoiler snafus. It's gonna be a biggun – and Marvel will do everything in its power to stop sneaky leakers and blabbermouths, in much the same way Thanos demanded our silence this time around.
The Avengers 4 title is Avengers: Endgame
It feels like we've been waiting all our lives to find out what the official Avengers 4 title is, but we finally know thanks to the trailer which ends with the above title card. Yes, that's right, the Avengers 4 title is actually - Avengers: Endgame.
If you remember, Avengers 4 was originally called Avengers: Infinity War - Part 2, before officially reverting back to just 'untitled Avengers movie' because, according to Marvel Studios boss Kevin Feige, it was a spoiler for Infinity War. But even after Infinity War had been released, Marvel kept the Avengers 4 title under wraps for a good few months. Now that we know what it is, I'm not sure it's a huge spoiler for Infinity War, but it certainly doesn't sound good for the remaining Avengers...
The Avengers: Endgame title was actually leaked a while ago when a cinematographer who works with the Russo brothers stated on his website that he was working on… Avengers: Endgame. It was quickly changed to Avengers 4, prompting fans to speculate that Marvel had something to hide, and as we now know, it is indeed the official Avengers 4 title.
The Avengers 4 trailer teases a very grim future
Part of the journey is the end. pic.twitter.com/9RvRQUxI3oDecember 7, 2018
As we said above, we finally have the first Avengers 4 trailer and although it's short, it's more than enough to keep us going until next year. There were plenty of rumours leading up to its release that it was dropping this week, and I think I speak for everyone when I say, I'm really happy it did. The suspense was just getting to be too much!
You can watch the 145 second trailer to your heart's content above, but the main take aways are that things don't look good for the remaining Avengers post-Infinity War. Those of us who hoped it was all a bad dream are in for a shock as Black Widow states: "Thanos did exactly what he said he was going to do... he wiped out 50% of all living creatures." Cap is crying, Iron Man is lost in space, Hawkeye is murdering people... Things. Look. Grim. Except for Thanos who's walking through a field enjoying the sunshine...
While there's plenty here to talk about - how did Ant-Man get out of the Quantum Realm?! - our thoughts now turn to when we'll be getting a full Avengers 4 trailer and what it will look like. I know, we're never satisfied, are we?
It will definitely be next year now, but whispers are going around that Avengers 4 is going to break the mould when it comes to marketing:
We'll have to wait and see if what I heard a few weeks back turns out to be true, but if it is Marvel Studios will be marketing Avengers 4 in a very different way than they ever have done for any of their films. If it is true, it's going to stir up a LOT of conversation.November 19, 2018
It's unclear what this means right now, but in the meantime, a leaked Avengers 4 trailer description has turned up on Reddit (of course) and while it should definitely be taken with a pinch of salt, it sounds pretty amazing and could hint at what we can expect from the full Avengers 4 trailer when it drops.
If you don't want to read the full description - it's looooooong - below are the main talking points:
The trailer opens with a shot of the burned-out Infinity Gauntlet on the farm planet from the end of Avengers: Infinity War
Steve Rogers and Tony Stark reconcile in Wakanda
We get several shots of the Battle of New York, including one with Loki looking 'shocked' at the top of Stark Tower
Black Widow is looking for Hawkeye, who shows up first in the trailer as a hooded, mysterious figure, then again in Japan with the Avengers
Thor and Valkyrie (yay!) are on the hunt for Captain Marvel
Loki and Thor team up during the Battle of New York
Tony and Scott Lang prepare the time travel bracelets
The final shot of the trailer shows an Infinity Stone disappearing from the Gauntlet, with Thanos then getting up and putting on his armour
The Avengers 4 poster keeps things simple... for now
In theaters April 26, 2019. #AvengersEndgame pic.twitter.com/Vrpgly6qZuDecember 7, 2018
Along with the trailer, we also have our first Avengers 4 poster (above) and as expected, it's fairly simple. Initial teaser posters don't give away much and the Avengers 4 poster harks back to the first Infinity War poster, which featured the same 'A' for Avengers. As you may have noticed - how could you not? - this A is partially disintegrated in a nod to the fate of Thanos' victims in Infinity War. But you may also have noticed that the end of the Avengers 4 trailer saw the A re-assembled hinting that those dustings may be undone... so I guess the question is, in the Avengers 4 poster, is the A falling apart, or coming back together?
Either way, this will certainly not be the only Avengers 4 poster we get, so expect some more colourful teases, character posters, and probably an epic full cast poster in the same vain as Infinity War too.
The Avengers 4 cast is... honestly? A bit of a mess
Working out the Avengers 4 cast list is tricky because while it will almost certainly include everyone who survived the events of Infinity War, it will also probably feature some of those who 'died', some wider MCU characters who didn't have a role in Infinity War but will in Avengers 4, and some completely new faces too!
Basically, the Avengers 4 cast is going to be BIG, and although we can make some good guesses as to who will be a part of it, none of them have been official confirmed by Marvel Studios yet.
Let's start with those who know survived Infinity War and will almost certainly be back for Avengers 4:
Chris Evans as Steve Rodgers/Captain America
Robert Downey, Jr. as Ton Stark/Iron Man
Chris Hemsworth as Thor
Scarlett Johansson as Natasha Romanoff/Black Widow
Mark Ruffalo as Bruce Banner/the Hulk
Don Cheadle as Colonel James 'Rhodey' Rhodes/War Machine
Bradley Cooper as Rocket
Karen Gillan as Nebula
Danai Gurira as Okoye
Josh Brolin as Thanos
While the Avengers 4 writers would like us to think that the Infinity War 'deaths' are permanent, that's pretty unlikely and not just because some of them have upcoming solo sequels planned. Some of the actors can't even pretend they're really dead!
"I'm going to be in [Avengers] 4, I'm also going to be in Guardians 3," Dave Bautista, AKA Drax, told Collider. "I don't know how they bringing me back, but somehow I'm going to make it because as far as I know I am going to be in Guardians 3, so I have to be back."
While his appearance in Guardians 3 is a bit more of an uncertainty since James Gunn's firing, Bautista's comments still stand. And the same goes for the rest of the Guardians, Spider-Man (thanks to the upcoming Spider-Man: Far From Home), Doctor Strange (Feige recently confirmed a sequel would happen), and Black Panther (there's no way we're not getting another Black Panther movie).
On top of that, the following actors have confirmed that their supposedly dead characters will be back for Avengers 4:
Stan also appears to have revealed via The Independent that Samuel L. Jackson, Michael Douglas, and Michelle Pfeiffer will appear as Nick Fury, Hank Pym, and Janet van Dyne in a scene "where everybody was there". Thanks Stan!
Then there's those MCU characters who either didn't appear, or we didn't see survive/die, in Infinity War, but have since been confirmed for Avengers 4:
Brie Larson will appear as Carol Danvers/Captain Marvel after her Avengers: Infinity War role was cut
Paul Rudd has been spotted on the Avengers 4 set as Scott Lang/Ant-Man (below)
Evangeline Lilly has confirmed her character Hope van Dyne/The Wasp will appear
We know Jeremy Renner will star as Clint Barton/Hawkeye thanks to the writers revealing they have an interesting storyline planned for him
Gwyneth Paltrow has confirmed Pepper Potts is back and she might be donning a superhero suit of her own
And Benedict Wong has done the same for his character Wong
Tilda Swinton will also apparently be back as the Ancient One (not sure how that will work)
As will Frank Grillo who plays Brock Rumlow/Crossbones, but maybe in a flashback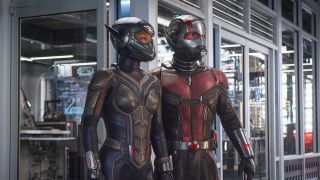 Now onto the characters who have been confirmed to have survived the Snap, so could appear in Avengers 4:
Now onto the really juicy bit. Here's what we know about the brand-new Avengers 4 cast members... we have one confirmed. So far.
13 Reasons Why's Katherine Langford has filmed scenes for Avengers 4, according to THR, but there's no word yet on who she will play. We do know that Marvel was looking for a slightly older Cassie Lang (AKA Ant-Man's daughter) suggesting that Abby Ryder Fortson, who plays Cassie in both Ant-Man movies, won't be reprising her role in Avengers 4. But other rumours also suggest Langford could play Tony Stark and Pepper Pott's child instead.
If you're still a little confused about how any of the Avengers could have such a grown up child in Avengers 4, it all ties into some Avengers 4 theories about time jumps and time travel, which I discuss in the Avengers 4 plot section on the next page.
Finally, there could be a couple more new MCU faces cropping up, ones that have to do with Marvel's Phase 4. Rumours have already been swirling about a couple of The Eternals potentially joining the Avengers 4 cast for a very brief cameo, possibly in the post-credits. If that's the case, it's clear that, with younger talent also in the mix, that Marvel are really pushing hard for the future with recent (potential) casting additions.
Continue to Page for more about Avengers 4