We finally have the green light to install one of the best PS5 SSD picks now that Sony has patched in full support for the SSD expansion bay for all users. This means you can expand your PS5's storage with something that will be able to run PS5 games directly, with no drop in performance too.
The best PS5 SSD options match the impressive spec of the internal SSD already in your PS5 and have Sony's nod of approval as far as the all-important specification goes for the NVMe M.2 SSDs. Everything we pick out on this page is PS5-compatible, but we'll tell you what spec to look out for if you want to shop around too.
Expect the list to grow over time as more manufacturers develop new compatible PS5 SSDs. We really need them to get a move on actually as stock of compatible options has been dwindling lately, but our price comparison technology will endeavor to bring you the latest offers. Once you have one, be sure to check out our guide on how to install an M.2 SSD in a PS5.
Some external PS5 SSD options have been added further down this page, but external drives can't play PS5 games, so it's just for storage. They will run PS4 games with super-fast load times though.
Playing it safe? We know that PS5 external hard drives are and will remain a great option (though only for storing PS5 games, and for playing PS4 titles) along with PS4 external hard drives, and, generally, the best external hard drives.
And before we get into the excellent, growing list of PS5 SSD options, remember your opportunities for getting great value are just around the corner: the Black Friday PS5 SSD deals, in particular, will be worth preparing for, while the Black Friday external hard drive deals, and wider Black Friday SSD deals, are going to be stand-out highlights this year.
Best PS5 SSD - internal options
Looking at Sony's official spec requirements, we can share in brief the key specs that internal M.2 PS5 SSD options will require:
PCIe Gen4 interface
250GB - 4TB capacity
5,500MB/s read speed or faster
22mm width (do not go for 25mm units)
Heatsink required (built-in or DIY)
The first point is key here, as this rules out all of the PCIe 3.0 models so don't go for those. We also reckon the 1TB models are going to be the sweet spot - but so do a lot of folks by the looks of it, with the being very popular already. However, manufacturers will know they can't produce these quick enough so keep checking back and the stock will come.
Technically this was the first confirmed for PS5 SSD, the FireCuda 530 is the latest from Seagate and fulfills all of the requirements laid out in Sony's M.2 article. Touted to have blistering speeds, and confirmed to have all the next-gen tech within it, this really is a quality PS5 SSD internal option. The fact that it also comes with its own heatsink (as shown in the picture above) is also a bonus - no DIY jobs on that front with this drive. Although a non-heatsink version is also available if you'd rather attach your own. We've picked out some decent, but affordable PS5 heatsinks below.
The transfer speeds are top drawer with Seagate claiming that it beats off the SN850 by edging over that 7,000MB/s mark - rather than aiming solely for it. Crucially it's got the latest in tech inside it as it sports 3D TLC NAND memory and next-gen PCIe 4.0.
It's also worth remembering that Seagate and Sony go way back (relatively) when it comes to drives for PlayStation consoles. The officially licensed - and some of the best PS4 externals were all made by Seagate, and even the best options when updating or upgrading your PS3 hard drive were Seagate drives too. This history matters as it means you can have faith in Seagate, and have confidence in its FireCuda 530 SSD for your PS5.
Note: the MSRP/retail price for the 1TB model with a heatsink is $259.99 - when stock comes back remember this as, like the SN850 above, some dastardly folks will use the demand to exaggerate prices. We have seen stock of the 500GB model at Amazon though.
This was many folks' predicted best PS5 SSD, and early signs are that it could be just that. The premium nature and incredible speeds of the Samsung 980 Pro have been seen in the PS5 context. And the results are staggering.
Able to match or even slightly better the PS5's own internal, custom SSD, the Samsung 980 Pro is the PS5 SSD to get if you want a premium storage solution - perhaps the most premium storage solution.
It's one of the fastest drives going, offering speeds that can surpass the 7,000MB/s mark, which is frankly ludicrous - but excellent for those wanting something that will run the PS5's custom SSD as close as it can. It will set you back a bit, having a large price of admission, and the default one will require a DIY heatsink (see below). However: Samsung recently confirmed that a version of the 980 Pro with its own heatsink will be available at the end of October 2021. This is exceptional news and while it will probably demand a bit more of a premium than going the DIY route, but it will have the benefit of being designed by those who best know the way to do it.
With its own heatsink attached, this probably firms up the 980 Pro's position as the gold standard for PS5 SSD's given the performance it offers.
The Western Digital SN850 Black's performance is such that it's got all the hallmarks of a quality internal PS5 SSD. Sharing all that makes WD's other SN variants great, it's a supreme drive that doesn't break the bank either.
Utilizing that awesome 'next-gen' PCIe Gen 4 technology, the 1TB model can claim to reach basically ridiculous speeds of up to 7000mb/s read and 5300mb/s write speeds. I told you, it's ridiculous. The 500GB model is often at a great price too, but you can go big with the 2TB model to make sure you're covered for hopefully the entire PS5 lifespan. Given this is what Mark Cerny himself has chosen, this is as close to an absolute shoo-in for best PS5 SSD as it gets right now.
Note: the MSRP/retail price for the 1TB model with a heatsink is $229.99 - be wary of this as some resellers and third parties are exploiting the burst in demand to really inflate prices. Sometimes only models without heatsinks are available. We've picked out some heatsinks for you below though.
Adata's XPG Gammix S70 Blade SSD is specifically branded as a PS5-compatible expansion drive for added peace of mind, and thanks to some huge price reductions that have recently (Nov 2021) been applied it's now possible to add a significant 2TB upgrade to your console storage without an eye-watering cost attached. (Note: at time of writing, there was a huge 40% discount at Amazon UK on this drive via a voucher.)
This SSD arrives with an all-important heatsink included, though there are no instructions provided for how to install it, and even scanning the QR code on the box will send you searching through several more FAQs until you eventually find this guide, but once that's taken care of, it's plain sailing from there on out. Installation is simple, and it was very pleasing to see that despite Adata advising the impressively high read speed of this SSD would be capped at 6,100 MB/s by the PS5 operating system, we actually received a reported read speed of over 6,200 MB/s once it was formatted. Transferring PS5 games over from the internal SSD absolutely flies, and while playing them there isn't any noticeable difference in performance from the original location.
If you've been holding out on upgrading your PS5 SSD for a larger capacity drive to become more affordable, then the Adata XPG Gammix S70 Blade presents a great opportunity to future-proof your console without breaking the bank.
With perhaps the coolest name yet in the PS5 SSD lineup, the Patriot Viper VP4300 is a solid NVMe 4 Gen 4 SSD for your PS5 SSD - and offers good value in doing so.
First of all, it's got the chops: its claimed speeds are up to 7,400MB/S read and up to 6,800MB/s write which is supremely fast. The real-life performance of the drive is just as tantalising as those high numbers are on paper: the Viper VP4300 easily keeps up with the likes of the much more expensive Samsung 980 Pro. Nice. Despite the price difference between these two, as a good example, don't be fooled into thinking that this is a substandard PS5 SSD at all: it's a full-blooded PCIe 4.0 drive that can run with the best and most premium of contenders.
The Patriot Viper VP4300 also comes with two of its own heatsinks: one thin graphene layer, and one 'full size' aluminium one which, for what it's worth, looks pretty cool.
A very smart-looking (we know, you won't be admiring it close up once it's inside the PS5) SSD for PS5 from Gigabyte. The company confirmed its latest NVMe SSD would play nice with the PS5 with a neat little tweet showing the drive (with heat sink) attached neatly slotting into the SSD bay.
This drive has all the hallmarks of a brand-new PCIe 4.0 SSD, and one that'll perform like a beast: there's the 7,000MB/s read speed that's fast becoming the default for PCIe 4.0 SSDs, it's got its own compact and tidy heatsink, and it too runs 3D TLC NAND Flash. It easily outdoes the company's PCIe 3.0 drives and reinforces the top-drawer performance and speeds that Sony is clearly aiming for folks' adiditional PS5 SSD.
Brand new, from a reputable maker, and with all the features you can want and need - this is an easy recommendation for an early SSD choice.
A brand new entry from known storage specialists, Crucial, the P5 Plus is the latest PS5 SSD to be confirmed as compatible with Sony's latest console.
Built on Crucial's Micron Advanced 3D NAND tech, the P5 Plus offers - according to Crucial - speeds of up to 6,600MB/S which means it easily clears Sony's target speed, while not going totally mental like the SN850 above - plus, it ticks every other box too. It comes in 500GB, 1TB, and 2TB capacities but, like most drives - of all stripes - we recommend the 1TB model based on overall bang for buck, and the storage space you get for your money.
The main caveat here is that you will need to attach your own SSD heatsink at home before installing it in your PS5. This isn't too much of a hassle, particularly if you're familiar with PC part tinkering, and don't mind some occasional electronic DIY. Just make sure you select one that fits Sony's criteria (like the ones below), and won't make your SSD oversized.
A note on heatsinks
While some PS5 SSDs come with a heatsink built-in, others do not. On the plus side, you can buy them separately from a wide range of manufacturers. They're very easy to fit and will stop your new SSD from overheating. You can tell which SSD sticks don't have a heatsink because you can see lots of exposed elements and the circuit board. Products with one will say on the listing page too. Sometimes built-in heatsinks drive up the cost quite a lot, so buying your own can save you a decent amount of cash. Check out some of our favorites below.
Best PS5 SSD - external options
We're finally able to transfer PS5 games to an external storage device, meaning we don't have to keep redownloading games when we want to make room for other games. You can't play these games on an external PS5 SSD, but transferring from the external to internal PS5 SSD is super quick. While PS5 games can't be played from an external, PS4 games can, and loading times are much faster compared to your PS4 or PS4 Pro.
Image 1 of 5
Image 2 of 5
Image 3 of 5
Image 4 of 5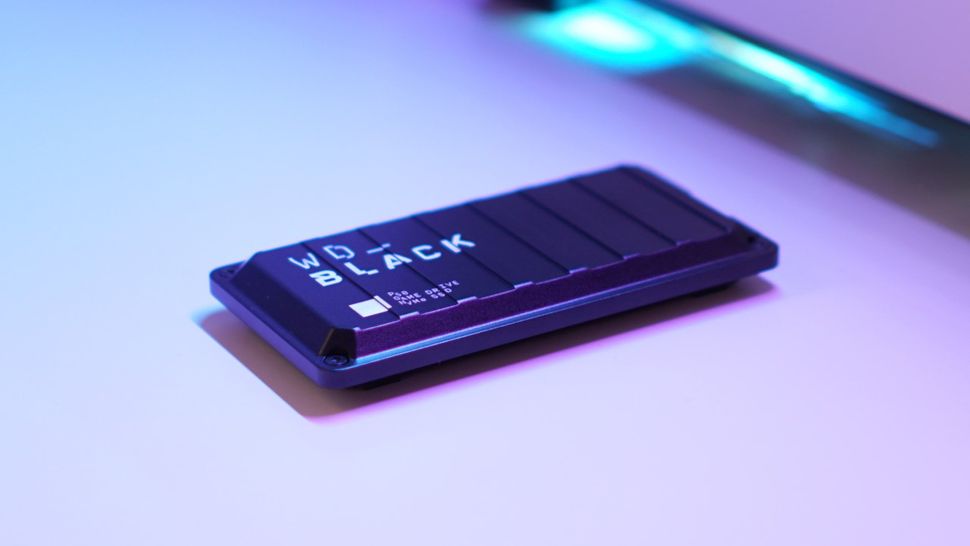 Image 5 of 5
Probably the best external SSD drive we've tested in a while, the P50 is the best PS5 SSD right now, because it has it all: a quality, cool design, a robust build, and exquisite speeds often reserved for those drives within the best gaming PCs and on best SSD for gaming lists.
On the outside, the P50 is a military metal-styled, rectangular drive featuring sleek molded metal and the traditional WD_Black aesthetics and markings. Its USB-C port can be used on your devices as either a USB-A or USB-C connection and in our testing, we got the same speeds through either port so it shouldn't matter which you have free or available, or if you change the device it's used with during its lifetime. There's a small but clear LED indicator on one of the short ends which is always a help, but one small downside is that it does get a little warm when in use so it'll pay to keep that in mind when positioning it.
When it comes to speeds, what you're told you're getting and what happens is pretty much bang on. It's incredible performance for an external SSD and the stated speeds of 'up to 2000MB/s' were on the money in our testing. Real-world performance-wise, the P50 gives you everything a high-quality external SSD should do: games were loaded incredibly quickly, files were retrieved in the snap of a finger, and the performance levels were incredibly consistent. It's a surefire SSD that will rapidly improve your gaming experience by far reducing the time looking at loading screens and increasing the time when you're actually playing. A true winner.
Image 1 of 4
Image 2 of 4
Image 3 of 4
Image 4 of 4
The Samsung T5 has long been a recommendation of ours for one of the top PS4 SSDs you can get and it retains that level of high recommendation in the context of an external drive when considering the best PS5 SSD. This is a drive that prioritizes quality in performance and reliability, and it demonstrates this by offering read and write speeds of up to up to 540mb/s.
In its design and build, the Samsung T5 is compact, durable, and sleek. Its durability (combined with a case) makes it ideal for carrying around if you're on the go between the places you play - at least, it will be when we can do that again. Plus, it's much smaller than you think at the size of a smartphone.
The only eyebrow-raiser that the T5 brings is that it is a premium product, and that's often reflected in its price. Luckily, we are still seeing regular deals and discounts on it. And hey, paying the price for having one of the very best PS5 SSDs in your arsenal of peripherals is worthwhile. In fact, an SSD that prioritises speed and performance is what you want and you get it plentifully here. As external PS5 SSDs go, it's as close to a no-brainer as it gets.
Image 1 of 5
Image 2 of 5
Image 3 of 5
Image 4 of 5
Image 5 of 5
If you're looking at getting the best-protected PS5 SSD to keep that drive extra safe (and why wouldn't you?), then the SanDisk Extreme Portable is a strong contender. This will be able to withstand any sort of accidents and is the perfect contender for those of us who are accident-prone, or who prefer to make extra sure about the protection our devices have. Its rugged-ness is proven with it being water and dust-resistant to the IP-55 standard, and it has a shock-resistant core for extra durability.
It performs well too, offering that sweet, sweet SSD performance and speed despite the protective shell, with its speeds challenging the likes of the Samsung T5. And it is really compact, with a fit-it-in-your-pocket size.
The safety and durability comes at a premium though and adds a bit more to the price of the drive, but it's definitely worth it when all things are considered. The protection and durability of this SSD are excellent. And if you want some extra reassurance, you could even go for the Extreme Pro variant - but be prepared to see the cost rise significantly.
Image 1 of 3
Image 2 of 3
Image 3 of 3
Even with speeds of 'only' 540 MB/s compared to the 1000+ you'll see on other PS5 SSDs we think the Crucial X6 is more than worth a look thanks to its excellent performance to price ratio. If you want a faster version of this drive, there's the Crucial X8 to consider too.
When upgrading to this SSD from an older external HDD you'll notice life is so much faster immediately. We've put it through various real-life tests and found that you'll be able to shift a 30GB PS5 game in just 3 minutes 48 seconds compared to 7:16 on an HDD like Seagate's PS4 Game Drive. A 90-second load time for a game like Resident Evil 7 was cut down to just one minute too.
The USB-C cable is very short and left the SSD hanging a bit when using the PS5 vertically. But the drive is so small and lightweight, it never feels at risk of coming loose. We just wish Sony had put one of these slots around the back too. Grabbing an extra terabyte or two of reliable and speedy storage for our PS5 and PS4 games at a reasonable price makes this very bearable though.
Image 1 of 2
Image 2 of 2
If you have half an eye on versatility and multi-platform use down the road, then the WD My Passport SSD is a good offering - and of course, it is a great PS5 SSD in its own right, coming from proven manufacturers of quality units. The My Passport SSD will offer write speeds of about 300Mbps, and read speeds of 390Mbps - substantially faster than its HDD brother, the My Passport, which can offer larger capacity for your money but only gives read and write speeds of 120-130 Mbps.
While this does have an excellent role to play as a PC external SSD, it's worth noting that if you want to do this, you'll have to reformat it each time you want to use it as an SSD for your console or PC. It can't, unfortunately, be both at the same time. However, the My Passport SSD's PC-pedigree does offer some flexibility and adds some versatility to this drive. For example, it's compatible with All The USBs, including being USB-C ready, and it has an automatic backup system and a handy password protection and hardware encryption security double whammy.
Generally, this is a quality SSD for your PS5 from a trusted maker of drives that we have no trouble recommending.
Image 1 of 1
OWC has quietly gone about its business of making neat little hard drives in recent times, and the Envoy Pro Elektron is no exception to this. It's a fast SSD that'll provide you with a reliable connection over USB-C or 'regular' USB ports and has a chic aesthetic to go with its small and robust build. That really is it in a nutshell.
A big plus to the Elektron is that it is just really neat, small and tidy - I have small hands and it's smaller than my palm! Which is incredible really, even if it does border on 'so small I might lose it in my pocket' size. However, it's chic aesthetic means it can look slick next to or on top of any gaming machine, and looks can deceive: it's waterproof, dustproof, and crushproof. Tough.
Importantly, it's got those beautiful SSD speeds to boot. Testing in both USB ports on a PC, the Elektron gave us readings of 469 MB/s read speed, and 462 MB/s write speed. These numbers are solid, but in practical terms they translate to the ability to speedily transfer games and saves between console generations, and as a great place to run games from itself. A neat little package.
Image 1 of 3
Image 2 of 3
Image 3 of 3
Away from the mega-big boys and famous names in the external PS5 SSD market, manufacturers and brands like Silicon Power quietly go about their business of making equally dependable, robust, competitively priced, and quality hard drives. And SP's Bolt B75 Pro SSD drive is exactly that.
This is an Incredibly light, but incredibly robust unit, which means it's easily transportable yet you can have great confidence in it if you're prone to mishaps, or just want that extra protection. Its military-grade shockproof, aluminium case will look after the important stuff inside easily and the casing definitely exudes the rugged quality that was intended. The unit as a whole doesn't feel solid but that comes from its lightness - some folks may prefer a more hefty unit.
The SSD's performance is very solid, but nothing too spectacular. As a result, if you're after something that offers good value, want to upgrade from an existing HDD to SSD to ensure you get that better and faster performance without number chasing too much, and you want something robust then this is a great contender.
Image 1 of 3
Image 2 of 3
Image 3 of 3
Another neat, small, and light option, this underrated little drive from Silicon Power could be a great addition as a PS5 SSD. It too will fit in the palm of your hand, and it might even be small enough to go on a bunch of keys too - well, a big bunch of keys perhaps. Its petite, featherweight design oozes portability so is great for those looking to the future for when we can move around more freely and take our games and data on the go.
Meanwhile, the USB 3.2 connection is fast and neat, and as well as for PS5 or PS4, this is ideal for any device that'll take it. If you're looking for a compact PS5 SSD, then this is it.
Silicon Power claims that the speeds can reach impressive levels of up to 540mb/s read and up to 500mb/s write, which would be very excellent. And while our tests (through CrystalDiskMark on the PC) didn't quite reach those levels thanks to our results of 468mb/s read and 322mb/s write, this is still solid enough for an SSD that will happily sit next to or near your console, silently providing you with a quality service. An excellent little PS5 SSD.