11. Room
The story: Based on Emma Donoghue's best-selling novel, Room centres on five-year-old Jack (Jacob Tremblay) who lives in a 10-by-10-foot room with his Ma (Brie Larson). When Jack starts to become curious about their situation, the two set about trying to escape.
Why you should watch it: This year's awards dark horse, director Lenny Abrahamson expertly delivers a faithful adaptation that's captivating and affecting in equal measure. Larson is electrifying and shoulders most of the emotional burden, while Tremblay is a real find and frighteningly good in one of his first major roles. It will break you.
10. The Martian
The story: When a storm hits during a manned mission to Mars, astronaut Mark Watney (Matt Damon) is presumed dead and left behind by his crew. He has to find a way to survive on his limited supplies, while also finding a way to tell Earth he's alive.
Why you should watch it: While pared down from Andy Weir's best-selling novel, Ridley Scott's version - along with screenwriter Drew Goddard - remains a recognisable and hugely enjoyable sci-fi blockbuster worthy of the text. On a technical level, it's flawless and Damon ensures there's heart with the science with an engaging turn.
9. It Follows
The story: Jay (Maika Monroe) comes to regret an innocent sexual encounter when she starts being followed by a supernatural force that won't stop coming after her, leaving her with a dilemma of whether or not to pass the curse on.
Why you should watch it: Opening with a majestic tracking shot, It Follows is the best horror of 2015 by some distance. An original high-concept is delivered in genuinely unnerving fashion and comes with the added bonus of a pool-based sequence that rivals Let the Right One In. Just try not to look behind you after watching it.
8. Creed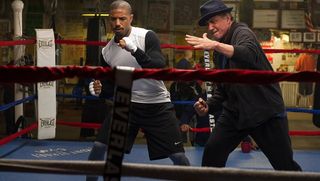 The story: Former world heavyweight champion Rocky Balboa (Sylvester Stallone) agrees to train up Adonis Creed (Michael B. Jordan), the son of his late friend and rival Apollo Creed.
Why you should watch it: Unquestionably the best Rocky outing since the original, Creed delivers the expected crowdpleasing beats in a knock-out fashion. Bolstered by excellent performances from Stallone and Jordan, this doesn't reinvent the rulebook but makes it feel fresh and modern, ensuring it appeals to both long-term fans and a potential new audience.
7. Carol
The story: After a chance encounter in a department store, Carol (Cate Blanchett) and Therese Belivet (Rooney Mara) start up a love affair that goes against the conventions of 1950s New York.
Why you should watch it: Director Todd Haynes returns to his favourite era again with an elegantly paced, affecting and lushly crafted romance. Really, though, it's all about Blanchett and Mara who sell every aspect of their forbidden relationship with considerable panache. We wouldn't want to be an awards voter who has to choose between the two.
6. The Revenant
The story: Inspired by true events, explorer Hugo Glass (Leonardo DiCaprio) is brutally attacked by a bear and betrayed by John Fitzgerald (Tom Hardy). Left for dead by his own hunting team, Hugo must find a way to survive in a vicious winter to seek his revenge.
Why you should watch it: As harsh to watch as it was reportedly to film, The Revenant is a bloody and uncompromising survival affair. With a committed and awards-bothering performance from DiCaprio, Alejandro Gonzlez Irritu pulls no punches but you won't be able to pull yourself away from the screen.
5. Ex Machina
The story: Talented coder Caleb (Domhnall Gleeson) wins a competition to spend a week at the mountain retreat belonging to Nathan (Oscar Isaac), the reclusive CEO of the company he works for. When he arrives, he finds himself in an experiment where he interacts with enigmatic robot girl Ava (Alicia Vikander).
Why you should watch it: Setting a benchmark that no other sci-fi could match in 2015, Ex Machina is a thought-provoking and utterly engrossing contained thriller. Much of the credit has to go to the trio of brilliant performances, although writer/director Alex Garland ensures that while you think you know where it's going, you realise you have no idea.
4. Sicario
The story: Idealistic FBI agent Kate Macer (Emily Blunt) is plunged into the war against drugs when she's enlisted by an elite government task force, led by the enigmatic consultant Alejandro (Benicio Del Toro).
Why you should watch it: Get ready to hold your breath for two hours. Sicario is a super-intense, morally murky and smart crime drama that's driven by a never-better Blunt. Though it's not action-heavy, the set pieces that Denis Villeneuve and cinematographer Roger Deakins craft - especially a tunnel-set raid - are among the year's best.
3. Star Wars: The Force Awakens
The story: After an encounter with dashing pilot Poe Dameron (Oscar Isaac) and his BB-8 droid, Finn (John Boyega) and scavenger Rey (Daisy Ridley) find themselves in the middle of the fight between the Resistance and the First Order which has risen from the ashes of the Empire.
Why you should watch it: Thrilling and emotional, JJ Abrams has delivered a movie that feels like the Star Wars you grew up on. It delivers callbacks to the original trilogy, while brilliantly setting up the new era of characters and their journeys. Boyega and Ridley are excellent, but special mention has to go to Adam Driver's genuinely menacing villain. The Force is most definitely strong with this one.
2. Inside Out
The story: As Riley struggles to adapt to life in San Francisco, her emotions - Joy, Fear, Anger, Disgust and Sadness - are also thrown into turmoil as Joy and Sadness find themselves ejected out of Headquarters and have to find their way back.
Why you should watch it: Without question, one of Pixar's very best outings. Inside Out is a thematically rich, inventive and consistently hilarious animation that deserves a place on the Oscars' Best Picture list, and not just on the Best Animated Feature shortlist. And in just seven words - "take her to the moon for me" - it delivers a gut punch that most movies this year couldn't manage in their whole running time.