We've all been eager to see how Captain Marvel would fit into Avengers: Endgame and it now looks like we have the answer. The Captain Marvel post-credits scene teased Carol Danvers rocking up to help fight Thanos, but the new Avengers: Endgame trailer - which just landed - includes a scene involving her, Thor, and Black Widow.
New trailers are all well and good, but there's so much more to take in when it comes to Endgame. For example, there's a whole bunch of theories, a potential early Avengers: Endgame release date, every single Avengers: Endgame trailer and all of the Avengers: Endgame cast to account for.
We've even scooped up some Avengers: Endgame set photos, some of which reveal some potentially sneaky deets, while others are just really cool peaks behind-the-scenes at what is, frankly, the biggest movie ever.
What's that, that's still not all? Yep. There's even a new Avengers: Endgame poster to sink your teeth into. Is it better than the finely-balanced Avengers: Infinity War one? Judge for yourself down below! So, what are you waiting for? Avengers Assemble!
Fast Facts:
Avengers: Endgame release date: April 25, 2019 (UK)/April 26, 2019 (US)
Avengers: Endgame director(s): Anthony Russo, Joe Russo
Avengers: Endgame cast: Robert Downey Jr., Chris Hemsworth, Mark Ruffalo, Chris Evans, Scarlett Johansson, Don Cheadle, Paul Rudd, Jeremy Renner, Josh Brolin, and more
Avengers: Endgame writer(s): Christopher Markus, Stephen McFeely
Avengers: Endgame release date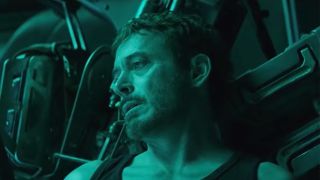 The Avengers: Endgame release date is April 26, 2019. If you're in the US that is. If you're one of the lucky people living in the UK, it looks like you'll be getting Avengers: Endgame a day earlier on April 25, 2019. Although this report is unconfirmed at the moment, this would fit with most Marvel movie release dates, which are usually slightly earlier in the UK than the US.
In case you can't remember, May 2019 was the original placeholder release date for the movie, which was then changed to the more specific date of May 3, 2019, before rumours started circulating that the Avengers: Endgame release date could be brought forward to April based on a quarterly earnings report from IMAX, which listed Avengers: Endgame with an April 2019 release date.
Read more
The best upcoming movies of 2018 and beyond
We now know that those rumours were indeed true and we're getting Avengers: Endgame even sooner than expected. In fact, the Avengers: Endgame release date is... *counts on fingers* less than seven weeks away! Better start that MCU recap now.
To put that within the context of the other new Marvel movies coming this year, Captain Marvel has just landed in cinemas - becoming the second highest grossing Marvel movie of all time, in case you didn't know - which means Spider-Man: Far From Home will be the third and final MCU film of the year, kicking off Phase 4 on July 5, 2019. After that, who knows...
In terms of the Avengers: Endgame runtime, there's no official word yet, but Collider is reporting that the Russos are doubling down on the previously rumoured three hour runtime after some very positive test screenings. Speaking to Collider, Joe Russo says: "We're still at the three-hour mark," before adding, "we think the movie is playing well and we've had great responses from our test audiences and we're feeling very good about where it is."
Avengers: Endgame trailer
Marvel Studios finally gifted us with the first Avengers 4 trailer (above) in December last year, and the main takeaways from the 145 second trailer are that things don't look good for the remaining Avengers post-Infinity War.
Those of us who hoped it was all a bad dream are in for a shock as Black Widow states: "Thanos did exactly what he said he was going to do... he wiped out 50% of all living creatures." Cap is crying, Iron Man is lost in space, Hawkeye is murdering people... Things. Look. Grim. Except for Thanos who's walking through a field enjoying the sunshine...
Read more: Avengers: Endgame trailer breakdown - 9 Easter eggs, references, and takeaways you might have missed from the first teaser
An Avengers 4 trailer even popped up at the Super Bowl (above), but don't worry if you're allergic to spoilers because it's only 30 seconds long.
It's mainly just a collection of short clips from the film showing the remaining Avengers in various states of angst - Steve's face! - but it's worth noting that Tony isn't on his own in this trailer. He's found Nebula... or Nebula's found him. Either way, he seems to have been 'rescued' in some form or another. But hang on, has someone been mysteriously edited out of this trailer?
That's it for Avengers 4 trailers you can actually watch right now, but if you've seen the Captain Marvel post-credits scenes then you know that it deals with Avengers 4 very heavily, and you can check out our full breakdown of what happens and what it means for Avengers: Endgame in the link above.
That's not all though because some more Avengers 4 footage has been shown to a select few at a Disney shareholders meeting and, of course, it's been leaked so we know what happens. Captain Marvel also features in this footage and you can read about what happens here if you're so inclined.
Read more: Watch every Super Bowl trailer you might have missed
And that's still not all! A third Endgame trailer (above) has made waves, dropping on March 14 and starring Captain Marvel!
Again, it's surprisingly light on the spoilers (apart from if you haven't seen Captain Marvel), with the trailer instead focusing on key moments in the lives of Iron Man, Thor, and Captain America, before screeching forward to the present and dealing with Ant-Man presumably hurtling out of the Quantum Realm and landing in a post-snap world.
Elsewhere, there's a handful of fan-pleasing moments. Rocket is ready to lock and load while perched on War Machine's shoulder; Hawkeye/Ronin (check out his new haircut!) is back in action and running away from several quiver-singeing explosions, and, yes, confirmation that Stark is back on Earth.
Notice anything about the scene with the Avengers walking slowly? Yes, besides the sleek white matching costumes they're all wearing. There's Tony, tucked in-between Cap and Nebula.
The stage is set: Earth's Mightiest Heroes are ready to take down Thanos. And they're not alone. We even get a post-title card (that's a thing, honest) scene with Thor calling a weapon that may or may not be Mjolnir towards him and Captain Marvel not even skipping a freakin' beat. April 25 can't come soon enough.
Avengers 4 title
It feels like we waited our whole lives to find out the official Avengers 4 title, but the first trailer finally revealed it with the above title card. Yes, that's right, the Avengers 4 title is actually - Avengers: Endgame.
If you remember, Avengers 4 was originally called Avengers: Infinity War - Part 2, before officially reverting back to just 'untitled Avengers movie' because, according to Feige, it was a spoiler for Infinity War (which he's finally explained if you were still wondering). But even after Infinity War had been released, Marvel kept the Avengers 4 title under wraps for a good few months.
Interestingly, the Avengers: Endgame title was actually leaked a while ago when a cinematographer who works with the Russo brothers stated on his website that he was working on… Avengers: Endgame. It was quickly changed to Avengers 4, prompting fans to speculate that Marvel had something to hide, but that's not all... It was also sneakily leaked on the Late Night with Seth Meyers show, while Paul Rudd was promoting Ant-Man and the Wasp, but no-one noticed!
Avengers 4 cast
Working out the Avengers 4 cast list is tricky because while it will almost certainly include everyone who survived the events of Infinity War, it will also probably feature some of those who 'died', some wider MCU characters who didn't have a role in Infinity War but will in Avengers 4, and some completely new faces too!
Basically, the Avengers 4 cast is going to be BIG, and although we can make some good guesses as to who will be a part of it, none of them have been official confirmed by Marvel Studios yet.
Let's start with those who know survived Infinity War and will almost certainly be back for Avengers 4:
Chris Evans as Steve Rodgers/Captain America
Robert Downey, Jr. as Ton Stark/Iron Man
Chris Hemsworth as Thor
Scarlett Johansson as Natasha Romanoff/Black Widow
Mark Ruffalo as Bruce Banner/the Hulk
Don Cheadle as Colonel James 'Rhodey' Rhodes/War Machine
Bradley Cooper as Rocket
Karen Gillan as Nebula
Danai Gurira as Okoye
Josh Brolin as Thanos
While the Avengers 4 writers would like us to think that the Infinity War 'deaths' are permanent, that's pretty unlikely and not just because some of them have upcoming solo sequels planned. Some of the actors can't even pretend they're really dead!
"I'm going to be in [Avengers] 4, I'm also going to be in Guardians 3," Dave Bautista, AKA Drax, told Collider. "I don't know how they bringing me back, but somehow I'm going to make it because as far as I know I am going to be in Guardians 3, so I have to be back."
While his appearance in Guardians 3 is a bit more of an uncertainty since James Gunn's firing, Bautista's comments still stand. And the same goes for the rest of the Guardians, Spider-Man (thanks to the upcoming Far From Home), Doctor Strange (Feige recently confirmed a sequel would happen), and Black Panther (there's no way we're not getting another Black Panther movie).
On top of that, the following actors have confirmed that their supposedly dead characters will be back for Avengers 4:
Stan also appears to have revealed via The Independent that Samuel L. Jackson, Michael Douglas, and Michelle Pfeiffer will appear as Nick Fury, Hank Pym, and Janet van Dyne in a scene "where everybody was there". Thanks Seb!
Then there's those MCU characters who either didn't appear, or we didn't see survive/die, in Infinity War, but have since been confirmed for Avengers 4:
Brie Larson will appear as Carol Danvers/Captain Marvel after her Avengers: Infinity War role was cut
Paul Rudd was spotted on the Avengers 4 set as Scott Lang/Ant-Man and his role has since been confirmed by the trailer
Evangeline Lilly has confirmed her character Hope van Dyne/The Wasp will appear
We know Jeremy Renner will star as Clint Barton/Hawkeye thanks to the writers revealing they have an interesting storyline planned for him - plus, the trailer, again
Gwyneth Paltrow has confirmed Pepper Potts is back and she might be donning a superhero suit of her own, but it looks like it'll be her last MCU movie
And Benedict Wong has done the same for his character Wong
Tilda Swinton will also apparently be back as the Ancient One (not sure how that will work)
As will Frank Grillo who plays Brock Rumlow/Crossbones, but maybe in a flashback
Tessa Thompson revealed Valkyrie survived the snap and this toy leak seems to confirm she'll put in an appearance
Finally, we have the characters who have been confirmed to have survived the Snap, so could appear in Avengers 4:
Angela Bassett has revealed her character, Queen Ramona, survived the snap, but she also said her daughter Shuri (Letitia Wright) did too and we now know that's not the case thanks to the trailer...
The same goes for Martin Freeman's Everett Ross
As well as Marisa Tomei as May Parker (Aunt May to you and me) who Anthony Russo confirmed survived
Read more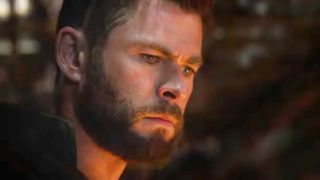 How long do all the Marvel actors have left on their contracts?
Now onto the really juicy bit. Here's what we know about the brand-new Avengers 4 cast members... we have one confirmed. So far.
13 Reasons Why's Katherine Langford has filmed scenes for Avengers 4, according to THR, but there's no word yet on who she will play. We do know that Marvel was looking for a slightly older Cassie Lang (AKA Ant-Man's daughter) suggesting that Abby Ryder Fortson, who plays Cassie in both Ant-Man movies, won't be reprising her role in Avengers 4. But other rumours also suggest Langford could play Tony Stark and Pepper Pott's child instead.
If you're a little confused about how any of the Avengers could have such grown up kids, it all ties into the Avengers 4 theories about time jumps/travel, which we'll get to.
Finally, there could be a couple more new MCU faces cropping up, ones that have to do with Marvel's Phase 4. Rumours have already been swirling about a couple of The Eternals potentially joining the Avengers 4 cast for a very brief cameo, possibly in the post-credits.
Continue to Page 2 for Avengers 4: Endgame set photos, plot details, and more