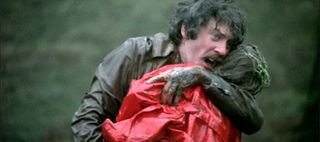 Dont Look Now (1973)
The Haunter: Christine Baxter, the daughter of John and Laura, who drowned near the family's country home in England. But is she really the one doing the haunting?

The Haunted: John and Laura Baxter, now staying in Venice while John restores an ancient church. While out there, John begins to see a figure who resembles his dead daughter.

Scariest Moment: The clanging, headache-inducing, scarlet red hatchet ending, in which all suddenly becomes clear. Sort of.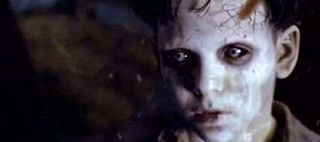 The Devils Backbone (2001)
The Haunter: Santi, a young orphan who was drowned by Jacinto, another parent-less boy who now works at the same orphanage he was raised in.

The Haunted: Carlos, who repeatedly catches sight of ghost boy Santi when he's sent to live at the orphanage during the Spanish Civil War.

Scariest Moment: Carlos is followed by the ghost and locks himself in a closet where he spends the entire night terrified.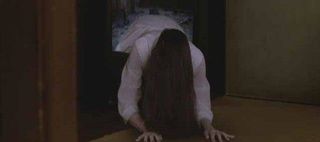 Ringu (1998)
The Haunter: Sadako, who was killed by her father and dumped in a well.

The Haunted: Whoever succumbs to watching a haunted videotape. Said tape rewards the brave (or, stupid) with images of apocalyptic doom, as well as a creepy-looking well. Seven days after watching, the unlucky viewer turns up literally scared to death.

Scariest Moment: The now infamous TV incident, in which Sadako scratches her way out of the idiot box to claim her latest victim.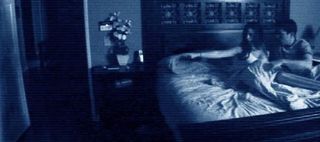 Paranormal Activity (2009)
The Haunter: An unidentified evil force that's taken a liking to...

The Haunted: Katie and Micah, a young couple who are being menaced by something (un)living in their home. Being modern types, they decide to record their house in the hope of capturing footage of their unseen tormentor.

Scariest Moment: Katie is dragged out of the bedroom by an invisible force...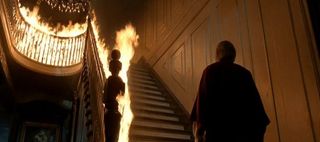 The Changeling (1980)
The Haunter: A poltergeist, the restless spirit of a murdered child who vents its anger by smashing windows and slamming doors.

The Haunted: Dr. John Russell, a New York composter who moves into an old Victorian mansion (is there any other kind?) in Washington after his wife and daughter are tragically killed.

Scariest Moment: Though he's all alone in the house, John watches as every single door slams itself shut...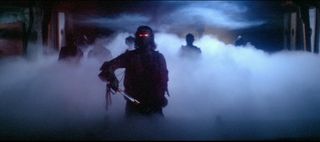 The Fog (1980)
The Haunter: Move over Johnny Depp, there's something creepier than Jack Sparrow out at sea here. (Though not by much.) A group of dead mariners who were killed in a shipwreck 100 years ago, this glowy-eyed lot are sniffing around for revenge...

The Haunted: The residents of coastal town Antonio Bay, where an insidious fog is sweeping into town and leaving hacked up bodies in its wake.

Scariest Moment: Young Andy and his childminder Mrs Kobritz are targeted by the vengeful spooks as fog envelopes the house...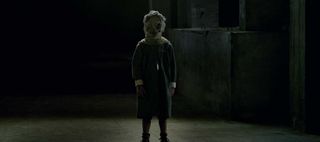 The Orphanage (2007)
The Haunter: Tomás, a young ghost boy who wears a sack as a mask.

The Haunted: Laura, her husband Carlos and their son Simón. When Laura and her family return to her family home, an old orphanage, Simón tells his parents of a masked friend he's made called Tomás. Before he disappears without a trace...

Scariest Moment: Laura heads down a flight of stairs into the darkness, only to find she's not alone...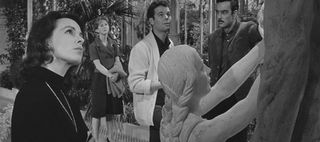 The Haunting (1963)
The Haunter: The spirits of Hill House, a 19th century manor that has a long, blood-flecked history of murder and insanity.

The Haunted: Eleanor 'Nell' Lance, who's shown signs of being psychic and is taking part in an investigation into paranormal activity at Hill House. Whatever is haunting the residence shows particular interest in Nell.

Scariest Moment: "Who's hand was I holding?" Nell gets a midnight visitor...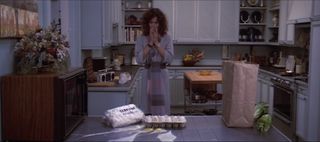 Ghostbusters (1984)
The Haunter: Zuul, a Sumerian shape-shifting demigod and servant to Gozer the Gozerian.

The Haunted: Dana Barrett, whose Central Park apartment is being haunted by Zuul. Strange activity includes eggs hopping out of their shells to cook on the kitchen counter.

Scariest Moment: Hearing strange noises, Dana inspects her fridge, only to find it's where Zuul is hiding out.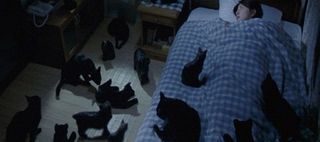 Ju-On: The Grudge (2003)
The Haunter: A vengeful ghost, Kayako Saeki is an expert in crawling like a spider and making a creepy croaking sound. She also likes to pop out of unexpected places.

The Haunted: Anybody who steps foot inside the house where Kayako was violently killed. Kayako appears to those doomed souls and takes their lives.

Scariest Moment: Cowering in her bed, Hitomi gets a visit from Kayako, who appears under the covers...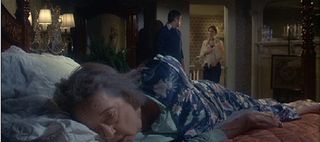 Burnt Offerings (1976)
The Haunter: The malevolent spirit of an old Victorian mansion, which revels in death and destruction.

The Haunted: The Rolf clan, who go to stay at said mansion out in the California wilderness. Mother Marian is the one who becomes possessed by the house's insidious power, and is forced to carry out all manner of destructive acts.

Scariest Moment: That inevitable ending, in which the house remains intact, and the perpetual cycle (new residents move in, a barmy lady still lives in the attic) continues uninterrupted.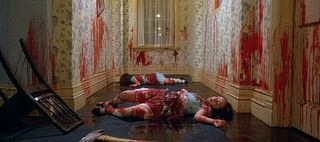 The Shining (1980)
The Haunter: The Overlook Hotel, a place where so many horrible things have happened that the building itself now houses a teeming mass of vengeful nasties.

The Haunted: The Torrance family, who go to stay at the Overlook, only to find it's not exactly happy they're there.

Scariest Moment: "Come play with us, Danny." The Grady twins appear to young Danny in all their ghostly, frilly glory, before showing him what they looked like just after they were hacked to death...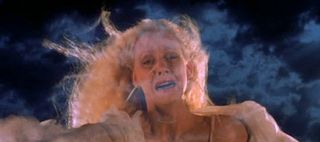 Lady In White (1988)
The Haunter: Melissa Montgomery, a young girl murdered at her school. She re-enacts her own death every night at 10pm.

The Haunted: Franklin 'Frankie' Scarlatti (Lukas Haas), a nine-year-old dweeb who sees the ghost of a little girl when he's locked in a school cloak room after dark.

Scariest Moment: Frankie is trapped in a cottage as it burns down around him, only to be rescued by murderer Phil, who wants to throw him over the edge of a cliff.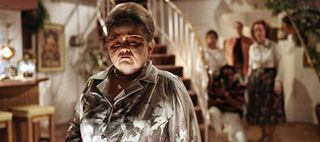 Poltergeist (1982)
The Haunter: A collection of vengeful Native Americans, whose graves have become the foundations for a newly built California neighbourhood.

The Haunted: The Freeling family, your typical sunny brood who move into their new house only to endure numerous supernatural attacks. Worst off is young Carol-Anne, who's kidnapped by the house's unquiet inhabitants.

Scariest Moment: Marty, a parapsychologist from UC Irvine, uses the bathroom. But when he looks in the mirror, his reflection starts picking his entire face apart until it's a heap of goo in the sink.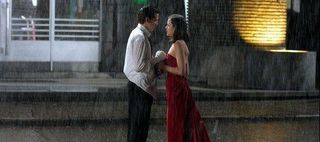 Un Jeu DEnfants (2001)
The Haunter: Two unclean old spirits who make a young family's lives a living hell.

The Haunted: The Fauvel family. Jacques, the father, is a successful businessman who experiences hallucinations and is physically scarred by them, while his wife suffers visions of rape and violence.

Scariest Moment: Just before the couple's children start behaving strangely, their babysitter hangs herself...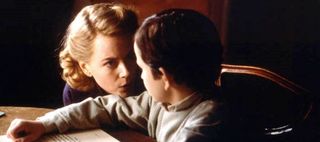 The Others (2001)
The Haunter: In a clever case of inverting expectations, The Others spends its entire running time having us believe that a post-World War II family are being haunted – when really they are the ones haunting a family in the present day.

The Haunted: Victor and his family, who've moved into a remote country house only to find it's still haunted by the ghost of a woman who killed her two children before taking her own life.

Scariest Moment: That twist packs a powerful punch, but the creepy "Are you mad? I am your daughter" moment still gives us goosebumps.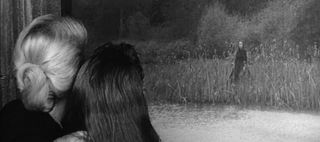 The Innocents (1961)
The Haunters: Former governess Miss Jessel and valet Peter Quint, both with business to settle. Lucky for them, two innocent young children are the prime targets for possession.

The Haunted: Miss Giddens, a young governess sure that the house where she nannies two children is being haunted by something nasty.

Scariest Moment: Miss Giddens investigates strange noises by candlelight, and is assaulted by harsh whispers and unseen assailants.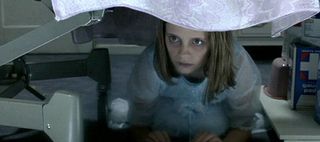 The Sixth Sense (1999)
The Haunter: Numerous haunters here, though Bruce Willis' oblivious phantom is the biggest presence in the movie, and affords M. Night Shyamalan his finest twist.

The Haunted: Young psychic Cole (Haley Joel Osmont), who sees dead people. And a lot of them.

Scariest Moment: Being haunted by cuddly Willis is one thing, but an appearance by Mischa Barton takes the biscuit. "I'm feeling much better now," she says, after vomiting everywhere.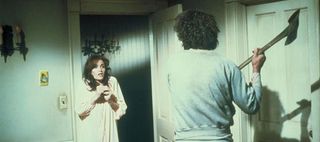 The Amityville Horror (1979)
The Haunter: The evil, unquiet spirit of a dead man who killed his entire family with a shotgun in 1974.

The Haunted: A Dutch colonial home in Amityville, Long Island, where a string of horrible, unexplainable misfortunes befall the house's new residents.

Scariest Moment: Having confronted an evil force while praying in church, Father Delaney ends up losing his mind. Then there's that bit with the flies, too...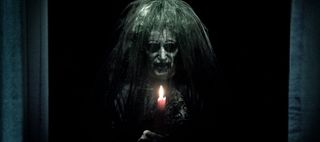 Insidious (2011)
The Haunter: All manner of grisly ghouls, who take great pleasure in giving poor Rose Byrne the willies. Not like that, though.

The Haunted: At first young married couple Renai (Byrne) and Josh (Patrick Wilson) move because they believe their new house is haunted. But then they realise that it's their young son, currently in a coma, who's the one really attracting the spooks.

Scariest Moment: Too many classic chills to give away here.