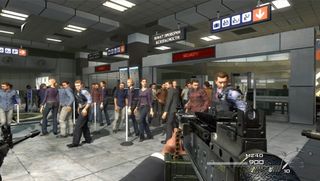 Women of the world (at war)
See that woman above? The one in the purple shirt? Yes, all three of them. They're the only women you see in Call of Duty: Modern Warfare 2. It's not really all that shocking--the Call of Duty series is built on a sense of machismo. Whether blasting through the campaign modes as highly-trained bro soldiers (brodiers) or defeating bros in multiplayer matches, we've long been privy to the tall, muscle-bound men that do the fighting for us. Call of Duty: Ghosts might look to alleviate that with some female multiplayer characters (in the multiplayer, there aren't any in the campaign besides an unplayable astronaut), but it's still a boy's club.
Or... is it? Turns out, after doing some research we've found that the series has a long history of inclusion when it comes to the fairer sex. Today, we're paying tribute to the women who have served bravely under the Call of Duty banner. They come from all walks of life and they have all kinds of stories, but like their male counterparts they kick some military ass when they're on-screen.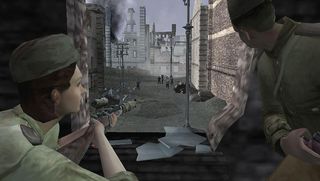 Tanya Pavelovna (Call of Duty: Finest Hour)
The matriarch of the Call of Duty series is Tanya Pavelovna, a Russian sniper who played a key role in Call of Duty: Finest Hour. After her village was taken by the Germans and she was separated from her family, she joined the Red Army, becoming an adept fighter. She once picked up a sniper rifle laying next to a fallen comrade and, without any training whatsoever, took down four enemy soldiers before being rescued by the Reds. That's badass.
Tanya joins up with protagonist Aleksandr during the Finest Hour campaign, providing cover fire for her comrades and most notably serving as a distraction for a German Panzer tank. It takes a lot of gravitas to put oneself in the crosshairs of a tank, but Tanya did just that and lived to tell the tale. That's some great work. See? That's what we'd call a strong female character!
Fate: Wounded in action.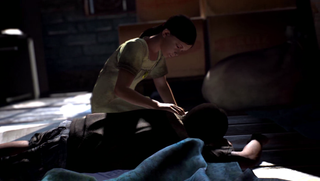 Josefina Menendez (Call of Duty: Black Ops II)
Poor, poor Josefina. The younger sister of Black Ops II antagonist Raul Menendez suffers a cruel fate, severely burned by a backdraft during a barn fire as a child. As Raul cared for her, American troops stormed his compound, with protagonists Mason and Woods inadvertently killing her in a grenade explosion. Her death fuels Raul's hatred for the USA, hatching his plan for revenge and making Josefina the catalyst for the entire Black Ops II storyline. In a way, there is no Black Ops II without Josefina.
Raul mentions her throughout the game, and we see her at different stages of her incredibly tough life. The vision of her disfigured face is one that we won't get out of our minds very soon, reminding us of Maria in Gears of War 2. Josefina plays a critical part in Black Ops 2, despite not having a lot of screen time at all.
Fate: Dead.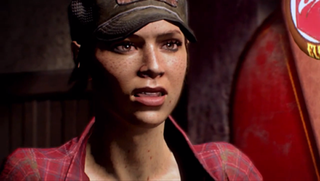 Abigial "Misty" Briarton (Call of Duty: Black Ops II Zombies)
When the first Black Ops II posters came out, one of them was a picture of a woman holding a Winchester rifle in one hand and a skull in the other, surrounded by rubble and debris. We didn't know who this woman was, but we had a feeling she'd be part of whatever new Zombie campaign Black Ops 2 would throw at us. Abigail "Misty" Briarton is her name, and she is a zombie ass-kicking machine.
We don't have a whole lot of background on Abigail, except that she grew up on a farm. However, when we're knee deep in the undead and we need someone to bail us out, Abigail is happy to oblige with a shotgun in her hands and a smile on her face. Abigail is exactly the type of woman we'd expect from CoD: a take-no-prisoners badass.
Fate: Most likely a zombie.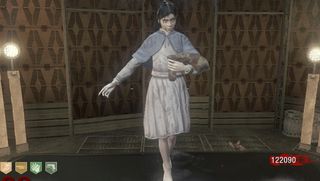 Samantha Maxis (Call of Duty: Zombies)
Samantha here isn't so much a part of the core Call of Duty campaign, but rather the Zombies storyline seen in World at War and both Black Ops games. She is possessed by Edward Richtofen, the mad doctor antihero responsible for all of the countless undead we've been shooting since 2008. In short, she controls the zombie hordes. The girl from The Ring has NOTHING on Samantha.
For a while, we only hear Samantha's voice as the "Demonic Announcer," but we finally get a chance to control her in the Moon stage of the original Black Ops, replacing Richtofen after completing a certain 12-step Easter egg. It's a lot of work, but getting the chance to play as the girl that's been terrorizing us with her voice since the original Zombies game is worth it.
Fate: Crazy.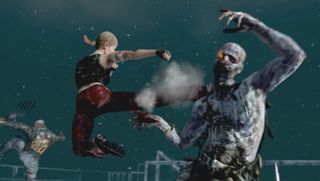 Sarah Michelle Gellar (Call of Duty: Zombies)
Oh man, how awesome was the Call of the Dead DLC for the original Black Ops' zombie campaign? Michael Rooker, Danny Trejo, and Robert Englund were cool enough, but to control Buffy the Vampire Slayer against a horde of zombies was beyond thrilling. Any time we can use Buffy for anything, we're going to take advantage.
Sarah was a blast to control; shooting her way through the undead while shouting lines like "how's this for a close-up, dead head?!" was really cool. We still think that Call of the Dead may be the best of the Call of Duty Zombie chapters, with Sarah Michelle Gellar being a major reason for it.
Fate: Starring in a TV show with Robin Williams.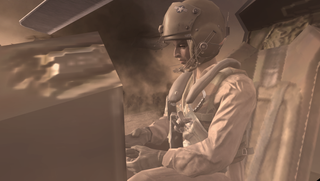 Captain Pelayo (Call of Duty 4: Modern Warfare)
Ah, Captain Pelayo, the expert helicopter pilot of Call of Duty 4 who found herself in quite a jam. Having been shot down by a Stinger missile, Sgt. Jackson goes to the site of the crash to save her, a decision that cost him his life. Soon after she is shot down, a nuclear device is set off, killing everyone aboard the chopper and in the immediate area.
Captain Pelayo plays an integral part in the lore of Call of Duty, as she set the stage for one of the iconic moments in the entire series. We would have preferred she didn't die so quickly in the campaign, as we enjoyed hearing a female voice on the battlefield alongside us, but her noble death will stick with us forever. Rest in peace, Pelayo.
Fate: Killed in a helicopter crash, and then blown up by a nuke.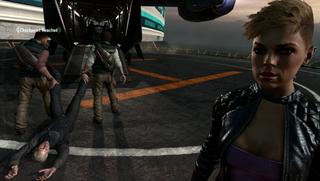 Chloe "Karma" Lynch (Call of Duty: Black Ops II)
Chloe Lynch, codenamed "Karma," may seem like an ordinary NPC support character in Black Ops II. However, Chloe is actually a benchmark for the entire CoD series: she is the first character in any Call of Duty game who will survive or die based on the player's progress throughout the campaign. Others have died throughout the series' storylines, but none of their fates were entirely on us.
We don't want Chloe to die, as she's the only person who can crack the virus launched against America, so we made sure we did everything we could to ensure her survival. We failed, of course, because we're terrible at things, but at least we tried?
Fate: Alive. Or... dead? She's Schrodinger's NPC.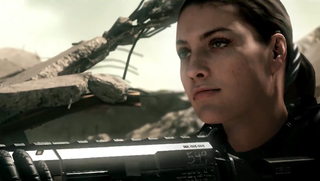 Female Multiplayer Character (Call of Duty: Ghosts)
In a move that is long, LONG overdue, players can now choose to make female multiplayer characters in Call of Duty: Ghosts, opening the mayhem to both sides of the biological line. No longer do female players have to choose some generic meathead to carry out their shooting desires; finally the character on-screen can truly resemble the person at the controller.
We're not sure why it took so long, but damn if we aren't happy that it did. Women are just as much a part of real-world military through as men are, which made their lack of representation in previous games even more glaring. With this problem finally rectified, we can now join together in unity as we shoot each other in the face over and over again. What a beautiful world we live in.
Fate: Being called slurs on Xbox Live.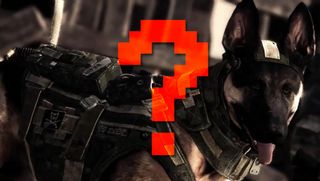 Oh yes it's ladies' night, and the feeling's right...
These are the female faces that have followed us through our Call of Duty careers, each one providing some big time support in one way or another. Do you have a favorite Call of Duty lady? Did we forget someone? Let us know in the comments below.
For more Call of Duty coverage, check out our review of CoD: Ghosts, or take a gander at how not to suck at the new Call of Duty.