Fast Facts:
Thor: Ragnarok release date: November 3, 2017 (US), October 27, 2017 (UK)
Director: Taika Waititi
Cast: Chris Hemsworth, Tom Hiddleston, Idris Elba, Sir Anthony Hopkins, Mark Ruffalo, Cate Blanchett, Jeff Goldblum, Karl Urban, Tessa Thompson
Writer: Stephany Folsom
Thor: Ragnarok movie to hammer cinemas next year
Thor is getting his second sequel on 3 November 2017 in the US (27 October in the UK). After Thor: The Dark World - the weakest of Marvel's Phase Two films despite the typically fun back-and-forth between Chris Hemsworth's Thor and Tom Hiddleston's Loki - Marvel knows a shake-up is needed to give the god of thunder the classic movie he deserves. Both Thor movies are fun, but they get nowhere near the top of the pile in the Marvel Cinematic Universe. After Hemsworth's comedy star turn in Ghostbusters, Thor: Ragnorak should redress that balance.
Thor: Ragnorak trailer is absent, but there's been a mockumentary
Ignore reports of a trailer materialising at San Diego Comic Con - it didn't happen. But journalists were shown a behind-closed-doors mockumentary in which Thor hilariously attempts to live a normal life. While Cap and Tony are beating the crap out of each other, Thor is dealing with a roommate problem and working on the 'conspiracy theory wall' below, in order to figure out Thanos' evil scheme. Expect a proper trailer in early 2017.
Thor is investigating who is after the infinity stones.

A photo posted by @taikawaititi on Jul 29, 2016 at 3:50am PDT
Thor: Ragnarok cast turns The Fly into Grandmaster
Chris Hemsworth reprises his role as Thor for the fifth time, and Mark Ruffalo is back playing the Hulk in his fourth appearance in the Marvel Cinematic Universe (counting his Iron Man 3 cameo). Tom Hiddleston and Jaimie Alexander also reprise their roles as Loki and Sif respectively.
New cast members include Cate Blanchett as new villain Hela, Tessa Thompson as Valkyrie, Karl Urban as Skurge, and Jeff Goldblum as the eccentric Grandmaster. It's Goldblum's first entry in the Marvel Cinematic Universe, and one GR+ is particularly excited about.
Thor: Ragnarok plot already poses many questions
The exact premise of Ragnarok has been kept under wraps so far, but said to restore some humour to the films and putting Thor and Hulk in "fish out of water" scenarios according to Hemsworth.
Among the threads that have to be resolved in some way are Thor's pace-breaking visions in Age of Ultron, where he looked distraught while awkwardly taking a bath in front of Stellan Skarsgaard. The event caused him to break away from the Avengers at the end of that film. Just what did Thor see while taking scrub in the tub? This will be addressed.
At the end of Thor: The Dark World, we saw that Loki had taken the throne while pretending to be Odin. What happened to the real Odin? What happens to Asgard when Loki is in charge? Inevitably, Ragnarok is the film to pick this thread up. Then there's the case of what happened to the Hulk after he flew away at the end of Age of Ultron. How does he end up buddying around with Thor? Will he ever call Black Widow? Feige has stated that very little of the film takes place on Earth, with the story primarily set in the cosmos.
Ragnarok in Norse mythology refers to the coming end of the gods. In relationship to Marvel's comics history, however (which is both more fun and more confusing than Norse mythology), there's a few matches to that word. Ragnarok was a clone of Thor created during the Civil War storyline that turned out to be a bit of a dick, later joining Norman Osborn's Dark Avengers. Ragnarok was also part of a comic book storyline in the mid-Noughties that ended with Thor stuck in limbo, though it's a bit long-winded (and probably not relevant enough to the film) to go into now.
It sounds like Marvel is pulling out all the stops to make sure Thor isn't an also-ran sequel this time. All the way back in 2014, when Feige unveiled the sprawling phase three of the MCU, he had this to say about Ragnarok, which is pretty telling about the more muted reaction to The Dark World: "This is a very important movie for us in phase three… We plan on taking Thor to another level. It picks up where we leave Thor in Avengers: Age of Ultron and impacts everything that comes after."
Thor: Ragnarok director is a Sundance favourite
Ragnarok will be directed by Taika Waititi, best known for funny but touching New Zealand-set films like Eagle Vs Shark and horror mockumentary What We Do In The Shadows (his latest picture, Hunt For The Wilderpeople, wowed us at Sundance). This would make him seem like an unconventional choice for a big blockbuster movie, but then Marvel has a growing track record of doing this. James Gunn made his own distinctive movies like Super and Slither before Guardians of the Galaxy, and Joss Whedon's only experience of directing on the big screen before The Avengers was the half-successful spin-off to his own TV series. Like those directors, it's possible Marvel saw something specific and worthwhile in his style and voice as a filmmaker that made him the right choice. As Waititi himself said, they'll do almost anything to get the movie right. Marvel has never been one for the obvious choices in talent.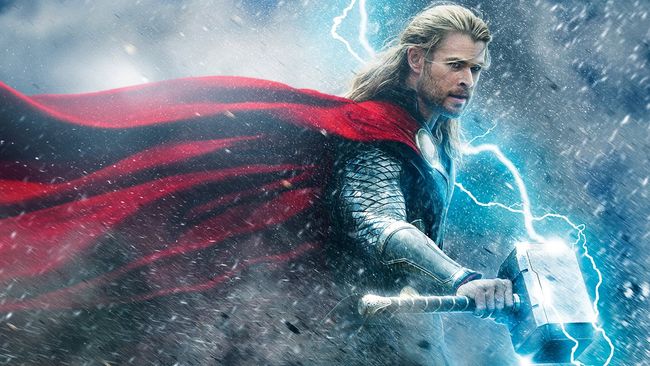 Thor: Ragnarok writer is a relative unknown
Christopher Yost and Craig Kyle, who worked on Thor: The Dark World together, were the first writers on-board to script Ragnarok. In December, , a screenwriter whose work has made the film industry's black list of best unproduced screenplays, was hired to polish the script. One example of such work is 1969: A Space Odyssey Or How Kubrick Learned To Stop Worrying And Land On The Moon, in which NASA enlists Stanley Kubrick to fake the moon landing.
Thor: Ragnorak poster isn't official yet
Ignore the fakies which materialise in a Google Image Search – there's no official Thor: Ragnorak poster at this time, only a (cool, retro-looking) logo. But Marvel has released a big piece of art teasing Blanchett's character Hela getting ready to do all the evils. Take a peek at that below, and get excited.
Related Thor: Ragnarok news
Thor: Ragnarok director reveals a glimpse of what Thor was up to during Civil War
Thor: Ragnarok - Hulk and Bruce Banner are on a "collision course," says Mark Ruffalo
Thor: Ragnarok starts production in Australia, first set pic revealed
Thor: Ragnarok adds Jeff Goldblum as Grandmaster and Karl Urban as Executioner
Thor: Ragnarok will kick off a major 3 movie story arc for the Hulk