Fast Facts:
Thor: Ragnarok release date: November 3, 2017 (US)/October 27, 2017 (UK)
Director: Taika Waititi
Cast: Chris Hemsworth, Tom Hiddleston, Idris Elba, Sir Anthony Hopkins, Mark Ruffalo, Cate Blanchett, Jeff Goldblum, Karl Urban, Tessa Thompson
Writer: Stephany Folsom, Eric Pearson
Update: January 17, 2017 - New set picture shows off the Gourd of Thunder
Thor: Ragnarok director Taika Waititi shared this odd new picture from the set of what could be the sequel to the entertaining Team Thor Civil War short, which is one of the extras with the Doctor Strange Blu-ray on 6 March (it'll almost certainly turn up online, too). The giveaway that this isn't a shot from Ragnarok itself? Well, Thor isn't typically known for his love of pumpkins or gourds (feel free to prove me wrong, Marvel fans), and filming on Thor: Ragnarok itself already wrapped last year.
Secondly, the credited photographer is Darryl Jacobsen - Thor's normal guy roommate from the aforementioned short. Lastly, if you'll look closely at the photo, Thor's hammer Mjolnir appears to be sat in a baby's high chair for reasons that'll no doubt seem hilarious in a couple of months.
FACT: Asgardians love pumpkins and gourds. #GourdofThunder #ForAsgourd #GourdiansoftheGalaxy #PensiveActing #ExpensiveActing #DeepInThort Photo by Darryl Jacobsen

A photo posted by @taikawaititi on Jan 13, 2017 at 6:47am PST
Update: January 10, 2017 - Doctor Strange cameo teased by Tom Hiddleston
Tom Hiddleston discussed Doctor Strange's role in Thor: Ragnarok in a recent interview, suggesting Benedict Cumberbatch's new Marvel hero will play a key part in tracking down the absent Odin. Hiddleston described how Stephen Strange's "intensely cerebral, time-bending powers" have a part to play in figuring out what happened to Thor's dad after Loki took the throne in Thor: The Dark World. "So maybe Doctor Strange has to help out with that particular conundrum," the actor added.
***Original article continues below***
The Thor: Ragnarok movie will hammer cinemas in November 2017
Thor is getting his second sequel on 3 November 2017 in the US (27 October in the UK). After Thor: The Dark World - the weakest of Marvel's Phase Two films despite the typically fun back-and-forth between Chris Hemsworth's Thor and Tom Hiddleston's Loki - Marvel knows a shake-up is needed to give the god of thunder the classic movie he deserves. Both Thor movies are fun, but they get nowhere near the top of the pile in the Marvel Cinematic Universe. After Hemsworth's comedy star turn in Ghostbusters, Thor: Ragnarok should redress that balance.
The Thor: Ragnarok trailer is absent, but there's a mockumentary
Ignore reports of a trailer materialising at San Diego Comic Con 2016 - it didn't happen - but journalists were shown a behind-closed-doors mockumentary in which Thor hilariously attempts to live a normal life. While Cap and Tony are beating the crap out of each other, Thor is dealing with a roommate problem and working on the 'conspiracy theory wall' in order to figure out Thanos' evil scheme. Expect a proper trailer in early 2017, but for now, you can watch the 'Team Thor' mockumentary in full below...
Thor: Ragnarok cast brings back Loki, brings in Doctor Strange, Hela and Jeff Goldblum
Chris Hemsworth reprises his role as Thor for the fifth time, and Mark Ruffalo is back playing the Hulk in his fourth appearance in the Marvel Cinematic Universe (counting his Iron Man 3 cameo). Tom Hiddleston reprises his role as Loki, and Anthony Hopkins returns as Odin, meaning we'll get some resolution to the cliffhanger ending of Thor: The Dark World where Loki took Asgard's throne in disguise. Idris Elba's Heimdall is confirmed as coming back as well, although the Warriors Three, including Sif, haven't appeared on Marvel's cast list to date.
New cast members include Cate Blanchett as new villain Hela, Tessa Thompson as Valkyrie, Karl Urban as Skurge, and Jeff Goldblum as the eccentric Grandmaster. It's Goldblum's first entry in the Marvel Cinematic Universe, and one GR+ is particularly excited about.
Another exciting bit of casting news came out in September, in that Thor: Ragnarok is apparently now set to be a bit of a Jurassic Park reunion. Sam Neill has confirmed in an interview with Shortlist that he has been cast in an as-yet unannounced role, following his work with Waititi on his last film, Hunt for the Wilderpeople, meaning that yes, Ian Malcolm might well meet Alan Grant for the first time since the original JP film. We have absolutely no clue who Neill will be playing yet (he's not even on the main cast list, so it could be a small role), let alone whether they'll be Earth-based or on the more cosmic side of Thor's world. But please let him meet Goldblum. Please let him meet Goldblum.
In terms of other characters from the MCU, we also now know that Doctor Strange will be making a cameo. If you've seen the two post credit scenes for Doctor Strange, you know what I'm talking about. Doctor Strange and Thor sit down for a drink in the Sanctum Sanctorum where Stephen Strange explains how he keeps a watch list of individuals who pose a threat to this world, and that Loki is on it. He then asks Thor why he's brought Loki to New York.
'Family drama' is Thor's explanation: they're looking for Odin. Strange asks Thor if they'll all return to Asgard promptly if they find Odin - Thor agrees, and Strange vows to help him. This sequence was apparently written and directed by Taika Waititi prior to Ragnarok's production, and following earlier rumours about the Sorcerer Supreme's appearance in the movie, this just confirmed it. How extensive Benedict Cumberbatch's role will be remains to be seen.
Finally, we haven't seen the last of Thor's roommate, Darryl. Disney confirmed that another mockumentary short featuring the two characters will come with the Blu-ray for Doctor Strange, due for release in March. It's possible a full trailer will follow soon after.
Thor: Ragnarok plot pits Thor vs Hulk, while Hela looks to destroy Asgard
Thor: Ragnarok pits the God of Thunder against Bruce Banner's Hulk in a gladiatorial conflict - without his hammer Mjolnir, no less, and on the other side of the Marvel universe. It's certainly suggests a changes in tone from the previous Thor films. And how exactly did Hulk end up there too after flying off from Sokovia at the end of Avengers: Age of Ultron? What made Thor unworthy? While we know the two Avengers will face off against each other, questions remain as to what leads to this exact scenario. The planet in question is confirmed to be Sakaar - a direct reference to the Planet Hulk comic series.
It's imperative that Thor finds his way out of this new predicament, though, because his home is under threat from Hela (Cate Blanchett). The word 'Ragnarok' in the title refers to this antagonist's attempts to destroy Asgardian civilisation. It wouldn't be the first time we've seen someone try to crush Asgard in a Thor film, of course, but when your proposed apocalypse is so threatening that it gets its own subtitle, it's clear that Hela isn't messing around.
Then, of course, that's on top of what we already know about Thor looking for Odin and Doctor Strange's participation, as well as the large ensemble cast. Ragnarok sounds like a dense film. The official synopsis tells us that Thor faces Banner - but how everything we know fits together is still a mystery.
It sounds like Marvel is pulling out all the stops to make sure Thor isn't an also-ran sequel this time. All the way back in 2014, when Feige unveiled the sprawling phase three of the MCU, he had this to say about Ragnarok, which is pretty telling about the more muted reaction to The Dark World: "This is a very important movie for us in phase three… We plan on taking Thor to another level. It picks up where we leave Thor in Avengers: Age of Ultron and impacts everything that comes after."
The Thor: Ragnarok director is a Sundance favourite
Ragnarok will be directed by Taika Waititi, best known for funny but touching New Zealand-set films like Eagle Vs Shark and horror mockumentary What We Do In The Shadows (his latest picture, Hunt For The Wilderpeople, wowed us at Sundance). This would make him seem like an unconventional choice for a big blockbuster movie, but then Marvel has a growing track record of doing this. James Gunn made his own distinctive movies like Super and Slither before Guardians of the Galaxy, and Joss Whedon's only experience of directing on the big screen before The Avengers was the half-successful spin-off to his own TV series. Like those directors, it's possible Marvel saw something specific and worthwhile in his style and voice as a filmmaker that made him the right choice. As Waititi himself said, they'll do almost anything to get the movie right. Marvel has never been one for the obvious choices in talent.
Four writers have credits on Thor: Ragnarok. Christopher Yost and Craig Kyle, who worked on Thor: The Dark World together, were the first writers on-board to script Ragnarok. In December, , a screenwriter whose work has made the film industry's black list of best unproduced screenplays, was hired to polish the script. Since then, it's been confirmed that the film's main screenwriter is Eric Pearson.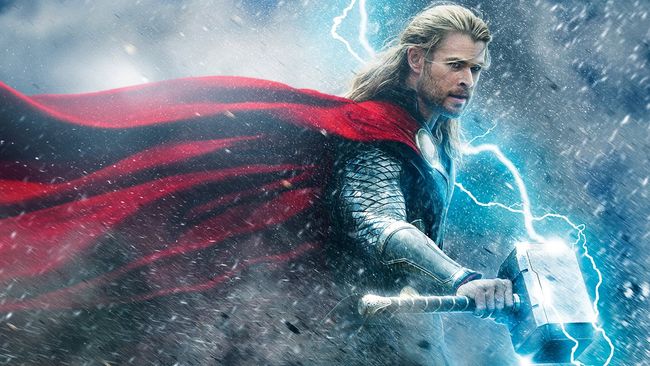 The Thor: Ragnarok poster isn't official yet but the logo is enough
Ignore the fakes that materialise in a Google Image Search – there's no official Thor: Ragnarok poster at this time, only a (cool, retro-looking) logo. But Marvel has released a big piece of art teasing Blanchett's character Hela getting ready to do all the evils. Take a peek at that above, and get excited.
Related Thor: Ragnarok news
Shock, horror: Doctor Strange finally confirmed for Thor: Ragnarok
Thor: Ragnarok confirms Planet Hulk location - Banner will be getting his gladiator on
Watch Cate Blanchett's Thor: Ragnarok stunt double throw some wicked shapes
New Thor: Ragnarok set photos have Anthony Hopkins rocking a hobo look
Thor: Ragnarok director reveals a glimpse of what Thor was up to during Civil War