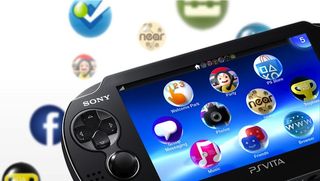 The PS Vita is more than a super-powered handheld with a pretty OLED screen. That's its main job, sure, but it only takes a quick tour of the Vita's LiveArea to see there's a lot more running underneath the hood. Ready to unlock the full power of Sony's all-purpose gaming device? Here are the apps you'll need to know...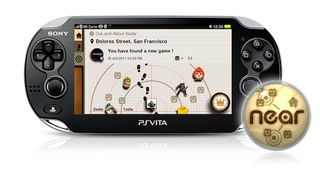 Near
Near is the PS Vita's proprietary social app, designed to link players to nearby gamers, gifts, and messages using the system's location-based technology. Through the Out and About feature, PS Vita owners can register their physical whereabouts in the real world and use Near to locate other Vita owners in the vicinity. Once identified, players can use Near to invite Vita locals to a game or share information between systems such as stats, trophies, and player history. For added fun, Near's Discoveries mode lets Vita owners bury and retrieve virtual treasures such as minigames and digital booty. The app works over Wi-Fi or 3G networks, however the former is preferred.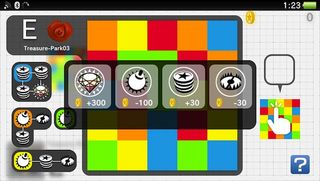 Treasure Park
Treasure Park is a puzzle game that piggybacks on the PS Vita's Near app for devious, brain teasing fun. With it, users can design their own puzzles or lay out traps for other Vita owners to find in real life using Near's location-based software. The app makes it possible for treasure hunters to challenge each other or gang up to earn top scores on the leaderboard.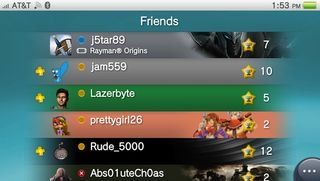 Group Messaging / Friends
The PS Vita takes great pains to keep gamers in touch with their PSN buddies, and the Group Messaging and Friends app are just two more ways it accomplishes this task. With Group Messaging (not to be confused with the more stylish and feature-rich Party), PS Vita owners can swap photos between systems, and leave messages for their virtual buddies to be read either on the Vita or PS3. Meanwhile, the Friends app lets users see what their PSN chums are up to on either of Sony's gaming platforms. Both are fairly basic apps, but handy for checking in with fellow players.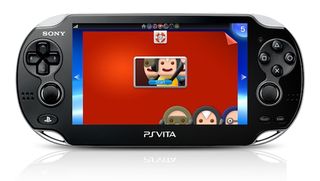 Party
Party is PS Vita's other homemade social app that specializes in grouping PlayStation Network friends for multiplayer games. With it, PSN members can recruit players from their PSN friends list for an online match, or join them for a game with the press of the heart button. The app supports up to eight players per party and Party's Cross Game Chat makes it possible to stay social while playing separate games. Sony has also programmed Party to detect when users don't own the same games as their friends, and link them directly to the PlayStation Store to rectify the situation.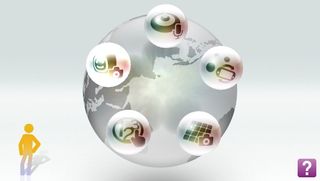 Welcome Park
If you're new to touch controls, or simply want the skinny on everything the PS Vita has to offer, you'll want to take a stroll through Welcome Park. The app comes loaded with a selection mini-games designed to get users acclimatized to the handheld's functions. These include:
Digital Chase: Tap numbered bubbles to learn how to use the Vita's front and back touchscreens.
Snap + Slide: Use the PS Vita's camera to take a picture and turn it into a slide puzzle.
Hello Face: Use the PS Vita's camera to slap virtual faces on everyday items and learn more about the system's AR software.
Skate Axis: Help a stick figure skateboarder avoid death by balls using the handheld's motion sensing controls.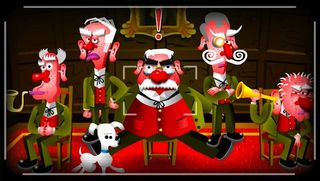 Frobisher Says
Looking to learn the PS Vita inside and out, and itching for something a little more engaging than Welcome Park? If so, then you'd do well to meet Frobisher; the cantankerous star of Frobisher Says, a free PS Vita game in Sony's "Discover Apps" series. Frobisher isn't the most pleasant fellow, but his games carry a demented charm that must be played to be appreciated. In it, players wield every last one of the PS Vita's features to fulfill Frobisher's offbeat missions. Tasks include everything from taking pictures of colorful objects to poking otters, and the experience is like a quirkier version of WarioWare. Even the most cold-hearted players will have trouble resisting Frobisher Says' charms, and since it's free, there's little reason not to give in the little man's demands.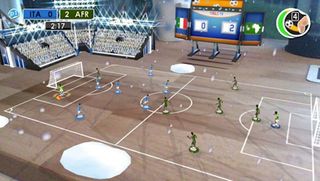 AR Play
Augmented Reality (AR) is the term applied to computer generated content that is inserted into live, real-world environments. The PS Vita handles this technical wizardry by reading information from AR Cards through its cameras and rendering an interactive scene based on the data. Each card triggers a different game, and on the PS Vita, these are made accessible by the AR Play app. Games include:
Table Soccer: Turn any flat surface into a soccer match that can be joined by friends in ad-hoc mode.
Cliff Diving: Use the AR Cards to install diving boards in the real world and watch Diver Dan take the plunge.
Fireworks: Create a light show wherever you want, and tap away for big explosions and points in the built-in minigame.
Didn't get cards with your PS Vita? You can download them for free at PlayStation.com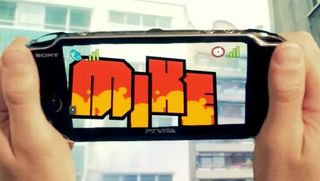 T@g
T@g is one the free PS Vita apps available for download in its Discovery Apps family. With it, Banksy wannabes can leave their virtual mark (aka "Tag") anywhere in the real world for other PS Vita owners to find. This artistic feat is accomplished using the PS Vita's camera to lock on to any given space and then "paint" on a user-created image via AR software. "Players" also collect t@ggers points with every successful tag, which can be used to unlock other designs and in-game goodies. Toss in an online commenting element and global leaderboard, and t@g is an excellent ambassador for the PS Vita's AR features. Unfortunately, since it does require GPS, only 3G Vita models can partake in the virtual vandalism.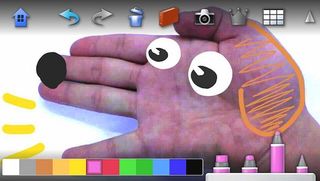 Paint Park
Another app in the Park family, Paint Park is a modest sketching program that lets users draw a virtual masterpieces from scratch or alter photos taken with the PS Vita camera. Social finger painters will also appreciate the ability to Paint with Friends in a friendly artistic competition.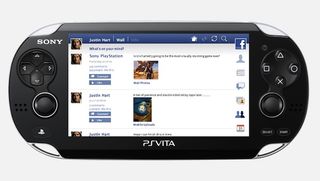 Facebook and LiveTweet
PS Vita's Facebook and LiveTweet apps serve much the same function: to keep gamers connected to their friends and followers while on the move. Facebook is the more robust of the two, allowing users to scroll news feeds, send messages, update statuses, upload pictures, and control their social network via touchscreen controls. Twitter's LiveTweet app, on the other hand, reduces social networking down to size by limiting tweets to 140 characters a piece. Both programs are also tweaked to share gaming achievements on the fly, ensuring no trophy pop goes unheard.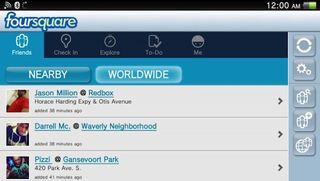 Foursquare
Foursquare and mobile devices go hand-in-hand, making this app a natural fit for Sony's handheld. With it, users can employ the PS Vita's geo-location tech to check in from real world locations to set up IRL meetings, share directions, or locate friends and other players in the nearby vicinity. In so doing, Foursquare members earn digital badges for visiting new places and accumulate points with every update.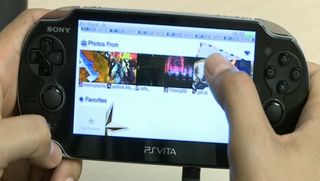 Flikr
PS Vita's Flikr apps makes it easy to snap and upload images to a Flikr account while on the move. Users can set up the app to instantly share images PS Vita photos or screenshots, which can be captured in-game by clicking the PlayStation button and Start. Shutterbugs can also browse their friends' Flikr accounts, as well as search through the service's entire database of user-created content. See GamesRadar put it to the test in the PlayStation Vita Flikr App walkthrough.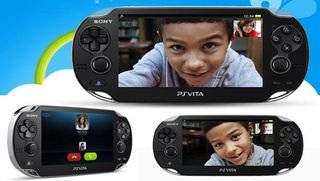 Skype
Cell phone bills can go off the rails in a hurry, but with a Skype account and this accompanying app, it's possible to keep that monthly tab to a minimum. This is because Skype for PS Vita allows users to make free calls to other Skype members, as well as place cheap local and long distance calls. It does this using a voice over internet protocol (VoIP) service, which uses the PS Vita internet connection as a phone line. The quality is dependent on one's Wi-Fi and 3G signal, but unless you're Skyping from the bottom of the ocean, garbled calls are rarely an issue.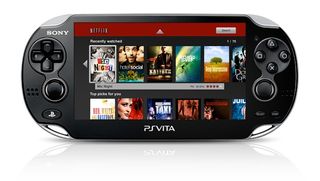 Netflix
Netflix is an essential app for turning Sony's handheld into a movie and TV streaming behemoth. With a Netflix account ($8) and a sturdy connection, PS Vita owners can stream thousands of movies and television shows literally in the palms of their hands. Netflix is available on countless other devices, meaning if you don't finish a flick on the ride to work you can resume it from where you left off on the nearest computer, tablet, smartphone, or PS3. US owners will get the most value from a Netflix membership as its library is bulkier than what's available in outside regions. Regardless, even the most gimped regions still have access to plenty of content, and a free trial guarantees zero membership remorse.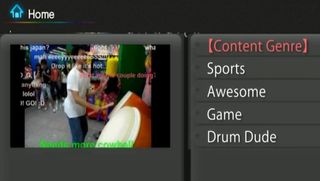 Nico Nico
Billed as a social video networking service, the PS Vita's Nico Nico app is the North American version of the mega-popular Japanese video sharing community. Users can sift through Nico Nico's library of clips and slap their own time-stamped comment over any of its videos. Nico Nico is huge in Japan, and it's appearance on the PS Vita marks the service's first major push out West. When it launched in May 2012, Sony hinted future updates may include the ability to record and upload live broadcasts from the PS Vita. However, that feature has yet to make it to market. If you're looking to dive in to a community with 27 million members, and don't mind paying a little extra for the premium service, Nico Nico is worth a view.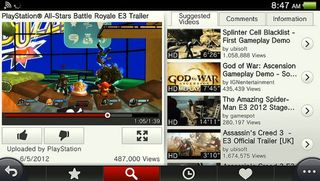 YouTube
YouTube is a standard app for any internet-enabled device, and the PS Vita is no exception. This app makes available a world of streaming videos, which can be viewed in small screen and full, HD format. Whether it's video game clips or dancing babies, YouTube's database is bursting at the seams with content, and its recommended videos system ensures there's always one more clip to watch. The PS Vita app sports many of the same social and search functions as YouTube's tablet and computer versions, with the added bonus of touchscreen navigation. The result is instant access to untold hours of entertainment no matter where your travels take you.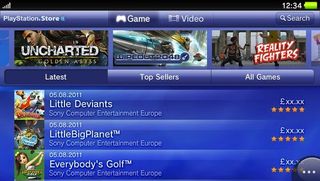 PlayStation Store
As it is on PS3, the PlayStation Store app acts as a portal to Sony's online store. Here, PS Vita owners can purchase and download PS Vita games, watch the latest game trailers, nab some DLC, or populate their home screen with the system's growing list of apps. Those looking for a break from gaming can also rent and/or purchase movies and TV shows from a healthy selection of studios.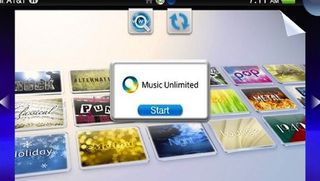 Music Unlimited
Housing over 15 million songs, Sony's Music Unlimited app is the ultimate hub for PS Vita music fans. The software grants access to the streaming music service, which can also be browsed via computer, PS3, and other Sony devices. With a Music Unlimited account, members can stream songs from artists across the globe, and arrange their favorites in customized playlists. Unique to the PS Vita app is the ability to actually download tracks for offline play, a feature not currently available on the PS3. The app also makes full use of the PS Vita's touchscreen controls, making it a handy jukebox for music lovers on the go.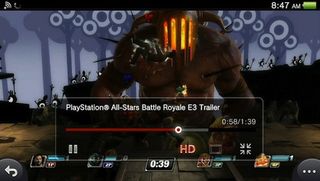 Videos / Music
Need somewhere to store all your virtual flicks and digital tunes? The Videos and Music apps do just that, allowing PS Vita users to organize their virtual content in two handy locations for quick and hassle-free playback. Content can be transferred to the handheld from a PS3 or computer or downloaded via the PlayStation Store or Sony's Music Unlimited service. These apps aren't so much essential as they are mandatory, but it's good to know they're there.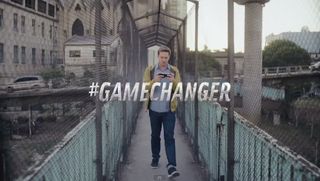 Remote Play
The PS Vita's Remote Play feature is a handy way of streaming PS3 content on the PS Vita. Through this app, users can link their handheld with the PS3 either through the console's wi-fi network, a home wi-fi network, or outside wireless access point. The feature is primarily used to enjoy movies, music, and other non-game related data, however there are some PSN and full release PS3 titles that can also be played remotely on the PS Vita. Sony has hinted future games will take advantage of the remote play tech, but to date it has not become the play any PS3 game anywhere feature hinted at in PS Vita's advertisements. There are homebrew solutions which make up for Sony's lack of support, but as always these are to be pursued at one's own risk.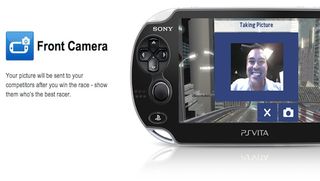 Photos and Camera
The PS Vita comes equipped with front and rear facing cameras capable of shooting pics in 1.3MP and recording videos in 480p definition. Through the Photos app, PS shutterbugs can tinker with a modest selection of recording modes and tag their images with location information via the handheld's GPS tech. Overall, the PS Vita's cameras are more for AR and game-related functions, so they won't replace your spiffy Nikon D7000 anytime soon. That said, they still work fine for photogs in a pinch.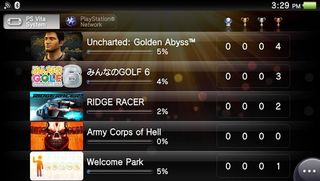 Trophies
Since Sony introduced trophies back in 2006, that tantalizing ding has become as iconic to the PlayStation experience as geometric symbols and the XMB flourish. True, there are many claim to still play for enjoyment alone, but there are many more who get tremendous kicks from unlocking their bronze, silver, gold, or platinum mementos. For these people, the PS Vita comes pre-loaded with an app that allows trophy-hunters to browse their medals on both the PS3 and PS Vita, compare collection, and track their trophy progress in individual games. The Trophies app for PS Vita is merely a portable version of the PS3's Trophy tab, but with the added benefit of being able to brag about your e-score wherever you travel.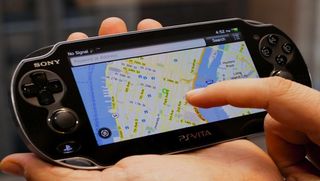 Maps
If you enjoy the likes of Google Map or pretty much any smartphone GPS program, then you'll feel right at home (and outside of your home) with the PS Vita's Maps app. In fact, the app is actually Google Maps, just with a shorter name and no street view functionality. Using touch screen controls, Vita travelers can find destinations, plot routes, and zero in on maps displayed in both standard format and satellite view. If you have a habit of getting lost, or just want to see overhead images of your neighborhood, PS Vita's Maps app does the trick.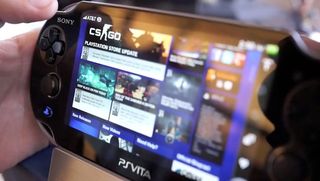 Internet Browser
In case YouTube, Facebook, Twitter, Flikr, Foursquare, Skype, and any of the other umpteen online PS Vita apps don't satisfy your internet needs, there's always the pre-installed web browser to save the day. PS Vita's internet browser uses rear and front touchscreen controls for intuitive navigation, and comes pre-loaded with all the basic functions you'd expect from a mobile web crawler (i.e search, history, favorites, etc.). While not the most powerful browser on the block, this app does the trick, providing the search functions at a decent performance.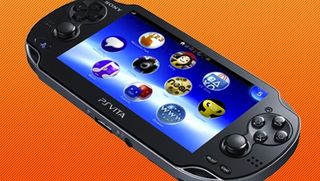 We're just scratching the service...