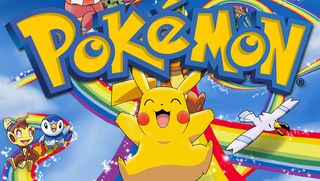 Gotta box 'em all!
Ah, Pokmon--what a colorful, fun franchise. For over a decade (actually, we're approaching two), Nintendo's franchise has sold millions of copies to gamers all around the world. And now, as it enters a new generation, we thought it was time to look back at the box arts that defined the phenomenon.
Join us as we chart the history of the Pokmon series via the visual medium of Pokmon box art, from 1996 to 2013. Along the way we will discover many fascinating things and make many artistic observations. You might learn something. You might not. But one thing's for sure, by the end you will have seen over 70 different Pokmon box arts. Note: Pokmon box arts have been ordered according to Japanese release dates.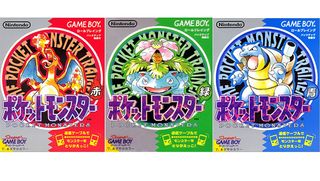 Pocket Monsters Red, Green and Blue | 1996
The three boxes that introduced Japanese gamers to Pocket Monsters for the very first time (Red and Green came first, with Blue following a few months later). The covers give a tantalising look at the final evolutionary stages of the games correspondingly coloured starter pokmon--Charizard, Venusaur and Blastoise--each drawn in the unmistakeable style of series character designer and art director Ken Sugimori.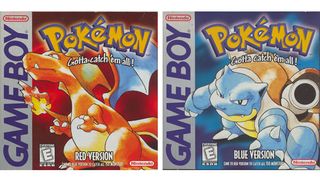 Pokmon Red and Blue | 1998
After enjoying massive success in Japan, gamers in the US and UK get their first taste of Pokmon with the original Red and Blue (Green was never released outside Japan). In addition to the confident spatial domination of Sugimoris deftly drawn Charizard and Blastoise, the now-classic Game Boy box designs are emblazoned with the English version of the Japanese Poketto Monsut logo, complete with Gotta catch em all slogan/call to arms. Ubiquity of both the logo and slogan was rapidly established.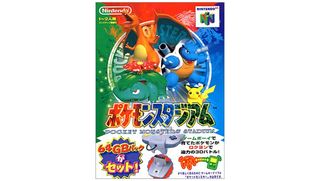 Pocket Monsters Stadium | 1998
The cover for this Japan-only Stadium title (which featured just 42 of the original 151 pokmon) clearly aimed to capitalise on the soaring popularity of the Pokmon anime series at the time, with adorable show favourite Pikachu making the first of many box art appearances.
3D character renders are preferred to Sugimoris distinctive light water colours to better reflect N64s graphical muscle. Worth mentioning is Charizards left wing, which is oddly transparent, presumably to avoid the word Monster being almost completely obscured.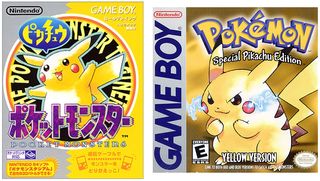 Pokmon Yellow: Special Pikachu Edition | 1998
An example of perceived differences in box art consumer tastes with Japanese gamers getting happy Pikachu, while US and UK gamers are treated to angry/determined Pikachu. We want to cuddle both of them, which is testament to the strength of Sugimoris character design and drawing skills.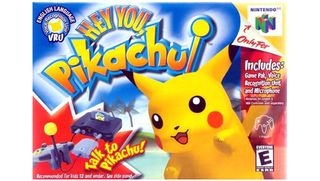 Hey You, Pikachu! | 1998
The absence of the iconic logo--this is the only Pokmon box frontage that doesnt feature the distinctive branding--is barely noticeable thanks to the jolly Pikachus hypnotising presence. The logo is loosely styled on the actual Pokmon logo, but with its gradient colour scheme, exaggerated outer glow and severe bevelled embossment, its a far more cartoonified approximation for a Saturday morning TV audience. Cant help but admire the lightning strike incorporated into the K though.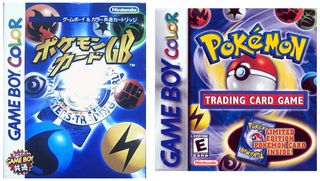 Pokmon Trading Card Game | 1998
With the actual card game already rinsing kids of their money and an established brand goliath in its own right, its no wonder the box art for this is nothing more than a slightly tweaked version of the art used on the trading cards themselves. In terms of design its not dynamic or exciting or sexy, but brand recognition amongst its target demographic was so high it didnt have to be. This is only one of two Pokmon box-arts which dont feature any actual pokmon. Well come to the other one soon.
In case youre wondering, the Limited Edition Pokmon Card bundled in the box was a special Meowth card.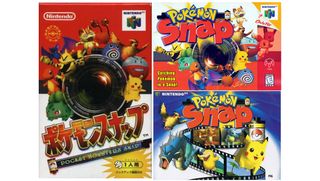 Pokmon Snap | 1999
The first Pokmon box-art to feature significant differences between the US and European designs. The PAL cover replaces the Pok Ball colour scheme background with a blue and spotlight arrangement, ditches the cheesy tagline and chooses to use a reel of film instead of a camera lens to amplify the this is a game about taking pictures of Pokmon message suggested by the title. It also features a completely mental looking Psyduck, which instantly makes it the better box art.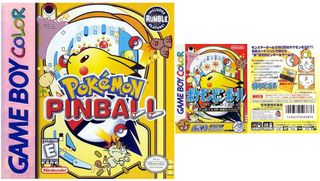 Pokmon Pinball | 1999
Love this cover. The stylised side-profile Pikachu. The happy Ditto. The unfortunate Dugtrio. The comedy Meowth spilling its coins. The ricocheting Pok Balls. The flippers incorporated into the logo. A really playful, colourful, fun, eye-catching box art.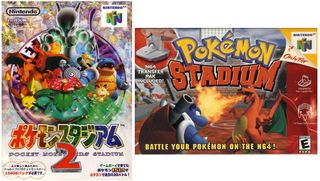 Pokmon Stadium | 1999
Two drastically different covers, with the Japanese design clearly keen to emphasise the fact this Stadium game (unlike its Japan-only predecessor) contains a full compliment of pokmon by squeezing as many of them as possible into a chaotic box-art montage. The US version gives centre stage exclusively to Red and Blue cover stars Charizard and Blastoise, which is the last time the original Pokmon reps appear together before a new generation of pocket monsters is introduced.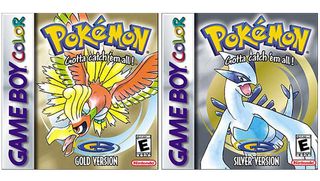 Pokmon Gold and Silver | 1999
The first full-blown new games in the main series since Red/Blue/Green maintain the same box art style established by the originals with a consistent and simple logo/slogan/monster composition. Ken Sugimori sticks with the same water colour treatment of the cover creatures Ho-Oh (Gold) and Lugia (Silver).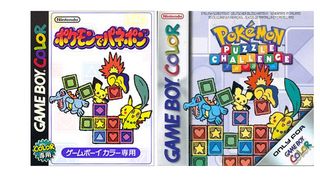 Pokmon Puzzle Challenge | 2000
Thanks to the super cutesy-looking pokmon, both versions of this cover are pretty adorable, but the combination of uncluttered white background and sunset gradient bubble font logo make the Japanese box art more of an eye-pleaser.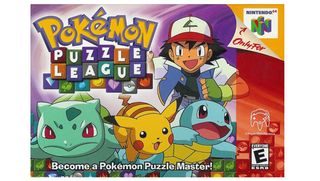 Pokmon Puzzle League | 2000
Given the insane level of its popularity, its pretty amazing that this is the only game based on the Pokmon anime. This box-art also marks the first time a human--plucky pokmon trainer Ash Ketchum--appears on the cover. And we have to wait another three years before it happens again on the cover of can you remember?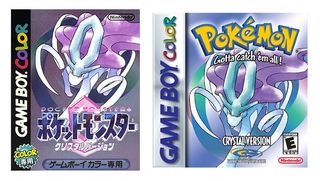 Pokmon Crystal | 2000
Legendary pokmon Suicune is given the cover treatment for this updated version of Gold and Silver. A great pokmon for sure, but this Sugimori art of Suicune is particularly subdued. It certainly doesnt project the same sort of character or expression as the preceding box art mascots. With all the indistinct lines and shapes its hard to find a focus and--as a result--struggles to stand out.
This box art is also notable for being the last to feature the Gotta catch em all! tagline before it was quietly taken out of service. The reason for its removal has never been confirmed by Game Freak or Nintendo. One theory suggests the slogan was being used increasingly in a negative context by critics highlighting the addictive, profit-driven qualities of the franchise and the pressure it put on parents with demanding Pokmon playing children.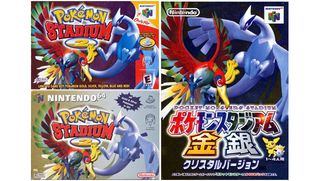 Pokmon Stadium 2 | 2000
Gold and Silver cover pokmon Ho-Oh and Lugia are both wonderfully curvy here. They fit together snugly, which makes for a lovely, easy-on-the-eye composition. Ho-Oh is particularly striking - its regal, grandly coloured feather configuration and outstretched talons a contrasting mix of beauty and ferocious beast (with a look in its eye that suggests it wouldnt hesitate to disembowel any pokmon you might care to put in front of it).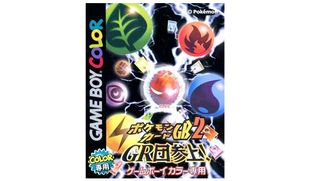 Pokmon Card GB2: Here Comes Team GR! | 2001
Ew. The cover for the Japan-only sequel to the Pokmon Trading Card Game is an uninspired conglomeration of various objects caught in a swirling maelstrom of static electricity. Its not particularly nice to look at. However, we do like the name of the game. Because Team GR.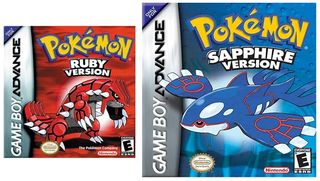 Pokmon Ruby and Sapphire | 2001
The first entries to the core series since the Gotta catch em all! slogan was jettisoned. As you can see, the space below the logo is now occupied with the respective version titles. This becomes the established layout style for all future Pokmon titles in the main series.
New third generation legendary pokmon Groudon (Ruby) and Kyogre (Sapphire) appear on the covers. In terms of Sugimoris design, the creatures look distinctly less organic than previous box mascots both have an unnatural, biomechanical quality about them. The box-art also marks a stylistic change, with the light watercolour techniques replaced with heavy lines and bold colours.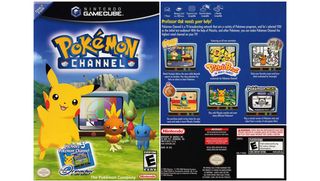 Pokmon Channel | 2003
The Ruby and Sapphire starter pokmon (Torchic, Treecko and Mudkip) seen here with the ever chirpy Pikachu have to be the most ugly character models to appear on any Pokmon box art. They appear to have been rendered in 1985. And why is the TV outside? It makes no sense. Amazingly, art overlord Ken Sugimori is credited as supervisor on Pokmon Channel, so he must have thought it was passable.
At least the next box art does a much better job with Torchic, Treecko and Mudkip...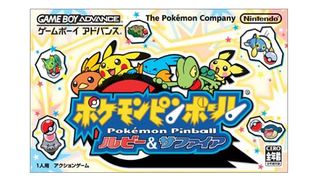 Pokmon Pinball: Ruby & Sapphire | 2003
The Japanese box art is such a thing of beauty we thought it deserved a slide all to itself. It possibly fails to make it instantly obvious the pokmon are riding a Pok Ball--which has presumably just been fired with spring-loaded momentum--and are all desperately hanging on for their little lives. But what the image lacks in kinetic energy it more than makes up for with sheer adorability. The expressions on their stylised faces are a collective picture of rollercoaster joy/terror.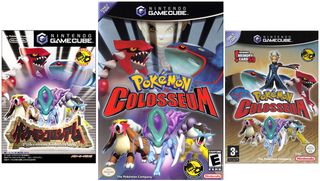 Pokmon Colosseum | 2003
Remember way back at Pokmon Puzzle League we said it would be awhile before another human character made it on to a box art. Well here it is. Three years after Ash Ketchums one and only cover appearance, Colosseum protagonist Wes stars on the US and UK boxes (although hes completely absent from the Japanese version). This isnt the start of a trend though and its another three years before another pokmon trainer is drafted in for cover duties.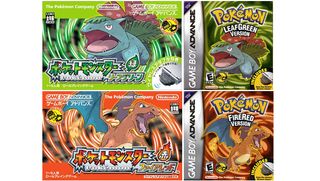 Pokmon FireRed and LeafGreen | 2004
An updated, fully tweaked remix of the original game gets an updated, fully tweaked remix of the original box art, with Charizard and Venusaur looking like evolved, more confident versions of how they appeared on those first Japanese covers nearly 10 years before.
Interestingly, its the previously Japan-only Green version which accompanies Red. A trademark filing for Pokmon WaterBlue Version suggests its release was at one point considered, but for whatever reason it never materialised. Poor old Blastoise.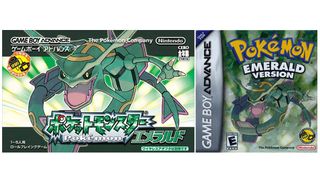 Pokmon Emerald | 2004
The admittedly excessive rectangular dimensionality of the larger Japanese Game Boy Advance packaging provides a far superior canvas for this artwork. Serpent-styled cover pokmon Rayquaza perfectly occupies the space, managing to fill it without making it feel cramped. And the all-green colour scheme works an absolute treat too, with the sunrise strip background keeping the overall tone light and airy.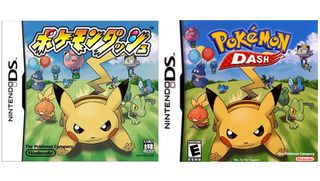 Pokmon Dash | 2004
Nice sense of speed and forward momentum achieved with the blur effect on the ground. Its easy to imagine the picture in motion. The oddly smug and/or evil expression of Pikachu is softened with the priceless look of eyes-squeezed-shut determination on Torchics face. The Jigglypuff hot air balloon is possibly the best thing to appear on any of the Pokmon box art so far.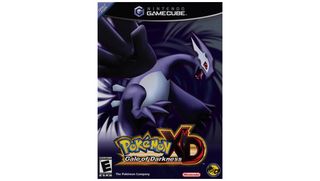 Pokmon XD: Gale of Darkness | 2005
Remember when games went all dark and moody? Yes. This was then, which might explain why its the darkest and moodiest Pokmon box art of the whole lot. Another explanation might be because the game is called Gale of Darkness, a title which evokes images something exactly like the box art. Also, the games title in Japan is Pokmon XD: Whirlwind of Darkness, Dark Lugia, so the art is actually a very literal visual translation of that. Glad we cleared that up.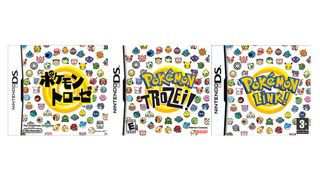 Pokmon Trozei! | 2005
Circularity is a theme here, and the Pokmon Link! cover (which is what the game is called in non-English European versions) does it best. The arrangement of the rounded disembodied pokmon heads is a more effective continuation and spreading out of the shape defined by the central target, thanks entirely to the Link! part of the logo being contained within the target perimeter and consequently being non-interruptive of the outermost circumference. Besides, its hard to go drastically wrong with a pattern consisting of round disembodied pokmon heads.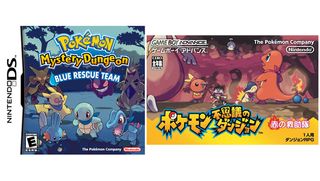 Pokmon Mystery Dungeon: Blue Rescue Team and Red Rescue Team | 2005
The first of the Mystery Dungeon games introduces us to its own playful box art style which--unlike the game--is hard not to love. Again, the Japanese Game Boy Advance version benefits from the bigger canvas, but its also a more interesting image, which is slightly sinister (looming shadows) and slightly funny (Meowths face) all at the same time. The Blue version carries the same themes, but the sinister/funny aspects arent executed as effectively. Also, neckerchiefs.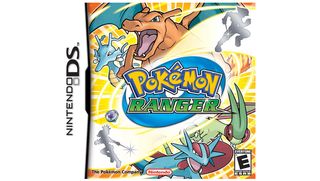 Pokmon Ranger | 2006
Desperately bright and busy but lacking a cohesive togetherness. Also, the pokmon art falls a fair way short of Sugimoris standards, with Charizard, Flygon and Salamence all looking a bit goofy. But never mind, this Pokmon cover is notable for being the first to feature a female human character. Its just a silhouette, but its a start. Progress and all that.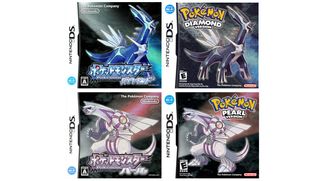 Pokmon Diamond and Pearl | 2006
Dialga (Diamond) and Palkia (Pearl) are the box art faces of the fourth--and arguably least popular--generation of pokmon. The Sugimori designed creatures here are more concerned with shape and form, as opposed to any engaging expression of personality or character. And Palkia isnt even a particularly pleasing shape to look at.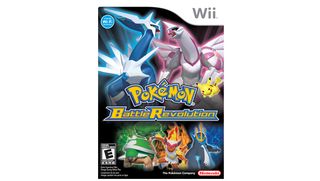 Pokmon Battle Revolution | 2006
The severely wiener-necked Dialga and Palkia look particularly smooth and shiny and--as this is the first Pokmon title for the Wii--appropriately in-keeping with Nintendos clean and clinical Wii design philosophy. A particularly grumpy-looking Pikachu is joined by Diamond and Pearls starting pokmon in their final evolutionary forms (Torterra, Infernape, Empoleon), but its a hotchpotch of elements with no real cohesion between them all.
Notice how fontographically similar the R in Revolution is to the one used in the Pokmon Ranger logo.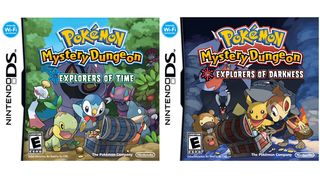 Pokmon Mystery Dungeon: Explorers of Time and Explorers of Darkness | 2007
Continuing the discovery/danger theme of the first Mystery Dungeon release, these are happy-looking, colourful, delightfully stylised box arts starring an appealing group of pokmon. Its a bit of a shame Arbok and Gabite are obscured by the respective logos, but its not enough to spoil the overall image. Also, Piplup is wearing a bow tie.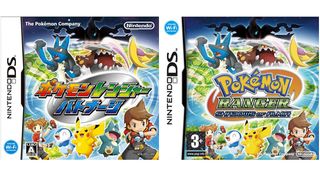 Pokmon Ranger: Shadows of Almia | 2008
Finally, an actual, non-silhouetted female trainer makes it on to a Pokmon box art. And a lovely box art it is too. A busy but balanced composition, theres plenty to catch the eye, like the insanely happy trio of Piplup, Pikachu and Munchlax at the bottom there. They so happy.
The original Japanese cover features a steely swirl behind the logo, but this is changed to red for the US/UK versions. Its a fairly inconspicuous cosmetic change, but the Pok Ball red feels a more natural fit.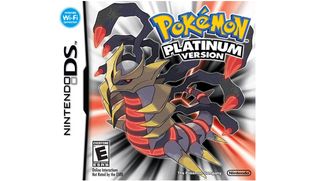 Pokmon Platinum | 2008
Given the inherently creepy-crawly nature of Giratina (which makes its in-game Origin Forme debut in Pokmon Platinum) its surprising this cover isnt instinctively repellent to look at. But the tricky colour combination is well-balanced and the one-point perspective lends an effective sense of depth which ensures Giratina stands out against the background.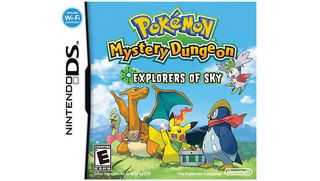 Pokmon Mystery Dungeon: Explorers of Sky | 2009
Not as striking or as charming or as mischievous as the previous Mystery Dungeon covers. We appreciate its called Explorers of Sky, but theres probably a bit too much sky happening here. But its hard to be too down on blue sky. Its blue sky. Nobody hates blue sky. It represents so much about life that is good. Also, Charizard has a bag. We never had Charizard pegged as much of an accessorizer. But there you go. Under a blue sky life is full of surprises.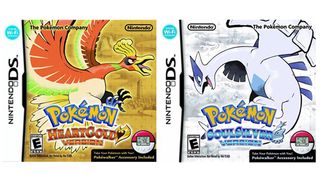 Pokmon HeartGold and SoulSilver | 2009
Their first appearance on a cover together since Pokmon Stadium 2, Ho-Oh and Lugia appear to be battling each other when the boxes are placed side-by-side like this. Its nice to see Sugimori return to the more traditional pokmon designs theres more energy and personality about them. This is also the first time a more stylised approach to the Version typography is applied.
As opposed to the regular plastic slim-line DS game cases, the HeartGold and SoulSilver boxes were made of cardboard and deep enough to accommodate the bundled in Pokwalker pedometer.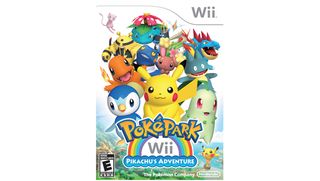 PokPark Wii: Pikachus Adventure | 2009
This is a cover of two halves. The bottom 50% is thoughtfully composed the logos nice and colourful, theres an aesthetic compatibility between Piplup, Pikachu and Chikorita, and the hazy landscape with the Pikachu hot air balloon drifting above it is tantalisingly picturesque. But the uppermost 50% is a chaotic, random mess that spoils the fine work of the bottom 50%. Damn that uppermost 50%.
Despite appearing on half of all the box arts in the Pokmon series so far, this is only the third time the word Pikachu has been a part of the title.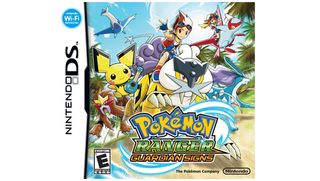 Pokmon Ranger: Guardian Signs | 2010
Easily the best Ranger spin-off box art yet. Its bright and full of energy and Pichu has a ukulele. Theres also a welcome return for the sparkle on the Ranger logo, which was mysteriously missing from the previous games cover. A sparkling logo is crucial for a game like this. Its a basic rule of design.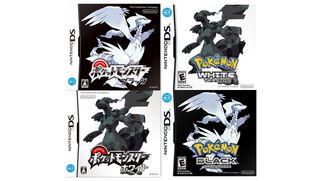 Pokmon Black and White | 2010
As well as being a cultural signifier representing extreme spectrum opposites--good/bad, life/death, light/heavy, day/night--both white and black represent an absence of colour rather than colour itself. That stark, polarising achromatic contrast is put to good use on this box art to striking effect.
The new fifth generation pokmon Reshiram (Black Version) and Zekrom (White) break with series tradition by being the exact polar opposites to the colour version they represent i.e. Reshiram is white yet represents Black and Zekrom is black yet represents white.
The Version logo follows HeartGold/SoulSilvers lead with a stylised font, but its also the first time the typography hasnt followed the curvature of the Pokmon logo.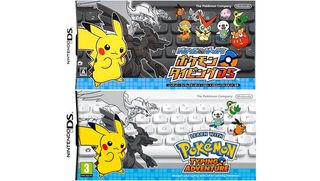 Learn with Pokmon Typing Adventure | 2011
Only available in Japan and Europe, this is quite the curio. The black keyboard certainly provides a stronger background, but with all the eye-catching elements jostling for attention in the foreground, its possibly a little too discrete.
The European cover clearly wants the keyboard to be noticed, so the image has been zoomed out, the Pikachu Reshiram, and Zekrom on the left have been made smaller, and the number of pokmon on the right has been reduced to three.
It does work and the keyboard is a more dominant focus of the image. But does more keyboard and less Darumaka actually make for a better box art? We would say absolutely not.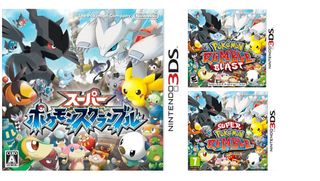 Pokmon Rumble Blast | 2011
The first and (at the time of writing) only 3DS Pokmon game, this image beautifully conveys the Rumble aspect of the title, with the gathered, stern-faced pokmon looking as though theyre ready for it to kick off big time into an almighty cloud-dust brawl, although Darumaka and Audino look completely oblivious and deliriously happy at the bottom there. A lively box art bursting with colour and personality.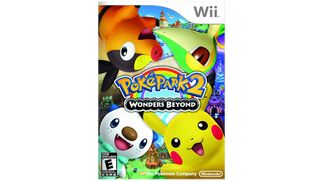 PokPark 2: Wonders Beyond | 2011
A much better effort than its predecessor, which was a mixed bag of two halves, this uses Pikachu and Black and White starters Tepig, Snivy, and Oshawott to divide the cover into quadrants. It lacks depth, but the pokmon are nice and big and happy, which is entirely consistent with the wonderfully cheery rainbow logo.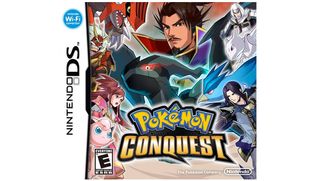 Pokmon Conquest | 2012
A classic box art configuration, visual shorthand for empirical feuding, with opposing sides divided by Nobunaga (aka gamings favourite warlord) and his glowing-eyed Zekrom. We particularly like how Conquests designers colour-coordinate pokmon and their trainers, as demonstrated here. And its nice to see first generation pokmon Jigglypuff, Articuno and Mewtwo being enrolled for cover duties.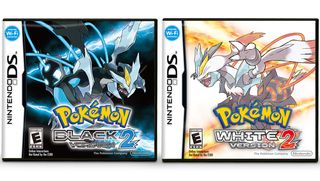 Pokmon Black 2 and White 2 | 2012
The first numbered sequels in the main series, the box arts also represent a significant series first by using the same pokmon, Kyurem, for both covers. The legendary pokmon appears in its black and white forms on the respectively coloured versions, which is in contrast to the first Black and White titles which polarised the pokmon/version colour. The black cover with its shots of electric blue is particularly striking, while the white heat of the opposing version struggles to make the same kind of impact.
After the fairly subdued post-third generation covers, its great to see Sugimori choose a more expressive pose for Kyurem. Easily one of the best main series covers for some time.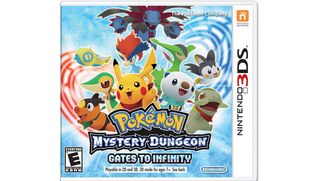 Pokmon Mystery Dungeon: Gates to Infinity | 2012
Good news! There's a Pokmon game on the 3DS! Bad news! It's... another Mystery Dungeon game. Featuring a bunch of Pokmon wearing bows and scarves, the box art is great for the millions of people who want to dress up their pocket monsters like Freddy from Scooby Doo.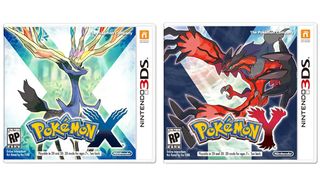 Pokmon X and Y | 2013
And we arrive, in 2013, on the most recent release in the Pokmon franchise. Pokmon X brings with it a tall, blue deer legendary with a complicated name that starts with an X, whereas Y includes a red, flying Pokmon that looks a little like a Y if you squint and tilt your head.
The themes of creation and destruction are hinted at briefly, but the real change to the franchise--the jump to 3D--is the real joke here. Get it? X and Y axis? 3D? You get it. We all get it. It's a great joke.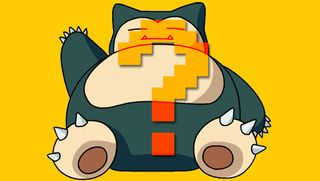 Caught 'em all?