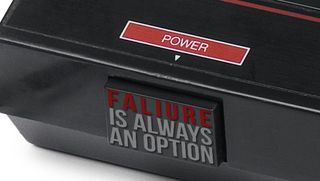 Forty Years of Fail
Consoles aren't dead. Alongside the latest devices from Nintendo, Microsoft and Sony, the past several months have seen a proliferation of gaming machines like the Ouya, Nvidia Shield, GameStick, Project Mojo, Wikipad, and others that seek to expand our hardware horizons beyond the usual suspects. These mostly Android-based boxes are bringing something different to the market, but whether or not their unusualness will lead to success is still questionable. Considering that we still don't know whether or not the Wii U can succeed, these things are definite risks.
So, no, consoles aren't dead, but more than a few of them could die soon. And if they do, they wouldn't be the first ones to fizzle out prematurely. Ever since Ralph Baer kicked off the console phenomenon with 1972's Magnavox Odyssey, there have been far more failed attempts to earn a place at the home or handheld gaming table than successful ones. Some of these are well known and lovable losers; othersnot so much. So before anyone starts digging the Ouya, Wii U, or Xbox One an incredibly early grave, we dug through the history books and came back with every console misfire we could find. Brace yourselves for fail.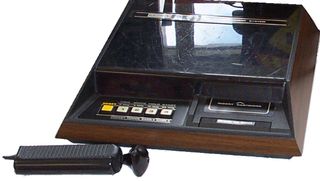 Fairchild Channel F (1976)
Released in the summer of 1976, the Fairchild Channel F was the first console to use both ROM cartridges and microprocessors. This was revolutionary at the time. See, after the Magnavox Odyssey and its Tennis-style games gave way to Ataris mega-smash Pong, a wave of opportunistic companies flooded the market with machines that were dedicated to playing Pong-style clones. This oversaturation would eventually kill the Channel F, but not before it could introduce some firsts to the industry.
Still, it didnt take long before things started to go downhill. The Channel F and its more varied (though sometimes crude) games were fresh and did quite well to startit was even the first console to have a pause feature--but it soon spurred Atari into pumping more money into its then-upcoming machine, the Atari VCS. That box is best known today as the Atari 2600, and, well, it did everything the Channel F did, but better. Consumers soon flocked to it, and Fairchild couldnt keep up. It discontinued the Channel F in late 1977, just 16 months after it launched. Another company named Zircon would release a redesigned Channel F II years later, but that too was short-lived.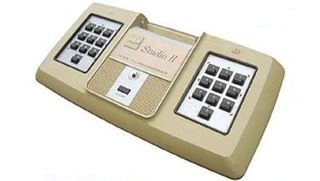 RCA Studio II (1977)
Before Ralph Baer approached rival electronics corporation Magnavox with the first-ever video game console, he went to RCA. He got turned down. As a result, RCA had to live with itself as it watched Magnavox make history, Atari make the first smash hit game, and everyone else profit on the new games market in their wake. Naturally, RCA felt a little bitter, so by early 1977 it decided it would redeem its missed opportunities with its own console: the RCA Studio II.
What it actually did was release what some consider the worst console ever made. The Studio II (the Studio I was an unreleased prototype) housed only 16 games in its two-year lifespan, only played games in black and white, and had one monstrosity of a controller. Seriously, look at it. Not only were its dual controllers just 10-digit keypads with no joysticks, they were built into the console itself. Yes, the Studio II used exchangeable cartridges and came pre-packaged with five games, but the Fairchild Channel F had already beaten it to the market with similar features. The Studio II was an obsolete piece of technology even in 1977, and was steamrolled by the Atari 2600 soon after it launched.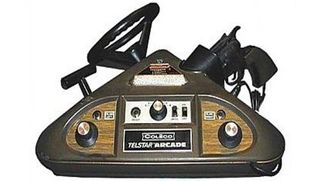 Coleco Telstar Arcade (1977)
Remember those Pong clones we were talking about earlier? Well, before Coleco ultimately hit paydirt with the ColecoVision in the early 80s, it made a whole lot of those. Its Telstar line of consoles was home to about a dozen separate Pong variants in just a three year span, but Coleco decided to shake it up once such simple machines started to go out of style.
The result was the short-lived Coleco Telstar Arcade, which is one of the few triangular consoles ever made. Each side of the machine was dedicated to a different style of game. One with standard knobs and dials could play Pong clones; another with a toy revolver was for light gun games like Quick Draw; while a third sported a dedicated steering wheel and gear shift--both rarities in their time--for racing games. It was a unique idea as far as simplistic consoles went, but the market was ready to move on when it launched. Coleco only released four games for the system, quickly abandoning it to find greener pastures with the ColecoVision a couple of years later.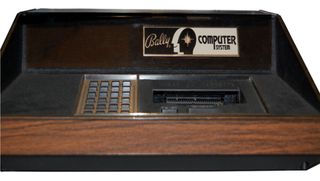 Bally Astrocade (1978)
First known as the Bally Home Library Computer, then Bally Professional Arcade, then the Bally Computer System, the Bally Astrocade was designed by Midway--as in, the Mortal Kombat people--and went through a couple of lifespans. It was originally sold by Bally as a competitor to the Atari 2600, but didnt pick up much steam. Eventually Bally sold the device to Astrovision, which repackaged the system and changed its name to the Astrocade. It still couldnt compete with Ataris juggernaut.
Thats not to say the Astrocade didnt have some noteworthy features, though. Like the Channel F, it allowed for separate cartridges, and came with a variety of built-in games. It had a 24-button keypad built onto its front, and it even let users develop simple computer programs in BASIC. Its controller was especially unique--it looked like the handle of a gun, had what may be the first trigger button in gaming history, and put a little dial knob at its top. Nevertheless, the Astrocade never received much developer support, and what games it could get were mostly Atari clones. The console--and Astrocade--died in obscurity as part of the video game crash of 1983.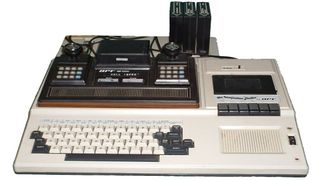 APF Imagination Machine (1978)
Besides having maybe the weirdest name in console history, APF Technologies' Imagination Machine was also one of the most original for its time. It was actually comprised of two separate pieces: an ordinary console called the APF M1000, and an APF MPA-10 add-on component that basically turned the console into a living room PC. It sported a full typewriter-style keyboard and built-in cassette drive, and, similar to the Astrocade, even let players code their own games in the BASIC language.
Unfortunately, anyone who wanted to enjoy this customizable quirkiness had to shell out $600 for the full package. The Atari 2600 still loomed large over most other machines at this time, and the Imagination Machine never stood much of a chance with that asking price. The fact that less than 20 dedicated games were ever released for the console didn't help matters. APF had trafficked in Pong clones before the Imagination Machine, and once those started to die out a short while later, the company did as well.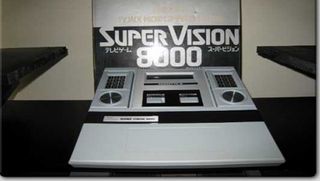 Bandai Super Vision 8000 (1979)
Bandai--yes, that Bandai--had become one of the most popular distributors of Pong-style consoles in Japan by the late 70s with its TV Jack series of machines. But similarly to Coleco and the Telstar Arcade, it decided to expand upon its usual formula with the TV Jack 8000--aka the Super Vision 8000--which was the first programmable Japanese console to take ROM cartridges.
The Super Vision 8000 was an advanced machine for its time, with a powerful processor and a bevy of ports, but it came at a whopping launch price of 60,000 yen (close to $600 today). That, combined with its low number of released games, led to Bandai discontinuing the console within a year of its launch. The company would instead go on to distribute Mattel's more popular Intellivision--which may or may not have taken some design inspiration from the Super Vision 8000--in Japan a short time later.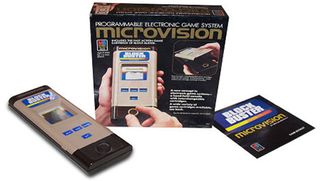 Milton Bradley Microvision (1979)
Gaming was not limited to the living room in its early days, but portable consoles were always a step behind their larger counterparts in terms of innovation. By the late 70s, handheld games mostly came on simple, LED-based consoles that were dedicated to single titles. Think of them like those Pong clones, only smaller and with various other titles like Football, Missile Attack, and others. Mattel was the most popular of the many companies that made such devices.
Milton Bradley changed all of that, though, when it launched the Microvision in 1979. It was the first handheld console to ever use interchangeable cartridges. Yes, this was well before the Game Boy. The bar-shaped device sold fairly well to start, but, like many other technological pioneers, didn't achieve great success in the end. It was built pretty poorly--just look at how small that screen is--and it was easily susceptible to damage. It was only supported by 13 games before it was discontinued in 1983. Everything has to start somewhere, though.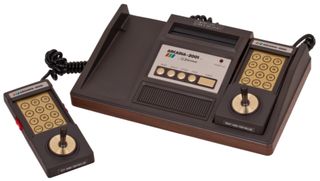 Emerson Arcadia 2001 (1982)
This tiny box from Emerson was made to compete with the Atari 2600 and Intellivison, but found itself doomed from the start. It wasn't exactly powerful for its day, and it didn't have many unique features, but its biggest problems were actually copyright laws. Emerson had a range of popular games like Pac-Man and Defender developed and ready to be released for the system, but in response, Atari sued it and other companies on the ground that it had exclusive rights for such games on its machines.
Atari won. Emerson was soon left with a heap of obscure knockoff titles, virtually no outside developer support, and lots of wasted money before its machine even hit store shelves. When the Atari 5200 and ColecoVision launched around the same time, the Arcadia 2001 lost any chance at success. Emerson stopped producing the console about a year after launch. A handful of clone consoles wound up launching across Eurasia in the following years, which was strange but didn't lead to anything significant.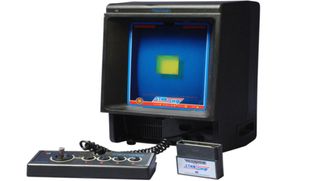 GCE/Milton Bradley Vectrex (1982)
And now for something completely different. The Vectrex was more or less a miniature arcade cabinet for the living room. It was composed of a typical cartridge-based console and--here's the funky part--a 9-inch CRT monitor that displayed vector graphics. If you don't know what those are, think of what classic games like Asteroids or Tempest looked like. Laugh it up now, but in the early 80s that was the sharpest graphical method around.
The Vectrex's display could only play games in black-and-white on its own, but its games--like the built-in Minestorm--came with colored overlay sheets to spruce things up. It was launched for $200 during the holiday of 1982 and sold well to start, so much so that Milton Bradley bought original distributor GCE a few months later. Unfortunately, as Milton Bradley put its money into expanding the Vectrex's reach, the lethal video game crash of 1983 was starting to take shape. Milton Bradley deeply discounted the Vectrex to hold consumer interest, but ultimately lost millions due to its bad timing. As with many other imaginative machines, the Vectrex was killed off by the crash without reaching its full potential.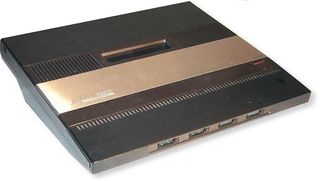 Atari 5200 (1982)
We're using the term "failure" a little liberally here relative to some of the other consoles on this list, but the Atari 5200 just couldn't come close to the massive success of its predecessor. The big box upped the graphics over the Atari 2600, had an internal architecture similar to Atari's home computers, housed a few classic games, and came with a then-unique controller that featured a full analog joystick and dedicated pause and reset buttons. All upgrades, all good, right?
Oh no. For one, that unique controller was also terrible, as the joystick didn't auto-center itself and the unit as a whole was easy to break. Two, the 5200 wasn't backwards compatible with the 2600, which was a big deal given the huge install base and popularity of the latter at the time. Three, Atari was too tentative to let the 2600 go and nudge its users into the future, which meant developers weren't quick to move either. Add it all up and you have a machine that best epitomizes the failure of American video game console market in the early 80s. Atari discontinued the 5200 after just two years, which was just jarring at the time.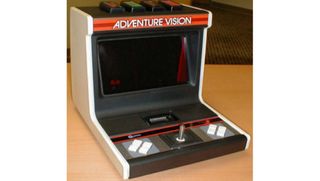 Entex Adventure Vision (1982)
If it wasn't already apparent, the early days of console gaming were home to some of the kookiest, most creative machines ever to hit the market. And if it really wasn't already apparent, most of these freaky devices didn't sell so well. The Entex Adventure Vision was no exception--it was a portable "tabletop console" that, like a mini Vectrex, was built like a small, self-contained arcade cabinet. It had a joystick and dual button pad setup, which was attached to a monochrome display that only used red LEDs. Its games looked like the Virtual Boy's before the Virtual Boy even existed.
Like its predecessor, the cart-based, VFD display-having Entex Select-a-Game, this thing was just too weird to ever take off with the masses. It was an admirable piece of technology, but it only had four games--though it did come with Defender, which was a classic--and the console itself was really easy to break. Some things just don't need to be made, and Entex stopped producing the console/handheld/thingamajig around a year after it launched.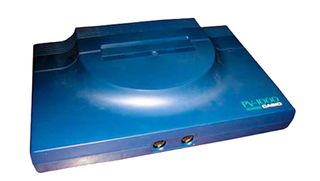 Casio PV-1000 (1983)
Casio, a company that was best known for revolutionizing the calculator at the time, decided to jump into this newfangled video game craze in Japan during the early 80s. Its first machine was the PV-1000, which launched with dated specs even by 1983's standards and reportedly lasted just a few weeks on the market. It was home to just 15 games in its short lifespan.
Like many other Japanese home consoles that arose during this period--including the Gakken Compact Vision TV Boy, Nichibutsu My Vision, Tomy Pyuuta, and, in North America at least, Sega Master System--the PV-1000 was largely steamrolled by the Nintendo Famicom. Casio eventually went back to the gaming drawing board, but you can imagine how well that went.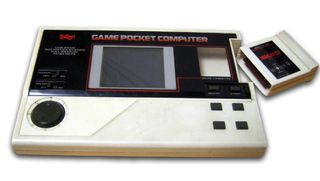 Epoch Game Pocket Computer (1984)
After the Milton Bradley's Microvision failed to catch on, most handheld devices in the early 80s followed Nintendo's lead and made Game & Watch-esque devices that played built-in, LCD-based games. Japanese tech company Epoch made such devices too--and had moderate success in Japan with the cheap Cassette Vision home console--but in 1984 it decided to give the cartridge-based portable another shot with its Game Pocket Computer.
It had a 75x64 resolution LCD display, and was capable of producing graphics on par with some Atari 2600 games. But despite its power and portability, it only housed five games over the course of its existence. It was never released outside of Japan, and ultimately left the Game Boy to reap all of its potential glory.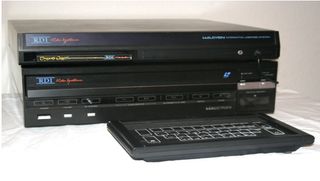 RDI Halcyon (1985)
Continuing the tradition of forward-looking failures was the RDI Halcyon, a console that exclusively played interactive games on Laserdiscs--think Dragon's Lair--and cost a spectacular $2500 at launch. If that doesn't tell you why the Halcyon faltered, well, there's nothing we can really do for you.
Nevertheless, the Halcyon was a machine ahead of its time (or any time, really.) Its development was spearheaded by RDI's Rick Dyer, one of the men behind Dragon's Lair, and the machine itself took its name from the famous HAL supercomputer from the film 2001: A Space Odyssey. This was because the Halcyon could actually recognize certain limited voice commands during games, and could even use a text-to-speech program to repeat back words as well. This would have been pretty bonkers for 1985, but only two games were ever released for the Halcyon, and RDI went belly up soon after its launch.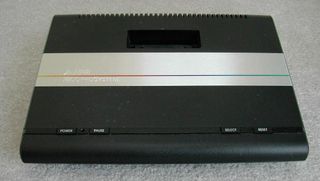 Atari 7800 (1986)
The Atari 7800 ProSystem was a victim of bad timing and poor management. It was originally meant to come out in 1984, but the recent video game crash and Atari's sale to Jack Tramiel's Tramel Technology Ltd. ensured that it wouldn't hit its intended date. When it finally arrived, the NES was already dominant, and Nintendo had snatched up exclusive licensing agreements with a multitude of third-party developers. Basically, if you developed for Nintendo at the time, you only developed for Nintendo. This gave Atari enormous trouble gaining outside developer support.
Not that the 7800 necessarily deserved it. Unlike the 5200, the 7800 sported built-in backwards compatibility with the extensive library of Atari 2600 games, but that was the only "advanced" feature it had going for it. It was technically inferior to the NES and Sega Master System, and it was riddled with older, exhausted titles. It didnt get much marketing either. While it was a suitable budget machine, it was too stuck in the past for most. The 7800 was not an absolute bomb in terms of sales, but it effectively sealed Atari's fate as an eternal non-competitor to Nintendo and Sega. It was all downhill for Atari from here on out.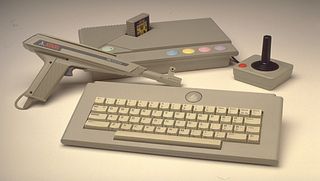 Atari XEGS (1987)
Did we mention it was all downhill for Atari from here on out? The Atari XE Video Game System fared even worse than the Atari 7800, and was yet another instance of Atari failing to save itself from Nintendo's increasingly domineering presence. Basically, the XEGS was an 8-bit, Atari 65XE computer in a smaller box. It launched in 1987 for a cheap $200, and came with a keyboard, joystick, light gun, and a few built-in games. It was also compatible with most of Atari's previous 8-bit products and software library.
That may not sound like a bad deal on paper, but Atari's strategy was flawed from the start. Jack Tramiel and company felt that it could raise Atari's market share by introducing more products, but all the XEGS, Atari 7800, and Atari 2600 Jr. did was flood store shelves with technically outdated machines. They were all rehashes. The industry was ready for something fresh, and it voted with its wallets accordingly. The XEGS didn't receive much marketing or developer support, and it disappeared without making much impact by 1992.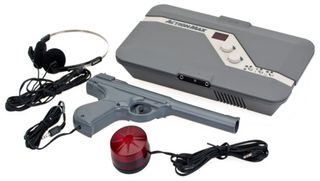 Worlds of Wonder Action Max (1987)
The term 'Action Max' sounds like it could be the name of an 80s buddy cop flick, but in actuality it was a quasi-console that hooked up a light gun peripheral to your television and worked with VHS tapes. Each of its games were more or less live-action films that would prompt players to shoot the Action Max's faux handgun controllers at various points. Targets would pop up onscreen, and you'd get a point for each accurate shot you took. A buddy could jump in if you bought a second controller too.
And, well, that's about it. Each film would carry on regardless of whether or not you were actually participating. And even if you were, there was only one way to play every single game, every single time: shoot. It was a neat little toy that led to a few VHS system follow-ups, but as a game console it was hampered by its very premise. Either way, it didn't last very long.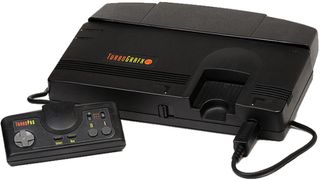 TurboGrafx-16 (1987)
Again, we're using "failure" a little more freely here. NEC effectively started the fourth generation of gaming with the Japanese release of its PC Engine in 1987. It was marketed as the first 16-bit console, and while that wasn't exactly true--its central CPU was still 8-bit--its credit card-sized games still looked and sounded better than anything else on the market. It even became the first console to use CD-ROMs through its PC Engine CD-ROM2 expansion unit. The machine was huge in Japan, surpassing Nintendo's mighty Famicom as the most popular gaming machine in the country.
But when the goofily-rebranded TurboGrafx-16 came to North America in 1989, it just couldn't overpower its rivals again. Its biggest problem was a lack of third-party developer support. American publishers didn't want to risk working with an aging, unpopular console, and many of those that did were locked into Nintendo's exclusive agreements. The TurboGrafx-16 had some great games anyway, but they were either too obscure or limited to the console's TurboGrafx-CD add-on, which cost an obscene $400. NEC released the cheaper TurboDuo to fix that, but it was too late. At least for Americans, the TurboGrafx-16 remained a blip on the gaming radar.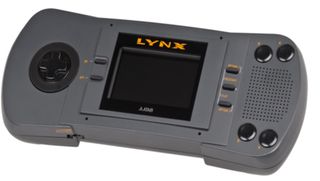 Atari Lynx (1989)
As we've described with the 7800 and the XEGS, Atari wasn't the company it used to be by the late 80s. But before it completely self-destructed with the Jaguar (more on that in a few), Atari nobly attempted to take on Nintendo's eventual Game Boy juggernaut with the Lynx. And for once, it made a competitor that was technically worthy of people's attention.
The Lynx was powerful. It was the first handheld with a backlit, color LCD display, and its 16-bit graphics rivaled those of some home consoles. It was designed so that both righties and lefties could play it without a hitch, and it had some obscure but excellent games like Blue Lightning and Zarlor Mercenary. But it was also huge; and at $180, it was too expensive compared to the Game Boy ($89.99) and Sega Game Gear ($149.99). Atari, per usual, didn't market the machine well either. The company would release a redesigned version to try and rectify these complaints, but there was no stopping Nintendo, and the Lynx line faded away in the early 90s without making a dent in the Game Boy's growth.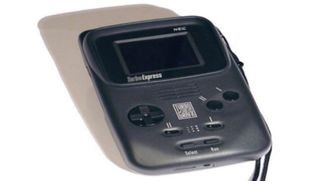 TurboExpress (1990)
We went over NEC's regional struggles with the TurboGrafx home consoles just a minute ago, but one of its more universal failures was the TurboExpress, which was a TurboGrafx-16 in handheld form. Seriously, although it looked like a black Game Boy, it played actual TurboGrafx-16 HuCards in all their colorful glory, and even could be used as handheld TV with a tuner accessory.
As you can imagine, all of this functionality came at a high price. The TurboExpress fluctuated between $250 and $300 at launch, but either way was too costly next to the Game Boy, Game Gear, or even the Lynx. Compounding this was the portable's terrible battery life, which reportedly lasted around three hours on six AAA batteries. Yikes. The TurboExpress was a futuristic, often luxurious experience for those who could afford it, but not many could, and it died without achieving much success.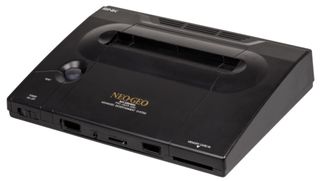 SNK Neo Geo AES (1990)
This is another instance of failure being relative. Popular Japanese publisher SNK gave consoles a whirl in the early 90s with its Neo Geo Advanced Entertainment System (AES), which effectively brought SNK's arcade games to the living room. It was a technical powerhouse capable of producing titles that looked and sounded almost exactly like their coin-op counterparts. It packed an excellent arcade-style controller, and it eventually became the first machine to use a removable memory card too. It was undoubtedly a premier gaming experience.
The problem was that it was also priced like one. SNK marketed the Neo Geo as a hardcore gamer's paradise, but unfortunately only the most hardcore would ever shell out the $650 necessary to get their hands on this bad boy. Not only that, but individual games would cost as high as $200 on their own. The Neo Geo was a beloved machine, but its asking price was just too high for it to not be a niche product. SNK released a cheaper follow-up in 1994 called the Neo Geo CD, but that console was plagued by horrendous loading times and didn't take off either. By the late 90s, the handheld Neo Geo Pocket consoles would struggle too.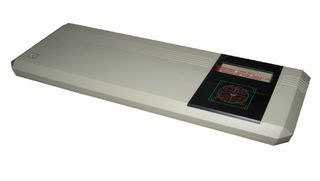 Commodore 64 Games System (1990)
Commodore became a household name for gamers in the 80s thanks to its cheap yet excellent Commodore 64 personal computer. But by 1990, gaming PCs like the C64 were starting to lose their luster thanks to their renewed strength of the home console market. In an attempt to get its piece of the growing console pie, Commodore decided to effectively transplant its C64 computer hardware into a cartridge-based console package. That console was called the Commodore 64 Games System, and it was never released outside of Europe.
Dunderheaded conceptual decisions doomed the C64GS from the get-go. The C64 was already a piece of dated 8-bit technology, so the C64GS was well behind the power of the Super Nintendo and Sega Mega Drive. Many developers wanted to move on. The original C64 was also pretty cheap at the time, meaning that players who wanted the C64GS' full library of games only needed to shell out a tiny bit extra to get the fuller computer experience. The console wasn't a bad idea altogether so much as it was a poorly timed one. It didn't have many games to its name, and it went away a couple of years after it launched.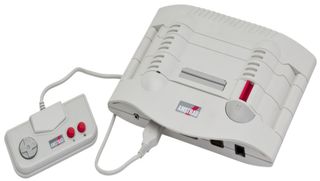 Amstrad GX4000 (1990)
The GX4000 was more or less Amstrad's version of the Commodore 64 Games System. Amstrad saw success in the 80s with its CPC 8-bit home computers, but it wanted to get in on the growing console market befwoore it was too late. So it made its own 8-bit machine that was based on CPC Plus architecture, and launched it in Europe for the low price of 99.
But much like the C64GS, the GX4000 was mostly met by consumer and developer apathy. What few games it had weren't very good, what little marketing it had wasn't very worthwhile, and what little momentum it could muster was quickly crushed by Nintendo and Sega's consoles. Amstrad ceased production of the console after just a few months, and eventually left the video games market altogether a short time later.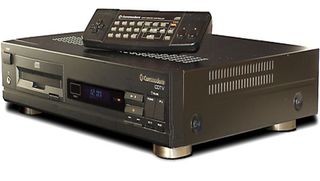 Commodore CDTV (1991)
Fresh off of its failure with the Commodore 64 Games System, Commodore returned with another bomb in the form of the Commodore Dynamic Total Vision, or CDTV. It was essentially an Amiga 500 home computer packaged within a games console/entertainment center hybrid, which altogether looked like an old VCR. This attempt at making an all-in-one CD-ROM multimedia device became something of a tech industry trend during the early 90s.
The CDTV offered much more than just Amiga games, but it also cost $1000, which was too high for most curious consumers. Commodore was one of the first companies to get this kind of machine out the door, but that only meant it was one of the first to realize that people generally had no interest in ever buying one. Commodore would smooth things over with the Amiga CD32 in 1993, which was one of the first 32-bit systems ever produced and sold well in Europe. But a crippling patent dispute, combined with widespread anticipation for newer consoles, prevented Commodore from a worldwide launch and left it sitting on a stockpile of unsold units. The once giant company was sent into bankruptcy just seven months removed from the CD32's launch.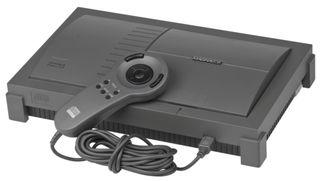 Philips CD-i (1991)
Philips and co-developer Sony positioned the CD-i (Compact Disc Interactive) as more of an entertainment hybrid device than a game console. It created a new CD standard for the machine and promised to give music, movies, videos and other multimedia alongside a suite of video games. It was a relatively new idea for the industry, and it was ultimately futuristic in relying solely on discs.
But man, it was just weird. That hybrid vision led Philips to not really know what to do with the thing, and the result was a wave of horrible "edutainment" content. Thanks to a busted deal where it wouldve made a CD add-on for the SNES, Philips had the rights to select Nintendo characters, and used them to make a handful of CD-i titles. If you've ever played Zelda: The Wand of Gamelon, Hotel Mario, or any other CD-I game we have in our list of the worst games ever made, we're sorry. The controller was brutal, and the whole thing cost $700. Philips deserves some praise for trying something different, but the CD-i was nothing short of a disaster in the end.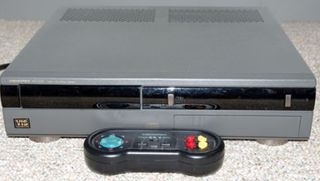 Tandy Memorex VIS (1992)
The Tandy Memorex Visual Information System was another one of those doomed interactive multimedia devices that also happened to play a handful of video games. Like the CD-i and CDTV, it looked like a big VCR and promised to give a computer's entertainment suite in a living room package. It was sold exclusively by retailer Radio Shack, and retailed for a typically obscene price of $700.
There was virtually nothing of value for gamers here, as most of the VIS' titles were of the edutainment variety. We're guessing that most of you didn't know this thing even existed, so you can imagine how well it sold when it originally hit the market.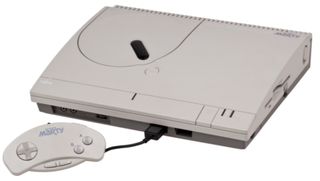 Fujitsu FM Towns Marty (1993)
Trivia time! Do you know what the first 32-bit video game console was called? (Hint: Look up.) Yep, Japan was the exclusive home to the weirdly-named FM Towns Marty, which was based off of Fujitsu's then-popular FM Towns series of home computers. It could play many games that were made for those PCs, had a built-in CD-ROM drive, and even supported some games that could be played with a keyboard and mouse. It also ended up becoming the home to a wide selection of hentai games. Okay then.
Its porn problems (or solutions) aside, the FM Towns Marty was too expensive (around the equivalent of $700), didn't have a lot of dedicated titles, and didn't generate much enthusiasm from its home market. It was a niche thing. The PlayStation and Sega Saturn were coming, and Fujitsu responded by giving up on the Towns Marty--and its short-lived redesign--within two years of its launch.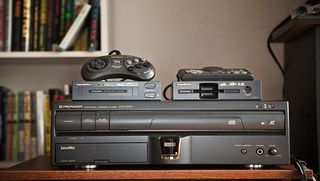 Pioneer LaserActive (1993)
The LaserActive was yet another weird, impractical, absurdly expensive all-in-on media machine that failed in the early 90s. Like its predecessors, it could play interactive music, karaoke, and videos alongside video games. It even supported 3D goggles. Like the ill-fated RDI Halcyon, the LaserActive primarily ran on Laserdiscs, or "LD-ROMs," which offered high-quality images but never caught on in North America. And again like the Halcyon, this multi-purpose device was comically costly with a launch price of $970.
That wasn't even the worst part, though. The LaserActive was an innovative, versatile device, and it was actually able to play Sega Genesis, Sega CD, TurboGrafx-16, and TurboGrafx-CD games through expansion modules. Since good, dedicated LaserActive games were scarce, this would've been appealing. But in order to play those other consoles' titles, you'd need to shell out another $400 to $600 for each add-on. At that point you could've just bought each of those consoles separately and still had money to spare. Pioneer didn't do a very good job of marketing the LaserActive, but then again we wouldn't know how to sell something this pricey either. Only a few thousand LaserActives were reportedly sold, and the machine was discontinued a year after launch.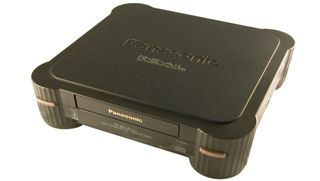 Panasonic 3DO (1993)
The most infamous of the early multimedia machine failures was the 3DO Interactive Multiplayer, a CD-based box that was also the first 32-bit console ever released in the US. It gained notable attention thanks to its technical prowess and more open business model, which was similar to what Valve is currently proposing with the Steam Box. Instead of one dedicated manufacturer, developer The 3DO Company licensed multiple OEMs to build and design their own models. Ultimately, Panasonic's rendition gained the most notoriety when it launched in late 1993.
Unlike similar competitors, the 3DO actually had some worthwhile games and developer support. Star Control II, Alone in the Dark, Super Street Fighter II Turbo, and other goodies were beloved, but they were mostly ports of existing PC or arcade games. 3DO exclusives weren't nearly as plentiful or, y'know, good. But worst of all, the 3DO's $700 launch price was just obnoxiously expensive. It never really had a chance because of it. The 3DO had money and many good ideas that would soon become industry standards, but it was gone two years after it launched. Only two million units were sold. A planned successor, the Panasonic M2, never materialized.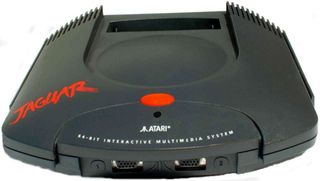 Atari Jaguar (1993)
Atari's final console fail was also its most devastating. The Jaguar was touted as a 64-bit dream machine with graphical superiority, heavy developer support and a deep library of games. When it launched in late 1993 for the affordable price of $250, these claims mostly turned out to be lies. For one, the "64-bit" promise was a bit misleading--while the console definitely surpassed the looks of its rivals at times, parts of its internal architecture were actually 32-bit. Some of the Jaguar's games turned out to look no better than Genesis or SNES titles.
And while the Jaguar was home to a few bona fide classics like Tempest 2000 and Aliens vs. Predator, its outside developer support was almost nonexistent. It was complex and difficult to program for, while its weak initial sales scared off the few studios that were interested in the first place. Many Jaguar games were ports, and only around 20 of the system's 55 total games came from third-party studios. This, combined with its horrid brick of a controller, caused the Jaguar to bomb. Just a few hundred thousand units were sold, and Atari stopped producing the console after it went bankrupt in 1995.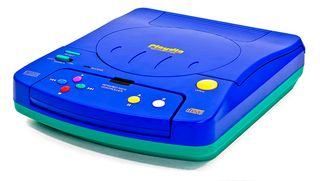 Bandai Playdia (1994)
While most of Sega and Nintendo's console competitors were releasing sophisticated, more expensive pieces of tech, Bandai decided to scale things back and release a simpler, relatively cheaper machine that was aimed towards kids. The result was the roughly $295 Playdia, which resembled a plastic blue toy, was CD-based, and was home to one of the first wireless controllers.
But when it came to the games on this games console, the Playdia was lacking. The vast majority of its titles were FMV-style interactive videos and/or edutainment software, meaning that they didn't have much in the way of actual gameplay. Bandai licensed its own popular anime series like Dragon Ball Z and Sailor Moon for certain Playdia games, but the console's limited utility kept it from ever being a hit. It was only released in Japan and--after a brief period where Bandai ironically allowed numerous hentai games onto the machine to try and salvage sales (yes, this happened)--Bandai ceased production of the console after a couple of years.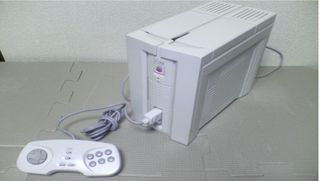 NEC PC-FX (1994)
After the TurboGrafx-16's struggles outside of Japan, NEC kept its follow-up within its native country's borders. The PC-FX was somewhat rushed into existence due to the increased compeititon, and it ultimately suffered enough losses to force NEC out of the console business for good. It was a 32-bit and CD-based, but it was shaped like a small PC tower and was made to be expandable and compatible with certain PCs.
It also had notably underpowered graphics. Instead of focusing on 3D games, the PC-FX had advanced image-decoding tech, which let it have the sharpest FMV games on the market. Impressive, sure, but by this point the market was ready to step beyond this and the PC-FX's other 2D-style titles. Developers largely ignored the outdated machine, and since the PC-FX wasn't backwards compatible with the popular TurboGrafx-16's library, it had very few quality games. When NEC realized the extent of its failure, it loosened up its software restriction policies, and a wave of "adult dating sims" soon made their way onto the console. That may have been nice for a handful of Japanese dudes, but it wasn't enough to keep the PC-FX from failing. It was discontinued in early 1998.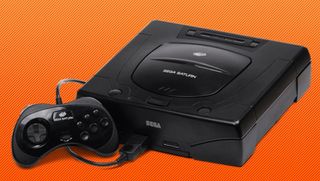 Sega Saturn (1994)
The Saturn sold millions of units in its lifetime, was big in Japan, and had some awesome games. All good. But in North America, and especially when compared to the Nintendo 64 and PlayStation, Sega's follow-up to the Genesis couldn't hold up. The company had already failed with Genesis add-ons like the Sega CD and, especially, the Sega 32X, but the Saturn marked the beginning of the end for Sega's days as a console making giant.
The Saturn suffered from a few fatal, self-imposed flaws. For one, it was complicated under the hood, leading some third-party developers to opt for the more accommodating PlayStation. Sega's marketing strategy was similarly problematic--it was so eager to get the jump on Sony that it surprisingly pushed the Saturn's US launch date up from September 1995 to directly after E3 that year. That made it so only six games were available from at launch, which was especially weak since the Saturn was $100 more expensive than Sony's console. This botched launch helped lead Sega to lose millions on the console in its lifetime. It would stay well behind Sony and Nintendo for its entire generation.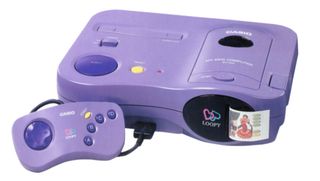 Casio Loopy (1995)
This one was just kind of offensive. After failing with the PV-1000 12 years earlier, Casio returned to the console market with this 32-bit, light purple console, which was marketed entirely towards women. Yeah, it's that kind of thing.
Its miniscule software lineup mostly comprised of dating sims and "dress-up" games, and the Loopy itself came with a built-in printer that could turn whatever was onscreen into stickers. Somehow, this was real life. In a victory for all of humanity, the Loopy faded into the ether shortly after it launched. Only 10 games were ever made for the system.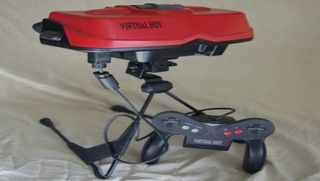 Nintendo Virtual Boy (1995)
You all should recognize this one. The Virtual Boy's sort-of-but-not-really-virtual-reality setup was mighty ambitious, but it wasn't all that fun to use. It came at a time when the public was eager for improved home consoles, and was infamously rushed through its multimillion-dollar development process so the gaming giant could finish up its Nintendo 64 as a result.
The Virtual Boy had almost too many problems to count. It was awkwardly designed, not portable, and had just about no multiplayer features. It didn't really provide 3D games; instead, it used a 'parallax' illusion that merely showed some 3D-looking objects on a 2D plane. Its monochrome display was strictly made up of red LEDs, which kept costs down but made using the 32-bit console an ugly, migraine-inducing experience. It only had 22 games, with just 14 making it to North America. Some of those weren't any good. Its $180 asking price was too much. It wasn't marketed well either. The Virtual Boy was definitely onto something--just look how geeked people are for the Oculus Rift--but playing it was just unpleasant. Nintendo discontinued the project within a year of its launch, selling less than a million units overall.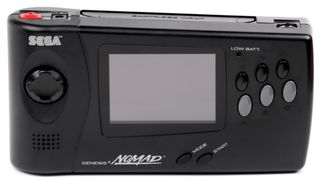 Sega Nomad (1995)
Despite the Virtual Boy's problems, Nintendo and the Game Boy were still murdering everything else on the handheld market (including a handful of obscure devices that we didn't get into here). Sega had achieved some success with the Game Gear in the early 90s, but by late 1995 it gave the portable another shot with the Nomad. It didn't really work.
In short, the Nomad was to the Genesis what the TurboExpress was to the TurboGrafx-16. It was a portable version of Sega's popular 16-bit home console, with a colorful, 3.25-inch, LCD display and support for the Genesis's extensive library of games. It could even be hooked up to a TV and used as a more portable home console. But you know the drill with these things. The Nomad was too expensive ($180 at launch), and it ate up batteries like nobody's business. Beyond that, the Nomad launched too late into 16-bit gaming's lifespan, and it wasn't compatible with various Genesis add-ons. Sega struggled to come anywhere close to the Game Boy, again, and dropped the Nomad after a couple of years.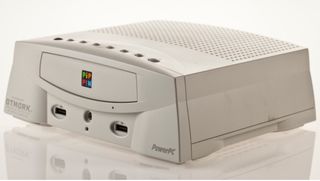 Apple Bandai Pippin (1995)
Tech enthusiasts may crave a dedicated Apple gaming machine today, but it's easy to forget that the Cupertino clan briefly embarked into consoles before. Like some of the computer hybrids before it, the Pippin was essentially a Macintosh in console form. It was marketed as a cheaper computer for the living room, one that could put the internet on your TV while also supporting a library of dedicated games. As with the 3DO, Apple planned to license its Pippin platform out to multiple manufacturers, but Bandai was the only one to bite.
After first arriving in Japan a year earlier, Bandai's Pippin launched Stateside in 1996 for the too high price of $600. Sega, Sony and Nintendo already owned gamers' wallets at this point, and PCs were only getting cheaper, so that cost wasn't going to cut. And despite its Mac architecture, the Pippin was remarkably underpowered for a mid-90s machine. Just 18 games were released for the Pippin and--besides Bungie's Marathon shooters--most were predictably terrible. So, to recap: high price + no games + weak processor + confused purpose = market failure. Apple and Bandai discontinued the machine the next year after selling fewer than 100,000 units.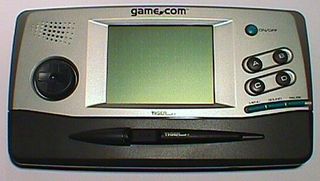 Tiger Game.com (1997)
In 1995, American toy maker Tiger Electronics failed at broaching the handheld market with its R-Zone console, which was kind of like a poor man's Virtual Boy (that means it was really bad). Before that, it made a truckload of Game & Watch-style, single licensed game portables. Yawn. But its horribly-named Game.com--pronounced "game com--actually had an understandable premise. The idea was to be a hybrid between a game console and an internet-connected PDA. It was the first handheld to have a touchscreen, and it only cost $70 at launch.
But it failed all the same. Its display was blurry and completely gray scale. Its touchscreen was imprecise. Those who wanted to check their email, browse the web or input data had to struggle through its limited and unwieldy interfaces. Plus, this is 1997 internet, so actually using all of these features required a $50 modem add-on and a painful setup process. And yes, all 20 of the Game.com's games were ugly and horrible. Tiger launched a redesigned console to try and fix things, but this was always going to be a hard sell. Its internet focus was smart, but the Game.com sold horribly, and was discontinued by 2000.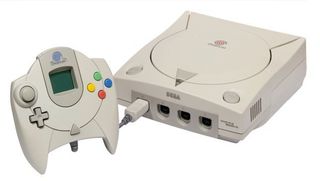 Sega Dreamcast (1998)
The Dreamcast is the rare console that failed without doing anything wrong. It was mightily powerful, with some absolute gems in its library and an online network that foreshadowed the services we have today. It only cost $200, and it succeeded in almost every area where the Sega Saturn failed. It sold millions of units across the world at launch. For about a year and a half, the Dreamcast was realizing the future of gaming.
Then the PlayStation 2 happened, and it wasn't long before Sony's backwards compatible, DVD-playing juggernaut killed off any momentum Sega could muster. The PS2 was anticipated beyond belief at the time, so both consumers and developers fled to its already-established brand as soon as they could. All of Sega's problems then caught up to it. It was already selling the Dreamcast at a considerable loss, but its piracy issues and the 32X and Saturn's past failures only compounded its troubles. Sega just couldn't keep going financially by early 2001--especially with the Xbox and GameCube coming --and it soon announced that it would cease production of the Dreamcast to stay afloat. It hasn't returned to the hardware business since.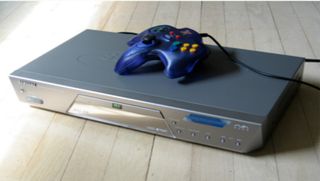 Nuon (2000)
VM Labs' Nuon technology was a platform that effectively turned DVD players and digital set-top boxes into interactive, internet-capable media machines. No, it wasn't an out-and-out console, but it did put some games onto typically non-gaming devices. It was another novel attempt at that all-in-one dream so many tech companies had chased in the decades prior, but like most of the others, it never caught on.
Toshiba, Samsung, Motorola, and other manufacturers all released Nuon products featuring a miniscule selection of games and "enhanced" films in 2000 and 2001, but the Nuon tech made them more expensive than your everyday DVD players. Nuon's eight games included Tempest 3000 and nothing else worthwhile. The concept itself was questionable enough, but the PlayStation 2 and its DVD compatibility put the nail in Nuon's coffin just a year after its first devices launched. VM Labs filed for bankruptcy by the end of 2001, and Nuon as a whole was killed a few months later.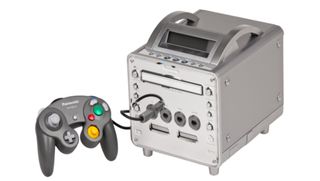 Panasonic Q (2001)
The Panasonic Q was a GameCube with a built-in DVD player. That was it. The PS2 and Xbox both had their own DVD drives, and Nintendo wanted to get in on the action. But instead of creating a redesigned GameCube itself, Nintendo had Panasonic manufacture one shortly after the original console launched.
The Q only launched in Japan. As with so many other failures in this article, it was just too expensive--a standard version cost $440, while a non-region locked edition cost $500. Since anyone could just get a regular GameCube and DVD player for less than that combined price, the Q had a hard time catching on. It was killed about two years after it launched.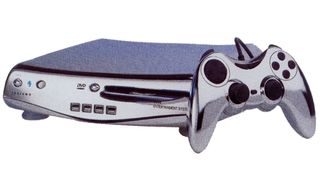 Indrema L600 (N/A)
The Indrema L600 was one of a few ambitious consoles that never made it to market, but we mention it here because it would've run on Linux, and hence would've been the only open source console alive. That meant that ordinary users could write their own games and software for the system. We're guessing someone over at Ouya had heard of Indrema. Radical business model aside, the L600 was also set to play CDs and DVDs, have web browsing capabilities, and even sport a DVR for recording TV shows (hello, Xbox One). Its prototype had a slick-looking design, and the finished product was scheduled to launch in in mid-2001 for $300.
But as we've seen, machines that are "ahead of their time" usually don't end up doing well. Indrema was a small start-up, and it just couldn't raise enough funding to finish its dream machine. It's unlikely that the L600 would've succeeded against the big boys, and it's difficult to say whether Indrema would've been able to stick to its original vision, but we'll never know either way. The company folded in 2002, and the L600 went down as one of the more unfortunate pieces of gaming vaporware.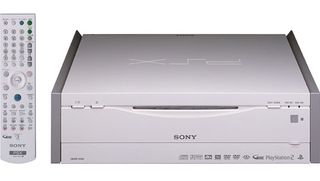 PSX (2003)
Not to be confusion with the original PlayStation, the PSX was Sony's attempt to take the popularity of the PlayStation 2 and channel it towards a new, multi-purpose multimedia machine. It had all the functionality of the PlayStation 2, but also added DVR capabilities, media editing software, and connectivity with the PSP. It was also the first machine to use Sony's XrossMediaBar interface, which can still be found in many Sony consumer products today.
The PSX was never released outside of Japan, and it annoyingly didn't come with a DualShock 2 controller, but its biggest problem was its price. It launched at 79,800 yen in late 2003, which translates to about $800 in today's money. That's a lot no matter where you are, and although Sony would eventually slash its cost of entry, the PSX could never prove its worth to most consumers. The PS2 would go on to be the most popular console ever, but the PSX finished lightyears away from such success.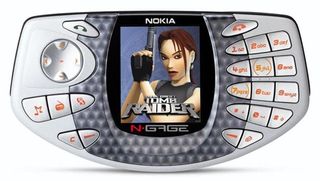 Nokia N-Gage (2003)
The N-Gage has become an industry punchline, but its core concept of blending a phone with a game console doesn't seem so dumb in our current iPhone-fied times. It had relatively impressive 3D graphics, online multiplayer capabilities, and some of those PDA-style functions that the Game.com promised years before. It even got big-time developers like EA, Activision, THQ and others to populate its games library. Some of those games were actually good.
It didn't matter. The big problem was the N-Gage's infamous, taco-shaped design, which was accommodating to neither game playing nor talking on the phone without looking like a psychopath. (Exhibit A.) The device cost $300 (plus monthly service fees), which would be cheap for a premium phone today but was way more expensive than the then-dominant Game Boy Advance. Its screen was tiny too, and it had less than 60 games overall. Simply changing those games required you to swap out the phone's battery altogether. Nokia released different versions of the N-Gage, and retailers lowered its price, but interest consistently remained low. Only a couple million units were sold overall, and N-Gage hardware was discontinued within a couple of years.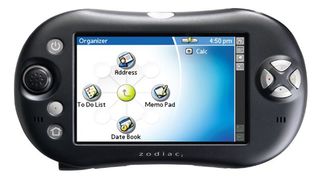 Tapwave Zodiac (2003)
Devised by tech startup Tapwave, the Zodiac was yet another failed attempt at creating a game handheld/PDA hybrid in the early aughts. It was advertised as a powerful, multi-functional entertainment system for those on the go, and it ran on the then-popular Palm mobile OS. It was built nicely, easily supported emulators, and even got ports like Tony Hawk's Pro Skater 4 and Doom II onboard. It received some positive press in its earliest days too.
There were a few predictable reasons for the Zodiac's failure, though. For one, it was expensive--$300 for a 32 MB model and $400 for 128 MB model. When it did go on sale, its regional launches were restricted to particular retailers. The Zodiac was already obscure to the mainstream, and making CompUSA its exclusive US launch partner wasn't going to help change that (no offense, CompUSA). And finally, as youd expect, notable game developers wouldn't flock to a console that was selling in the thousands. The PSP and Nintendo DS were just taking off, and selling a game console to PDA enthusiasts (or whatever they were called) wasn't going to win that market either. The Zodiac sold abysmally, and was discontinued in mid-2005.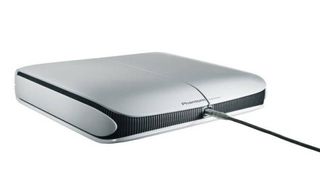 Infinium Labs Phantom (N/A)
The Phantom's proposed vision was eerily similar to what our current future seems to hold. The machine would have been completely internet-based--read: always-on--and was said to be capable of playing all current and future PC games through direct downloads. It would reportedly be available through an upfront cost of $200 or a monthly fee of $30. Naturally, Infinium Labs claimed its online-centric ways would give publishers and developers more of their games' profits too.
You can see chunks of its ideas through current platforms like OnLive, but whether or not the Phantom could've really competed against the Xbox 360 or PlayStation 3 is really up in the air. The console was scheduled to be released in late 2004, but got repeatedly pushed back until mid-2006, when it "Phantom'd" for good. Like Indrema, Infinium Labs struggled to gain enough cash to bring the Phantom to market. It eventually lost millions in wasted Phantom development costs and publisher licensing agreements, and the company (now called Phantom Entertainment) stuck to making wireless keyboards soon afterwards. But given the response to Microsoft's recent online aspirations, we're a little skeptical this always-on machine would've ever risen beyond niche status anyways.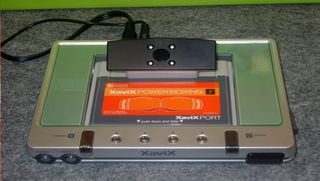 SSD Company XaviXPORT (2004)
SSD Company's XaviXPORT was an odd quasi-precursor to the Wii in that it uses motion controls and had a software suite largely composed of fitness-based games. Instead of standard controllers, XaviXPORT games come with their own respective peripherals--XaviX Tennis came with a faux tennis racket, XaviX Bowling came with a pretend bowling ball, and Super XaviX Bros alright, we made that last one up. The tiny console's technology is weirdly outdated too--it still takes cartridges, each of which supply their own 8-bit multiprocessors.
SSD obviously isn't shooting for the moon with the XaviXPORT, so it probably wasn't ever meant to be anything more than a niche product. It launched for a relatively cheap $80, but given the primitive tech involved here and the fact that its few games still cost $50 each, it still required more cash than it was worth. Those prices have dropped considerably now, but the machine has never garnered much attention. Turns out actually going outside is still the best way to get in shape. However, we give it major props for getting Jackie Chan to use his likeness for games like Jackie Chan Studio Fitness Powerboxing. Yes, Jackie Chan. XaviXPORT. The gaming industry is a beautiful thing sometimes.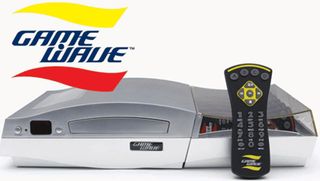 ZAPiT Game Wave (2005)
The ZAPiT Game Wave is another console hybrid that also functions as a DVD player. Its miniscule software lineup aimed to provide family-friendly entertainment through simplistic trivia or board-style games.
A casual party machine through and through, the Game Wave launched in late 2005 for $99 and predictably hasn't made much of an impact. Regular consoles seem to be working swell for group gatherings, so why the world needs a machine dedicated for such occasions isn't quite obvious.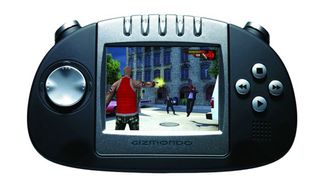 Gizmondo (2005)
All hail the fail king. The Gizmondo actually had some nifty features like SMS texting, GPS navigation, a built-in camera, and MP3 and video playback for movies and music. It actually had some decent-looking hardware. Its games actually didn't look any worse than those on the PSP. And perhaps most importantly, Gizmondo actually knew how to use its money to create buzz.
But the handheld still failed. It failed so very hard. It was expensive, because of course it was--$400 at most, or $230 for an ad-supported unit that never received ad support. In America, the console's launch was limited to shopping mall kiosks. Its advertising campaign was virtually nonexistent. It had one game to its name when it launched in the UK; it was a reworked ZX Spectrum title. When the Gizmondo hit Stateside, it had eight titles. They weren't exactly must-haves, and developers weren't signing up anytime soon. And oh yeah, one of the dudes in charge of the company was a criminal from a Swedish mafia. That really didn't help. Gizmondo reportedly sold less than 30,000 units total, which is pathetic, and the company went bankrupt less than a year after the device's launch.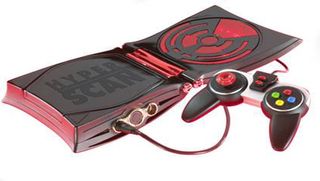 Mattel HyperScan (2006)
Mattel achieved some success way back in the 70s with the Intellivision, but its second contribution to the console world was something much different--and much worse. The HyperScan was built for little kids, and sold for a cheap launch price of $70. It got its name from its built-in Radio Frequency Identification (RFID) scanner, which was used to scan trading cards that came packaged with each HyperScan game. When those cards were scanned, the console would load new features, characters, and the like into said games. Think of it like Skylanders, but horrible. Card collecting was a thing at this point, and Mattel wanted to cash in.
It didn't. Only five games were ever released for the HyperScan, and they were all hideous and not received well. The console itself was built poorly, and loading times were just horrendous thanks to its outdated internals. Again, call us crazy, but kids these days seem to be getting along with mainstream consoles just fine, so making a machine "dedicated" for younglings was probably pointless from the start. The HyperScan's gimmick, tech, and software were all subpar, and Mattel rightfully discontinued the console about a year after it launched.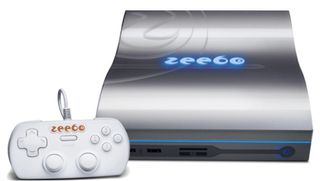 Zeebo (2009)
The Zeebo sought to bring video games and other interactive content to developing markets when it launched in 2009. It was supported by more than a few notable publishers like Disney, EA and Activision, but most of its games were reworkings of mobile titles. It was fully internet-based, used 3G mobile networks, and was download-only to help combat piracy. It was hailed by many in the tech press as a potential game changer in the industry's efforts to expand its global reach.
But while the Zeebo was a cheap option for gamers in Mexico, Brazil, and other growing nations, it wasn't met with much fanfare. The games weren't great (or plentiful), the design was iffy, and the third world's markets didn't open themselves up to a third world console. The platform was discontinued by 2011. Zeebo's website teases that some sort of successor is in the works, but it also says that follow-up is coming in "2012," so it's hard to say if and when it'll ever arrive.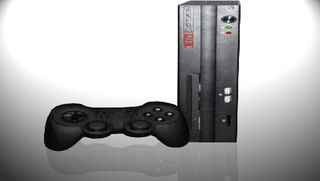 Envizions Evo Smart Console (2009)
Released in 2008, the Evo Smart Console followed up on the dream of the Indrema L600 in that it actually was Linux-based and open source. It was another one of those "basically-a-PC-in-a-box" type deals, and it sported the usual multimedia features alongside some Windows- and Amiga-based games.
Unfortunately, those games were largely obsolete, and the system as a whole was underpowered. Very few people bought--or ever heard of--the Smart Console, and its planned successors never materialized. Envizions' founder went on to form a new startup called EnGeniux, which is trying to develop a console called the Oton, which the company claims can create its own games. We'll believe that when we see it.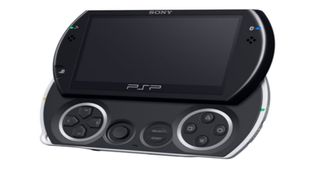 PSP Go (2009)
It's too early to declare the fate of the PlayStation Vita, but Sony's previous stab at the portable market definitely didn't work out as hoped. The PSP Go was another SKU of the largely successful PSP, and it was just as powerful as the rest, but it came in a much smaller, slide-out form factor. Its biggest change, though, was its removal of the PSP's usual UMD drive. This meant that the Go's games could only be had through downloads. This was like a test run for Sony, one where it could try to usher in a digital-only future on a contained platform and see what would happen.
Very few good things happened. Besides the fact that the PSP had largely run its course by late 2009, not all PSP games were available through digital distribution. This left a swath of games unplayable by default, a fact that wasn't helped by all the inherent issues that the PSN Store already had (slow download speeds, high prices, etc.). Sony's decision to charge $250 for the dated hardware was even more unintelligible. Consumers generally ignored the Go as a result, and Sony discontinued the model after the Vita launched a short time later.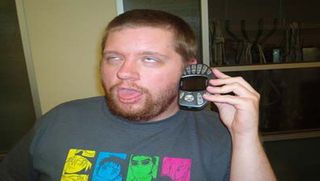 Back to the winners