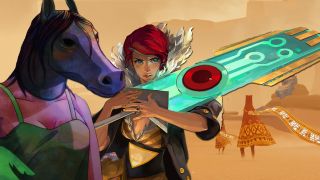 Short and sweet
2015 has been a year of open-world, near-open worlds, and generally gigantic experiences. Assassin's Creed Syndicate, Fallout 4, Arkham Knight, Metal Gear Solid - they all tested our commitment and resolve (I doubt I'm the only one whimpered when they saw the 'question mark' count in The Witcher), and have consumed actual full weeks of our lives. As great as these games are, they can be just as draining, and sometimes you just want to play a simple, convenient, short game that you can attack and be done with in a single sitting.
There are of course many, many options to choose from, so many that figuring out which ones are good can become an exercise in painful irony. You may be covered when it comes to the best Android and best iPhone games, but what about fodder for your humble console? Here you'll find a good collection to get you started, and don't worry - we'll keep it brief.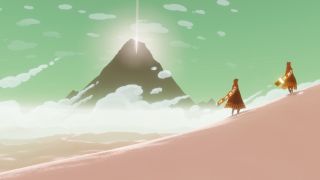 Journey
3 hours
Journey has been called some hyperbolic things since it drifted into our lives in 2012, up to and including one of the greatest games of all time. That seems like a lot of praise for a three-hour game where you float around and squeak at a mysterious co-op companion, but Journey has a spirit that's difficult to quantify, an understanding of emotions and friendship that lets it tap into something deep, deep down.
Seeing the magnificence of this new world with a friend at your side is deeply affecting in its simplicity. In a way, its two-hour run-time is deceptive: even if you can play it in a window shorter than most feature films, Journey sticks with you for years, long after many lengthier games will have faded from your mind.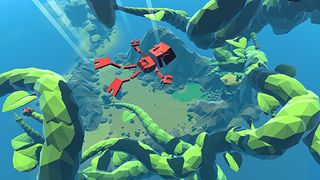 Grow Home
4 hours
Growing a gorgeous garden takes time, patience, and a delicate hand, and very rarely feels like a rollercoaster. Grow Home fixes that oversight by having you cultivate a plant that's meant to reach over a mile in height, with you riding its viney appendages while they grow at a great speed. It's undemanding, a little bit silly, and encourages you to take joy in simple pleasures like floating with a flower-petal parachute and skydiving off a giant beanstalk.
That isn't to say that Grow Home is one note: it deftly combines strategy, physics, and low-key exploration into everything you do, so there's constantly enough of a challenge to keep you going without taking away from that whimsical, relaxed feeling. It's a brilliant mix, one that gets your mental gears turning while still reminding you what dream-flying feels like.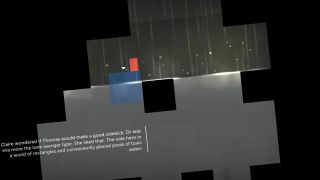 Thomas Was Alone
4 hours
Look strictly at what you do in Thomas Was Alone, and it doesn't seem like that remarkable of a game: get a collection of multicolored rectangles (all of which move in different ways) from one end of a stage to their individual exits, and you win. It's basically Tetris' little cousin without the replayability. But what really makes Thomas Was Alone worth four hours of your time is its moving story of companionship and sacrifice, carried out by a team of heroic friends. And yes, I am talking about the two-dimensional shapes there.
Narrated by the delightfully irreverent Danny Wallace (best known for his role as cheeky shit Shaun Hastings in Assassin's Creed), Thomas Was Alone plays out like a storybook, with emotions, ambitions, and fears projected onto what are otherwise completely expressionless squares. But that retelling is so gracefully woven, filling its characters with compassion, bitterness, and generosity that they feel like much more than just shapes moving across the screen.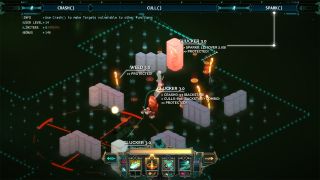 Transistor
6 hours
Transistor is Supergiant Games' second verse (after Bastion), nearly the same as the first: it uses that familiar isometric viewpoint, takes place in a collapsing mythical setting, and tries to impart as little information as possible. But thanks to the lessons learned from Bastion, Transistor benefits from a polished combat system that is just as satisfying as it is complex. Fights aren't just hack-and-slash affairs, but involved math problems to be overcome with the right combination of abilities directed at the right focal point.
But that alone isn't what makes Transistor stand out, because it wouldn't be complete without your constant companion: the talking sword from which the game gets its name. Acting as both your primary weapon and your emotional anchor, he alone pulls you into the tragedy of the city, creating an intricate and painful story of loss you'll want to see through to the end. Basically, over the next six hours, you're going to fall in love with a talking sword.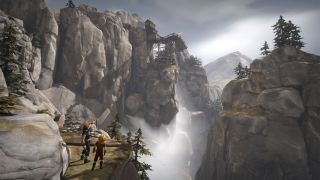 Brothers: A Tale of Two Sons
4 hours
Controlling two different characters, each mapped to one of your two thumbsticks, sounds like the most awkward thing ever at first, and not something you'd want to suffer through even for a few short hours. But Brothers: A Tale of Two Sons makes it work with such care and grace that not only is there little noticeable difficulty, but it ends up being a smooth and pleasant way to direct your sibling heroes, each to different parts of the screen as the game's many engaging, thoughtful puzzles demand.
But far from being a one-note attraction, Brothers uses that scheme to build up its simple tale of two brothers out to save their father, making them each feel integral not just to the story, but to the very way you experience it. Eventually the relationship you have with them becomes just as strong as the one they share with each other, and by the time it's all over, you won't want to let them go.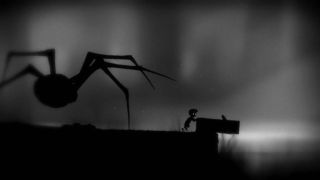 Limbo
4 hours
Limbo's world is a dark place, full of destruction and carnage, and that's what makes it so morbidly alluring. Set in a stark grayscale world where you're forced to venture through empty junkyards, abandoned villages, and eerie forests, Limbo is entirely about establishing a sense of place and lodging it in your brain like an especially enthusiastic brain slug.
Every piece of Limbo feeds into that environment. Crossing a giant neon sign (which also happens to be an electric deathtrap) establishes that there was some sort of society here that's long since gone. Bodies in cages proves that there's foul play afoot, but not by who. And the way you defeat a horrendous, giant spider proves you're no more innocent than anything else in this place. Limbo packs an entire ghastly universe into a few dozen minutes of play, but that creepy purgatory sticks with you a whole lot longer.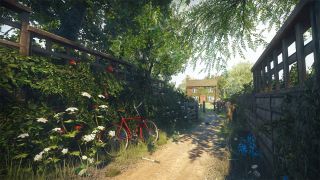 Everybody's Gone to the Rapture
5 hours
Everybody's Gone to the Rapture is heartbreakingly lovely from the moment you walk into the town of Yaughton. Its gorgeous lakes and rivers, charming city square, and waves of grain drifting in the wind create an environment so stunning that you almost might not notice there's no one there to see it with you. But the eeriness that remains - the feeling you get when you find bloody tissues in every home, or watch a mystical recording of a memory forecast the town's destruction - is too constant and compelling to be ignored.
Rapture excels at presenting a world and people in its final days, an idea that few games handle with such care and attention. As opposed to using death as a bit of punctuation on the more exciting bits, Rapture treats it with respect, and creates a beautifully melancholy picture of who people are in their final moments. Heavy stuff to be sure, best experienced with a box of tissues and a hot cup of tea.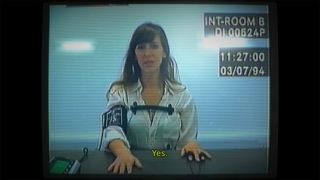 Her Story
3 hours
The frill-free description of Her Story can make it sound like the kind of thing you'd have to pay someone to do: you go through a very poorly organized database pull of police footage cut into 30 second to minute-long clips, and you need to tag and arrange them in the way that makes the most sense. But you're not investigating parking tickets here - you're trying to unravel a murder mystery long since gone cold, and what you find is bizarre and shocking, even by homicide standards.
While that certainly gets your attention, what's most remarkable about Her Story is how it flips the script on traditional detective games. Rather than prodding you to follow a prearranged line of bread crumbs, it lets your investigation proceed organically based on what clues you try to follow up on. Type "mirror" into the search engine, and you'll take a different route to the end than you would if you typed "home" first, or "mother". But you still get there, in your own way, and the shock is still just as powerful.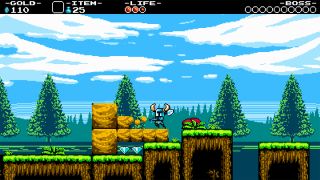 Shovel Knight
6 hours
Shovel Knight is the child of an era long past - the story of a noble and faceless knight confronting the forces of darkness in a 2D, 8-bit side-scroller, it raises the entire genre from the grave, creating something that fans of that bygone time can truly enjoy that is far superior to the 1000 other games that tried to do the exact same thing.
Shovel Knight has more than nostalgia going for it - its odd, self-aware sense of humor makes it stand out from other, far-too-serious imitators, and a knight who battles evil with his trusty garden tool makes for a refreshingly silly and loveable protagonist. Plus, as old-school as its gameplay may seem, it allows modern sensibilities and controls to sweep in as well, so it never feels clunky or awkward for the sake of authenticity. It's an old-soul of a game that knows how to translate its style for a new audience.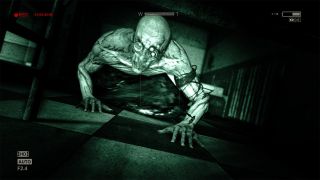 Outlast
5 hours
Some of us can only handle horror in small doses, which can make playing horror games with 10+ hours of content nearly impossible. Luckily there's Outlast, a game that lasts a mere five hours from the moment you step into its poorly-lit asylum until you spot (though maybe not reach) the light at the end of the tunnel.
Locked in a defunct insane asylum full of incredibly strong, hyper-violent inmates, the only thing you can do (in fact, the only thing you are physically capable of doing) is run, since you have no weapons or combat skills at your disposal. All you have is a few flimsy hiding places and a night vision camera, which constantly maintains the feeling of helplessness that horror's meant to create. It may be short, but that doesn't mean fewer scares - they're just that much worse, and densely packed.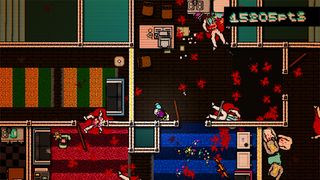 Hotline Miami
5 hours
It's easy to find yourself intoxicated by the hypnotic rhythm of Hotline Miami. Pulsing backgrounds, thumping, '80s-inspired tunes, and never-ending cycle of pixelated blood and violence form the backbone of each of the game's few dozen levels.
Individual stages act as mini-puzzles designed to test your spacial awareness, your reflexes, and your ability to improvise, as guard placement and AI patterns randomize each time you restart. And you'll restart a lot as you die over, and over, and over again. By the time you finally come up for air it's all over, as Hotline Miami knows how to get in, fuck some shit up, and get out without overstaying its welcome.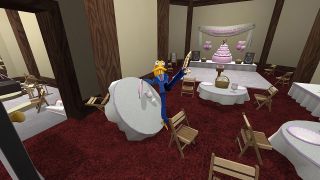 Octodad: Dadliest Catch
3 hours
Consoles are sadly lacking in ridiculous games based entirely around terrible physics, which are largely relegated to PC. So bless Octodad: Dadliest Catch, which made the awkward and uncoordinated leap to PS4 in 2014 (and Xbox One in 2015), and proved that these are hospitable waters.
That's admittedly most of Octodad's appeal: its 'puzzles' are only made difficult by the fact that controlling Octodad is ungainly. But what sets Octodad apart from similar games that followed it (e.g. I Am Bread) is that it builds a genuinely amusing story out of that ridiculousness, so it remains funny even when the silly physics aren't in the spotlight. An octopus pretending to be a man is just ridiculous enough to work, at least for the little time you'll spend with it. Less of a commitment than a day at the aquarium.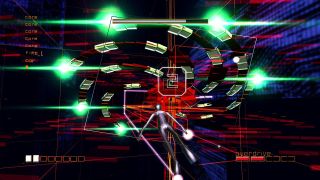 Rez HD
2 hours
Most twitch-centric arcade shooters are meant to be played in a single prolonged sitting; Rez HD is no exception. But each playthrough feels like an etheric trance, drawing you back in with the same appeal as a psychedelic-yet-pleasant hallucination. The stark wireframe visuals, hypnotizing techno soundtrack, and blistering pace of the gameplay all weave together seamlessly into two-and-a-bit hours of pure robotripping. 'Robo' referring to 'robot' in this case, not Robotussin.
Rez HD's duration is reliably short (save for any retries), as your silver-skinned avatar blasts through cyberspace at a fixed speed in a clever representation of hardcore hacking. Because it's so easy to shoot through, it's tempting to simply boot it up for another playthrough purely for the music, like listening to your favorite CD on a lazy day. Only, this soundtrack accommodates the pursuit of high scores, and the symbolism of the enemy and level designs will only dawn on you with repeat runs.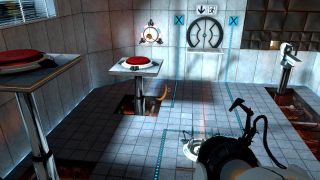 Portal
3 hours
I think we all knew this was going to be here. Ever since it first snuck onto The Orange Box on the good word of Half-Life 2, Portal's become the standard for quality short games, and for good reason. In less time than it takes to fall asleep reading a physics textbook, Portal gives you a ton of hands-on experience, tests you with difficult but intuitive puzzles, and stays fresh with liberal splashes of dark humor.
It succeeds by rejecting the idea that more content inherently improves a game: taking story and strategy and combining them in tasty, bite-sized chunks, it gives you an instant burst of flavor that is much stronger because it doesn't linger too long. Whether it remains the best short console game is up for debate - a lot of games have been made since 2007 - but it remains a strong example of how great short games can be, simply by committing to their brevity.