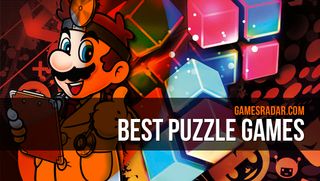 Making logic fun
The best puzzle games aggressively co-opt your thoughts. Playing a quality puzzler can make time simply disappear--and even after you've put down the controller, your brain will be filled with visions of block combinations and combo possibilities. Sure, that might sound like a terrible mental illness, but how many other video game genres have the power to change the way we dream? Puzzle games can; the best ones likely will.
If you're searching for the finest that this brain-teasing genre has to offer, you've come to the right place. These are the absolute best puzzle games you can play right now, whether you're looking to test your mental dexterity alone or go head-to-head with a friend. These picks are most representative of the traditional idea of a puzzle game; Portal, Fez, Braid and the like imaginatively challenge your ability to reason, but they do so by hybridizing puzzle elements with other genres like shooters and platformers. With that rationale out of the way, these are the best conventional puzzle games--you'll be dreaming of falling blocks in no time.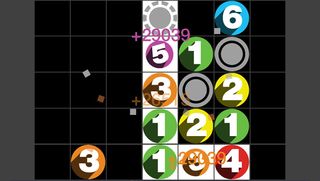 10. Drop 7 (iOS, Android)
At a glance, Drop 7 doesn't look like much. You know what else doesn't look like much? Crack cocaine. And yet, both these quantities can hook you instantly and keep you dangerously addicted, to the point where you barely know where you live or who you are anymore. Drop 7 may appear to be one big math problem, but don't be afraid--this is a puzzle game to the core, challenging you to plan ahead and orchestrate combos like any good brain-teaser.
The visuals are spartan but eminently readable, conveying the state of play without any clutter. And, as with most exceptional mobile games, starting up a quick game can turn into hours spent number crunching before you've even realized what's happened. It's also one of the few Zynga games you can wholeheartedly recommend to your friends without feeling like a casual-gaming sellout.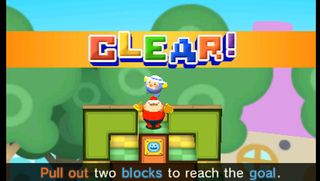 9. Pushmo (3DS)
Intelligent Systems is most known for massive strategy games and RPGs like Fire Emblem and Advance Wars, but the team is just as skilled at making more focused downloadables. One of the top games on the 3DS eShop, Pushmo uses standard 3D movement to create a very hands-on approach to puzzles, with players pushing and pulling blocks to create a path to the highest level of the stage.
Like the best puzzle games, Pushmo demands logic, but players also need a good awareness of physical space and limitations to create the optimal route to the top. The game comes with hundreds of challenging puzzles and even more to download for free, making it easily one of the best values on Nintendos handheld.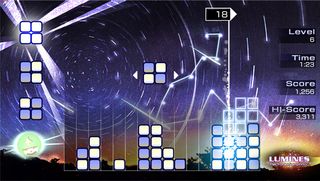 8. Lumines Electronic Symphony (Vita | Other versions available on PSP, PSN, XBLA)
The Lumines games all share a common goal: putting the player in a zen-like state of mental focus. With its metronomic beats, trippy visuals, and simple-but-layered core gameplay, it's as entrancing to play as it is to watch. As the most recent portable entry in the series, Electronic Symphony can make a train ride or plane flight pass by in what feels like an instant. As you transition from theme to theme, you'll feel as though you're getting pleasantly lost in Lumines' music.
The pacing of Lumines' block clearing also achieves a perfect balance: not so fast as to be hectic, but not so slow that you take your time with each and every block. Like any well-designed puzzler, absurd chains can be achieved with mastery of the color-matching system. Watching the screen cascade into combos is a glorious high that Lumines regularly provides.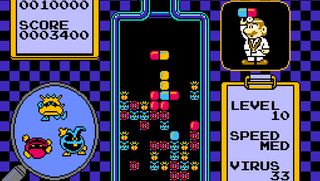 7. Dr. Mario (3DS, Wii, Virtual Console)
Listen, kids: drugs are bad. Unless, in incredibly rare instances, they're being administered by a certified plumber. In that case, they're loads of pill-stacking fun. The Dr. Mario series may be a bit of a niche, even for Nintendo, but that doesn't make its gameplay any less enjoyable or upbeat. The layout of those mischievous viruses forces you to think in vertical and horizontal terms simultaneously, an interesting twist to the familiar falling block puzzler. And despite there being so few colors to match, the action can get hilariously out of hand in a hurry.
We also have a special place in our nostalgia-tinged hearts for Dr. Mario's music: the peppy Fever and spooky Chill themes, which sound incredible in 8-bit, 16-bit, or beyond. And despite being the cause of plague, sickness, and despair, those three rascally virus-gremlins were too adorable not to love.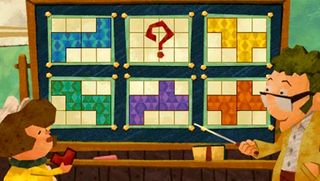 6. Professor Layton and the Miracle Mask (3DS | Other versions available on DS)
The entire Professor Layton series is great; whichever entry you can get your hands on, do so. And it might seem like a bit of an outlier on this list--yes, you do play through a rich storyline and meet a cast of memorable characters. But the majority of the gameplay is spent tackling brilliantly designed logic puzzles, not solving mysteries as in the also-excellent Ghost Trick or Phoenix Wright: Ace Attorney games. Being handed an actual block puzzle and being told to solve it before you can progress.
Despite the ridiculousness of resolving conflicts with brain-teasers instead of fist fights, Layton games are as charming as they are challenging to the mind. The puzzles in Miracle Mask make you feel just as clever when you solve them, with the added wrinkle of some 3D elements. With the Layton timeline complicated by so many prequels and sequels, you can pretty much jump into any game in the series and have a great time.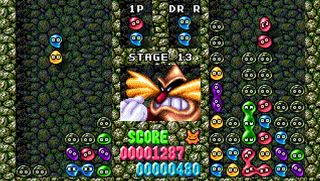 5. Dr. Robotnik's Mean Bean Machine (Virtual Console, PC)
Whether you know this game as Puyo Puyo, Kirby's Avalanche, or the only puzzler to star Sonic the Hedgehog's portly nemesis, the elementary connect-four gameplay that defines Mean Bean Machine hides a near-endless well of strategy. Learning how to stack those adorable colored globules is an art form; those who strive to master it will be pulling off chain combos that will make any bystander's jaw drop. And once you test your mettle against an equally skilled player, the versus mode fun will last hours. Depending on who you ask, Puyo Puyo is the quintessential puzzle game, not Tetris.
The Robotnik branding is mostly just Sega-endorsed window dressing, though it did offer a nice gateway for American gamers to get cozy with a Japan-centric puzzle franchise. Maybe there's something more palatable to Western audiences about squaring off against goofy-looking robots instead of petite anime girls, fish with legs, and tea-drinking skeletons.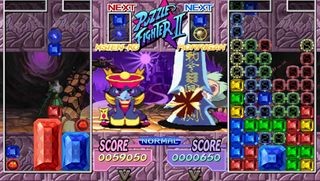 4. Super Puzzle Fighter II Turbo HD Remix (XBLA, PSN)
We never would've guessed that the protagonists of a fighting game could transition so elegantly into the world of puzzles. And yet, Puzzle Fighter somehow manages to translate the frantic back-and-forth nature of one-on-one brawls into a game about humongous gems and bombs that shatter them to pieces. The result is glorious, pairing simple block-dropping with super-deformed, adorable versions of your favorite characters from Street Fighter (with some Darkstalkers and Cyberbots sprinkled in for flavor).
While Puzzle Fighter is nothing short of intense between two adept players, it's also accessible enough for anyone to pick up and play. That's thanks in part to the ingenious diamond mechanic, which acts as a great equalizer, a get-out-of-jail-free card, or the cherry on top of a devastating attack. Outside of the gameplay, the modes are varied, the music is classic mid-'90s Capcom, and the graphics are delightful in HD or their original pixel form. You might not have much luck finding online matches these days--but arrange one with a friend, and we guarantee a good time.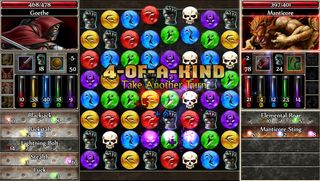 3. Puzzle Quest 2 (PC, DS, XBLA)
Never underestimate how far some RPG mechanics can go. The original Puzzle Quest: Challenge of the Warlords improved on the basic Bejeweled formula, adding character stats, spells, and high fantasy to the familiar gem-sliding gameplay. Puzzle Quest 2 pushed the RPG elements even further, trading out the anime aesthetic for classic D&D-style visuals and adding dungeon delving outside of the actual puzzle battles. And the very notion of noble warriors and arcane mages slaying monsters with turn-based tile puzzles is awesome.
Your hero of choice in PQ2 felt far more customizable than a mere template, encouraging players to experiment with multiple characters (in a puzzle game, no less). And the dungeons encouraged exploration with secrets and side-quests aplenty, offering the gratifying loot progression of a bonafide RPG. Pitting your decked-out champion against a friend's in the myriad multiplayer modes was the perfect way to test your puzzling prowess.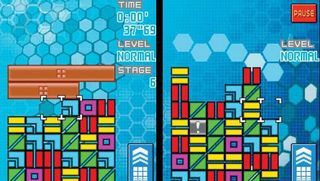 2. Planet Puzzle League (DS | Other versions available on Virtual Console)
Puzzle League has many aliases--Panel de Pon, Tetris Attack, Pokemon Puzzle League--but the gameplay has stayed at a constant intensity throughout. The tile-swapping puzzler is all about matching slides as the board rises with quickening pace. As the blocks rise faster and faster, players are tested to find combinations as quick as they can, adding on the pressure until you're searching for any three-tile combo just to free up a couple seconds to breath.
The action reaches even greater heights of excitement when played in two-player mode, where big plays let you drop massive garbage blocks on your opponent (hopefully before they do the same to you). The satisfaction of finishing a five-line combination and then dropping a screen-filling garbage piece on your enemy cannot be understated.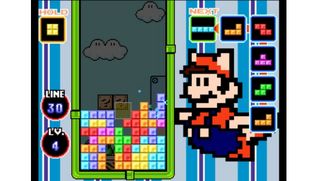 1. Tetris DS (DS | Other versions available on whatever piece of technology is within reach)
Tetris is timeless. From its earliest incarnation to whatever version is currently in vogue, the simple act of arranging blocks and clearing lines is at once relaxing and engaging. Anyone, of any skill level, can play and enjoy Tetris, humming along to its hypnotic melodies as they methodically place each incoming peace. Somehow, this simplistic puzzle game can evoke a whole range of emotions, from the sweet satisfaction of clearing a full four lines, to the frantic struggle of trying to keep up with the ever-accelerating pace. Those seven four-block shapes somehow unlocked a gateway to endless entertainment.
Nintendo took Tetris and supercharged it with 8-bit nostalgia in Tetris DS, improving the play experience without muddling the core mechanics. The result was a sublime version of the most quintessential puzzle game of all time, which explains why it's so difficult to track down a copy of Tetris DS to this very day. Of course, you only need one cart to get some 10-player local multiplayer going--which is an experience every gamer should add to his or her bucket list.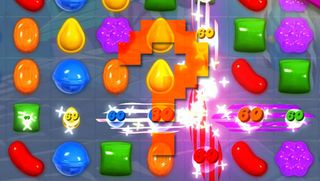 Mind games
Did we miss any of your favorite puzzlers? Would you rally for a different pick at #1? Or are you the first person in the history of the universe to be 100% satisfied with the ordering of an Internet list? Let us know in the comments below!
And if you're looking for more, check out The 100 best games of all time and The 25 best indie games of all time.