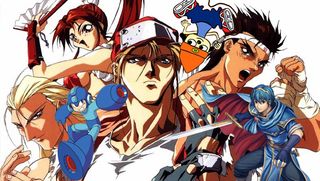 Translating polygons to painted cels
From Kirby curry to Final Fantasy Coca-Cola ads, video games are a huge part of Japans one of a kind culture. And that extends to the countrys cartoons. Youve probably heard of anime for Pokmon and Yu-Gi-Oh, or even the Studio Ghibli/Level-5 co-production, Ni no Kuni: Wrath of the White Witch. However, the shared history of these two mediums goes much deeper than that.
In the interest of bringing some lost art back into the light, I've dug up these 15 obscure examples of games crossing over with what Americans once refereed to as Japanimation. A few of these projects never saw an official release outside Japan, others were briefly available in the US after being produced by companies as wide-ranging as Nintendo, Sony, and Capcom. All are worth searching out for one reason or another. Wish your favorite game had an anime adaptation? It might already exist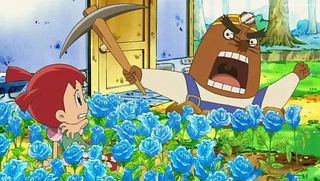 Animal Crossing: The Movie (Theatrically released in 2006)
The technical translation of the film's title is Animal Forest: The Movie, but no matter what its called, devotees will immediately recognize the tropes of the popular Nintendo franchise. The plot follows the structure of the games, as a young woman named Ai moves to a town full of anthropomorphic animals. A good chunk of the movie shows her building a modest home, collecting fruit, digging up fossils, and making friends with her neighbors. That might sound like an uneventful movie, but its an undeniably accurate approximation of the gameplay.
Its too bad that Nintendo never saw fit to share this faithful adaptation with the rest of the world. Though Animal Crossings US fanbase isn't as big as the massive collection of Japanese fans, Americans would still love to see Tom Nook, Mr. Resetti, and K.K. Slider in all their animated glory. Its not too late for Nintendo to find some way to share the film with fans, especially after the high internation sales of Animal Crossing: New Leaf.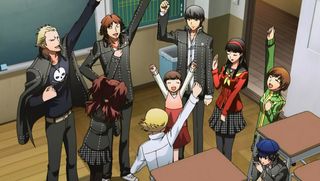 Persona 4: The Animation (Released in 2011)
I firmly believe that Persona 4 is one of the best games ever and Persona 4: Golden is currently the best PS Vita game out there, but I can understand why some don't want to play it. The truest Persona 4 experience takes over 80 hours to complete. So isn't it helpful that it takes around 12 hours to watch the very faithful adaptation Pesona 4: The Animation?
The anime version of P4 sticks closely to the game's plot, with characters getting introduced in similar order, and boss fights playing out the same way. The anime also reuses a number of songs from the games, and several English voice actors reprise their roles. The anime even introduced a few elements that were later added to the Vita remake, which were then further in the 2014 update of the anime series. I can't wait for the next Persona 4 remake to be based on the anime based on the Vita port based on the anime based on the original game.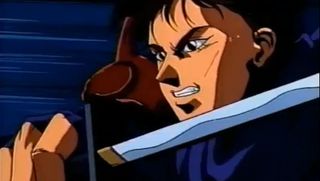 Ninja Gaiden (Released on VHS in 1991)
Starting in the 1980s, anime found a huge new market thanks to the proliferation of VCRs. Direct-to-video releases called OVA (Original Video Animation) could cater to niche audiences like gamers, and Ninja Gaiden was one of the first titles to get that treatment. The OVA matches the essence of NES originals, but it also features the type of bloody ninja dismemberment fans came to love in the later Xbox reboot.
The uneven 50 minute adventure stars Ryu Hayabusa, and hes once more aggressively searching for Irene Lew, his C.I.A. contact/love interest that has a nasty habit of getting kidnapped. However, as exciting as it may be to see Ryu hacking up demons with his trademark Dragon Sword, almost as much screen time is blandly spent with forgotten Gaiden cast member Robert Sturgeon as he investigates Irenes disappearance. Its similarly perplexing that Ryu spends the entire OVA without his trademark mask, instead favoring a very un-ninja-like headband.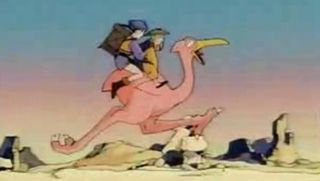 Final Fantasy: Legend of the Crystals (Released on VHS in 1994)
Youd think that Final Fantasy, after spending decades as one of the biggest franchises in Japan, would have more anime spin-offs. But there are surprisingly few. The only real FF anime tie-in, outside of some ancillary stuff related to indulgent CG film Advent Children, is Legend of the Crystals. Never heard of it? Thats likely because it bears little resemblance to the brand, even though its technically a direct sequel to Final Fantasy V.
Legend ditches the stars of FFV, and replaces them with a new cast that may fit archetypes like sword-wielding young men and spunky Summoner girls, but everything feels a bit off. For example, the above Chocobo from the cartoon looks like a plucked ostrich. And because the OVA is set hundreds of years after FFV, the only returning character is the ghost of the grandson of famous recurring NPC Cid. If the creators were going to make something so removed from the core games, they should have just made something original, like Final Fantasy: Spirits Within. Oh, wait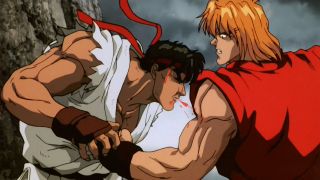 Street Fighter II: The Animated Movie (Theatrically released in 1994)
Street Fighter II was already a global phenomenon back in 1994, and publisher Capcom was quick to take advantage of that, beginning work on both live action and anime adaptations of SFII. Despite Jean-Claude Van Damme's involvement in the former, the animated version turned out much better, mostly thanks to the anime's choice to feature people fighting in the streets instead of tense hostage negotiations. The Animated Movie focuses on hard-hitting action and fanservice, and that commitment pays off in a number of memorable moments--and no, I'm not referring to Chun-Li's shower scene.
The fights are beautifully choreographed, with a good flow from move to move that many animes miss, simultaneous including many of the iconic attacks from the games. Chun-Li's brawl with Vega is arguably the best one in the film (especially when set to the KMFDM soundtrack), but pretty much all of the mainstays get at least a moment to shine in battle. And while later Street Fight animes really vary in quality, this film captures the fun of the games without overstaying its welcome.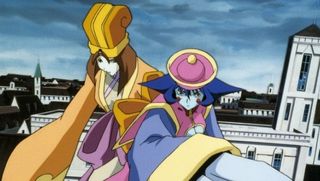 Night Warriors: Darkstalkers' Revenge (Released in 1997)
If you're one of those unfortunate enough to have watched the horrendous Darkstalkers cartoon that aired in the US, you have my sympathies. And I have even more pity for Darkstalkers fans whose only memory of animated Morrigan is from that show, because that means they missed the much better anime adaptation from the late 1990s. Made by a similar team as the Street Fighter II movie, the four episode direct-to-video series is a much truer recreation of the source material, right down to its devotion to the characters' surprisingly deep backstories.
There's also all the fanservice you'd expect from risque regulars like Morrigan and Felicia, but the series puts a similar amount of care into flashy fight scenes that dutifully recreate iconic moves for each fighter. It sticks fairly closely to the first game, so don't expect appearances from sequel favorites like B.B. Hood or Lilith. Hardcore Night Warriors followers should find some consolation in the anime's use of The Trouble Man, a campy, '80s-style rock song that's appeared in multiple series entries.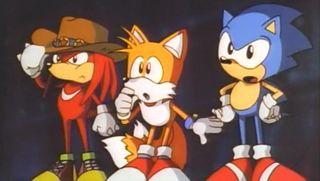 Sonic the Hedgehog: The Movie (Released in 1996)
Sonic has appeared in tons of cartoons, and a number of fans still believe the Blue Blur's animation remains Sonic CD's cutscenes. Fans of those brief interludes should be happy to know the cinematics served as the inspiration for this little-seen anime adaptation from 1996. The OVA is a very 16-bit interpretation of the character, which means high speed combat in a colorful world. If only the anime limited itself to just that...
Unfortunately, or every badass scene of Sonic racing Metal Sonic to the death, the uneven film has three more scenes of slapstick humor, anime cliches, and childish voice acting. Additionally, if you aren't a fan Sonic's recent relationships with human princesses, you'll really dislike Sara, the perpetually annoying daughter of the president that Eggman kidnaps in the film. It didn't help that by the time it hit America in 1999 when the OVA premiered in USA to coincide with the launch of Sonic Adventure. Still, it's easily more watchable than Sonic X.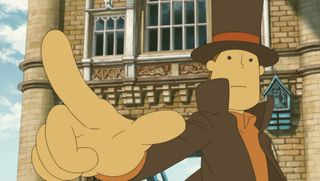 Professor Layton and the Eternal Diva (Theatrically released in 2009)
Many of these anime releases reinterpret or recreate the series they're based on for a new audience, but developer Level-5 chose to make an original animated film that's part of its overall game world. Professor Layton and the Eternal Diva is a major addition to the series' history, with events firmly set within the franchise's timeline, even getting referenced multiple times in later games. And given that the Layton titles have so many anime cutscenes, the full transition to film goes as smoothly as you'd expect.
Eternal Diva sees the prof. and his ward, Luke, investigate the bizarre disappearances of multiple opera singers. It all plays out like a typical Layton mystery, culminating with the pair solving the mystery and saving the day by using their gentlemanly wits. And to fully capture the Layton experience, the western localization features the same voice talent that is used for the video games. I'm glad I didn't have to groan at someone else saying, "That reminds me of a puzzle," in a gentle English accent.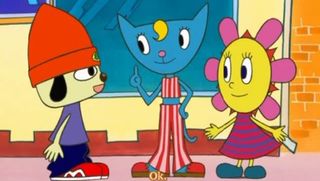 Parappa the Rapper (Aired on TV in 2001)
It is great to see Parappa the Rapper appear in PlayStation All-Star Battle Royale, especially because up to that point it seemed like Sony had abandoned the rhyming canine. However, while US fans spent more than a decade watching the once-ubiquitous hip hop dog fall into obscurity, Japanese players were enjoying him in a TV series that never officially came to the US.
Why was the 2001 anime passed over for localization? Perhaps that's due to the show being aimed at a much younger audience than the absurd games, even if the anime retains some of that lovable weirdness. Another possibility is that its mundane soundtrack couldn't compare to the unforgettably catchy songs in the PSOne original. If youre in desperate need of a Parappa fix, its worth looking up on YouTube, but dont blame me if you get bored halfway through the first episode.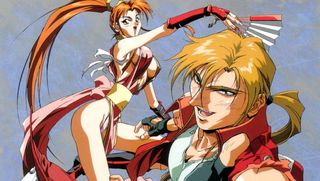 Fatal Fury (Theatrically released in 1994)
Back in the '90s, SNK's fighting games were battling against Capcom's for arcade dominance. So it makes sense that, once Street Fighter II got the theatrical anime treatment, rival series Fatal Fury would do the same. Both films have their strong points, but Fatal Fury is the clear winner in one category. SFII has some brief and regrettable fan service, but Fatal Fury spends almost as much time objectifying the women on the roster as it does in fights.
Most of the blame (credit?) should probably be given to director Masami Obari. Beyond great mech design, Obari's artistic trademark is expertly over-animating breast movements whenever the opportunity arises. He found a fitting muse in Fatal Fury's Mai Shiranui, never missing a chance to fill the screen with her heaving chest. The fight scenes in the film still hold up pretty well, but they would likely look even better had Obari given them as much attention as he gave Mai's shower scenes.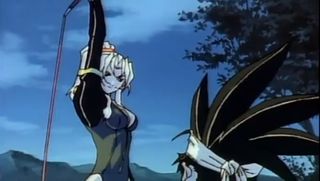 Battle Arena Toshinden (Released on VHS in 1996)
Fatal Fury still has a number of fans today, but Obari's next project is pretty much lost to history. Now known mostly as a footnote in PlayStation's early existence, Battle Arena Toshinden was once one of the hottest titles in gaming. After the early polygonal combat captivated players worldwide, an OVA seemed like the next logical step. Sadly, the series would be nearly dead by the time it came to America.
The direct-to-video film picked up right after the finale of the first game. Technically it told the story of male lead Eiji battling a shadowy organization and searching for his missing brother, but Obari is much more interested in animating femme fatale Sophia. As you can guess, her scenes were nearly as crude as the graphics in the now-ugly games.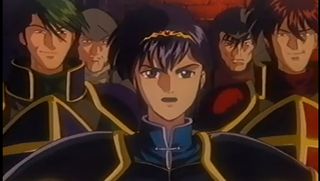 Fire Emblem (Released on VHS in 1996)
Before Smash Bros players embraced Marth and Roy, Fire Emblem was loved in Japan and virtually unknown in the US. Back when the series was still plugged into Super Famicoms all over the island nation, popular animation studio KSS chose to adapt the first game and its direct sequel into an OVA series. Only two episodes were made before it abruptly ended, but its still an intriguing intro to Marth and his friends.
Players of Fire Emblem: Shadow Dragon will recognize characters like Shiida and Ogma, but the show stops before viewers could see Marth and company battle anything tougher than a pack of bandits. Even with such an ignoble end, the series does have an interesting legacy. First, both episodes were briefly available in the US about four years before America was formally introduced to Fire Emblem via Smash. Furthermore, Marths Japanese voice actor reprises his role in Smash Bros., meaning Nintendo of Japan at least remembers this anime exists.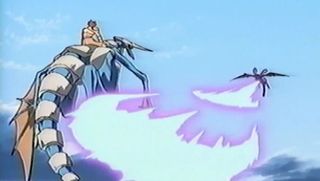 Panzer Dragoon (Released on VHS in 1996)
Not many Sega series got the anime treatment, and of the few that did, one of the strangest adaptations has to be Panzer Dragoon. The OVA somehow crams the entire story of the first Saturn game into less than 30 minutes of animation. Protagonist Kyle is quickly introduced, and in no time flat hes riding Blau, the blue dragon, as theyre both hunting down the black dragon that kidnapped Kyles lady friend.
What makes this adaptation so weird, outside of the incredibly truncated runtime? Much of the traditional animation is supplanted with incredibly dated 3D animation. The CG art might have impressed some at the time, but today it looks like something even a toddler could outdo on their parents' iPad. For as much as it offends the eyes, it still might be worth viewing it as a piece of pop culture archeology. Hopefully you can use it to gauge how little it took to impress the cavemen of the ancient era of 1996.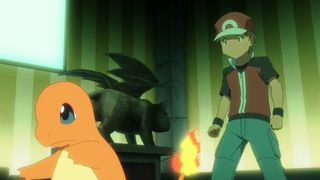 Pokemon Origins (Released in 2013)
Are you a Pokemon purist that fondly remembers the anime from your youth, but now find the show way too cutesy and cliched? Do you wish the pocket monsters would regain the kind of edge you recall Red/Blue had before Pikachu dominated the series? And would you prefer to commit to just four episode instead of 500-plus? Then Pokemon Origins is the lesser known gem you've been looking for.
Released during the lead up to Pokemon X and Y, Origins takes things back to the original Red/Blue dynamic, sticking pretty closely to those games' plot. You watch Red and his Charizard working their way through gym leaders, filling out his Pokedex, battling his rival, and ultimately becoming champion. It's much more straight-laced than the main anime series, including more hard-hitting Pokemon battles and fewer Team Rocket shenanigans. Think of it as the Pokemon equivalent for Batman Begins, only with Squirtle in the place of Liam Neeson.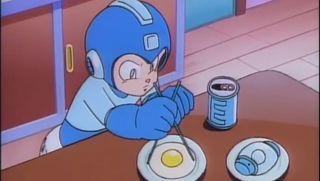 Mega Man: Once Upon a Star (Created in 1993)
Mega Mans first animated appearance was in the Saturday morning toon Captain N, and as infamous as that is, his anime premiere was even more unique. Spread over three episodes, the series is one part reenactment of Mega Man 5 and one part edutainment introduction to Japan. While Dr. Wily runs amok in Tokyo after somehow escaping a boys paused Famicom game, the Blue Bomber and his friends chase the mad scientist into the real world.
Despite a flashy opening that recreates boss battles from MM5, the majority of each well-intentioned-but-boring episode shows schoolchildren teaching Mega Man about Tokyos public transit, chopsticks, and Mt. Fuji. That's because the financing came as part of a education initiative. Every once in a while Mega will battle a robot master, but even that results in a weirdly instructive scene of Wily building huge androids based on Japans national landmarks. Ill give Once Upon a Star credit for having accurate character designs, but it exists for elementary school teachers in need of filling class time, not gamers.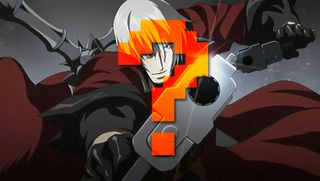 Closing the vault
Surprised at the deep history of games and anime coming together? Ready to search out these toons on eBay and YouTube? Or do you know any other obscurities worth mentioning? Let us know in the comments!
And if you're looking for more anime fun, check out Studio Ghibli films reimagined as video games and our list of the best anime games.