Welcome to the world of tomorrow!
Cinema has been reaching for the stars since its birth. In 1902 Georges Melies took us on A Trip To The Moon (one of the first documented sci-fi films) and we've been in love with the great beyond ever since. While some genres have blossomed and faded with time, sci-fi has always retained a strong presence on the big screen.
So, choosing the 50 best sci-fi movies is a bit of a challenge. Nonetheless, after several sleepless nights and a bit of time-travelling to squeeze in some extra hours, here we are. So strap in, and get ready for an epic journey. Just make sure you check the air vents for any 'unwelcome passengers'. You have air vents where you are, right? Oh.
50. Looper (2012)
Time travel is outlawed in the future, but criminal gangs still use it to send people back in time to be assassinated when they want to make them disappear. Looper Joe (Joseph Gordon Levitt) is one such assassin, but hesitates when his future-self (Bruce Willis) is sent back to him to be killed. It's a great action flick and a novel take on time-travel, even if Joseph Gordon-Levitt growing up to look like Bruce Willis is highly improbable.
49. Interstellar (2014)
A devastating crop blight has taken out almost all of the food on earth, leaving its people starving and on the brink of collapse. With no way of stopping it the only option is to look for a hospitable planet on the other side of a wormhole near Saturn. Cue pilot Joe Cooper (Matthew McConaughey) and his crew as they venture forth to mess with time relativity conundrums and tussle with Matt Damon being Matt Damon. While the ending is a bit of a cop out, the journey is fantastic. Watching the time jumps between Earth and how that affects the spaceships crew on a personal level is touching stuff.
48. Star Trek (2009)
After a quiet period of nothing Trek-related at all, seeing the iconic series return to screens as a big film was a joy. Retelling the story of how Kirk and Spock first met, this reboot felt like it changed enough to feel completely fresh and modern while still paying homage to its origins to appease its fans. Previously un-Enterprising audiences were mind-melded with plenty of heart from a warp factor 9 cast, though the sequel didn't hit quite as many high notes.
47. Independence Day (1996)
Roland Emmerich pulls off this apocalyptic character ensemble by disguising it as an action-packed blockbuster. Sure, it's rife with cheesy speeches and some unrealistic clinches (Boomer really managed to make that jump?) but it somehow works. Take away all the wanton destruction from this alien invasion, and boiled down you have a hi-tech 50s creature feature, exhilaratingly retooled with gung-ho patriotism and cocksure swagger. And soon the aliens (and Jeff Goldblum) will be returning in a post-invasion sequel, to presumably finish what Randy Quaid started.
46. Gravity (2013)
When you've got a cracking idea for a claustrophobic space-set tale but not the technology to accomplish it, what do you do? Simple. Develop it in cahoots with one of the world's leading VFX houses. That's precisely what drove Alfonso Cuaron to make his dreams of a complex character study - on a ruined, crumbling space station no less - a reality. Sandra Bullock earned an Oscar for her efforts as Ryan Stone, a medical engineer left alone after her first shuttle mission goes disastrously wrong. It's a visual splendor and manages to make the wide expanse of space seem rather small indeed.
45. Godzilla (1954)
The original outing for Japan's beloved city destroyer is still heralded by many as the best in the long-running franchise. OK, so it would've been obvious even in the 50s that Gojira is just a man in a rubber suit. However, it's the way that suit moves, plus the straight-from-hell roar that spews from the monster's mouth and the terrifying destruction it wreaks, that make this the greatest creature feature of the decade.
44. Serenity (2005)
When space-faring TV series Firefly was left hanging thousands of fans were left disappointed. This feature-length outing tries to wrap up what Firefly left behind, reuniting with the cast and taking them on one last adventure. Picking up after the events of the last episode, Captain Reynolds and his crew face off against The Reavers once again. Joss Whedon's witty dialogue is a joy, and his Serenity is anything but serene: it's a whole lot of butt-kickin' fun.
43. Mad Max:Fury Road (2015)
The future wasteland of Australia returned this year with Tom Hardy taking on the role of Max instead of Mel Gibson. The make-do (and often unnecessarily violent) assembly of the worlds leftover tech in order to survive helps bring this bleak world to life. Even though the wasteland itself is oppressively miserable, a stand out performance from Charlize Theron as Imperator Furiosa and some touching, human moments make this a must watch.
42. THX 1138 (1971)
Uncompromising and singular, THX 1138 is the cerebral yin to Star Wars' popular yang. If those prequels made you question George Lucas' directorial chops, here's the movie (and his first ever as director) to set you straight. It's set in a world where the population has to take mandatory mind-altering drugs to keep them compliant and productive. Through Robert Duvall and Maggie McOmie's characters, eager to actually experience life, the film delves into what happens when people try to break away from that regime. Equilibrium and the upcoming Equals both owe a debt to Lucas' story.
41. Tron (1982)
Uploading from the brains of futurist visionaries Syd Mead and Jean Moebius Giraud, director Steven Lisberger broke the mould with experimental videogame sci-fier Tron. Initially planned as a fully animated movie, changes were made and Jeff Bridges wound up taking the lead role of software engineer Kevin Flynn. As the first live-action film to use more than 20 minutes of full 3D graphics it was considered a groundbreaking achievement at the time. It was also refused an Oscar nomination because voters felt the film 'cheated' by using CGI.
40. The Martian (2015)
Arriving in theaters at a time when space-set thrillers were hitting screens thick and fast, Ridley Scott managed to avoid comparisons to Interstellar and Gravity. By remaining loyal to the humor in Andy Weir's source novel, the movie ends up striking that fine line between tragedy and comedy as Matt Damon's astronaut Mark Watney finds himself stranded on Mars. It's Damon's performance that drives home the dire straits that Watney's in, delivering a killer turn mostly solo, full of wit, insight and darned impressive science.
39. Moon (2009)
Duncan Jones' debut came out of an indie wormhole to deliver a beguiling slice of lunar-cy. It's a stunning performance from Sam Rockwell that makes this such an effective piece on isolation - and the sheer strength that people go to even in their darkest hour. Rockwell plays astronaut Sam Bell, a man tasked with running a mining station on the moon by himself. But as he nears the end of his 3-year contract he soon starts to learn that not everything is quite as it seems. Jones packs in one hell of a twist in the last act.
38. Total Recall (1990)
Using the Philip K Dick short story We Can Remember It For You Wholesale as a springboard, Paul Verhoeven gave us an actioner with balls, blood and brains. Douglas Quaid (played by Arnold Schwarzenegger) dreams of a journey to mars so to make sense of it all he takes a memory implantation 'holiday' but something goes wrong and he discovers that he's actually a secret agent. What follows is an adventure filled with plenty of fisticuffs, an encounter with a triple-breasted woman, and an eye-bulging finish. Or does it?!
37. Predestination (2014)
This cracking sci-fi headscratcher flew under the radar at time of release, yet is deserving of a much wider fanbase. From Michael and Peter Spierig, the two directors behind the so-so vampire flick Daybreakers, comes this ambitious adaptation of Robert Heinlein's story All You Zombies. It stars Ethan Hawke as a temporal agent and Sarah Snook as... you know, I'm going to leave it there. To be truly awed by the frankly batshit machinations that Predestination offers, it needs to be seen by audiences who have little to no idea of the plot. Oh okay, here's one hint: grandfather paradox. That's it.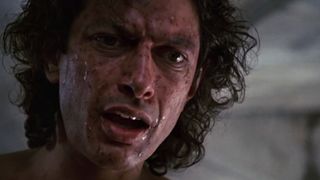 36. The Fly (1986)
This classic works as a metaphor for AIDS, cancer and the ageing process, but manages to lessen the brunt of its social commentary through some seriously dark humor. Jeff Goldblum's inventor Seth Brundle decides the best time to do a test run on his teleportation device is under the influence, causing him to become accidentally spliced with a common housefly - on a genetic level. "Brundlefly's delight in his new-found strength soon makes way for horror toward his body's disintegration. Truly barmy stuff from body horror auteur David Cronenberg.
35. Akira (1988)
Katsuhiro Otomo's cyberpunk mind-blower is also a unique cosmic parable about growing pains. This seminal anime takes place in a futuristic Neo-Tokyo where gangs fight on the streets and rage against the regimes of the government. It's the result of one secret government project that brings about terrifyingly brutal consequences for the entire city, as the psychic powers of biker gang member Tetsuo Shima become heightened. It's not long until the rest of his teenage allies uncover the truth behind his frightening abilities.
34. Starship Troopers (1997)
Paul Verhoeven's space soap-opera remains as gung-ho and ridiculous today as it was twenty years back. Led by Casper Van Dien's muscled brute Rico, high school kids are encouraged to join the military to fight giant insects from space. Sounds like a perfect family watch, right? Not really. The film is shockingly violent and subversive. But it's also really exciting and funny at the same time, like Verhoeven's ridiculing the entire thing before you get a chance to.
33. District 9 (2009)
Neill Blomkamp's killer debut takes place thirty years in the past. After an alien ship breaks down just above earth, the new species that emerges from inside it is forced to live in a ghetto where they're frequently exploited by humans. When the government tries to forcibly evict them, operative Wikus van der Merwe (Blomkamp regular Sharlto Copley) is exposed to a biochemical that slowly changes him into one of the extraterrestrial 'prawns'. The shaky realism of the camerawork only adds to the film's considerable wallop.
32. Solaris (1972)
Adapting Stanislaw Lem's classic sci-fi tome, Russian director Andrei Tarkovsky removes all the typical tropes of the sci-fi genre to tell a more straight-laced tale of love and longing in the remotes of space. A grieving psychologist is sent to a space station orbiting the planet Solaris to find out why the scientific mission has stalled, but finds far more than he bargained for. The space exploration here mirrors humanity's search for itself, and has the psychological heft and haunting power of Vertigo.
31. The Day The Earth Stood Still (1951)
Robert Wise's black and white classic still packs an emotional punch thanks to its underplayed religious allegories and its tense alien landing sequence. Things on Earth take a swift turn when an alien named Klaatu arrives with a message for world leaders. If the citizens of Earth can't prove that they can live in peace then they and the planet will be destroyed as a danger to other planets. There was a remake starring Keanu Reeves, but it didn't quite have the same impact as the original.
30. Brazil (1985)
Set in a futuristic society that is overly bureaucratic and convoluted, Jonathan Pryce (aka Game of Thrones' High Sparrow) plays technocrat Sam Lowry. A mere cog in the government's machine, his decides to act on his dreams of rescuing a damsel in distress, that sets in motion a whole series of bizarre events. Terry Gilliam isn't typically known for making movies that have clean cut themes and obvious heroes and villains, and Brazil is no different. Basically it's Frank Capra meets Franz Kafka.
29. Predator (1987)
Arnold at his sweaty, muscled best, fighting an unseen and remarkably deadly opponent. The alien Predator is the perfect killer that its name implies, and the taut game of cat-and-mouse that plays out between it and Arnie's special forces team is perfectly paced. Amidst so many films where aliens are very much in our faces with lasers blasting, the stealth of Predator was an exciting departure. Plus, bonus appearance by former pro wrestler and Governor of Minnesota, Jesse Ventura!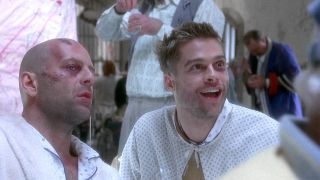 28. Twelve Monkeys (1995)
A twisty tale of time travel brought to you by the extraordinary Terry Gilliam. A deadly virus wipes out most of humanity, but a desperate mission sends a man, Cole, back in time to gather information. If he can figure out how the plague started in the past, perhaps it can be cured in the future. Ah, if only things were that simple. Gilliam's lush artistic vision and Brad Pitt's geniusly twitchy turn as Jeffrey Goines make this an absolute must-see.
27. Mad Max 2 (1981)
The first Mad Max was about grief and revenge, brutal but also poignant in places. The sequel, also referred to as The Road Warrior, is a bit more...direct. The bad guys want the gas the good guys have and are willing to kill to get it. Max offers to help the good guys get away from the bad guys. Cue the car chases and violence that have since become a trademark of Max's treks through the wasteland. Watch it to see the larval form of Fury Road.
26. Metropolis (1927)
The workers toil below while the idle rich enjoy luxury high above - yep, we know the drill. But as one of the very first feature-length science-fiction films, Metropolis remains highly influential and relevant. Its art deco vision of the future and special effects are still quite impressive, as is its iconic robot design. For extra kicks, see if you can track down the 1984 Giorgio Moroder rerelease with a pop music soundtrack.
25. A Clockwork Orange (1971)
Stanley Kubrick knew a thing or two about creating visuals that would last a lifetime, and many of the images in A Clockwork Orange are simply unforgettable. Alex and his droogs in the milk bar. Ultra-violence carried out during an enthusiastic rendition of "Singin' in the Rain." Alex's wide-eyed rehabilitation. The film's commentary on crime and punishment can be difficult to watch... which is kind of the whole point.
24. Minority Report (2002)
In the future, murders are prevented before they can occur thanks to "Precogs," mutants who see visions of things to come. This becomes a bit awkward for the head of the PreCrime division when he's pegged as a murderer-to-be. Given that he doesn't even know the man he's supposedly about to kill, the cop, played by Tom Cruise, goes on the run to clear his name. Minority Report is particularly notable for the realism of its futurescape, which includes, among other things, the multi-touch technology that's now on your smartphone.
23. RoboCop (1987)
A wicked satire of the greed, corporatization, and corruption that plagued the 80s (though admittedly not a lot has really changed on that front), RoboCop is also shockingly violent. The scene that starts Alex Murphy on his path to becoming the first cyborg police officer is sure to make you squirm, though perhaps not as much as the realization that a lot of what happens in the movie is disturbingly plausible.
22. Eternal Sunshine Of The Spotless Mind (2004)
Science fiction typically falls into one of two camps: slickly polished and gleaming or dystopian and grimy. Eternal Sunshine falls squarely in between, into the realm of the everyday and affordable. After breaking up with his girlfriend Clementine, Joel hires a rather ramshackle firm to scrub all memories of her from his mind. Much of the movie takes place in those memories, as we see Joel revisit personal moments before they disappear. Eternal Sunshine is the best kind of science fiction, taking us to places that don't exist, but that we recognize just the same.
21. Invasion Of The Body Snatchers (1978)
An alien race abandon their dying world and head for earth where they duplicate and replace humans in their sleep. As people start to notice something is amiss with their loved ones they soon discover that there's little chance for escape as they too will become pod people. Crisp, pacy direction and intelligent scripting turn Jack Finney's taut novel into a low-budget masterpiece and a fantastic remake.
20. WALL-E (2008)
In the distant future Earth has become so covered in garbage that mankind has fled it to live in spaceships where they live completely sedentary lives and have all of their whims taken care of by robots. Rubbish-collecting robot WALLE is completely alone, that is until the sleek EVE turns up on a reconnaissance mission to see if Earth is hospitable for life once more. Despite very minimal dialogue throughout the film, Pixar conveys love and affection that's so powerful that you forget it's a cartoon.
19. Jurassic Park (1993)
Messing with Dinosaur DNA and hiring incompetent IT staff was never going to end well, but at least it makes for a cracking movie. Steven Spielberg's original trek back through time is one that has been beloved by fans for decades since and has spawned several sequels, though none compare to the original. Through a mix of large, intricate puppets and ground-breaking cgi (at the time) mean the special effects feel like they haven't aged at all. You'll still be quivering when that T-rex lets loose her almighty maiden roar.
18. Planet Of The Apes (1968)
Released in 1968, the year America exploded, this lean thriller is much more than a tale of apes taking command of our beloved planet. Okay, well it is that, but scratch beneath the surface and there's loads of big hot-button topics - civil rights, racism, evolution - hidden within its B-movie stylings. Most of its praise is down to Charlton Heston's performance along with those Oscar-winning monkey masks, turning this into a peerless example of "What If?" sci-fi.
17. The Thing (1982)
From the opening lurch of Ennio Morricone's ominous score, it's obvious that things aren't exactly rosy at this science outpost deep in the Antarctic. When a helicopter of Norwegians shooting at a dog appears shortly after, it's clear that something very bad is about to happen to Kurt Russell's crew, whose research is disrupted by the arrival of a creature that imitates its host. After killing it, of course. A heady mix of paranoia and suspense, it's one of John Carpenter's most chilling films that stands up still today due to the stellar effects work by Rob Bottin and his crew, that landed the movie its only Academy Award.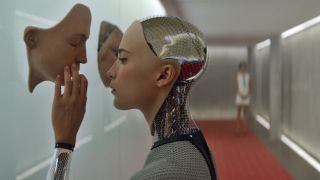 16. Ex Machina (2015)
The strength behind Ex Machina's 'man makes human robot' story isn't the sci-fi trappings behind the conceit, because that's relatively staid and downplayed. Instead it's more of a character-led thriller that builds on a lingering sense of uncertainty. Its small cast - creator, robot and guest - keep things tense and claustrophobic with strong performances from all, as you try to guess what's coming next. It's not so much a film with a twist as a situation that's hard to read; keeping you squirming as you try to second guess which way it's going to break.
15. Terminator 2: Judgment Day (1991)
Returning for a second round, Arnold Schwarzenegger reprises the role of the Terminator with a twist; instead of hunting her down on Skynet's orders, he helps protect Sarah Connor and her son John who happens to be the leader of the future resistance against Skynet. The big bad this time arrives, as before, from the future in the shape of Robert Patrick's sinister T-1000. Unlike the T-800 he's a more advanced terminator model with the ability to shape-shift. The film's state-of-the-art CGI retooled the VFX industry and left audiences picking their jaws off the floor. Worthy of a slightly molten thumbs up.
14. Close Encounters Of The Third Kind (1977)
An average working man played by Richard Dreyfuss becomes obsessed with UFOs after one appears right over his truck. As strange occurrences follow shortly thereafter - such as power outages and planes reappearing after 30 years - his behaviour becomes more erratic. As is later revealed, something more is at work here and the answer is in five musical notes. Spielberg's hymn to cinematic awe transforms us all into young Roy Nearys, slack-jawed and wonder-struck by the infinite possibilities of the universe.
13. Donnie Darko (2001)
A troubled teen has visions of a giant bunny called Frank who tells him the world is going to end in 28 days. Frank draws Donnie away from his bedroom the night a jet engine crashes into it so he is unharmed, but he doesn't always have Donnie's best interests at heart. Is Frank just a hallucination or is there something more to it? It's a tantalising Mobius-strip of a movie that spins off questions and never stops for answers.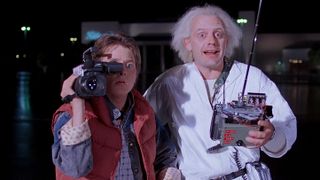 12. Back To The Future (1985)
The most famous tale of time-travel in film history, Back to the Future remains a classic to this day. After accidentally being sent back in time time to the 1950s, Marty McFly (Michael J Fox) must make sure his parents fall in love so that he can still exist in the future and help mad scientist Doc Brown (Christopher Lloyd)... so he can send him back to the 1950s. Okay, there's some time loop stuff going on that's always the case when temporal logic enters into things, but who cares? With iconic quotable moments galore, this is a fun ride from start to finish.
11. Avatar (2009)
Visually spectacular and one of the few actually really good uses of 3D, Avatar dazzles with its vibrant jungle planet and ambitious mo-capped performances. Despite the liberal use of cgi, the gigantic blue cat-like aliens with their ability to tame the local wildlife via psychic links, feel surprisingly real. Though the humans who want to destroy a giant tree to mine what's beneath feel like pantomime villains rather than real people. James Cameron knows what he's doing; the movie is the biggest grossing of all time and currently has several sequels in development.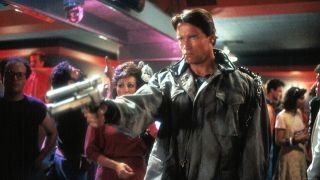 10. The Terminator (1984)
Sometime after he directed Pirahna Part II: The Spawning, James Cameron awoke one night from a terrible nightmare where he saw a metal torso rise up from the debris of an explosion. That delightful visual stayed with him, serving as inspiration for The Terminator. His full debut is the perfect sci-fi thriller: glinting black wit, fatalist tech-noir visuals, phenomenally visceral action. While its sequel splurged on expensive set pieces, the first film is more concerned with the horror and suspense of being pursued by an unstoppable killer. It also marks the birth place for Arnold Schwarzenegger's most iconic role as the Terminator himself.
9. The Matrix (1999)
Is real life really real life? Turns out it's not in The Matrix and we're all plugged into a simulation of what Earth once was so that robots can harvest us for electrical energy. Lovely. But once you know that? The world, sorry The Matrix, is your oyster. At least that's the case for Keanu Reeves' Neo who chooses to learn the truth about the machines and his own fate as The One. This makes it easier for him to manipulate the matrix and bend it to his will. It makes for some impressive slow-motion bullet fights.
8. Inception (2010)
This film takes the idea of being able to control your actions in lucid dreams and runs with it in some stunningly inventive ways. Dom Cobb (Leonardo Dicaprio) is a thief usually charged with stealing secrets from people by navigating their dreams, but is tasked with something much bigger - actually implanting an idea within someone else's head. To do so they must plant a dream within a dream within a dream, a feat that's incredibly difficult to pull off. It's a colossal concept played out on a multi-layered mental battlefield homaging the best Hollywood blockbusters.
7. Aliens (1986)
What's scarier than one Alien? A million of the slobbering, acid-for-blood xenomorphs, slowly picking off a mining colony that's what. Ripley returns, albeit reluctantly, as she aids a group of space marines to establish what happened to the citizens of a colony on LV-426 after all communication is lost. That planetoid happens to be the very same one from the first movie, so it's no surprise that Ripley's a bit reticent to join the mission. It's an incredibly tense sequel, packed with some of James Cameron's best action sequences and finest characterizations.
6. E.T.: The Extra-Terrestrial (1982)
A small alien gets left behind on Earth after his ship is chased away by a human force, but he soon makes friends with 10-year-old Elliot and his siblings. He gets homesick however and works on a way to build a device to get himself home. The connection they share has some incredibly heartfelt moments and Spielberg's touch has never, ever been more magical than in this wondrous family drama.
5. Star Wars: Episode IV - A New Hope (1977)
Where the Star Wars phenomenon all started and a lifelong love of sci-fi movies began for so many fans across the world. The first film introduces (let's agree to ignore the prequels, yes?) you to Luke, Han and Leia as they band together and destroy Darth Vader's death star with the help of a cast of alien and human characters from across the galaxy. It makes for an incredible adventure, and one that has finally returned once more with last year's The Force Awakens.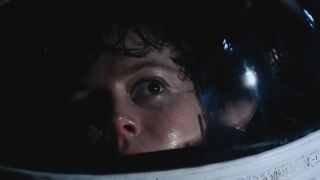 4. Alien (1979)
The very first Alien movie is a much quieter, suspense-filled affair than its sequel, but established the xenomorph as one of cinema's most iconic and terrifying creatures. Sigourney Weaver's Ripley makes for a fantastic hero as the creature sneaks aboard in the most gruesome way imaginable, and then systematically kills off the crew. As they try to formulate a plan to get rid of the damn thing they discover a traitor in their midst. Often copied, never bettered, Ridley Scott's Alien: Covenant has a lot to live up to.
3. 2001: A Space Odyssey (1968)
2001 made a giant leap for cinema a full year before TV viewers watched Neil Armstrong take one small step for mankind. Adapting a short story by Arthur C. Clarke, Stanley Kubrick delivers one of the most iconic and influential sci-fi movies of all time, breaking down the barriers between lofty, cerebral sci-fi and more accessible mainstream fare. It feels incredibly modern today despite its age, thanks to its incredible cinematography and man vs. machine themes.
2. Star Wars: Episode V - The Empire Strikes Back (1980)
Alright, let's not beat about the bush. Empire is the best of the Star Wars films that finds our intrepid trio Luke, Han and Leia returning to fight the empire, while revealing some unexpected twists along the way. It sets the bar for all Star Wars films to beat with none yet to surpass it. It's not just the big moments that have a lasting impact, either. Human touches, grace notes, tiny details: Empire's attention to them keeps its expanding universe concrete.
1. Blade Runner (1982)
It's not just a star of the sci-fi genre, Blade Runner is one of the best films of all time. Starring Harrison Ford as Deckard - a "Blade Runner" assigned to find and assassinate 'replicants' who are androids that look like real human beings. When four go rogue and commit a murder, Deckard is called out of retirement to track them down. Ridley Scott's immersive visuals, Vangelis' melancholic electro-score and the haunting performances fuse together perfectly. Once seen and heard, so many scenes just burn into your brain forever.