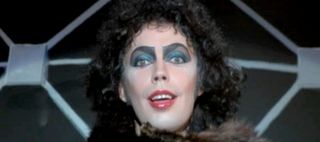 Frank-N-Furter
The Sexy: Frank-N-Furter (in The Rocky Horror Picture Show , of course) knows what's sexy, and is most certainly not afraid to flash the flesh. Sporting any number of revealing outfits, the fishnet stockings and platforms are the most impressive. And, of course, he/it knows how to put on a good show…

If It Was Frumpy: He'd use his feather boas to do the dusting.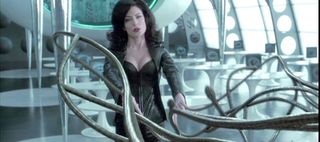 Serleena
The Sexy: When she's not shooting out great big alien tentacle things (in Men In Black II ), Serleena knows how to sex it up – quite literally where that push-up bra is concerned. And, actually, we quite like the big alien tentacle things…

If It Was Frumpy: She'd be able to take off that wig.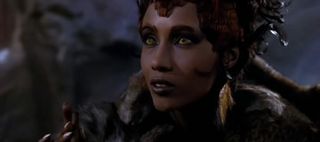 Martia
The Sexy: Trapped on a frozen asteroid is probably the best place for Martia – her mesmerising eyes and perfect skin make her competition for all the other lasses in the universe. We're sure there would be plenty of volunteers to share in Martia's isolation, though…

If It Was Frumpy: Her isolation would lead to her letting herself go rather dramatically...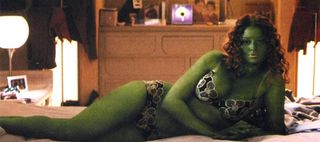 Green Girl
The Sexy: She may be a sly throwback to the sexy Orion Slave Girl first glimpsed back in Star Trek: The Original Series , but this gorgeous green beauty (in JJ Abrams' Star Trek ) is definitely a knock-out. If Kirk likes her, we like her.

If It Was Frumpy: She'd be neon pink, blonde and love kittens.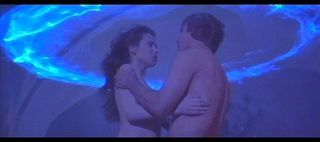 Female Vampire
The Sexy: Vampires are sexy, we have Gary Oldman as proof of that. But space vampires? Off the chart. That's what this clothes-shedding lovely from B-flick Lifeforce is. She just loves embracing the sexy by joining, er, 'lifeforces' with Earth men. Yeah, lifeforces…

If It Was Frumpy: Joining lifeforces would actually mean doing a puzzle together.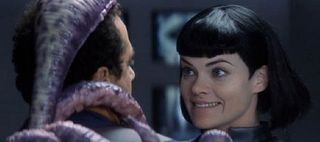 Laliari
The Sexy: Not just sexy (that 'do is all kinds of Pulp Fiction chic), but sweet as well. Laliari falls in love with Fred in Galaxy Quest , despite the fact that he's a completely different species. Love really does know no bounds. Ahhh.

If It Was Frumpy: She'd woo Fred by donning a pinny and banishing herself to the kitchen.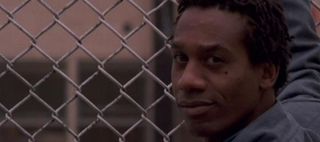 The Brother
The Sexy: Foot fetishists, your prayers have been answered – here's an alien (Joe Morton in Brother From Another Planet ) with the most gorgeous feet you ever did see. Each one only has three big toes, making this guy a sexy and decidedly rare specimen…

If It Was Frumpy: His toes would be poking through holy brown socks.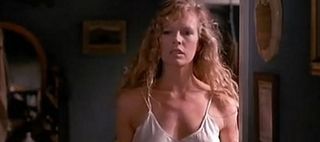 Celeste Martin
The Sexy: Celeste's sex appeal was pretty much cemented the second Kim Basinger was cast in My Stepmother Is An Alien . Cue luscious blonde locks, 'don't you just hate to love me?' glares, and lots of walking around in silky, nipple-revealing nightclothes.

If It Was Frumpy: She'd wear granny pants and a night cap.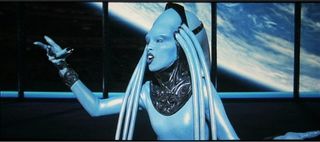 Blue Girl
The Sexy: Any woman who can use her pipes like this off-planet wonder in The Fifth Element gets our vote. Alright, so she's not so much a woman as a big blue space-lady, but there's just something about that voice.

If It Was Frumpy: She'd look more like Susan Boyle.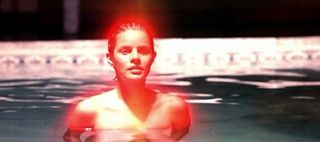 Kitty
The Sexy: When it comes to choosing a human shell to house your alien innards, you can do worse than Kitty (Tahnee Welch in Cocoon ). Emerging from the pool all glowy and gorgeous, she's sort of like a starry-eyed Bond girl – fitting seeing as the actress' ma is Raquel Welch…

If It Was Frumpy: She'd be emerging from the bath in one of those Stanna hoists.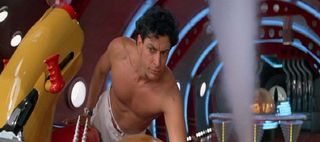 Mac
The Sexy: After having shed his furry blue alien coat in Earth Girls Are Easy , Mac turns out to be a rather fetching fella – a tall hunk with 'take me' eyes. In fact, he's so sexy that Earth girl Valerie dumps her boyfriend and jumps into his spaceship for a little intergalactic sightseeing…

If It Was Frumpy: He'd have looked like a plucked chicken after shedding the blue fur.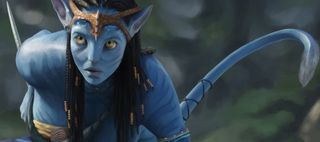 Neytiri
The Sexy: Another blue alien lady, but Avatar 's Neytiri is something special. A Na'Vi from the planet Pandora, she's a lithe, powerful creature who can hold her own in a fight - and has a soft side when it comes to nature. Doesn't hurt that she barely wears anything either, does it?

If It Was Frumpy: She'd sit boiling rice, waiting for the male Na'Vi to bring back meat for the cookin'.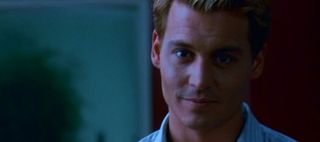 Spencer Armacost
The Sexy: Johnny Depp is pretty much sex on legs already, but in The Astronaut's Wife , he jets off into space and returns, well, even sexier than ever. How sexy? So sexy that his saucy clinches with Charlize Theron are responsible for blowing up at least two of our tellies. No kidding.

If It Was Frumpy: He'd come back an old man with no, er, 'get up and go' left.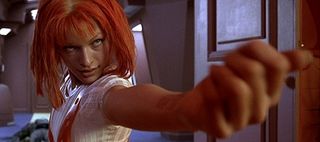 Leeloo
The Sexy: She's a redhead for a start. But there's also that revealing outfit, which isn't an oufit at all, more like a series of miniscule strips of cloth that barely hide her modesty.

If It Was Frumpy: She'd look more like Bruce Willis.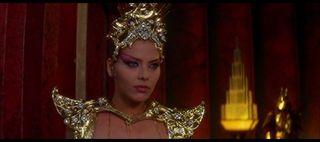 Princess Aura
The Sexy: Aura is one saucy babe. Seducing the titular hero in Flash Gordon , she almost makes him crash a spaceship by drawing him in with promises of very naughty behaviour. Surely there's an intergalactic law against humping and driving a spaceship?

If It Was Frumpy: She'd have massive Pat Butcher earrings.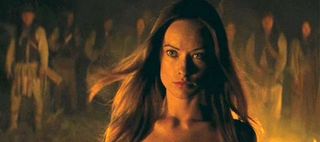 Ella
The Sexy: This gal's on fire. Literally. Though she poses as a meek Western broad in Cowboys & Aliens , Ella is actually a galaxy-roaming ET. When she dies at the hands of an alien attack, she comes back to life Phoenix-like when her body is cremated in a bonfire, emerging naked from the flames. It's getting hot in here…

If It Was Frumpy: She'd just be a regular cowgirl. Meh.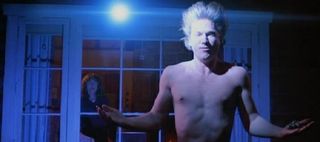 Starman
The Sexy: We like a man who's good with his hands, and Starman 's Scott Hayden most definitely is – he can bring dead things back to life, for crying out loud. Also, he looks good when he takes his shirt off.

If It Was Frumpy: He'd be called Stargrandad.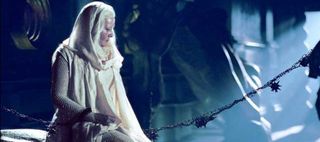 Aereon
The Sexy: Clearly in the latter years of her life, but in no way having lost any of her sex appeal, Riddick 's Aereon most definitely falls into the category of GILF. Or should that be AILF?

If It Was Frumpy: She'd look more like Judi Dench circa Iris .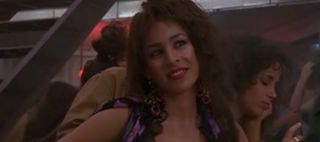 Mary
The Sexy: Um, yeah, she has three boobs. Which is surely every sci-fi geek's idea of heaven. If only we had three hands…

If It Was Frumpy: She'd have six breasts like that bit in the first Scary Movie when Anna Faris unnecessarily reveals herself.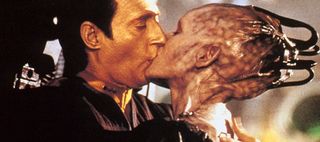 Borg Queen
The Sexy: The mechanical, wiry menace of Star Trek: First Contact isn't exactly the most beautiful of aliens, but she sure knows how to press our buttons. Her steamy encounter with Data is proof enough that she knows how to deliver a saucy pick-up line.

If It Was Frumpy: She'd be constantly short circuiting.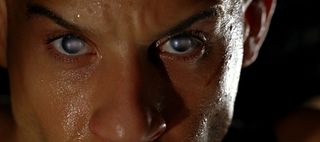 Riddick
The Sexy: Most probably the muscliest alien you'd ever have the pleasure of bumping into on a journey through the stars, Riddick may be a murderous escaped convict, but that's all part of his charm. And he has those eyes, of course…

If It Was Frumpy: He'd be a fat ex-con with names like 'Barbie' tattooed on his arms.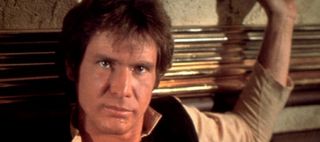 Han Solo
The Sexy: He's the ultimate bad boy. Tell him you love him. He doesn't say it back. And yet you just can't resist him – maybe it's the wheels.

If It Was Frumpy: It'd be an in-his-senior-years Indiana Jones.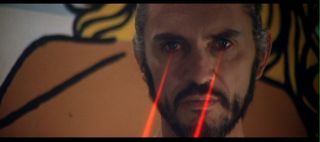 General Zod
The Sexy: So hot that he can shoot lasers from his eyes. We like a man in power, and something tells us that General Zod is seriously kinky in the bedroom – nobody who wears clothes that flamboyant isn't.

If It Was Frumpy: He'd shoot petals from his eyes instead.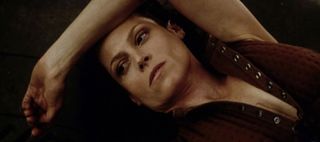 Ripley 8
The Sexy: Centuries after Ellen Ripley perished on Fiorina 161, she's brought back to life thanks to a little genetic cloning. Annoyingly, she's come back as a human-alien hybrid, because she died with the Alien Queen still inside her (or something). Still, this spunky new Ripley is sexier than ever – just watch her swish that basketball.

If It Was Frumpy: She'd have been a human-bunny rabbit hybrid, and gnawed on carrots all day.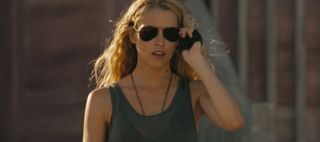 Number 6
The Sexy: So awesome that she doesn't even look back at explosions when they're scorching the air behind her, Number 6 crops up in the latter acts of I Am Number Four to give the boys (and certain girls) something to drool over. And drool we did.

If It Was Frumpy: She'd be called Number 2.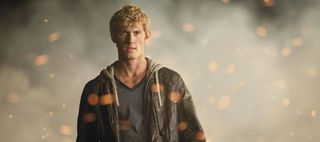 John Smith
The Sexy: He may be an alien from outerspace, but he certainly doesn't look like one. In fact, the protagonist from I Am Number Four looks more like a well-manicured Hollywood star (with very nice pec muscles). Count us in.

If It Was Frumpy: He'd look more like Sheldon from The Big Bang Theory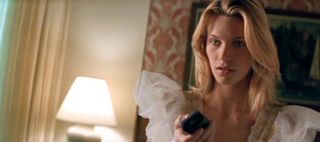 Sil
The Sexy: Being built like a supermodel is handy for Species ' Sil – she's desperate to procreate and make even more gorgeous alien-human hybrids. Problem is, she's likely to kill you if she finds you have a genetic defect halfway through copulating. Only healthy people need apply.

If It Was Frumpy: She'd be more interested in coaxing men in for a nice cup of tea.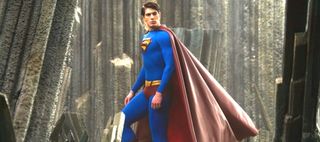 Superman
The Sexy: Not only is this guy confident enough to wear his pants on the outside, he's also got the physique of an Olympian god - and a habit of saving people in peril. Sigh. We're all just looking for a hero.

If It Was Frumpy: His pants would be, er, dirty.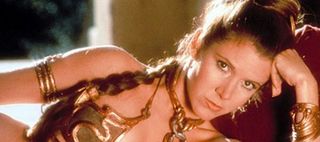 Princess Leia
The Sexy: Pretty much the fantasy figure for hormonal teenage boys the universe over the second she was revealed in that extremely skimpy bikini in Revenge Of The Jedi . It's going to be hard to beat this one…

If It Was Frumpy: The bikini would be decorated with pink polka dots.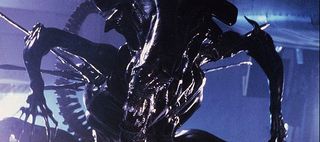 Alien Queen
The Sexy: A towering beauty of a specimen, the Alien Queen is a formidable, magnificent dame. She clearly has something alluring about her – she's managed to convince an entire hive of Xenomorphs to tend to her every whim. Must be those supermodel legs.

If It Was Frumpy: She'd use her long legs to knit winter blankets for her double-jawed offspring.