The trap is set
Traps are so in this season. Spike pits in Tomb Raider, fire-shooting floors in God of War: Ascension multiplayer, electrified crystals in BioShock Infinite--it seems that the video game zeitgeist has a real thing for deathtraps as of late. Theyre awfully efficient, after all--just set up your killing machine, wait for a hapless victim, and watch them trigger their own demise!
Weve died to these traps so many times, weve become completely desensitized to automated fatalities. When you stop and think about whats really happening, the results arehorrifying, to put it mildly. These are the most sinister traps in all of gaming, and the woeful fate that awaits unprepared adventurers in some of the most undignified deaths imaginable.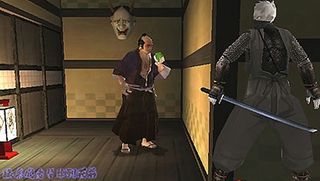 25. Poison rice ball (Tenchu)
Youve been on duty for at least eight hours--the least you could do is take a lunch break. And what luck! Someone left a perfectly edible rice ball in the middle of the road. Bon appetitGURK!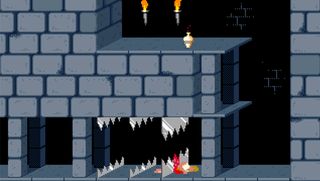 24. Blade wall (Prince of Persia)
Everyone knows how agonizing it is to get your finger caught in a door. Now try to envision that instead of a door, youre caught between two sheets of toothed metal, and instead of a mere digit, that slicer is clamping down on your entire body. Were getting the chilly-willies just thinking about it.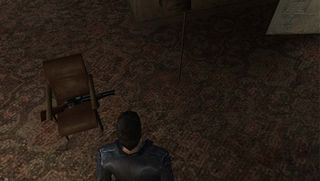 23. Tripwire shotgun (Max Payne)
After a rough day at the office, all you want to do is go into your apartment and hit the hay. But oops--instead, youre blasted point-blank with a spray of hot metal pellets with no warning whatsoever. Honey, you got some splainin to doooooo!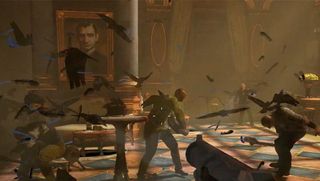 22. Murder of Crows nest (BioShock Infinite)
Actor extraordinaire and all-around dynamite guy Nicholas Cage said it best: OH, NO! NOT THE CROWS! NOT THE CROWS! AAAAAHHHHH! OH, THEY'RE IN MY EYES! MY EYES! AAAAHHHHH! AAAAAGGHHH! (Or it might have been bees, we don't remember.)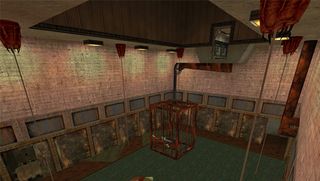 21. Barnacles (Half-Life)
Whatever you do, dont look up. Because if you do, youll know that the spindly yellow thing you brushed up against was not some errant power cable, but a tongue. Youll realize that, like a fish moments away from death, you were being reeled into a gaping maw of an alien organism that is little more than a mouth. Better to just accept your fate as your torso is slowly devoured in the caustic acid of this creatures hideous throat.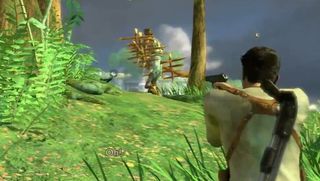 20. Spike traps (Uncharted: Drakes Fortune)
Nathan Drake has a penchant for laughing off bullet wounds and near-death experiences. But even he has no witty retort when a rack of sharpened wooden spears springs into his abdomen with the force of a human-sized mousetrap. The worst is what happens to those who think this is a one-time gimmick: a Sideshow Bob-esque stumbling from tripwire to tripwire in excruciating--albeit funny--impalement pain.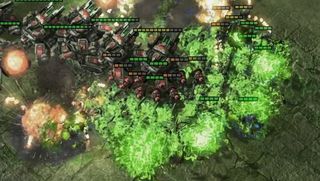 19. Burrowed Banelings (StarCraft II)
Weird, must be some kind of sinkhole here. Wait a sec, somethings popping out of the gr--AHHHHHH! THEYRE EVERYWHERE! ACID! THERES ACID ON OUR FACE! ITS IN OUR SUIT! GYAAAAAA!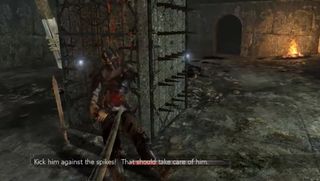 18. Spike walls (Dark Messiah of Might and Magic)
Some people baby-proof their homes; others ensure that fatalities can--and will--occur in every single room. And the quickest way to do that is by affixing metal spikes onto every vertical surface in sight. Its almost like the inhabitants enjoy the feeling of sharp, cold metal sliding into their back and spine.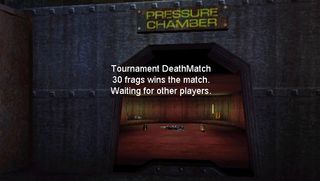 17. Pressure chamber (Unreal Tournament)
Wuh-oh. Looks like there was no one in this room. There is, on the other hand, someone on the other side of the glass in what is now a locked chamber. They just pressed a button--and now your head feels like its about to pop off your neck. In fact, your entire body is swelling, and your bowels have been forcibly shot out of you. Moments before you explode into a fine, crimson mist, you find yourself wishing they had just shot you and gotten it over with.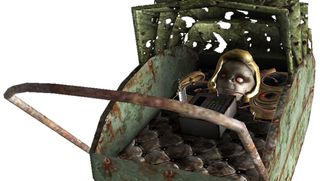 16. Rigged baby carriage (Fallout 3)
Awwwww, dont cry, little buddy! Where are your parents? Goochie goochie goo--huh. Youre made of metal, and there are live frag mines where your adorable arms and legs should be. Looks like my life as a crib thief ends in hilarious iro--PAKOW!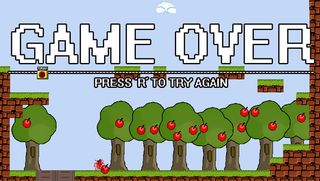 15. Delicious Fruit (I Wanna Be The Guy)
Isaac Newton seemed just fine after an apple bonked him on the head. So youd think that these large, cherry-looking red fruits would be equally harmless. Youd be wrong--because touching a single errant pixel of these deathtraps will make your body explode into a cascade of bloody giblets. They also have this nasty habit of defying gravity and sailing straight into you when you foolishly try to jump over them.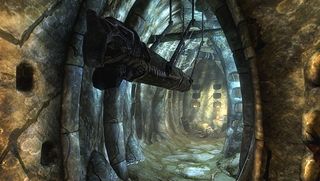 14. Pressure plate battering ram (The Elder Scrolls V: Skyrim)
Phew, finally found the path to the next room in this dunge--WHAM. Getting plastered by a battering ram doesnt work like it does on Looney Tunes--you basically just got hit by metal-headed tree trunk with the impact of a batters swing. Lydia doesnt know whether to laugh or cry at your misfortune.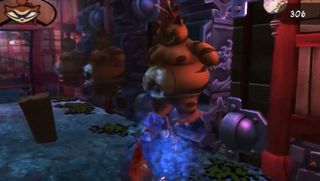 13. Sumo cat dolls (Sly Cooper: Thieves in Time)
This inventive death trap is one of a kind--literally, because youll only see one throughout the course of this enjoyable stealth platformer. Its not enough to have your body smash between two weighty, steam-powered sumo physiques. No--turns out, those fake bellies also have an electric charge coursing through them, so your shattered frame will feel quite a jolt as you painfully depart your furry mortal coil.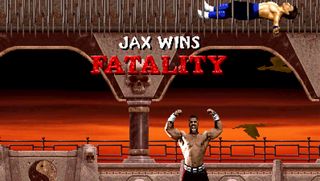 12. Kombat Tomb ceiling spikes (Mortal Kombat II)
Why is it that, when we uppercutted Baraka skyward a dozen times, those ceilings were nowhere in sight?! How did we manage to assume a lying down position mere moments after we took a haymaker straight to the chin?!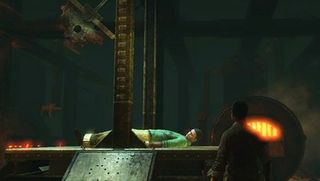 11. Pendulum trap (Saw)
You know that scene in Goldfinger, where the eponymous villain expects James Bond to die? You know how Bond was about to be bisected by a laser that starts at the crotch and works its way up? Now imagine that the laser was replaced by a sharpened, rusty gear that was ever-so-slowly lowering towards your genitals. Yeah--its enough to make your nads shrink just thinking about it.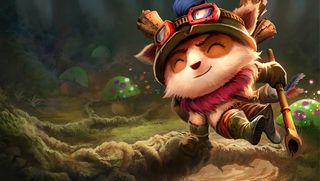 10. Noxious Trap (League of Legends)
That lil yordle Teemo is quite the crafty one. Anyone who thinks theyre stepping on a harmless mushroom has another thing coming--that thing being a cloud of corrosive poison that envelops your entire body, suffocating and burning you all at the same time. As your lungs disintegrate into a mucus-y slime, you see him. Teemo, in the brush. Smiling at you.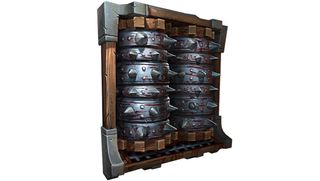 9. Grinders (Orcs Must Die!)
As you can see, it sucks as it cuts! Well, it does more of a vacuuming in of hapless orcs between two spiked, spinning columns, obliterating their skeletal structure in the blink of an eye. We shudder to imagine the green hamburger meat that sprays out the other side.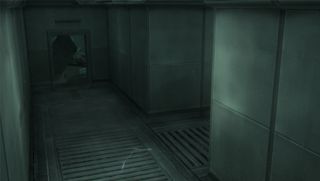 8. Electrified floors (Metal Gear Solid)
Have you ever done a pelvic thrust into an electrical socket? We imagine that sensation--whatever it may be--is akin to what Solid Snake experiences when crawling on an electrified floor. The first tingle might feel nice; the severe electrocution that follows assuredly does not.
7. Ceiling trap (Resident Evil)
The scariest part of this deadly room isnt the continuously descending ceiling, the doors that lock immediately upon entry, or the threat of being flattened into a pancake mix of blood and bone. No--the horror happens when you actually manage to escape the room, and your buddy Barry jokes that You were almost a Jill Sandwich! Ugh.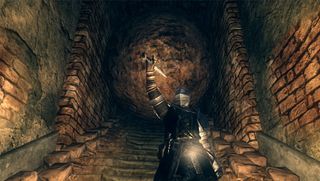 6. Rolling boulders (Dark Souls)
ROLLLLLLING STAAAAAAAAAAAAAAAAAART! Indiana Jones just barely evaded his globe-shaped stone enemy, and he wasnt wearing incredibly heavy armor or scaling a flight of stairs placed by the architect from hell. Also, there seems to be an infinite supply of these colossal bowling balls.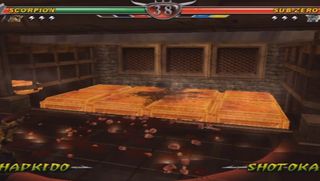 5. Hells Foundry press (Mortal Kombat: Deception)
Is it HOT in here, or is it just us? Boy, this thing sure is imPRESSive! Hot tamale, were sweatin--[sound of silence as a massive metal press smashes our body into a slab of molten metal, killing us instantly and leaving nothing but charred ash where our burning body once was].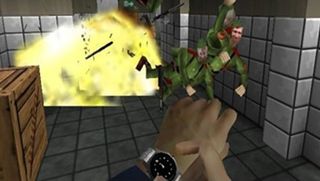 4. Remote mines (Goldeneye 007)
If you see your opponent reaching for their wristwatch, thumb and index finger in an eager, claw-like configuration, its already too late. You can either scan your surroundings, finding dozens of grey-and-red mines on the floor, walls, and ceiling. Or you can close your eyes and surrender yourself to the scalding heat of the blast that is about to burn your flesh clean off.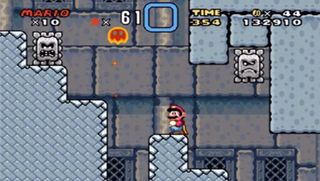 3. Thwomp (Super Mario)
Listen. That Thwomp has been there all his life. He has literally been waiting for this moment for his entire existence--the moment when he has crush you under his stony tonnage. You better believe hes been practicing his descent, constantly peering at his peripherals for any sign of Mario. You think Goombas walking into your ankles hurts? Wait until two tons of kinetic force come crashing down onto your skull--only then will you truly know pain. As you lay dying, crunched into a pasty mixture of rubble and intestines, you have but one solace: at least you didnt die to a Thwimp.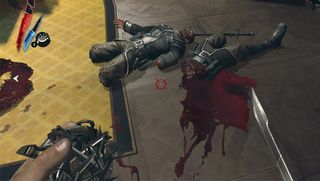 2. Spring Razor (Dishonored)
Heres a thought experiment for you. Imagine being whipped by barbed wire. Then imagine being cut into pieces by a cheese wire. Lastly, imagine the feeling of broken scalpels and shards of glass bursting from the ground towards your face. The Spring Razor is all three of these horrific mental images wrapped into one compact gadget! For an added bonus, you can use rats as the delivery method, because rats are icky.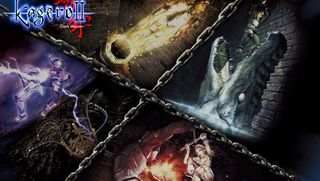 1. Literally everything (Trapt)
Cmon. Trap is right there in the title (which itself has no relation to the alternative rock band of the same name); traps are the primary way of defending yourself in the entirety of the Deception/Kagero series. So what do we have on tap? Guillotines. Spiked death hammers. Giant buzz-saws. Bombs. Bear traps. Catapults. Hot oil. Alligator pits. Iron maidens. Banana peels. If you can place it in a floor or wall and watch it kill someone, chances are its in this game. Protagonist Queen Allura is like an even-more-murderous Macaulay Culkin. Her lair would make Admiral Ackbar have a heart attack before he could utter a single word. If she played Yu-Gi-Oh, shed only use trap cards. Yeah. You get the idea.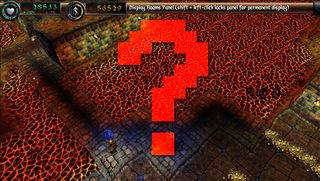 When the light is green, the trap is clean
By our estimation, those are the most vicious, inventive, and all-around deadly traps that gaming has to offer. Think we excluded some of your favorites, like the Dungeon Keeper lava pit you see above? Let us know in the comments which traps left a mark--and how, in graphic detail because we're weird like that, you died to it.