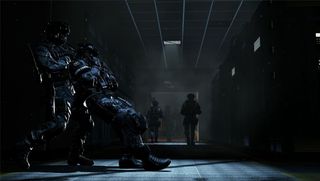 We're going deep and we're going hard
This week, Call of Duty: Ghosts hit store shelves on the current-gen consoles, bringing memories flooding back from the cinematic, breathtaking, and emotionally stirring moments we've experienced throughout the series.
Starting with the original Call of Duty, the campaigns have been putting us in the boots of larger-than-life soldiers in some of the most intense combat moments you could imagine. Now, with Call of Duty: Ghosts at our doorstep, there's no better time to reflect on some of the most memorable moments that have defined the series.
SPOILERS AHEAD, read at your own risk!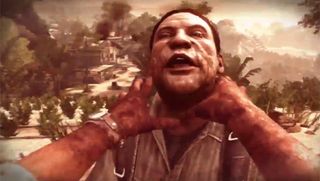 15. Menendez's bloody rampage | Time and Fate | Call of Duty Black Ops II
Very rarely do you get to know the exact motivations behind a psychopathic villain, but in Call of Duty: Black Ops II, you get to witness Raul Menendez's plight from his own eyes--bloodshot, rage-filled eyes. In a CIA raid to capture Menendez, his sister Josefina is taken from him, sending the antagonist into a murderous frenzy. With nothing but a shotgun, machete, and blind rage, you rampage through the nearby town, slaughtering every soldier that stands in your way. Bullets can't hurt you, you shrug off grenades, and you attack your victims like a man possessed. What a rush.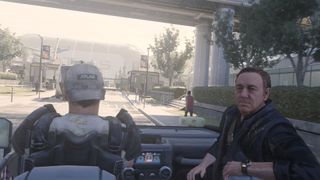 14. Saving the 'President' | Atlas | Advanced Warfare
Mission 2 of Advanced Warfare is a bit of whirlwind. One minute you're meeting your slain best friend's father at a funeral, the next you're rescuing the Commander-in-Chief from a hostage situation at Camp David. What's going on? When your shiny new prosthetic arm malfunctions and a colleague shoots the POTUS in the head, it suddenly becomes clear - this overblown, oh-so-CoD mission is just a VR simulation. It's a miniature twist, and a nice introduction to AW's future-tech. Also, Kevin Spacey's all over it, which is always fun.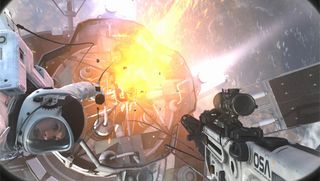 13. The United States getting nuked from space | Ghost Stories | Call of Duty: Ghosts
To kick off the new setting for Call of Duty: Ghosts, Infinity Ward brought out the biggest guns they could get: a weaponized space station orbiting right above the United States. As the astronaut Baker, you and your partner witness the Federation hijack the station, gun down its crew, and launch nuclear missiles towards southern California. But what you have to do gets even more insane. As in, get-blown-out-into-space, shoot-any-bad-guys-you-see, then commit-suicide-to-save-the-world kind of insane.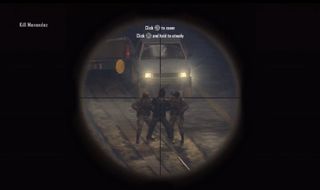 12. Deciding the fate of Alex Mason | Suffer With Me | Call of Duty: Black Ops II
Black Ops II did something that no other Call of Duty campaign had done before: it let you make choices. But one of those choices might've passed without you even knowing it happened. The young Mason and Woods have tracked down the murderous extremist, Raul Menendez, who was betrayed by his allies. With a blinding cloth draped over his head, Menendez is displayed in front of Woods, who has a sniper rifle in hand, ready to gun the madman down. You're given control. You take the shot. But as you inspect the body, you discover that you shot Alex Mason instead! Dun dun dun. Guess you should've shot him in the leg, a subtle choice which gives you a completely different ending.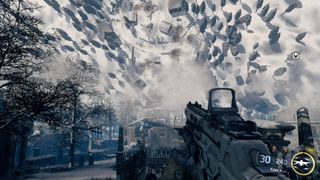 11. Back to WWII | Demon Within | Black Ops 3
CoD fans have spent years campaigning for a return to the battlefields of the past - in cheeky fashion, Black Ops 3 gave them what they wanted. Entering the mind of the dying Sarah Hall (don't ask), you're thrust into 1944's Siege of Bastogne, taking down Nazi threats with tech a century ahead of theirs. Quickly, things get weird(er), as the world starts folding in on itself, Inception-style, gravity begins to turn off, and zombies and direwolves start popping up. It's all very meaningful, I'm sure.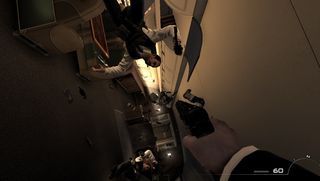 10. Hijacked plane sequence | Turbulence | Modern Warfare 3
And there we were thinking Modern Warfares breathless airplane-based bonus mission Mile High Club was pretty special. But then MW3s Turbulence comes along and takes in-flight combat to the next level - protecting the Russian president from hijackers in the claustrophobic space of a jet is high-stakes stuff on its own. Then, the engines stall out and the dive sends you into a sequence of zero gravity shooting and a crash landing that rips the aircraft fuselage in two. True action film fare.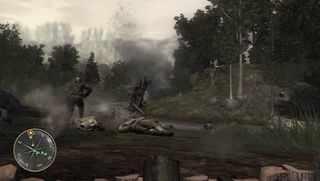 9. De-Nazifying the woods | The Forest | Call of Duty 3
A wonderfully paced, rising crescendo of a level. At first requiring a softly-softly snipey-snipey approach, with the relative peacefulness of the forest creating an edgy atmosphere, the player never quite knowing where the next Nazis going to spring from. Then it kicks things up a notch, with the battle intensifying as it moves between tight burrow-like trenches and wide-open spaces. Finally and a complete contrast to the cautious way the mission starts youre given a mortar to play with, allowing you to merrily blow apart any of Hitlers helmeted hobgoblins unfortunate enough to still be lurking in the forest.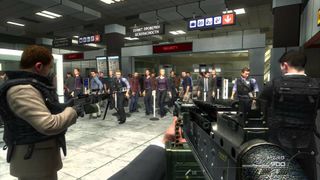 8. The Airport Massacre | No Russian | Modern Warfare
"Best" is perhaps not quite the right word for this entry, but it's undoubtedly one of the series' most effective, affecting missions. No Russian places you in the shoes of an undercover agent in a terrorist cell. Quickly, you understand just what that asks of you. You enter an airport and are told to mow down everyone you see, regardless of who they are. It's a video game mission that's sparked protest, academic study and genuine soul-searching. There's very little else like it in the medium.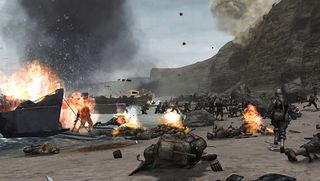 7. Beach landing | The Battle of Pointe du Hoc | Call of Duty 2
Starts with a fellow soldier in the landing craft having a fear-induced puke. BLEEUURGH. This is quickly followed by the sound of bullets whizzing through the air. Then clouds of red mist as those bullets thud into flesh. Soldiers fall to the ground. Spray from a near-miss explosion obscures your view. Then the ramp is down and youre running on to the beach. MORTAR BOOM. Down you go. Cue semi-deafened shell-shocked horror of war moment as you survey the scene around you. When you regain your senses the metaphorical implications of the vertical cliff face ahead of you become apparent. Your role to this point is one of spectator, but its still a breathless couple of minutes.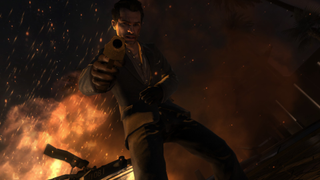 6. Getting revenge | Dust to Dust | Modern Warfare 3
Makarov haunted the Modern Warfare sub-series from it's first instalment, and Dust to Dust is the perfect send-off for the bastard. Playing as moustachioed death-merchant, Captain Price, you stomp through his defences in a Juggernaut suit, hijack and crash his escape helicopter, wrap a cord around his neck, ride his body to ground level through a shattering skylight, then enjoy a cheeky cigar while you wait for evac. That's how you exact revenge.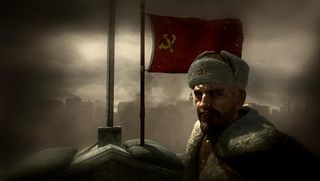 5. Planting the Russian flag at Reichstag | Downfall | Call of Duty: World at War
This ending has got it all. Explosions. Shouting. Smoke. Patriotism. Edge-of-the-seat tension. A surprise attack. Reznov wildly hacking a Nazi to death with a machete. A Russian flag flying as Berlin burns all around. Rousing music. Comradeship. Victory. Cheering. Its a guaranteed vibrations down the vertebrae moment.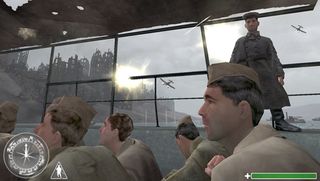 4. Crossing the Volga River | Stalingrad | Call of Duty
The first Russian mission in the original Call of Duty was a good indication of what developer Infinity Ward was going to bring to the FPS table, namely shock factor. The boat trip across the Volga River is loud and chaotic, disorientating and terrifying. Its a master-class in scene setting, creating an unusual sense of powerlessness in the player even before it eventually throws you into the fray without so much as a rifle.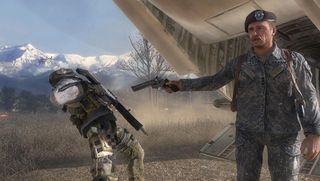 3. Betrayed by General Shepherd | Loose Ends | Modern Warfare 2
Whether you saw this coming or not, the moment General Shepherd is revealed as one of the bad guys is thoroughly, tangibly, affectingly bleak. Not the first time Infinity Ward has landed us with a well done you survived the mission but hard luck were going to kill you anyway sucker punch, but it really doesnt lessen the impact when it happens. The brutal, cold-hearted manner of the betrayal - Shepherd shoots Ghost and Roach point-blank and then sets light to their bodies before nonchalantly strolling away - propels the player crazy-eyed with vengeance into the games finale.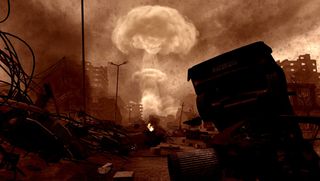 2. Nuclear death | Aftermath | Call of Duty: Modern Warfare
One of the most talked about gaming moments probably ever and undoubtedly Infinity Ward at its cinematic finest, the dev expertly hitting all the right notes on the shock scale. The frantic preceding Shock and Awe mission ensures adrenal glands are at full pump, and its apparent successful conclusion is a fist-pumping moment. But the high is short-lived, cruelly blown apart with the force of, well, an atomic blast. Then all thats left is the unfathomable sinking feeling of futility as Sgt Jackson crawls from the downed chopper, inevitably to his death in the dirt of a scorched wasteland. A residual sense of gloom lingers with the player long after the screen has bleached to a sickening nuclear white.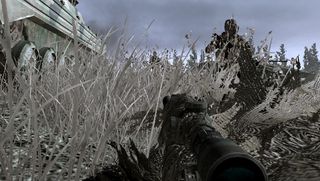 1. Behind enemy lines with Captain MacMillan | All Ghillied Up | Modern Warfare
Dressed like shrubbery for a slow-slow-quick-slow-slow dance deep in enemy territory, this is tense, terrifying, nerve-wracking and arguably *the* standout mission in the entire series, which is kind of funny as its so completely at odds with Call of Dutys deafening, indefatigable shoot-shoot-and-shoot-some-more signature style. As you weave unseen through enemy patrols, stopping occasionally to stealth snipe the occasional oblivious soldier, or lie prone in the grass as a tank rumbles by just feet away from your position, its genuine dont-forget-to-breathe, edge-of-the-seat stuff.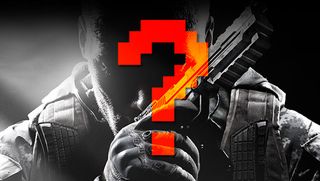 Do your duty