An underrated option when looking at a main screen in 2022 is one of the best home projectors. It'll give you options on screen size that can safely eclipse those that TV offers and are perfect for those who have always fancied a home cinema experience. After all, and as good as they are, there's only so much the top gaming TVs and monitors can offer - particularly before getting crazy expensive. One of the best projectors will get you enjoying your favorite films and games large enough to truly get immersed in them, while also offering the ability to host unparalleled movie, sports, or game nights where everyone can actually see. If that sound's like it's for you, then it might be time to embrace the world of the best projectors for gaming, film, and TV.
And if you're used to struggling with that ancient blurry projector in a work meeting room, you'll be blown away by how far picture quality has come in recent years on the best projectors. And there's a lot of choice out there now as well, and even if you've mastered what to look for in terms of monitor or screen specifications you could be forgiven for being daunted by the extra things you need to consider in a projector.
You'll also need to think about the surface you're projecting onto, you might need a screen for the perfect picture but with high-end units, you'd be hard-pressed to notice any issues if you're projecting onto a white wall. Though in all honesty, you are best served to peruse the best projector screen and best outdoor projector screen markets to ensure you have the right gear for your projected images.
The key things to keep an eye out are lumens (essentially brightness, the higher this is the better the picture will be when the lights are on) and throw distance (how far away from the surface you're projecting on the unit needs to be to give a big enough picture). So whether you're looking to get your first projector or are looking for a top-of-the-line upgrade, there's something for everyone here in our take on the best projectors going. In no particular order, here we go...
Best home projector for gaming in 2022 - Top 10
Image 1 of 5
Image 2 of 5
Image 3 of 5
Image 4 of 5
Image 5 of 5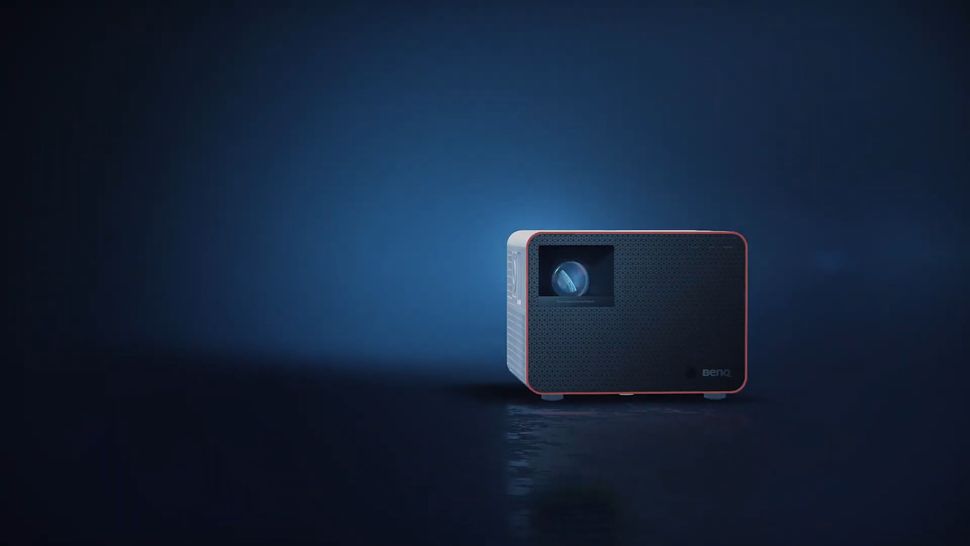 A home projector for gaming if ever there was one, the X1300i impressed us straight with its offering of a mere 8ms of input lag and a refresh rate of up to 120Hz - this is in line with gaming monitors and far ahead of the vast majority of standard projectors. The trade-off is that this is pricy for a 1080p projector and cost in line with many 4K units, but if your focus is a projector that is optimised for gaming and one that could be the best projector for PS5 or Xbox Series X then we think this will meet your needs more than practically any other unit currently available.
Instead of the usual one-game mode, the X1300i has three – for RPG, FPS, and sports games. As a result, when we used this as our primary gaming screen, it didn't matter whether we were playing games in lush landscapes, dark corridors teeming with enemies, or on the football pitch (British or American version) as we found a picture mode perfect – and custom audio profiles to bring out the sounds you want to focus on for each. They're also great for watching video – for instance, sport mode is great for the greens of a pitch and the contrasting kits.
It's much taller than most projectors – although this means its footprint on a shelf is small. There's also an odd practical annoyance: rather than being integrated, the Android interface is included on a dongle that needs to be installed. You'll only need to do it once but it is annoying. And there is the usual issue of Netflix and other apps not being approved for use on this and requiring another media source.
If you're looking for a home projector and plan to mostly use it for gaming, especially quite seriously gaming, then, in our eyes and from our testing, this just became the standard to beat.
Read more: BenQ X1300i review
The Vamvo is particularly stylish for the price, with a smart-looking case to make carrying around the light unit even easier. The visuals on screen are the most important thing to look at of course, but it delivers here too, at up to 200 inches of great picture in good conditions. The LEDs are suitably bright without too much heat, so this is a projector that can come out at dusk rather than once night has fully set in.
The digital keystoning tool on the back is a nice touch, and the ability to alter this horizontally as well as vertically makes it easier to set up in locations others might struggle with, very useful as many gardens don't have that perfect spot for a projector! The speaker is more than passable if you don't want to lug out a sound system every time you use it. The only drawback is that the controls on top of the unit can be a little fiddly, so don't lose the remote.
Image 1 of 5
Image 2 of 5
Image 3 of 5
Image 4 of 5
Image 5 of 5
We love this projector as it's a small but tall 4K LED projector, with 2x8W speakers which belay its small size - and the quality that gets pumped out of it.
During our testing, the setup was speedy out of the box, and offered great autofocus and keystoning tech which made new locations a breeze. We found the colour and motion control options more fiddly – you may need to play with the settings to not feel slightly seasick at times, given the levels of blues and how the projector performed with animated content.
The LED tech is suitably bright, and proved far more watchable with afternoon ambient light than most bulb units. Input lag is as low as 35ms in the dedicated game mode, low enough to be largely unnoticeable as long as you're not too used to a top gaming monitor.
For us, the problems come with a few fiddly settings, including a lack of a dedicated source button to flip to other inputs without going back through the main menus. It also has no built-in capability to manually tilt the unit or shift the image, so you'll need a suitable flat location to project from. Plus there's the usual lack of Netflix and a few other key services from the available apps.
Once you're set up though, SD and HD images upscale well, with the autofocus giving excellent sharpness during our testing. With a UHD source, you'll be able to enjoy every freckle on skin tones and blade of grass in a landscape – a great, decent-value contender for best 4K projector for gaming in our eyes.
Read more: XGIMI Horizon Pro review
Image 1 of 6
Image 2 of 6
Image 3 of 6
Image 4 of 6
Image 5 of 6
Image 6 of 6
We know that one of the first things which could put you off getting a projector is a room too narrow for it. But short-throw projectors give wall-filling pictures even in tight spaces. And in our testing, the BenQ TH671ST proved that you can get a massive 100-inch projection size at just 1.5 meters from the surface -enablign us to turn a cozy living room into a full cinema experience.
It's great for portability: you can take it to a new environment, place it on a table in the middle of the room and deliver huge images. While testing this unit, we found that it is very quick to set up and then you have access to modes that take into account some wall colors and adjust the picture accordingly. The built-in speakers are passable if there's no option of plugging into a sound system.
The TH671ST has truly been designed with gamers in mind. While any of its picture modes offer great response times, the game mode not only gives stunning color but really impressed us with a lag time of just 1.4ms, in line with the top gaming monitors, and almost unheard of in our projector testing. It's not the best for placing further away from a projection surface, so if you are set on having your unit far from the image then you're better off with a standard throw, but only because the image would be too big!
Read more: BenQ TH671ST review
Image 1 of 4
Image 2 of 4
Image 3 of 4
Image 4 of 4
The Optoma HD143X is one of the cheaper units which can be used in a lighter room. It won't give an impeccable gaming picture while the sun blazes in through a patio window, but if you do want to casually watch something mid-afternoon without drawing the curtains you'll get by well enough if you use its bright mode. However, when it's dark the unit gives great quality images in any configuration. It's easy to set up with a spin of its manual zoom and focus dials, plus a good range of color and brightness settings out of the box. The backlit remote is easy to use in the dark too.
Lag times are slightly slower than some of the more expensive units but still perfectly usable and only the most detail-obsessed gamers will notice the difference, as the enhanced gaming mode can take this down to around 16ms. There are a few practical issues with the HD143 - the lack of a back adjustable leg and lens cap. But this is nothing insurmountable for a very solid unit which gives a great picture.
Image 1 of 4
Image 2 of 4
Image 3 of 4
Image 4 of 4
A solid entry-level projector from a recognized and trusted name, the EH-TW650 gives good HD quality pictures that are watchable even with ambient light. It's simple to set up and gives good pre-set modes to give a great picture straight away. Its game mode will cut input lag to 25ms - fine for most but not the best even at this price. It will struggle slightly with darker images, but no more than other affordable projectors.
There are some minor niggles but easy enough to get past, especially at the price. Manual zoom and focus are standard here, but manual keystoning is a surprise - although it's one of the few projectors which offers both manual and vertical keystoning. Once it's been set up and behind your sofa you won't notice this though. However, you might then get frustrated with the remote, which has small buttons (and too many of them) and no backlight - which might be an issue when you're going to do most of your watching in the dark.
As a note: the double-header of a product name is due to two different product names in the UK and US; so it might vary depending on your location.
Image 1 of 4
Image 2 of 4
Image 3 of 4
Image 4 of 4
The entry-level projectors here give great HD picture quality, but there's a huge gulf in price between these and full 4K picture. The Optoma UHD65 starts to bridge that gap, but the Epson EH-TW9400 is as close to 4K quality as you can get without a native 4K chip. Running a 4K source will give astonishing picture quality, which will stand up in a room with natural light. The lens can move the image vertically and horizontally, making it more flexible in where it can be positioned than cheaper units, which will simply project at wherever they're pointed.
It's an incredibly solid unit, with a stronger build than the cheaper units and a very elegant design. It will need a solid base or bracket, as it weighs in at 11kg (nearly four times many of these other units), and does run loud if using its modes for prime video quality. It's expensive, but you would struggle to get a sharper picture without going for a full 4K price tag.
This too has a different name depending on where you are so it'll pay to check for both names wherever you are.
Image 1 of 4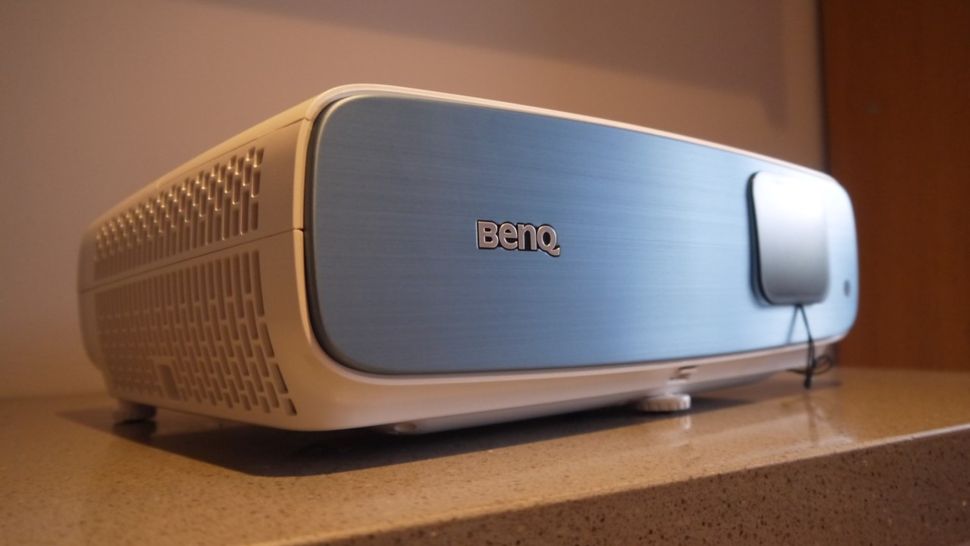 Image 2 of 4
Image 3 of 4
Image 4 of 4
The BenQ TK850 is a brilliant projector that finds the middle ground of the spectrum: a bit more expensive than the more budget models - though very worthy of the extra investment -but much more affordable than the premium 4K beasts.
This is a projector that even has great audio, and with a brightness level of 3,000 lumens, excellent HDR and it's massive screen size, there's no wonder this is a particularly excellent model for sports. Its dedicated sports mode is testament to that, and when you throw in motion-smoothing and enhancements, the TK850 makes a strong argument as the best BenQ projector going too. It's colors, 4K resolution, and HDR support - as well as the motion enhancement - will also make this a fin contender for gaming, even if you're playing fast shooters.
There's some video noise in gray shadows or dark scenes, and the lack of streaming apps seems a bit of an oversight for a projector of this price tag in the year 2020, but overall the TK850 is a great projector and worthy of its place on this list.
Image 1 of 4
Image 2 of 4
Image 3 of 4
Image 4 of 4
This is essentially the entry-level for ultra high definition images. It's a fraction of the cost of a true 4K unit but can give excellent picture quality from a 4K input or if upscaling from lower-quality sources. It is easy to set up, but you may find you need to try out a few different settings if you're upscaling to smooth out the image at first. Zoom and focus are done manually, but once you've got this set up you won't need to think about it again and it helps to keep the price lower.
The unit gives stunning images with a great depth of color, although if you're being picky you may still notice that darker games or scenes lack the detail of brighter colors - as is so often the case with HD projectors or even TV screens. But that's not to say you'll have to put away any Arkham game and only play Mario Kart, and for the picture quality it's a quibble not a dealbreaker.
Image 1 of 4
Image 2 of 4
Image 3 of 4
Image 4 of 4
This is true portability. The cute Nebula Capsule is about the size of a soft drink can and just as welcome on a summer day in the park (remember doing that?). You can plonk it down anywhere and almost instantly turn any surface into a screen. It will display well even in the light as long as it's close enough to the surface. You won't get the truly huge or high definition pictures you'd see with dedicated home units, but this tiny unit still packs a punch. If you're using it with a console or dedicated media player you can run from HDMI, but you can also use your smartphone to cast or screen mirror for truly wireless video for up to four hours on the battery.
The unit has a heavily modified Android operating system and runs a number of apps, although not the full range you might hope for. The sound is decent enough and truly 360. It isn't a perfect unit, and the need it meets is quite a specific one. But if you want true portability, the Nebula can provide great fun anywhere.
There is a Nebula Capsule II which is a newer, flashier model, which is reflected in the price tag - around double that of the 'regular' Capsule. Until that price tumbles, we feel confident recommending the first one still given the value it offers still; though both will be great options in the hunt for the best portable projector for you.
The best home projectors - the Best of the rest
The XGIMI Halo+ deserves its place among the best home projectors as it proved to us in testing that it has many strings to its bow. Notably, it's a portable projector, that's off the beaten track manufacturer-wise, that punches well above its weight and price tag to offer great home performance too. Let us explain.
Boasting a bright 1080p picture, quick auto-keystone, and focus, and a very decent battery life of almost three hours, its spec list starts off strongly. However, we also found that it is also bright enough to watch in daylight at home or even outside, and by dusk we got huge images that belay the small size of the unit. Supporting this is a quick setup with really fast auto-keystoning and focus giving perfect picture from a range of angles, and the built-in stand further helped us position the image.
We found that the built-in Android OS makes it ideal for streaming films or shows while out and about, although it suffers from the usual lack of Netflix compatibility. And it is a solid option, for us, for casual gaming, with a Game Mode offering 26.5ms input lag and 60Hz refresh rate - although those chasing the best and fastest will want even quicker.
Twin 5W Harmon Kardon speakers give excellent crisp sound which fills a room well without needing any external help. At just 1.6kg it will easily slip into a bag, and the hard black plastic feels like it will stand up well to transportation, although it is a surprise that there isn't a carry case included.
Read more: XGIMI Halo+ projector review
If you;re looking for a budget projector to enjoy outdoors in the last few weeks of the (northern hemisphere) summer, then this is a great shout.
When putting a projector indoors, there's a reasonable chance of having a white wall that the image will look great on. Outside, this is less likely. So not only is the TMY V08 great value in itself, but it includes a free 100-inch screen sheet, saving you having to buy one separately. It's a small touch, but a very useful one that few brands provide.
It's a bright outdoor projector which will give as good an image and clear sound as you'll find in this price range. Some users have reported issues having all areas of the screen in focus but this is only noticeable if you're using it as a secondary monitor with lots of text, and not something which interferes with your home drive-in watching pleasure. It's well worth the low price.
The XGIMI Aura is an entry-level (but by no means budget!) ultra-short-throw projector with excellent sound and a gigantic picture when placed just inches away from the wall. In our testing, we found the 4K resolution (pixel shifted rather than native) to be crisp while motion compensation technology ensures that sports or action movies look smooth. The 2400 lumens laser is so bright that it will instantly switch to a safety mode if anything blocks it. It's bright enough to run very well with most levels of ambient light, with excellent vibrant and deep colours - although like most ultra short throws dark colours can lack detail.
Set up is swift, with swift eight-point keystone correction and you can load logins straight from your Android phone. However, there isn't a huge amount of image customisation available which is slightly surprising in a relatively high-end unit with this much power. As usual with an Android projector, there are a few crucial missing apps including Netflix, but there are plenty of other ways to connect sources to compensate.
We've never had a better-sounding projector, with the four 15W speakers giving incredible sound for a projector. Game mode brings the input lag down to 43ms, low for an ultra-short-throw projector but above the tolerance of competitive gamers.
Read more: XGIMI Aura review
We are living in a horrible dystopian future, so why not get the fun side of sci-fi and have a projector which has full Alexa capability?
The UHD51 has a fantastic 4K UHD picture and for watching anything from bright Pixar movies to darker films like Bladerunner 2049 or Nolan's Batmans, with incredible depth of blacks, often a weak spot of home projectors.
This projector isn't without minor flaws though: the 5W speaker is weak, especially given that this unit is noisy. It can be hard to hear over its own fan at times, let alone a child (or adult) singing along to Frozen 2. The range of modes it offers isn't the most useful either, and it can be hard to tell what the difference between them is. What does make this stand out is the 3D capability, a trick Optoma always does very well, if only in 1080p here. These slight negatives do not take away from the whole package though, as the UHD51A is still a seriously quality Optoma projector.
A final note: The UHD51A model is different from the UHD51 by virtue of that Alexa compatibility. The former is more prevalent in the US and the latter in the UK.
What to consider when buying a projector for gaming
If you're looking for some quick, top-of-the-pile advice when buying the best home projector for gaming then here are a couple of key projector-specific things to think about.
The absolute key for a projector that you have gaming in mind for is input lag. Broadly speaking you need to aim for 50ms as a minimum acceptable level, while under 40ms is better, and around 20ms is the holy grail. How much you really need and must have the lowest possible lag will be down to personal preference: some people will barely notice the difference whereas others will curse anything less than the snappiest of times.
You'll also very much want to be aware of what you're projecting onto. Sometimes you can get away with a wall painted white, but for the best pictures, you will need a dedicated screen. It's a bit more of a nuisance, perhaps, but you won't regret it.
The majority of projector models will still be bulb-based, but the laser variety is well worth a look if you fancy the best of the best. This technology, as you can see, can come with a premium though, so bear that in mind. The flip side is that this is likely to have your back for years and years.
For information on our testing process, you can read how we test gaming projectors at GamesRadar+, and for details on our more holistic approach to gaming tech, check out our Hardware Policy.
Is gaming on a projector good?
Well, naturally this is quite subjective, but there is something engrossing and captivating about gaming on a projector. The size of the picture, and thus the ability to enjoy a great picture like an enormous painting is something that projectors totally own and other screens can't offer.
It's an experience that's still probably at its best for 'slower' games like single-player story games, adventure games, and RPGs. Think Uncharted, Tomb Raider, Witcher 3, Assassin's Creed et al - just because the latency isn't great for those really competitive shooters and online games. However, having said that, we're positive you could have a jolly old time in the likes of Doom, or Wolfenstein on projectors too.
Is a projector good for PC gaming?
In short, yes! It can work, and it can be a wholesome, massive experience. Hooking up a super-powerful rig to one of the best gaming projectors can be quite the experience, and the power of the PC will get great results out of a projector.
Given the living room size of the screen, however, we often think that console players might be a more natural fit (perhaps from a 'traditional' perspective more than anything), but if you game on PC in the living room anyway then a projector could be the display upgrade you've been looking for!
Are projectors too slow for gaming?
This is a genuine concern, and probably the most persistent one still, as speed has never traditionally been a strong point. Literally having to throw a picture out from the unit means that latency has always been a concern. The good news is that modern gaming projectors have never been better in that respect and you can safely get a machine that's below the 50ms mark - the minimum you should aim for. The bad news is that the lowest ms times are reserved for those most expensive projectors.
---
If you prefer your screens TV-shaped then check out our guides to the best TV for PS5 and Xbox Series X, best 120Hz 4K TV, best QLED TV, and best OLED TV.